Lake Atitlán is one of the most popular destinations in Guatemala and it's a great place to visit with kids. The beautiful views of the lake framed by volcanoes, the quaint towns and the colorful and interesting Mayan culture make Lake Atitlan an ideal destination for families. If you're looking for the best things to do with kids in lake Atitlán you will find here lots of options including all of our favorite things to do around lake Atitlán from Panajachel and Santa Catarina Palopó to smaller towns like San Antonio Palopó.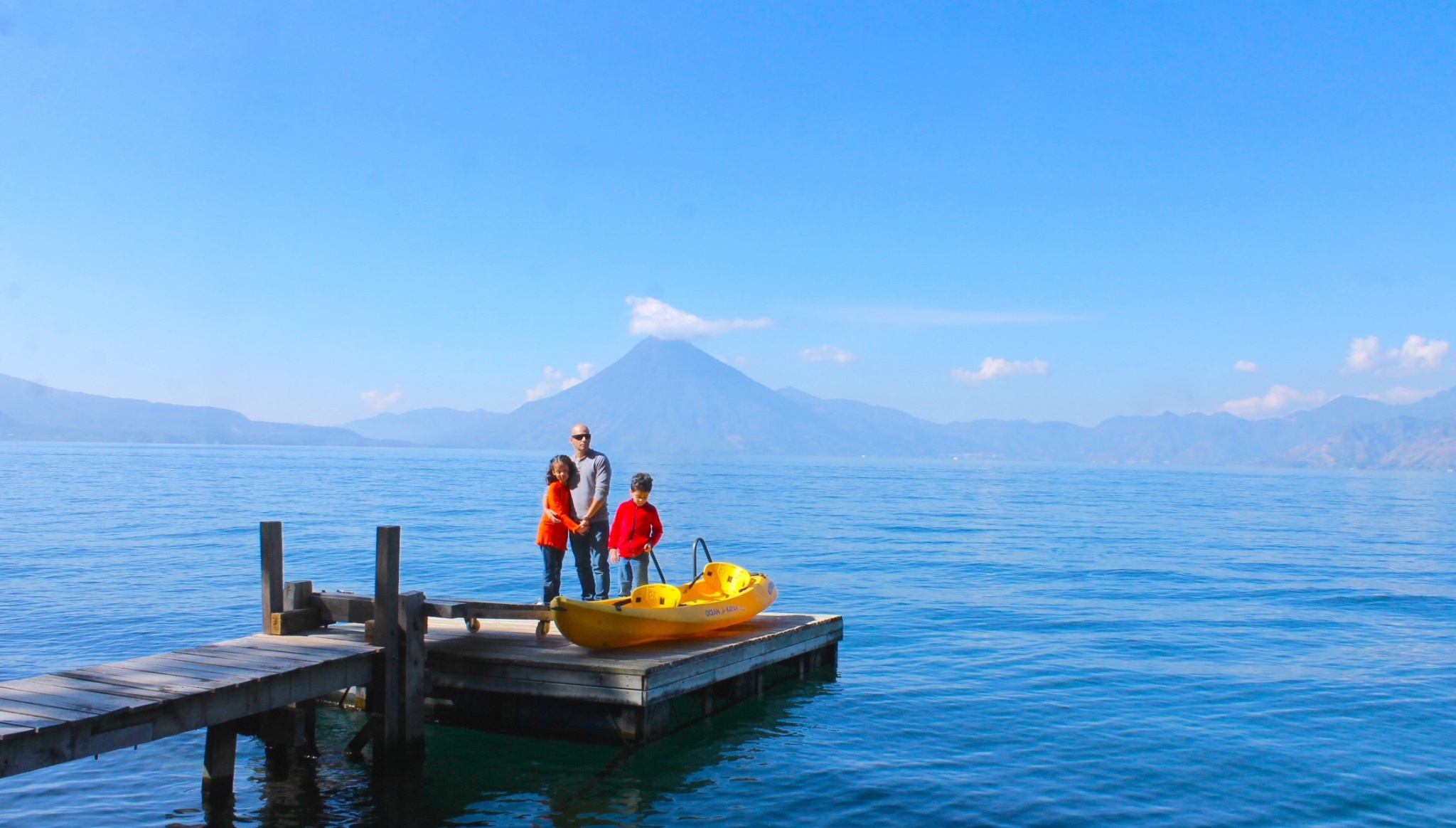 I was born in Guatemala and used to visit lake Atitlán with my family when I was growing up. Now that we live in the United States I travel to Guatemala with my kids at least once a year and visiting lake Atitlán is always on our itinerary.
We usually stay in Panajachel as this is the most developed town for tourism so it's easy to access, has lots of hotels and restaurants and it's also easy to take trips to other towns from there. We also love to stay at San Marcos la Laguna, because it's really laid back and peaceful and quite a contrast to the hustle and bustle of Panajachel.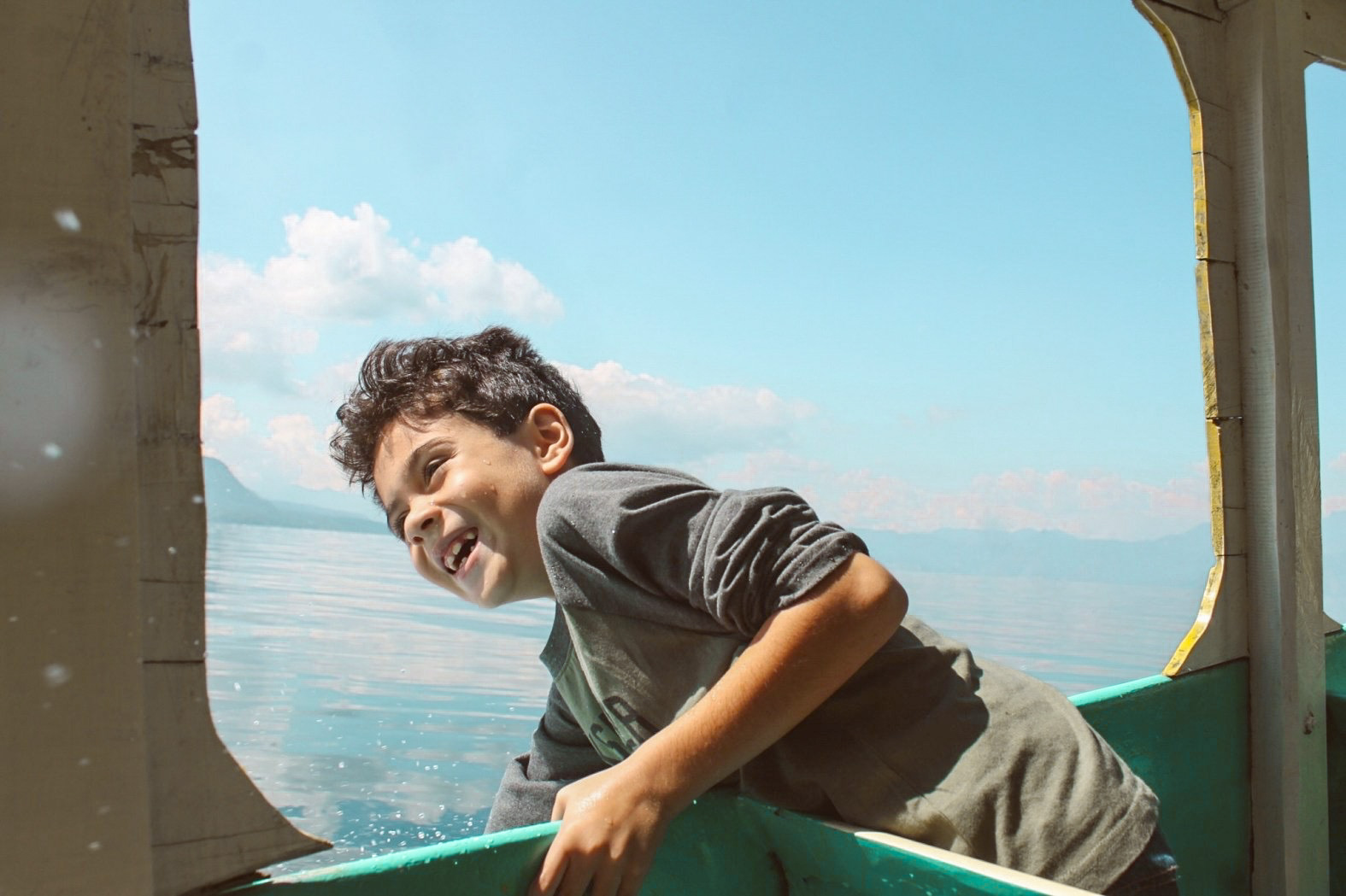 To get to any of the many Mayan towns along the lake you can opt for the public boat which is very affordable but makes a lot of stops at all of the small towns along the lakeshore. Public boats don't run on schedule and leave once they are full. I prefer to hire a private boat, they are not expensive and you can hire them for a few hours or for the entire day which will give you the flexibility of exploring at your own pace.
Take a boat ride to San Juan La Laguna
Last year we visited San Juan la Laguna with the kids for the first time and we loved the experience. There's a lot to do in this small town and I love that everything is close by and only a short walk away. However, you can also take a colorful TukTuk to get from one place to the next which is in itself something really fun to do.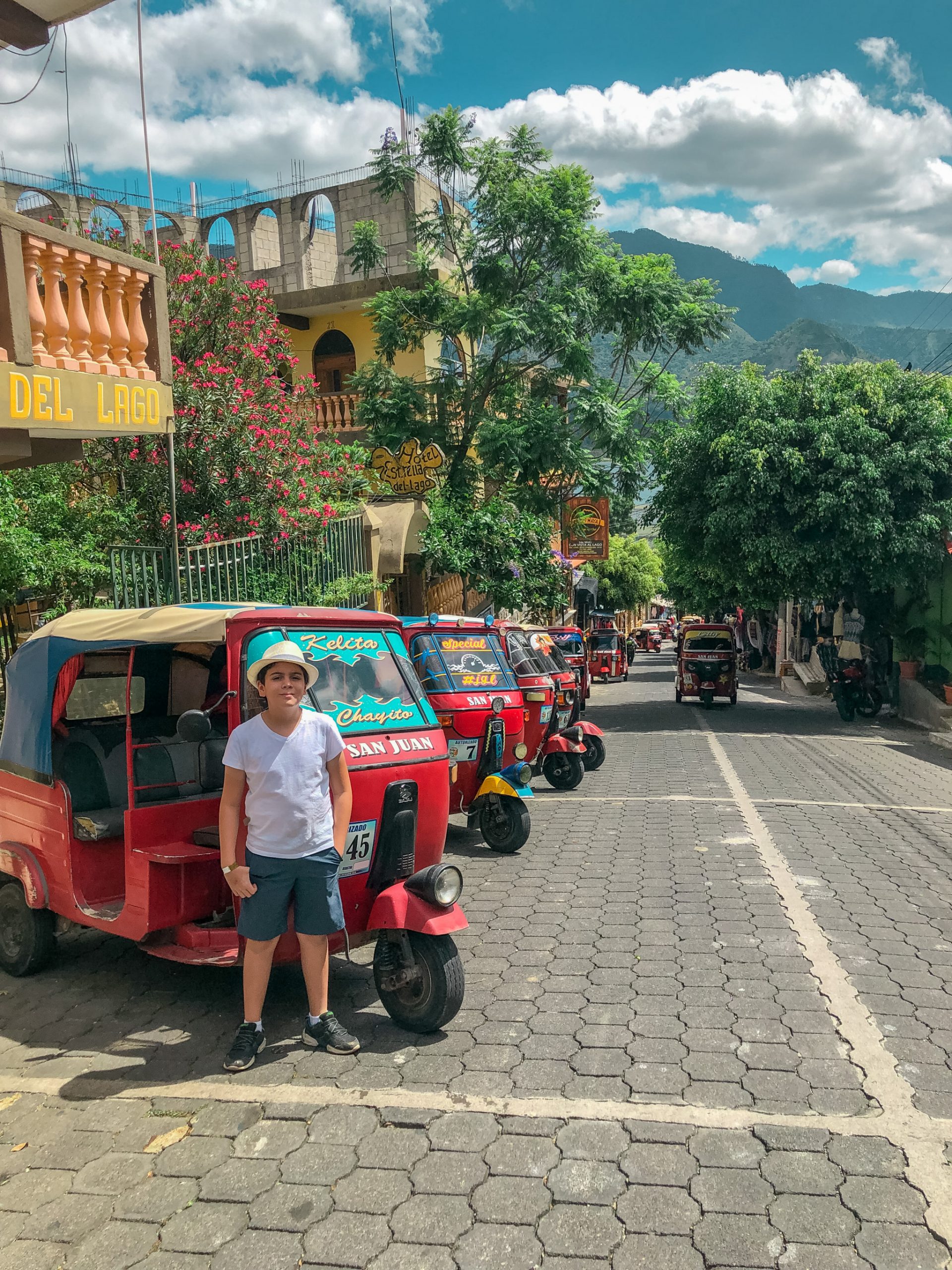 We started our visit by learning about the ancient Mayan back loom weaving process at one of the many textile Cooperatives. This was an interactive experience where the kids had the opportunity to participate and learn by doing. We all learned about the textiles used for weaving as well as how natural dyes are used. We learned so much and the kids were engaged and had fun. This experience has no cost, however, you are expected to buy something from the women's textile cooperative. They have beautiful pieces and it's a great way to support this Mayan community.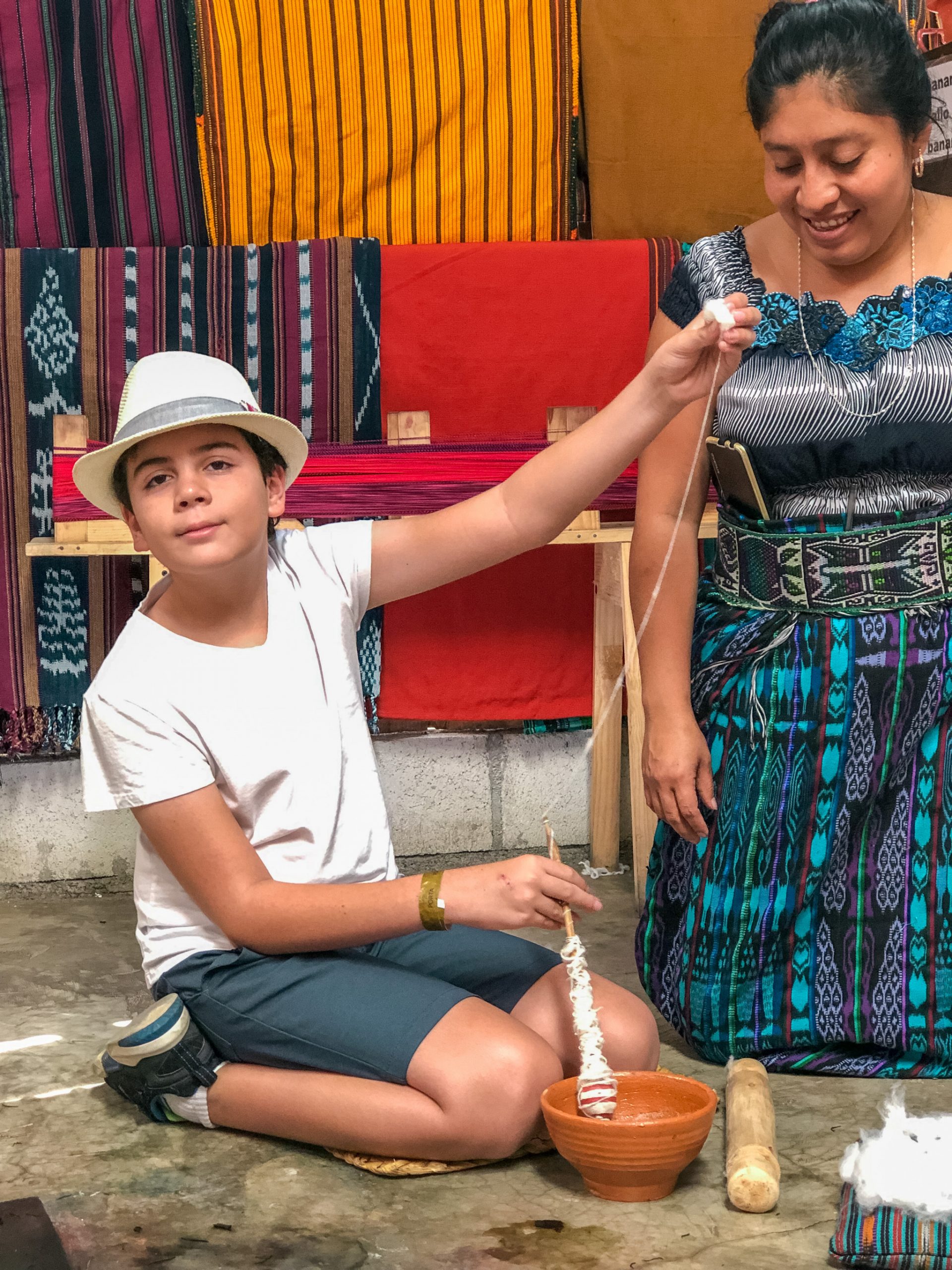 Then we visited a medicinal plant garden. Here a Mayan healer explained about all of the different medicinal plants and herbs traditionally used by the Mayan people. We roamed the garden and saw all of the medicinal plants and after the tour, we had the opportunity to buy some of the products and teas made using the local medicinal plants.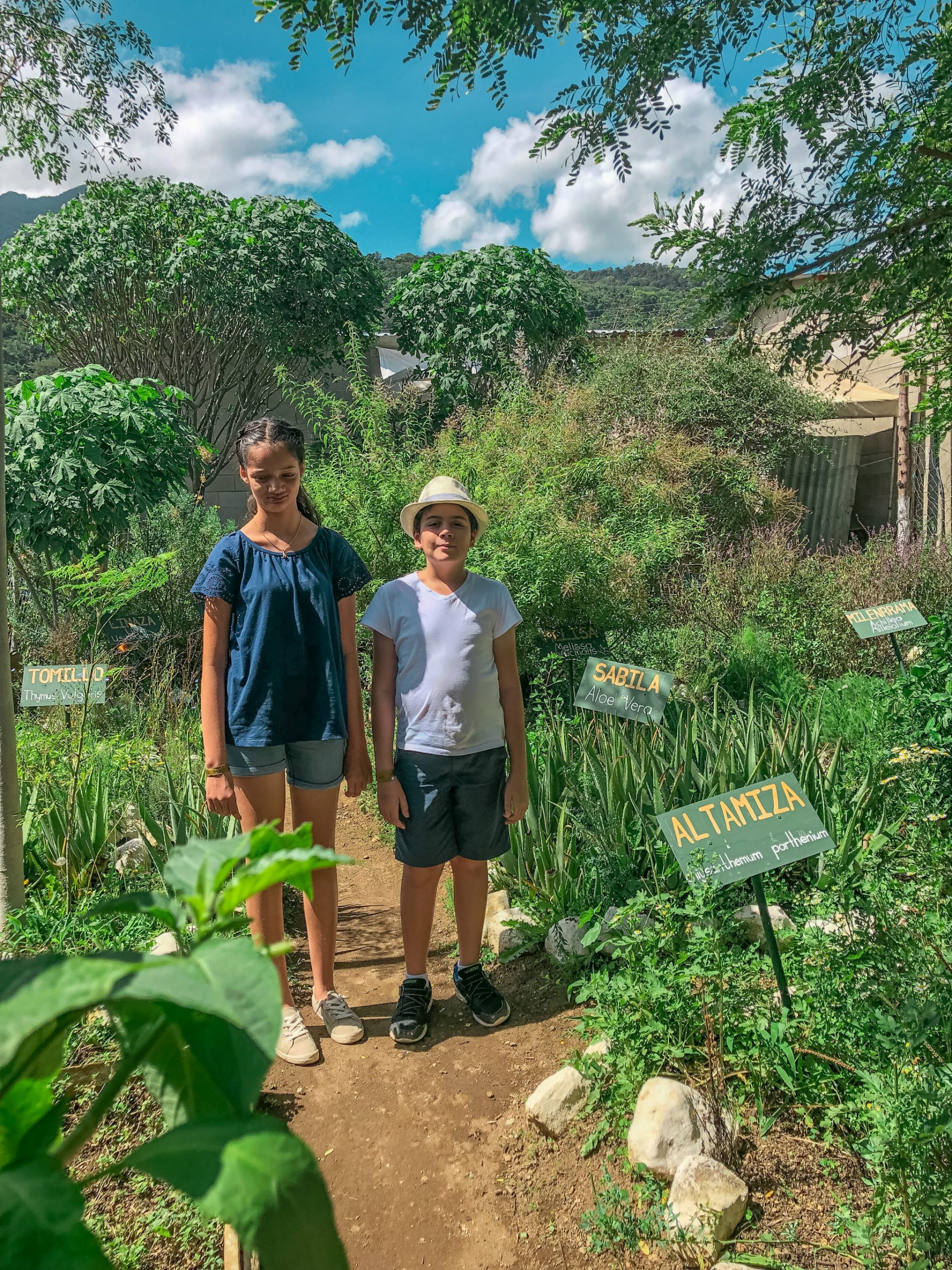 Get close to nature at Reserva Natural de Atitlan
Located just minutes from the Panajachel's town center the Reserva Natural de Atitlán is one of our favorite places to visit in Lake Atitlan. From hiking trails filled with hanging bridges to waterfalls and the geo-dome butterfly garden, this preserve gives you an opportunity to get immersed in and learn about the local ecosystem.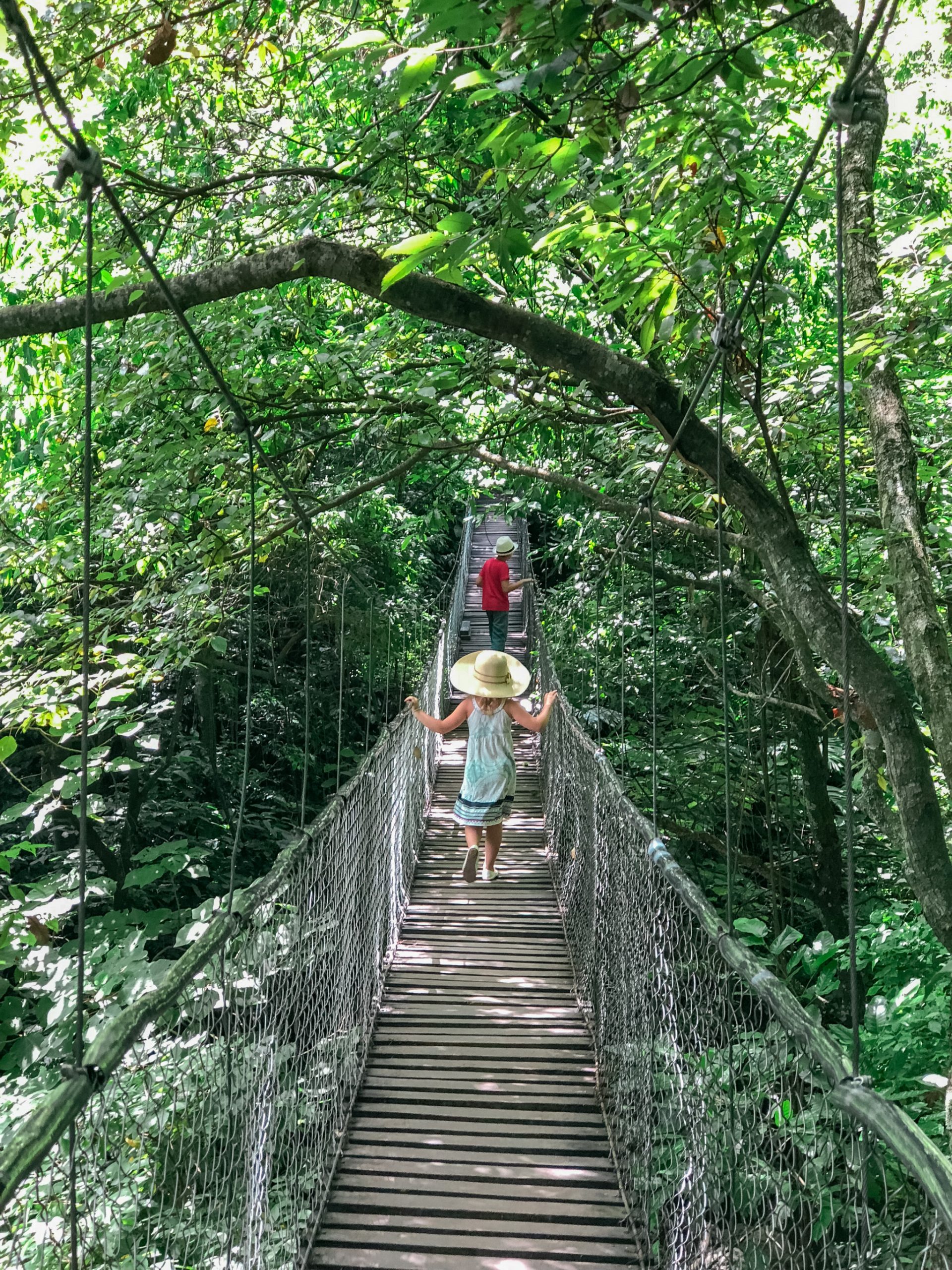 You can also feed the resident monkeys and coatimundi, hike to the private beach, which in my opinion is one of the best beaches in lake Atitlán and if you're looking for a more thrilling experience the reserve offers zip-line experiences with amazing views of the lake and waterfalls.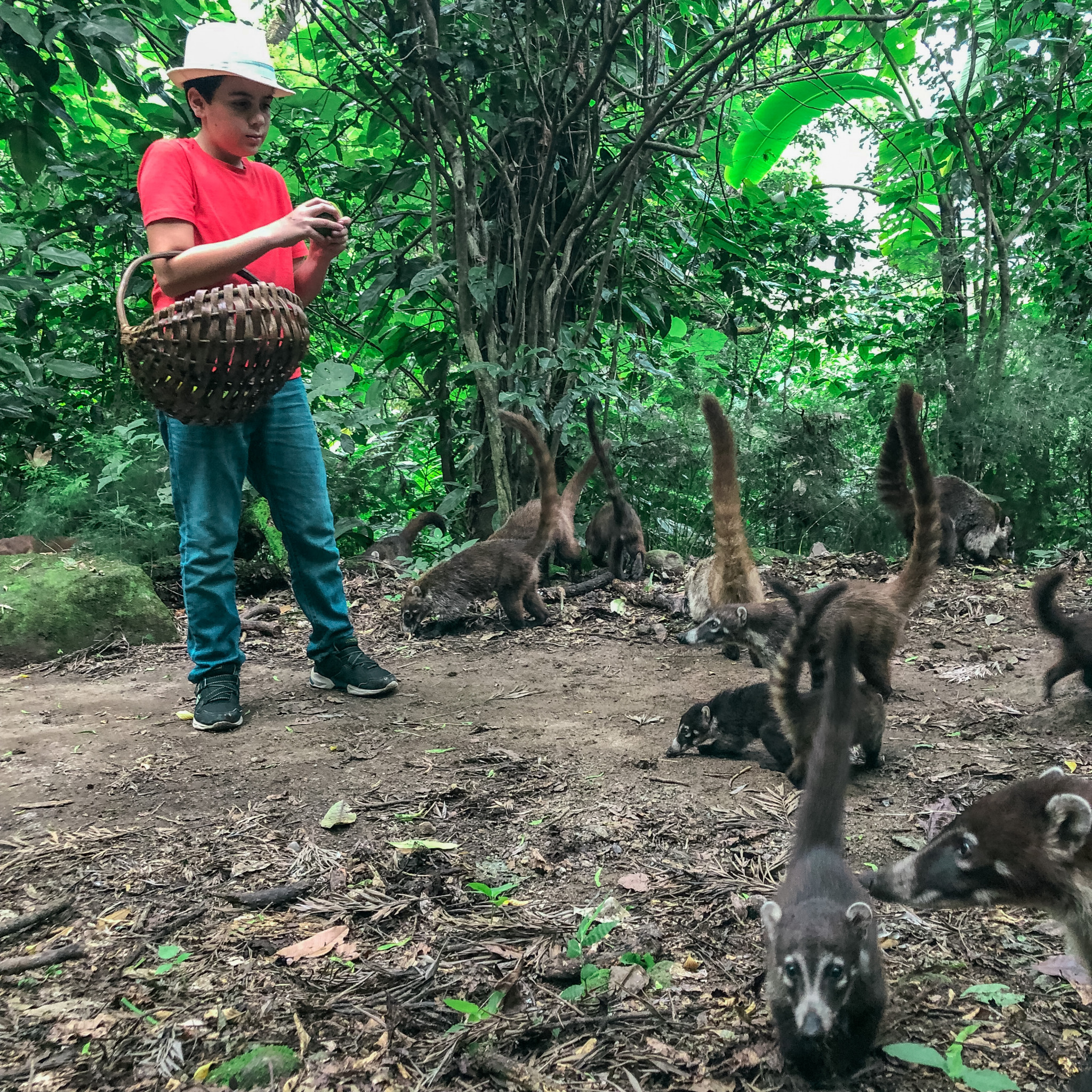 Make chocolate in San Marcos La Laguna
San Marcos La Laguna is one of my favorite towns in lake Atitlán. I love the peaceful new-age vibes and it's a great town to visit with the kids because there are no cars or TukTuks so you can safely walk everywhere.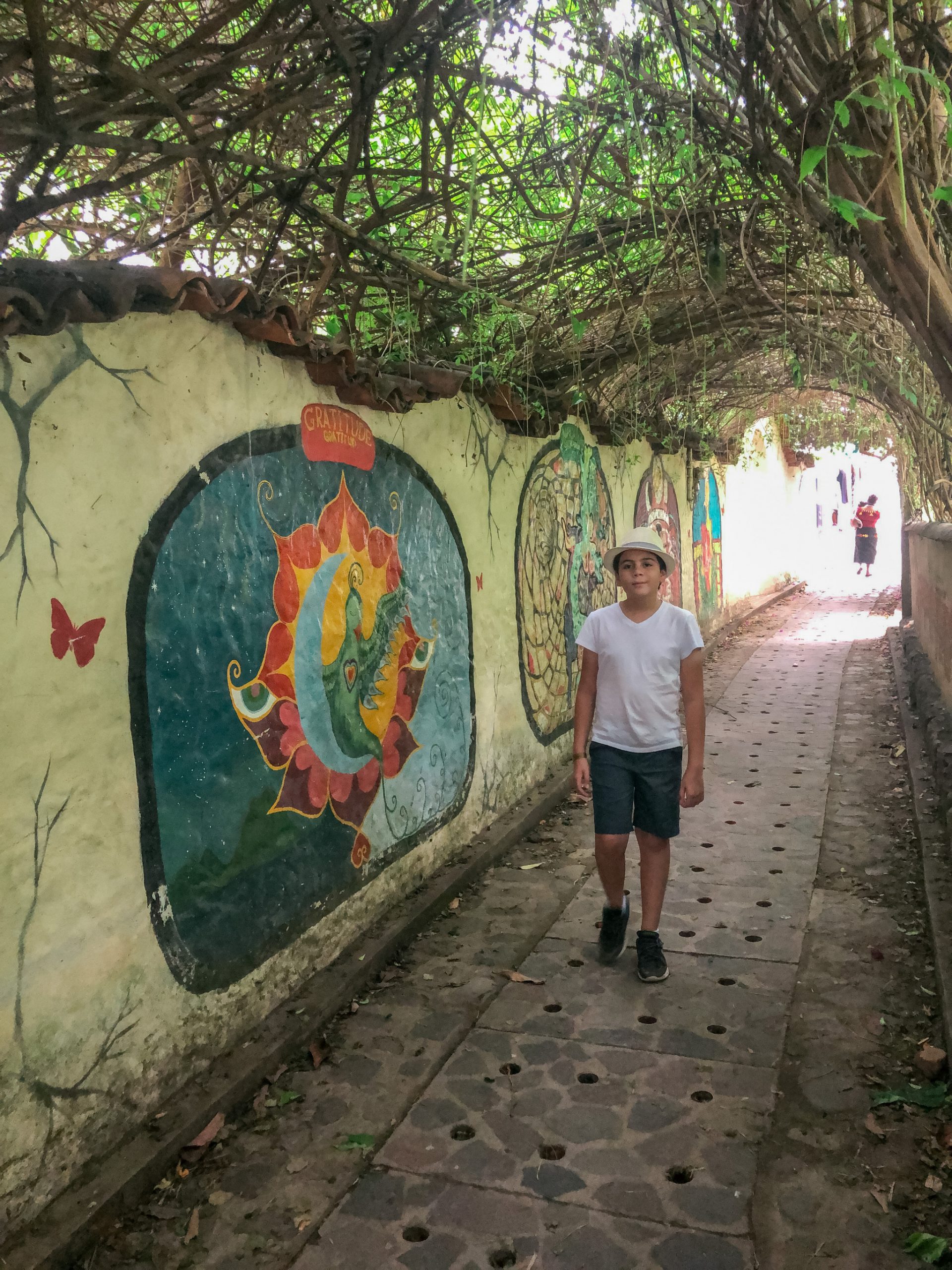 We love to walk along the street checking out the craft stalls and looking at the murals on the walls. On the main street, you can find the Chocolate Museum where you can take a chocolate-making class. Here you adults and kids can learn all about the history of chocolate and cacao beans, learn to create your own traditional Mayan hot chocolate drink, and make your own chocolates. My kids love this, because what could be more fun than making chocolate and taking it home?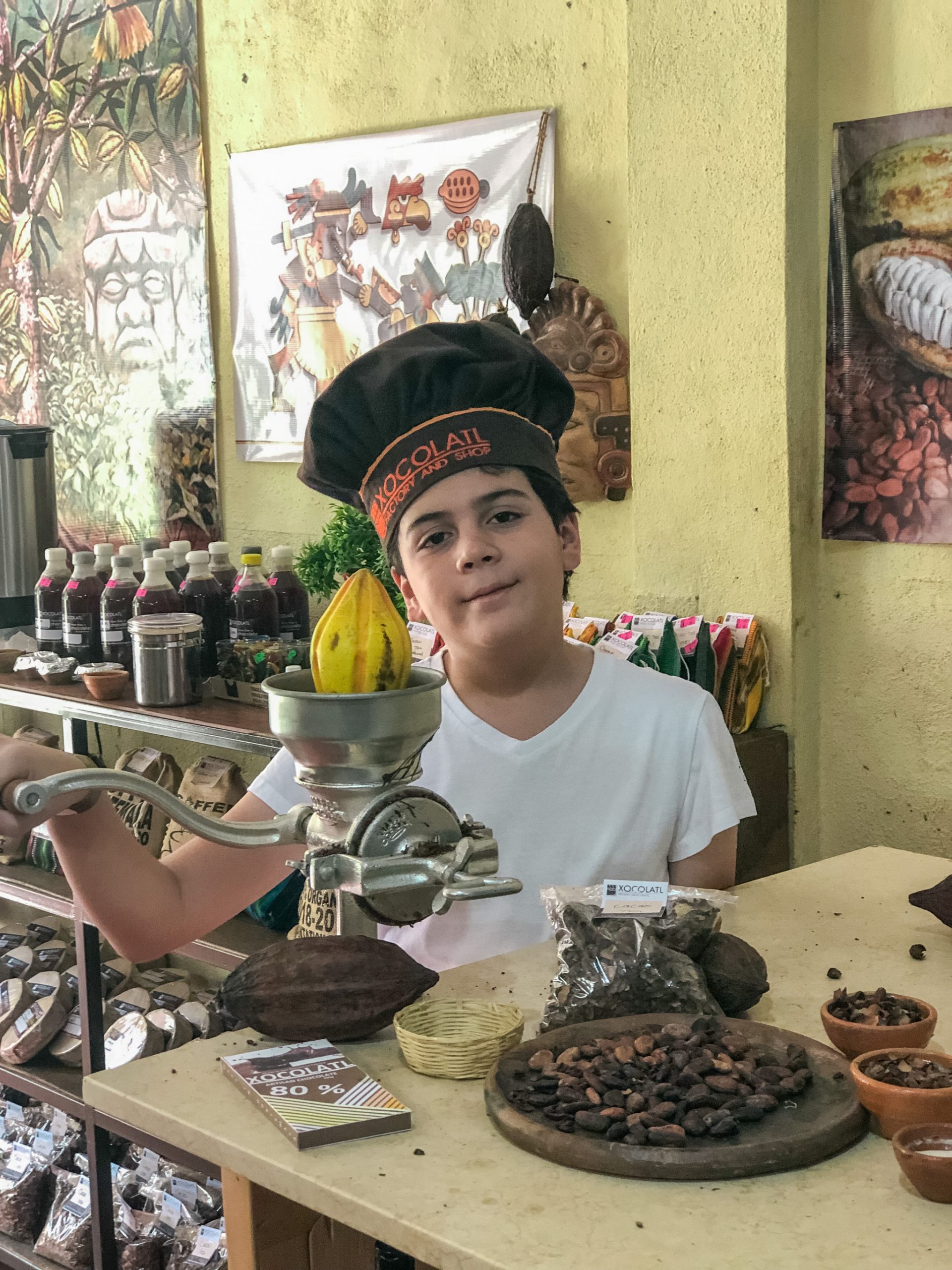 Visit Santa Catarina Palopó, the most colorful town in lake
Atitlán
This small and colorful town is only a few minutes away from Panajachel and you can arrive there by land or by boat. If you want to get there by land you can take a TukTuk there which is also a fun activity in itself.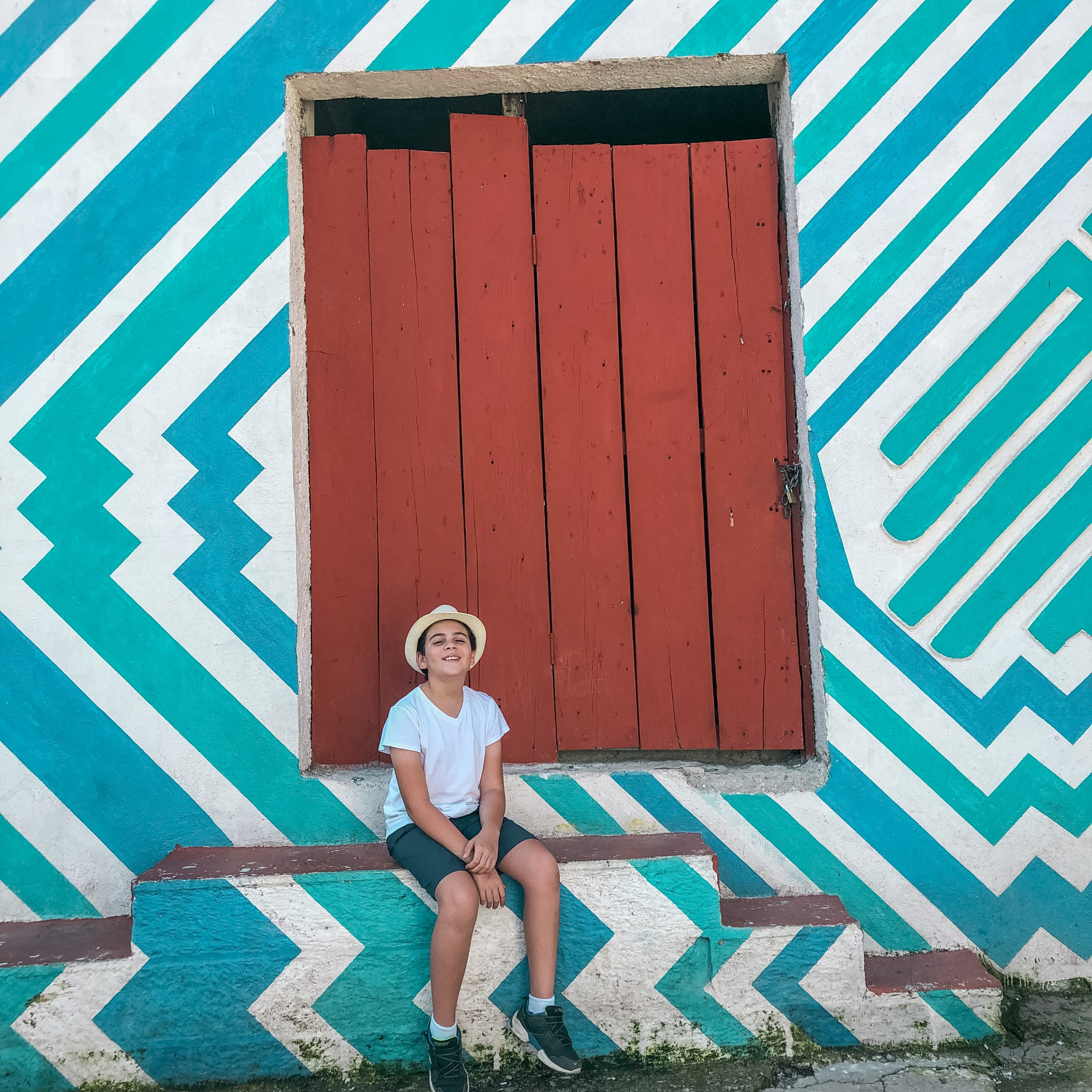 Santa Catarina Palopó used to be a fishing village but due to overpulation and development of the area fishing is no longer sustainable. To attract opportunities and tourism the project
Pintando Santa Catarina
is in the process of painting the town's houses with designs based on traditional textile of the Mayan people who inhabit the town.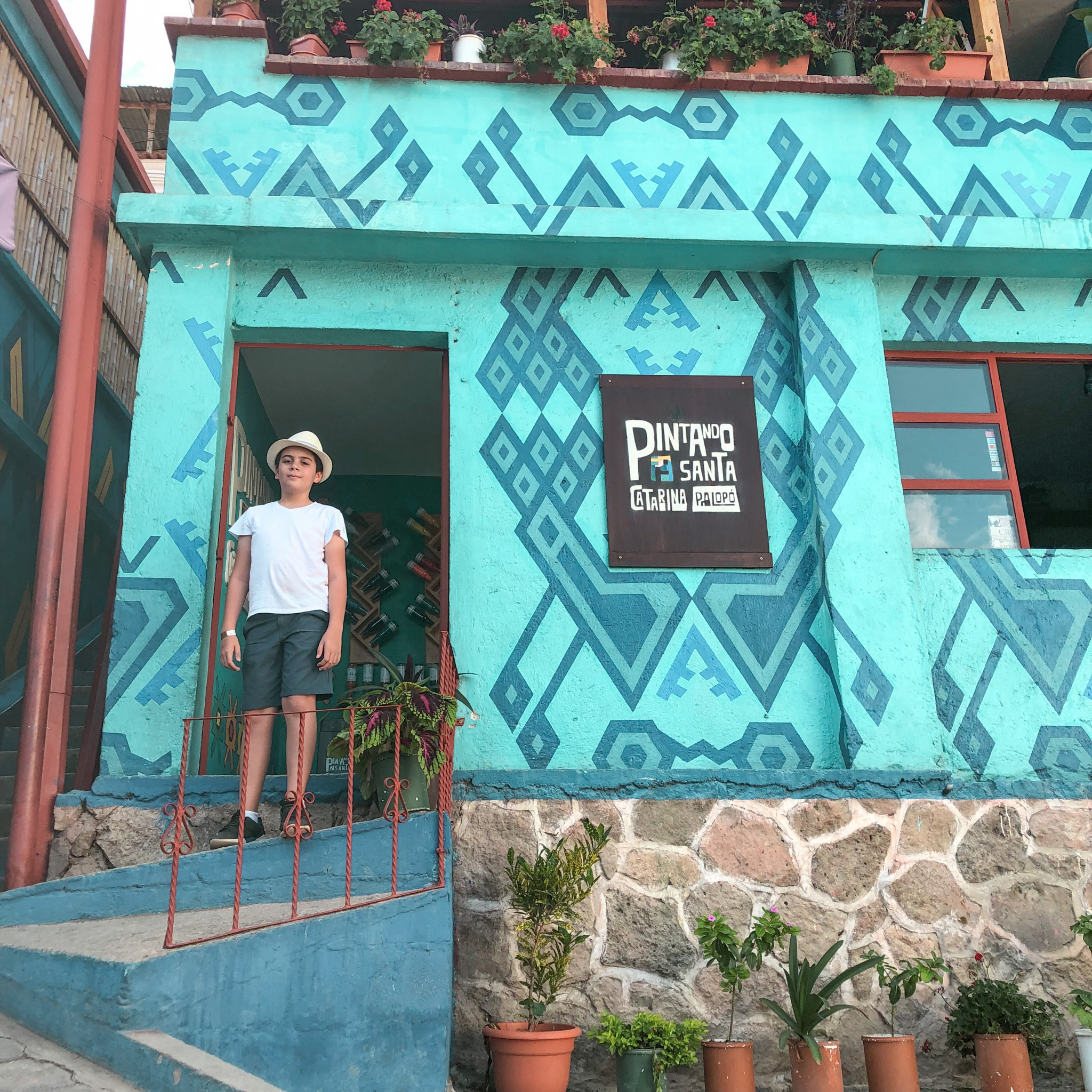 It's a great place for taking photos and browsing through art galeries. You can also visit the small town square with it's quaint little colonial church.
Learn about traditional pottery making in San Antonio Palopo
Another great town to visit is San Antonio Palopó, knows for it's beautiful and unique pottery. Here you can take a tour of the pottery. The tour is free but you are expected to buy something once the tour is over.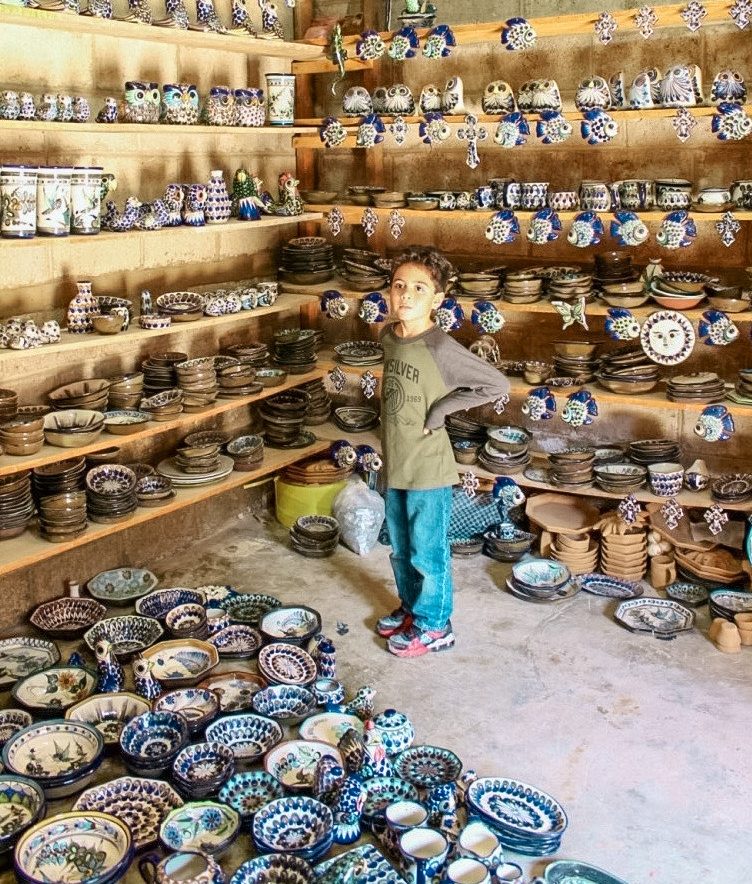 The pottery is gorgeous and very affordable so this is a win-win situation as you get to learn about the traditional pottery making process and the unique local clay used to make these pieces and you get to take a pice home too!
You can read more about our experience visting San Antonio Palopó and why it has such unique potter
here
.