Declared by UNESCO as a World Heritage Site, Antigua Guatemala is a colonial city rich in history and culture. A place that seems to have stood still, there are exciting and fun things to do in Antigua Guatemala. But when it comes to finding kid-friendly activities in Antigua, it can be somewhat of a challenge. So I wanted to share with you all the best things to do in Antigua with kids. All of these activities are family-friendly but are also great for adults.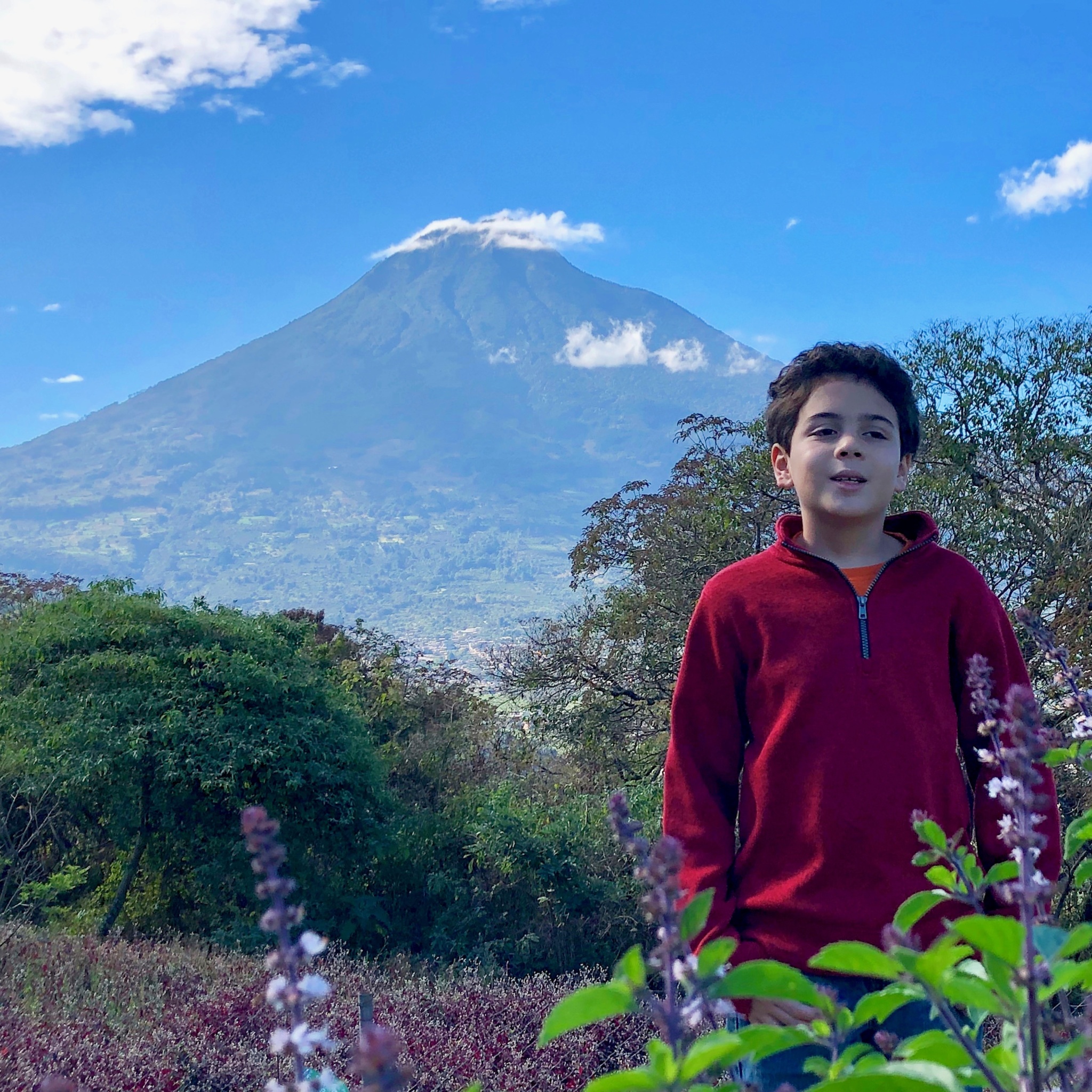 The Best Things to Do in Antigua Guatemala With the Kids
I was born and raised in Guatemala. As a kid, one of my favorite things was traveling to Antigua with my family. Now that we live in the United States, we return to Guatemala with the kids as often as possible. And we always spend time in beautiful Antigua! So to enjoy your stay, here are the best things you can do in Antigua Guatemala with kids:
Make Chocolates and Learn About Mayan Culture
There are few things better than good quality chocolate! The Choco Museum has two locations in Antigua Guatemala. Not only do they sell artisanal, handmade chocolate, but they teach you how to make your own. We took their "bean to bar" chocolate workshop with the kids, and my son declared this his favorite experience in Guatemala!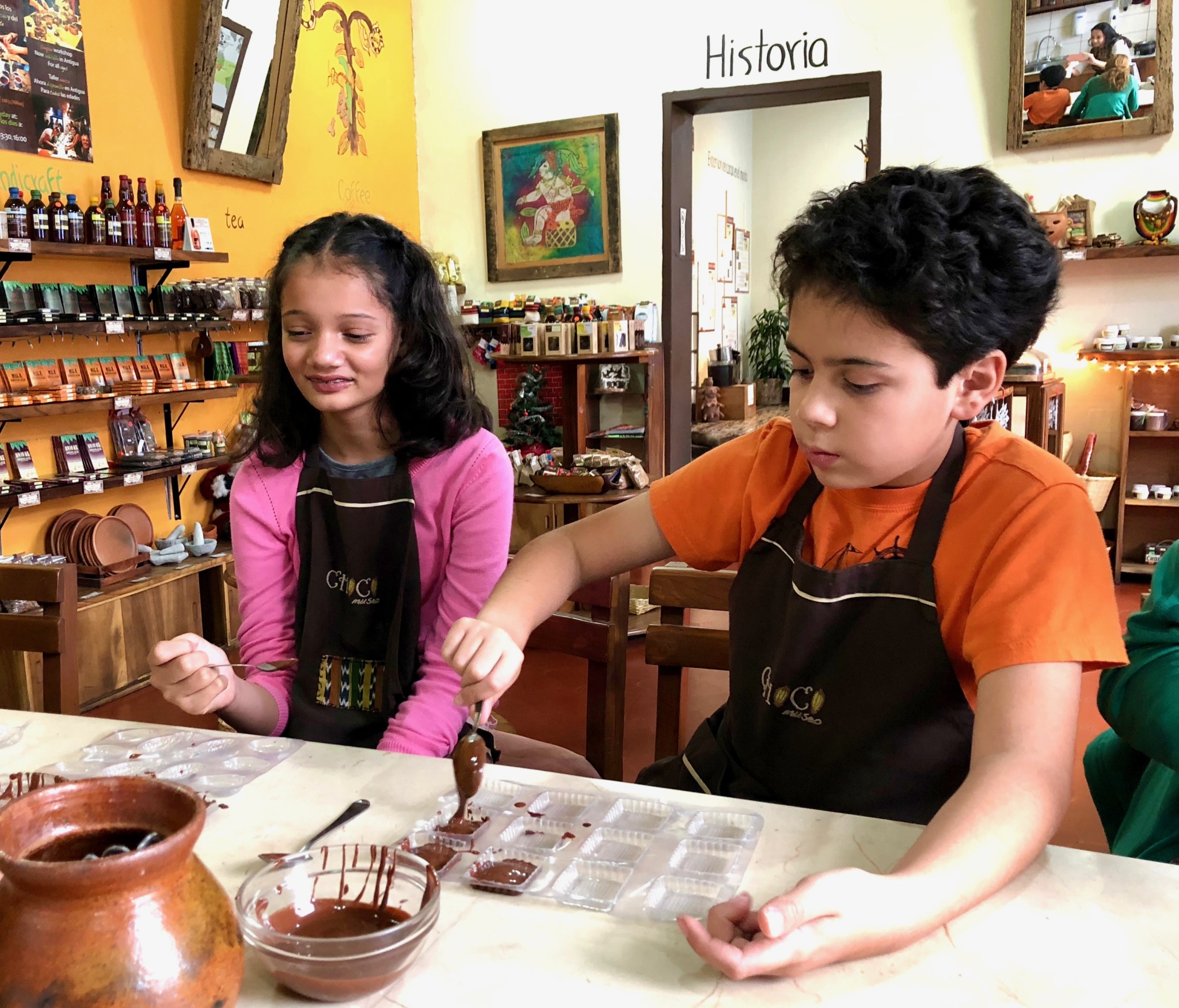 The workshop was super fun and interactive; the kids roasted, peeled, and grind cacao beans using a traditional grinding stone. They also learned about the cacao plant and the history of cacao and chocolate. Then, when it came time to make their chocolate, the kids got to choose from different molds. Finally, they added delicious toppings to their chocolates, from nuts and shredded coconut to sprinkles.
During the workshop, which lasts about two hours, you will also get to make hot chocolate like the Mayans and the Spanish conquistadores did. And the best part: you get to try different cacao drinks. At the end of the workshop, we walked out with big smiles on our faces and a bag of handmade chocolate. In addition, we got a wealth of knowledge about making chocolate and Guatemala's Mayan culture.
Combine Art and Thrills at Santo Domingo del Cerro
Located at the top of a hill on the city's edge, Santo Domingo del Cerro is a great place to spend part of the day. With a restaurant, sculpture garden, art galleries, zip lines, and a playground for the kids, it's got something for everyone in the family. Plus, it boasts one of the best views of the entire city and the volcanos.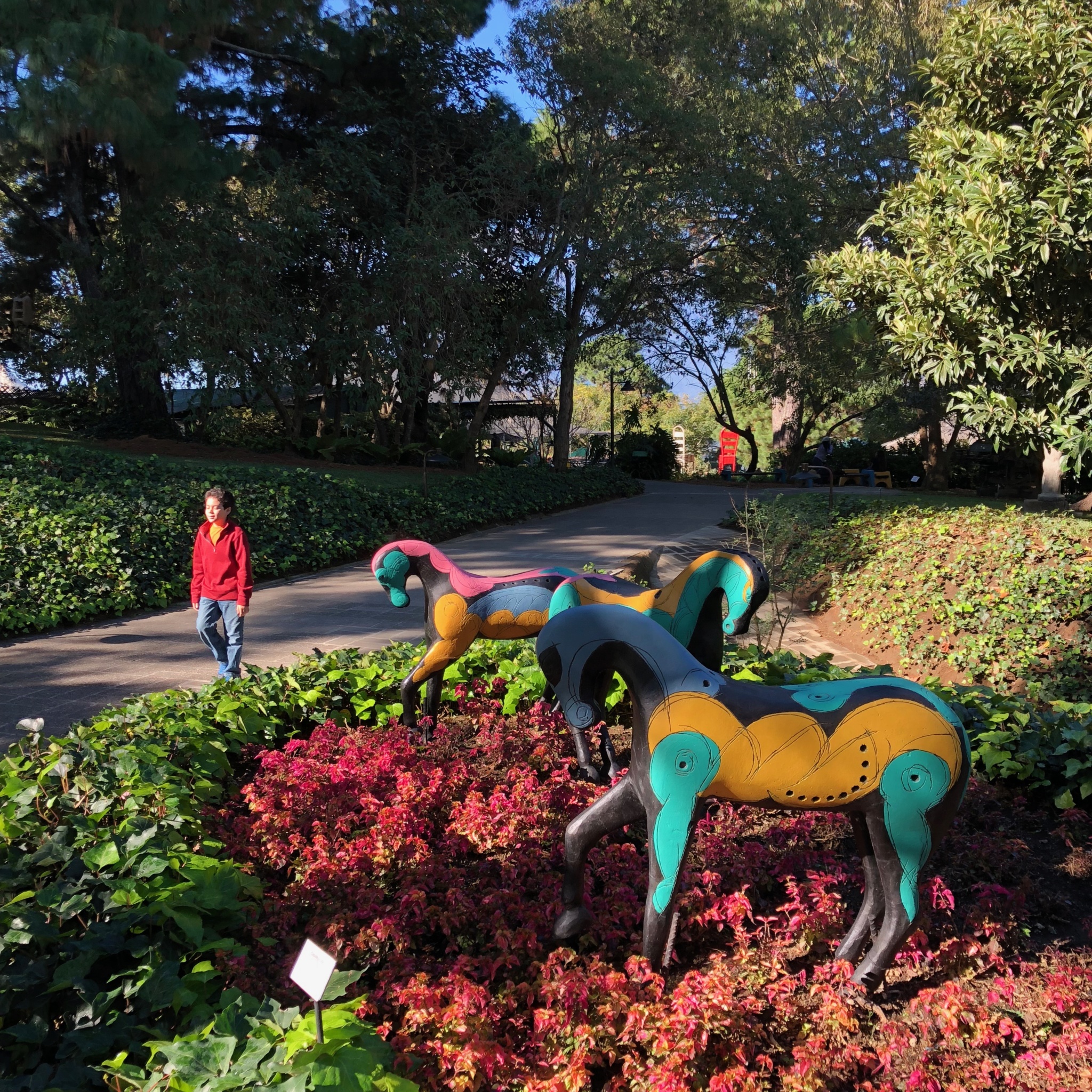 We started with breakfast at El Tenedor Del Cerro restaurant, where we enjoyed delicious food and a spectacular view of the volcanoes. The Fuego volcano was active and a smoke cloud raised from its crater as we savored our huevos rancheros. It was fantastic!
After breakfast, we walked around the sculpture garden, filled with colorful and whimsical sculptures and murals from some of the most renowned Guatemalan artists. Then we visited the aviary where you will find lots of birds. Next, my 10-year-old wanted to try the zip line, but he's afraid of heights. So he opted for the safer mini zip line on the playground.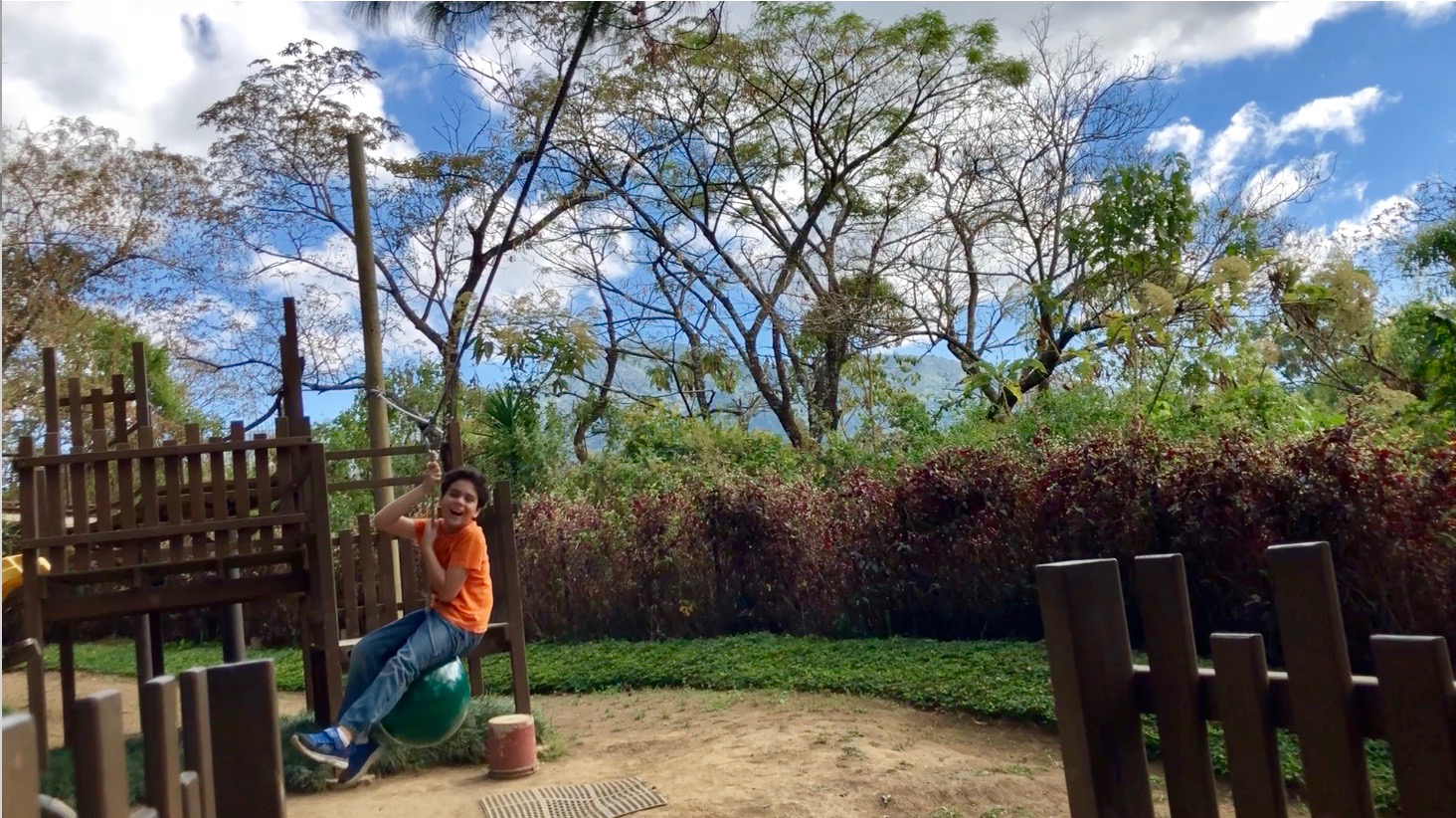 We ended the day learning about Guatemalan art history as we walked through the art galleries.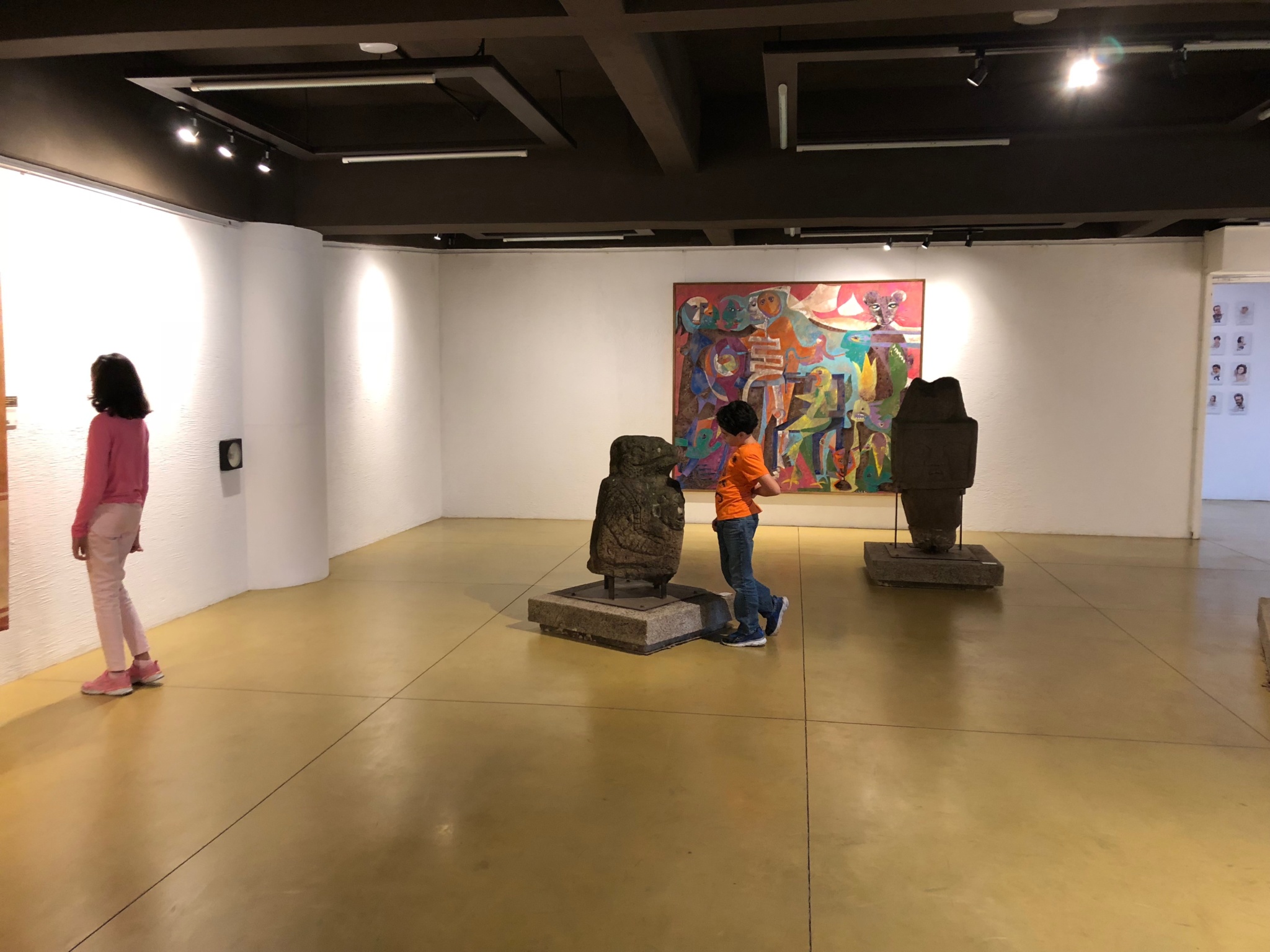 The best part is that Santo Domingo del Cerro has no entrance fee; the sculpture garden, art galleries, aviary, and playground are free. If you want to enjoy the zip line, there are a couple of options, and prices start at $35. The restaurant is expensive but well worth it; the food is delicious, and the view is like no other. If you are going on a weekend, arrive at least an hour before the time you plan to eat. There is often a long wait time, and you can't make reservations. But if you plan it well and walk through the gardens before your meal, it works perfectly!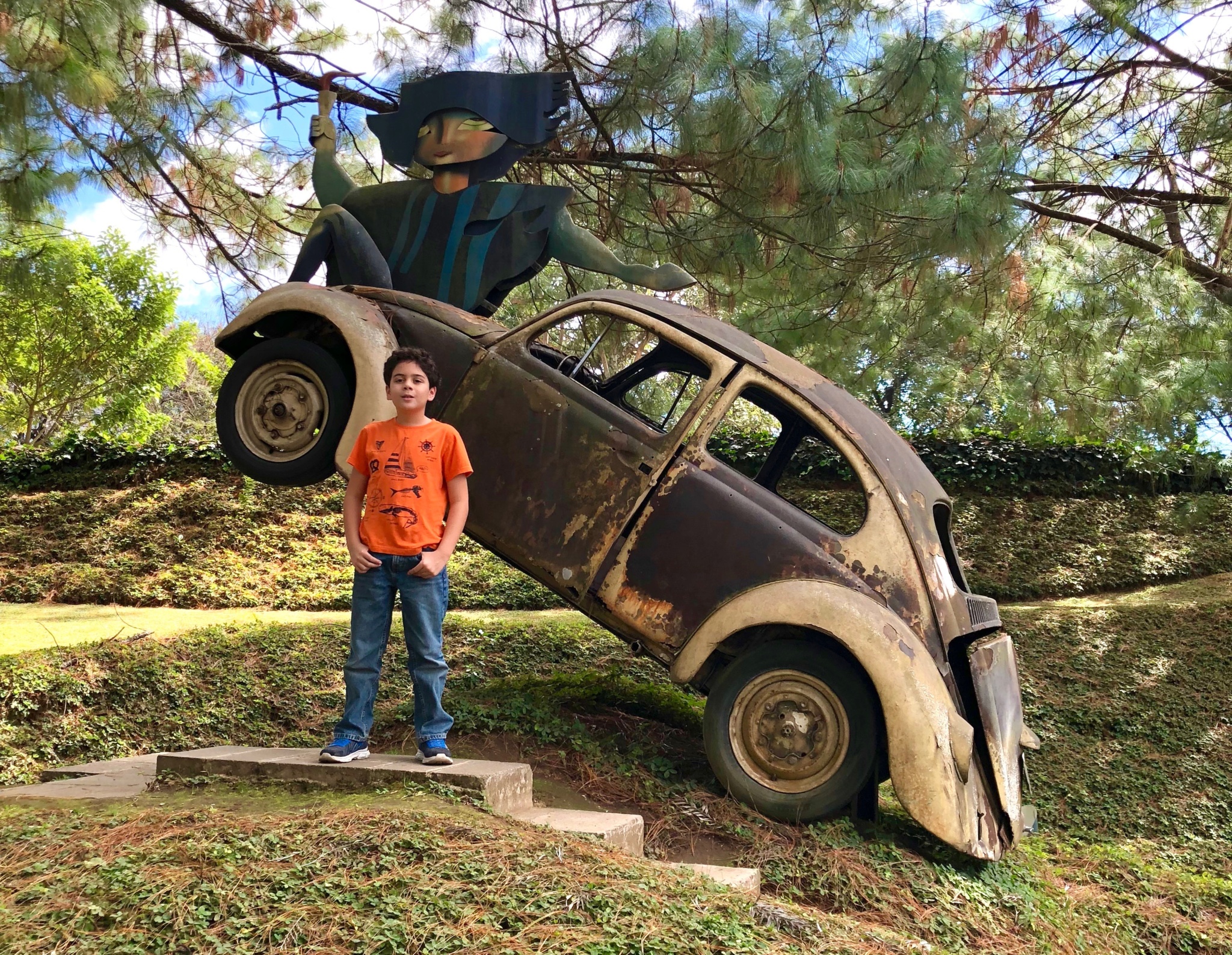 Santo Domingo del Cerro is the property of Hotel Casa Santo Domingo. Free shuttles depart from the hotel every 15 minutes, even for non-guests. If you are driving your car, parking is available at the hotel.
Spend the Afternoon at the Parque Central de Antigua Guatemala
El Parque Central, or Plaza Mayor, in Antigua Guatemala, is surrounded by the cathedral and other historic buildings, with the beautiful Agua volcano in the background. This beautiful town square is a gathering place for locals and visitors alike. We love to grab a bench near the beautiful fountain, la Fuente de las Sirenas, and people-watch while enjoying ice cream or cotton candy. During the weekends, you may find musicians playing the marimba, and street vendors are always around offering beautiful Guatemalan crafts.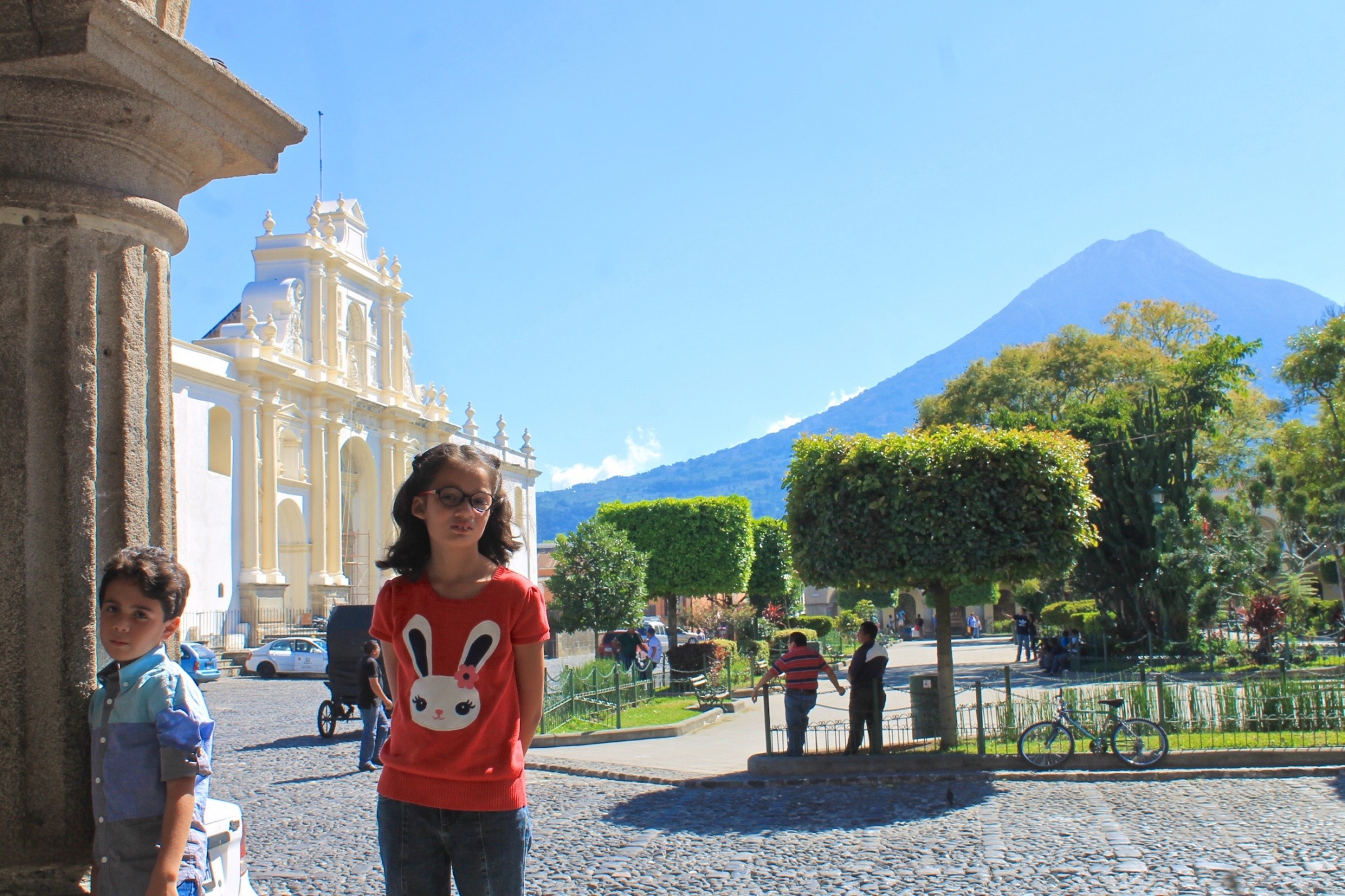 We love to visit the park in the mornings when it's not too crowded. Sometimes we will cross the street to Cafe Condesa for some of their amazing homemade pies and browse the books at the Casa del Conde bookstore, which has a great variety of Guatemalan books. I always try to grab a book or two for the kids; our favorites are the ones about Mayan legends.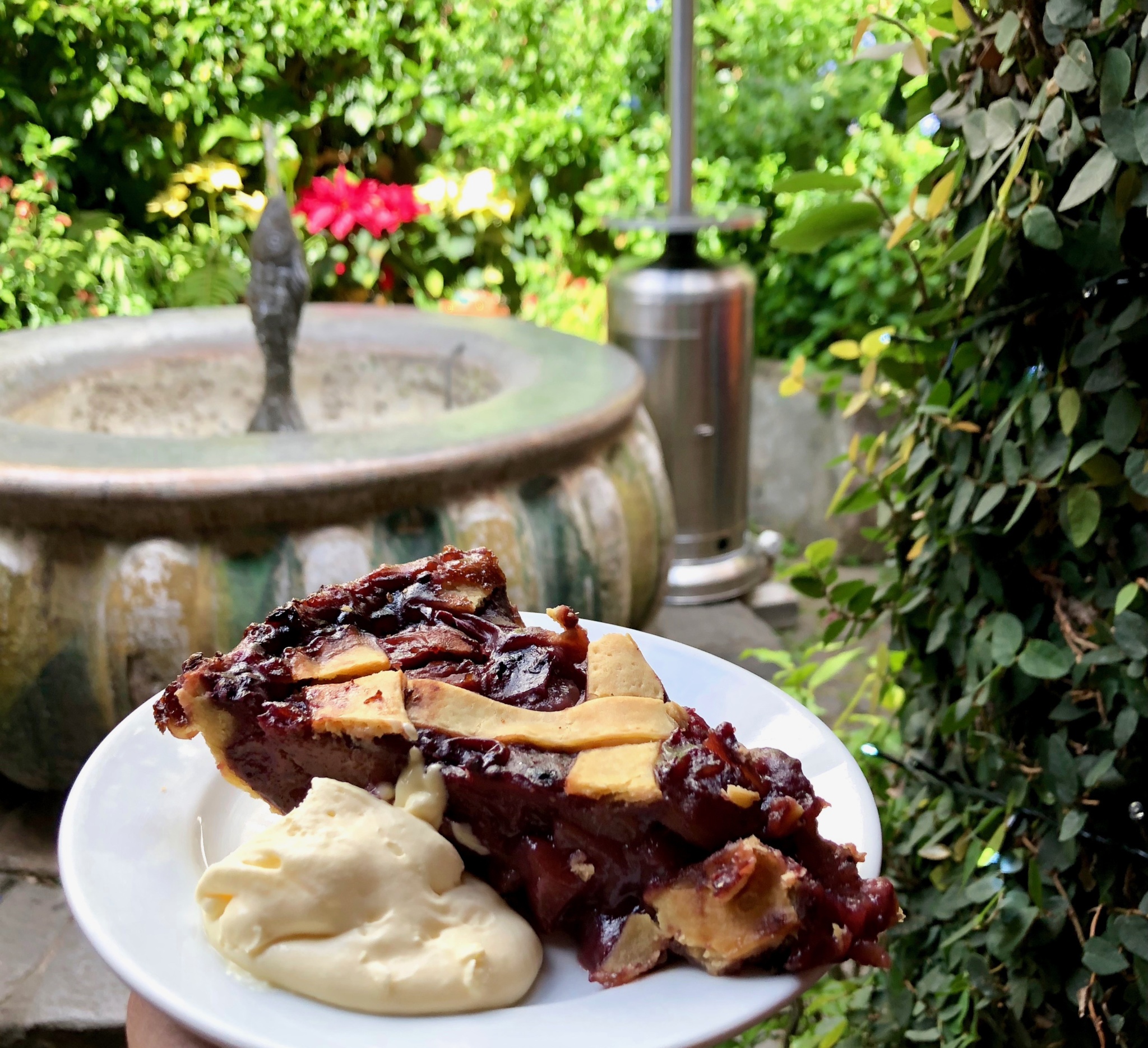 You can also hop on one of the many horse-drawn carriages from the park. Don't skip taking a tour through the stunning cobblestone streets.
Explore Antigua Guatemala's Famous Colonial Ruins
Antigua Guatemala has many beautiful colonial buildings and ruins. The ruins are fun to explore with kids! It is an excellent opportunity for everyone in the family to learn about Antigua's history. Some of my favorite ruins to visit include:
Convent of Santo Domingo: Now part of the Hotel Casa Santo Domingo, the convent's ruins have been beautifully restored. The hotel has different galleries showcasing Guatemalan art and historical pieces. The colonial museum showcases beautiful sculptures and paintings from colonial times, while the Archeological Museum gallery exhibits Mayan artifacts from the classic period. In addition, some galleries showcase contemporary Guatemalan artists. Hotel Casa Santo Domingo also has some beautiful gardens full of flowers, and there are even colorful macaws which the kids loved! The entrance is free since the ruins are part of the hotel.
Church and Convent of Capuchinas: Capuchinas has always been one of my favorite ruins in Antigua Guatemala. Its beautiful courtyards and fountains are filled with bougainvillea flowers and are fun to explore for children and adults alike. They also make for a perfect location for amazing family pictures!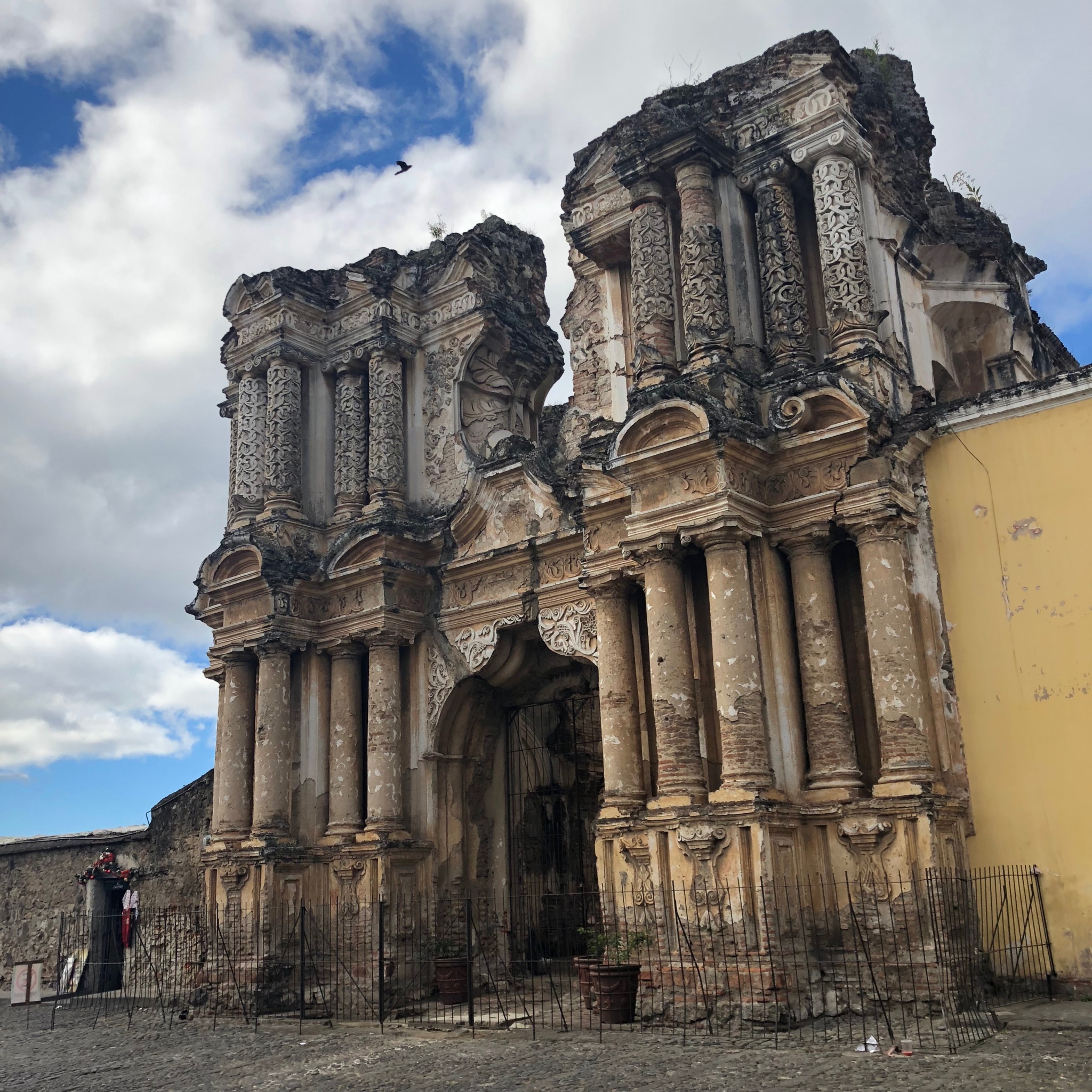 La Recoleccion Church: Severely damaged during the 1717 earthquake, you can't go inside, but to me, the facade is still stunning and iconic. Take a stroll along the street and check out the intricate work on the front. Don't forget to snap a couple of photos with the imposing Agua volcano in the background.
Ride Mules at a Coffee Plantation
Located just minutes from Antigua Guatemala, Finca Filadelfia is a great place to spend the morning or the afternoon. You can enjoy mule rides, plus incredible coffee, canopy, or ATV tours.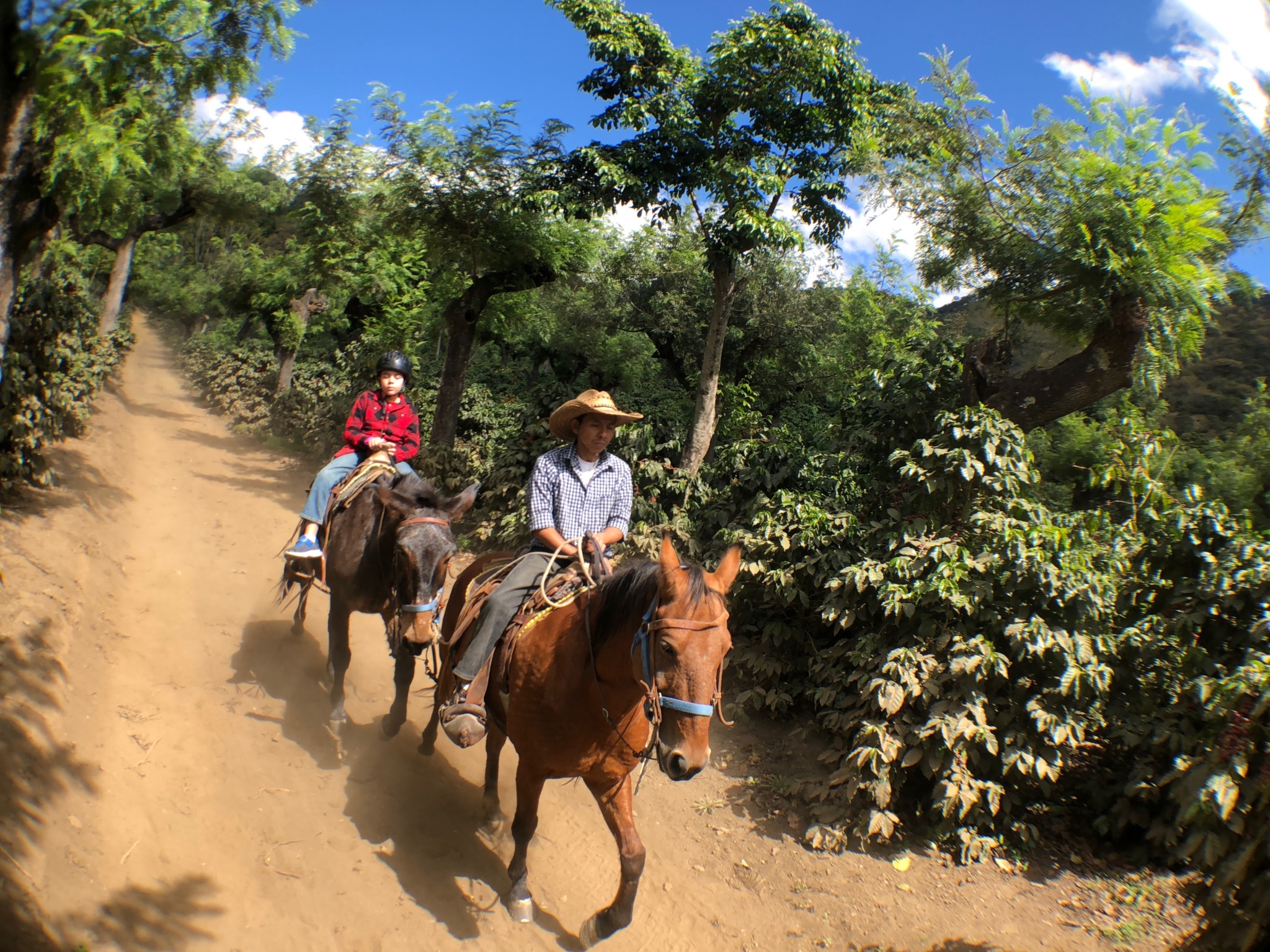 My kids love horses and have never ridden a mule, so they were excited to do this for the first time. We did the one-hour mule ride, which was the ideal time for the kids. They also have 10-minute and 2-hour rides, so you can choose how much (or little) time you want to spend riding. During the ride, we learned the history of this plantation, founded in the late 1800s, and about coffee. The one-hour mule ride takes you through the coffee plantation's main avenue, a cobblestone street, and then you go up.
Finca Filadelfia provides free roundtrip transportation from Antigua Guatemala, on their Unimog trucks daily. My kids loved the Unimog ride almost as much as the mule ride. But let me advise you that Unimogs are hard to get in and out of and not ideal for people with mobility issues.
Visit Antigua Guatemala's Crafts Market
Guatemala has some of the most colorful and beautiful handicrafts and textiles in the world! And Antigua is a shopper's paradise, packed with boutiques and markets.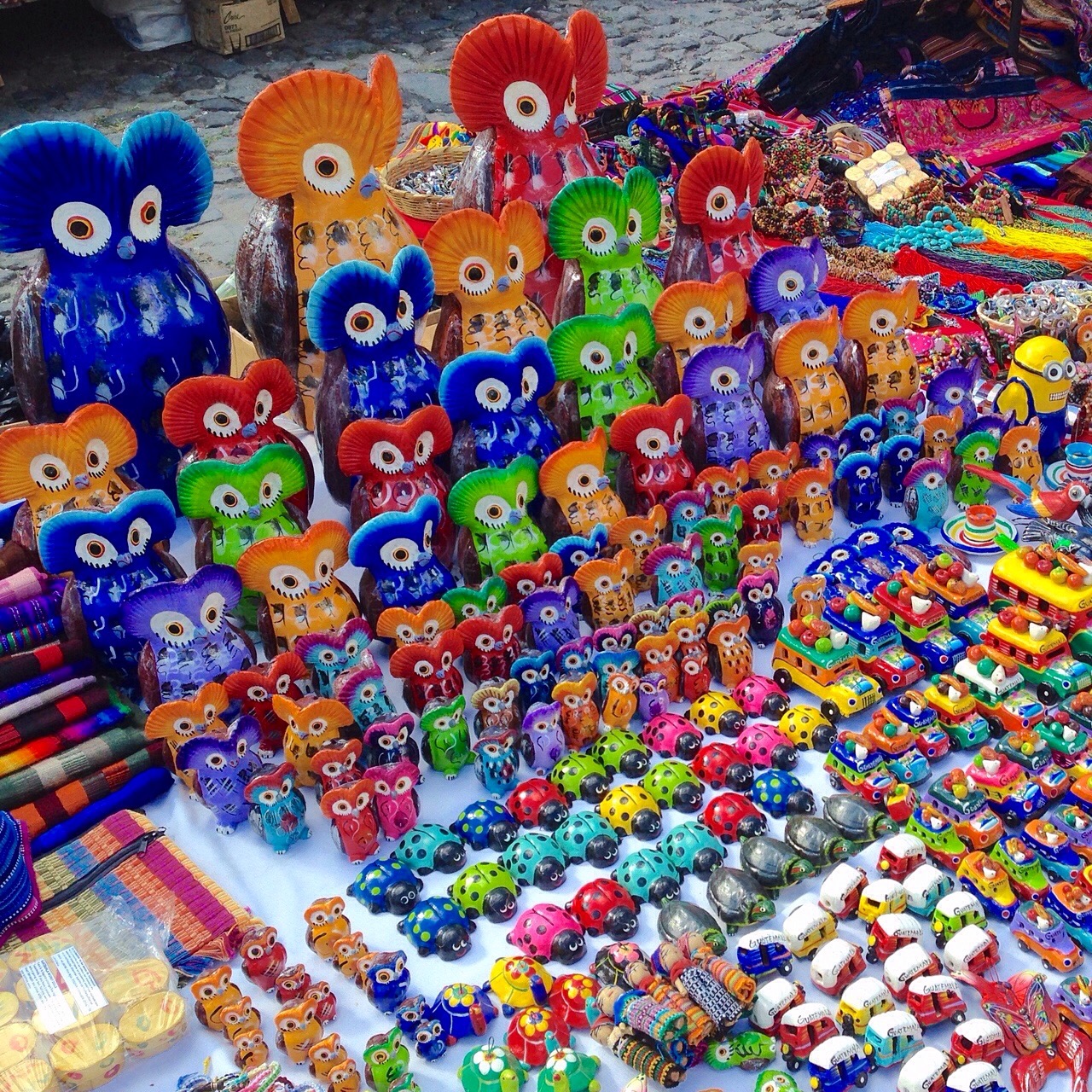 We love taking the kids to the craft market next to the Iglesia del Carmen ruins. It's a lesser-known market and not as crowded as the Mercado de Artesanias. They love picking a souvenir to remind them of their visit to Antigua Guatemala. Walking among the colorful stalls overflowing with pottery, masks, wooden toys, and various other crafts, souvenirs, and Mayan textiles is a fun experience. I usually take advantage of this opportunity to encourage my kids to practice their Spanish and haggling skills as they negotiate for the best price.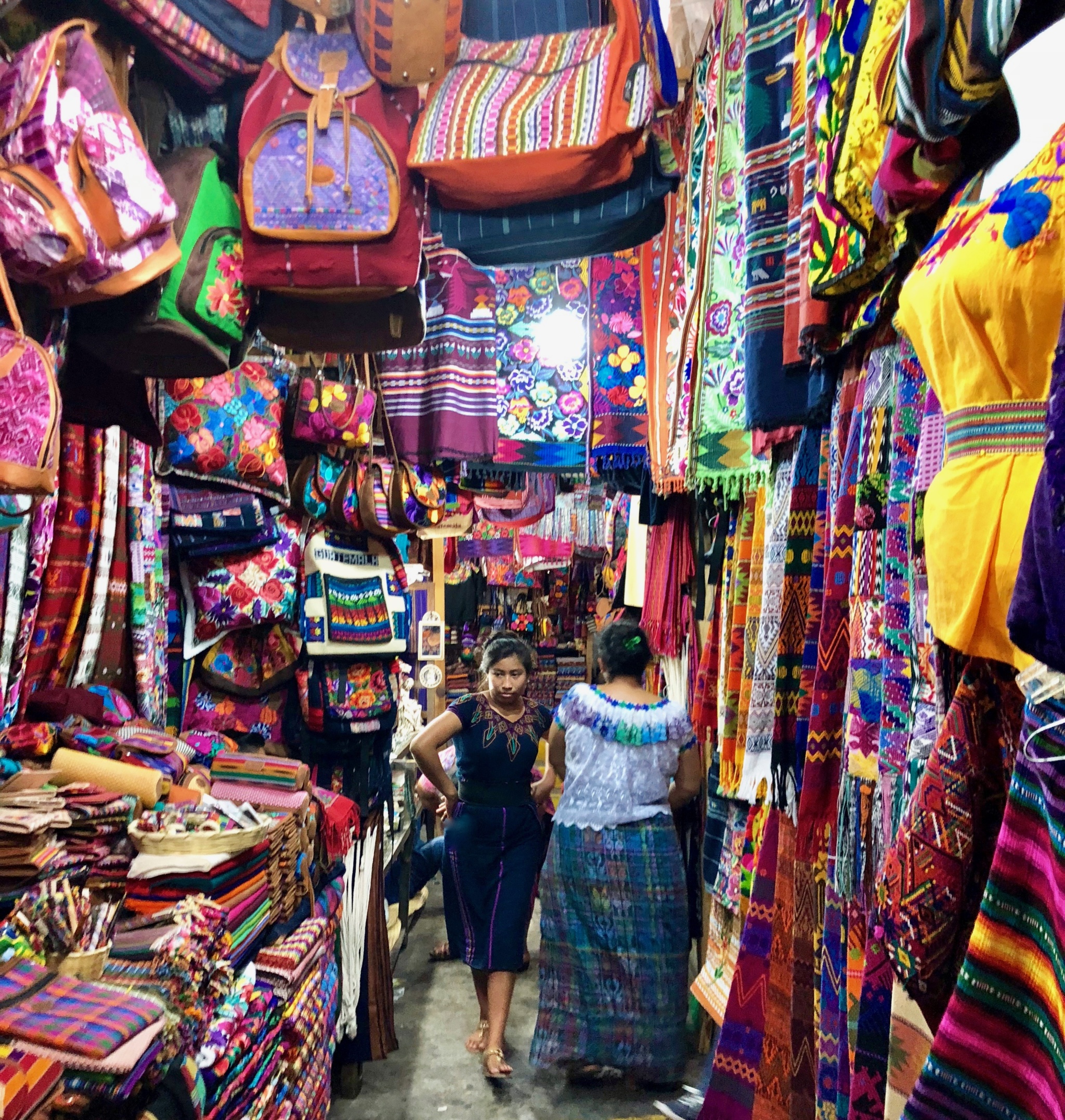 Enjoy traditional Guatemalan Candy at Doña Maria Gordillo
We all know that kids love sweets. So when visiting Antigua Guatemala, a stop at Doña Maria Gordillo's candy store is a must. Filled with traditional candy and decorated with countless handmade ceramic owls and other traditional pottery, Doña Maria Gordillo is an Antigua institution that has been around for over one hundred years.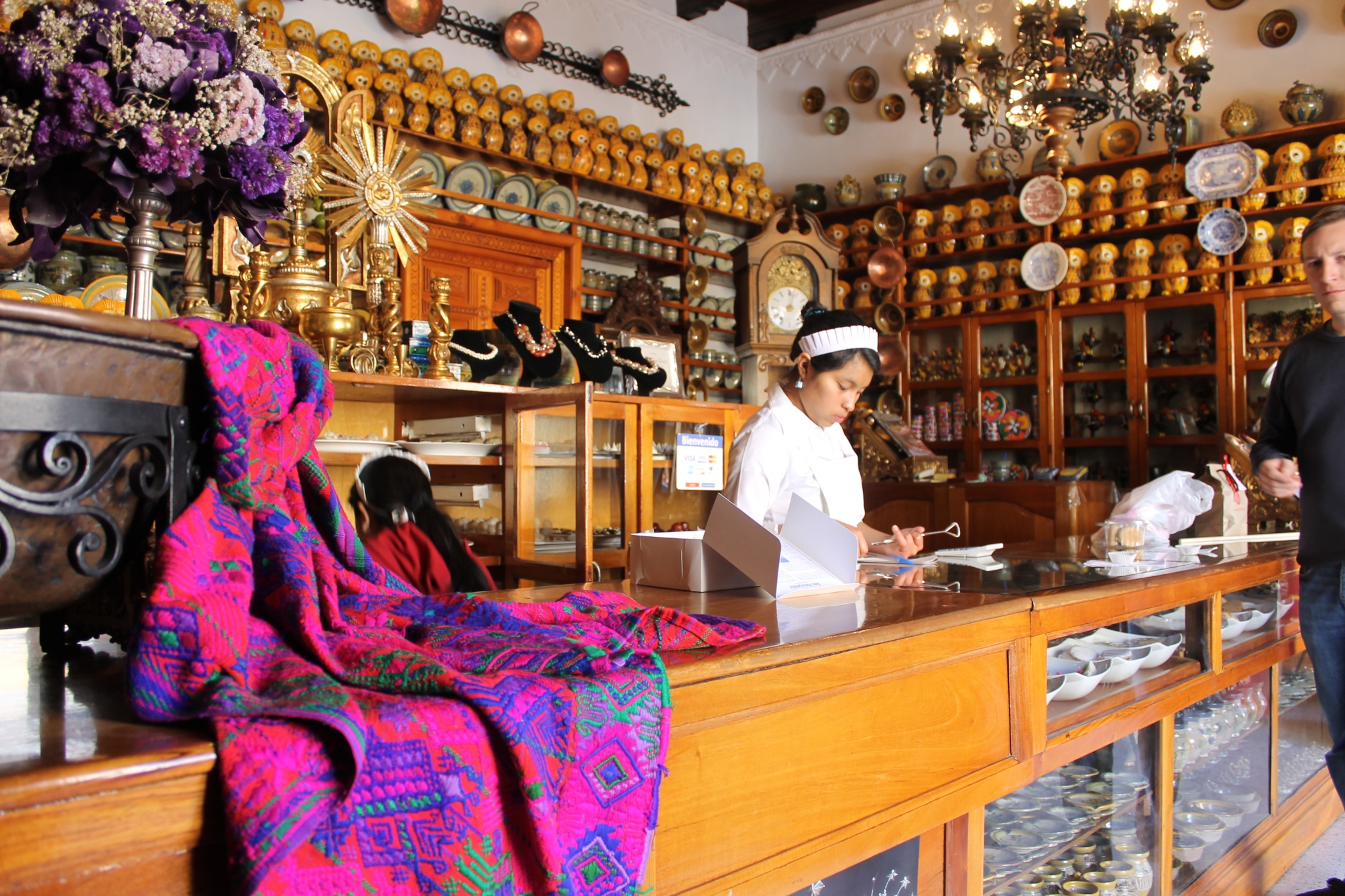 Locals say they fearlessly guard their secret recipes and use only the best ingredients. There are other traditional candy stores around the city, many of them more affordable. But none of them even come close to Doña Maria Gordillo's in terms of quality and taste. I've tried other candy and always keep coming back to Doña Maria Gordillo's.
My family's favorite Guatemalan candies include canillitas de leche (sweet milk candy), marzipan shaped as miniature fruits, naranjitas (orange and sugar candy), and coconut candy. I also love the candied figs, the chilacayotes (candied squash), and the tamarind balls.
Where to Stay in Antigua Guatemala With Kids
if you're looking for a family-friendly hotel in Antigua, this is it! With beautiful colonial architecture and a kid-friendly pool, Porta Hotel is the best hotel In Antigua Guatemala with families in mind. The pool has a deeper area perfect for adults and teens and a toddler area where little ones can splash around and have fun.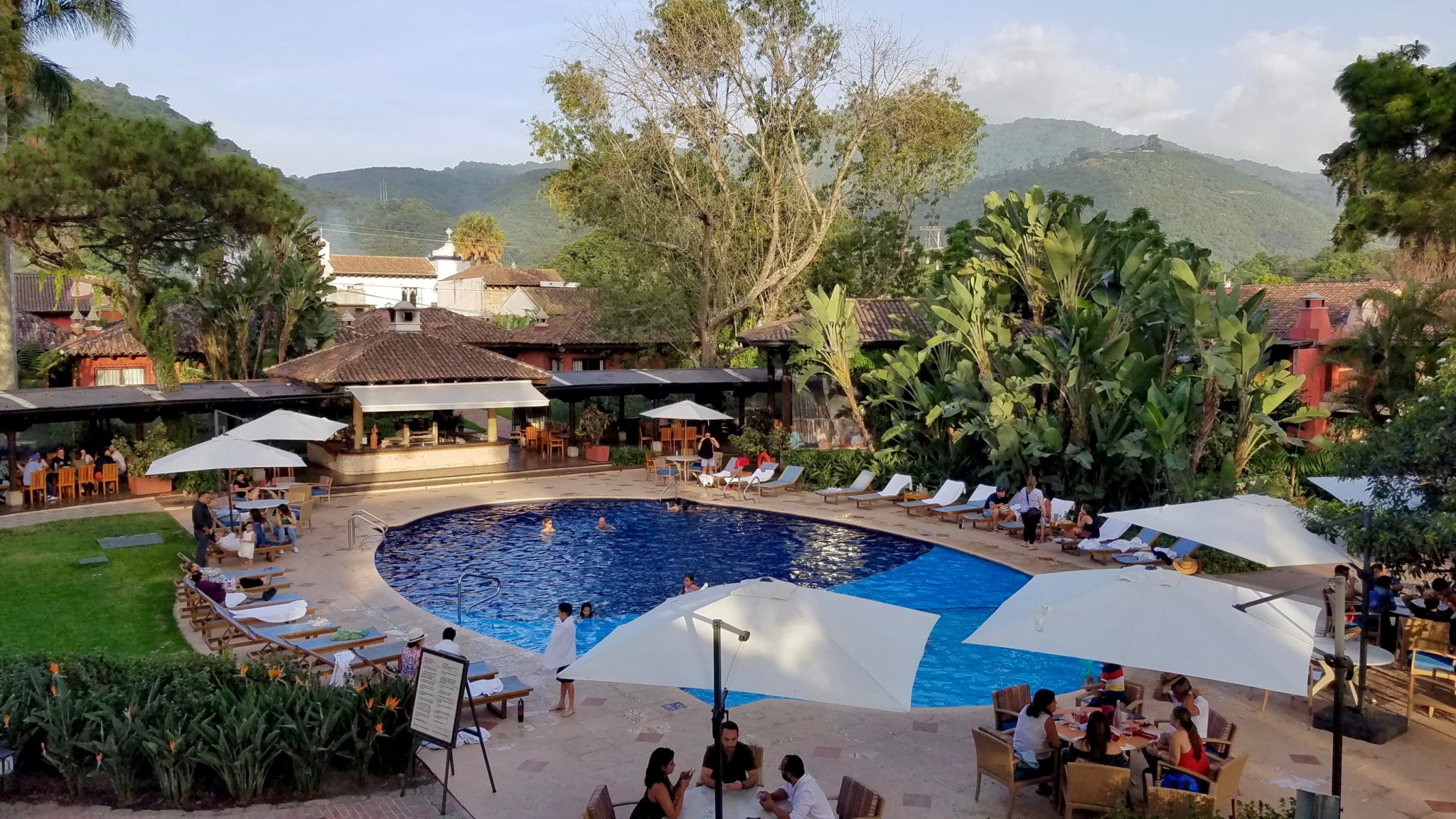 Beautiful lush gardens full of colorful flowers surround the pool, with comfortable lounge chairs and giant umbrellas. And the best part: As you relax poolside, you can take in the fantastic view of the Agua Volcano in the background.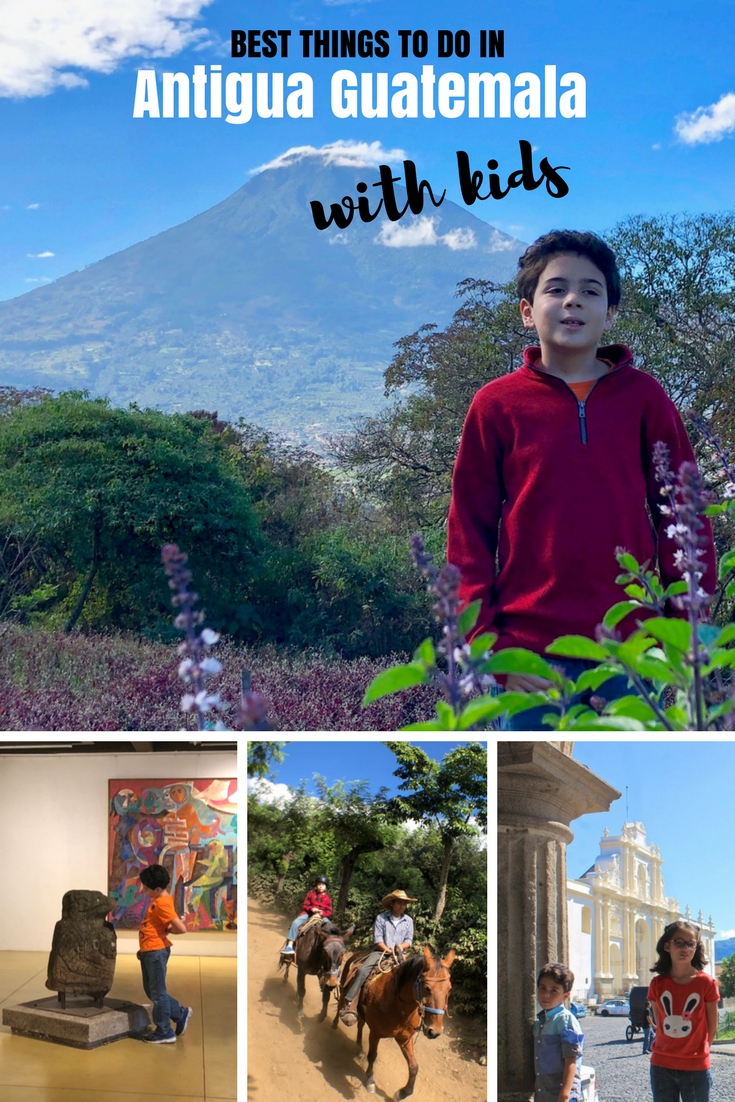 More Amazing Things to Do In Guatemala:
If you're planning a trip to Guatemala, or want to come back for more, you've come to the right place! From the best destinations to kid-friendly activities, I'll share my love for my home country. Here are amazing things to do in Guatemala to make your trip a memorable one:
The capital city is full of fun things to do. However, kid-friendly activities are not always easy to find. So I thought I would share the best things to do in Guatemala City with kids. And the best part is most are not only fun but also educational activities; a huge plus for any parent!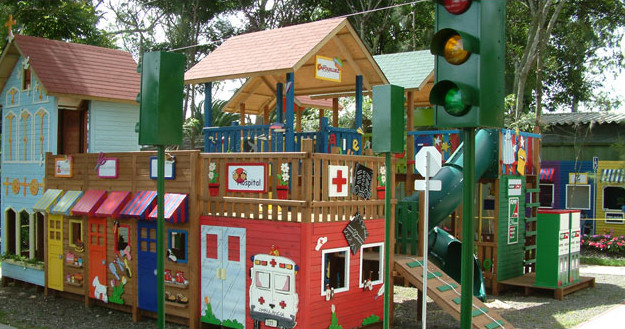 Here is a guide to visiting Tikal that includes everything you need to know before seeing the most spectacular Mayan ruins in the world. It is a great starting point for enjoying the many adventures the Petén region offers.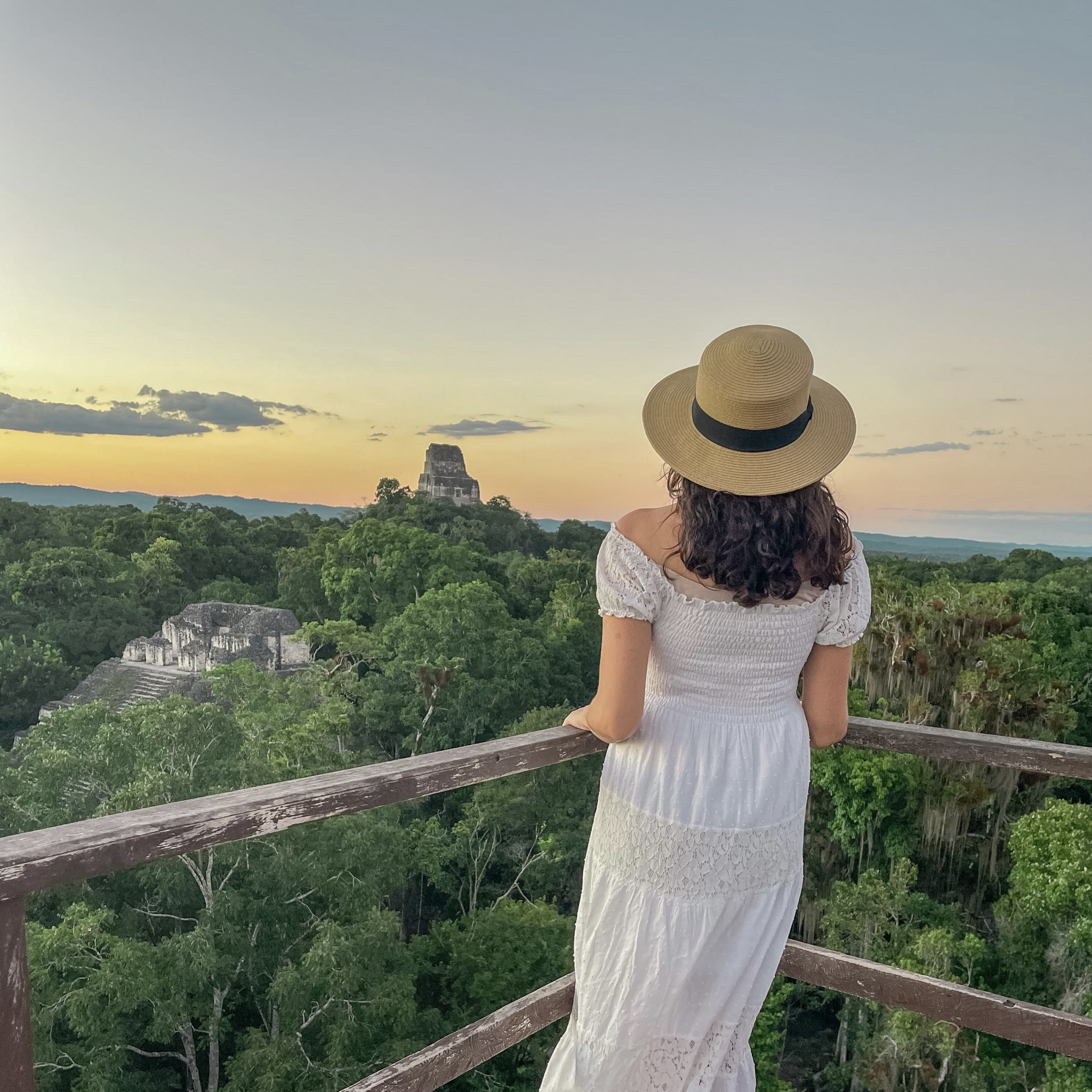 Looking for the best things to do in Lake Atitlán with kids? Here are lots of fun options! It includes all our favorite things to do around the lake, from Panajachel to smaller towns like San Antonio Palopó.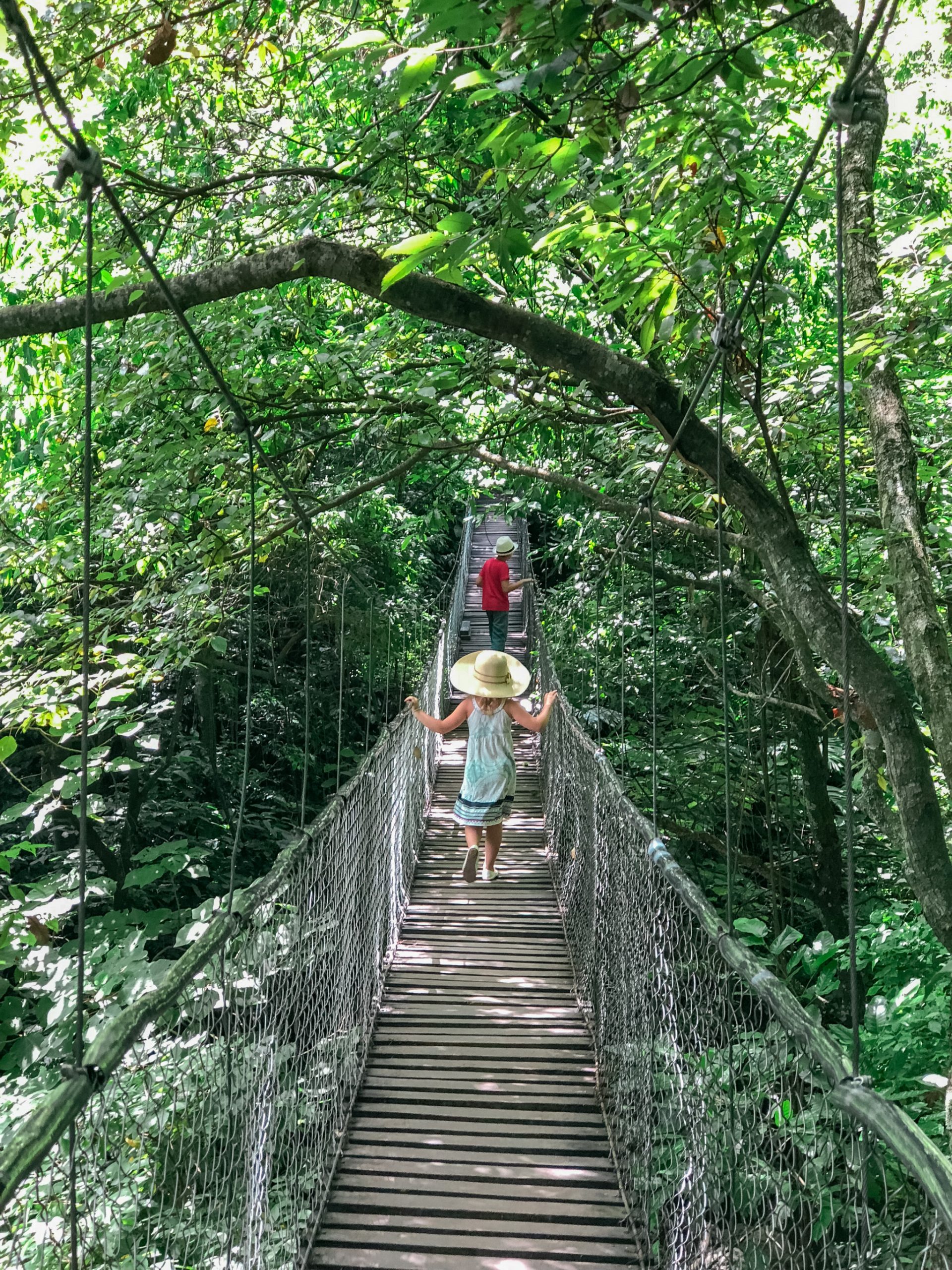 Discover the rich history of the Maya civilization in the stunning Quirigua ruins that offer a unique glimpse into the grandeur of Maya architecture and artwork. In this guide, I'll show you what to see and expect and how to make the most of your trip to Quirigua. So pack your bags, and let's set off on a journey of discovery!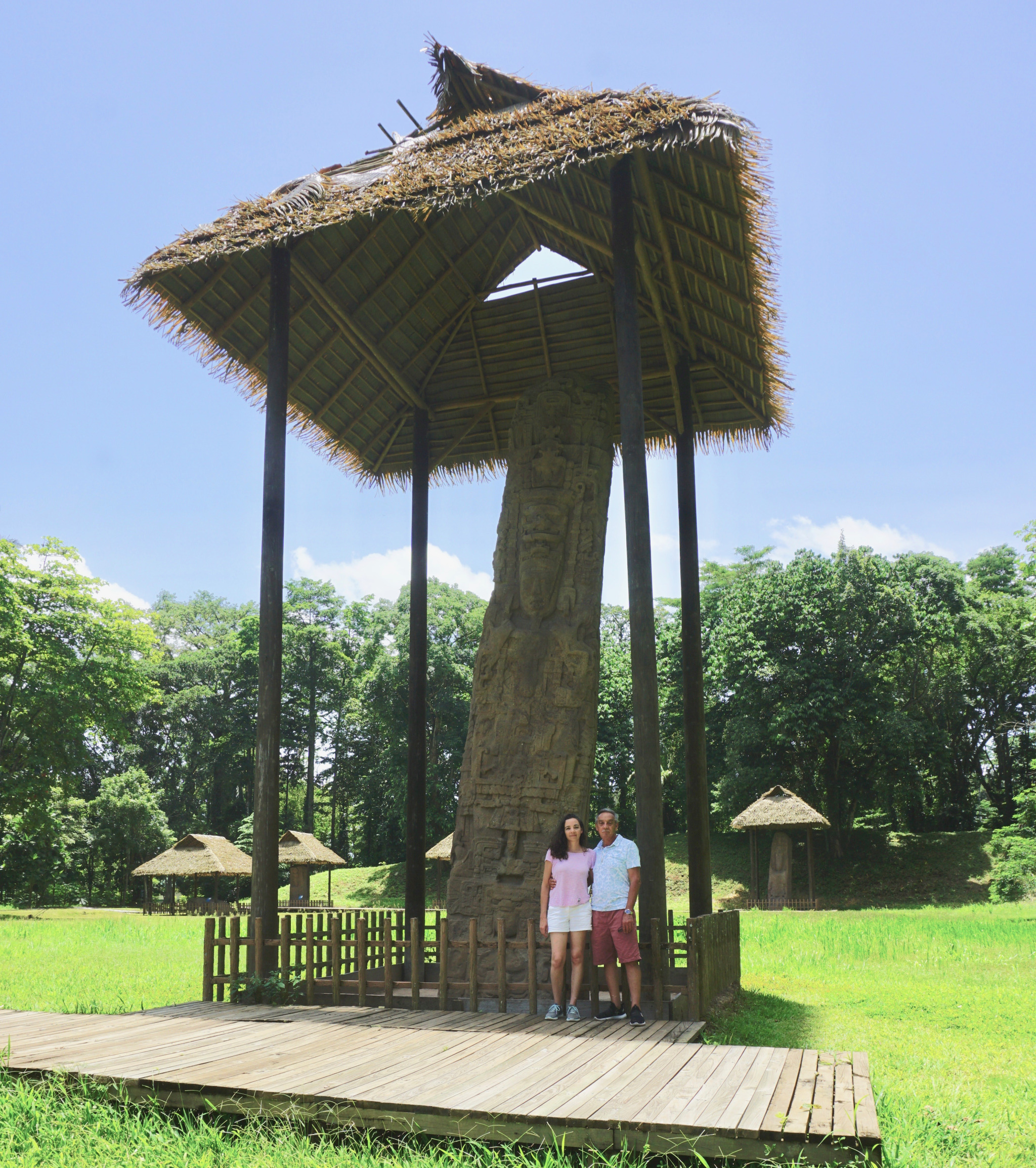 If you haven't walked along beautiful black sand beaches, you are missing out on a magical experience! Some of the best beaches in Guatemala are on its Pacific coasts, places of deep chill, and stunning wilderness. Guatemala's beaches are full of palm trees to relax with an icy beverage on hand.
The Iximche Mayan ruins in Guatemala are a must-see destination and one of the most underrated things to do in Guatemala. These ancient ruins offer a glimpse into the rich history and culture of the Mayan civilization. You can visit these stunning ruins surrounded by stunning natural beauty!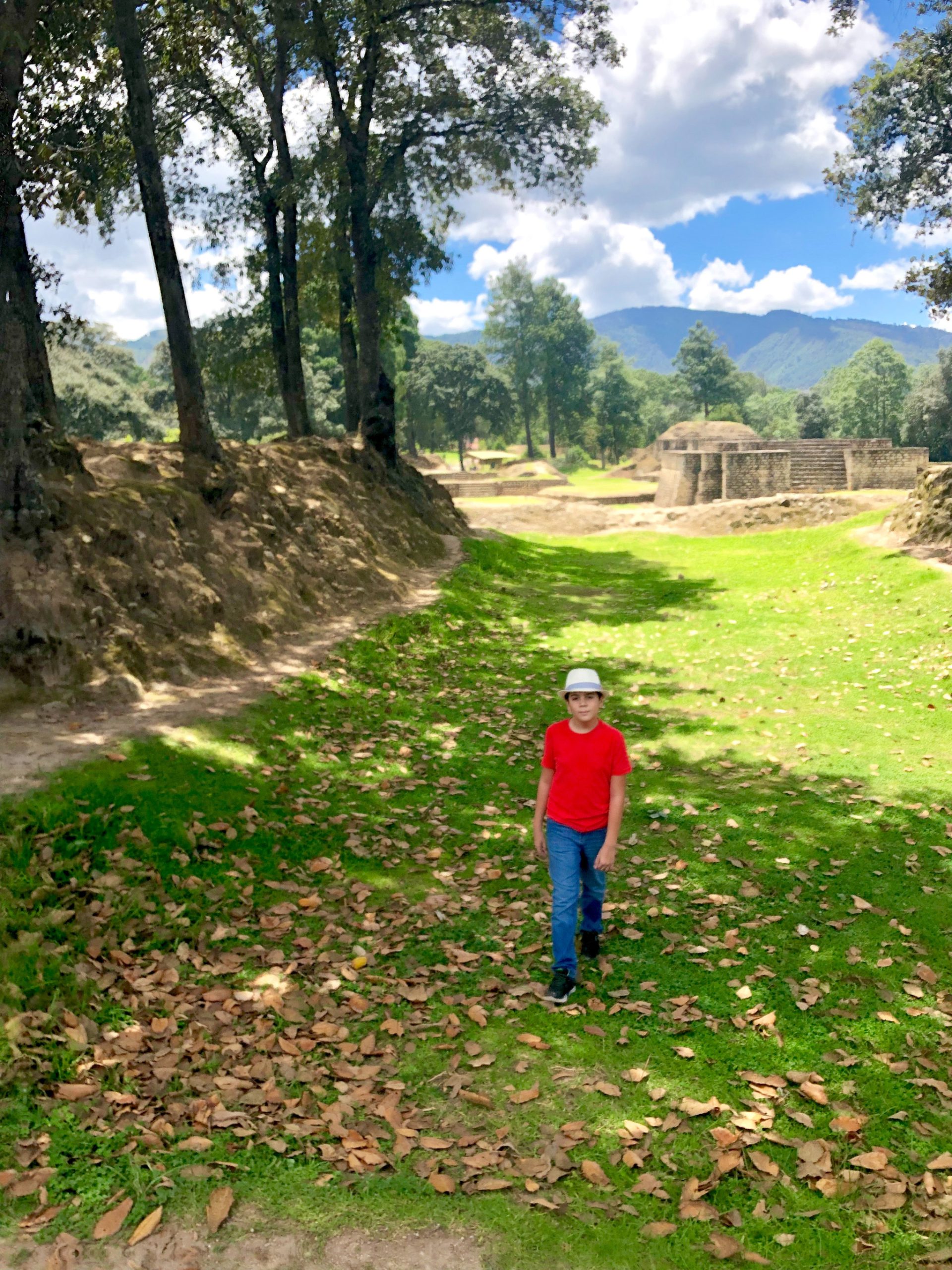 Perched on the mountainside of Lake Atitlán, San Antonio Palopó is a small town that has remained relatively unspoiled. The town's life centers around its ceramics and textiles. With a picturesque church acting as the focal point, San Antonio Palopo is a beautiful place you must see on your next visit to Lake Atitlan.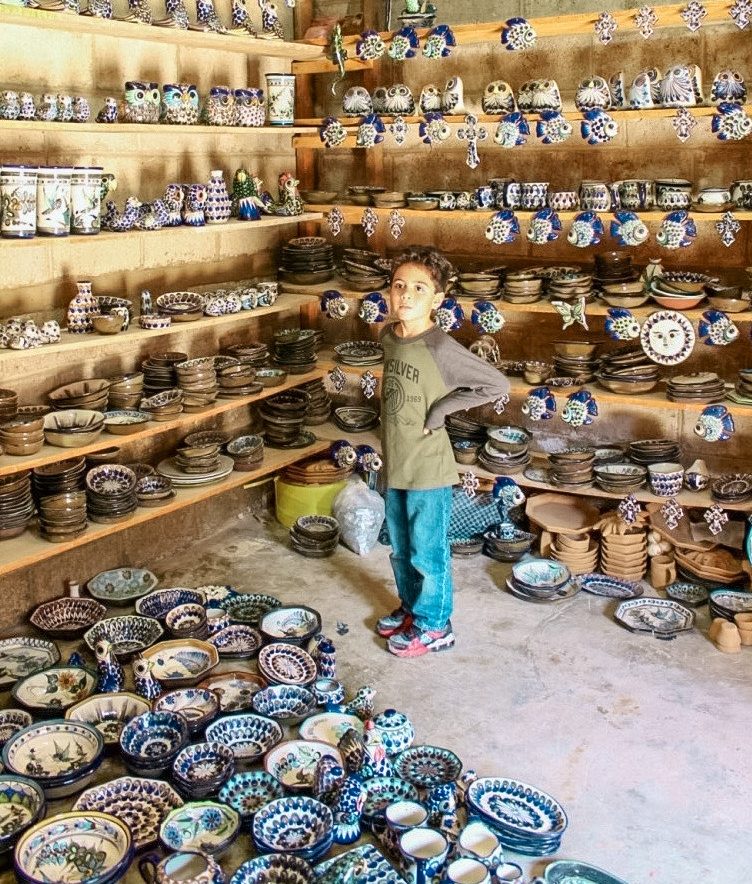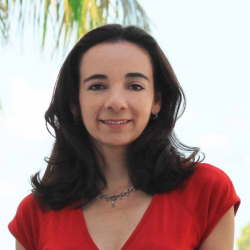 Latest posts by Paula Bendfeldt-Diaz
(see all)