Perched on the mountainside of Lake Atitlán in Guatemala, San Antonio Palopó is a small town that has remained relatively unspoiled. Unlike Panajachel, you will not find many tourists in San Antonio! There are few hotels or restaurants, and the town's life centers around its ceramics and textiles. With a picturesque church acting as the focal point, San Antonio Palopo is a beautiful place you must see on your next visit to Lake Atitlan.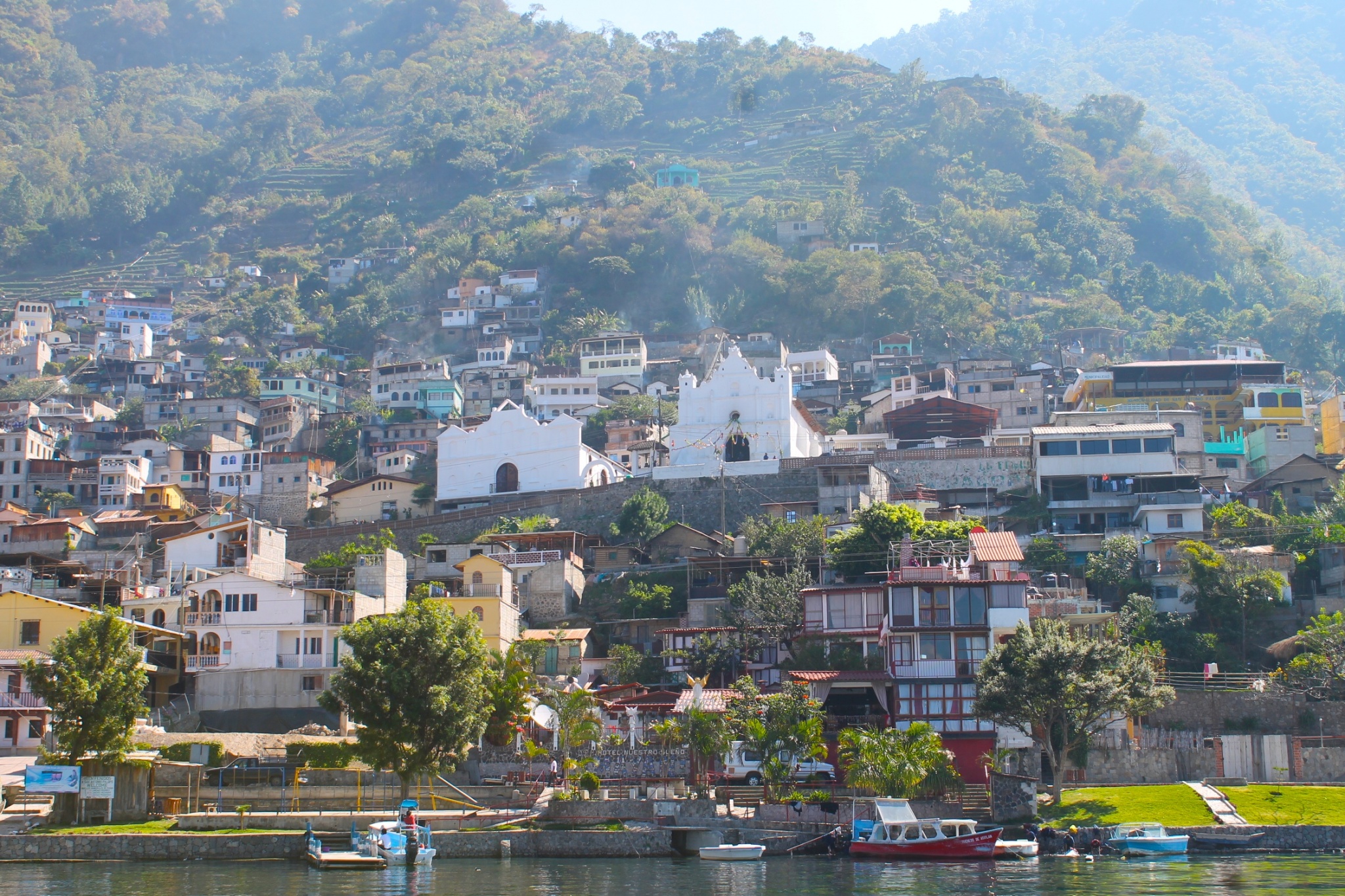 We were traveling to Guatemala with the kids for the first time, and we were all excited! It was vital for me that they got a real sense of life in my home country. I had been to San Antonio before and thought it would make a great half-day trip. It was an excellent opportunity to escape the tourist hustle and bustle of Panajachel.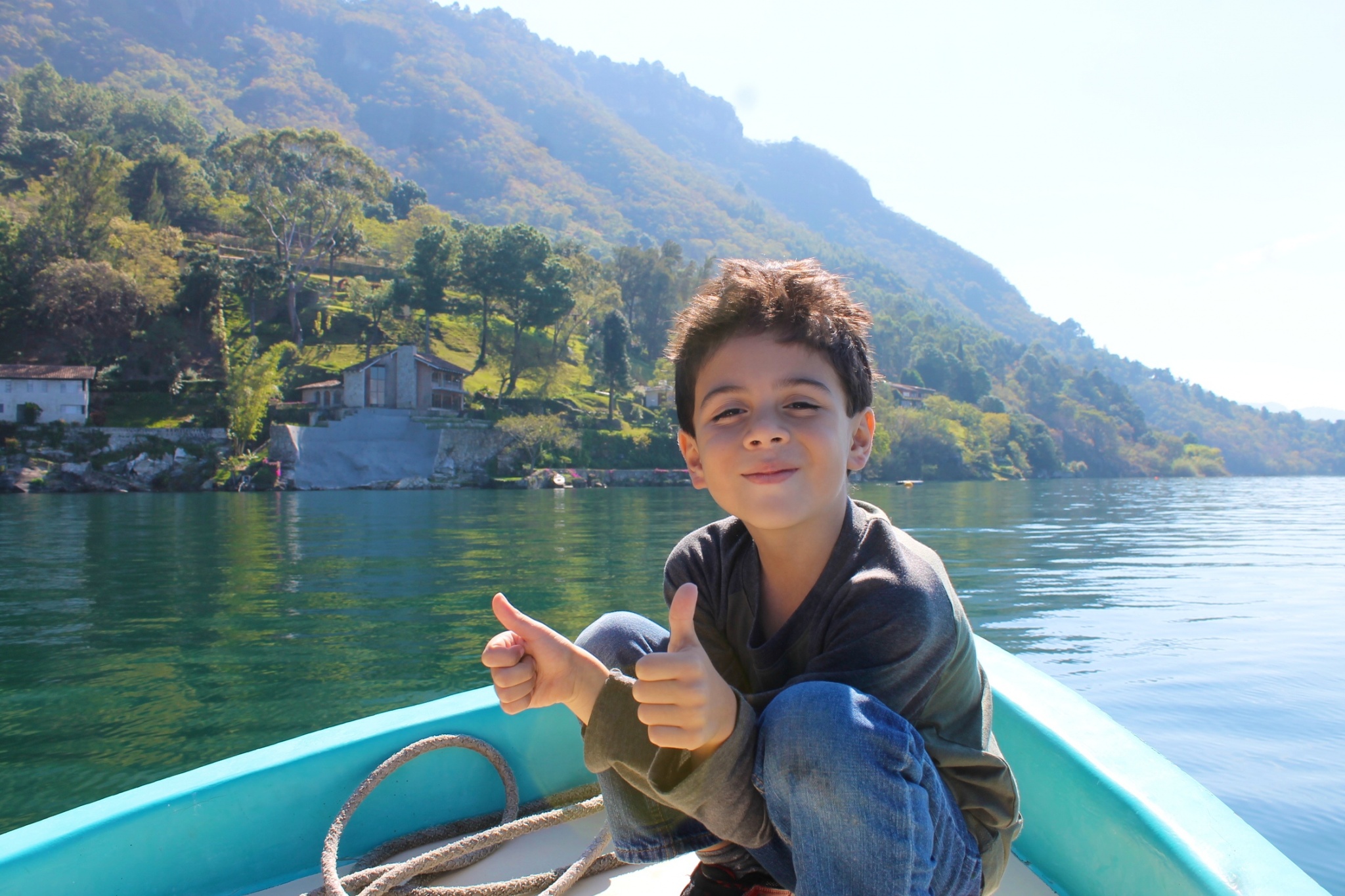 A Fun Ride to San Antonio Palopó
One of the best things to do in Lake Atitlán with kids is visiting San Antonio Palopo. It is a short boat ride from Panajachel or neighboring Santa Catarina Palopó. You can also ride a pickup truck that will take you there for just $1 or $2, or opt for a taxi for around $10. A boat ride, however, will provide striking views of Lago Atitlán and the beautiful private houses that dot its shore.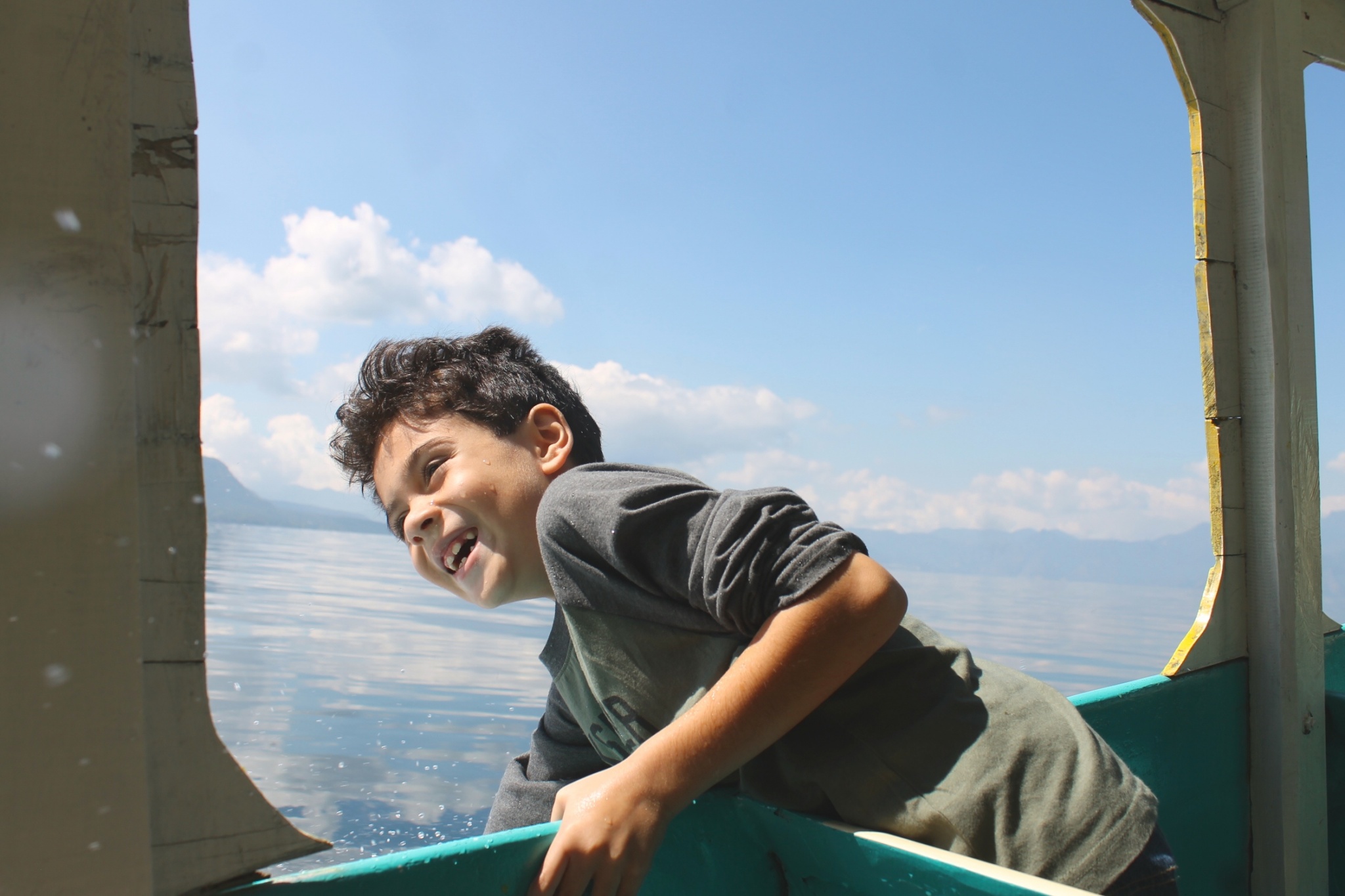 We stayed at Villas B'alam Ya (a fantastic place!), about 5 minutes from Santa Catarina Palopó. We opt for a private water taxi to enjoy the ride thoroughly. I paid $25, which might have been a few dollars too high. But Jorge, the 12-year boy who offered us the ride, was so charming that I didn't do much haggling. He even offered to show us around! He was proud of San Antonio Palopó's beautiful church, a reference point to many in the village.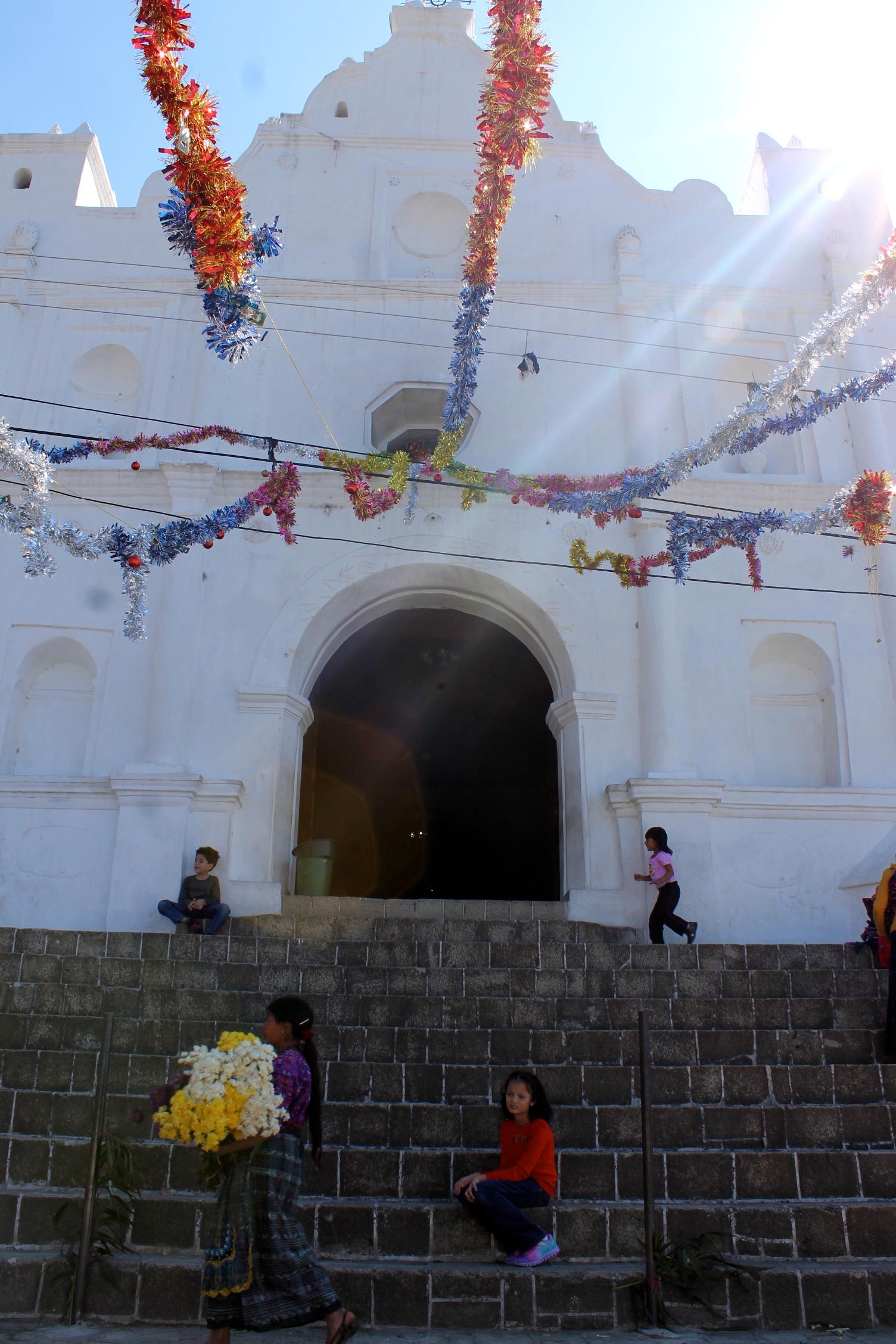 Always a Friendly Smile At Lake Atitlán
My kids loved the boat ride, thanks to the beautiful views of the lake. They also got along really well with Jorge and another boy who rode along. I loved to see them interact with the local children! I was impressed with Jorge, who knew a lot of English and spoke Spanish (besides his native Maya Kaqchikel tongue). He even taught the kids some Kaqchikel words.
As we arrived at the dock, I had to snap a picture of an adorable pair of twin boys wearing traditional Guatemalan clothing. But, of course, many Mayan boys and men in Guatemala no longer wear these traditional outfits. So I was thrilled to see that in San Antonio, most men and women still wear their beautiful blue-hued traditional garments.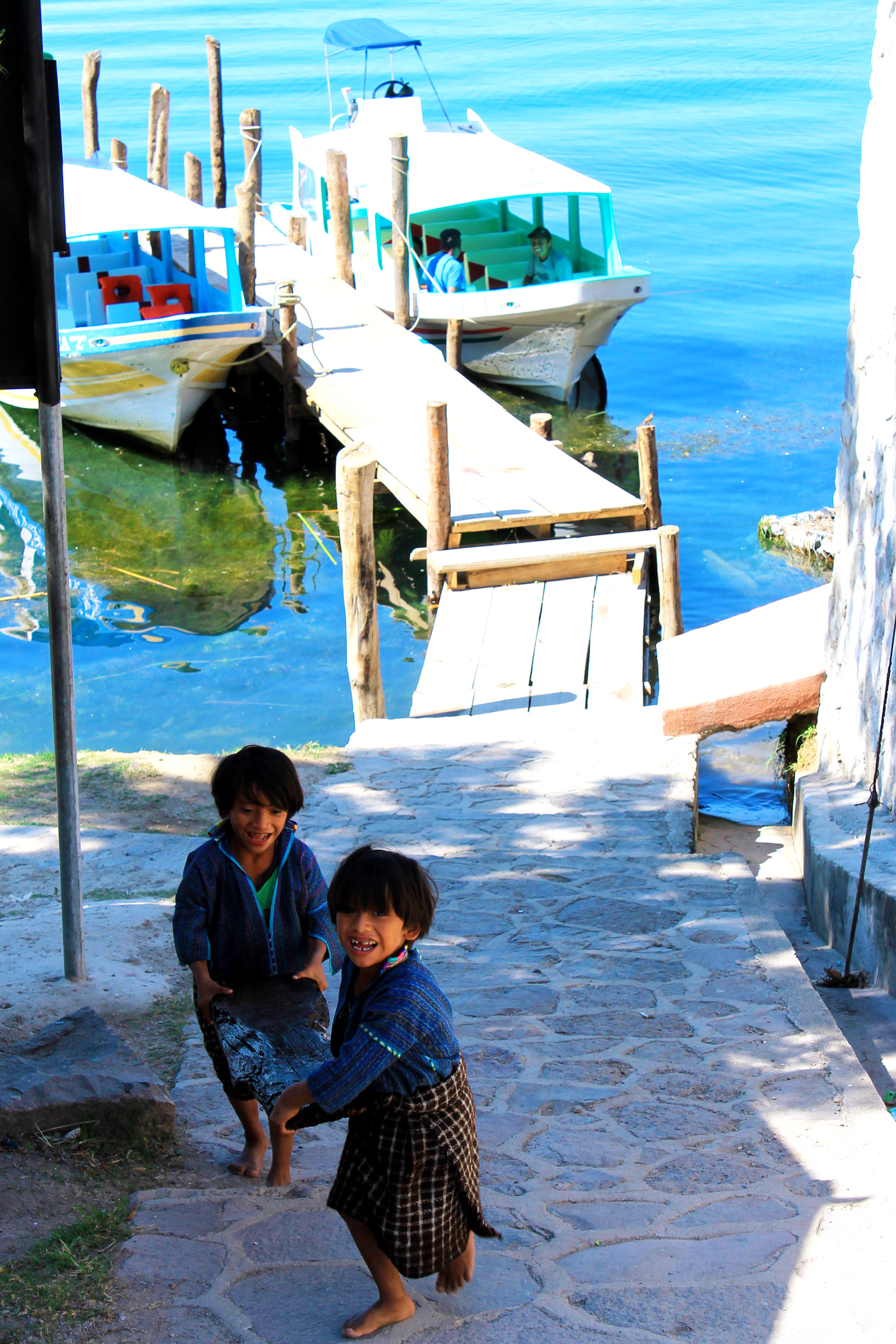 Getting Around San Antonio Palopó
We started by visiting the quaint little church. The path was steep, and there were lots of steps! But you can ride a tuk-tuk from the dock to avoid the steep climb. You will get a beautiful view of the lake and the volcanoes from the top of the church steps.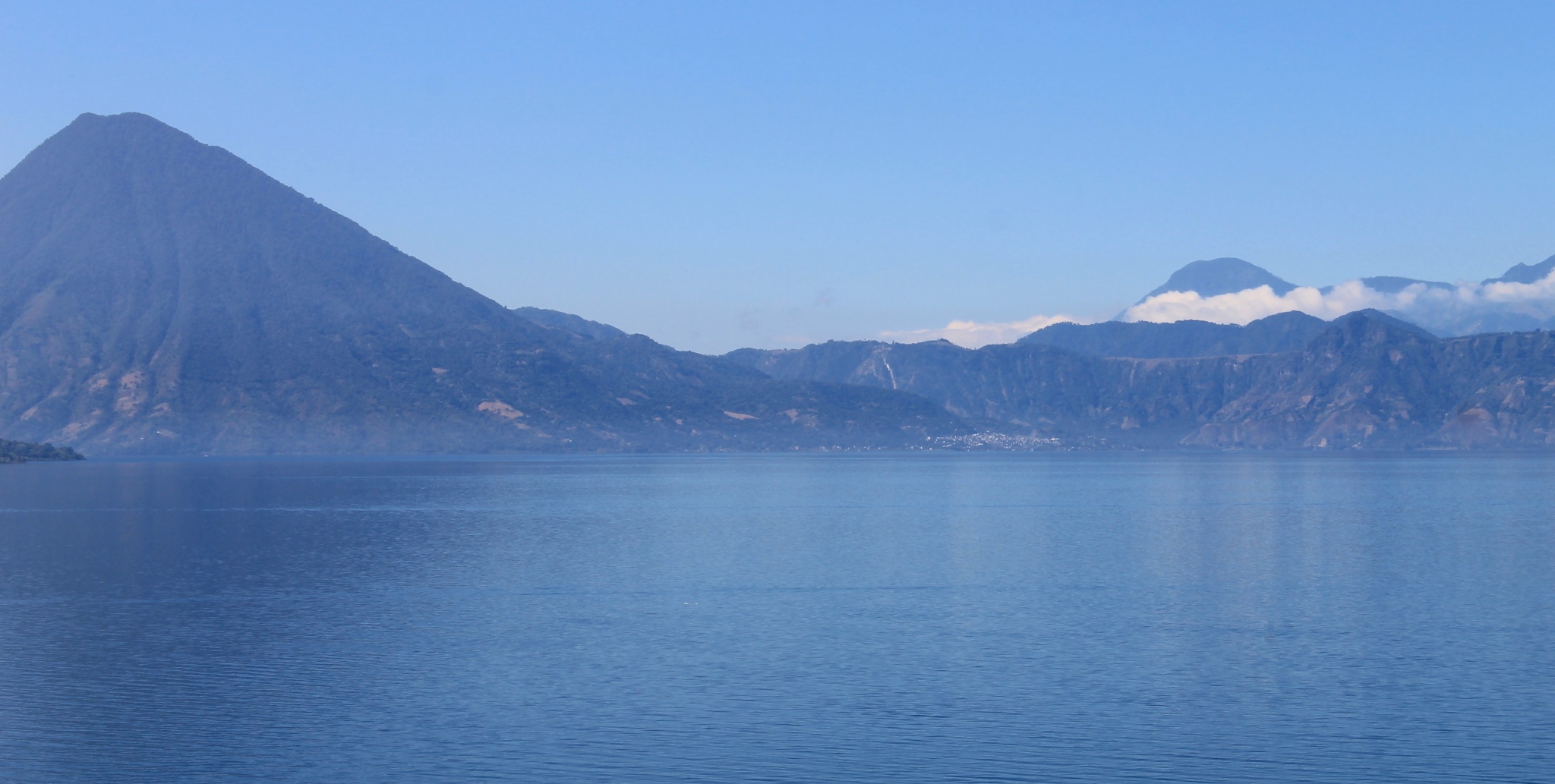 An Unexpected Stop at San Antonio Palopo
It was a weekend, and people gathered around the church selling food, flowers or just chatting. Then, a Mayan woman approached us and invited us to her house. She wanted to show us how she weaved the beautiful blue scarves she was selling. In addition, she offered to take us to the pottery workshop.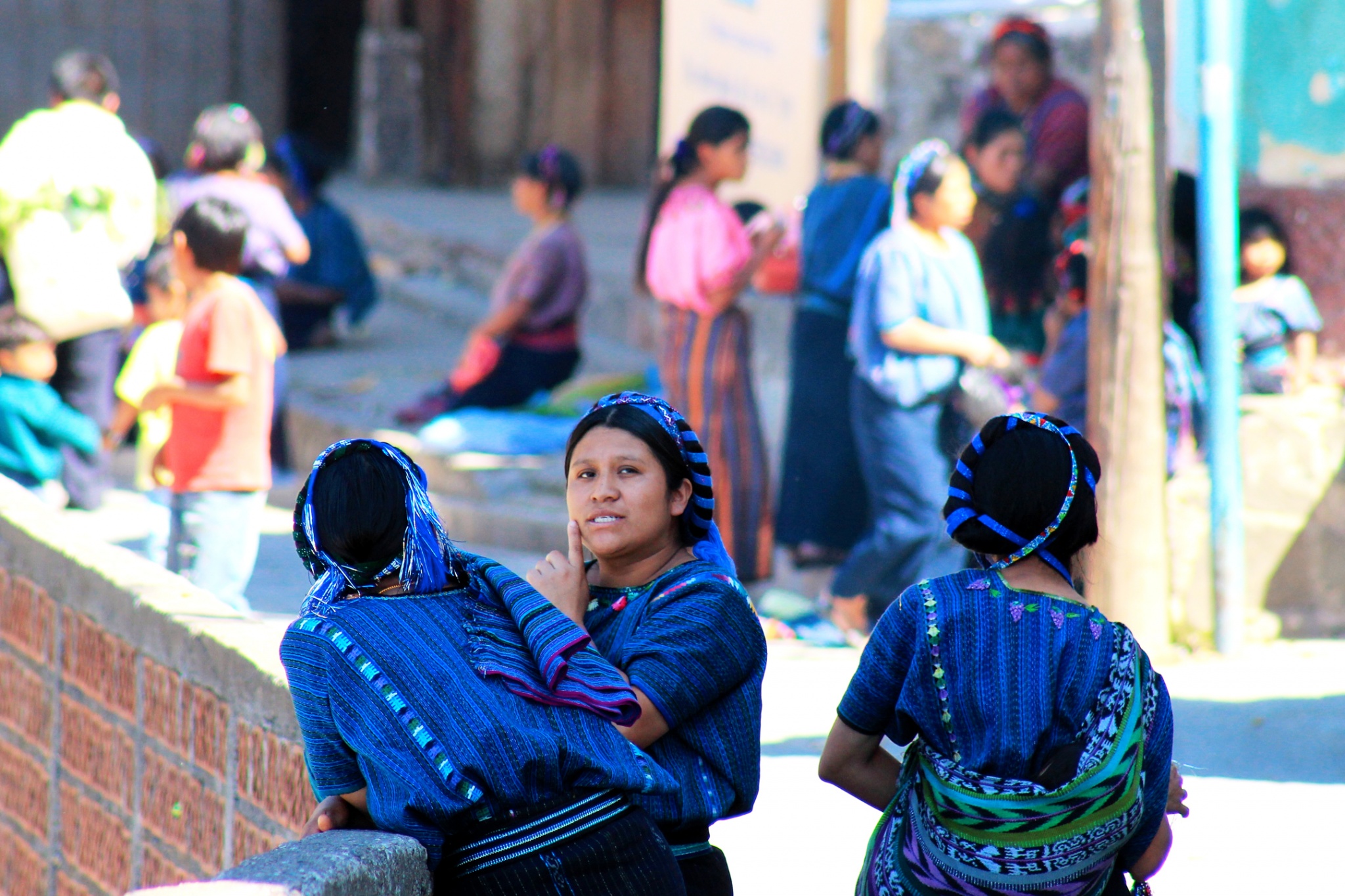 We followed the steep and dusty path to her home, a humble cottage made of adobe. She showed us how she prepared the threads for weaving on a backstrap loom using a wooden warp board.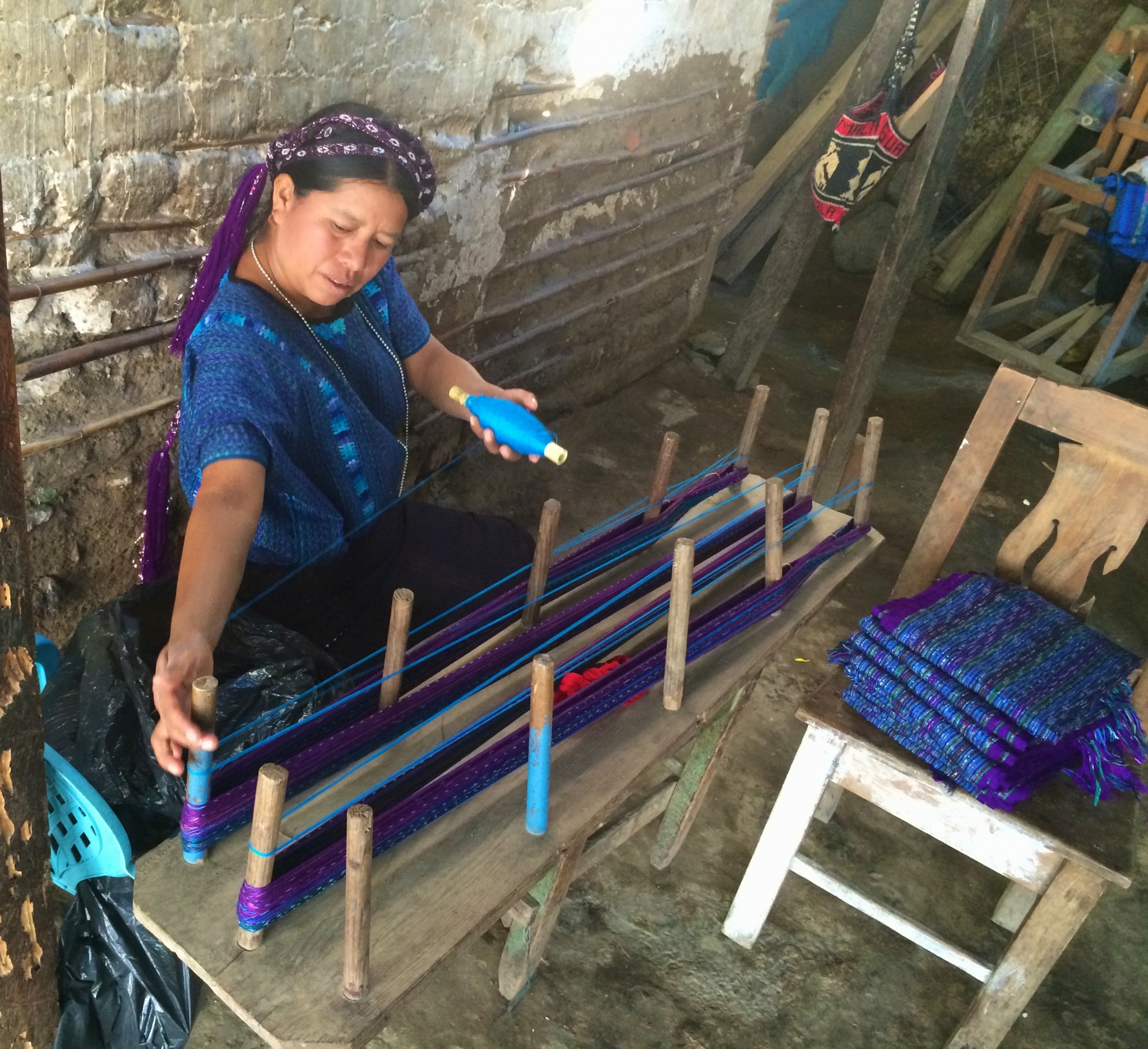 Finally, she took us through packed dirt paths and arrived at the pottery workshop. Clay mugs, plates, and figurines were laid on the patio to dry. Even my kids were interested in discovering how the beautiful pottery from San Antonio Palopó is made. We watched men painting the pottery by hand and also saw the ovens where all the ceramic pieces were baked.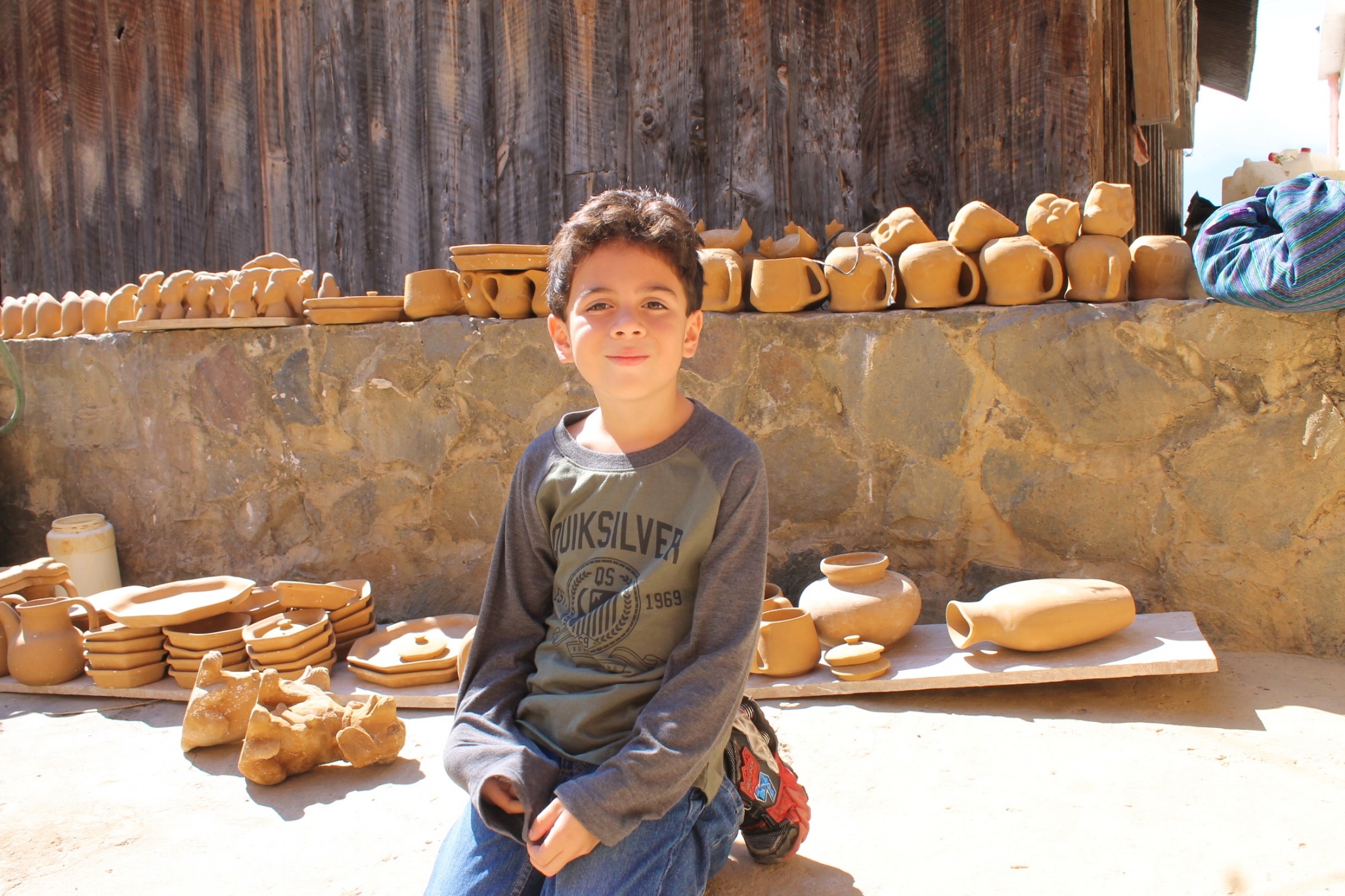 Origin And History Of The San Antonio Palopó Pottery
In the highlands of Guatemala, years of volcanic eruptions and geology created exposed channels of clay in the rivers. This clay is of outstanding quality and perfect for making high-quality ceramics. Hundreds of years ago, the ancient Mayas made use of this clay. Starting in the Red Pottery period (AD 1200), Mayans used ceramics for practical purposes, in religious ceremonies, burials, and as a means of telling stories.
Nowadays, the unique pottery at San Antonio Palopó has evolved from ancient Mayan pottery to more modern techniques. One of the greatest influences came from the renowned American potter Ken Edwards. His search for good-quality clay brought him to San Antonio in the 90s.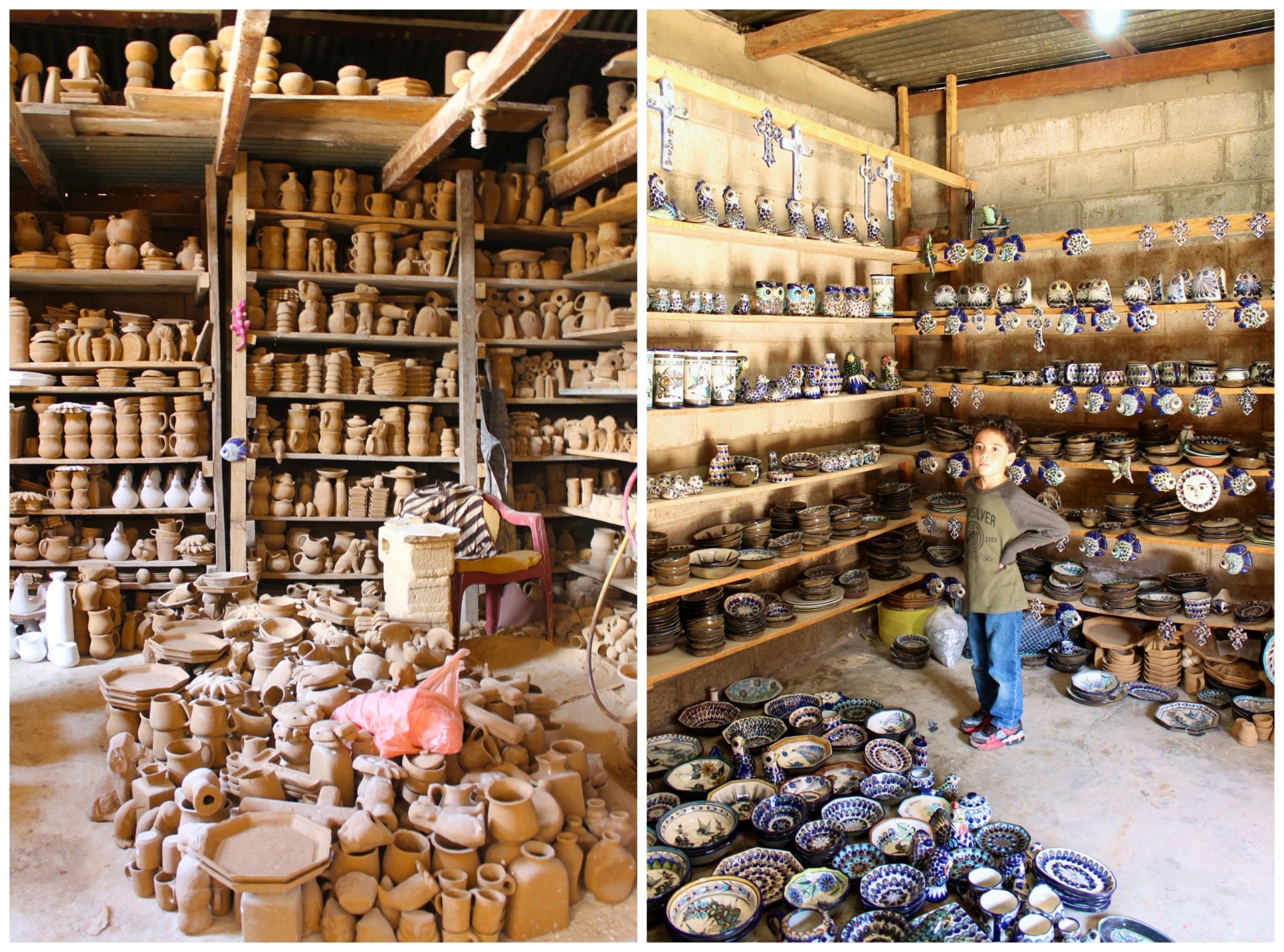 Entranced by the beauty of Atitlán, Edwards stayed for many years and set up a workshop. And when he left, his apprentices continued making pottery using the same techniques. Among them is the use of molds to create pottery more consistently and efficiently. Ken Edwards also introduced modern high firing techniques that burn the lead out of the glazes. Thus, the San Antonio pottery is lead-free and microwave safe. All of the pottery is hand-painted, and no two pieces are alike.
Making Memories at Lake Atitlán
After I bought a beautiful piece of pottery and a scarf from the Mayan woman who gave us the little tour, we had to get going. So we hurried back down the dirt paths and the steps to the main dock. Jorge and the lancha captain were already waiting for us.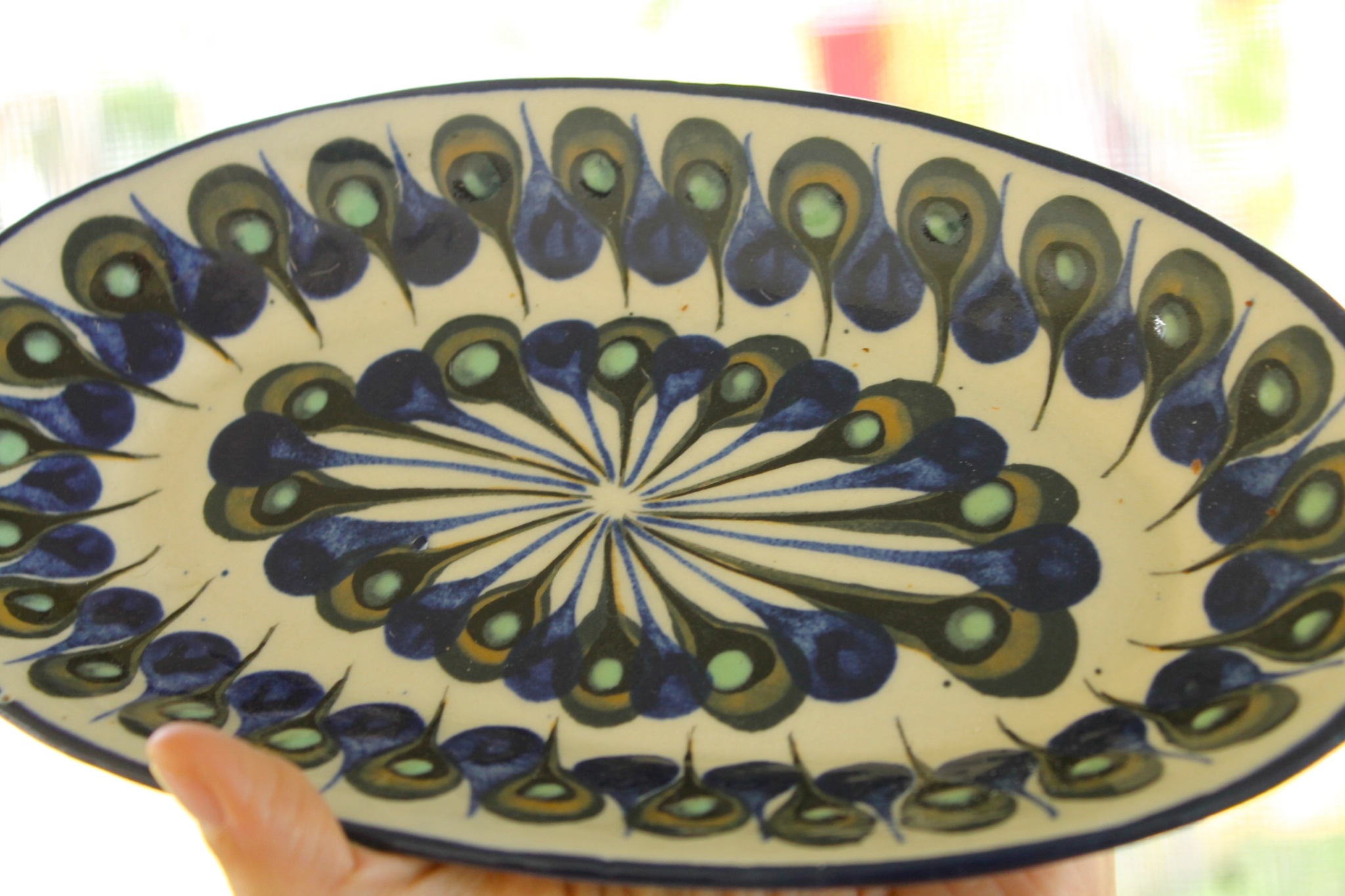 Next to the dock on the edge of the lake is a small playground where local boys have fun. My kids ran straight for the swings; I would have too if one had been available. I could only imagine the amazing feeling of swinging up into the sky while looking at the beautiful lake! It is my favorite picture of my son from our trip to Guatemala. I tried to convince him to swing looking at me to take the picture, but he refused. And I do not blame him! It was truly a magical moment.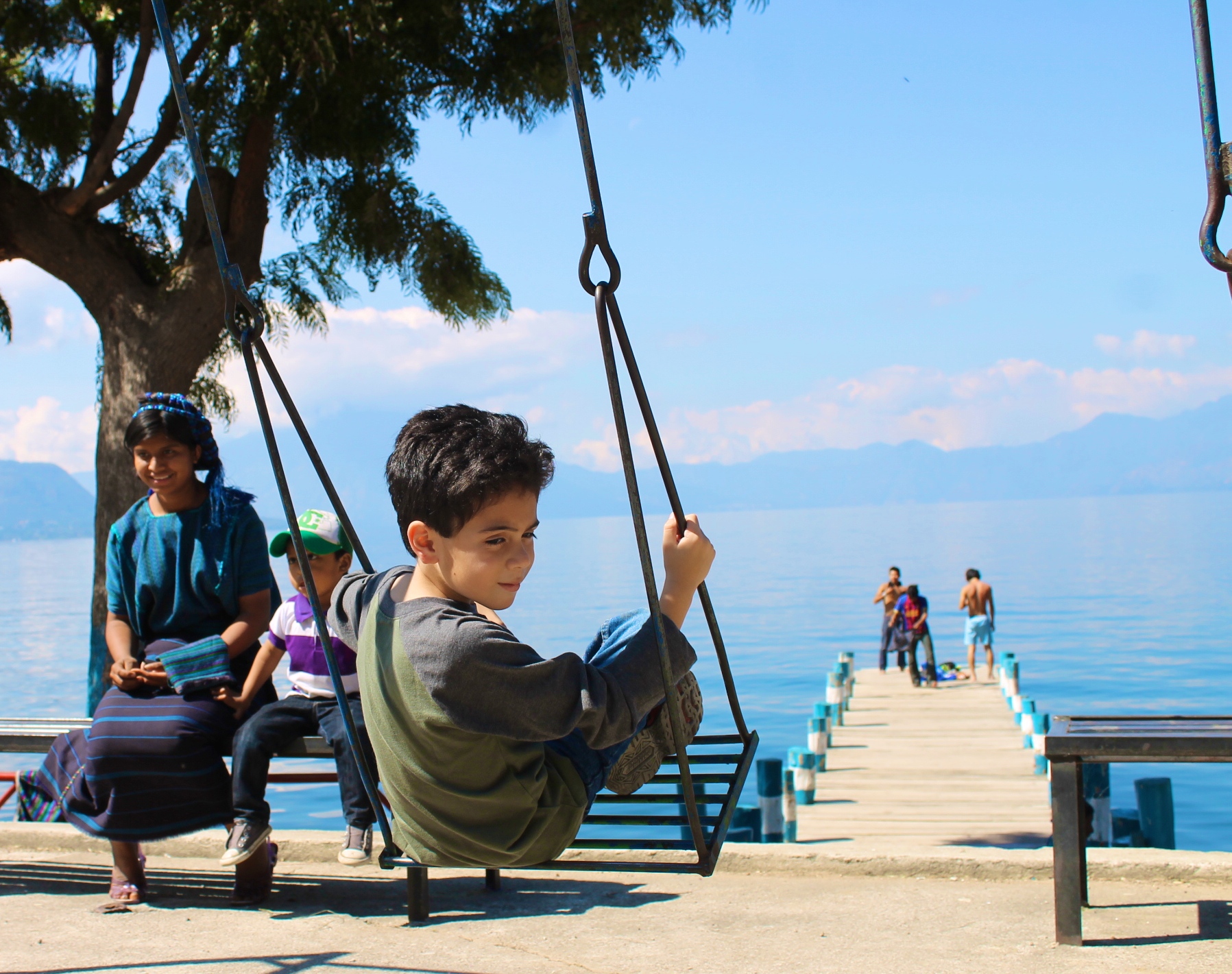 Captain For A Day At Lake Atitlan Guatemala
On our way back, my kids got the opportunity to drive the lancha for short periods, and they were ecstatic. The sun was shining bright, and the water looked covered in silver. In the distance, fishermen doted the lake on their wooden canoes with the volcanoes looming behind them.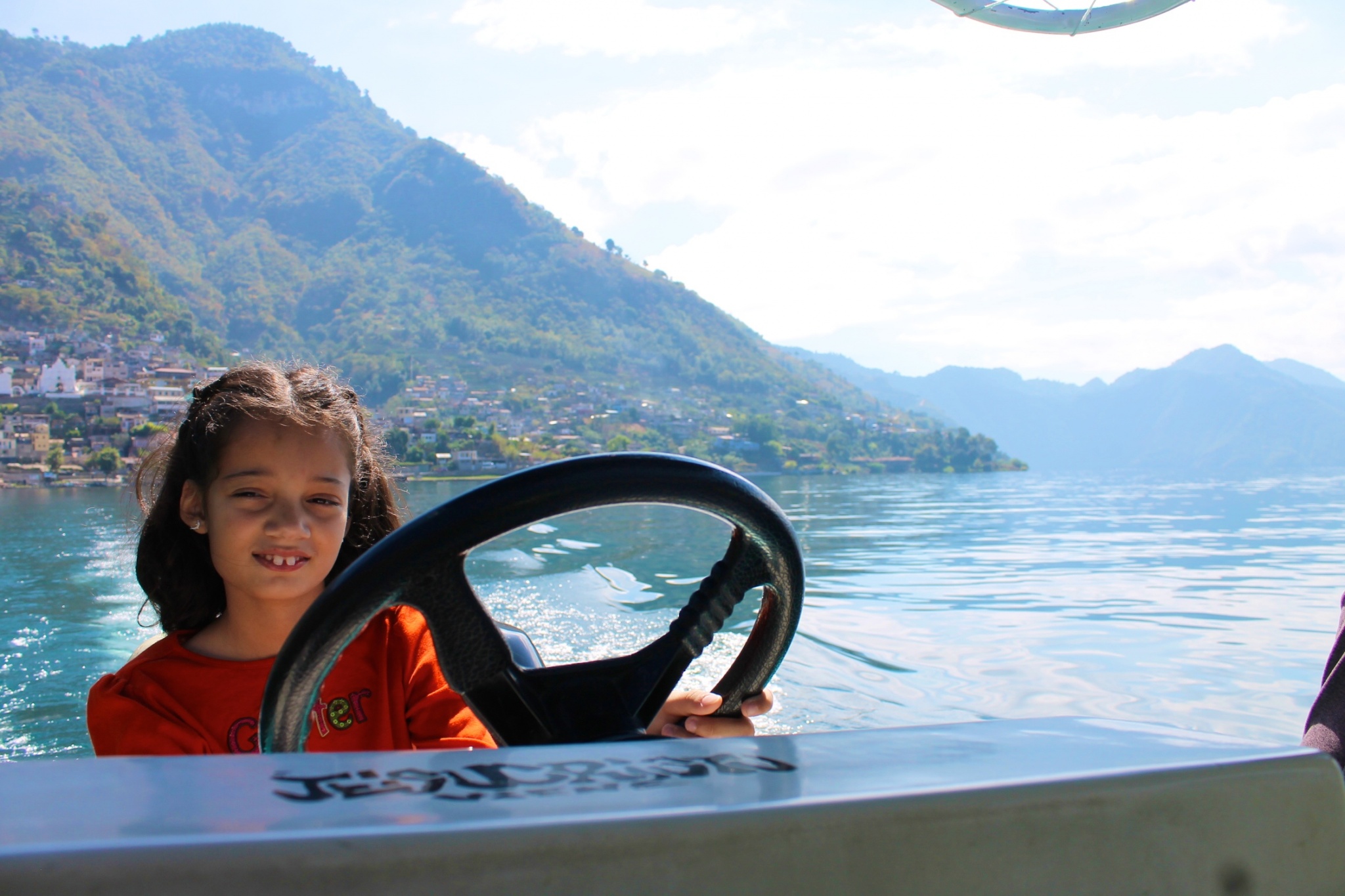 The tranquility of the lake and its magic had taken full effect over us by now. We were all smiling and feeling like there was nothing in the world but this moment! Our family, the lake, the sound of the lancha as it crossed the blue waters, and the kids' laughter. We spent three weeks in Guatemala, and this was definitely one of my favorite moments.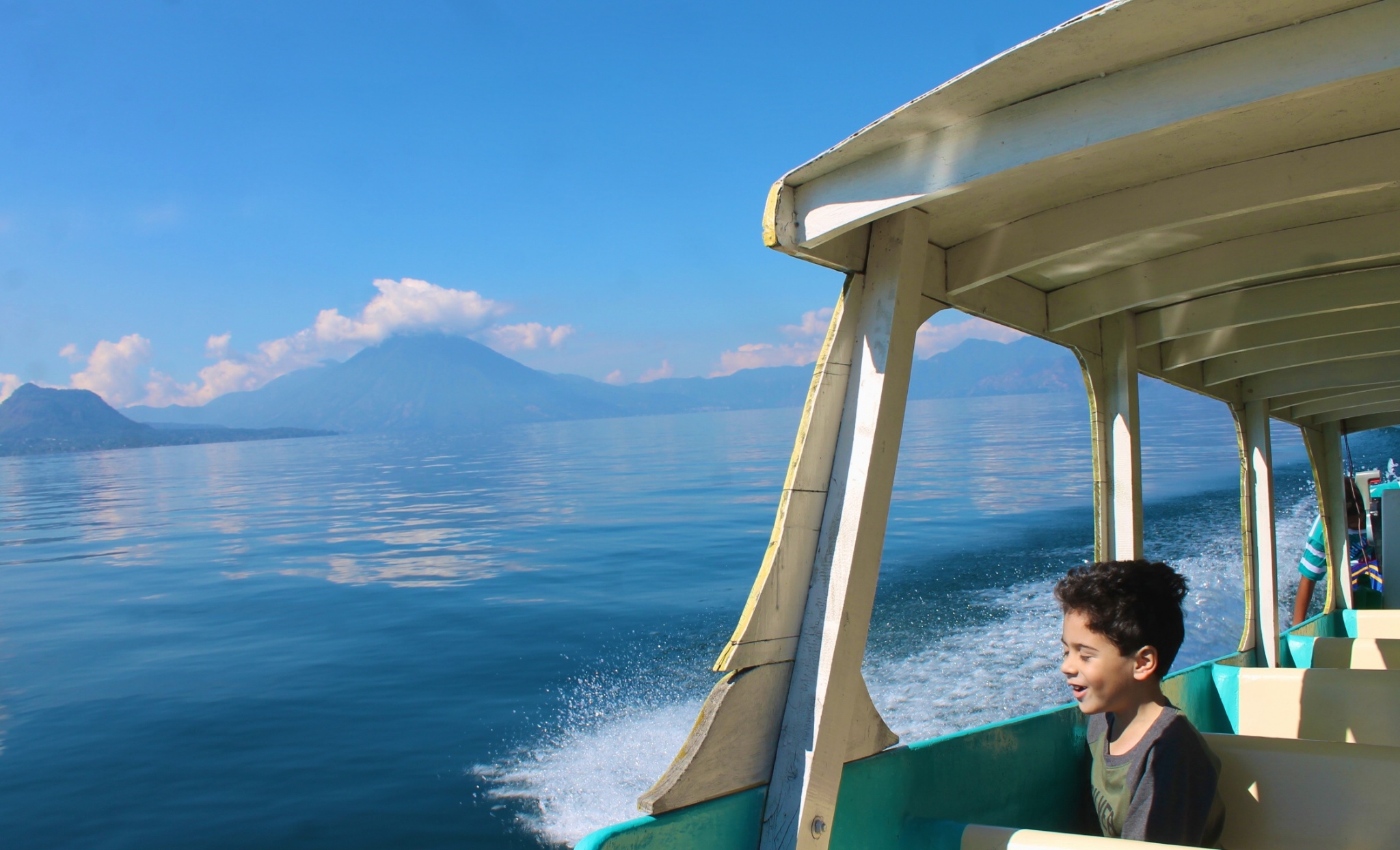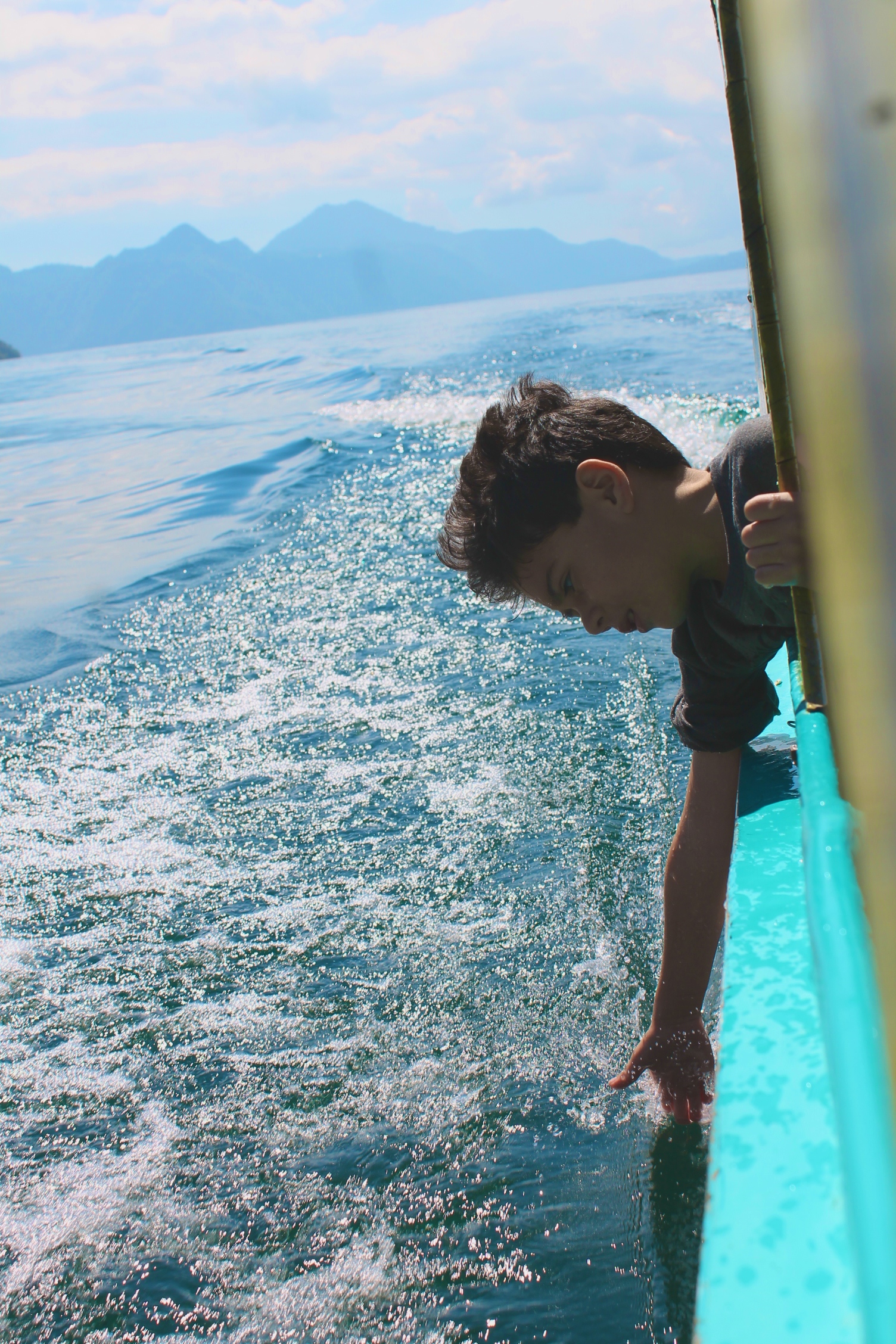 Saying Goodbye to New Friends
We bid the boy and the boat captain goodbye at the dock in Santa Catarina Palopó. But then Jorge decided to tag along as we bought some gifts to take home and some toys for the kids. He had seemingly taken an interest in my 9-year-old daughter. He chatted with her, half in English and half in Spanish, complimenting her and teaching her words in Kackchiquel.
For my daughter, who struggles with social interactions, getting all this attention from Jorge was special. Surprising, she said: "Mommy Jorge is still here; he really likes me." And when my daughter asked me to take a picture of her with a friendly local pooch, Jorge jumped at the opportunity! He even helped us haggle as we shopped. At some point, my husband and I joked about taking him home with us.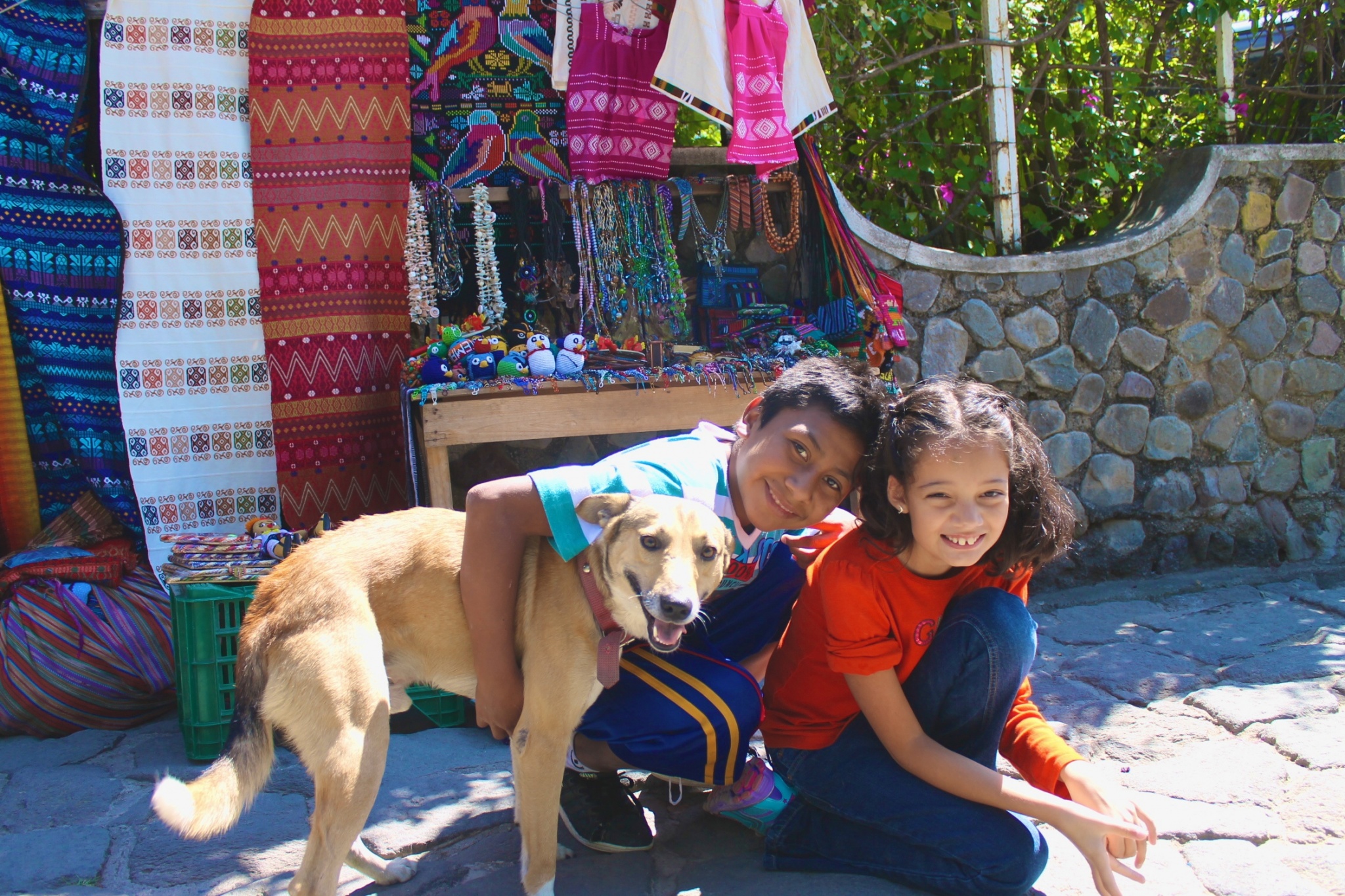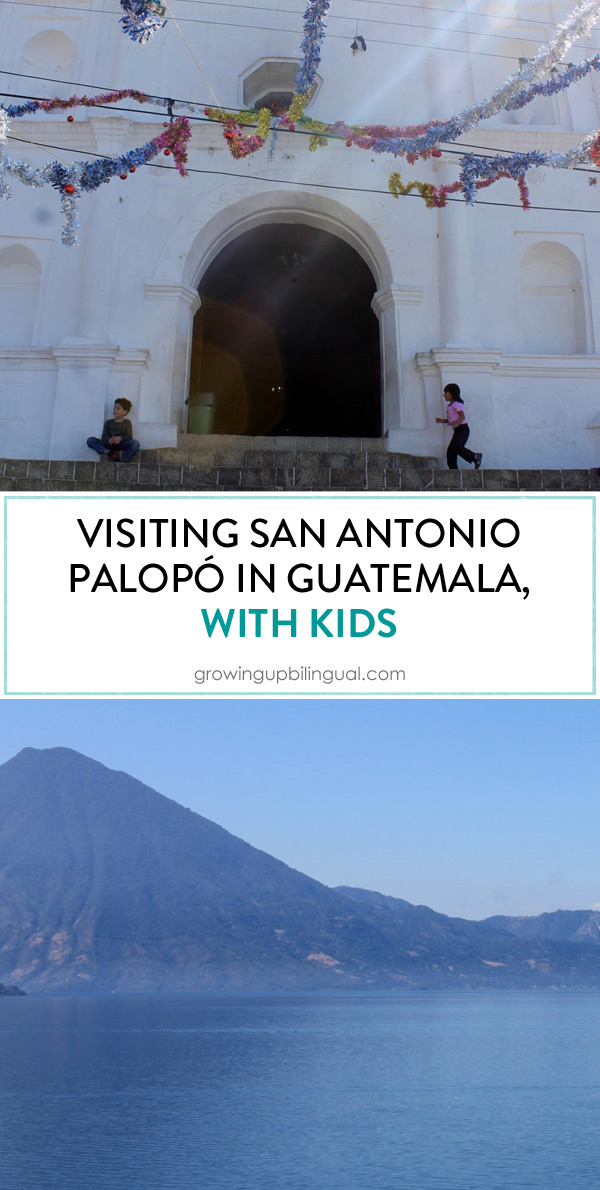 More Amazing Things to Do In Guatemala:
If you're planning a trip to Guatemala or want to come back for more, you've come to the right place! From the best destinations to kid-friendly activities, I'll share my love for my home country. Here are amazing things to do in Guatemala to make your trip a memorable one:
If you're planning a trip to Panajachel, stopping at the Reserva Natural de Atitlan is a must-do. It is a perfect place to enjoy the lush natural beauty of the Guatemalan rainforest. Here you will find the best hiking trails in Lake Atitlán, with hanging bridges, waterfalls, and breathtaking lake views around every corner.
Located in Escuintla, Auto Safari Chapin is a great day trip for families and animal lovers. Whether you are visiting or living there, it is one of the best things to do in Guatemala with kids.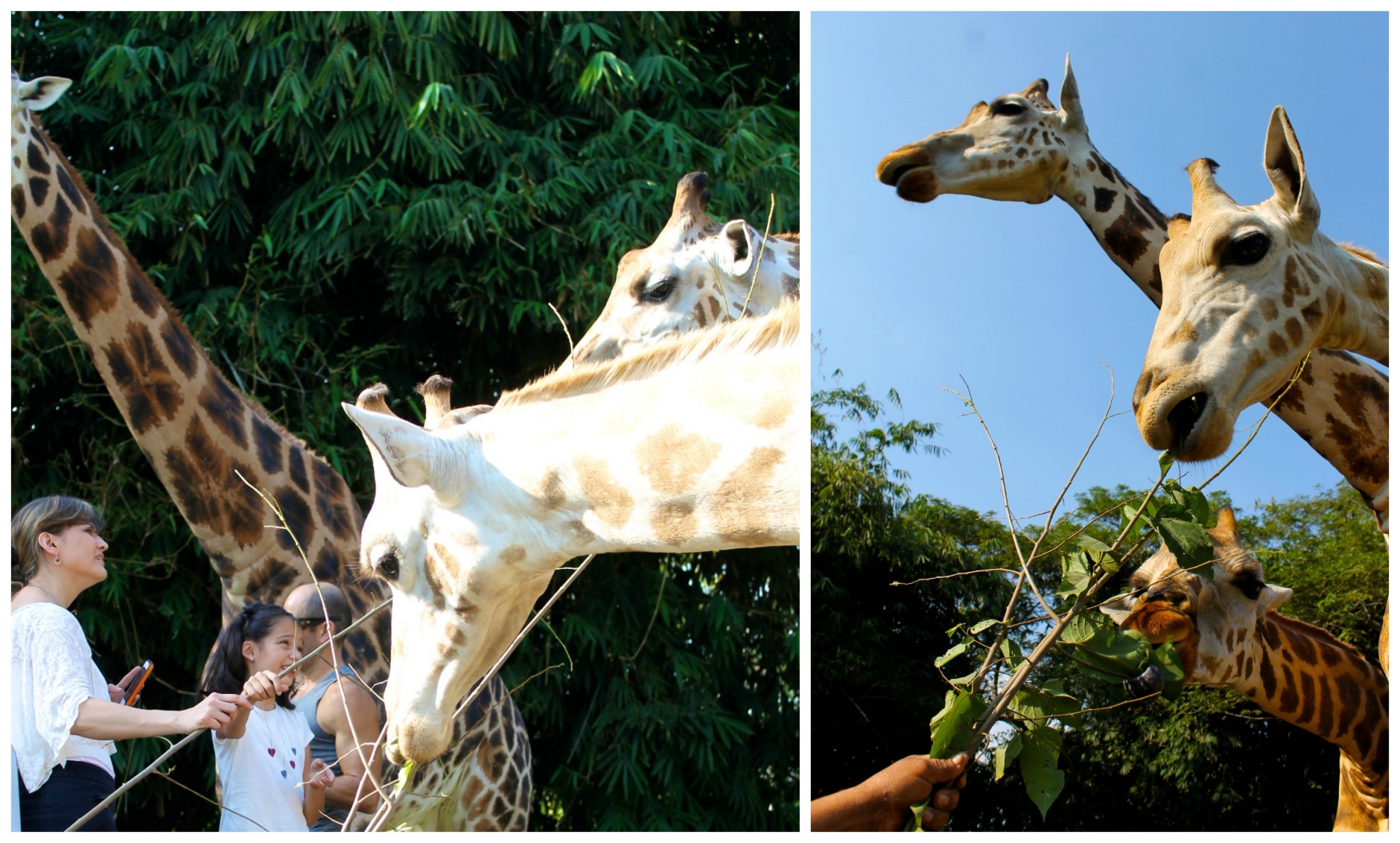 feeding giraffes at Auto Safari Chapin
If you haven't walked along beautiful black sand beaches, you are missing out on a magical experience! Some of the best beaches in Guatemala are on its Pacific coasts, places of deep chill, and stunning wilderness. Guatemala's beaches are full of palm trees to relax with an icy beverage on hand.
Here is a guide to visiting Tikal that includes everything you need to know before seeing the most spectacular Mayan ruins in the world. It is a great starting point for enjoying the many adventures the Petén region offers.
One of the most beautiful destinations in Guatemala, Río Dulce is often overlooked. This area overflows with beautiful nature, colonial history, unique culture, and fantastic food. This quick guide to Rio Dulce covers the best things to do, where to stay, and what to eat.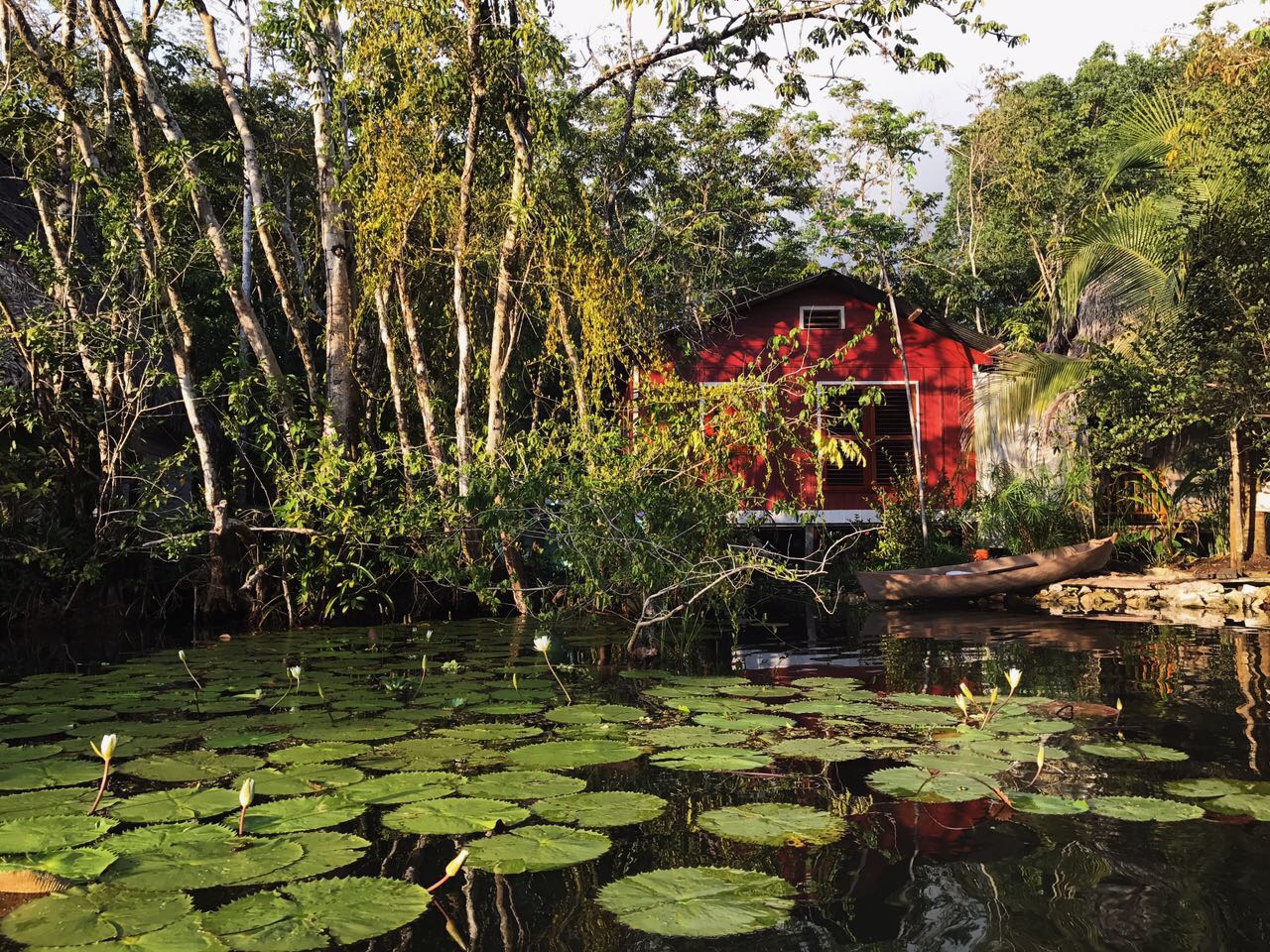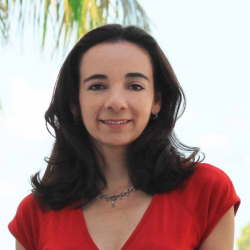 Latest posts by Paula Bendfeldt-Diaz
(see all)