If you're looking for the best peach cobbler recipes you've come to the right place! I have put together a collection of the best peach cobbler recipes out there all in one spot so you can choose your favorite one. You will find everything from the classic peach cobbler with its buttermilk biscuit crust to cobblers with flaky pie-like crusts.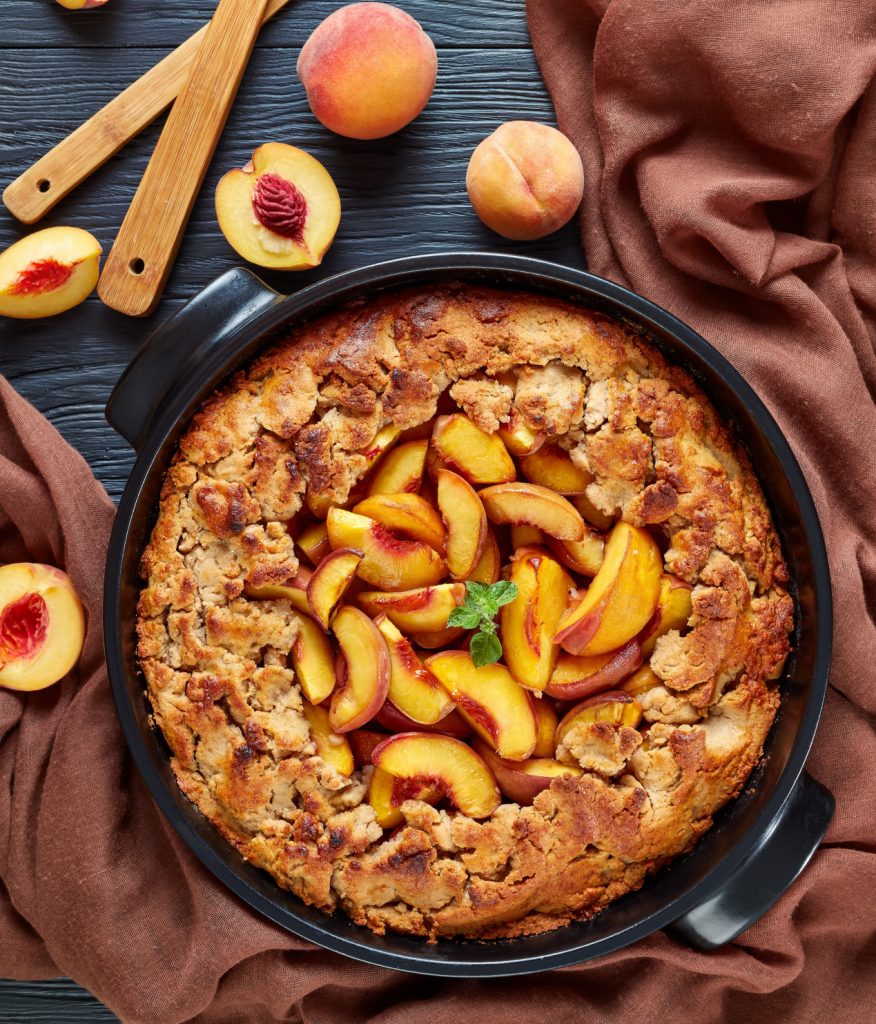 I've also included recipes to make peach cobbler not only in the oven but also in the crock pot, cast iron skillet and even a recipe for a quick air fryer peach cobbler! And of course the list includes peach cobbler variations like blueberry peach cobbler and mango peach cobbler! Whether you prefer a traditional recipe or want to explore creative variations, these peach cobbler recipes are sure to become your go-to favorites for any occasion.
Peach Cobbler: The Ultimate Peach Dessert
Ah, peach cobbler! One of my all-time favorite desserts that truly captures the essence of summer. There's something about peach cobbler that brings a sense of comfort and nostalgia, making it one of the most beloved peach desserts. From the golden, buttery crust to the luscious, juicy peaches, each bite of this classic treat is a delightful explosion of flavors.There's nothing quite like savoring a warm scoop of peach cobbler, especially when served with creamy vanilla ice cream.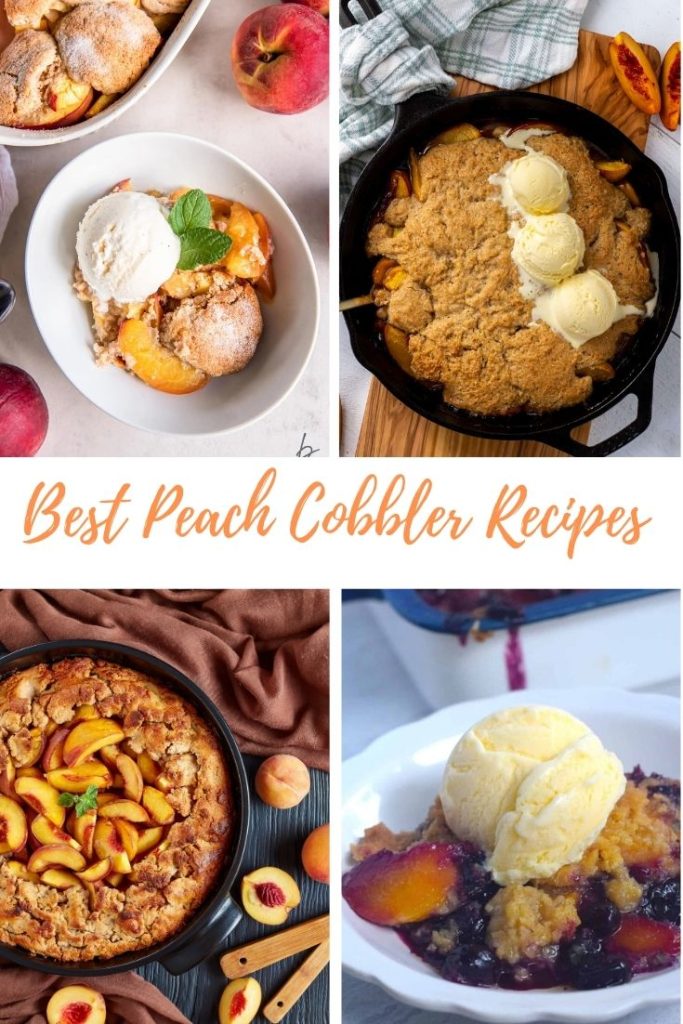 Fifteen years ago, when I first moved to the US, I had my very first taste of peach cobbler, and it was a revelation! I couldn't believe I had been missing out on this incredible dessert all my life. The sweet, juicy peaches, the buttery crust, and that irresistible aroma had me hooked from the first bite. I was determined to find the best peach cobbler recipe. My quest led me to discover a few gems that I now hold dear to my heart. Now, I'm excited to share these tried-and-true peach cobbler recipes with you
Do you need to peel the peaches for peach cobbler?
When it comes to making peach cobbler, the decision to peel the peaches is entirely up to personal preference. Many recipes don't require you to peel the peaches, as the baking process softens the skins, and they become tender and blend in well with the cobbler's texture. Leaving the skins on can also add a beautiful pop of color to the dessert.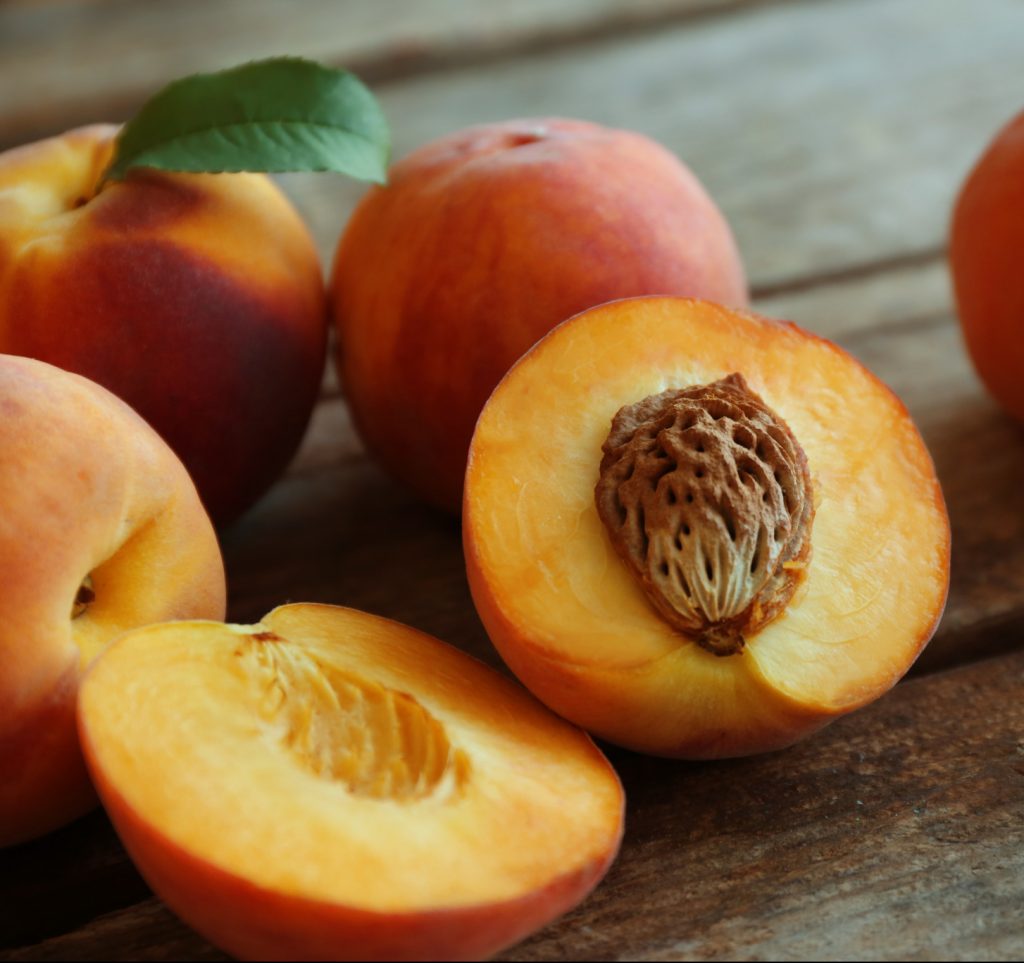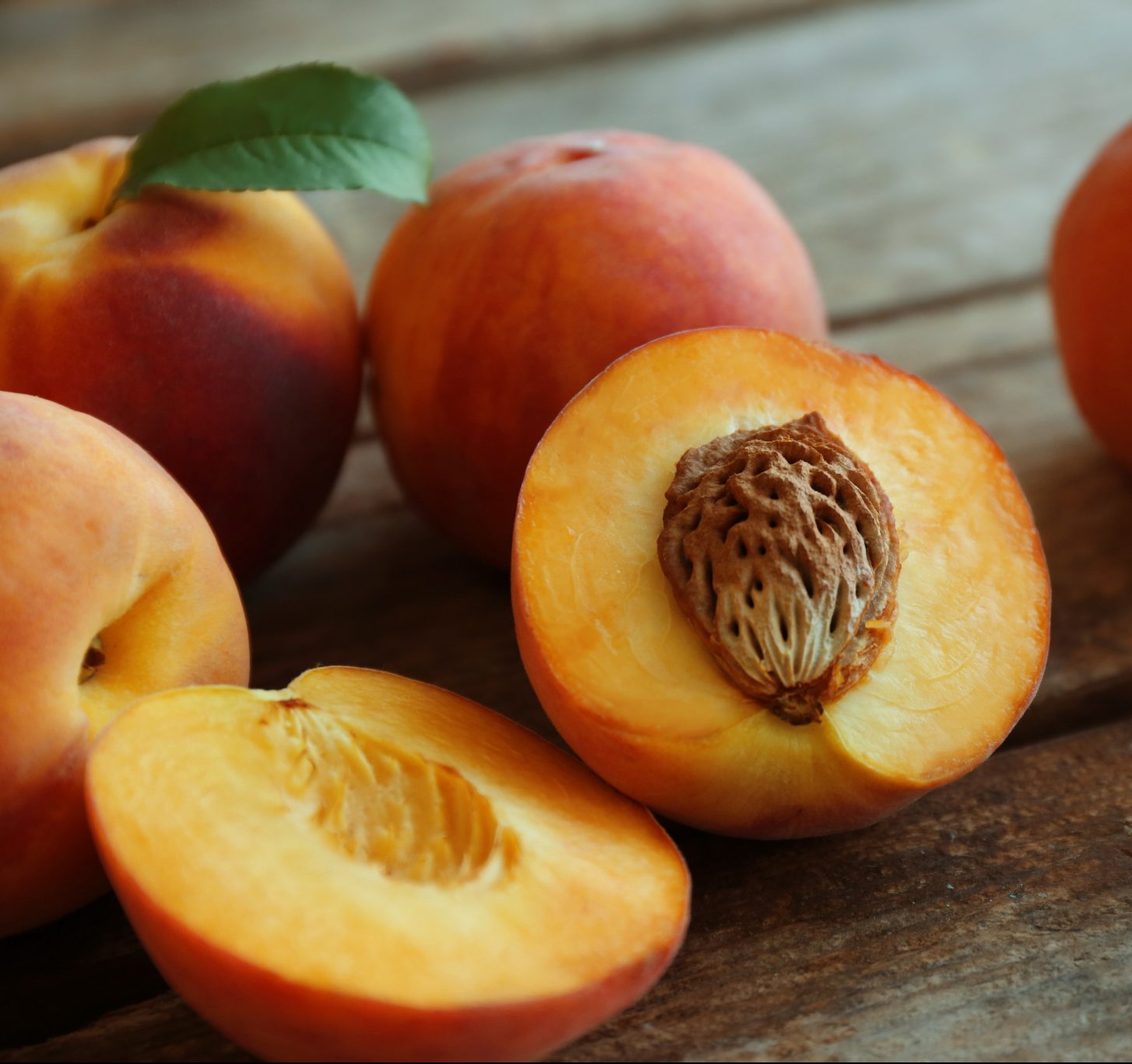 On the other hand, if you prefer a smoother texture and don't enjoy the slight chewiness of peach skins, you can certainly peel them before adding them to the cobbler. By taking a few extra steps to peel the peaches, you can achieve a perfectly smooth filling while still enjoying the delicious flavors of the ripe fruit in your peach cobbler.
Easy Hack for Peeling Peaches
If you prefer to peel your peaches, there's a simple trick. Score a small "X" on the bottom of each peach, blanch them in boiling water for about 30 seconds, then plunge them into ice-cold water. The skins will easily slide off.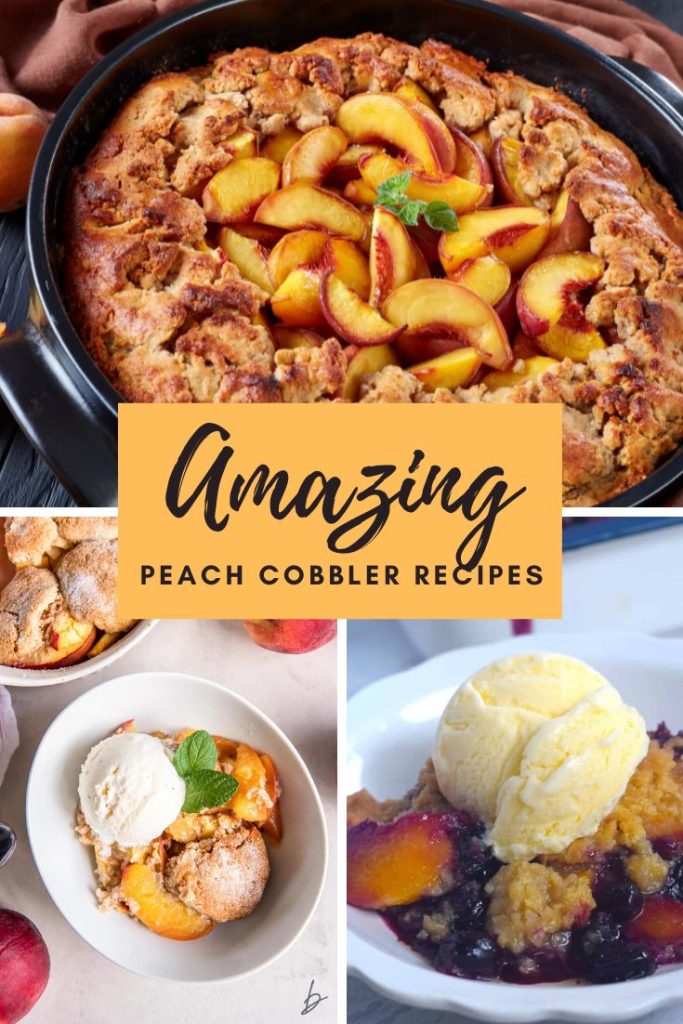 Why the name peach cobbler?
Ah, the delightful mystery behind the name "peach cobbler"! It turns out that the term "cobbler" originally referred to the early American settlers' method of "cobbling" together fruit and a simple, biscuit-like dough to create a rustic, comforting dessert. The word "cobbler" itself is believed to have originated from the Old English term "cobelere," which referred to a wooden bowl or dish. As these early settlers couldn't easily access the ingredients and equipment required for more elaborate desserts, they came up with the brilliant idea of using what they had on hand – fresh, juicy peaches and a basic dough – to whip up a warm and comforting treat. And so, the peach cobbler was born.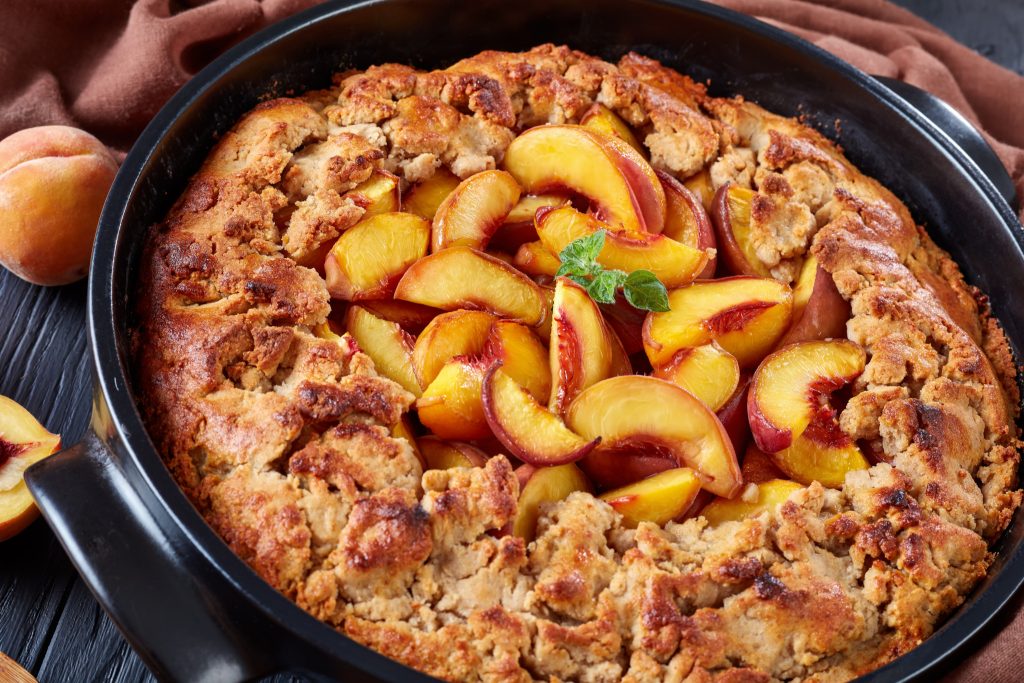 There's another fascinating theory about the origin of the name "peach cobbler" that ties it to the appearance of the dessert. Some believe that the name comes from the dessert's resemblance to a cobblestone street due to its textured, uneven topping. When the dough is dropped or "cobbled" on top of the juicy peach filling, it bakes into a rustic, uneven surface that looks quite similar to the uneven stones of a cobblestone street. This charming idea adds a touch of whimsy to the story of the peach cobbler.
What to do if you have lots of peaches?
Whether you have lots of peaches at home because you went a little crazy when you saw them at the farmer's market or are simply craving something different, here are some awesome ways to use up those peaches!
Enjoy creative peach desserts: Go beyond the peach pie and the peach cobbler. From peach galettes and peach crumbles to pavlovas and hand pies check out my list of the best peach desserts.
Bake a peach pie:

Peach pie is the ultimate comfort summer dessert. You can make a classic peach pie, but you don't have to. I have compiled and curated a fantastic list of the

best peach pie recipes

including delicious peach pie empanadas and peach pie combinations like peach and raspberry pie and peach and mango pie. Yes please!

Make a Peach Cheesecake:

Yes, you read that right. Move over peach pie, you have to try my amazing

no-bake peach cheesecake recipe

. It's not only sublime but so easy to make!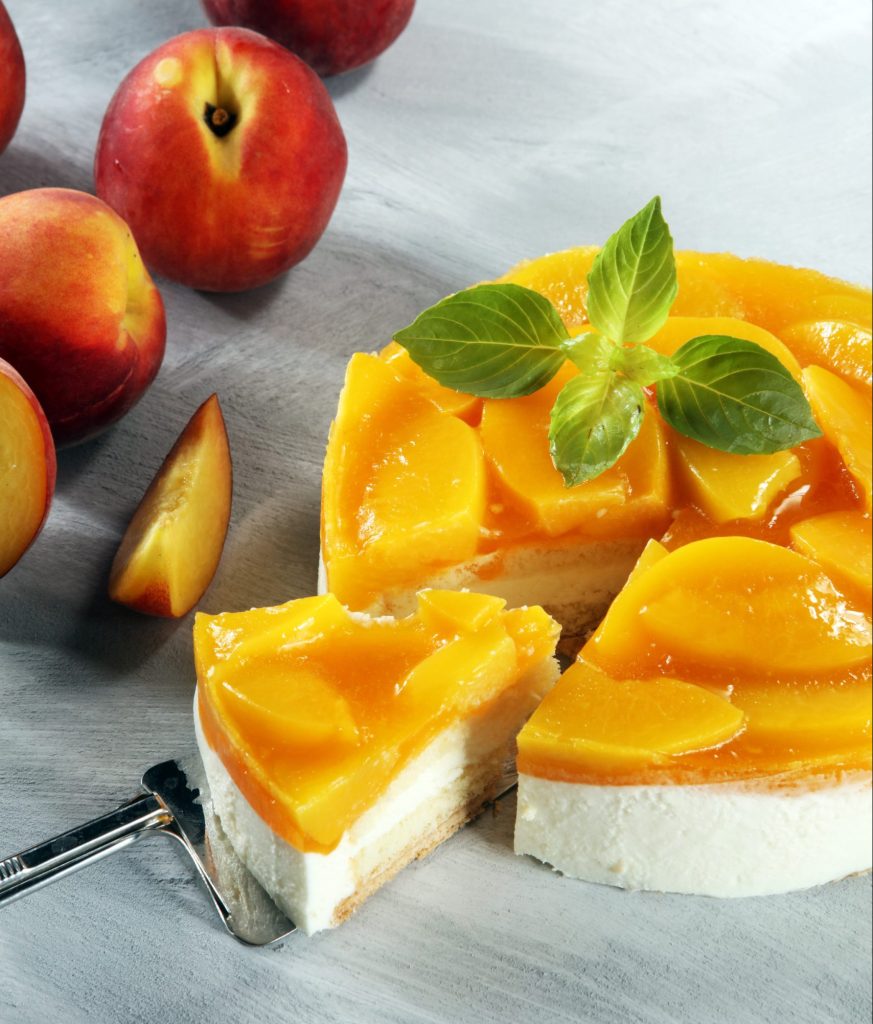 Create a refreshing peach drink:

If you're looking for a refreshing summer drink that is kid friendly and alcohol free look no further than my list of

delicious peach drinks (non-alcholic)

. From peach iced tea recipes (much better than Starbucks) to peach lemonades, you'll find your new favorite summer drink here!

Celebrate with a delicious peach cocktail

: Celebrate the summer with one of the amazing peach concoctions in this list of the

best peach cocktails

. From

peach mojitos

and pech brambles and mashes to peach bellinis and even

peach and mango martinis

!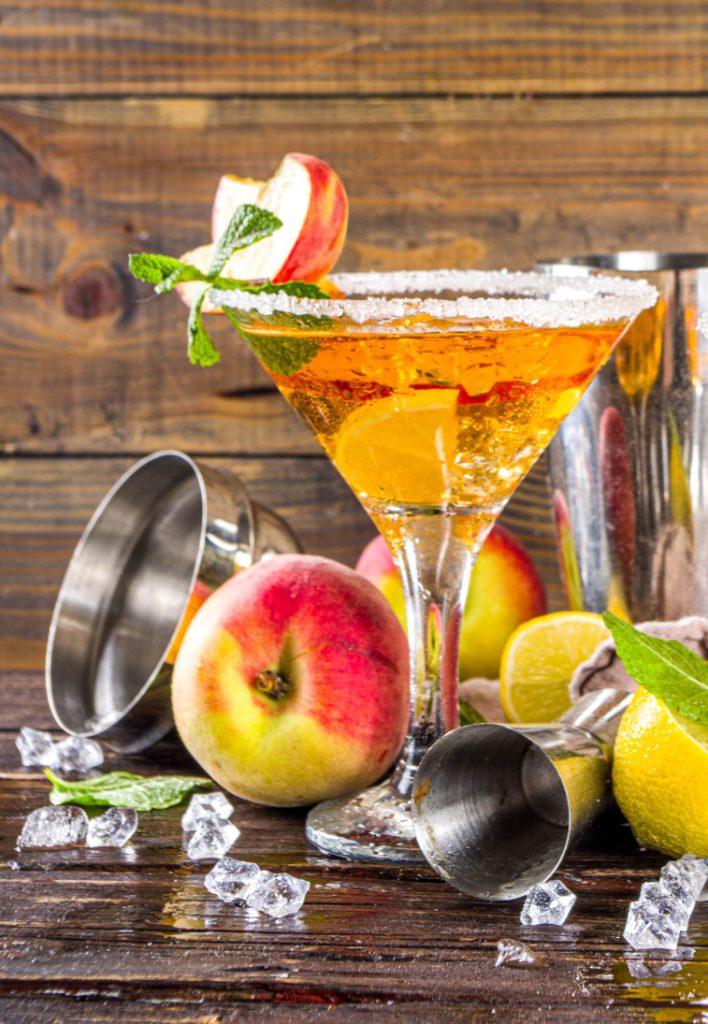 The Best Peach Cobbler Recipes
There's so many peach cobbler recipes out there so I've compiled a list of my favorite ones. From buttermilk biscuit to flaky crust and from classic baked peach cobblers to crock pot and even air fryer versions of this classic peach dessert, there is a recipe here for everyone. I've even added some delicious cobbler combinations for a cobbler that goes beyond just peaches!
Peach cobbler, a timeless summer dessert, is super simple to prepare. Among classic peach cobbler recipes, this one is one of my favorites! This peach cobbler is topped with classic biscuits made with flour, cornmeal and buttermilk and sprinkled with sugar on top of the dough giving it a delicious sweet crunch.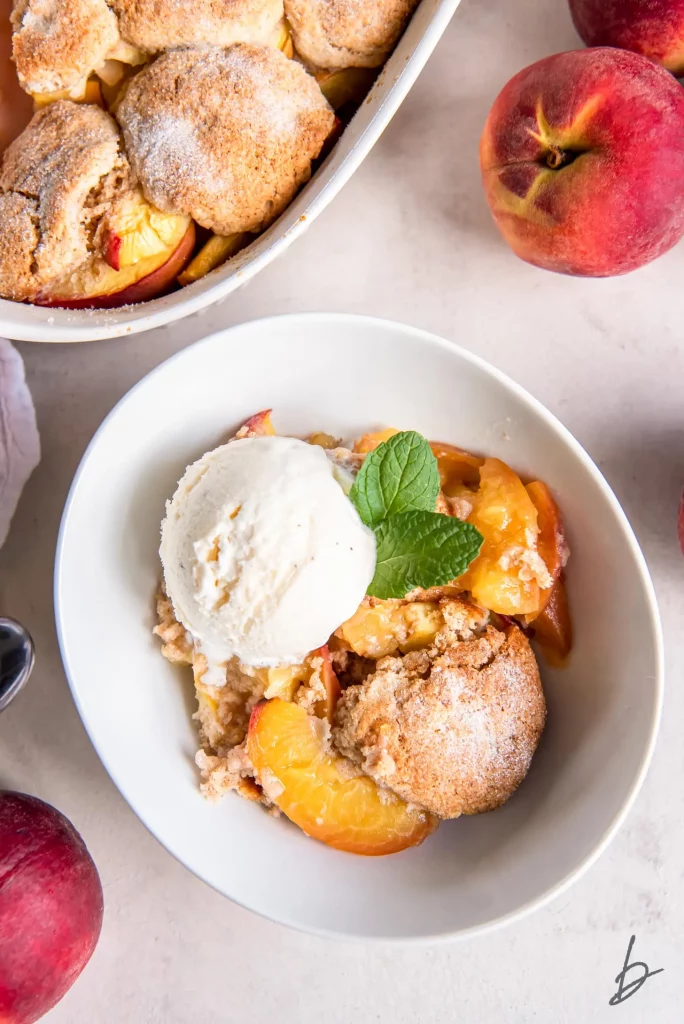 This old-fashioned southern peach cobbler recipe bursts with flavor and features juicy, fresh peaches. I really love the buttery and flaky crust on this peach cobbler recipe. The topping tastes more like a flaky buttery pie than a buttermilk biscuit and I'm here for that!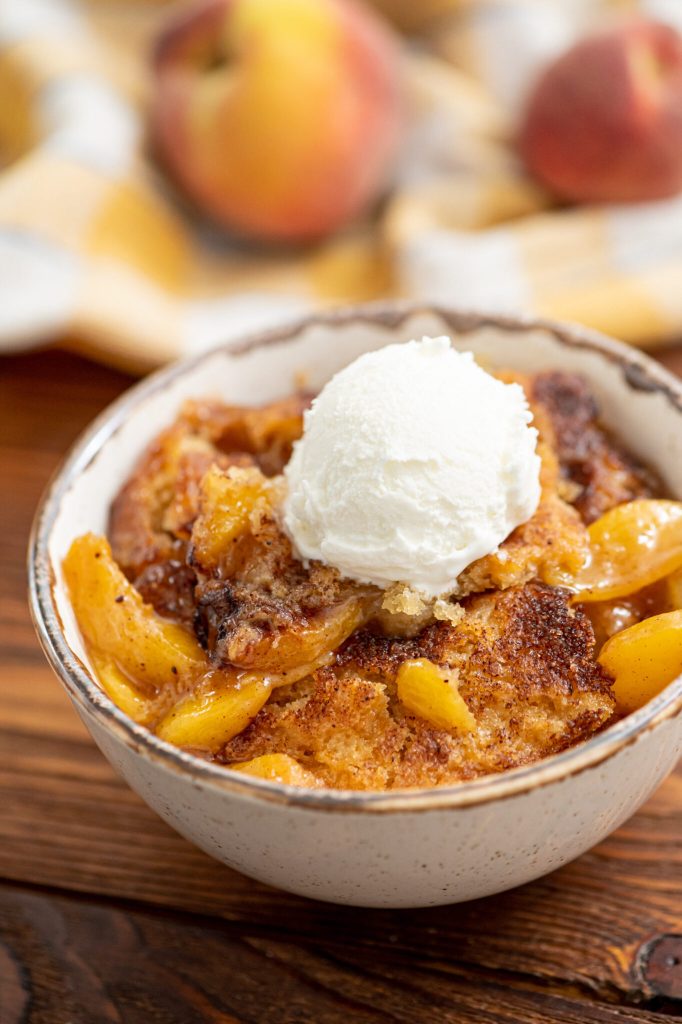 If you're looking for a peach cobbler recipe that comes together in minutes this peach cobbler recipe made using cake mix is the perfect! Whether you use fresh or canned peaches and your preferred cake mix flavor, this easy treat will be a hit with your whole family, no matter the season. Get ready to indulge in this sweet and satisfying cobbler!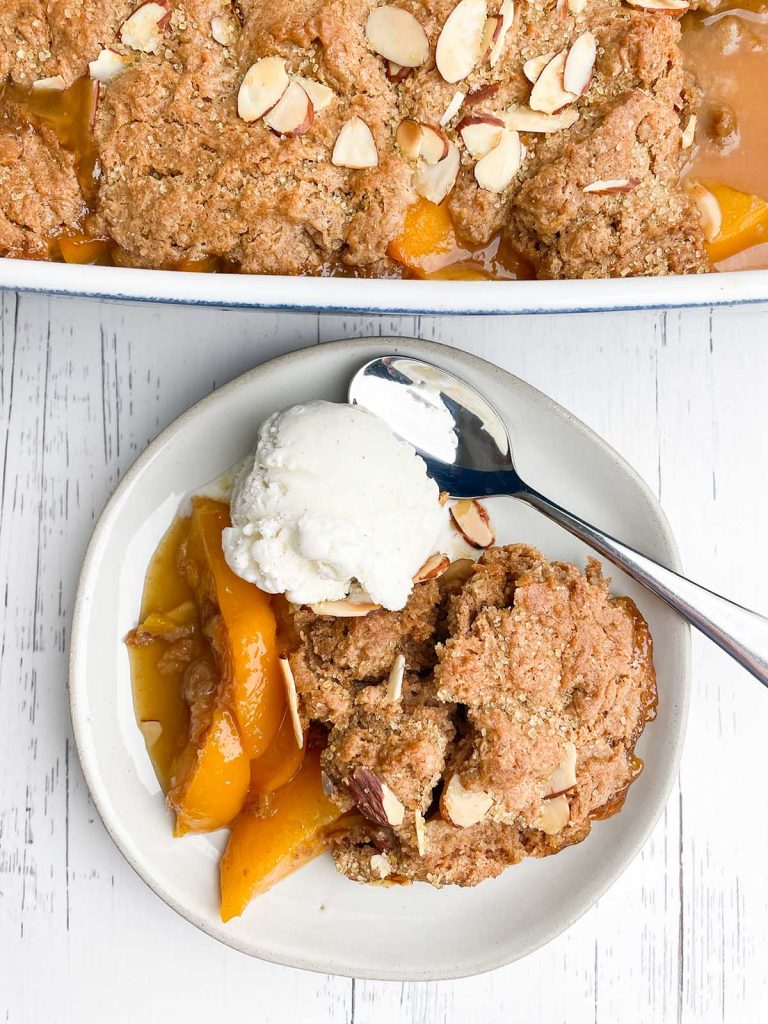 Cobblers are the perfect dessert for gatherings! They're super simple to make, can feed a big group, and taste absolutely amazing! This crockpot peach cobbler is a delightful and easy way to savor your favorite dessert. With just butter, sugar, peaches, flour, baking powder, cinnamon, and milk, you'll be enjoying a delicious peach cobbler in no time, all thanks to your trusty slow cooker!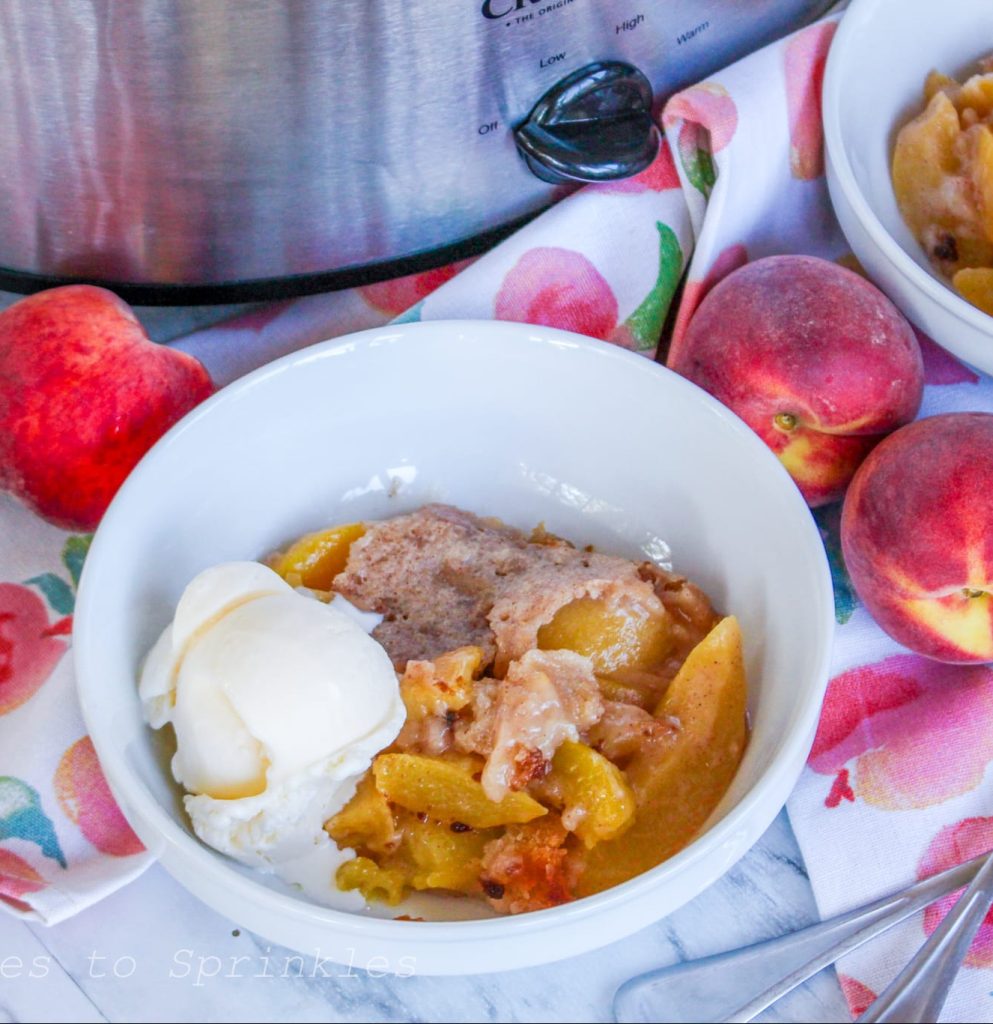 This Cast Iron Peach Cobbler showcases ripe and sweet summer peaches coated in sugar, crowned with a biscuit-like cobbler topping infused with cinnamon and cardamom. Enjoy this delightful summer treat warm and top it off with a scoop of creamy vanilla ice cream for the perfect finishing touch!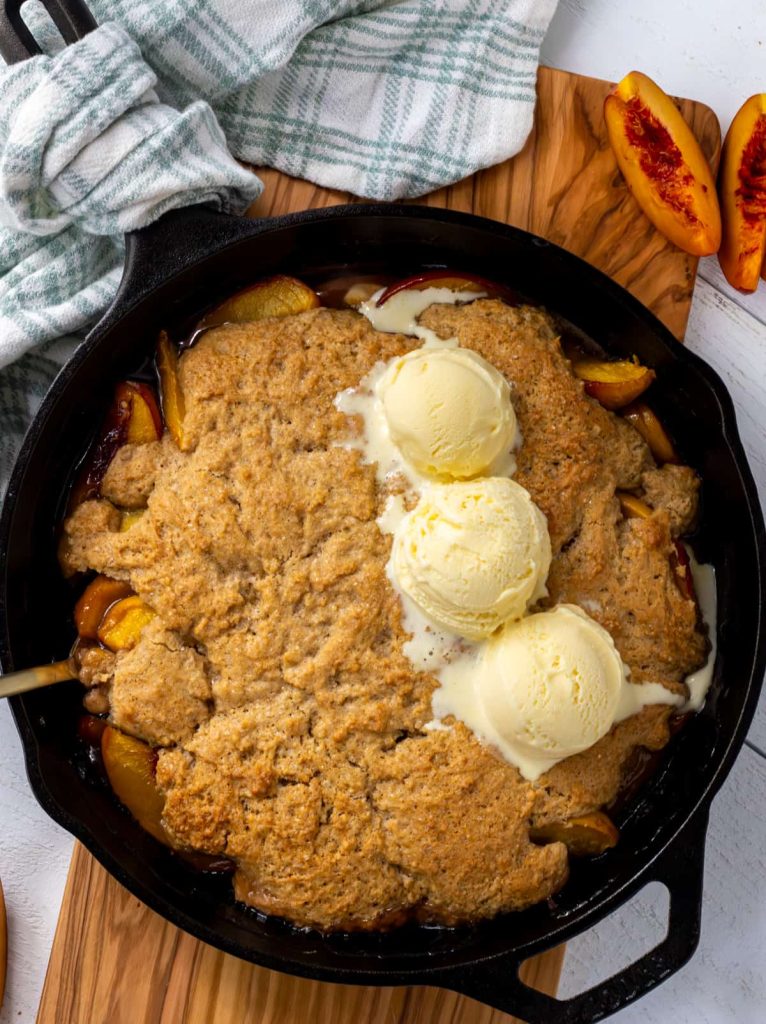 Craving a comforting and fruity dessert? This Air Fryer Peach Cobbler is the answer! With modern kitchen technology, you can easily make this delicious treat without turning on your oven. The simple steps and the magic of the air fryer will have you enjoying a warm and scrumptious peach cobbler in no time.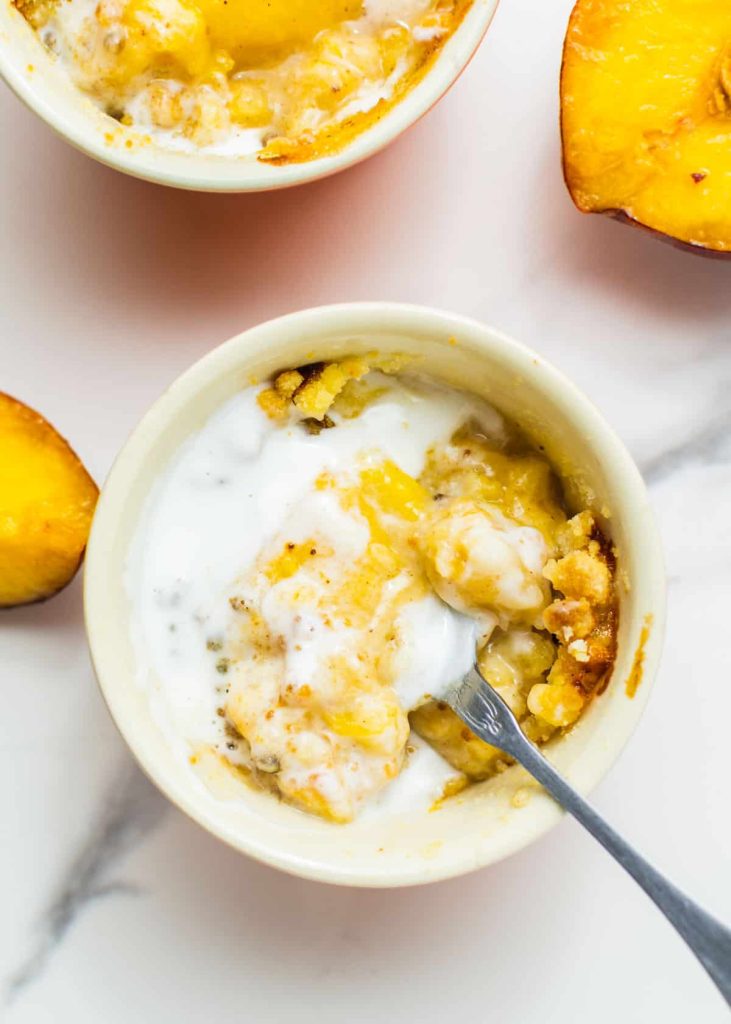 When you're torn between blueberry and peach cobblers, combine the best of both worlds with this Blueberry Peach Cobbler with Oatmeal Cookie Streusel. The oatmeal streusel topping gives it the delightful taste of an oatmeal cookie, making it perfect for summer get-togethers like Memorial Day and 4th of July. You can enjoy this treat year-round by using frozen fruit during the winter months.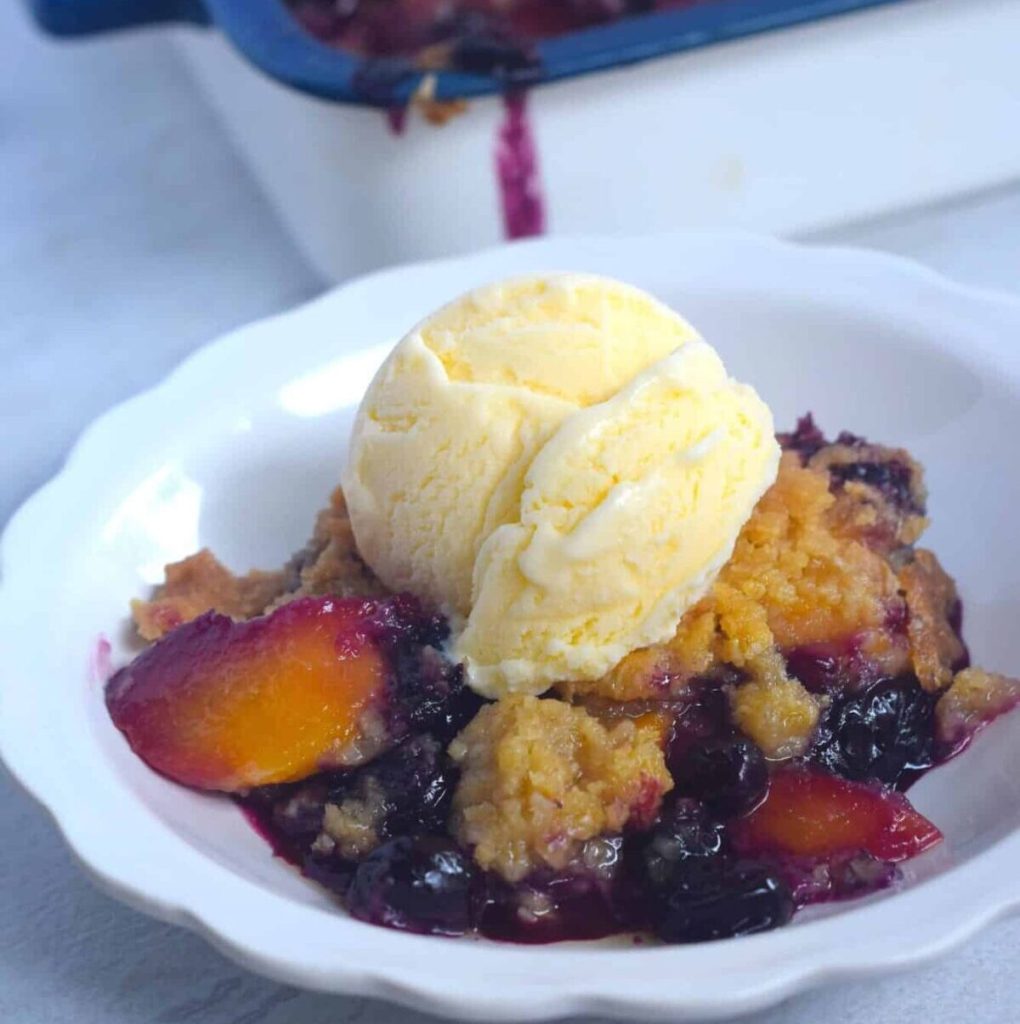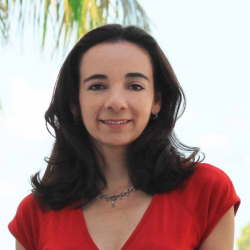 Latest posts by Paula Bendfeldt-Diaz
(see all)