We've put together a list of the best beach pie recipes, so there's no need to go searching for a recipe for peach pie out there in the internet. You're sure to find new favorite peach pie here, among these amazing pies filled with peachy goodness!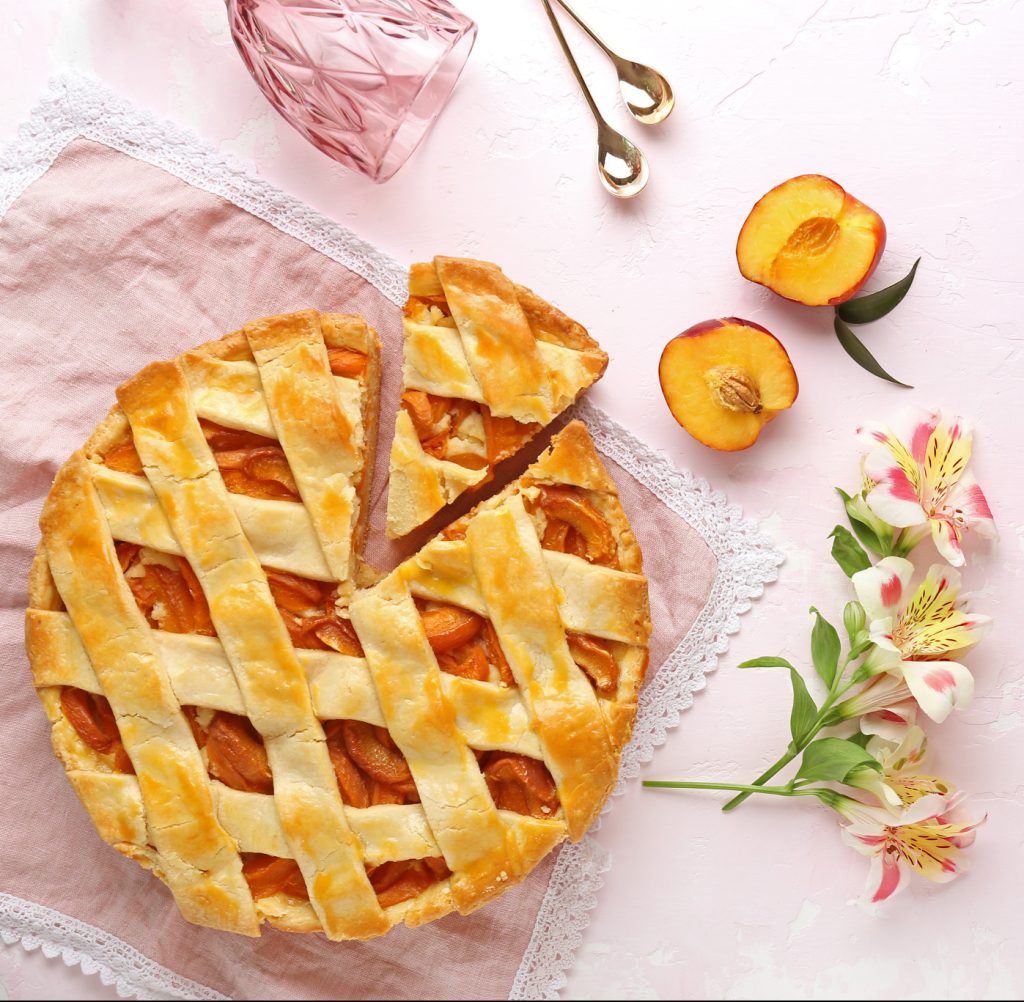 There's no better way to celebrate the summer than by baking a delicious peach pie. But there are so many peach pie recipes that you could spend hours looking for the right one. That is why I have put together my favorite peach pie recipes. The traditional peach pie is just the beginning of a vast and exciting world of peach pie variations! From rustic peach galettes to peach custard pies to fruit combinations like peach and mango pie and strawberry peach pie the possibilities are endless. I invite you on a delicious journey to explore some of the best peach pie recipes and their fun twists. You're sure to find your new favorite go-to peach pie recipe in this list!
The Best Peaches for the Perfect Peach Pie
Ah, the classic peach pie! A timeless summer dessert that has delighted taste buds for generations. But before we dive into the delectable array of pies, let's learn a bit more about the stars of the show – peaches!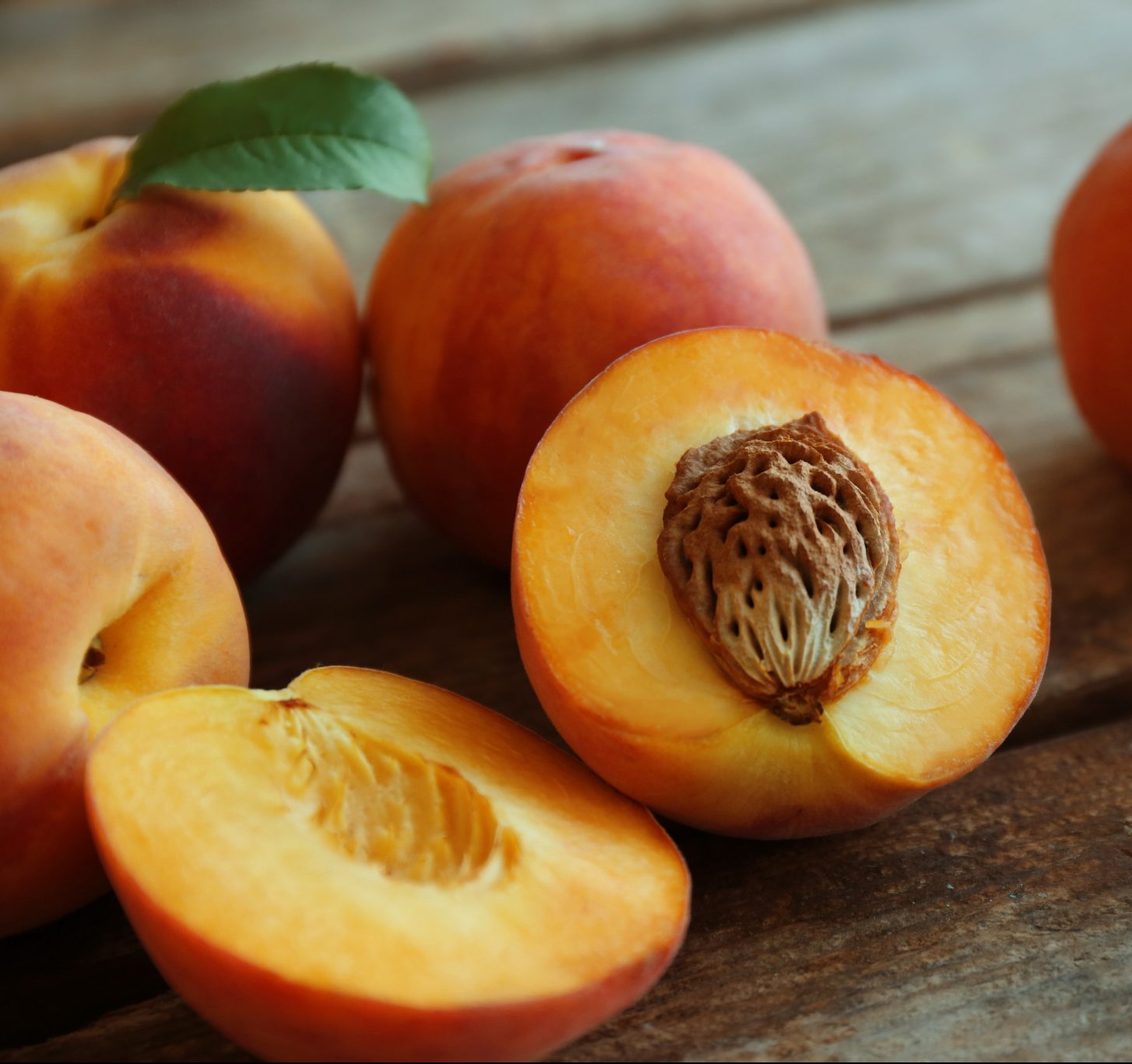 When it comes to making the best peach pie, choosing the right peaches is key. Look for ripe, juicy peaches with a sweet and fragrant aroma. Yellow-fleshed peaches are generally preferred for pies as they have a perfect balance of sweetness and tartness. Varieties like Elberta, Redhaven, and Georgia Belle are excellent choices for baking due to their texture and flavor.
Peach Pie: A Celebration of Summer
One of the reasons peach pies hold a special place in our hearts is their association with the bountiful days of summer. Peaches are at their peak in the summer months, making this the perfect time to indulge in this delectable dessert. The juiciness and sweetness of ripe summer peaches infuse the pie with the essence of the season, evoking warm memories of lazy afternoons and backyard picnics.
Difference Between Peach Pie and Peach Cobbler
Peach pie and peach cobbler are two delightful desserts that showcase the luscious flavors of ripe peaches, but they are distinct in their presentation and preparation. The key difference lies in their crusts and toppings. Peach pie usually features a flaky, buttery pastry crust that encases the sweet peach filling. The peaches are often sliced and mixed with sugar, spices, and sometimes a thickening agent like cornstarch to create a juicy and aromatic filling. The top of the pie is left open or covered with a crust, lattice crust, allowing the peaches to bubble and caramelize as they bake.
On the other hand, peach cobbler is a rustic dessert known for its biscuit-like topping, which is reminiscent of a cobbled street, hence the name. Instead of a traditional pastry crust, cobbler is topped with dollops of dough that transform into soft, cakey biscuits as they bake. The peach filling is usually made with sliced or chunked peaches, similar to peach pie, but it may be more simplified with fewer spices or seasonings. Some cobblers have a thicker, gooier filling that almost resembles a sauce, creating a lovely contrast with the fluffy biscuit topping.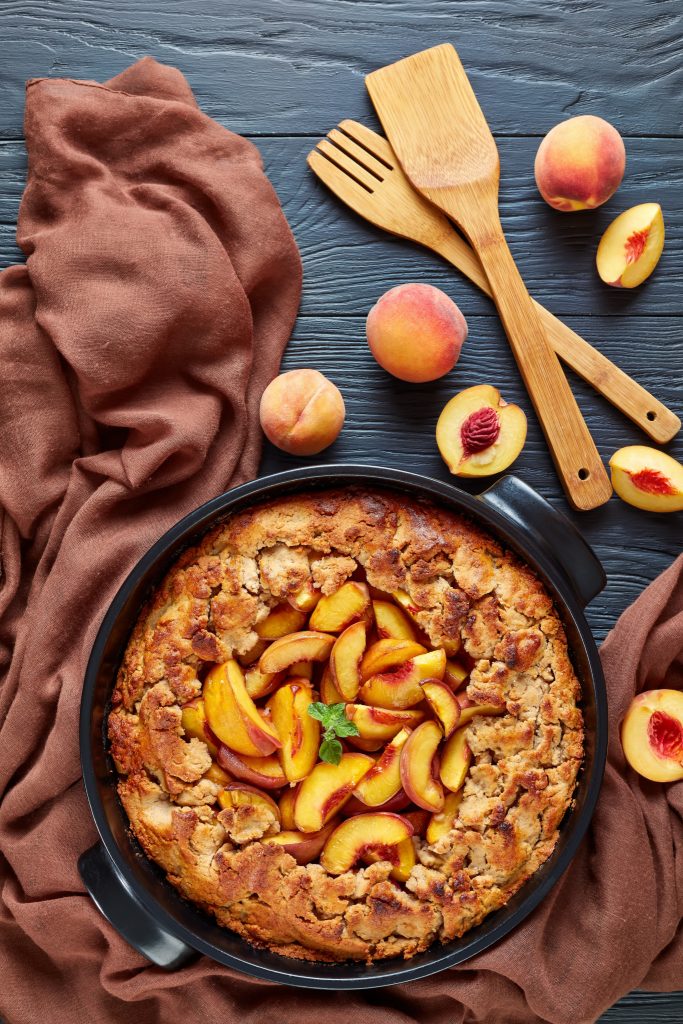 If you are looking for more peach recipes be sure to check out my roundup of the best peach desserts. And if you want a cooler treat give my amazing no-bake peach cheesecake recipe a try! Pair your favorite peach pie or dessert with a delicious drink. Check out my roundup of the best peach cocktails from peach mojitos to peach mango martinis. For a kid friendly option choose one of these refreshing peach drinks (non-alcoholic).
Tips for Making the Best Peach Pies:
Creating the perfect peach pie requires a little know-how and attention to detail. Here are some top tips to ensure your peach pies turn out divine every time:
Fresh Peaches: Use fresh, ripe peaches to capture the true essence of this dessert. The juiciness of fresh peaches will add a burst of flavor to your pie.
To peel or not to peel:

The cook time in the oven softens the skins, so you can leave the skin on for some extra texture and color. If you want to peel them just blanch them in boiling water and the skins come right off.

Quality Ingredients: Choose high-quality ingredients for the crust, filling, and toppings. Use real butter for a flaky crust and natural flavorings to enhance the peach taste.
Proper Spicing: Cinnamon and nutmeg are classic spices that complement peaches wonderfully. A pinch of these warm spices will elevate the flavors of your pie.
Pre-cook the Filling: To avoid a soggy bottom crust, pre-cook the peach filling to release excess moisture before assembling the pie.
The Perfect Crust: Whether you prefer a traditional buttery crust or a crumbly streusel topping, ensure your crust is baked to a golden perfection.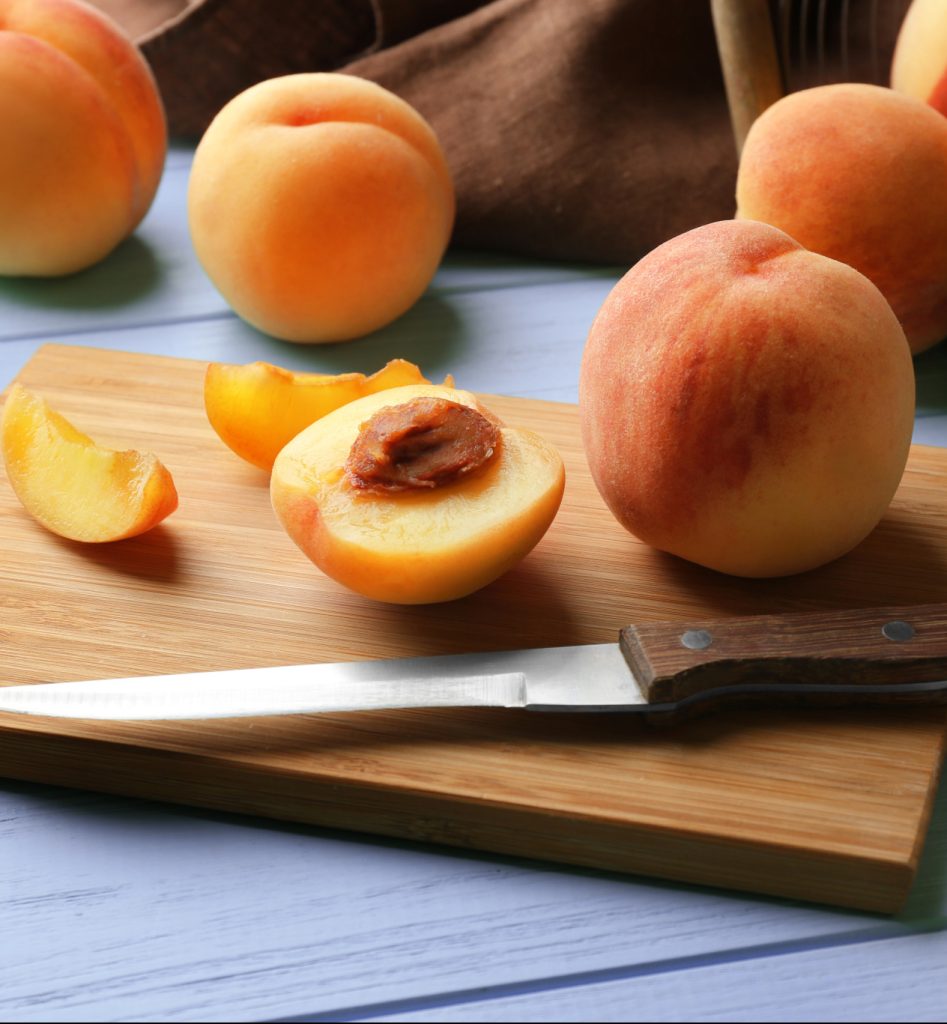 The Best Peach Recipes
Without further ado, here is a curated list of the best peach pie recipes. From rustic galettes and classic southern peach pies to pies that burst with the flavor of peaches combined with berries or other fruits. If you try these recipes, come back and let me know which one is your favorite!
Let's start with the classic peach pie! Get ready to fall in love with this fresh Peach Pie and it's amazing flaky butter crust. Who can resist that perfect combo of juicy peach filling and a crust that's all about the buttery flakiness? It's a match made in pie heaven, and it's bound to become your new favorite peachy treat!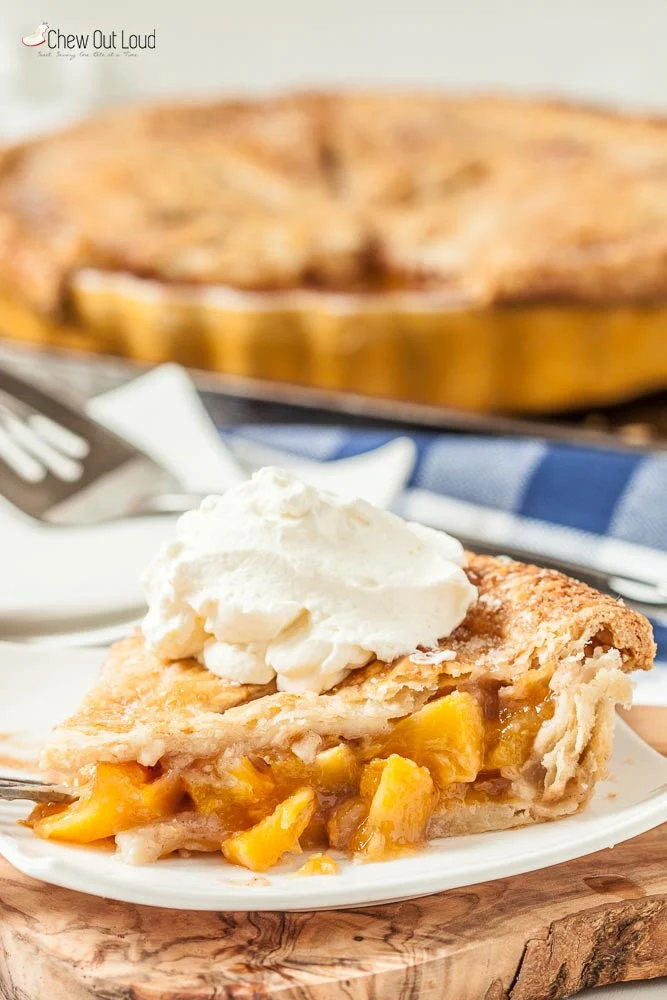 In this delightful Peach Crumble Pie, a flaky pie crust holds a scrumptious filling of fresh, tender peaches. The pie is then crowned with a heavenly brown sugar cinnamon crumble, offering a satisfying crunch with each bite. Plus, leaving some peaches unpeeled not only adds flavor but also gives the pie a lovely burst of color.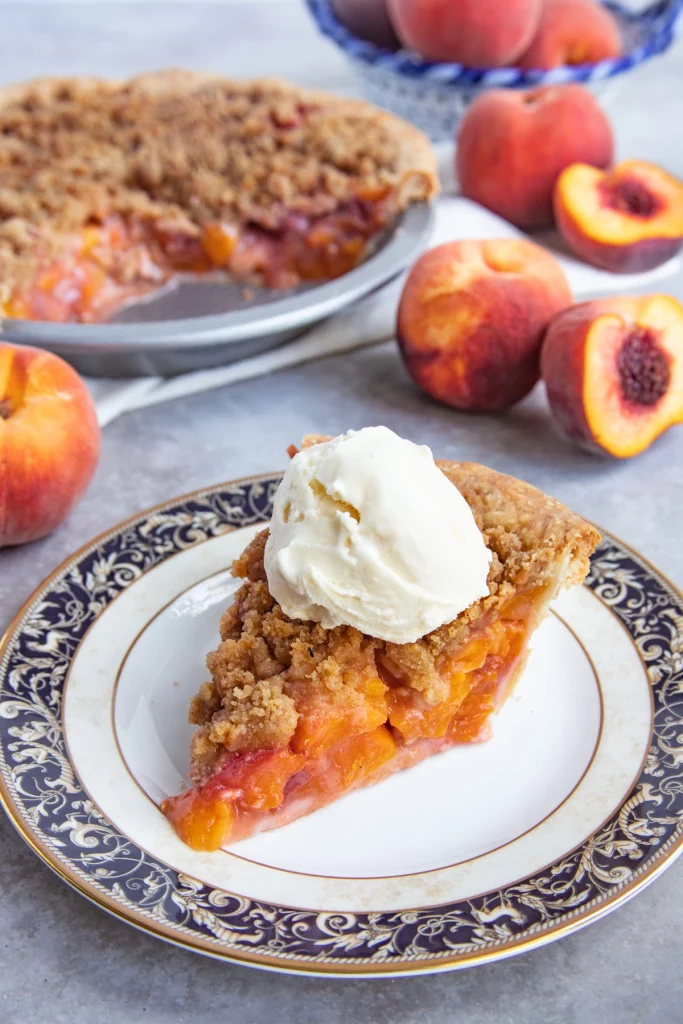 Get ready for a delightful ending to summer with this Fresh Peach Bourbon Pie! The combination of brown butter and bourbon creates a unique flavor profile, with nutty and oak notes that perfectly complement the juicy peaches. Plus, the touch of brown sugar adds a delicious hint of sweet molasses that brings it all together in this tasty pie.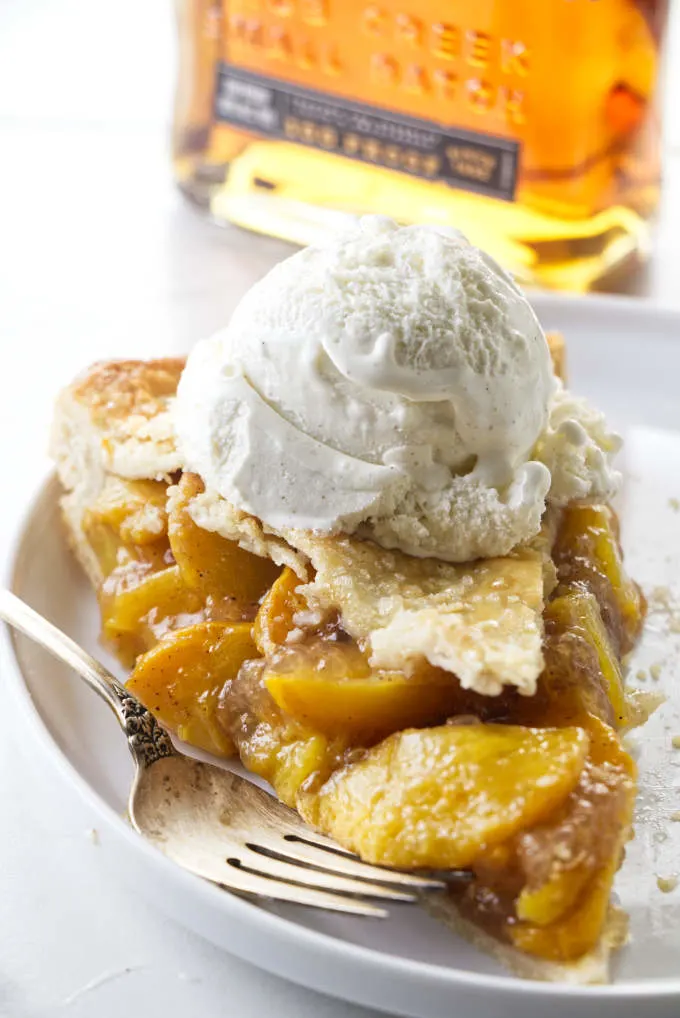 Enjoy the goodness of Peaches and Cream in a pie! This delectable no-bake dessert boasts a buttery graham cracker crust, a sweet custard filling, fluffy whipped cream, and fresh sliced peaches. It's a quick and easy treat that will have everyone asking for more!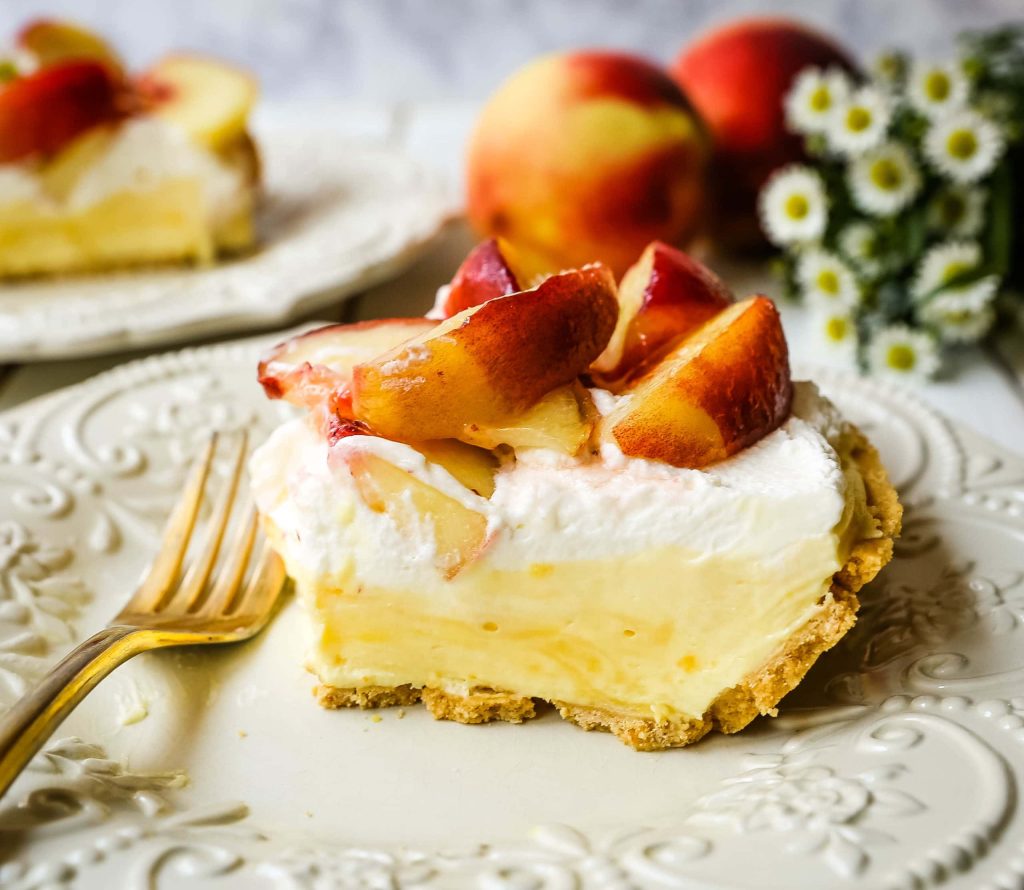 Indulge in the deliciousness of Custard Peach Pie – it's sweet, creamy, and absolutely delightful! With its luscious custard filling and juicy peaches, topped with a delightful crumb topping, this pie is a true treat. If you adore the combination of peaches and cream, this Custard Peach Pie is an absolute must-try – you're going to love it!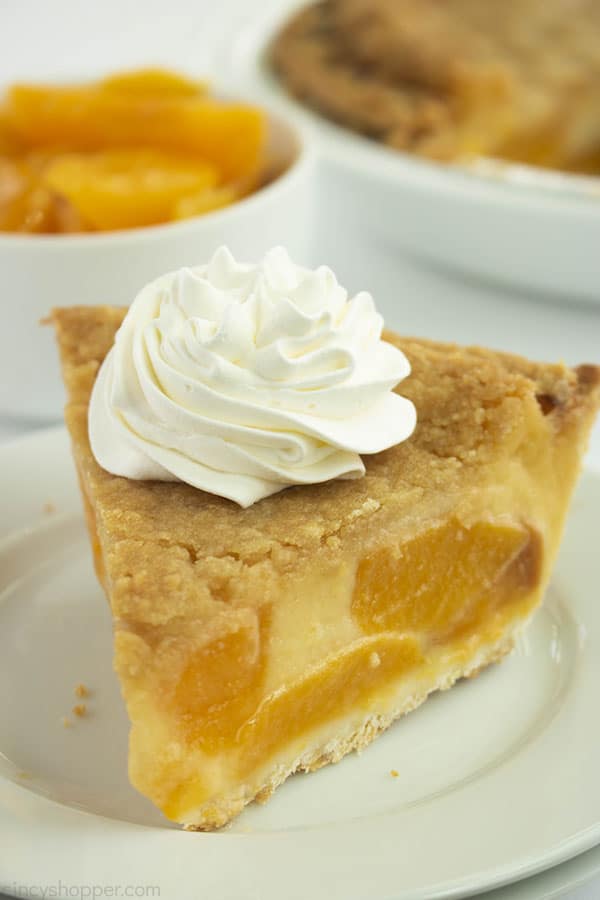 What Flavors Does Peach Pair Well With? Peach + Other Fruit Pies
Peach is one of those fruits that pairs well with so many flavors and with so many other fruits. From berries to more tropical flavors like mango you can combine peaches with other favorite fruits for a peachy fruity pie that takes the classic peach pie to new heights!
For a classic and timeless pie, peaches team up flawlessly with blueberries, raspberries, and blackberries, giving you the perfect balance of sweet and tangy. If you're craving a tropical twist, consider combining peaches with succulent mangoes, transporting your taste buds to a sunny paradise. And for a refreshing and citrusy kick, a touch of lemon or orange can take your peach pie to new heights of flavor. So, whether you're making a traditional peach pie or exploring creative combinations, peaches are the ultimate pie partner, adding their natural goodness to create pies that are truly irresistible. Choose your favorite combination from this list of delicious fruit pies or create a new combination of your own!
Get ready for the ultimate summer delight with Strawberry Peach Pie! Bursting with fresh and juicy peaches and strawberries, this pie is wrapped in a delightful brown butter crust. It's the perfect treat to enjoy all summer, especially when served with a scoop of creamy vanilla ice cream.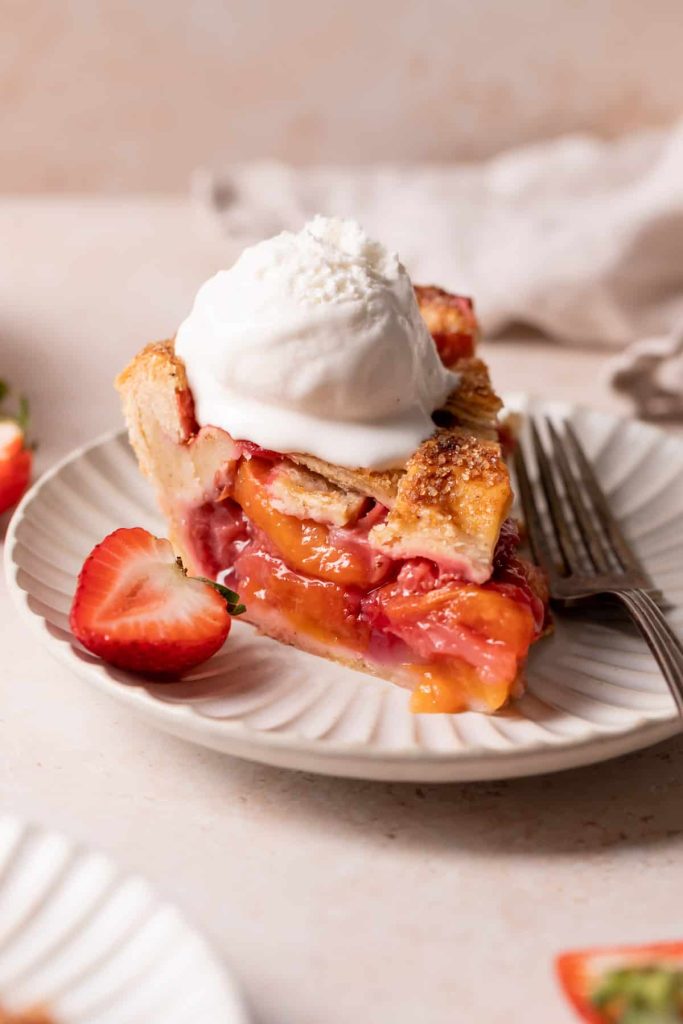 Get ready to indulge in a delicious summer treat with this Blackberry Peach Pie! It's a delightful combo of tangy blackberries and juicy peaches, perfectly capturing the essence of the season. The sweet and tart flavors dance together in a golden, flaky pie crust that's sure to please everyone at the table.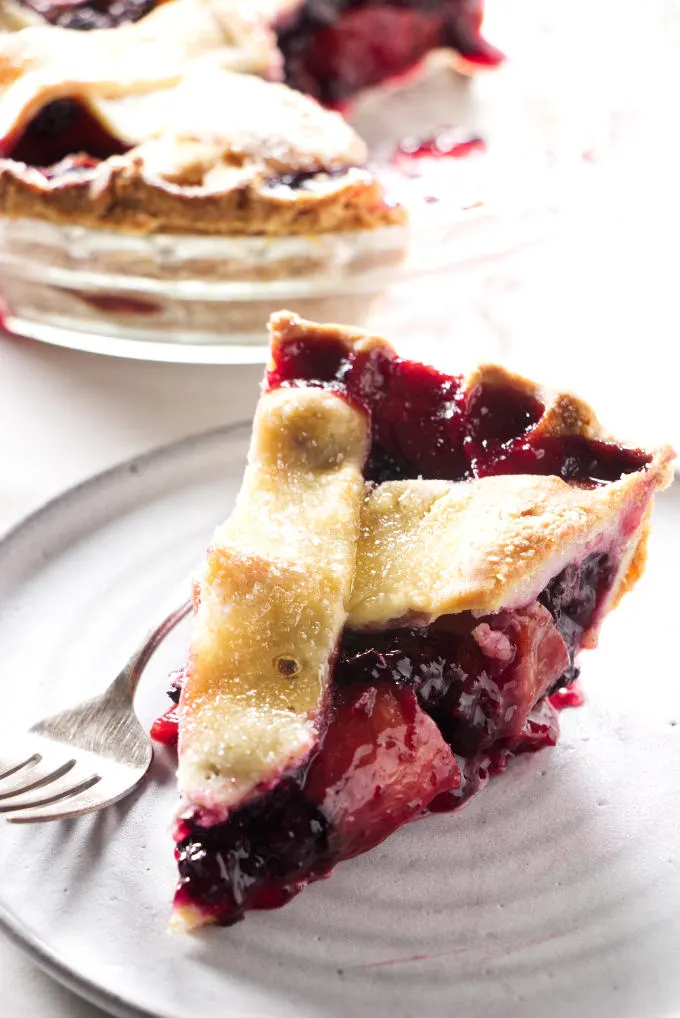 The heavenly combination of peaches, almonds, toasted coconut, and flaky pastry makes this galette an irresistible tropical variation to the classic peach pie. With its juicy and flavorful filling, this easy-to-make rustic open pie is simply delightful. You'll fall in love with this seriously delicious dessert, which can be quickly adapted to use any fruit you have in your kitchen.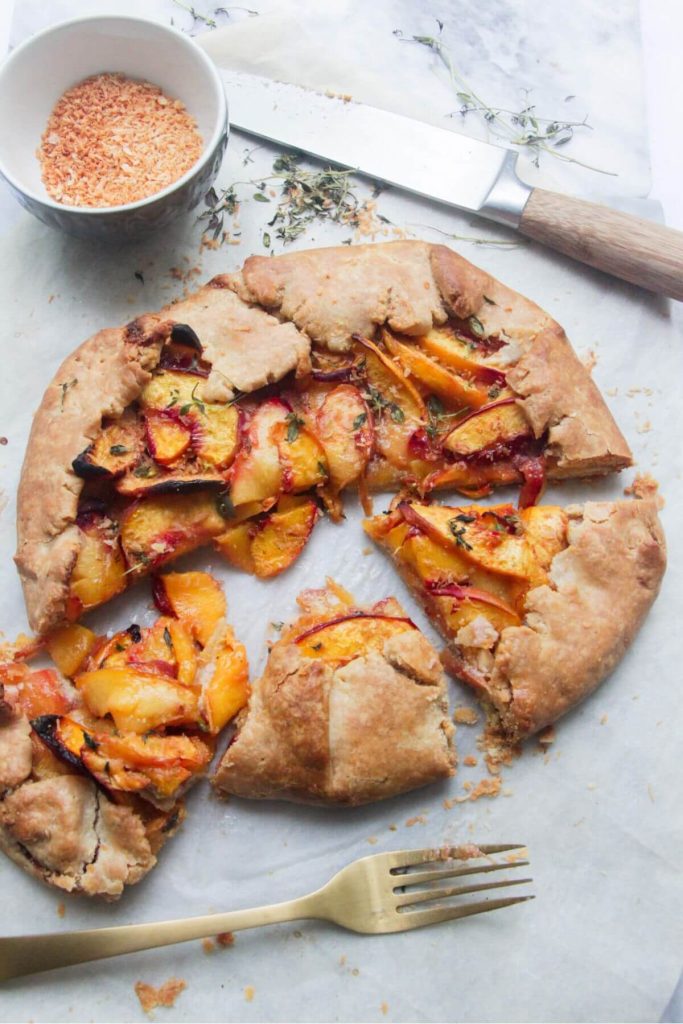 You'll love this scrumptious Peach Mango Pie! Ripe mangoes and fresh peaches are gently spiced with cinnamon and allspice, then baked to perfection in a homemade pie crust. It's a delightful treat that's sure to be a hit with everyone!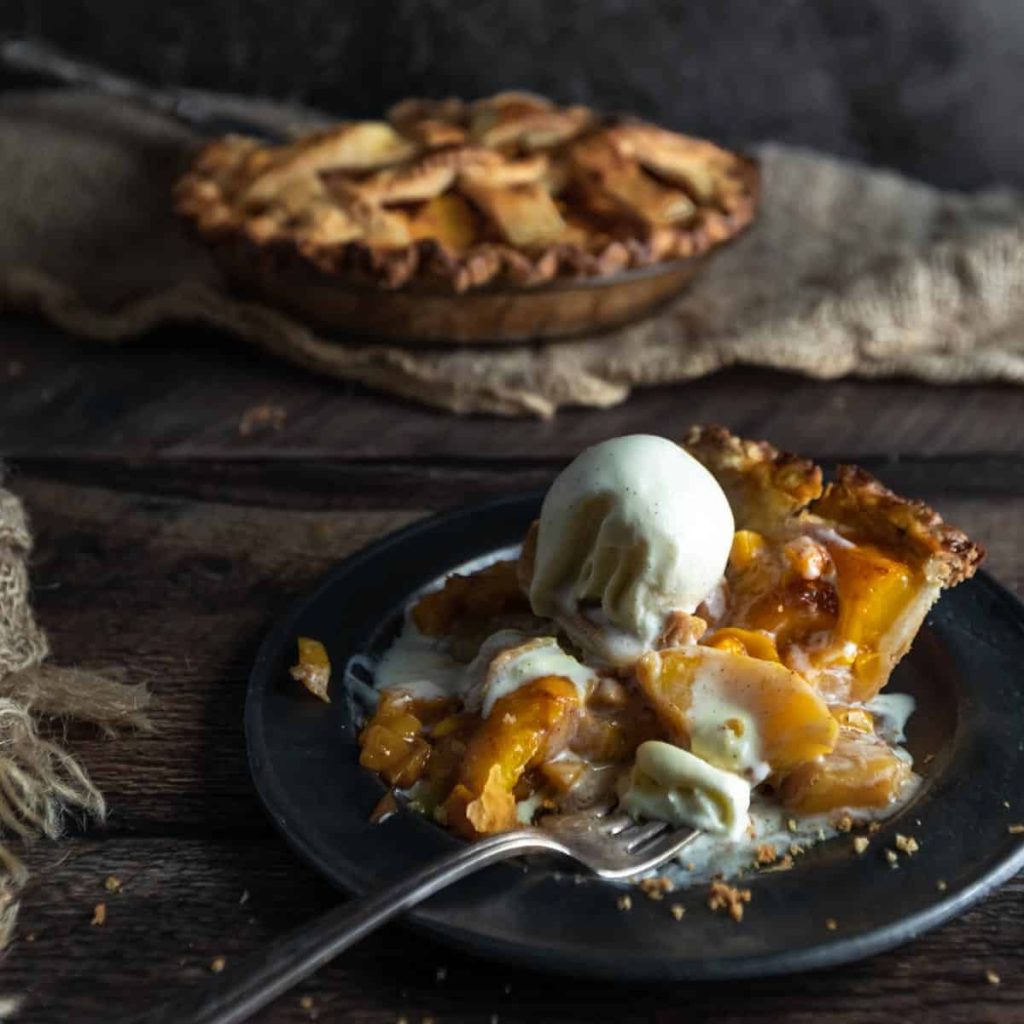 During summertime, the Blueberry Peach Galette steals the spotlight with its flaky crust and juicy fruit filling. Its rustic charm and easy preparation make it a picnic essential, perfect for sharing the joy of delicious homemade desserts with family and friends.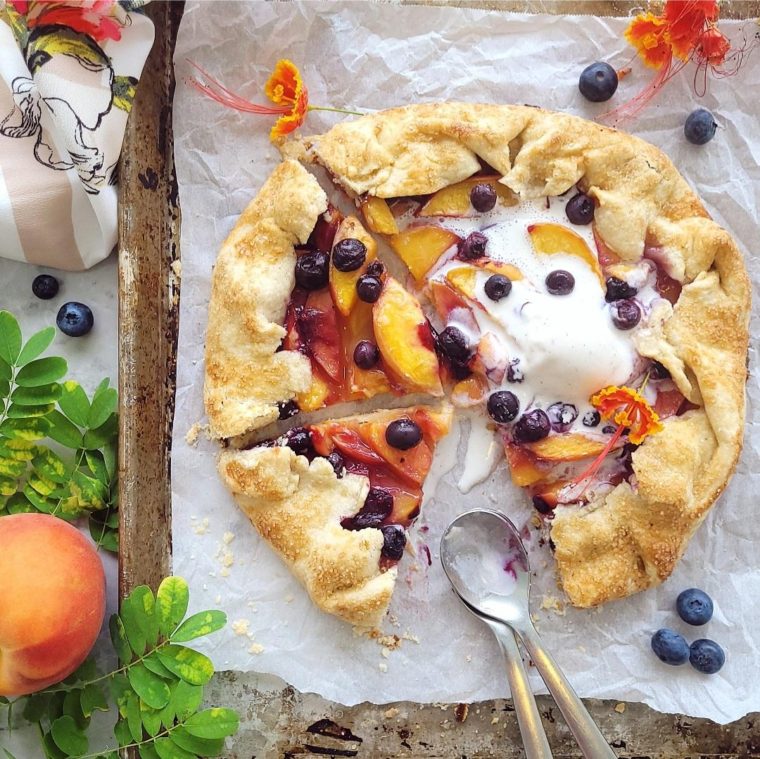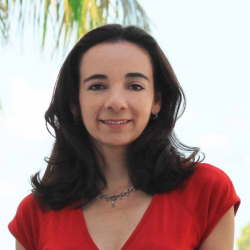 Latest posts by Paula Bendfeldt-Diaz
(see all)