This Baked Peach Chicken recipe is a delightful dish that combines the sweetness of fresh peaches into a savory peach recipe that everyone will love! When you think of peaches you usually think about peach desserts but this delicious peach chicken recipe is one of our favorite summer dinner recipes. It's easy to make and tastes and looks amazing which makes it perfect for entertaining summer guests.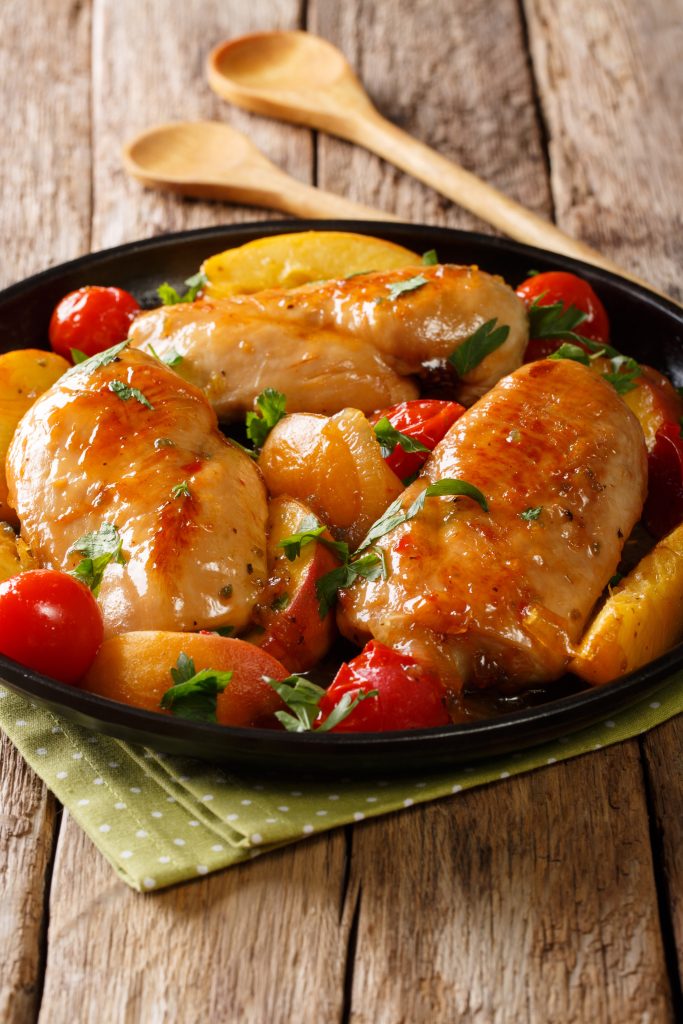 Dinner recipes don't have to be boring! This easy chicken dinner recipe combines tender and juicy chicken breasts with the natural sweetness of ripe peaches, creating a flavor explosion that will leave your taste buds dancing with delight. The cherry tomatoes and sliced onions, add a burst of freshness and savory goodness to the mix. With the aromatic blend of herbs and a peach jam, this recipe transforms into a wholesome and satisfying meal that's easy to prepare and perfect for any occasion.
This is one of our go-to summer chicken breast recipes. Both of my kids just love this peach chicken. And what's not to love? The juicy tender chicken breasts and onions slightly caramelized with the sweet peach jam have become one of our favorite chicken recipes this summer.
Baked Peach Chicken: An Easy Weekday Dinner Recipe
Preparing our Baked Peach Chicken is an absolute breeze, making it the ideal weekday dinner that the whole family will love. With just a few simple steps, you'll have this delicious and wholesome meal on the table in no time. The juicy peaches and succulent chicken breasts blend together effortlessly, creating a harmony of flavors that is simply irresistible. Plus, who can resist the allure of sweet and tangy peaches? They add a delightful twist to the traditional chicken dinner, making it a surefire hit with everyone at the table. Whether you're a seasoned cook or just starting your culinary journey, this easy and delightful dish will have you coming back for more. So, gather your fresh ingredients, preheat the oven, and let the aroma of juicy peaches and savory chicken fill your kitchen as you whip up this delectable weekday dinner!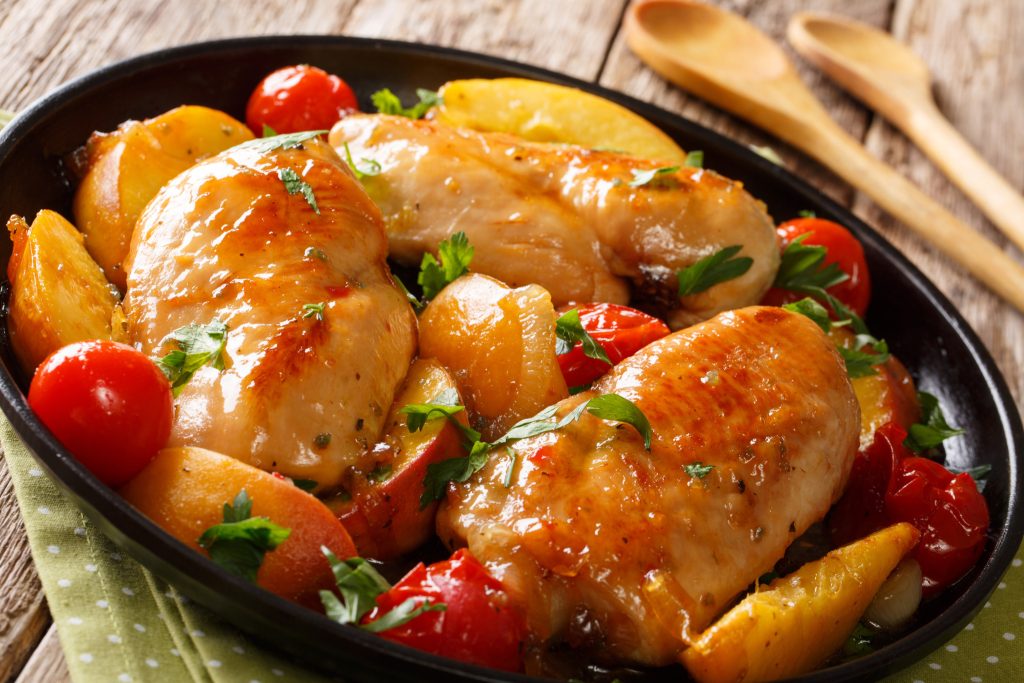 What are the best peaches for savory recipes?
When it comes to choosing the best peaches for a baked peach chicken recipe, you want to opt for peaches that are sweet, juicy, and flavorful. Ripe and fresh peaches are the key to achieving a delicious and mouthwatering result.
When selecting peaches, look for ones that are fragrant and slightly soft to the touch, indicating they are ripe and ready to use. Avoid peaches that are too firm or have bruises or blemishes. The sweetness and juiciness of these peaches will infuse your baked peach chicken recipe with a burst of natural flavor that will surely impress your guests.
Here are some peach varieties that work exceptionally well for this baked chicken recipe:
Freestone Peaches:
These peaches have a flesh that easily separates from the pit, making them perfect for baking. They are juicy and have a sweet-tart flavor that pairs beautifully with savory dishes like chicken. Freestone peaches are my favorite peaches to use for this recipe because they are easy to slice and their taste compliments the chicken beautifully.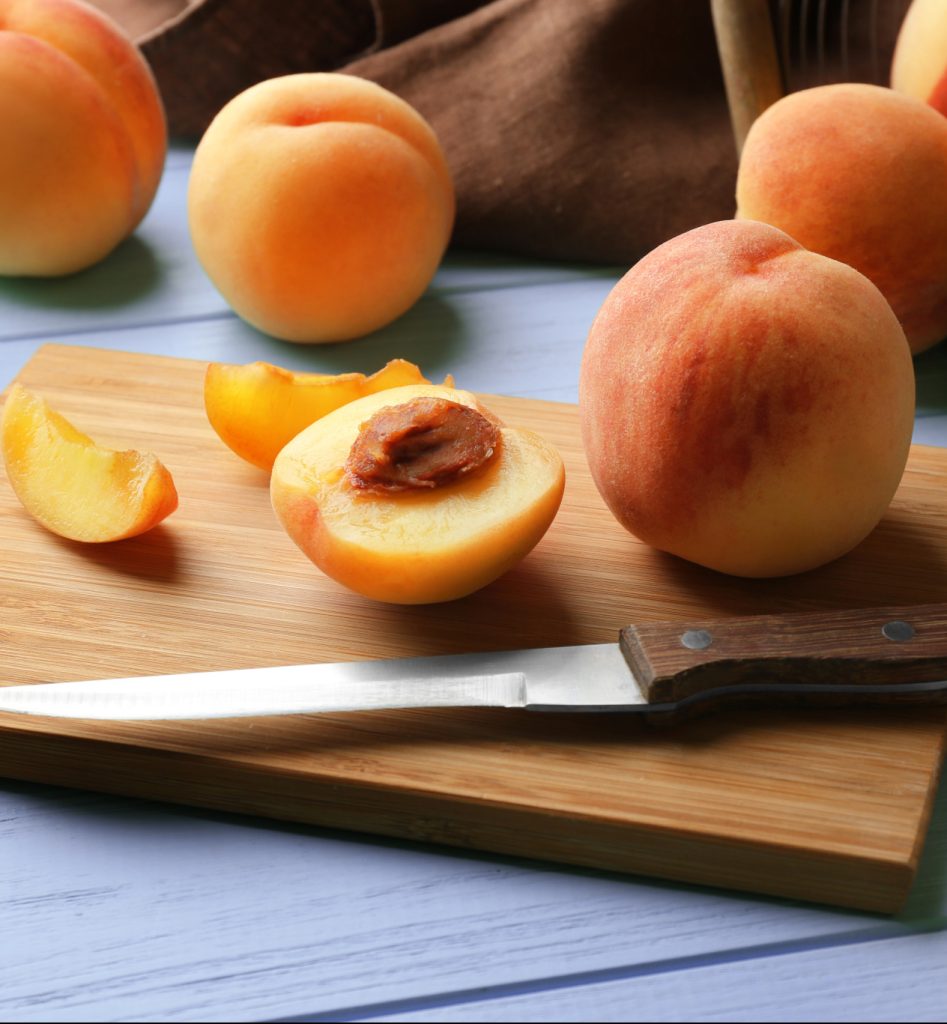 Yellow flesh peaches:
Yellow flesh peaches embody the essence of summertime. Unlike white flesh peaches, they are more readily available and widely known. True to their name, the flesh boasts a warm, inviting yellow hue with lovely red streaks near the core. With every delightful bite, you'll experience a harmonious blend of sweet, fruity notes gently balanced with a touch of refreshing acidity. The sugary tang of yellow peaches makes them a delightful addition to savory dishes, salad dressings, and sweet treats alike. Their robust flavor and firm texture also make them an excellent choice for all your baking endeavors.
What are the ingredients for Baked Peach Chicken?
This recipe comes together with ingredients you probably already have at home. Specially if it's summer and you just grabbed some fresh peaches!
Chicken breasts:

The main protein source for this dish, these tender and juicy chicken breasts serve as the perfect canvas to soak up all the delightful flavors.
Ripe peaches:

These sweet and succulent peaches add a burst of fruity goodness to the chicken, infusing it with a delightful taste of summer.
Cherry tomatoes:

The vibrant and colorful cherry tomatoes not only add a pop of color but also contribute a burst of tangy and slightly sweet flavors to complement the peaches and chicken.
Onion:

The thinly sliced onion adds a hint of savory and aromatic goodness, balancing the sweetness of the peaches and tomatoes.
Garlic, thyme and rosemary:

The aromatic garlic brings a warm and pungent flavor and the herbs add earthy and aromatic notes, beautifully enhancing the overall taste of the dish.
Ginger: The zesty ginger adds a touch of brightness and warmth, complementing the sweetness of the peaches and enhancing the overall complexity of the dish.
Lemon juice:

The tangy lemon juice brightens up the flavors and adds a refreshing twist to the marinade.
Peach jam:

The peach jam brings concentrated peach flavor and a subtle sweetness that enhances the peachy essence of the dish, making it truly delightful.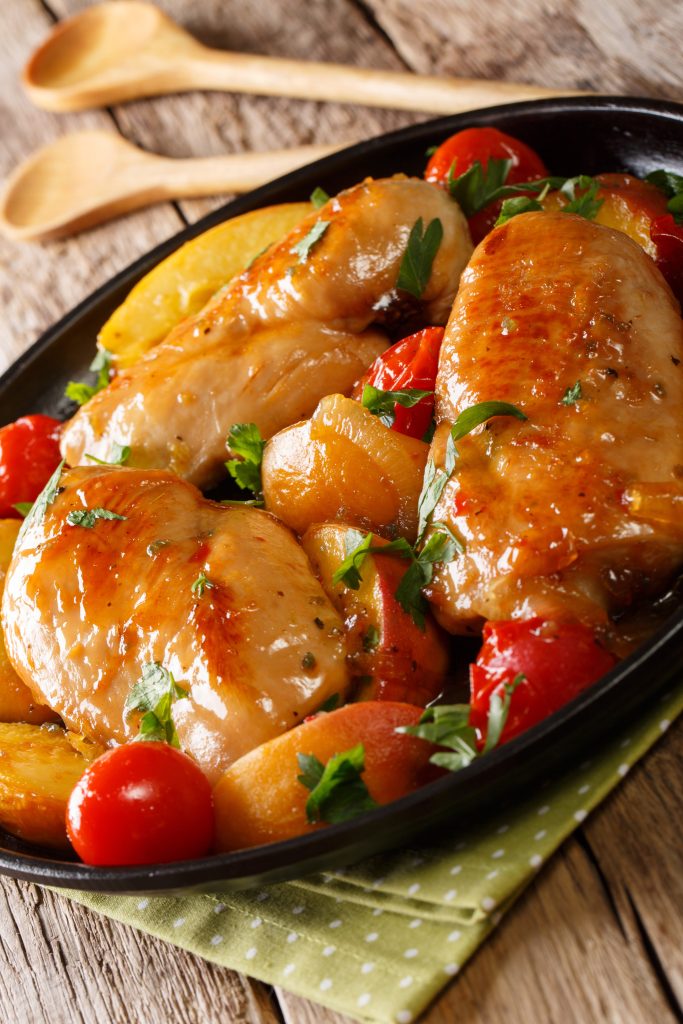 Storing Peach Baked Chicken Leftovers:
Once the peach baked chicken has cooled down, transfer any leftovers to an airtight container or wrap it tightly with plastic wrap or aluminum foil.

Place the container in the refrigerator and store it for up to 3-4 days. Make sure to label the container with the date for easy reference.
Freezing Peach Baked Chicken Leftovers:
To freeze the leftovers, place them in a freezer-safe container or a heavy-duty freezer bag, removing as much air as possible to prevent freezer burn.

Seal the container tightly and store it in the freezer for up to 2-3 months.
Reheating Peach Baked Chicken Leftovers:
To reheat the frozen leftovers, let the peach baked chicken thaw in the refrigerator overnight.

Once thawed, preheat the oven to 350°F (175°C). Place the chicken in an oven-safe dish and cover it with aluminum foil to prevent drying out.

Bake the chicken for about 20-25 minutes or until it's heated through.

Alternatively, you can reheat the leftovers in the microwave. Place the chicken on a microwave-safe plate, cover it with a microwave-safe lid or damp paper towel, and heat it in 30-second intervals until it's thoroughly heated.
Note: It's important to reheat the chicken to an internal temperature of 165°F (74°C) to ensure it is safe to eat. Always check for signs of spoilage or off-odors before consuming any leftovers. If in doubt, it's best to discard the leftovers to ensure food safety.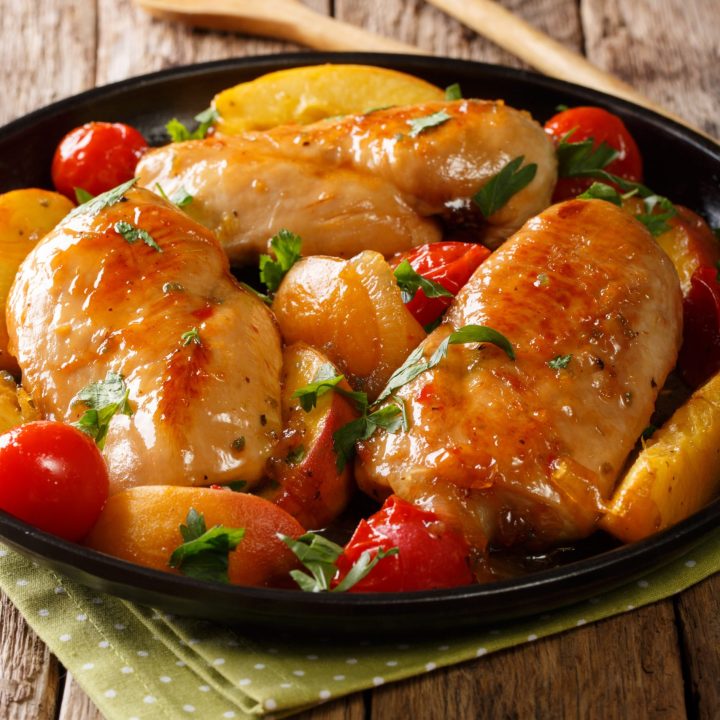 Baked Peach Chicken
Ingredients
4 boneless, skinless chicken breasts
2 ripe peaches, sliced
1 cup cherry tomatoes
1 small onion, thinly sliced
2 tablespoons olive oil
2 cloves garlic, minced
1 teaspoon dried thyme
1 teaspoon dried rosemary
1/2 teaspoon salt
1/4 teaspoon black pepper
1 teaspoon grated ginger
2 tablespoons lemon juice
2 tablespoons peach jam
Instructions
Preheat your oven to 375°F (190°C).
In a small bowl, whisk together olive oil, minced garlic, dried thyme, dried rosemary, salt, black pepper, grated ginger, lemon juice, and peach jam to create the marinade.
Place the chicken breasts in a shallow dish and pour half of the marinade over them, ensuring they are coated evenly. Cover the dish and let it marinate in the refrigerator for at least 30 minutes.
While the chicken is marinating, prepare the peaches, cherry tomatoes, and onion.
After the chicken has marinated, remove it from the dish and discard the used marinade.
In a large baking dish, place the marinated chicken breasts and arrange the peach slices, whole cherry tomatoes, and thinly sliced onions around them.
Drizzle the remaining marinade over the chicken, peaches, tomatoes, and onions.
Cover the baking dish with aluminum foil and bake in the preheated oven for 25-30 minutes or until the chicken is cooked through and reaches an internal temperature of 165°F (74°C).
Remove the foil and continue baking for an additional 5-10 minutes or until the chicken and peaches are slightly caramelized.
What To Do If You Have Lots Of Peaches?
Whether you have lots of peaches at home because you went a little crazy when you saw them at the farmer's market or are simply craving something different, here are some awesome ways to use up those peaches!
Enjoy creative peach desserts: Go beyond the peach pie and the peach cobbler. From peach galettes and peach crumbles to pavlovas and hand pies check out my list of the best peach desserts.
Make a Peach Cheesecake: Yes, you read that right. Move over peach pie, you have to try my amazing no-bake peach cheesecake recipe. It's not only sublime but so easy to make!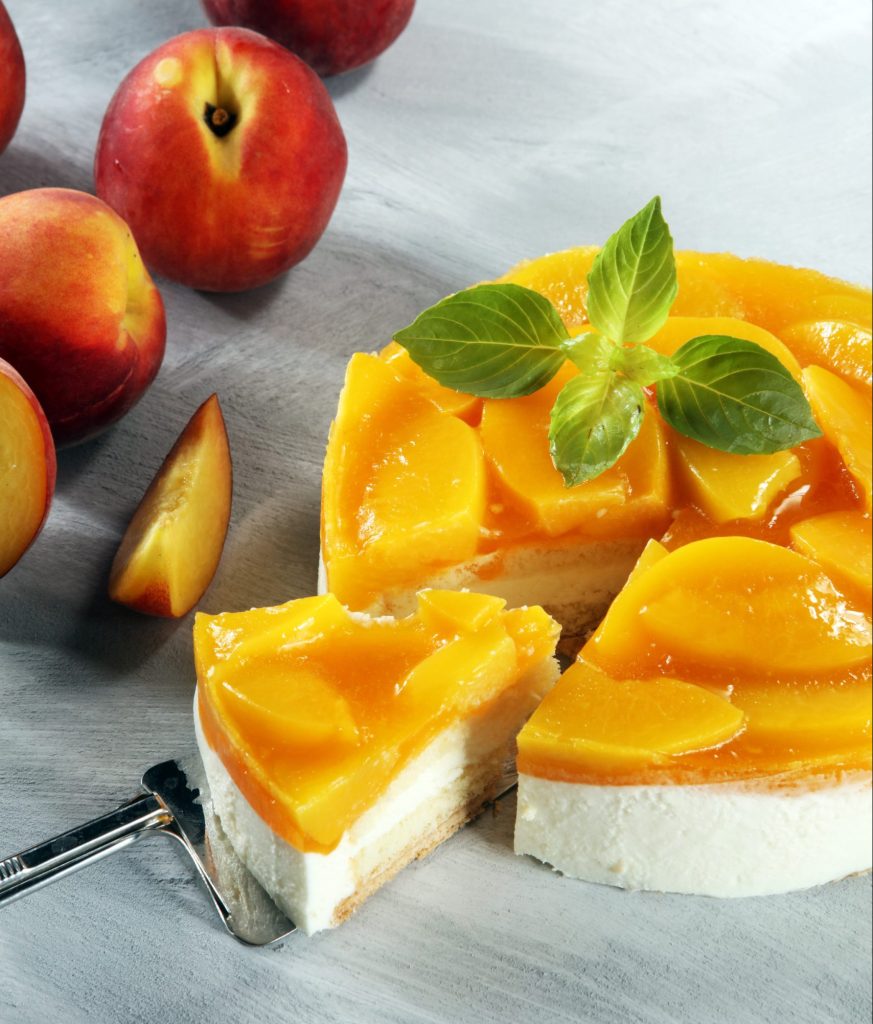 Bake a peach pie: Peach pie is the ultimate comfort summer dessert. You can make a classic peach pie, but there are lots of other options. I have compiled and curated a fantastic list of the best peach pie recipes including delicious peach pie empanadas and peach pie combinations like peach and raspberry pie and peach and mango pie. Yes please!
Whip up a peach cobbler: Peach cobbler is the ultimate comfort summer dessert. You can make a classic peach cobbler, but you don't have to. I have compiled and curated a fantastic list of the best peach cobbler recipes including delicious peach cobbler combinations like blueberry peach cobbler and mago peach cobbler. Yes please!
Create a refreshing peach drink: If you're looking for a refreshing summer drink that is kid friendly and alcohol free look no further than my list of delicious peach drinks (non-alcholic). From peach iced tea recipes (much better than Starbucks) to peach lemonades, you'll find your new favorite summer drink here!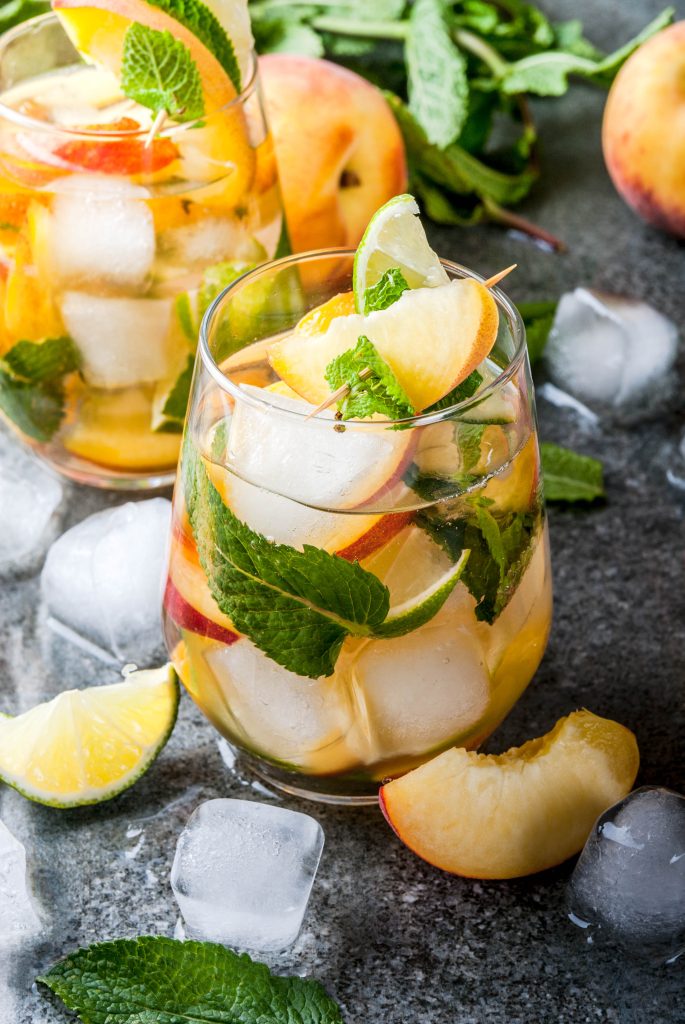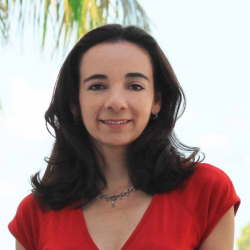 Latest posts by Paula Bendfeldt-Diaz
(see all)