This Sparkling Rosé Peach Sangria is the ultimate summer cocktail, featuring the delightful combination of fresh peaches, blueberries, and effervescent rose wine. Ideal for entertaining a crowd, this light and refreshing drink will be a hit at any gathering.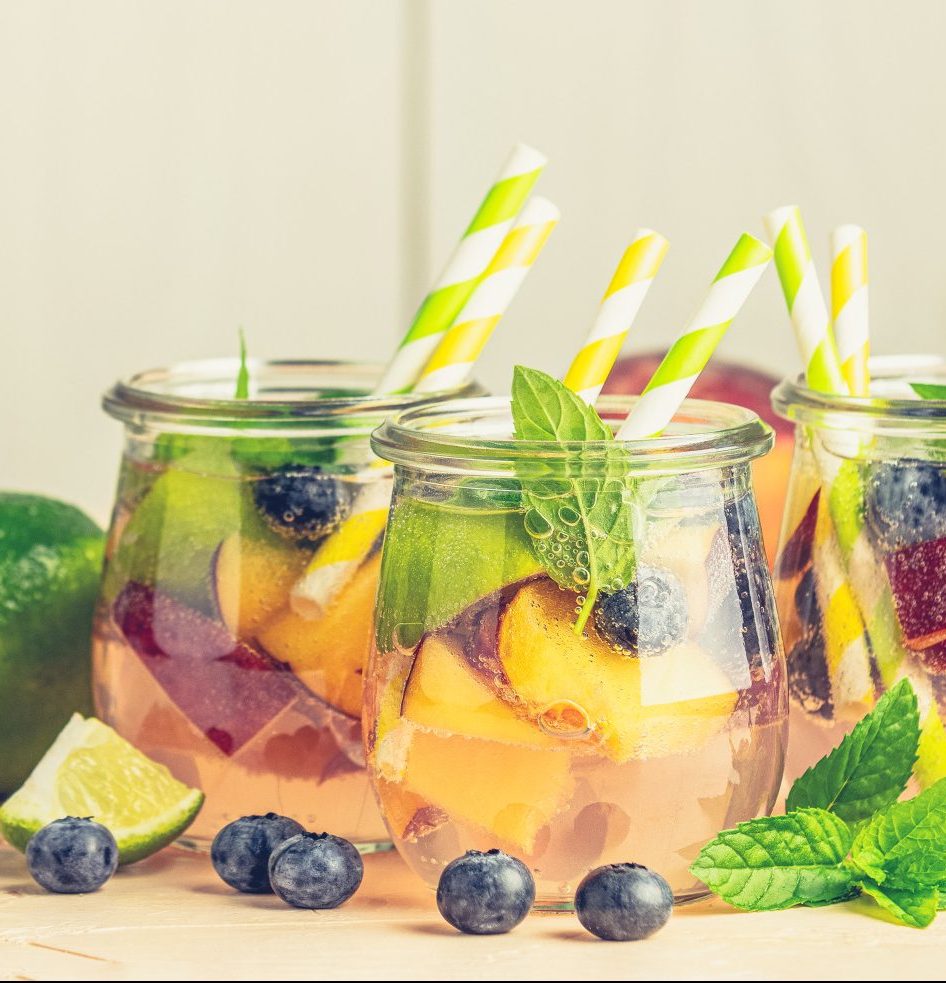 ​​Summer is all about savoring the sun-kissed moments and indulging in refreshing drinks that keep you cool and relaxed. What better way to celebrate the season than with a delightful Sparkling Rosé Peach Sangria?
Sip and Savor the Flavors of Summer:
Sparkling Rosé Peach Sangria is not only a treat for the taste buds but also a feast for the eyes with its vibrant hues of peaches and blueberries. This refreshing and light cocktail is perfect for any summer gathering or a relaxed afternoon by the pool. The combination of sparkling wine, peach schnapps, blueberry vodka, and zesty citrus creates a delightful balance of sweetness and tang that will leave you wanting more. Cheers to embracing the warmest days of the year with this delightful Ros Sangria!
This delicious summer cocktail is perfect paired with my recipe for baked peach chicken, if you haven't tried it you're missing out!
What are the Ingredients for Sparkling Rosé Peach Sangria?
Embrace the end of summer with this pitcher-friendly Sparkling Rosé Peach Sangria, filled with sweet blueberries, juicy peaches, and the perfect touch of fizz to make every sip a celebration. Here's what you'll need to make this delicious sparkling blueberry and peach cocktail: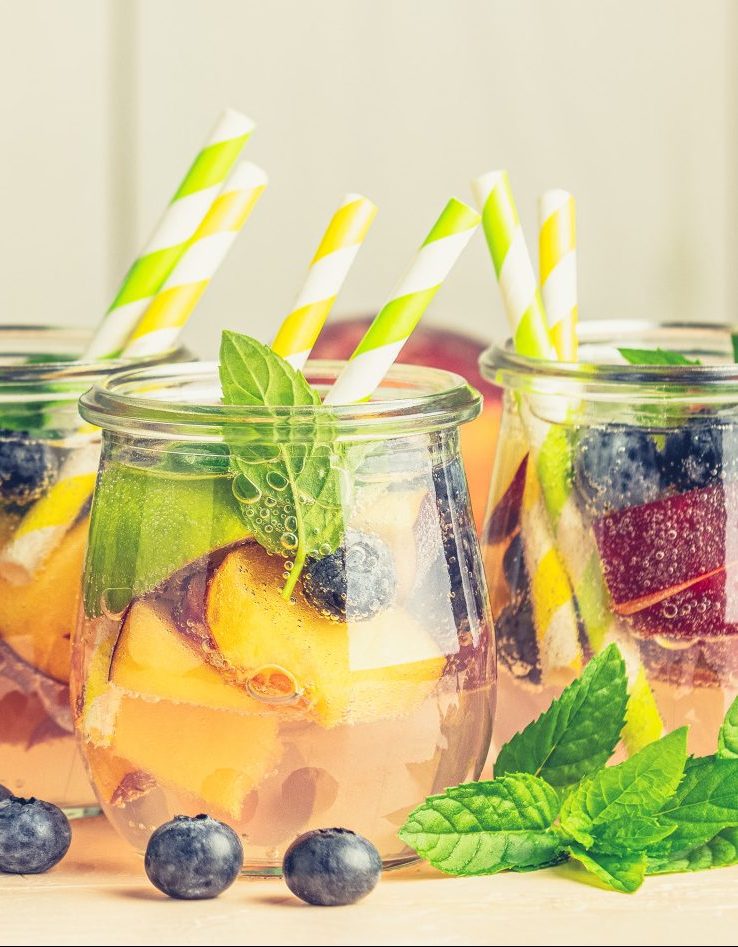 Frozen Peach Slices:

Choose sweet and ripe frozen peach slices to add a luscious and juicy peach flavor to the sangria. As they slowly thaw in the cocktail, they infuse the drink with the essence of summer, making each sip a delightful burst of fruity goodness.

Frozen Blueberries:

Plump and flavorful frozen blueberries not only add a burst of tanginess to the sangria but also bring a vibrant pop of color to the mix. As they gently release their sweet and slightly tart notes, they create a delightful contrast that complements the other fruity flavors in the cocktail.

Lime juice:

Freshly squeezed lime juice provides the perfect zesty and citrusy balance to the sangria. Their bright and tangy essence adds a refreshing twist to the sweet and fruity base.

Blueberry Vodka:

Infuse the sangria with the rich essence of blueberries using blueberry vodka, which intensifies the fruit flavors in the drink. This flavored vodka brings an extra layer of complexity, enhancing the blueberry notes and adding a subtle hint of sophistication to the cocktail.

Peach Schnapps:

Add a touch of sweetness and a burst of authentic peach flavor with peach schnapps. This delicious liqueur brings the essence of ripe, juicy peaches to the sangria.

Sparkling Rosé Wine or Rosé Prosecco: The effervescence of rosé sparkling wine elevates the sangria, making it even more enjoyable and celebratory. The gentle bubbles enhance the fruity flavors and create a light, airy texture that adds a touch of elegance to every sip. And the rose color makes this sangria look amazing too!
Lemon-Lime Soda: A splash of lemon-lime soda not only gives the sangria a refreshing fizz but also balances the sweetness of the fruits and liqueurs. Fresh
Mint Leaves:

Garnish each glass with fresh mint leaves for a delightful aromatic touch. The mint's invigorating aroma and subtle herbal notes add a refreshing and vibrant element to the cocktail.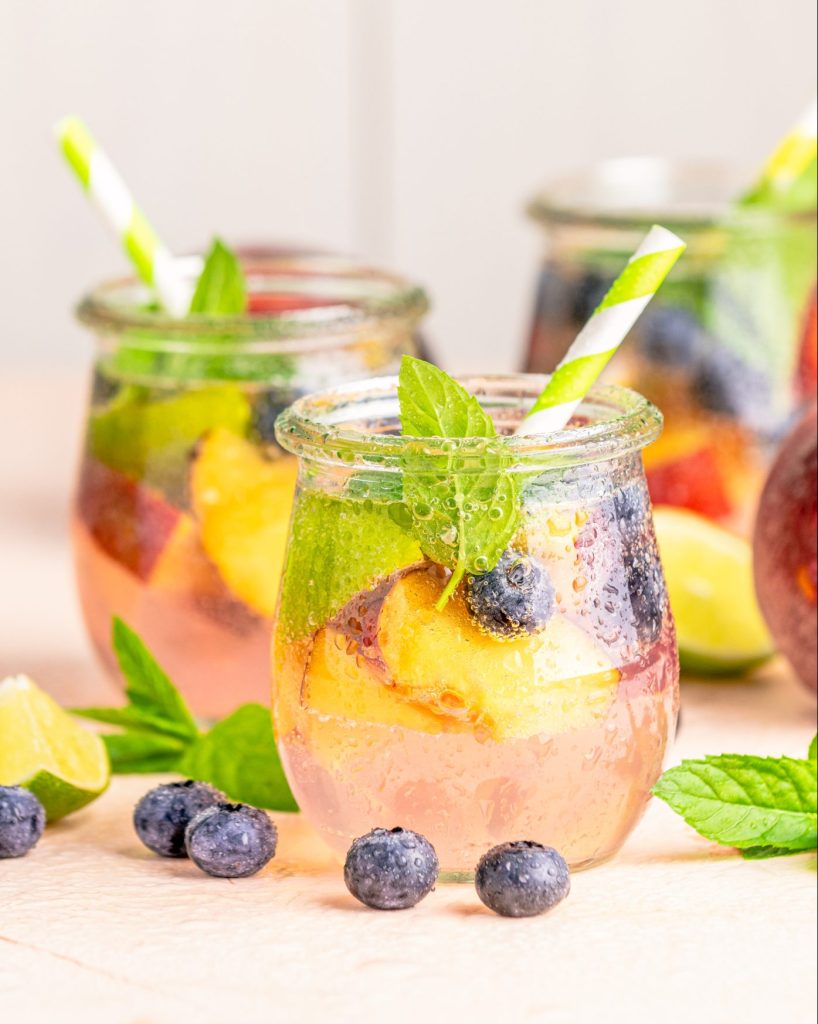 Tips, Variations, and Substitutions:
Here are some tips for making the best Sparkling Rosé Peach Sangria.
Tips:
For a sweeter sangria, you can add more peach schnapps or simple syrup.

Use a mix of fresh and frozen fruits to create a visually appealing sangria.

Make sure your soda and rosé wine are well chilled so you don't have to use ice which waters down your sangria.
Variations:
Add a splash of orange liqueur for a citrusy twist to the sangria.

For a lower alcohol content and a lighter cocktail, omit the vodka altogether. This version allows the natural sweetness of the fruits to shine through while still offering a refreshing and fruity sangria that's perfect for those seeking a less boozy beverage.

If you prefer a non-alcoholic version, omit the blueberry vodka and peach schnapps, and replace them with blueberry juice and peach nectar or peach-flavored sparkling water.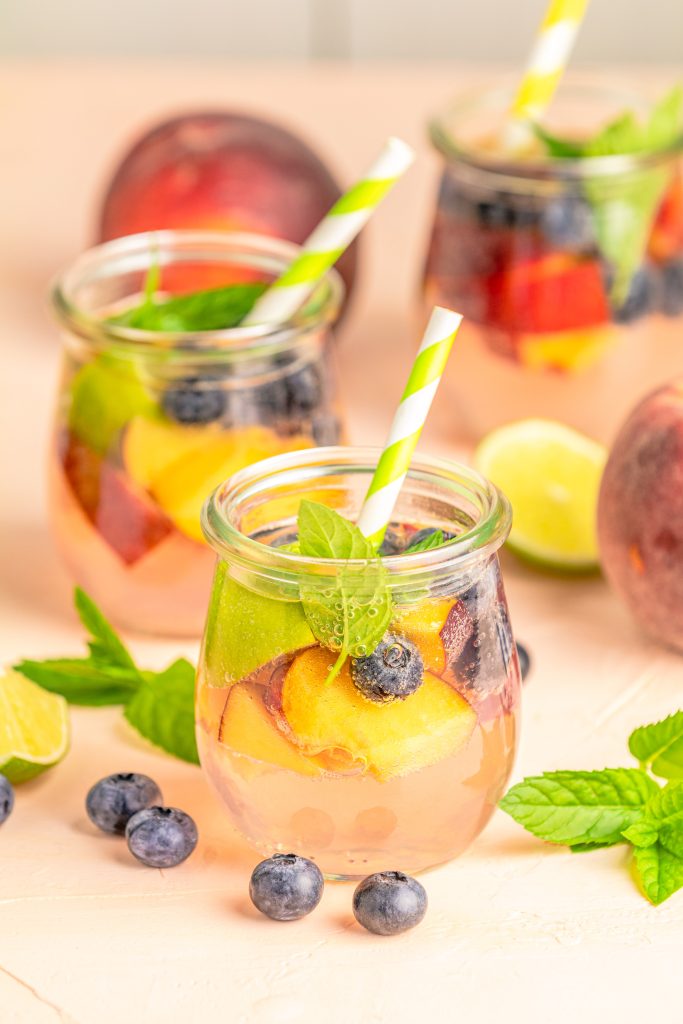 Substitutions:
Use frozen strawberries or mixed berries instead of blueberries for a different berry twist.

If you don't have blueberry vodka you can replace it for regular vodka and add a bit of blueberry juice to enhance the blueberry flavor.

If sparkling rose or rose Prosecco is not available, you can use regular still rose wine instead. If you opt for regular rose, add a bit more lemon-lime soda to the mix to achieve a similar fizz.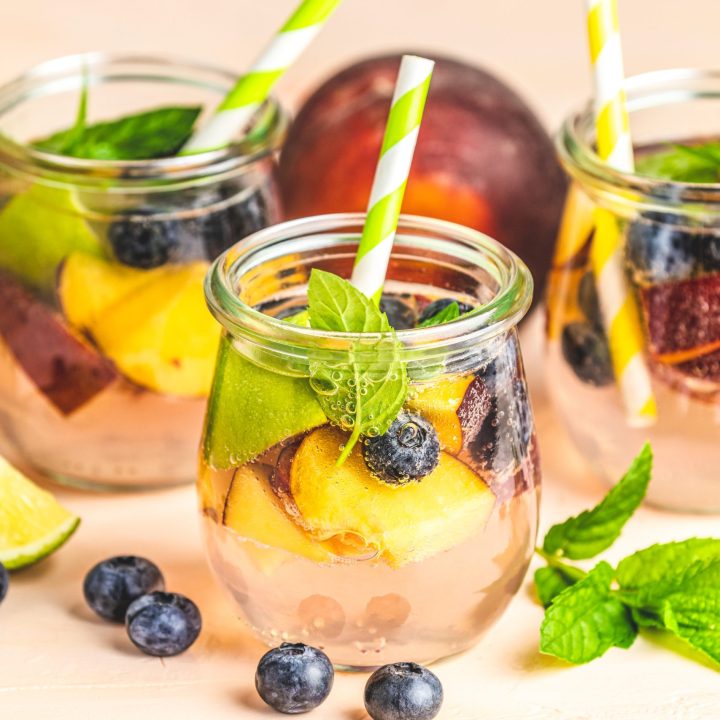 Sparkling Rosé Peach Sangria
Ingredients
16 frozen peach slices
1/2 cup frozen blueberries
1 tablespoon of lime juice
1 cup blueberry vodka
1/2 cup peach schnapps
1 bottle sparkling rose wine or rose Prosecco, chilled
1 cup lemon-lime soda, chilled
Fresh mint leaves for garnish
Fresh limes for garnish
Instructions
In a large pitcher, combine the frozen peach slices and frozen blueberries.
Add the lime juice into pitcher, giving the sangria its zesty twist.
Add the blueberry vodka and peach schnapps to the pitcher, infusing the fruit with a delightful kick.
Pour in the sparkling rose wine or rose Prosecco to add the perfect effervescence to the sangria.
Top off the pitcher with lemon-lime soda to give the sangria a refreshing fizz.
Stir gently to mix all the flavors together.
Pour the Peach Blueberry Rose Sangria into glasses and garnish each with a few fresh mint leaves for a beautiful and aromatic touch.

Notes
Feel free to adjust the quantities of ingredients based on your preferences and the number of servings needed. This recipe makes approximately 4 servings. If you prefer a sweeter sangria, you can add more peach schnapps or simple syrup.
Nutrition Information:
Yield:

6
Serving Size:

1
Amount Per Serving:
Calories:

400
Total Fat:

1g
Saturated Fat:

0g
Trans Fat:

0g
Unsaturated Fat:

1g
Cholesterol:

0mg
Sodium:

15mg
Carbohydrates:

61g
Fiber:

8g
Sugar:

53g
Protein:

5g
What to do if you have a bunch of peaches?
I got so many peaches at the farmers market at the beginning of summer. I was so excited and when I got home I got busy and started creating lots of peach recipes. Here are some or my recommendations for great peach recipes to use up all of those delicious fresh peaches this summer!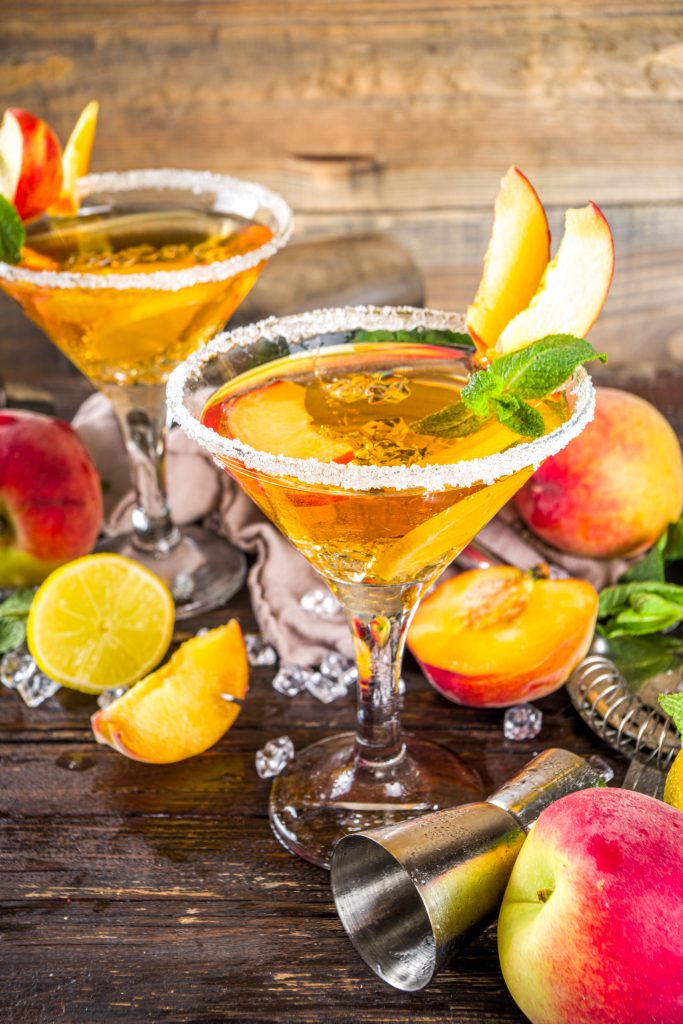 Enjoy creative peach desserts: Go beyond the peach pie and the peach cobbler. From peach galettes and peach crumbles to pavlovas and hand pies check out my list of the best peach desserts.
Bake a peach pie: Peach pie is the ultimate comfort summer dessert. You can make a classic peach pie, but there are lots of other options. I have compiled and curated a fantastic list of the best peach pie recipes including delicious peach pie empanadas and peach pie combinations like peach and raspberry pie and peach and mango pie. Yes please!
Make a Peach Cheesecake: Yes, you read that right. Move over peach pie, you have to try my amazing no-bake peach cheesecake recipe. It's not only sublime but so easy to make!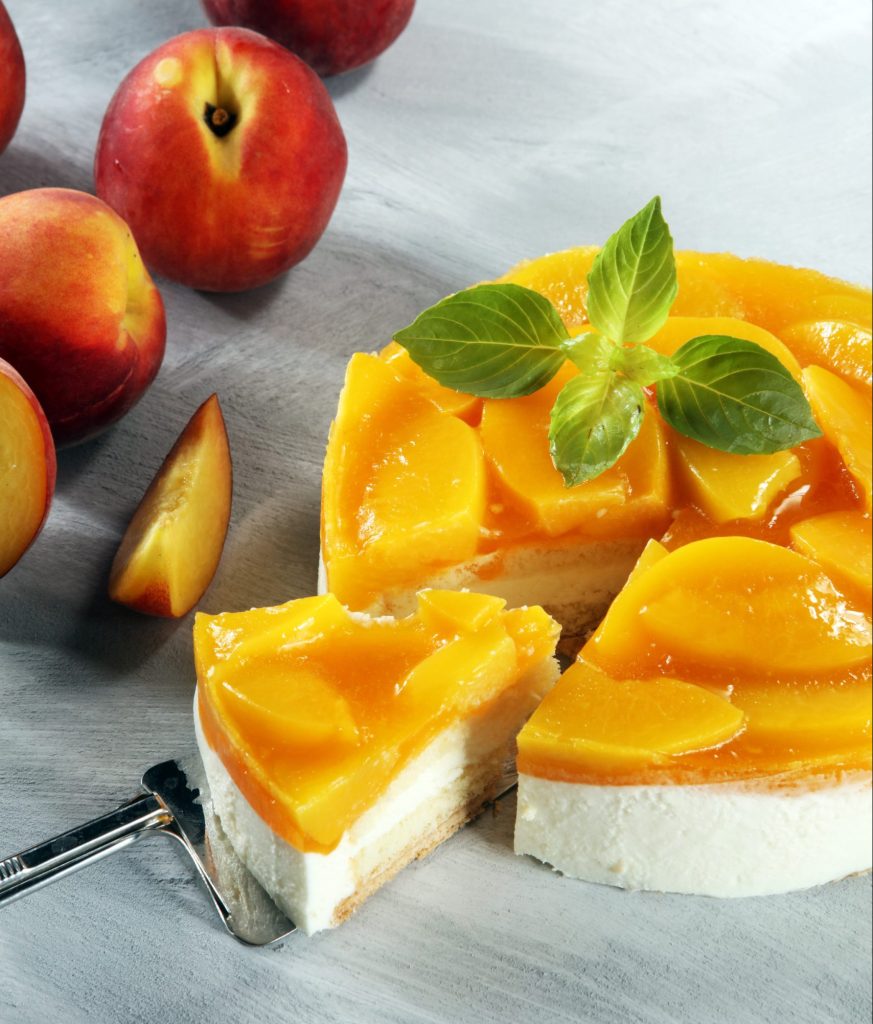 Create a refreshing peach drink: If you're looking for a refreshing summer drink that is kid friendly and alcohol free look no further than my list of delicious peach drinks (non-alcoholic). From peach iced tea recipes (much better than Starbucks) to peach lemonades, you'll find your new favorite summer drink here!
Whip up a peach cobbler: Peach cobbler is the ultimate comfort summer dessert. You can make a classic peach cobbler, but you don't have to. I have compiled and curated a fantastic list of the best peach cobbler recipes including delicious peach cobbler combinations like blueberry peach cobbler and mango peach cobbler. Yes please!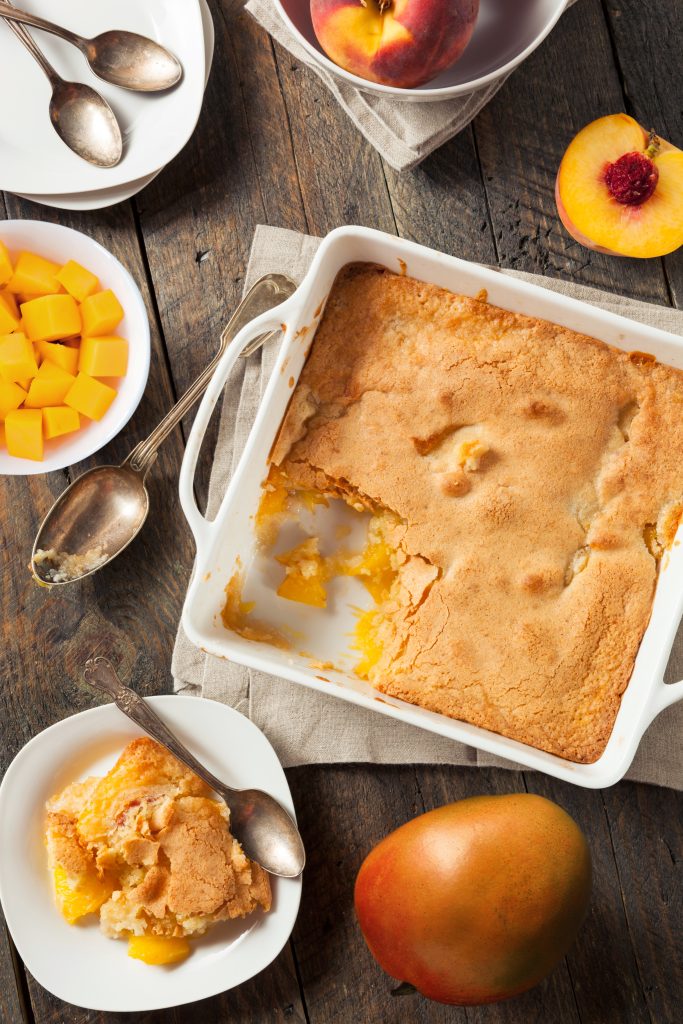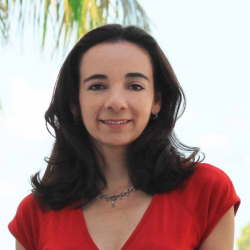 Latest posts by Paula Bendfeldt-Diaz
(see all)