Thinking about a Barbie themed adult party? Why not make it a Barbie Brunch party! Here you will find the best Barbie brunch party ideas from bubbly Barbie cocktails and fabulous breakfast foods to Barbie brunch decor ideas. Barbie themed brunch events have been popping up in restaurants across the US and they've been a huge success. So why not throw your own Barbie Brunch!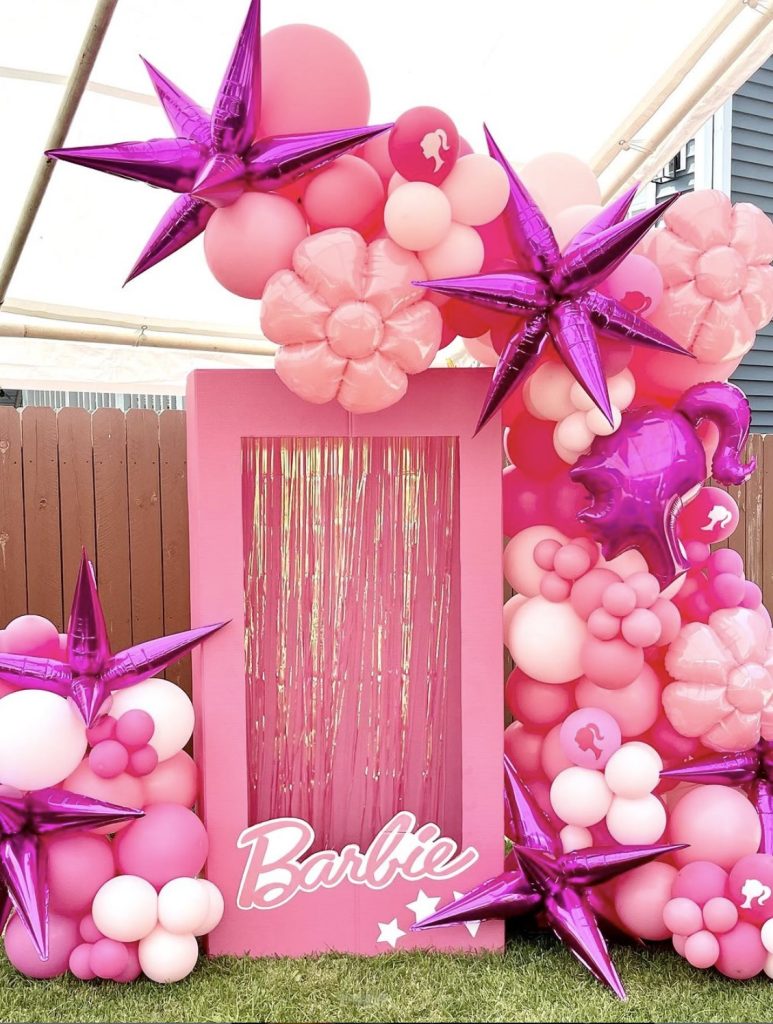 Barbie parties are the hottest trend right now and I have created the ultimate guide to organizing your own adult Barbie party. But as I was thinking about my ideal Barbie themed party I thought: what could be more perfect than a fabulously pink brunch party!
I have always loved brunch, it's the perfect excuse to have your favorite breakfast foods paired with bubbly sweet cocktails anytime of the day. It's flexible and relaxed and so much more laid back than a cocktail party or a stuffy dinner party. The best part is that you can do it at any time of the day. Want to dazzle your friends at 11 a.m., 1 p.m., or even go for a fabulous late afternoon affair at 4 p.m.?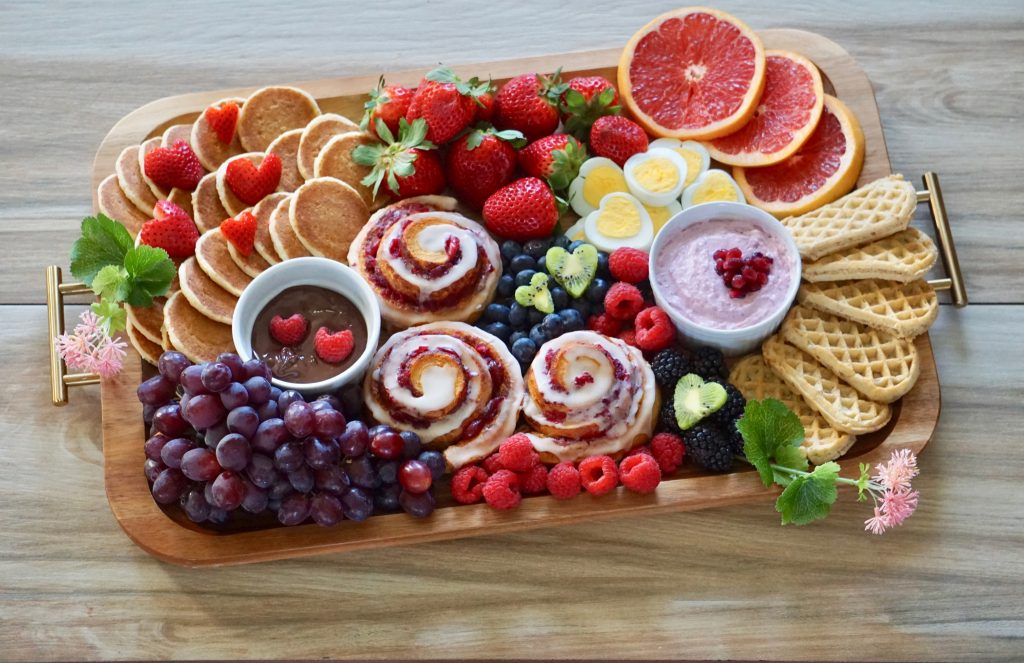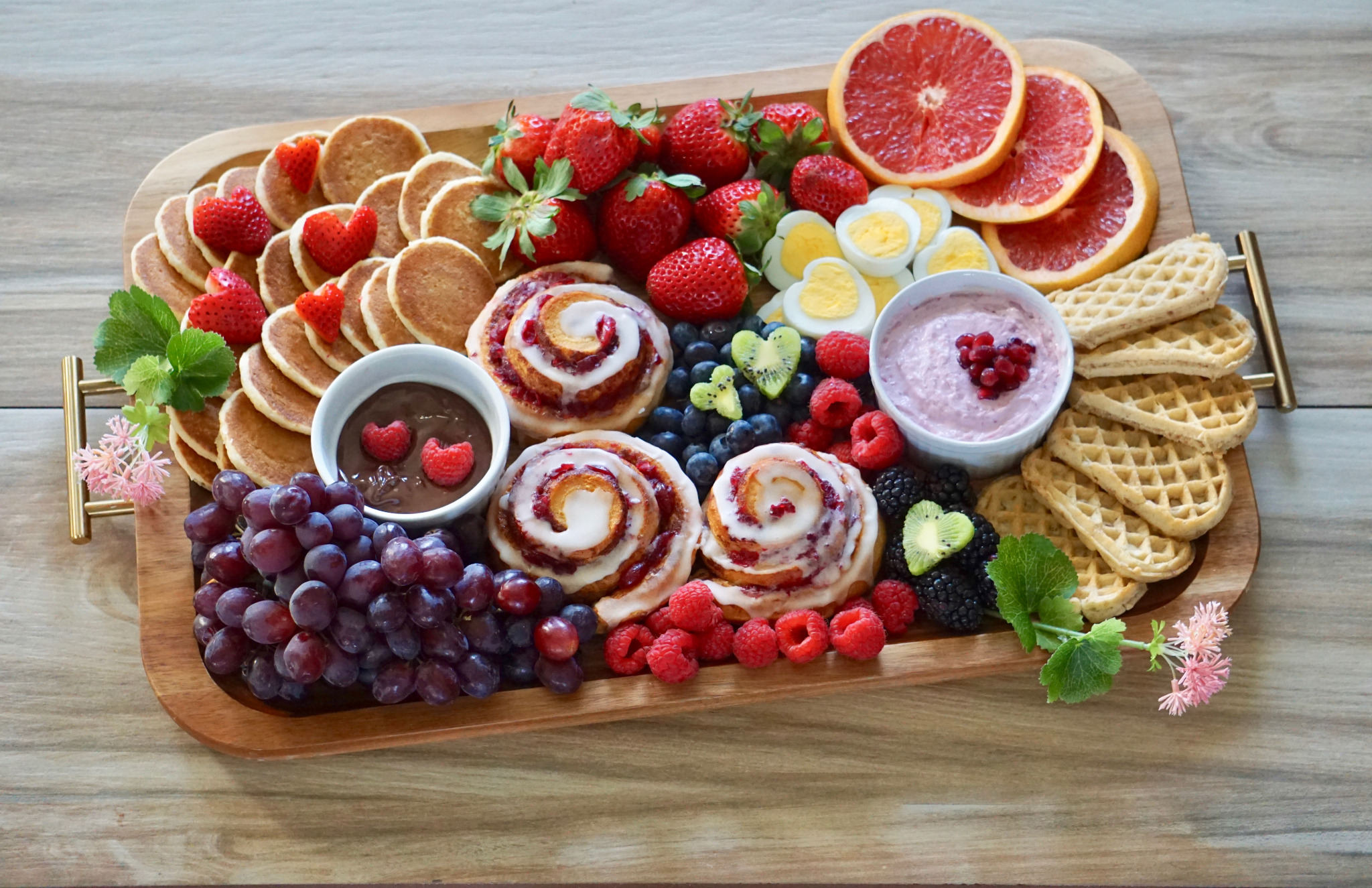 Just call it brunch, serve your favorite breakfast and lunch sprinkle in some sparkle, and you're set! Dive into a world of limitless menu choices: think fluffy pink pancakes, or perhaps strawberry French toast draped in glitz and glam. Oh, it's delightfully chaotic, but isn't that the best part? It's the kind of chaos paired with bubbly champagne and tangy orange juice that screams fun! Unlike those stuffy dinner soirées, brunch is your canvas to paint with vibrant colors, flavors, and creativity.
Brunch Barbie Party Decor
When it comes to brunch decor you can keep things simple with a cute tables cape in pinks. To set up a brunch that impresses yet remains effortlessly chic, the key lies in the details of the decor. Adopting a delicate color palette, especially with shades of pink, can set a serene and inviting ambiance. Check out these great pink table decor ideas, perfect for an outdoor Barbie brunch:
Planning a charming Barbie brunch? Whether you're in full planning mode or just browsing for ideas, you're in the right spot! Get all the details and tips to create this pink table setting – it's got just the right touch of elegance and whimsy. Your guests will surely be impressed!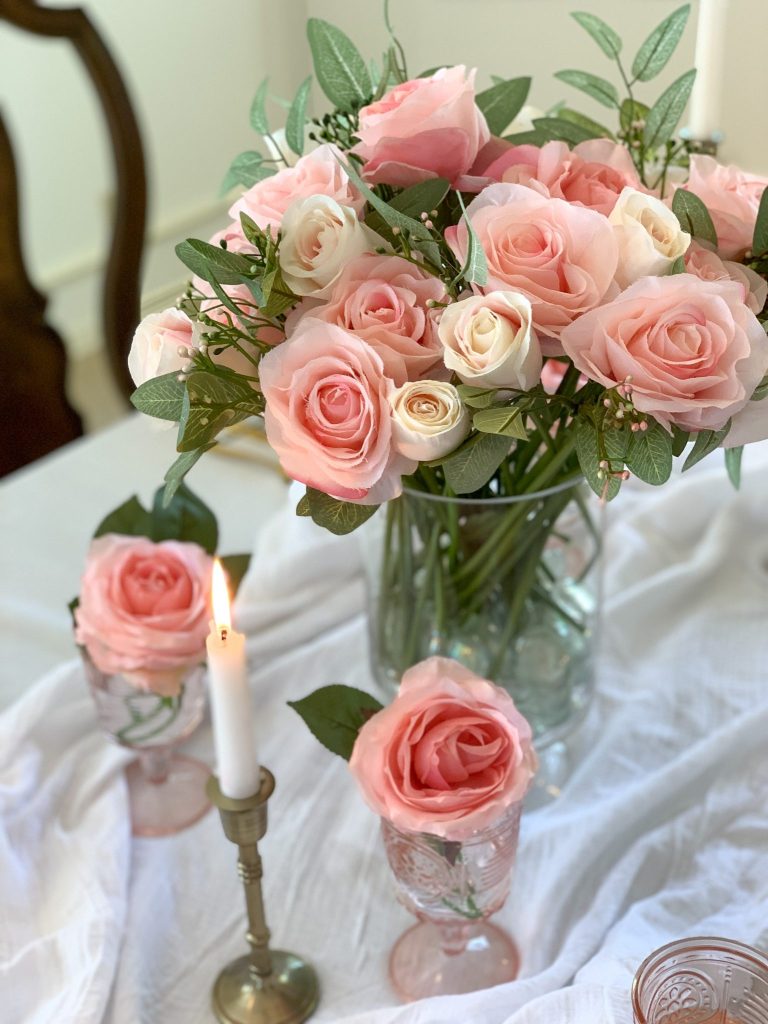 I love this pretty in pink garden party decor, it's perfect for a small Barbie brunch outdoors. This party ideas includes an exquisite pink tablescape, a gorgeous pink and silver balloon arrangement, elegant magenta and crisp white floral arrangements, refreshing Rosé, a delectable cheese board and pinkalicious desserts. Guests also perfectly matched the pink theme. All of it perfect for a Barbie party!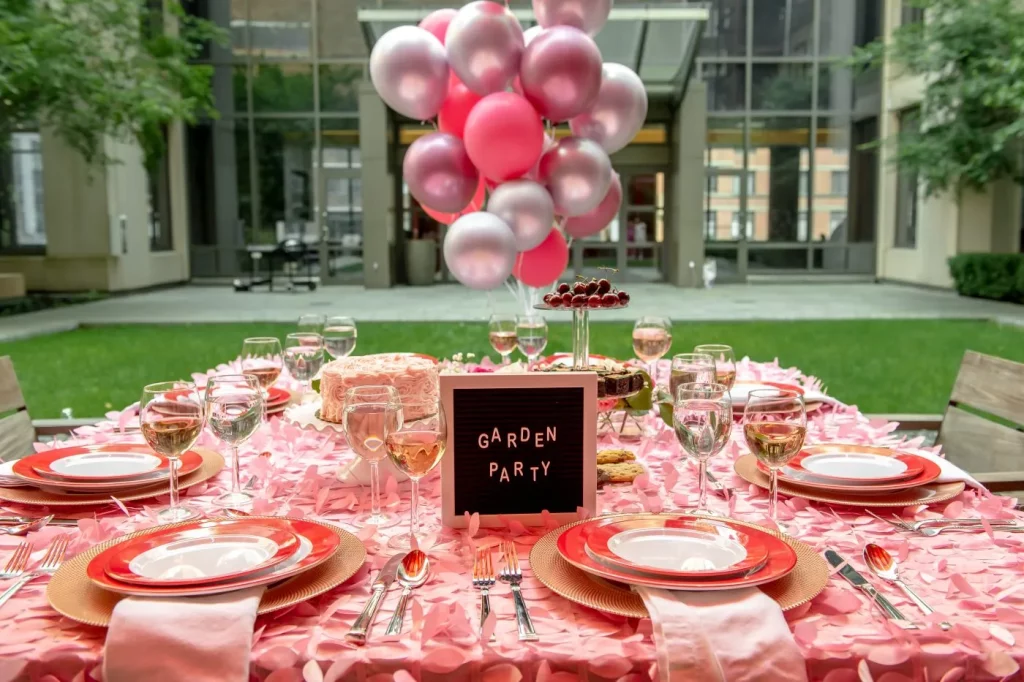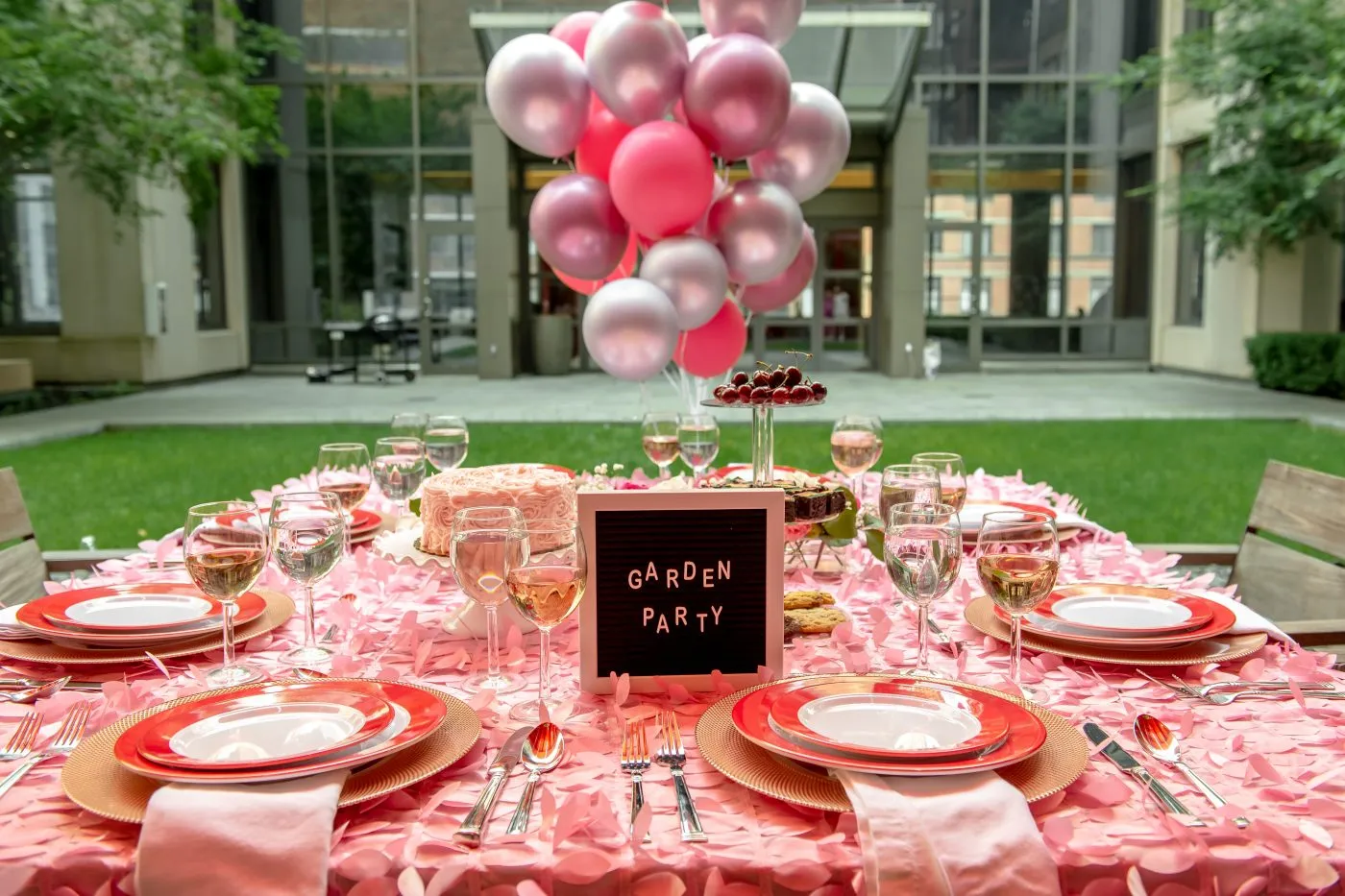 Barbie Brunch Foods – Pink Brunch Foods Fit For Barbieland
I have to admit I have a thing for brunch. Not only are brunch food the best of both worlds, I mean when else can you get away with having stuffed waffles paired with bellinis? But this is not just any brunch, it's a Barbie bubbly and brunch affair. So here are lots of fabulous brunch foods perfect for your Barbie brunch!
And although the theme is of course, pink foods, you can't go wrong including any of your favorite breakfast foods and adding some of your delicious lunch foods for good measure!
Doll up your Barbie brunch party with these raspberry sweet rolls – they're oh-so-soft and bursting with gooey raspberry goodness! They're topped off with a dreamy pink raspberry cream cheese glaze, and guess what? The dough's a cinch to whip up with no kneading needed! Serving up these ultra soft, fluffy and gooey rolls is a fabulously fruity way to celebrate in true Barbie style!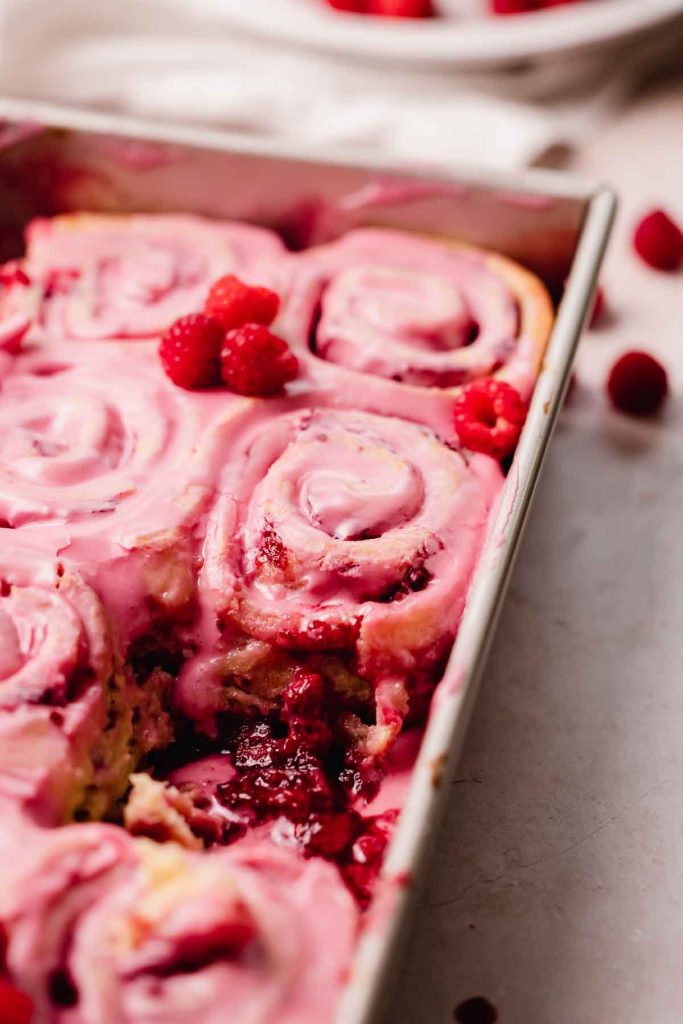 Pink pancakes are a must at any Barbie-themed brunch, we simply must serve these pretty-in-pink pancakes. They're delightfully fluffy, tender, and best of all, made with lots of love from scratch. Now that's a pancake worth waking up for!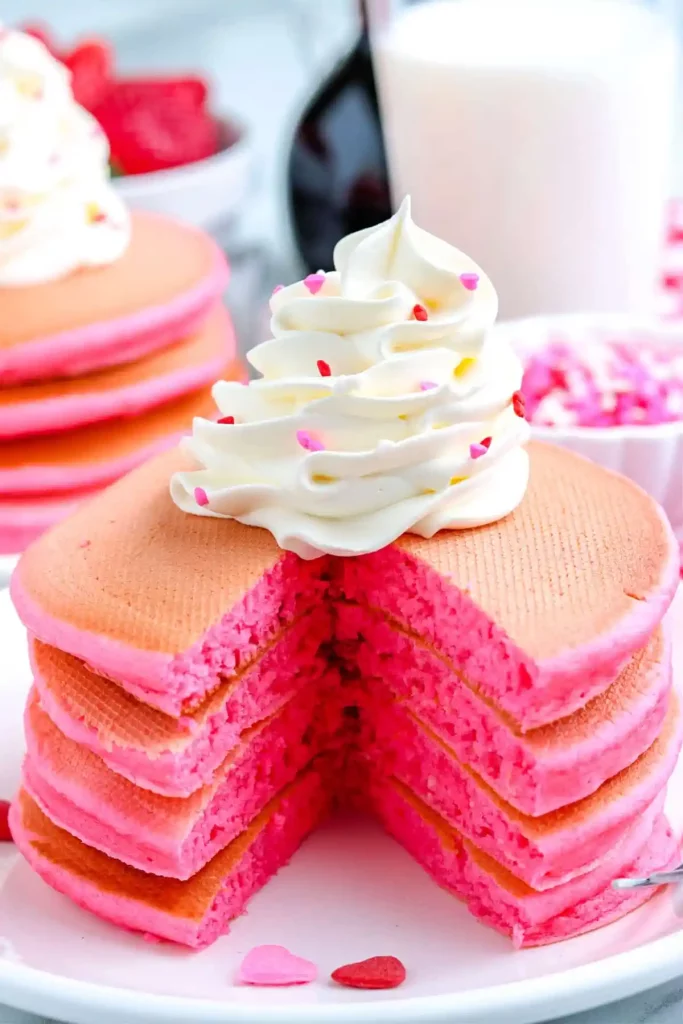 These fabulous pink chocolate covered strawberries are sure to be the cutest treat on Barbie brunch menu! They're as easy as can be to make, and the best part is you can glam them up however your heart desires.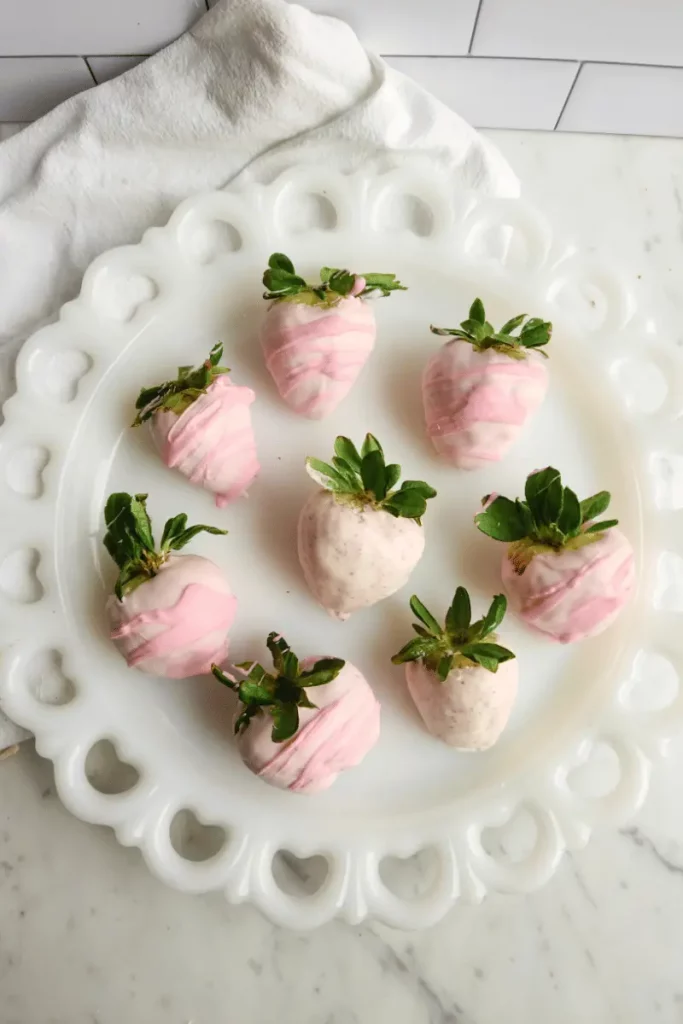 This strawberry champagne cake is the perfect sweet addition to any Barbie brunch. This beautiful pink boozy cake is sure to take it to the next level. With four layers of moist champagne cake and a fresh strawberry puree-based Swiss meringue buttercream, this cake is equal parts delicate, beautiful and delicious.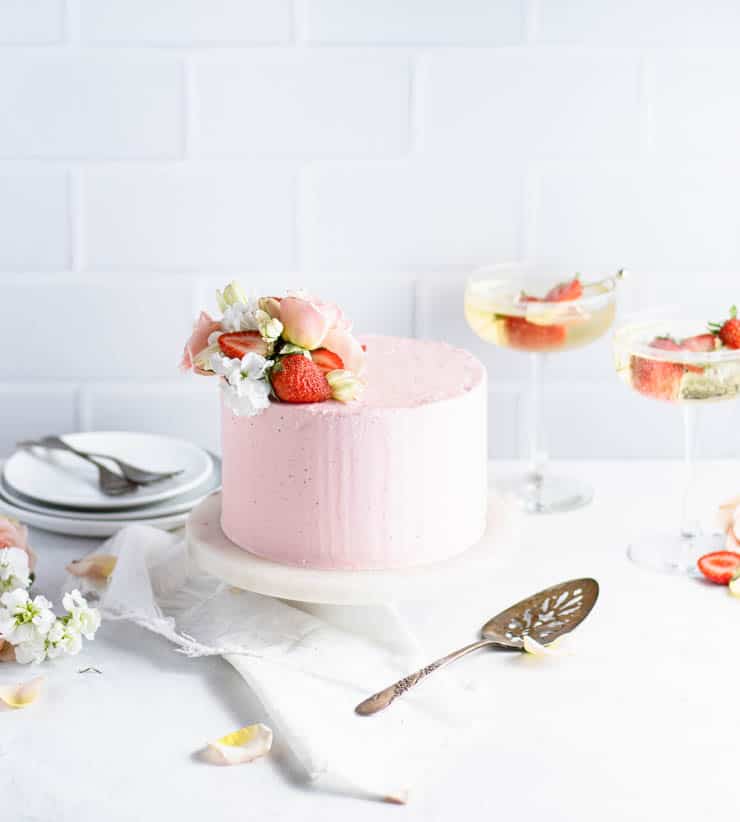 This Strawberry Stuffed French Toast is next-level delicious! Dive into a burst of strawberries and cream. And guess what? You'll be indulging in just 20 minutes!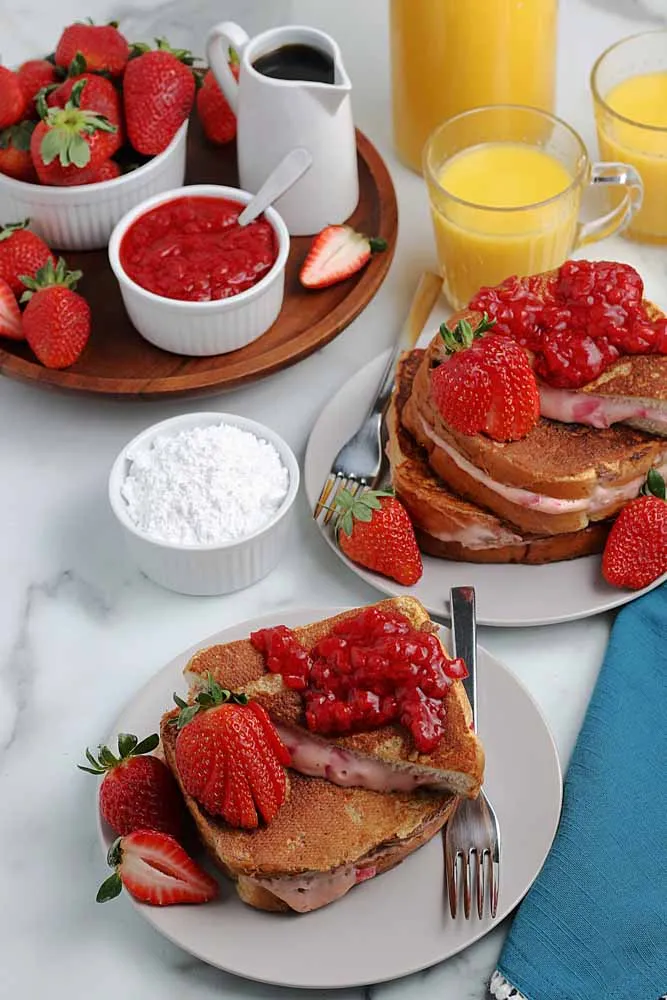 I originally created this pink breakfast board as a great option for Valentine's but it would also work perfectly for your Barbie brunch party! Filled with sweet and savory breakfast favorites from pancakes and raspberry cinnamon rolls and fresh fruit to waffle sticks with strawberry yogurt dip and hard boiled eggs, there's something for everyone! You can also take some inspiration from these super cute Valentine's charcuterie boards, all of them have fab Barbie pink hues.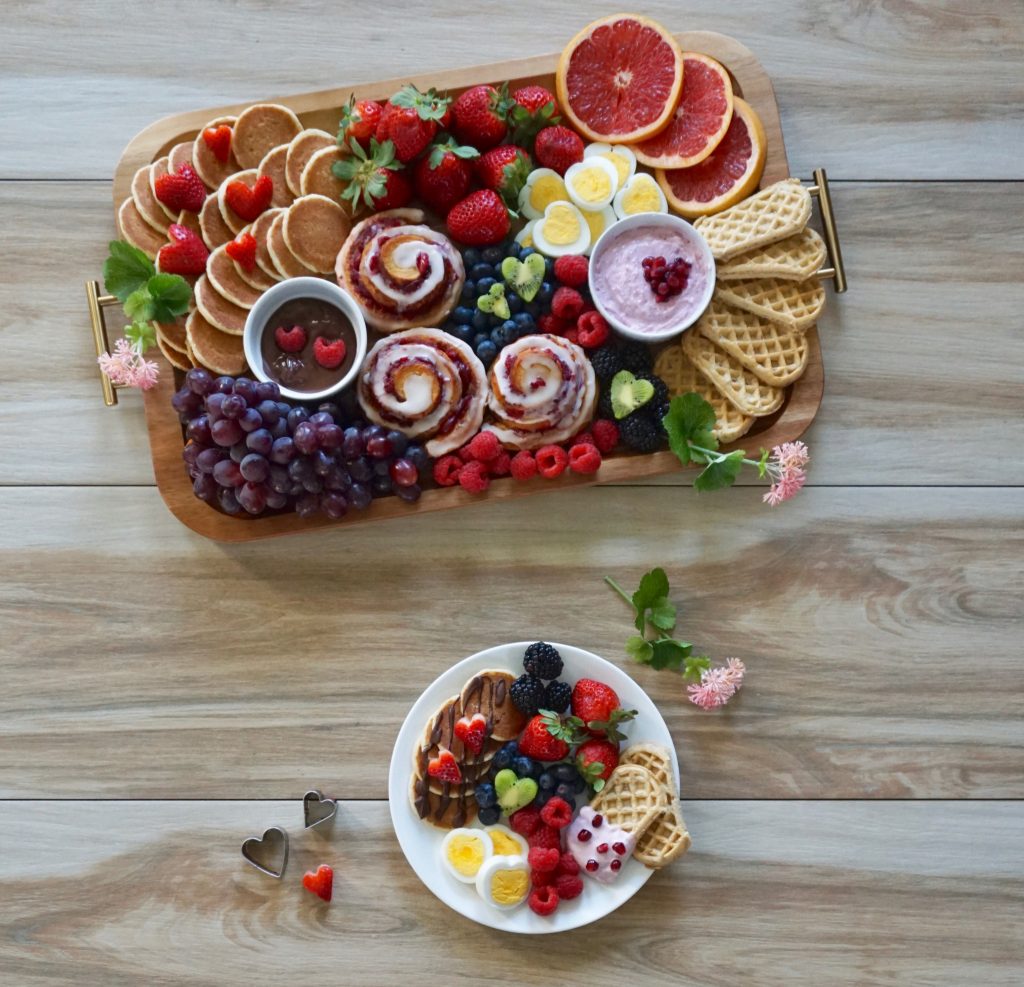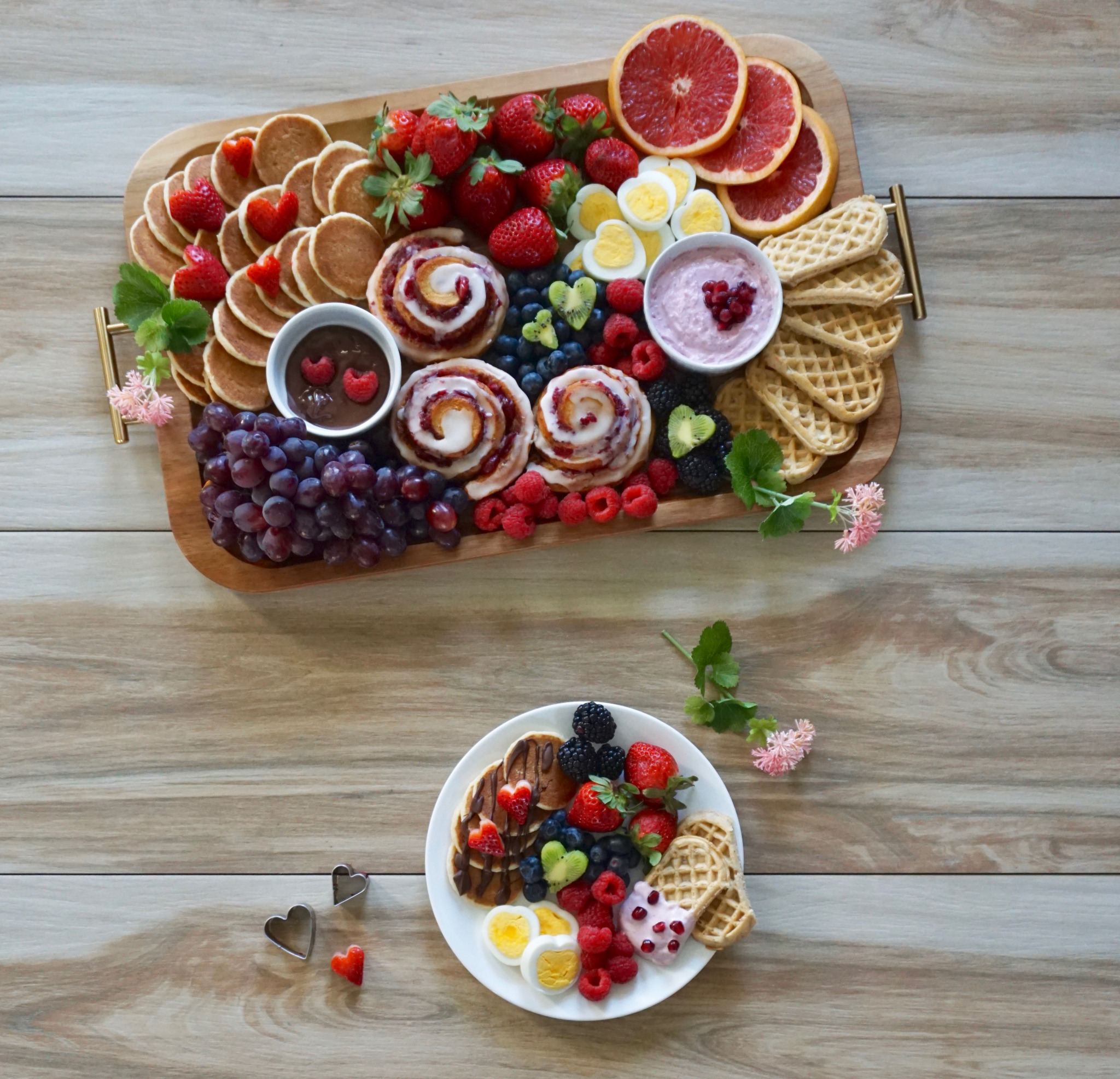 Craving a fun twist on classic pancakes? Try these delightful pink mini pancake stacks! They're perfect for sharing with friends at your Brunch get together!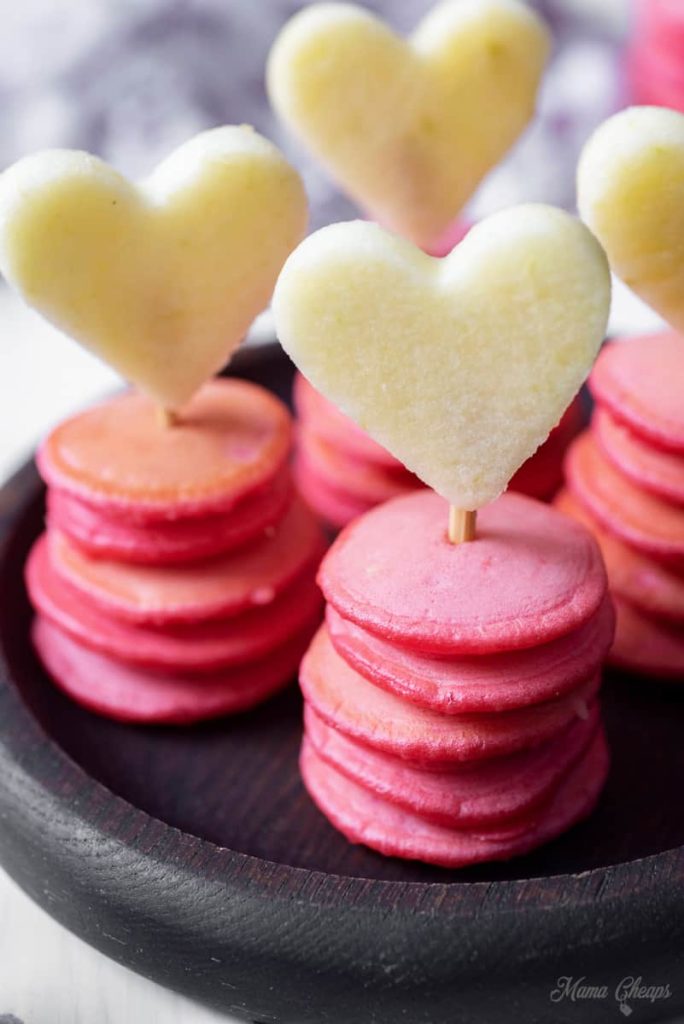 Barbie Brunch Drinks
From refreshing and healthy pink smoothies to pink lattes, there's lots of options when it comes to Barbie drinks that are perfect for a Barbie brunch party! Check out some great pink drink ideas that are sure to be a hit at any brunch party.
The fresh flavors of strawberry and watermelon come together in this easy smoothie recipe. This is sure to be a hit at your Barbie brunch!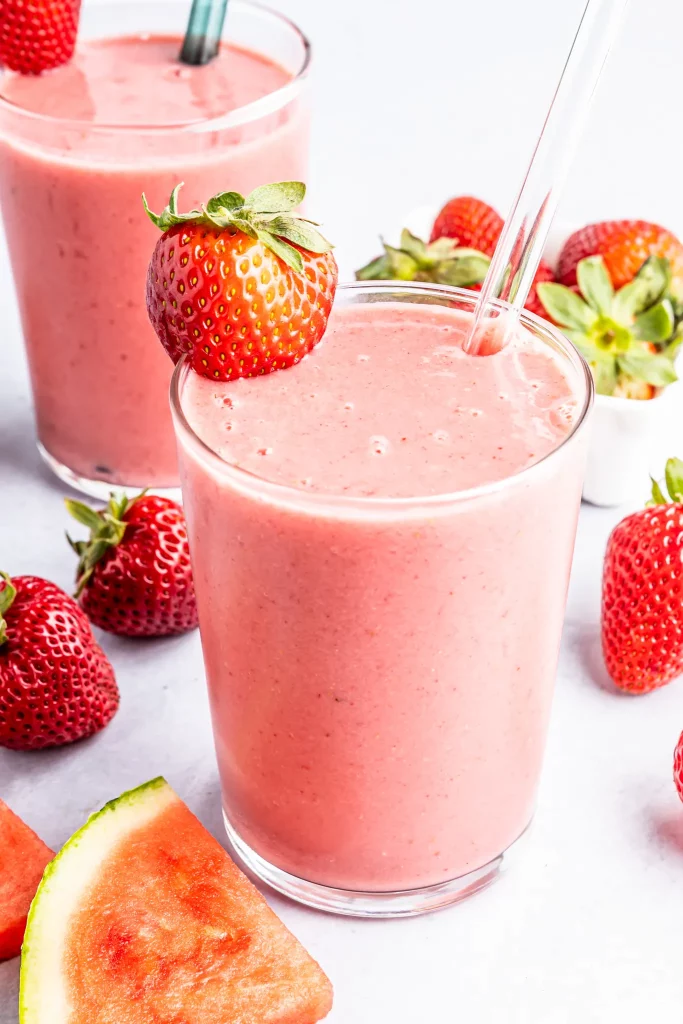 What could be better than pink coffee for your Barbie brunch? I didn't know that pink strawberry coffee was a thing but once you try this Strawberry Latte you will fall in love. Pink,creamy and sweet this is sure to become your new favorite coffee.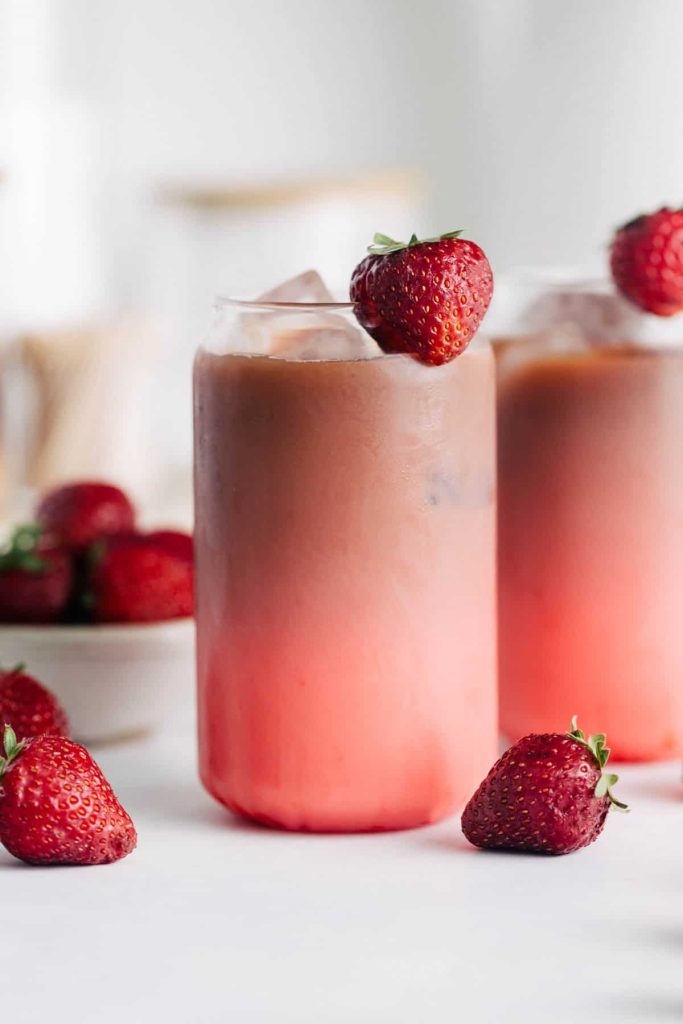 This berry lemonade smoothie recipe is such a fun refreshing drink. Made with both blueberries and raspberries and sweetened with honey this healthy lemonade recipe is perfect for a brunch party and it has the prettiest pink color.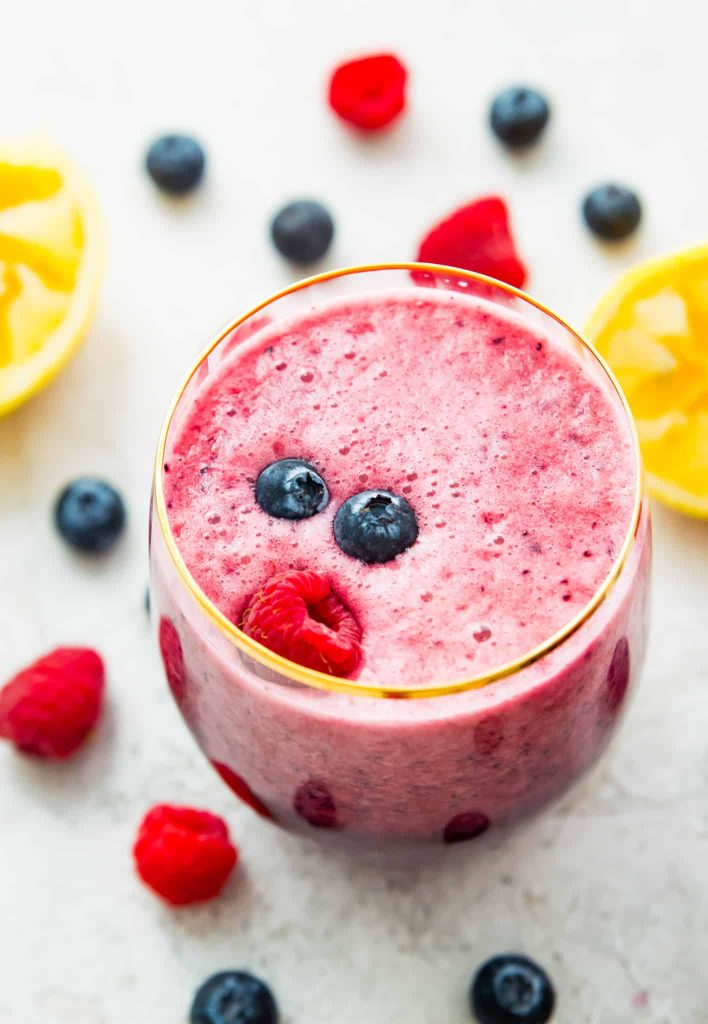 This Dragon Fruit Banana Smoothie that dazzles in bright pink and it's delightfully creamy and delicious. Made with just a few ingredients: bananas, your choice of pineapple or mango, dragon fruit, and hemp hearts, it's an easy and beautiful smoothie option.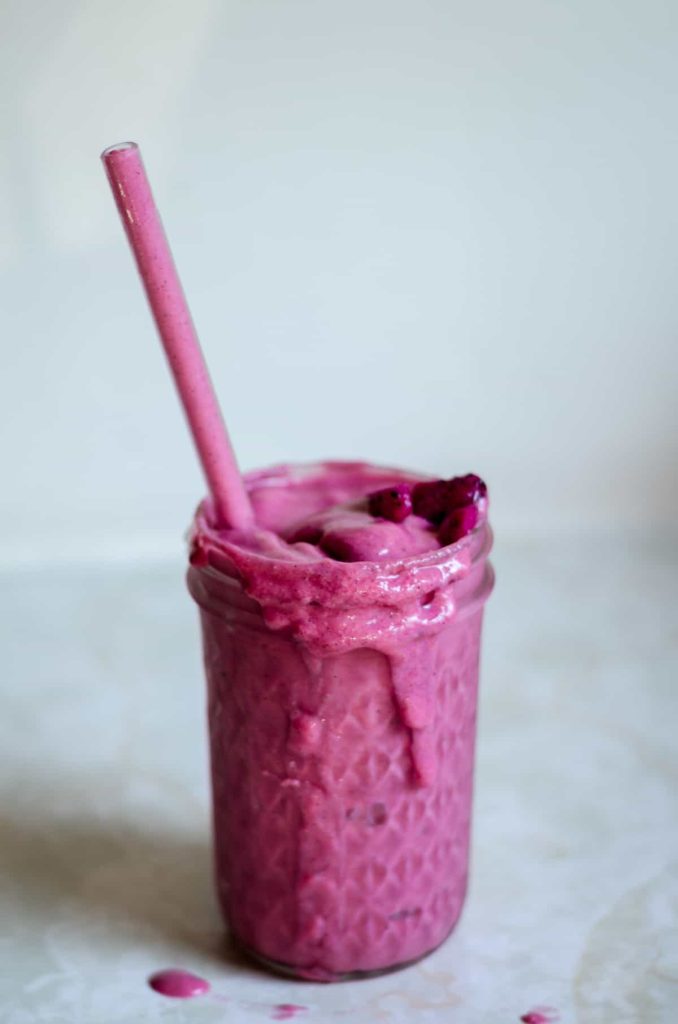 Boba tea loving Barbies will rejoice with this delicious strawberry boba tea! This Boba Tea or Strawberry Milk Tea) pairs sweet and tangy strawberries with creamy coconut milk and chewy brown sugar boba pearls for a drink that's fun, fruity, and refreshing.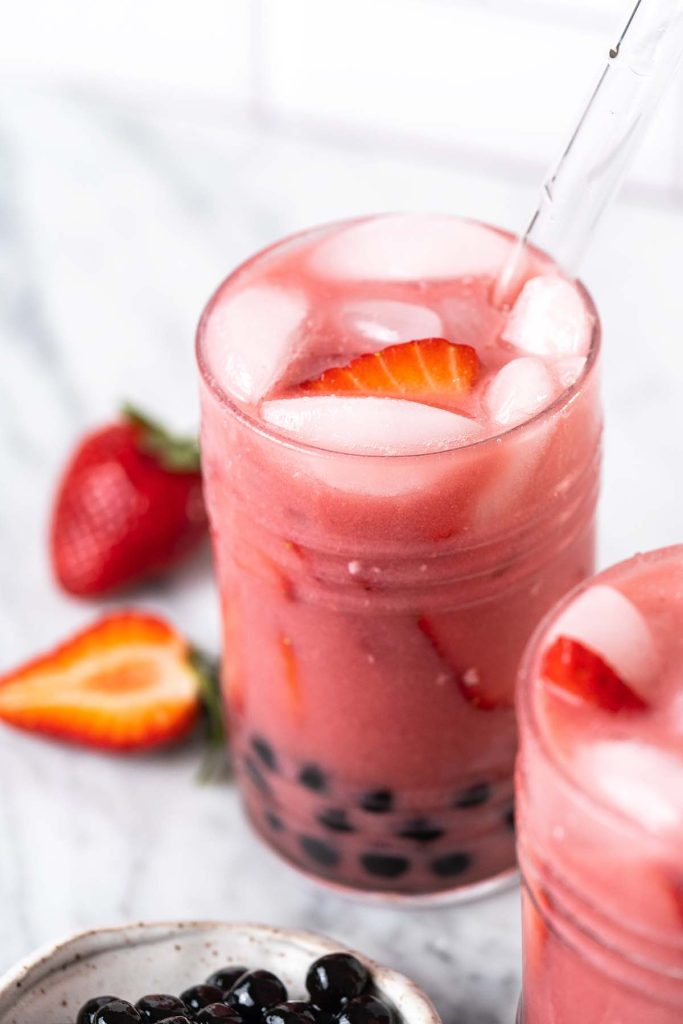 Best Pink Cocktails for your Barbie Brunch
Brunch would not be the same without those classic brunch cocktails like bellinis, sangrias and mimosas.. But since this is a Barbie brunch party we gave them all a pink twist! Here are our top picks for the best pink cocktails for your Barbie brunch!
This strawberry mimosa recipe is a delicious twist on the classic Mimosa. Made with fresh or frozen strawberries and champagne or sparkling wine, it's perfect for a Barbie brunch or any time you want a light and tasty pink cocktail.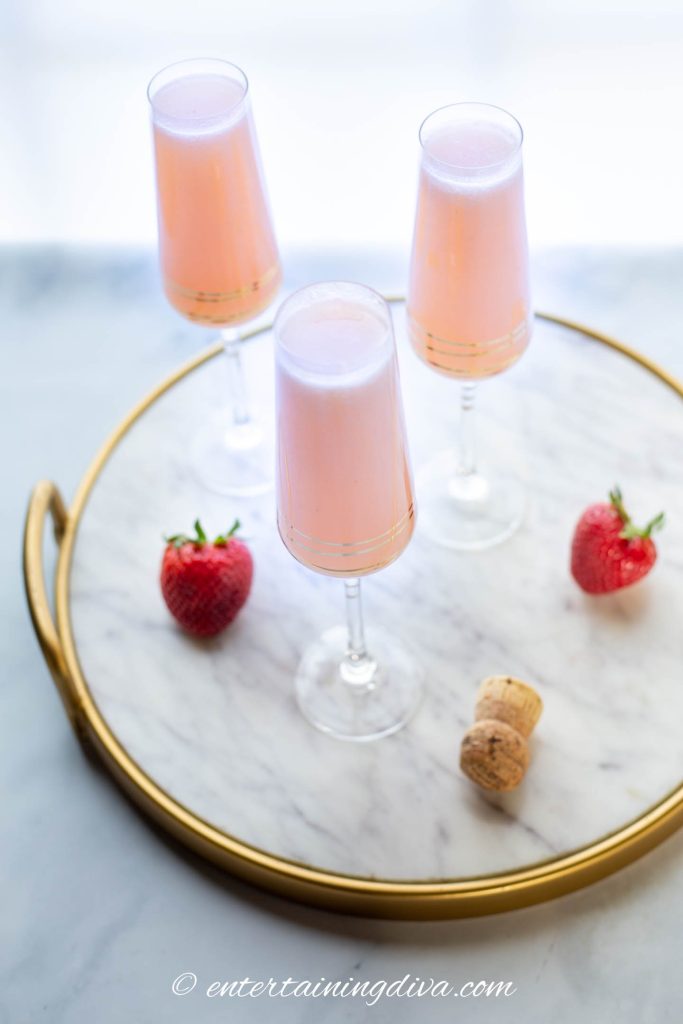 Strawberry Lemonade Pink Moscato Punch is a refreshing and bubbly cocktail perfect for brunch or on a hot afternoon! This spiked pink lemonade punch is a super easy recipe that is great for making in big batches!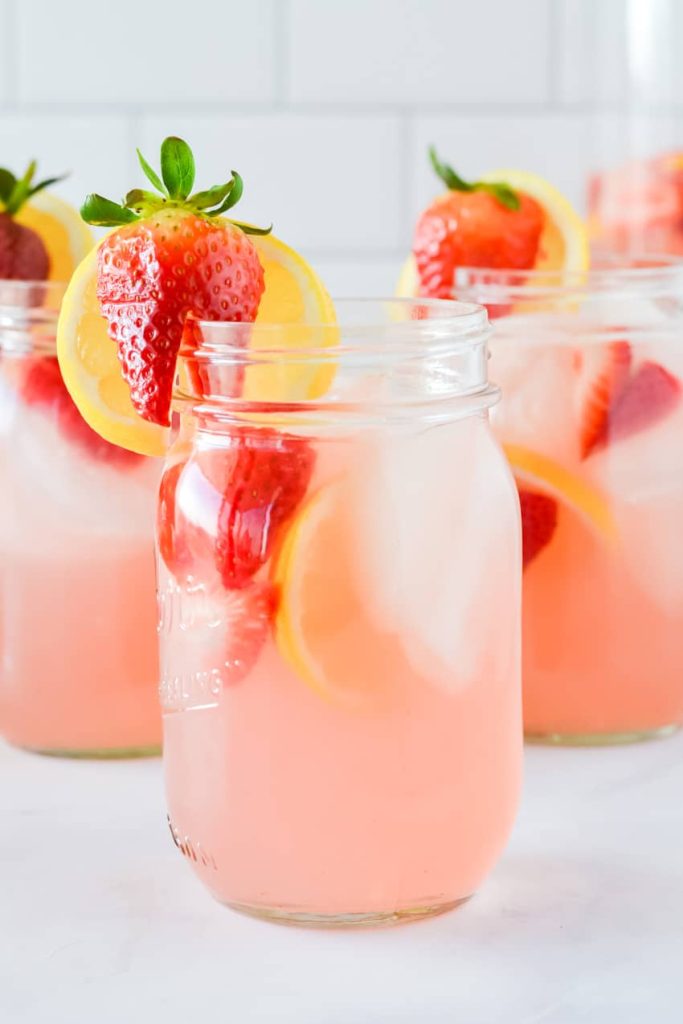 This Rose Syrup French 75 is a festive variation of a classic French 75 recipe that includes gin, lemon juice, and simple syrup topped with bubbly. This fun twist made with Empress gin for color and rose syrup for floral flavor is not only delicious but fabulously pink!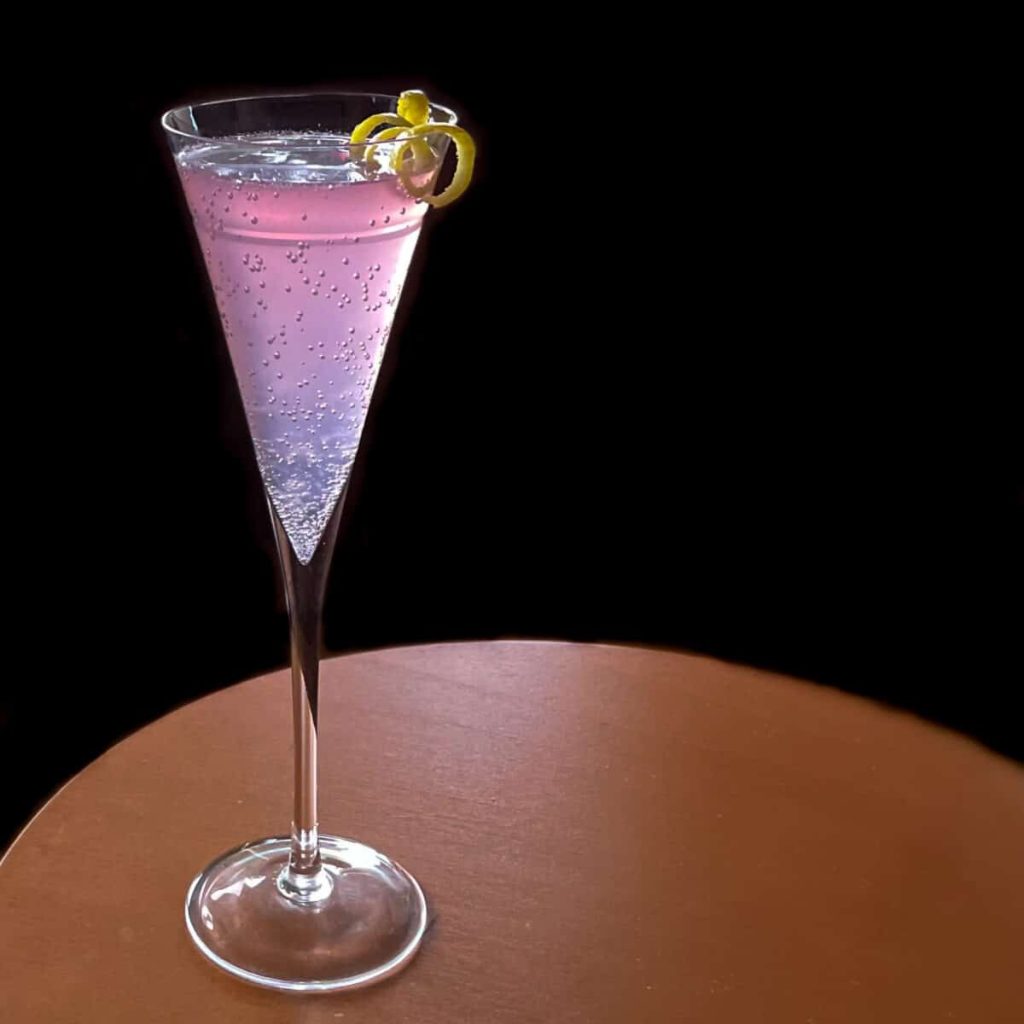 This r bubbly cocktail is not only pretty in pink but also light, bubbly and delicious. Sparkling rosé is combined with watermelon rosemary sorbet for a cocktail that is unique and refreshing!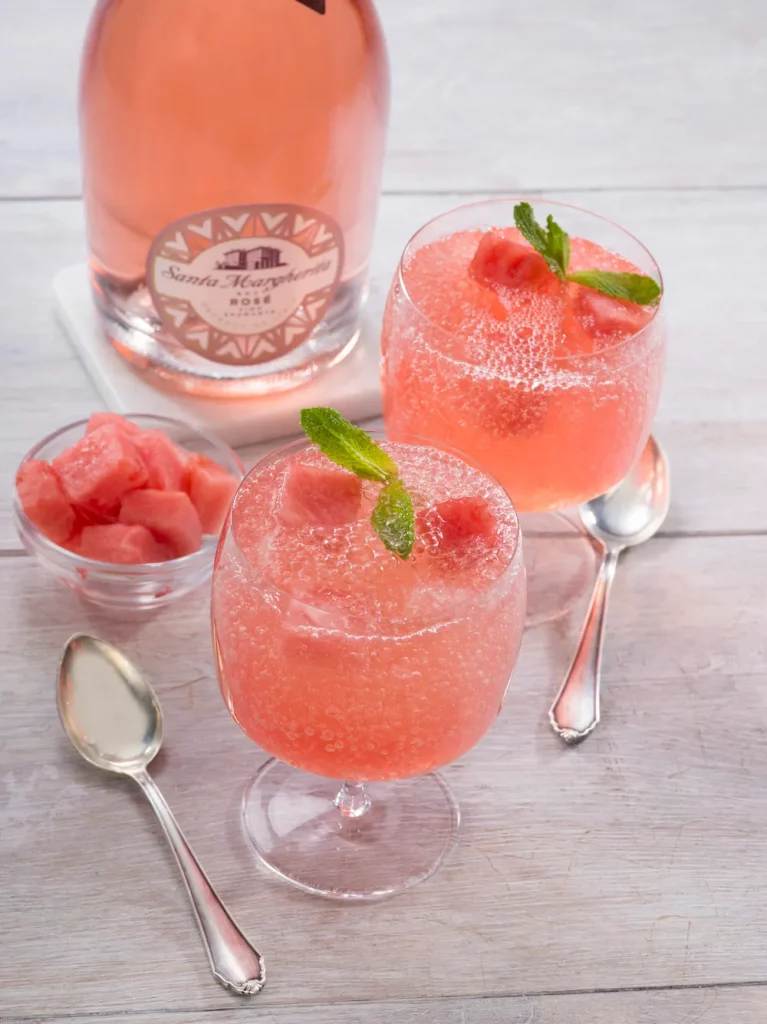 Citrusy blood orange and refreshing mint come together in this blood orange mojito. It is the perfect drink for any occasion, and easy to make with only six ingredients!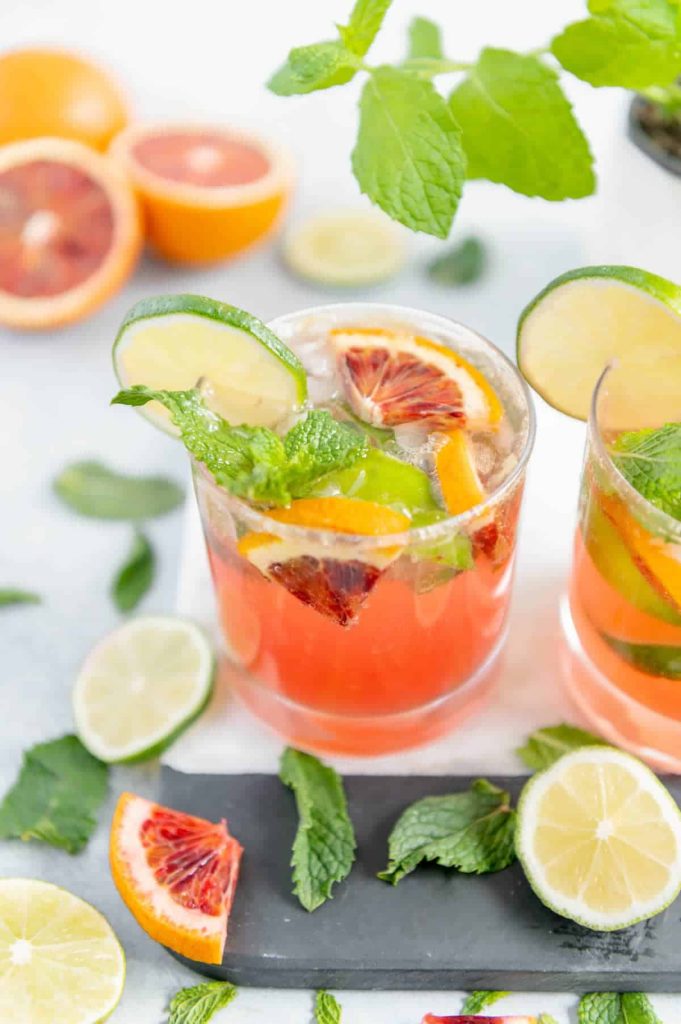 Whip up a Strawberry Shortcake Martini with real strawberries, cake vodka, and RumChata for a delightful kick. This cocktail is the liquid version of the beloved dessert, offering that classic strawberry shortcake flavor. It's a must-try for sweet cocktail lovers!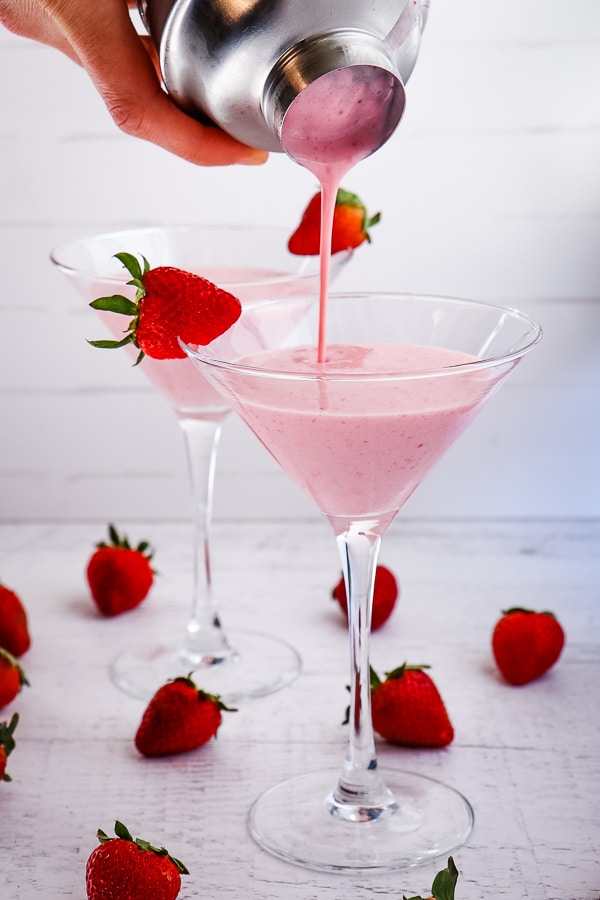 These Lemon Raspberry Mimosas are made with fresh raspberries, limoncello liqueur, and topped off with a Champagne Rosé. Your brunch just got even more fabulous!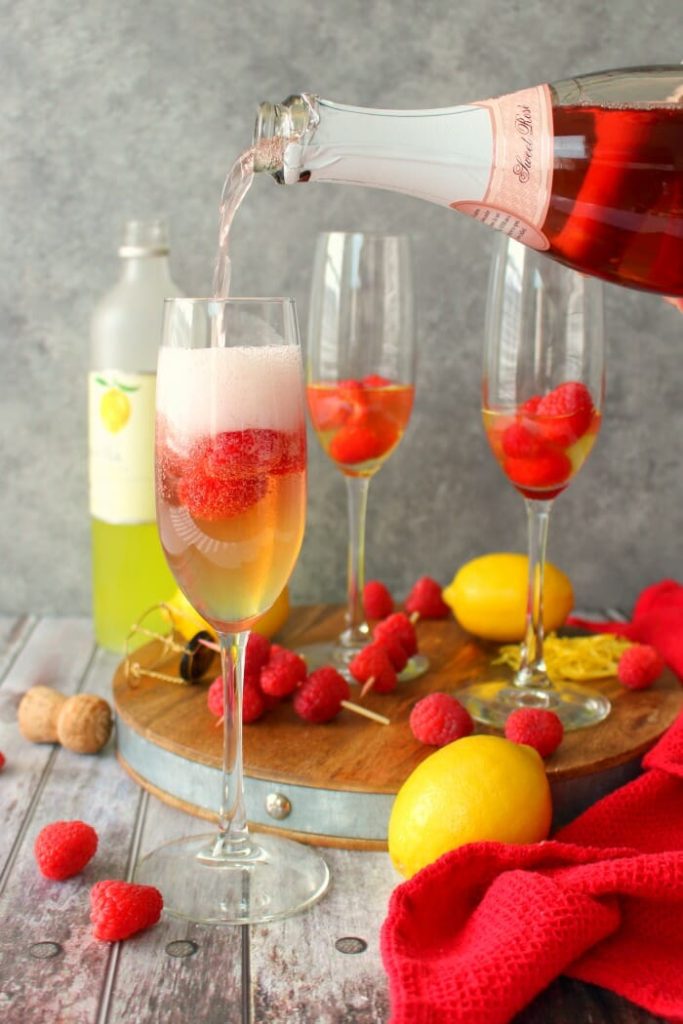 This delicious raspberry sorbet bellini is sweet, zesty, and oh-so-sparkling with just three easy ingredients. Cheers to simple and delicious!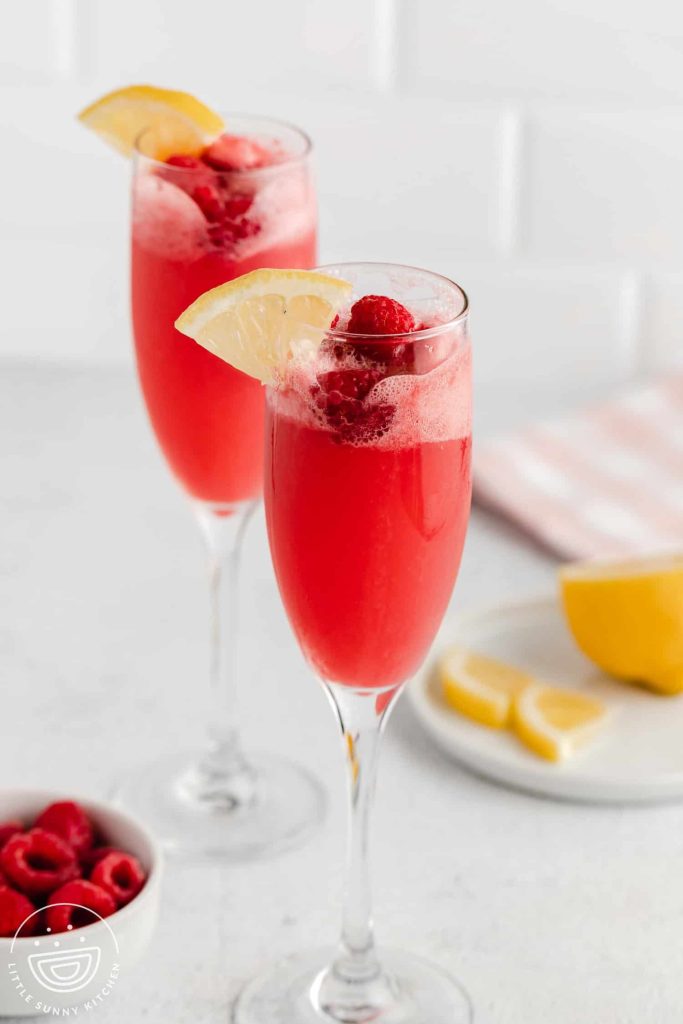 More Ideas For Your Barbie Movie Party
I created this recipe for these fabulously pink Barbie shots inspired in the newly released Barbie Movie. They are the perfect sweet boozy milkshake shots to enjoy at any Barbie soiree. If you are planning a Barbie party make sure to check out my other articles:
Barbie Movie Party Ideas: The Ultimate Barbie Party Guide: filled with Barbie party themes, decor ideas and Barbie activities and games for your Barbie party this is the place to start if you're planning a Barbie bash!

Best Barbie Cocktail: The Pink Raspberry Martini: There are lots of Barbie cocktail recipes out there but for me this Barbie martini cocktail is my favorite, and even better than the Malibu Barbie drink! Yes I'm a martini kind of girl but this pretty pink cocktail fit for a Barbie themed party for adults is fruity and delicious and is sure to appeal even to those Barbies who are usually not dry martini fans.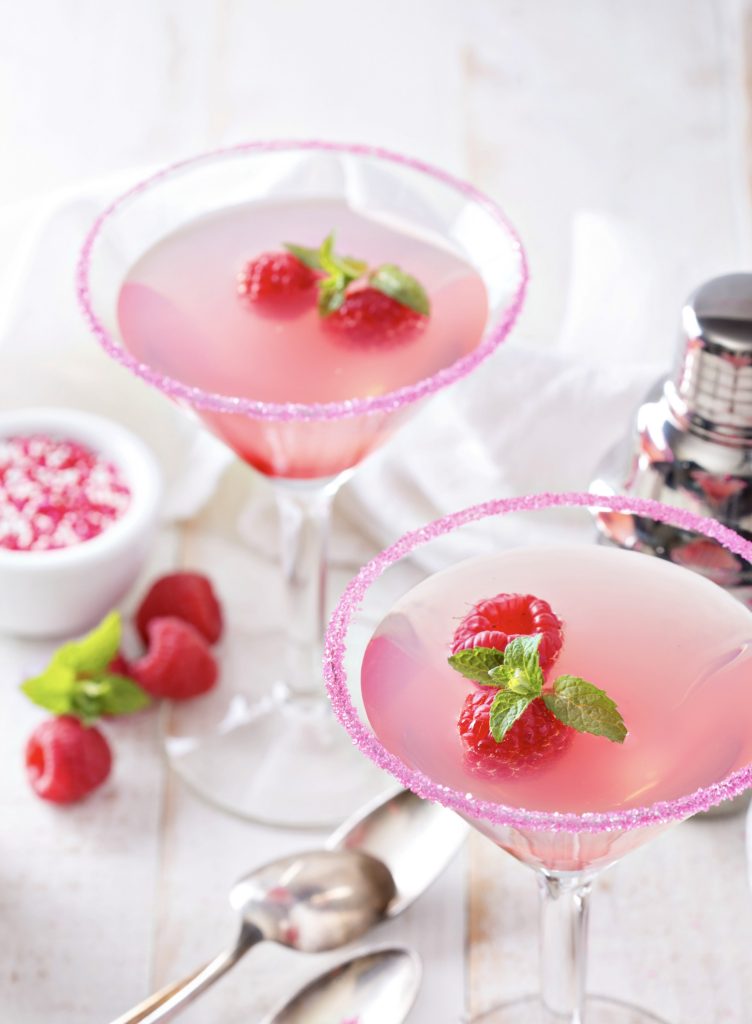 Pink Desserts: Sweet Barbie Party Food Ideas: If you're looking for the best pink treats for your Barbie party you'll find them here. From pink Barbie cakes to pink brownies and cookies and Barbie inspired cupcakes you'll find all the sweet treats you need to set up your Barbie dessert table!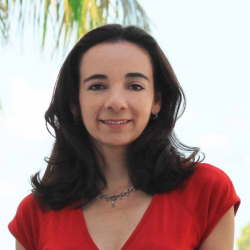 Latest posts by Paula Bendfeldt-Diaz
(see all)