The celebrations for the Day of the Dead in Mazatlán are truly unique experience! If witnessing the Day of the Dead celebrations in Mexico is on your bucket list consider visiting Mazatlán. This Mexican beach destination is less touristy than other Mexican beaches offering an authentic local vibe, lots of history and some of the most fantastic Mexican seafood dishes. Mazatlán also has some of the best Day of the Dead celebrations in México.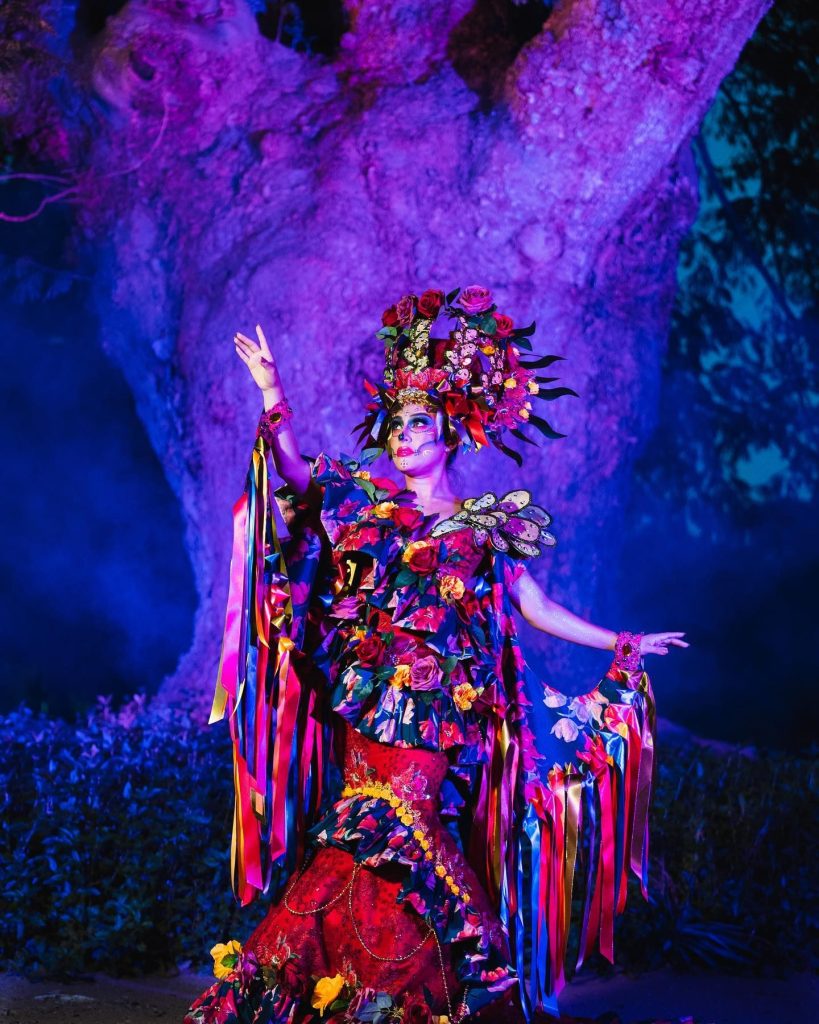 Every year, as October fades into November, Mexico's vibrant Day of the Dead festivities come to life. I'm from Guatemala and Day of the Dead traditions in Guatemala are quite different, there are no sugar skulls or catrinas but we celebrate with a giant kite festival and traditional foods like fiambre. However we have also have incorporated some of the Mexican Day of the Dead traditions at home from making ofrendas and creating Day of the Dead crafts to cooking Day of the Dead recipes at home. You can check out my article on how to celebrate Dia de los Muertos with kids at home.
Visiting Mexico during the Day of the Dead has always been something I have wanted to do. Visiting Mazatlan during Dia de Los Muertos is a great opportunity to experience this amazing holiday while also taking a beach vacation! What could be better?
So check out this complete guide to visiting Mazatlan for Day of the Dead. You'll find everything from Mazatlán's Day of the Dead events and celebrations and the best things to do to the best restaurants and best hotels in Mazatlán.
Day of the Dead in Mazatlán Mexico: Events and Celebrations
While Dia de Los Muertos is celebrated throughout the Mexico, the coastal city of Mazatlán has found a way to infuse its own distinct magic into the tradition. As you explore the charming streets of this historic city during the upcoming Day of the Dead celebrations, you'll discover a tapestry of customs, artistry, and rituals that set Mazatlán apart.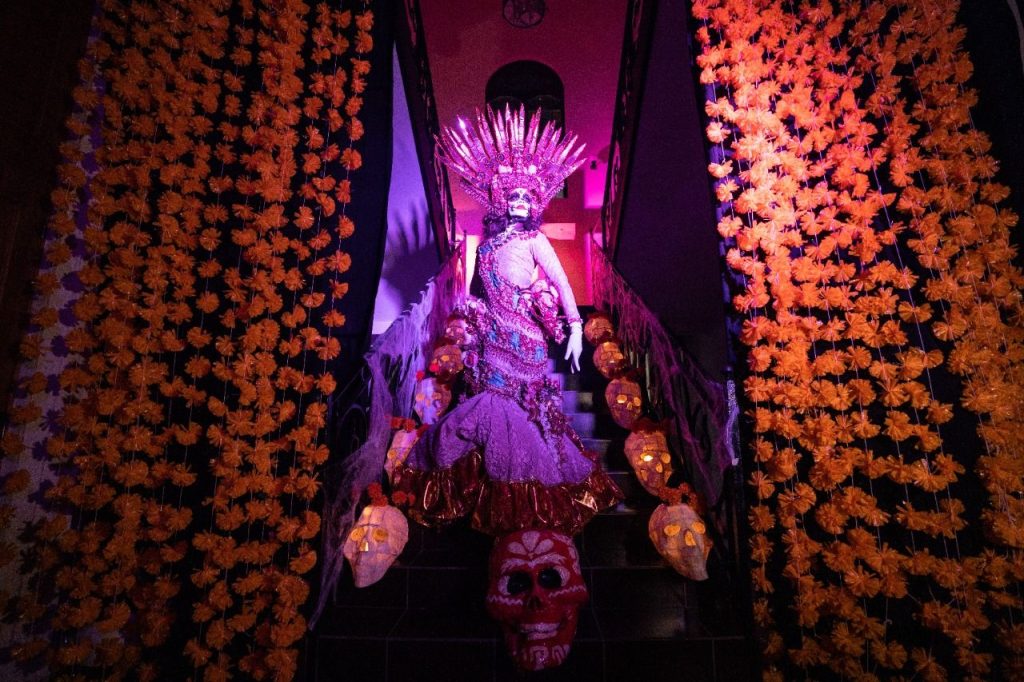 Mazatlán, with its rich cultural heritage and artistic spirit, weaves a unique tapestry into the fabric of Day of the Dead. At the heart of the festivities is Plaza Machado, nestled in the Historic District, which takes center stage for two memorable days. Each year, this enchanting plaza transforms based on the chosen theme for the Day of the Dead celebration. This year, it's "Leyendas del Arte" or "Art Legends," a tribute to pivotal figures in Mazatlán's art and culture scene. As you wander through the plaza, you'll be immersed in the city's creative energy, manifested in diverse expressions of art.
Things to Do In Mazatlan for Day of the Dead
Mazatlán truly shines during the Día de los Muertos celebrations. This enchanting holiday transforms Mazatlán into a lively tapestry of culture and tradition. Alongside the glistening sea, the city embraces its roots, paying homage to ancestors, and inviting visitors to explore its unique blend of art, history, and heartfelt customs during this special time. Day of the Dead in Mazatlán is filled with activities and festivities that make visiting Mazatlán for Día de los Muertos an unforgettable experience. Here are some of the best things to do in Mazatlan for Day of the Dead: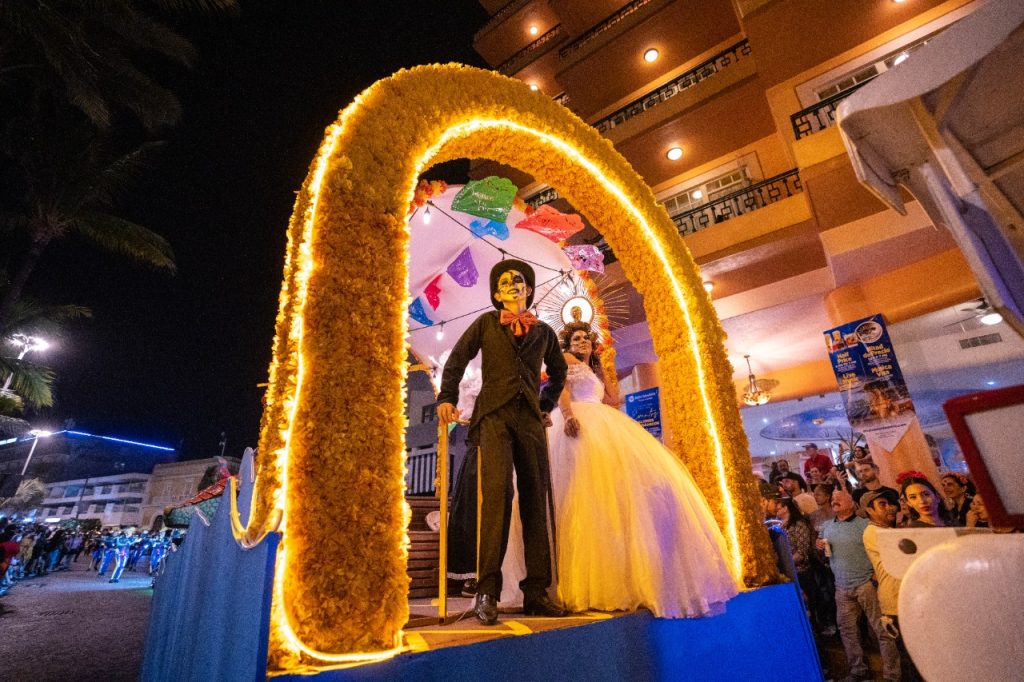 Experience Plaza Machado's Transformation
Head to Plaza Machado, right in the heart of the Historic District, where the city's Día de los Muertos celebrations come alive. Each year, the plaza transforms, following a unique theme. This time, it's all about "Leyendas del Arte" or "Art Legends." This theme pays homage to significant figures who have contributed to Mazatlán's art and culture.
Pay Tribute to Local Artistry
On November 1, the Ministry of Culture, Tourism, and Art honors Mazatlán's native artists with special activities. Take part in guided tours inside the Municipal Arts Center and the Ángela Peralta Theater. These historic buildings host captivating art installations, including photo galleries, vibrant dance performances, and moving literature readings – all showcasing local talent. And the best part? It's all created by Mazatlán artists. The exhibitions open on November 1, 2023, starting at 7:00 p.m., and tickets are free but required.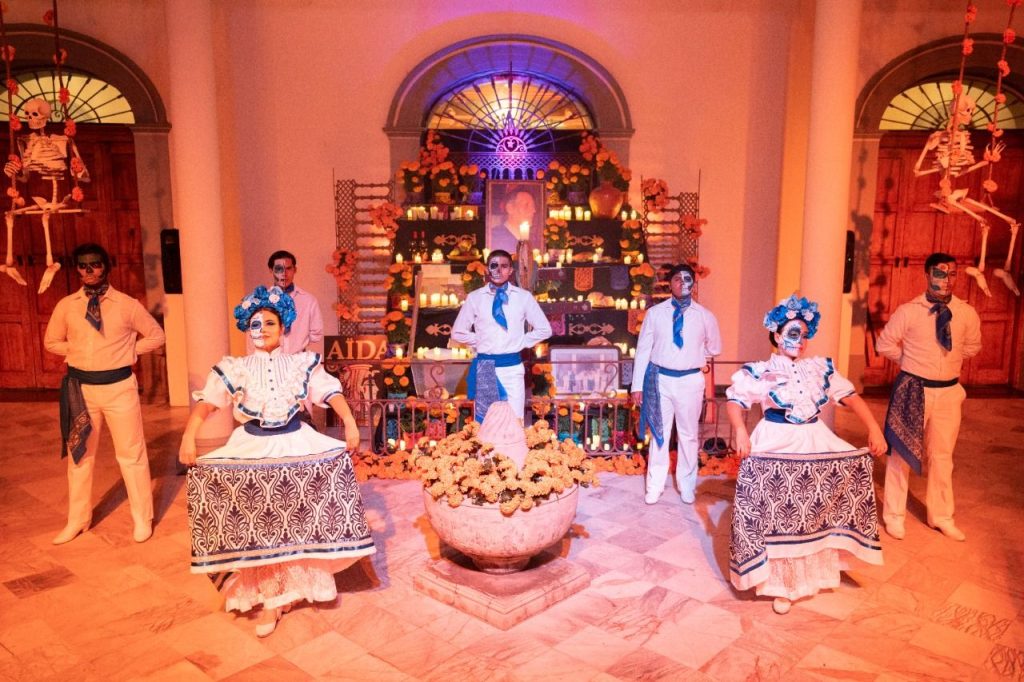 Visit Reverent Altars
Pay your respects at traditionally adorned altars found across the city. Explore these beautifully decorated altars at the Museo de Arte de Mazatlán, La Casa de Caracol Bookstore, Mazatlan Film & Theatre, CICMA (Mazatlan Innovation Cultural Center), Casa de Leyendas, La Molcajeteria Restaurant, and Pedro and Lola Restaurant. These altars provide a glimpse into the city's cultural heritage and are a heartfelt way to honor ancestors.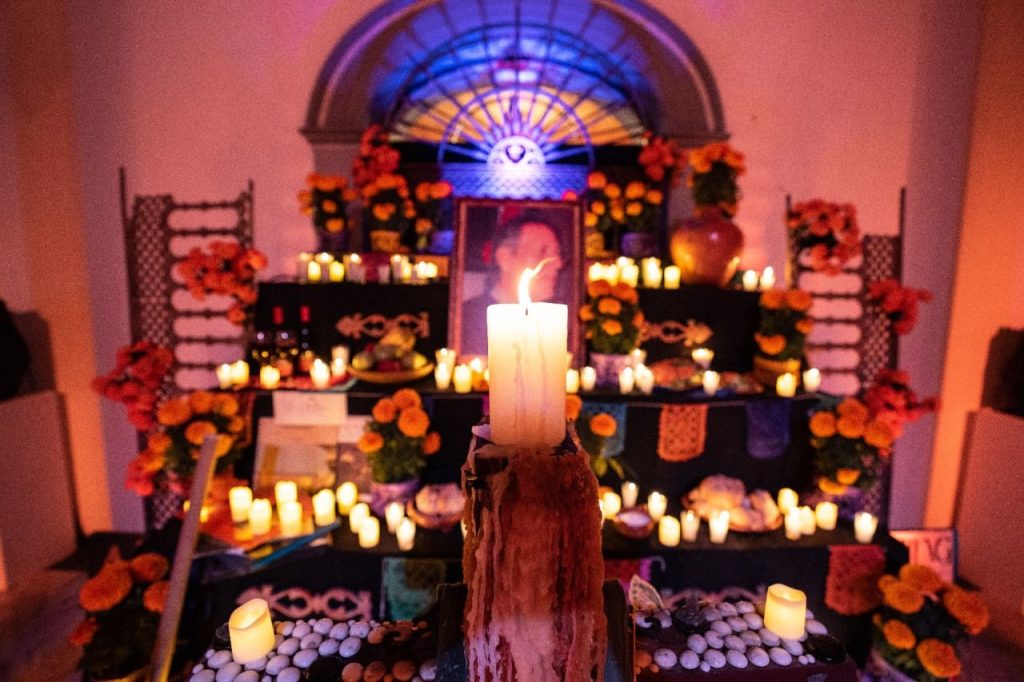 Immerse in Colorful Street Celebrations
Wander through the city streets, particularly the Historic District, which transforms into a scene straight out of one of my favorite Day of the Dead movies: Disney's Pixar COCO. Streets burst with colorful decorations and are lined with altars created by locals to honor their loved ones.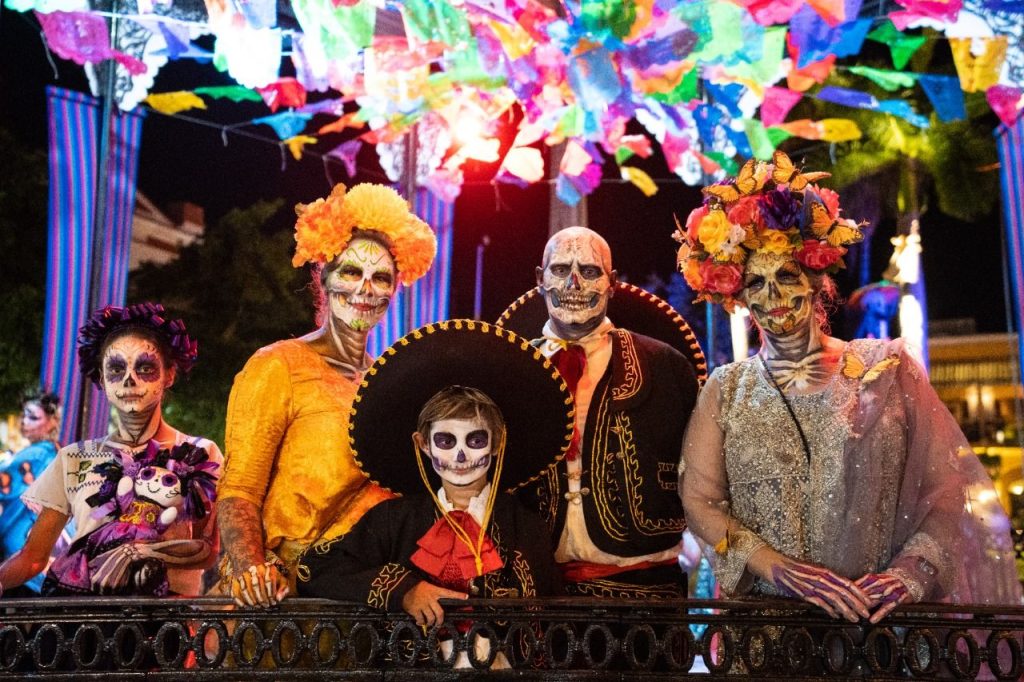 Join the Día de los Muertos Parade in Mazatlán (La Callejoneada)
Don't miss the grand Day of the Dead Parade, known as the Callejoneada, the most significant event of the holiday. Marvel at spectacular floats, graceful dancers, mesmerizing fireworks, lively music, traditional attire, and Mexican symbolism at every turn. Scheduled for November 1, 2023, at 8 p.m. (although it often starts a bit later), it winds its way through the Historic District streets.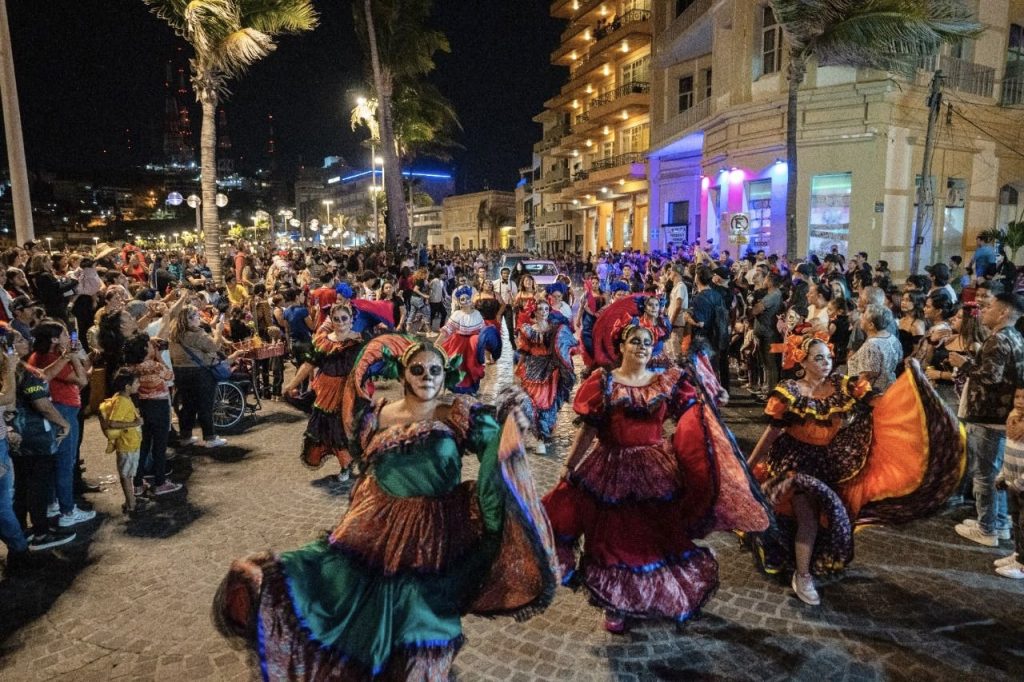 Participate with Skeleton Masks and Face Paint
Everyone gets into the spirit by wearing skeleton masks or intricate face paint. Join in the welcoming atmosphere, and enhance your experience by participating in this vibrant tradition.
Other Reasons Why You Should Visit Mazatlán
Beyond the Day of the Dead celebrations Mazatlán is a great vacation destination, especially if you're looking for a beach getaway that is not too touristy. For me Mazatlan has the perfect blend of great beaches, history, culture and amazing food!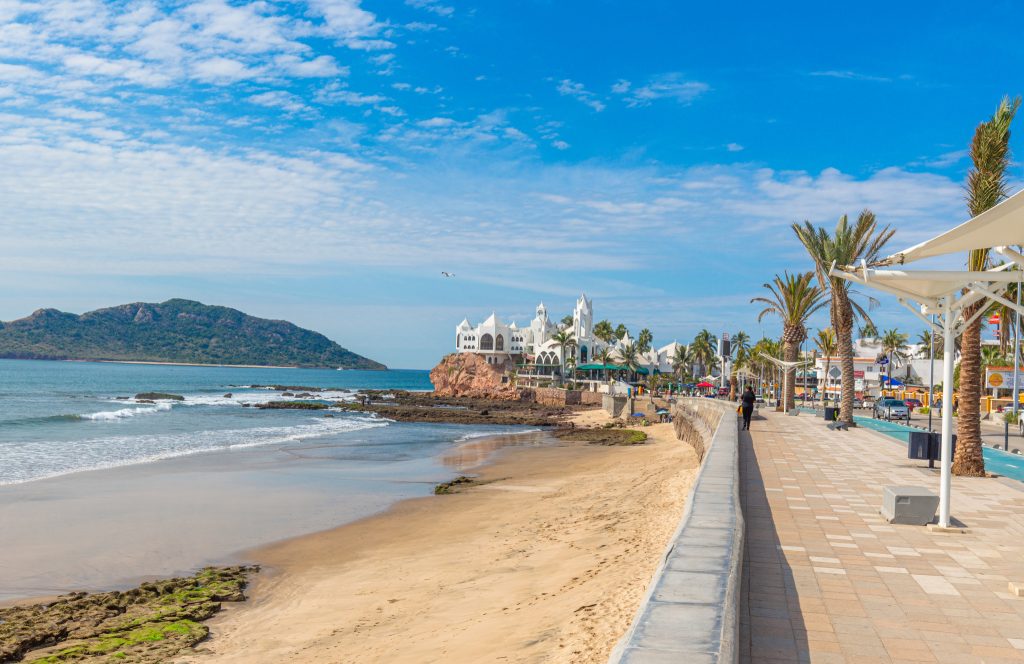 Nestled on the sunny Pacific coast of Mexico, Mazatlán is truly a hidden gem, one of those places you want to get to before they get too popular. Unlike some crowded tourist spots, this place has kept its natural beauty and charm. Here, you can enjoy beautiful beaches, soak up the local culture, and savor delicious fresh seafood. Mazatlán is the perfect blend of relaxation and adventure, and the friendly people there make you feel right at home.
Best things to do in Mazatlán
Beyond the fantastic Day of the Dead celebrations and parades these are some of my favorite things to do in Mazatlan:
Relax on Golden Beaches: Stretch out on pristine sands that seem to go on forever, offering a perfect setting for sun-soaked relaxation and beachside activities. Weather you're enjoying some time on Mazatlán beach or taking a tour to the more secluded Stone Island beach, taking time to relax on the beach is a must!
Uncover Hidden Gems: Explore the city's hidden treasures, from tranquil plazas to historic landmarks, unveiling the secrets of Mazatlán's past in its quaint historic downtown. Start by taking a sightseeing tour of Mazatlán and then go back to your favorite spots and explore at your own pace.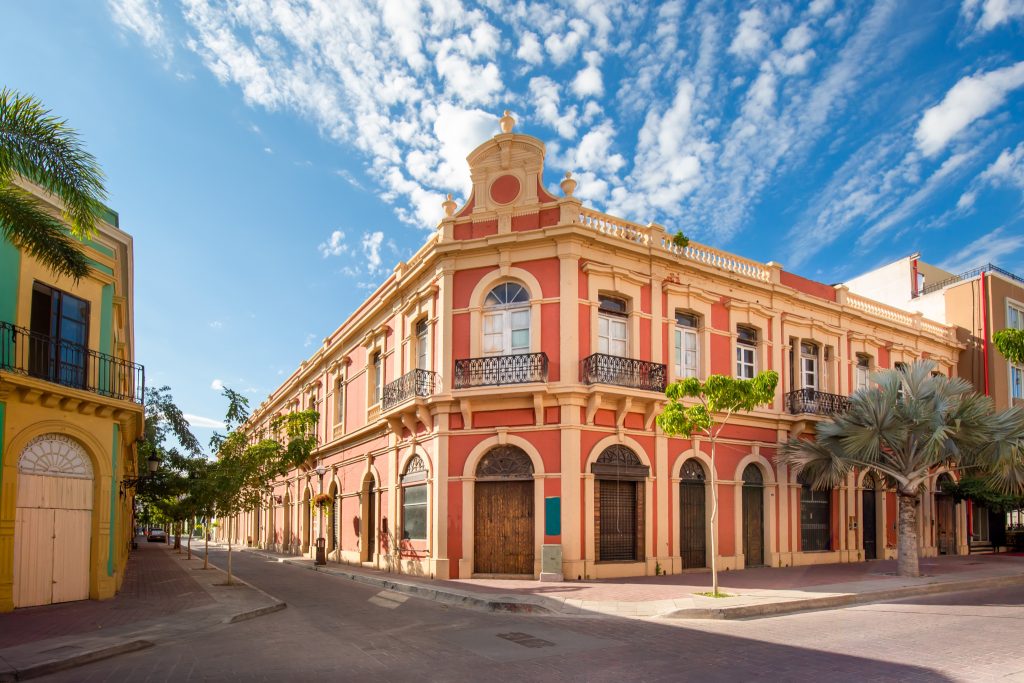 Explore Mazatlán from the Water: Take a cruise along the bay or explore the surrounding islands with their secluded beaches on a ten islands expedition.
Stroll the Lively Malecón:

Take leisurely walks along the bustling Malecón de Mazatlán, where street performers, shops, and restaurants create a lively atmosphere.

Enjoy the Local Cuisine: Mazatlán is renowned for it's fresh seafood and there is no shortage of amazing restaurants (check our recommendations below). You can also take an authentic Mexican food cooking class, a food tour or a market tour and taste your way through Mazatlán.
Dive into Aquatic Adventures: Plunge into aquatic excitement by taking a half day tour to Isla Venados (Der Island) where you can kayak, snorkel and explore the rugged island. Or visit the largest aquarium in Latin America, the Acuario Mar Cortez.
Add Some Adrenaline to Your Vacation: If you want more excitement in your beach vacation take a half day ziplining tour from Mazatlán and soar through the air.
Get Great Views from the Lighthouse: Take a tour to the Mazatlán lighthouse and enjoy the most scenic views of the city and surrounding islands.


Must Try Traditional Food in Mazatlán

After enjoying the Dida de los Muertos festivities it's time to indulge in Mazatlán's amazing culinary scene and savor the rich flavors of traditional Sinaloan cuisine. Famous for its fresh seafood Mazatlan is also considered the shrimp capital of the world. This is a seafood lover's paradise thanks to its prime location on the Pacific Ocean.

When enjoying some of Mazatlán fresh seafood dishes pair them with a refreshing Pacífico beer, which has its origins in Mazatlán, dating back to 1900 when German visitors created it. And if you're into spirits, Mazatlán boasts several agave distilleries where you can take a fascinating day trip to learn about the liquor-making process and even indulge in some tastings.

Aguachile, traditional Mexican food.

For those who enjoy exploring local flavors, don't miss the "Barrio Bites" tour in Mazatlán's oldest neighborhood, where you'll get to dine at historic restaurants and uncover hidden culinary gems. Another must-do is a leisurely stroll through the Historical District, where you'll stumble upon the Mercado Pino Suarez, the city's main open-air market with a rich history spanning over a century. It's a food lover's dream come true!

Sinaloa's cuisine uses regional spices to infuse a unique taste, often wrapping these fresh seafood dishes in handcrafted tortillas. You'll also encounter refreshingly zesty options like ceviches featuring lime, chilies, and cilantro. From grilled seafood to marinated raw tuna, Mazatlán's culinary scene is foodie heaven. Here are some of the must try traditional Mexican dishes in Mázatlan:

Tacos Gobernador:

These flavorful tacos feature succulent shrimp or tender fish, marinated in a zesty blend of garlic, butter, and regional spices, then skillfully grilled and wrapped in a warm, handmade tortilla.

Ceviche de Atún:

Chunks or cubes of raw tuna are marinated in a zesty mixture of lime or lemon juice that "cooks" the tuna. Then, finely chopped onions, cilantro, and sometimes a touch of chili for a hint of heat are added to the tuna mixture, creating a delightful seafood treat.

Tuna ceviche, a traditional dish in Mazatlán, Mexico

Aguachile:

A refreshing dish typically showcasing fresh, raw shrimp or fish bathed in a marinade of lime juice, chilies, and cilantro. Served with crisp cucumber slices and red onion rings, aguachile captures the essence of the ocean, making it a quintessential coastal delight.

Pescado Zarandeado:

This delightful dish often presents a whole fish, such as red snapper, butterflied and marinated in a flavorful mixture of spices, garlic, and achiote paste. The fish is then slow-grilled over an open flame or charcoal, resulting in a mouthwatering smoky char infused with smokiness and spices.

Pulpo a las Brasas:

This dish, also known as grilled octopus, is celebrated for its smoky, charred flavors and tender texture. Typically, octopus is first marinated in a mixture of olive oil, garlic, herbs, and sometimes a dash of paprika or chili powder then carefully grilled over an open flame or charcoal.

Pulpo a las brasas, a traditional dish in Mazatlán, Mexico

Best Restaurants In Mazatlán to Enjoy the Local Cuisine

Mazatlan has not shortage of amazing restaurants serving fresh and traditional Sinaloan dishes. During the Day of the Dead celebrations, many of these eateries also offer traditional Day of the Dead food like the iconic pan de muerto. There is no need to wonder where to eat when visiting Mazatlán as I'm sharing some of the best restaurants in Mazatlan where you can savor delicious food while experiencing the essence of this coastal gem.

Atol

Considered the best restaurant in Mazatlán, Atol brings you the unique tastes of Mexico's many regions. Owners Daniel and Sabrina honor each area's flavors and food traditions, creating an exciting dining adventure. Their daily-changing menu showcases Mexico's rich cultural heritage through its dishes, offering a delightful experience for all. They have a breakfast menu that includes quesadillas de cuitlachoche, a unique corn mushroom that is a must try! I love cuitlachoche and even make some cuitlachoche recipes at home when I can find it, trust me you will love it.

La Costa Marinera

Opened in 1988 by renowned chef Mr. Ángel Cruz, La Costa Marinera is loved for its delicious food and personalized service. With a beachfront location near Marina Mazatlán, it offers stunning ocean views. Try their aguachile, their tuna tostadas and their pescado zarandeado. Finish your meal with a pie de platano a la concordia (plantain pie) , a dessert you're sure to remember.

Agatha Kitchen Bar

This unique restaurant in the popular Golden Zone neighborhood focuses on creating gourmet dishes and cocktails with precision, aiming to provide a one-of-a-kind dining experience centered around harmony and balance. Try Agatha Kitchen Bar's tacos gobernador and the octopus tacos and the pulpo (octopus) zarandeado.

Casa 46

Casa 46 is a special restaurant located in the historic center of Mazatlán. They serve Mexican food that combines traditional flavors with a modern twist, creating a unique dining experience. You can enjoy your meal with a view of Plazuela Machado, and it's a great way to appreciate Mazatlán's rich history and culture. Some of their unique dishes include pickled octopus tostadas, fresh tuna crusted in chile ashes, beef tongue (one of my favorite Mexican dishes) and shrimps petroleros cooked over wood fired with a black squid ink creamy sauce, huitlacoche and manchego.

Mazatlan Nightlife

After an exhilarating day exploring this beachside paradise, the fun is far from over! Mazatlán really knows how to turn up the nightlife excitement. Whether you're in the mood for a classy dinner at a fancy restaurant or you want to dance the night away until the sun peeks over the horizon, Mazatlán's nightlife scene has something for everyone, no matter your age.

For a taste of the action, make your way to the Golden Zone, where you'll find many of the city's hotels and shopping spots. This area is also the hub for some of the hottest bars and nightclubs in town. It's the perfect place to keep the good times rolling after the sun goes down!

Where to stay in Mazatlán

Mazatlán offers a variety of accommodation options to suit different tastes and preferences. Here are four standout choices:

El Cid Marina Beach Hotel: Nestled along the shoreline, this beachfront resort offers breathtaking ocean views, spacious suites, and a golf course and lots of on-site dining options are sure to satisfy your culinary cravings.

Casa de Leyendas Boutique Hotel: Situated in the historic district, Casa de Leyendas provides an intimate experience with its cozy rooms and a rooftop terrace.

Hotel Playa Mazatlán: Perfect for families and beach enthusiasts, this beachfront resort offers a range of activities and direct access to the golden sands of Mazatlán Beach. It's an excellent choice if you prefer an all-inclusive package, as it provides various dining options within the resort.

Casa Lulu Boutique Hotel: Located on the Malecon, Casa Lulu boasts a stylish blend of French, Mexican, and Oriental décor. This adult-only boutique hotel, with only nine rooms, provides an intimate and fashionable retreat for couples.

Pueblo Bonito Mazatlán: This upscale all-suite all-inclusive resort offers luxury amenities, eco-friendly practices, and a commitment to responsible tourism for a serene and lavish stay.

How to Get to Mazatlán

Mazatlán is an awesome vacation spot with something for everyone, and the best part is it's easy to get to from the U.S. You can catch daily flights from American Airlines, Delta, or United Airlines. They usually stop in Mexico City, and from there, it's just a short flight of less than two hours to reach Mazatlán. It's super convenient!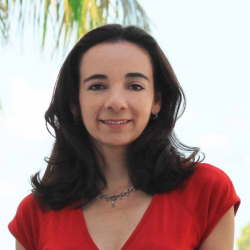 Latest posts by Paula Bendfeldt-Diaz
(see all)