My traditional Day of the Dead recipe post is so popular each year that I decided to make a compilation of all of my favorite kid-friendly Day of the Dead Recipes. These are some of the best Day of the Dead recipes for kids I have found and we've made many of these at home. Creating Dia de los Muertos recipes with the kids has been a great way for me to start conversations of the significance of the Dia de Muertos tradition and how it's different from Halloween celebrations.
Dia de los Muertos is all about celebrating life and remembering family members and loved ones that are no longer with us. It's a day that focuses on joy and sharing family moments together and that is why making fun Día De Los Muertos inspired recipes together is the perfect activity to do with kids on Day of the Dead!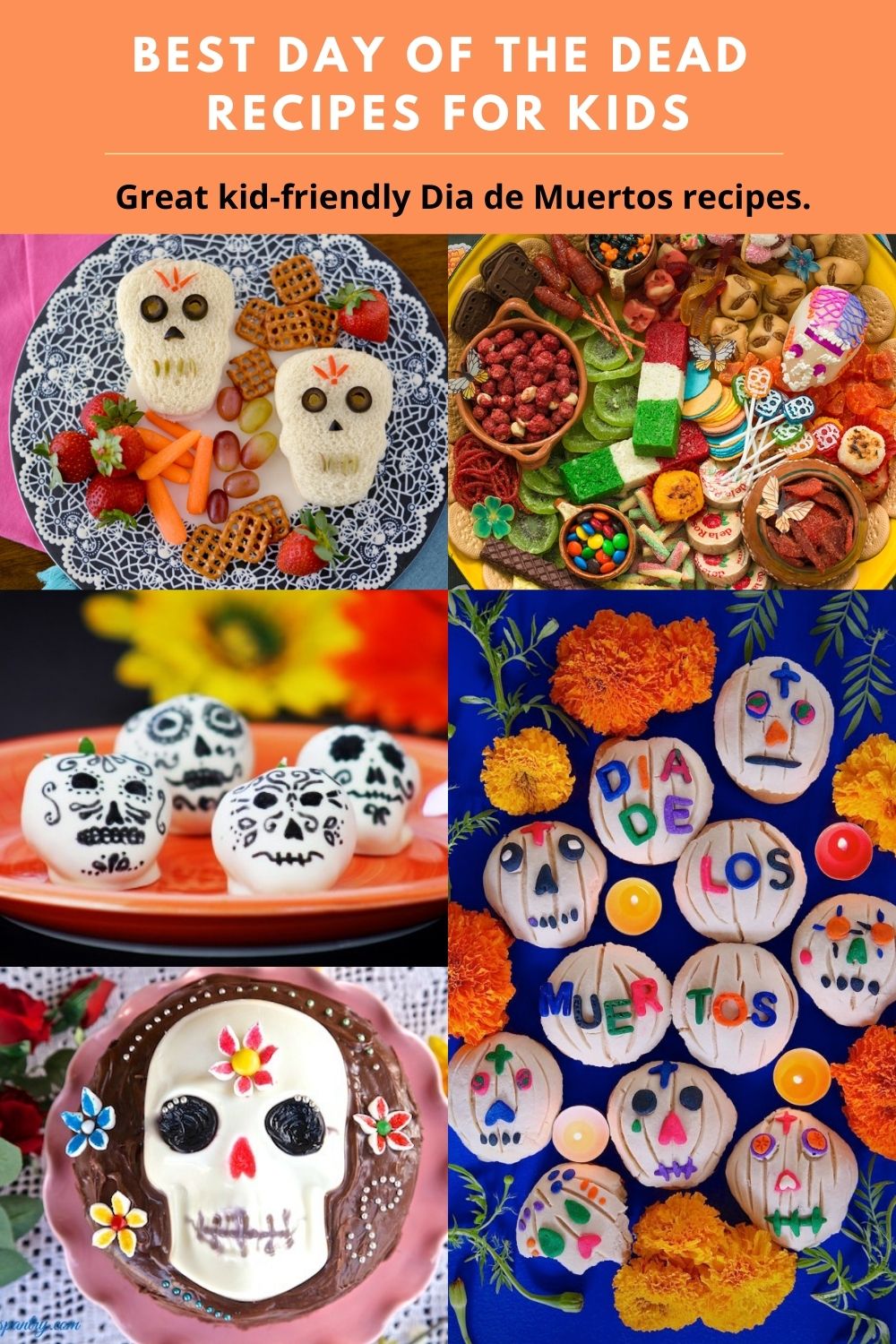 So here they are! My favorite Dia de Muertos recipes for kids. I will keep adding to this list as I find new recipes and would also love to hear what are your favorite Day of the Dead recipes to make with your kids.
This recipe for Day of the Dead cookies is so easy to make. A twist on the traditional gingerbread men, these skeleton cookies are so much fun to bake and decorate and delicious. They're perfect for enjoying with a cup of Mexican hot chocolate or a cool glass of horchata.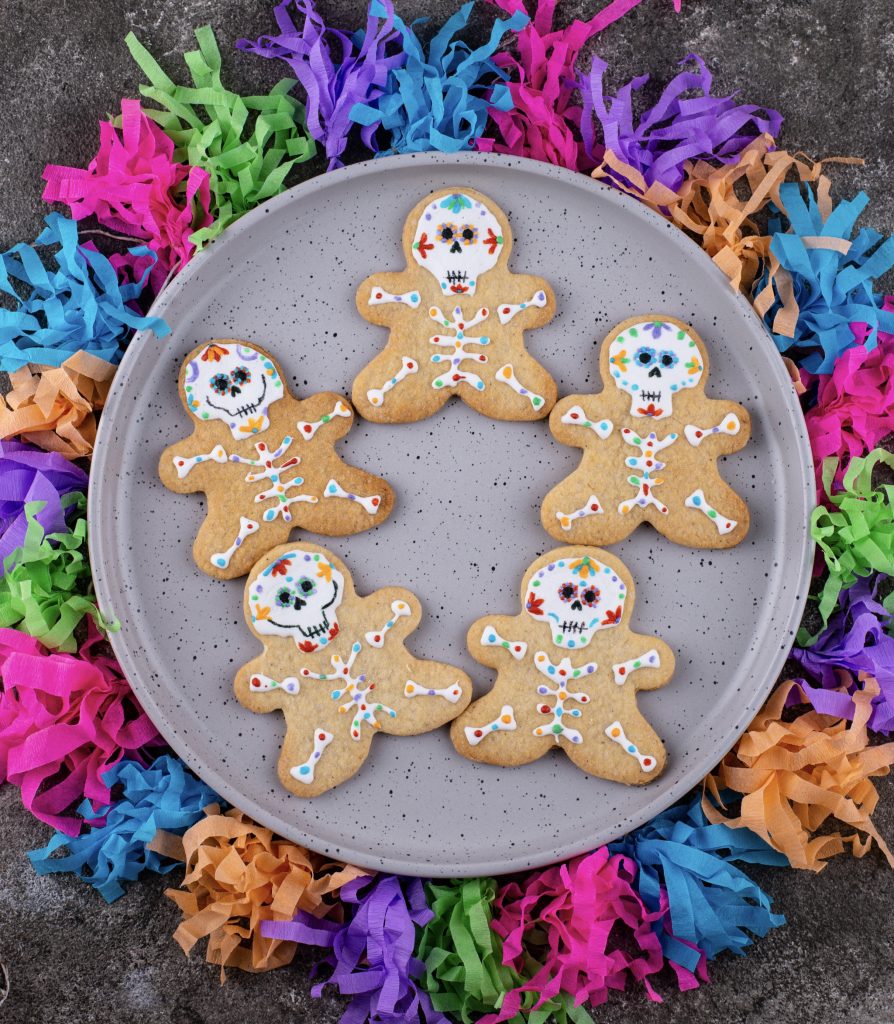 These calaca sandwichitos are so cute! These skull sandwiches are the perfect snack or light lunch recipe and they look like a fun activity to make with kids. Get the recipe HERE.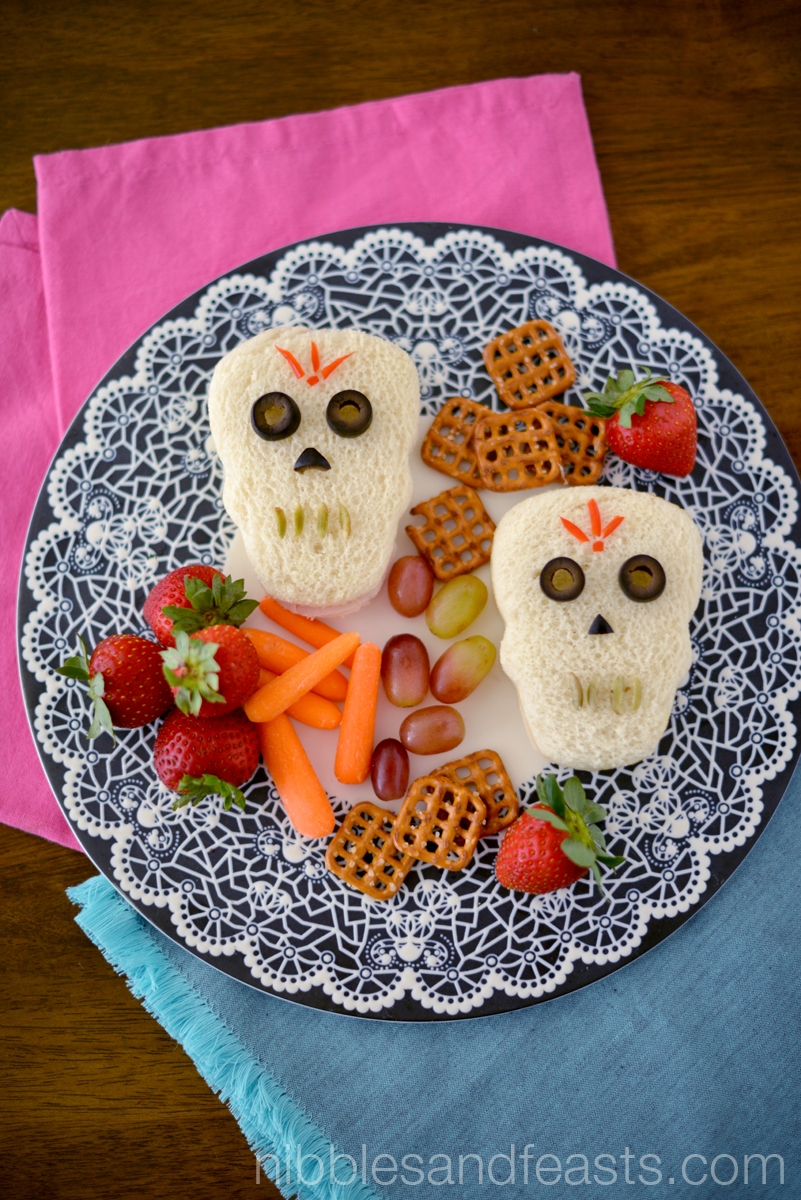 We're big fans of flan in our house and I've experimented with different flan recipes. These Day of the Dead inspired pumpkin spice mini cheesecakes are one of my favorite twists on traditional flan. They taste delicious and the texture is so amazing, also pumpkin spice. What more do I need to say? They're also a blast to make and decorate.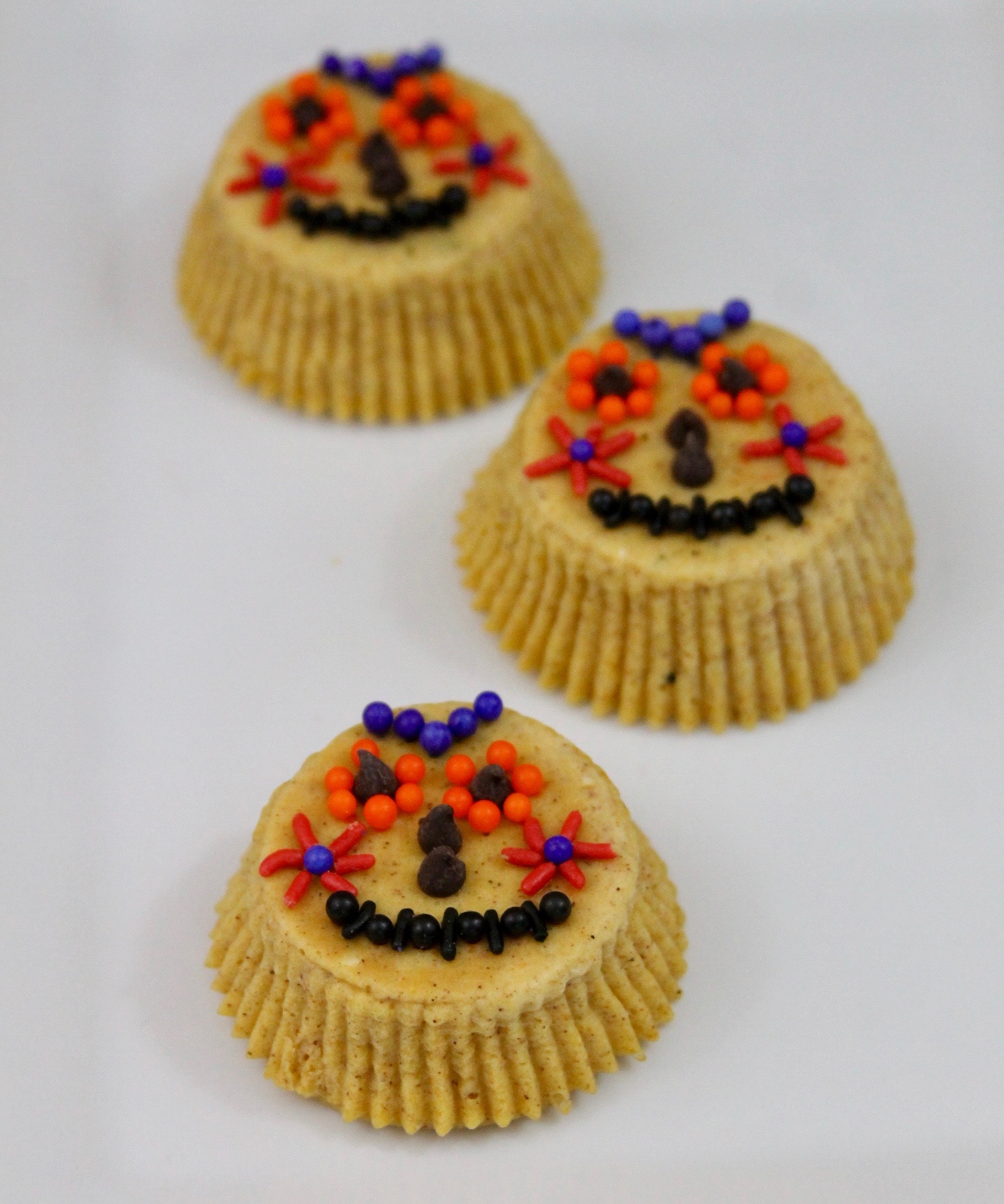 Conchas are always part of my Dia de Muertos altar and one of my favorite traditional Day of the Dead foods. These super cute Dia de Muertos conchas from PresleysPantry.com are so adorable and not only make for a great Day of the Dead recipe to make with kids, they are also great as part of your Dia de Muertos altar decorations. Get the recipe HERE.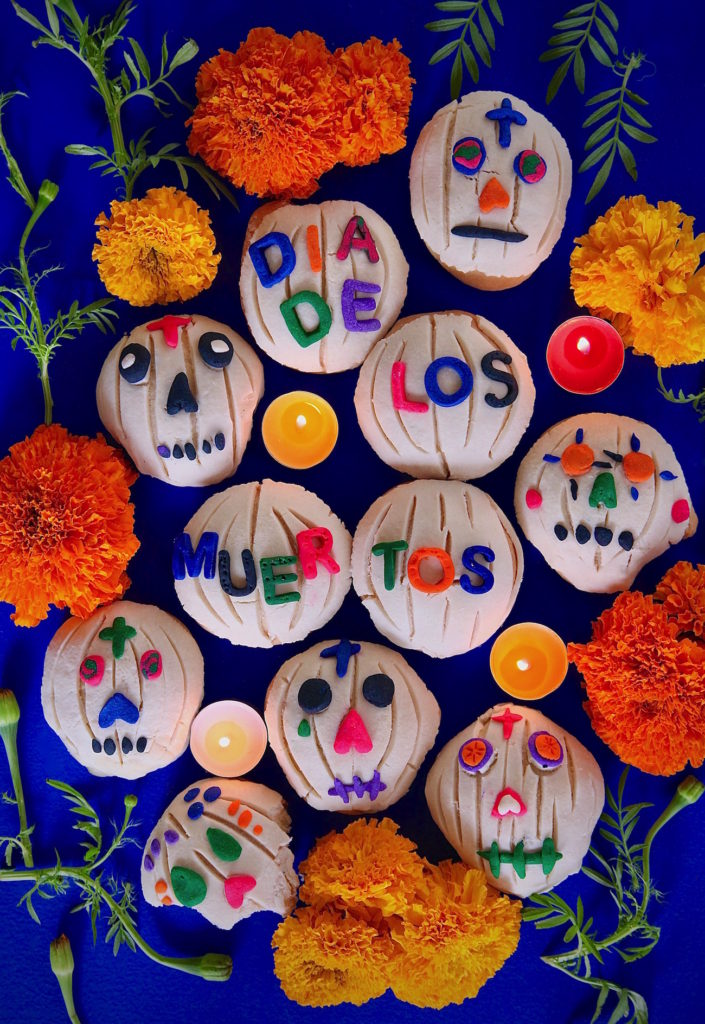 We made this sugar skull fruit pizza a few years ago and it's now one of our go-to recipes to make with the kids for Dia de Muertos. It's so much fun to decorate it and you can use whatever fruits, fresh or dried, you have at home as well as nuts or even candy. I love the yogurt cream cheese base, it's so good and healthier than regular frosting.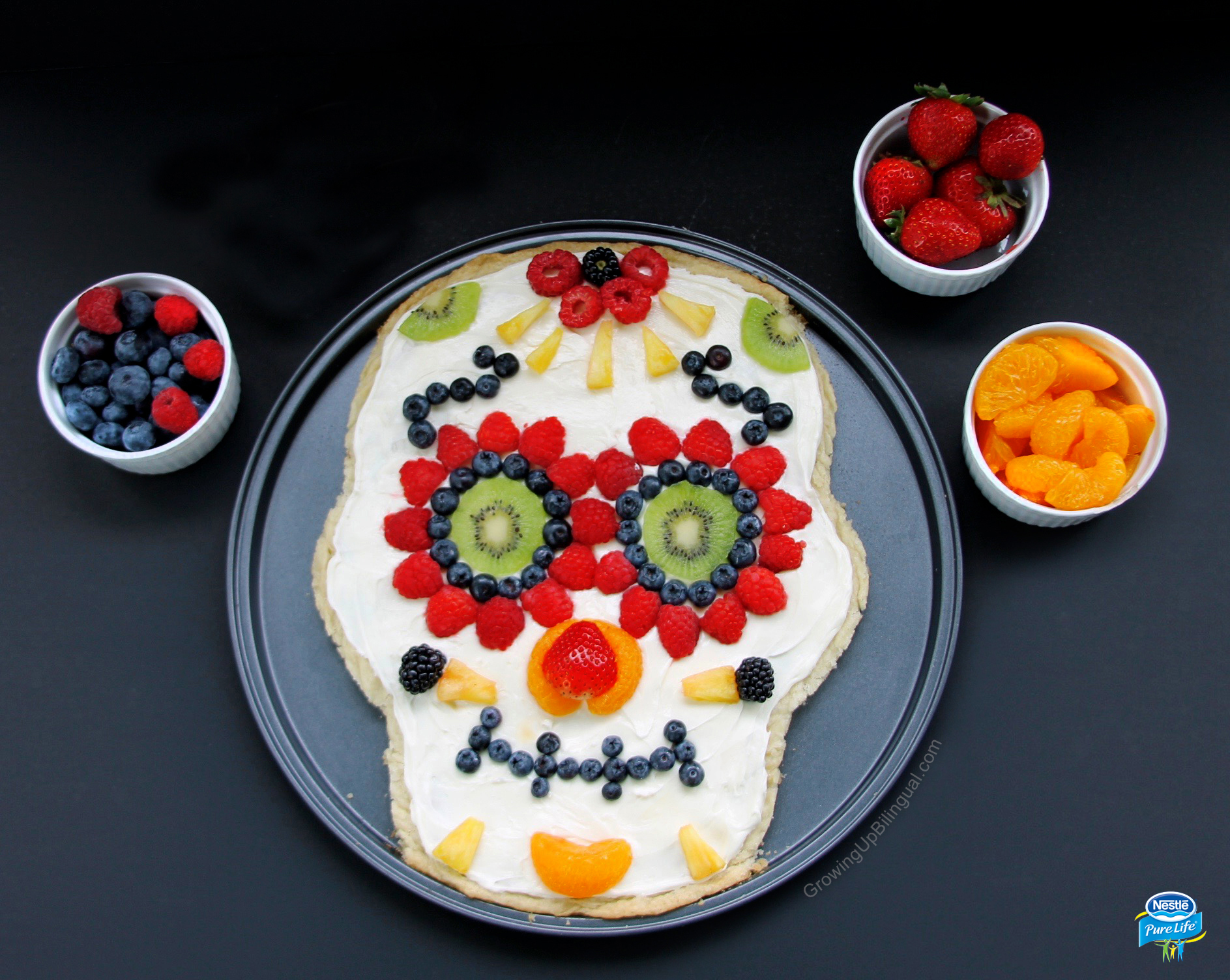 This is one of the first Day of the Dead inspired recipes I ever made on the blog and one of my favorites too because it's so easy to make. These sugar skull inspired white chocolate covered strawberries are ready in just minutes.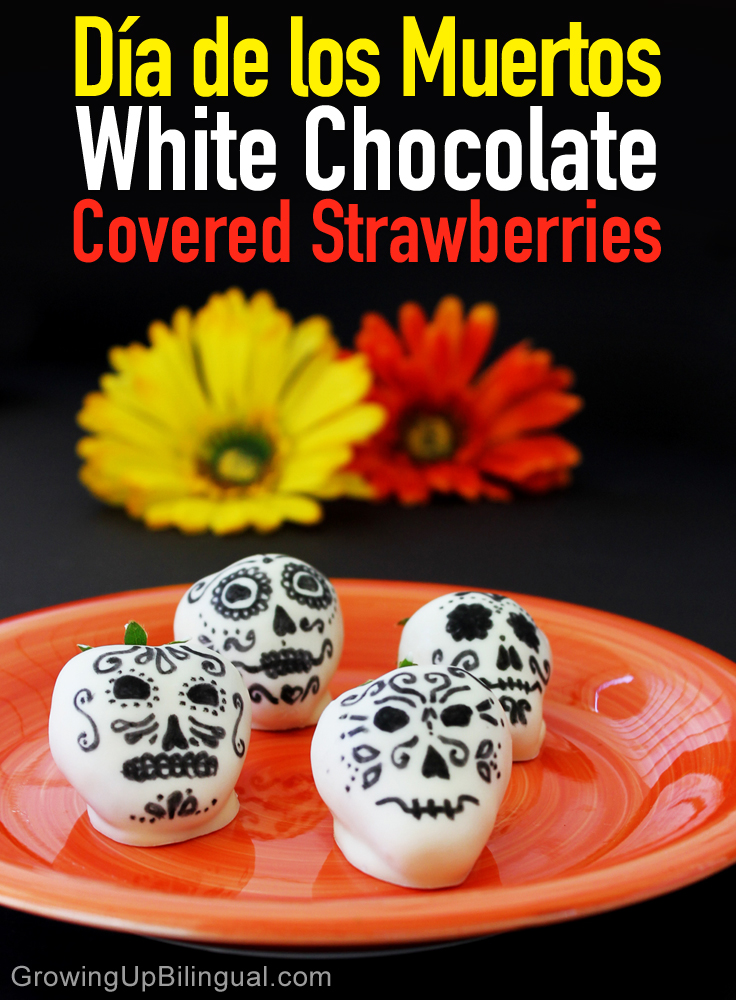 I am obsessed with candy trays and we usually make one, or two, for Halloween but I have never made one for Dia de Muertos. I definitely want to create one as beautiful as this Day of the Dead candy tray from NibblesandFeasts.com. I love that she made it with traditional Mexican candy! Get all of the deets on how to make it HERE.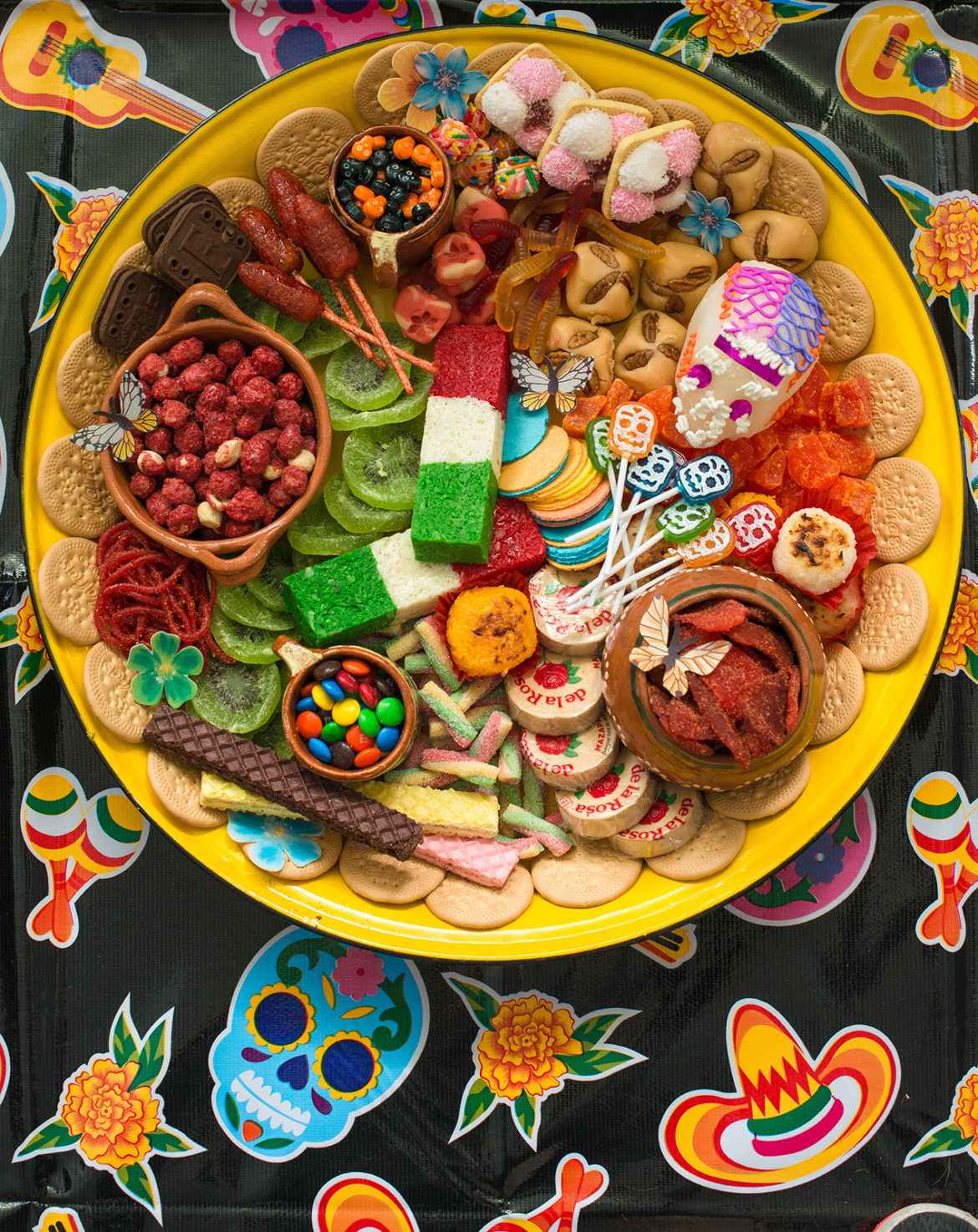 This recipe for Catrina sugar skull cookies is one of my favorite Day of the Dead cookies. These Dia de los Muertos cookies twist the popular sugar skull cookies by turning them into catrinas with beautiful flower crowns. You start with a fool-proof cutout sugar cookie recipe, then cover them with royal icing and have fun decorating them with colored food pens. They're perfect for adding them to your Day of the Dead party spread or as a delicious Day of the Dead dessert.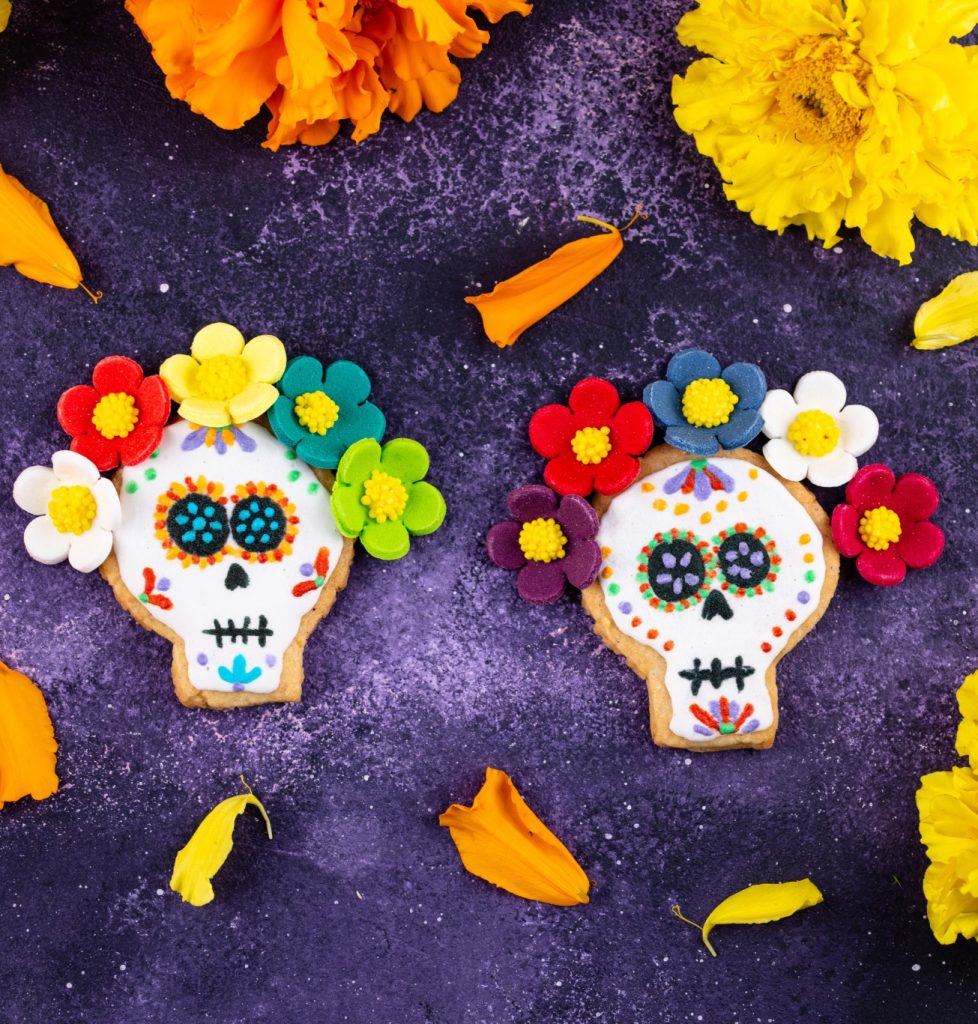 The pan de muerto calaverita or sugar skull pan de muerto is a playful and creative twist on the traditional pan de muerto, the traditional bread enjoyed in Mexico for the Day of the Dead. Covered in white chocolate and decorated with designs inspired by sugar skulls, this version of pan de muerto is delicious and so much fun to make.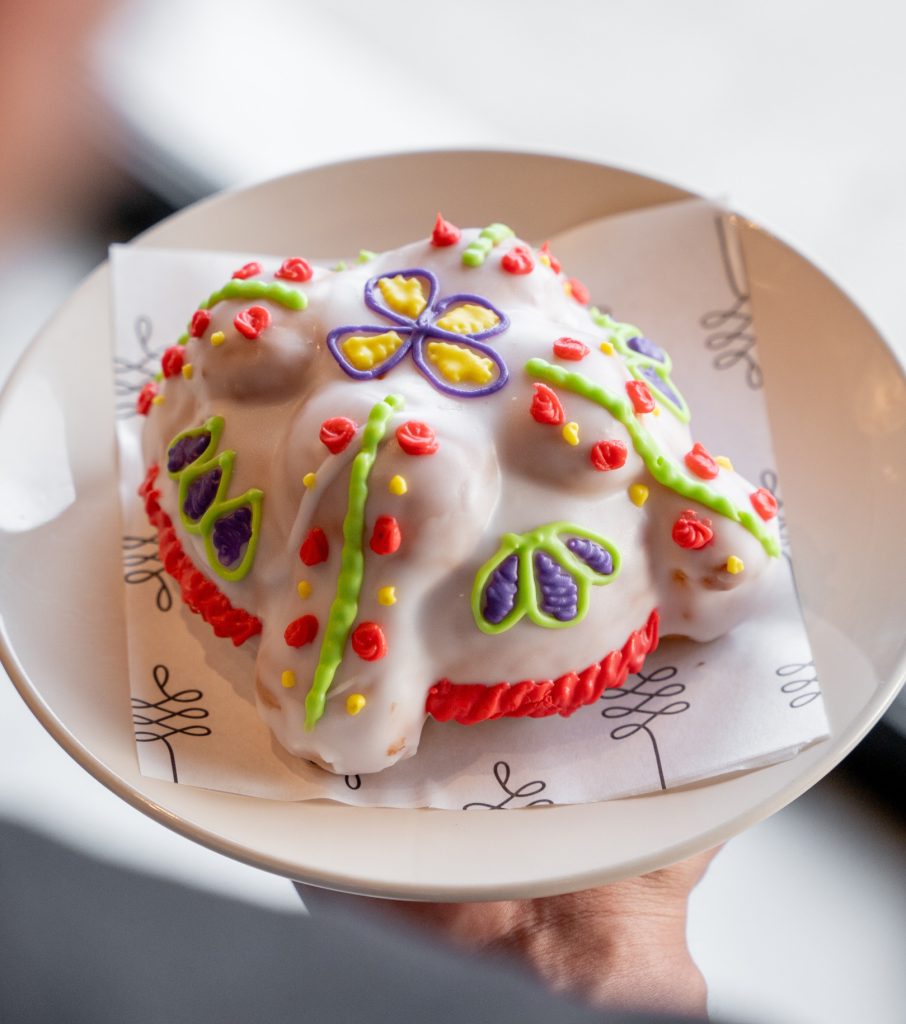 For those picky eaters out there this skull pizza is the perfect Day of the Dead recipe. My kids love to change this one around and each person in our family makes their own personal Dia de Muertos inspired pizza.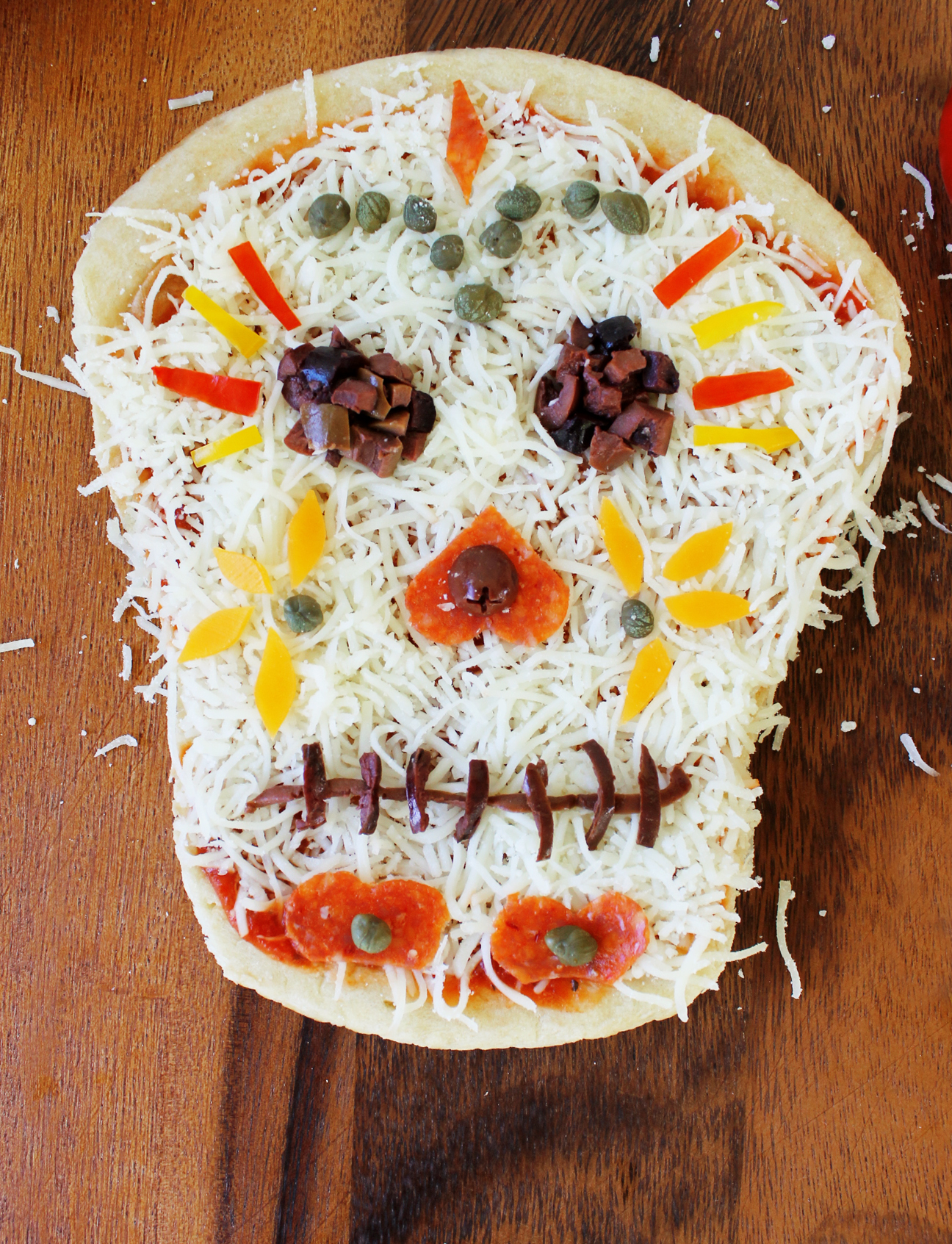 This Day of the Dead gelatin cake from PresleysPantry.com is sure to be a hit with adults and kids alike. I love that families can decorate together, such a great activity to do with your kids. Get the full recipe for this delicious skull or calavera cake HERE.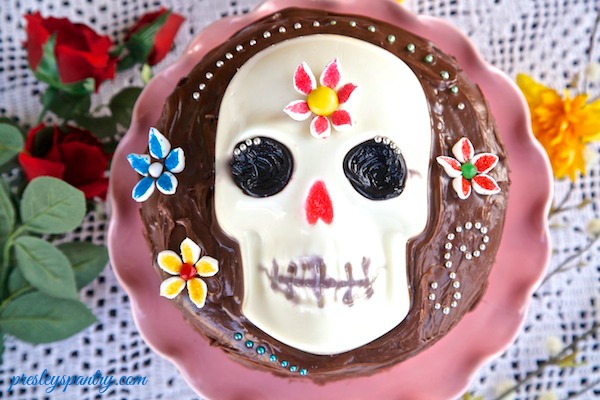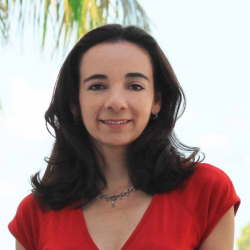 Latest posts by Paula Bendfeldt-Diaz
(see all)