If you are looking for a fall appetizer, this autumn harvest charcuterie board is a show-stopper! A fall grazing board is a great way to include all your favorite fall flavors. Mix pumpkin spice and maple, add in seasonal autumn produce like pears, apples, and figs for a Thanksgiving appetizer that is easy and quick to make. This post includes step-by-step instructions on how to make the best fall charcuterie board. In addition, there is a list of possible ingredients that are interchangeable, so you can use what you have at home.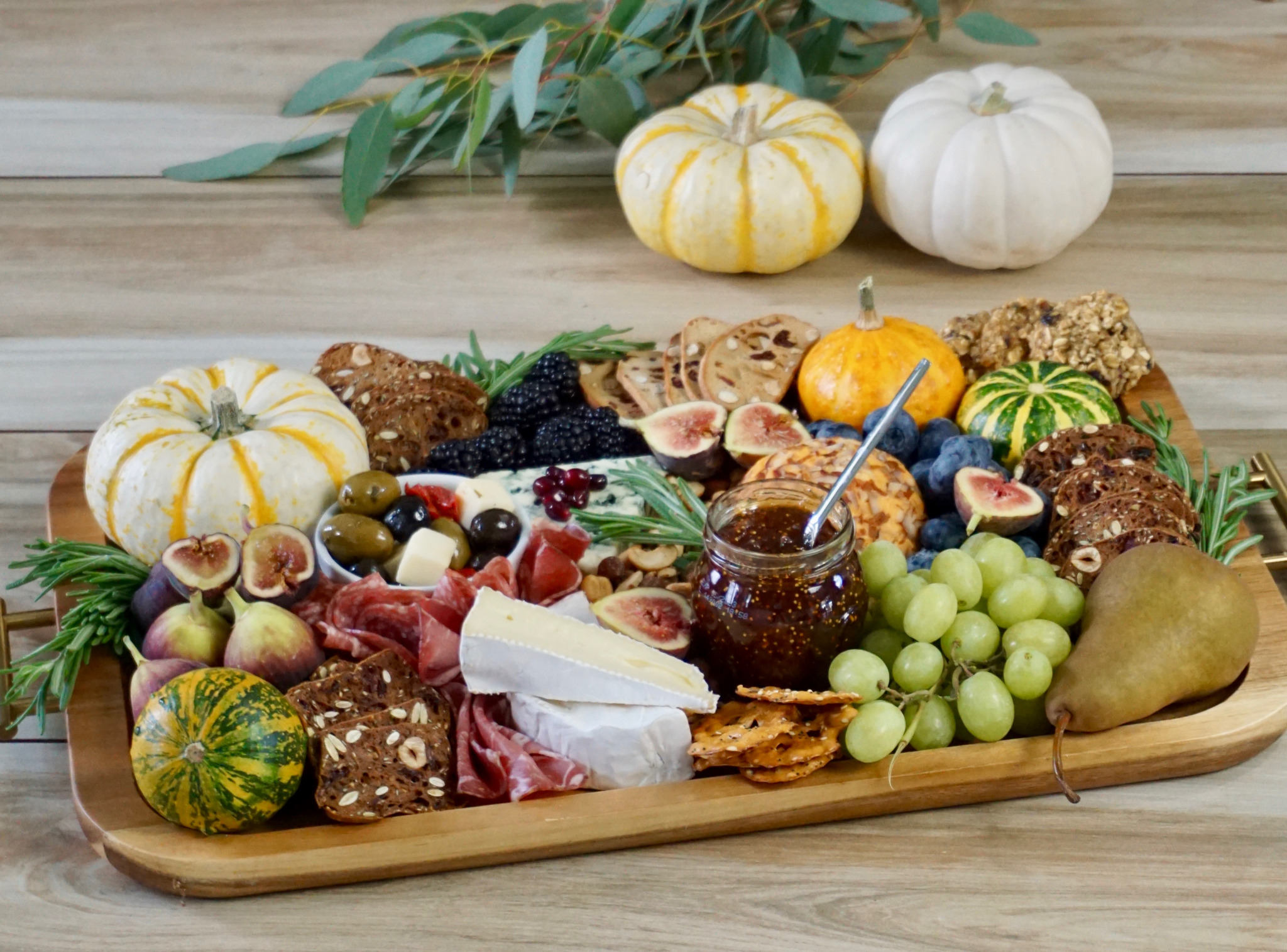 I am always looking for new recipes to spice up my holidays, flavorful meals that look great and taste even better. I love planning fall menus while my kids decorate the house with thanksgiving crafts. It is a family tradition that fills our home with holiday spirit.
Fall cheese boards are perfect for hosting family gatherings during the holidays. This fall charcuterie board is one of my favorite Thanksgiving appetizers. I can make it earlier in the day and leave it in the fridge till dinner time. The best part: there is no cooking or reheating involved!
By following these tips for making a charcuterie board, you can create the best cheese board in 20 minutes or less. This charcuterie board has various meats, cheeses, pears, figs, and nuts, for a fun fall-themed twist. Swap any ingredients with any fall produce you like (or with what you have at hand). So go ahead and mix and match your kid's favorites for a tasty grazing board everyone will love!
What is a Charcuterie Board?
Charcuterie (pronounced shaar-kew-tr-ee) is a French word that comes from "chair" (flesh) and "cuit" (cooked). It is a cooking method that prepares and arranges cured meat products (mainly pork) on a serving board.
Many use charcuterie to refer to an assortment of cheese, meats, fruits, pâtés, and crackers artfully arranged on a platter. Charcuterie boards are also known as cheeseboards, and more recently, the term grazing boards have become very popular. I make them all the time for special occasions, and even when there is no occasion at all!
What to Put on a Charcuterie Board?
The beauty of a cheese board or grazing board is that you can put anything you want on it! Depending on how many guests you are having over, you can scale portions up or down. Plus, you can choose foods with a specific color palette to meet your party theme.
Here are the essentials that will make your fall charcuterie board pop. My rule of thumb is to incorporate at least one from each group. It will give you a balanced and delicious appetizer that will please every member of my family.
Charcuterie Meats
Choose a few different types of cured meats like spicy hams, salami, mortadella, prosciutto, and pancetta. Smoked and dry meats will give your dish a savory taste and texture. I like adding something extra that I can smear over a cracker, like spreadable chicken liver pâté and seasonal jams.
For this fall-themed appetizer, I went with a mix of dry coppa and salami that have a more herbal flavor. If you are not sure what to buy, ask the deli store for any pairing recommendations. They can help you pick the right flavors for your charcuterie board.
Popular Cheeses
I love cheese so much that narrowing down which one to use is the most challenging part of making a charcuterie board. There is nothing like the richness of the Manchego and gouda, the softness of brie and camembert, and the saltiness of gorgonzola and Roquefort; I love them all!
I typically include 3-4 different cheeses, picking one hard cheese, one soft, and a slice of blue cheese. Using a combination of cow, sheep, and goat cheese will create a broader range of flavors, allowing you to play around with colors and shapes.
Crispy Crackers and Bread
I feel that every charcuterie board needs something crunchy to balance out the softness of the cheese. And besides, crackers are the best sidekick for creamier cheeses and spreadable jams.
I usually put two types of crackers (depending on what I have at hand). Breadsticks, pretzel crisps, sliced bread (French baguette), and pumpernickel toasts also go fantastic with this fall-themed appetizer.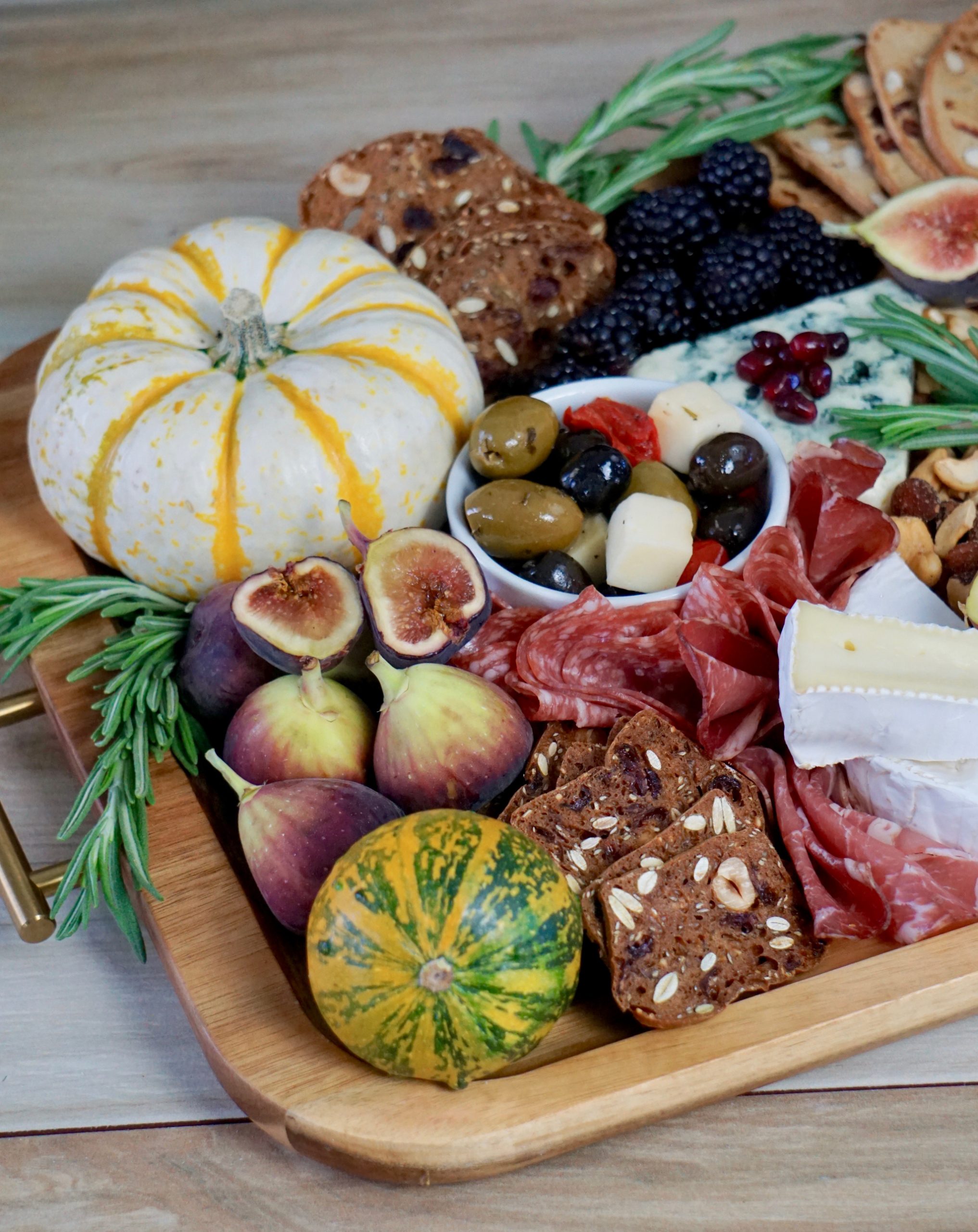 Fresh Produce
Fall produce will bring color and sweetness to your spread; the freshness of the fruits and vegetables provides a delicious contrast with the saltiness of the meats. Seasonal produce like apples, figs, pears, grapes, pumpkin, and yams add the perfect fall flavors to any charcuterie board.
My favorite autumn picks are pears, grapes, and figs that can be eaten whole or cut into slices. You can also add other in-season produce like pumpkin, sweet potato, pomegranate, and squash. Take your pick!
Homemade Jams
Nothing is better than cheese and jam deliciously smeared on toast. But, a little goes a long way when you want to add a little sweetness to anything you're serving. So, kick off the fall season with your own homemade jams, chutneys, or fruit salsas to complement your charcuterie board. And if you don't have the time to make them, a Farmer's market is the ideal place to get homemade goodies.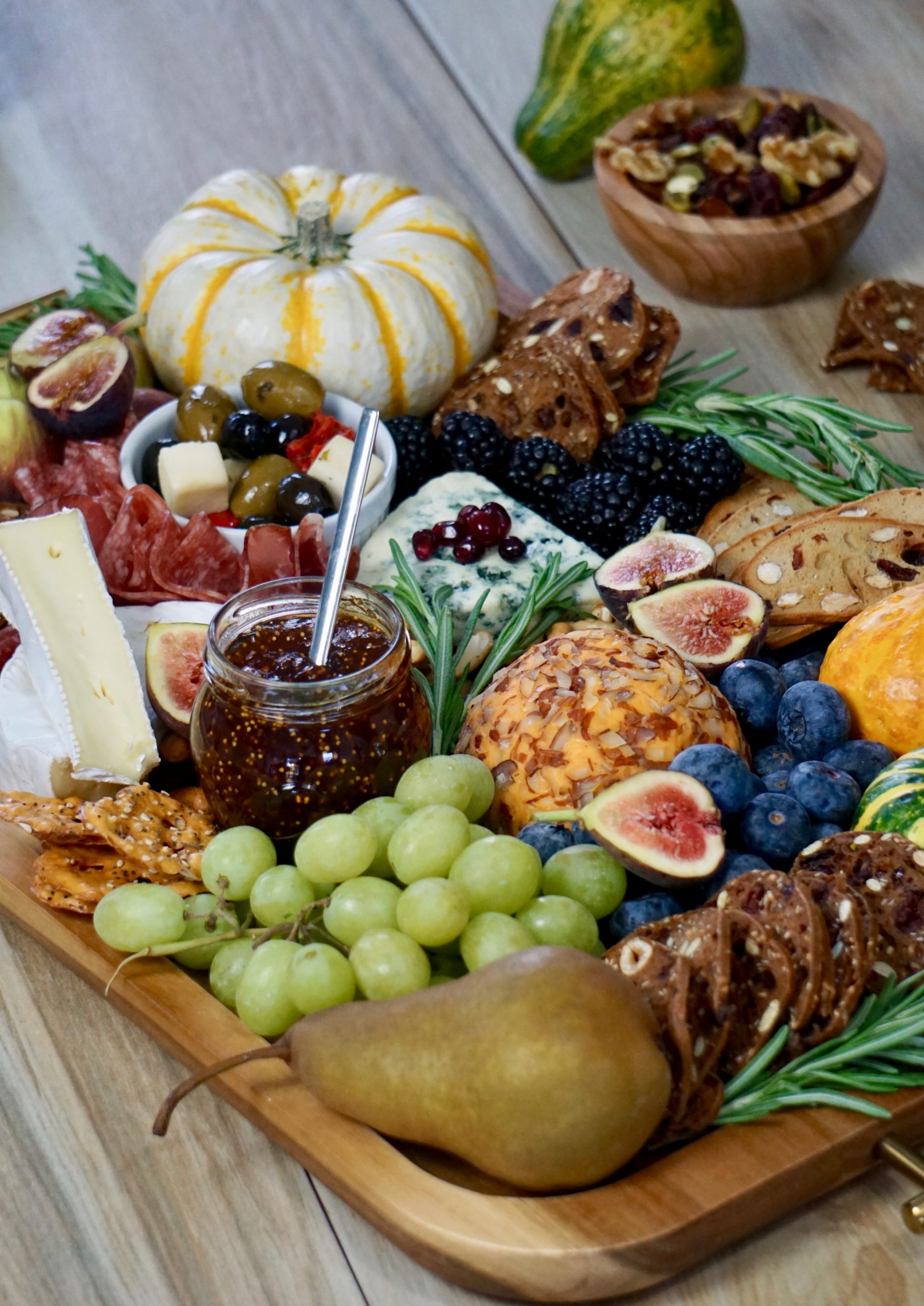 I added a little bit of fig jam and some homemade pumpkin butter to make my dish feel more seasonal. Try to match the sweet flavors of the jellies with the spicy meats and cheeses on your platter. Get creative and use anything you like. Here are some amazing fall flavors to pick from:
Maple syrup

Kumquat marmalade

Gourmet mustard

Apple butter

Pumpkin butter

Fig jam

Orange jam
Nuts and Olives
Don't be afraid to experiment with green and black olives; you might be pleasantly surprised! But since not everybody is fond of olives like me, you can swap them with roasted almonds and dried cranberries.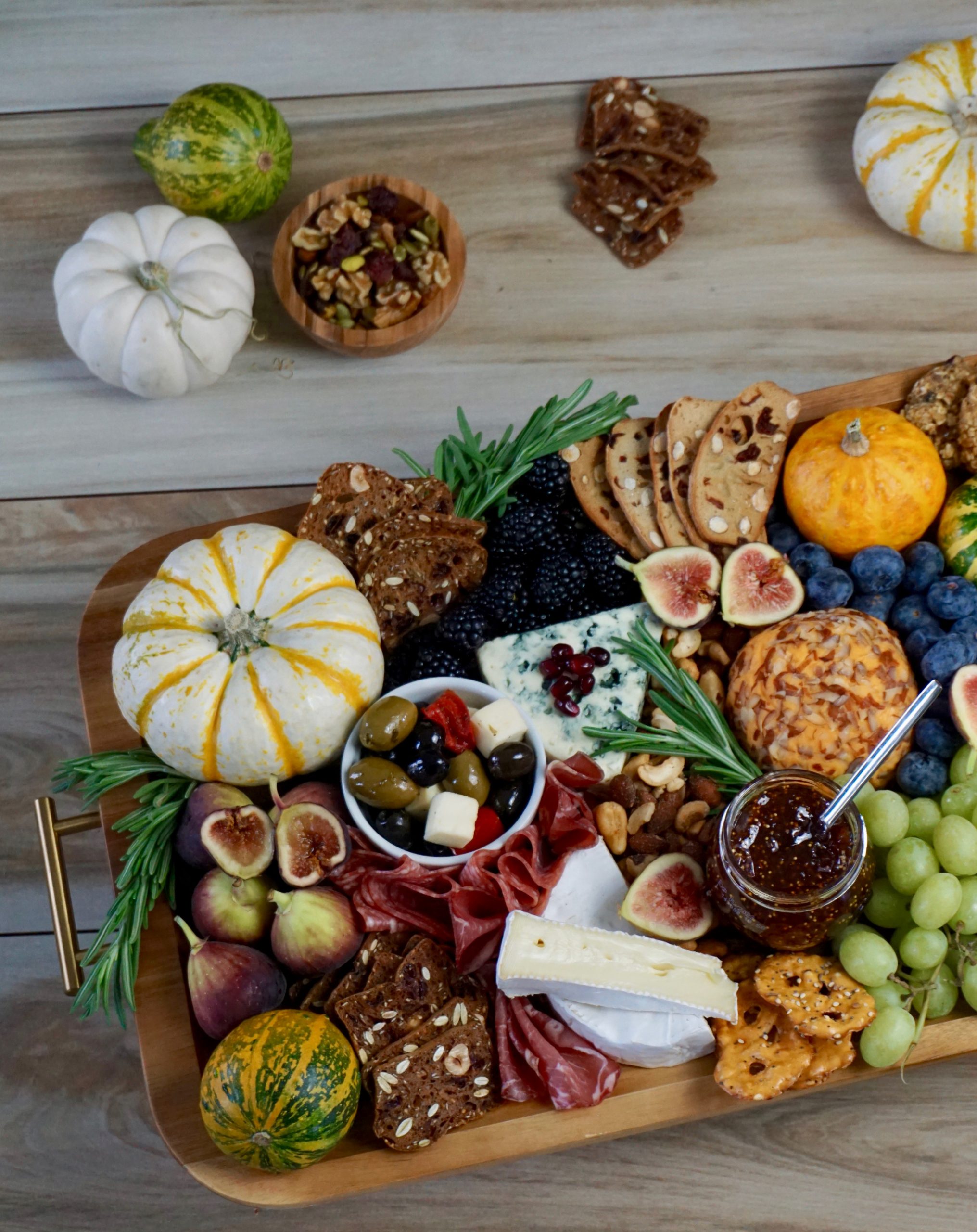 And nothing says autumn like walnuts! Make a mixed bowl with your favorite nuts and seeds. Go nuts and combine salted pumpkin seeds and glazed macadamias or make these delicious maple chipotle roasted nuts for the extra kick in your fall-theme appetizer board.
How to Make a Fall Charcuterie Board
Cheeseboards are so easy to make and such a crowd-pleaser for any fall entertainment party. And now that you know what ingredients to use, I'll share the basics of making the best fall appetizer.
Pick a Theme
The first thing you need to do is figure out the theme for your board. I chose a color scheme full of orange, mustard yellows, and crimsons for my fall charcuterie board. Then I added some fall ingredients and a wooden platter to match the traditional thanksgiving vibe I was going for.
Add any fall-theme decor you want, like pumpkins and maple leaves to transform your grazing board for the season. Get creative and use what you have at home. The sky is the limit when it comes to creating a fall-themed cheeseboard.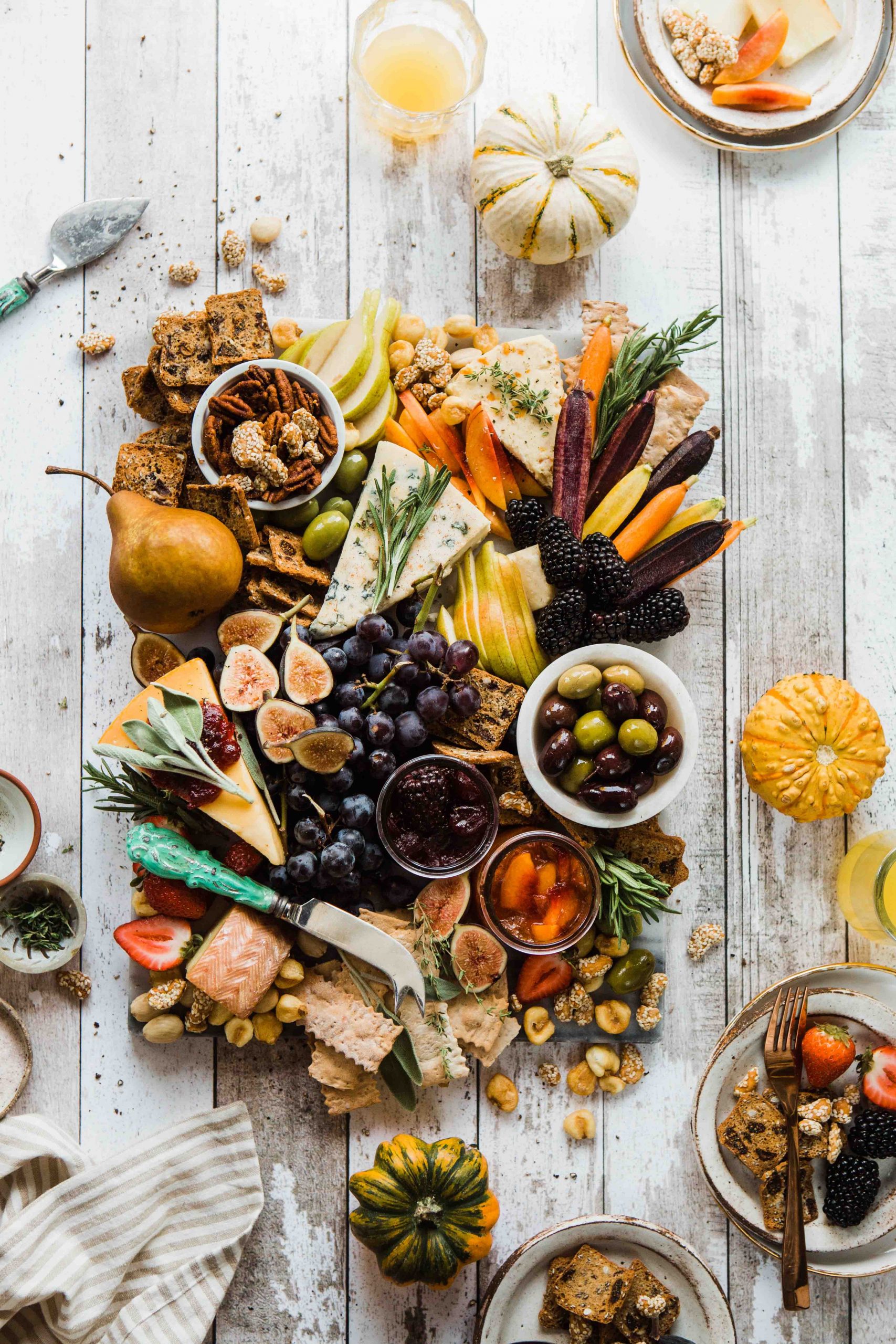 Choose an Appetizer Platter and Serving Dishes
When choosing a serving tray, think about your board theme. For example, if you want a warm, rustic feel, wooden boards are a great option. On the other hand, white porcelain platters make a charcuterie board look a little bit fancier.
It doesn't make a difference if you use a rectangular board or a rounded one; use what you have at home. Consider all the food you will be using and how many people you are entertaining when choosing the size of your board. Use smaller containers to anchor ingredients like nuts, jams, and olives. Mason jars, dessert plates, and small cups will give a more decorative look to your charcuterie board while holding all your loose items!
Assembling Your Grazing Board
Now for the fun part, it's time to put this delicious fall charcuterie board together. First, arrange the small dishes and y jars for dips and jams. Then set the rest of the snacks around them.
Add large items like the pumpkins next or a delicious cheese ball, placing your meats around it. I love making this cranberry almond cheese ball. It's such an easy recipe for the Holiday season.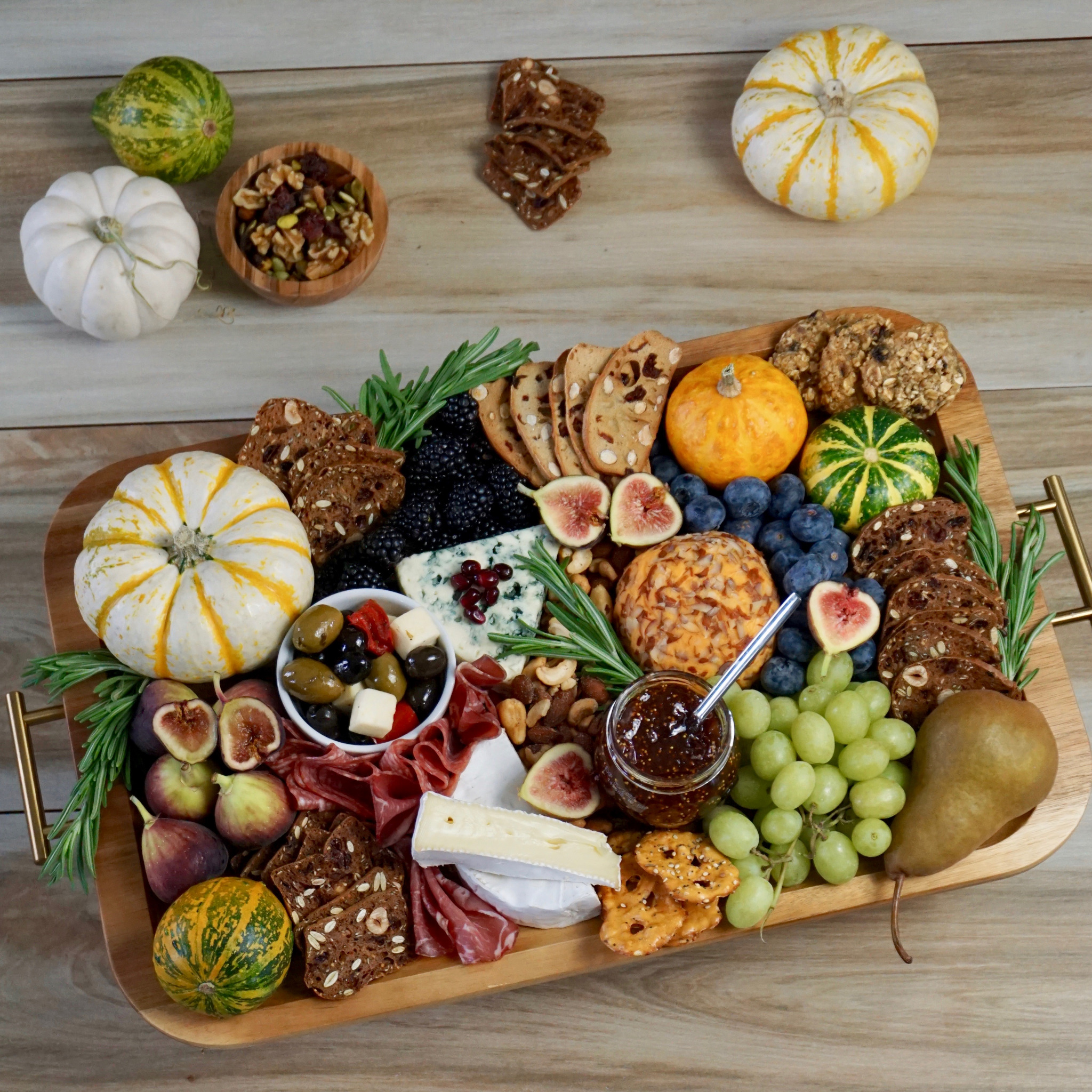 Add Meats and Cheese
Slice the meats and cheese as thinly as you like, cutting the hard cheese into triangles to contrast the circular-shaped sausages. Then, start arranging them on your platter; I prefer to begin with the cheese and add the meat after. Softer cheeses are better left uncut and at room temperature, served almost like a spreadable dip.
Don't worry if the meats and cheeses touch each other (they are not siblings fighting over who is poking who). You will enjoy all the ingredients on a cheese board anyway! Another great idea is to make cute prosciutto rosettes that you can pop into your mouth. You want to be able to grab anything from the platter with no hassle, so leave some space for scooping!
Time for Bread and Crackers
Give the charcuterie board definition by placing small stacks of crackers among the meats and cheeses. Next, slip a couple of breadsticks or toasts around the bowls; A variety of crisps are always welcome!
I used pumpernickel and pretzel crisps that have a more earthy taste to complement my fall-themed board. I love using a mixture of mildly flavored crackers that won't overpower the cheese and meats.
Final Touches
Next, add in the seasonal produce to balance your cheeseboard. Next, fill in the remaining spaces with fruits like blackberries, grapes and other fruits and vegetables, and sprigs of rosemary. Enjoy!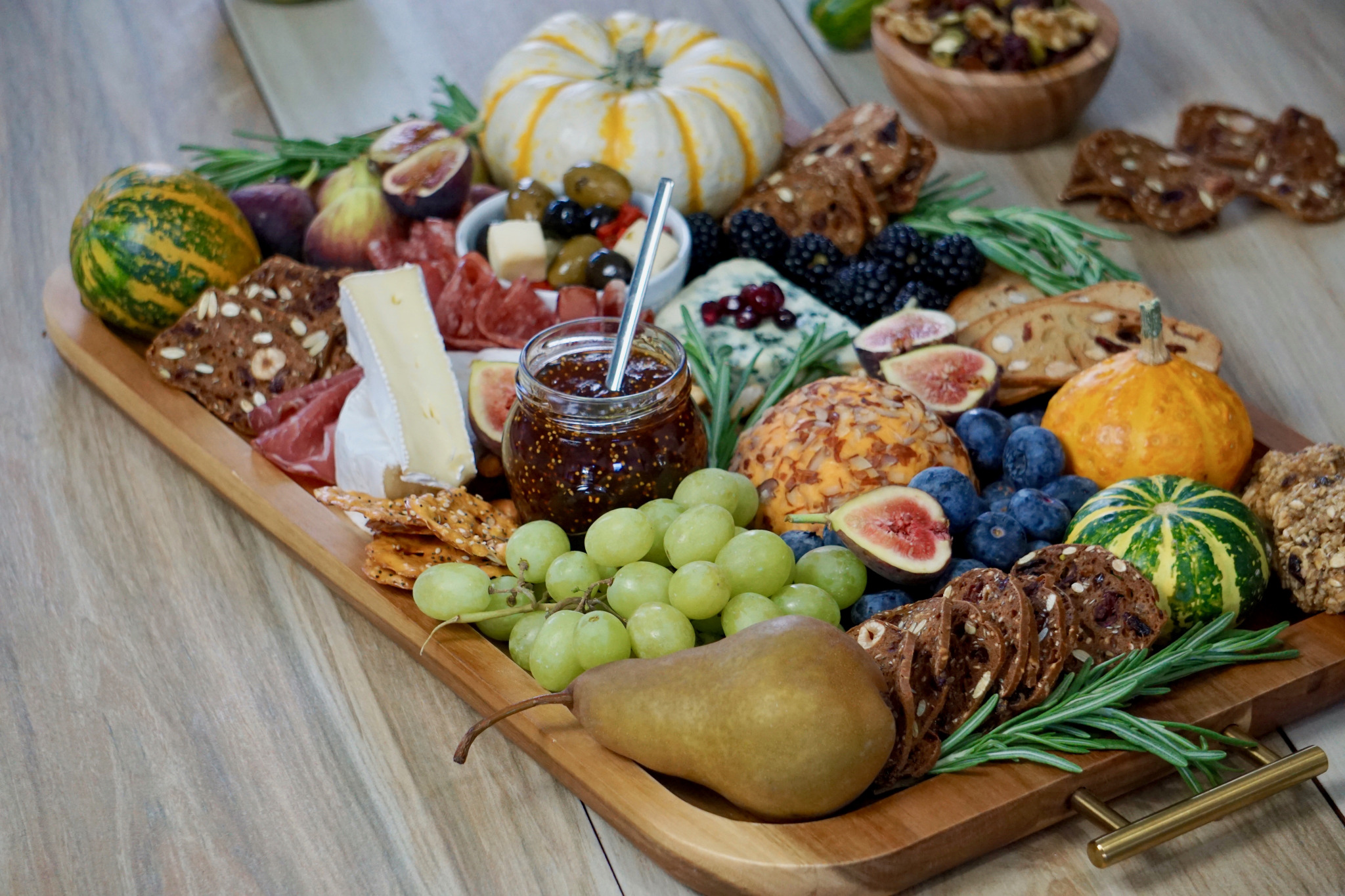 Tips for Making the Best Fall Charcuterie Board:
Cheese spreaders, knives, and small spoons are a must-have. If you serve big portions of soft cheese like brie or jams, you need the proper utensils to spread the love.

Everybody loves crackers; So, get plenty of bready friends. They are usually the first thing you run out of!

Charcuterie boards are best served at room temperature, giving the cheese and meats time to get a perfect consistency. Keep pre-cut refills in the fridge and take them out when the platters need restocking.

You can also make more than one appetizer platter and avoid running into the kitchen to refill. I usually make two, one for the kids and one for the adults, playing around with ingredients everybody enjoys.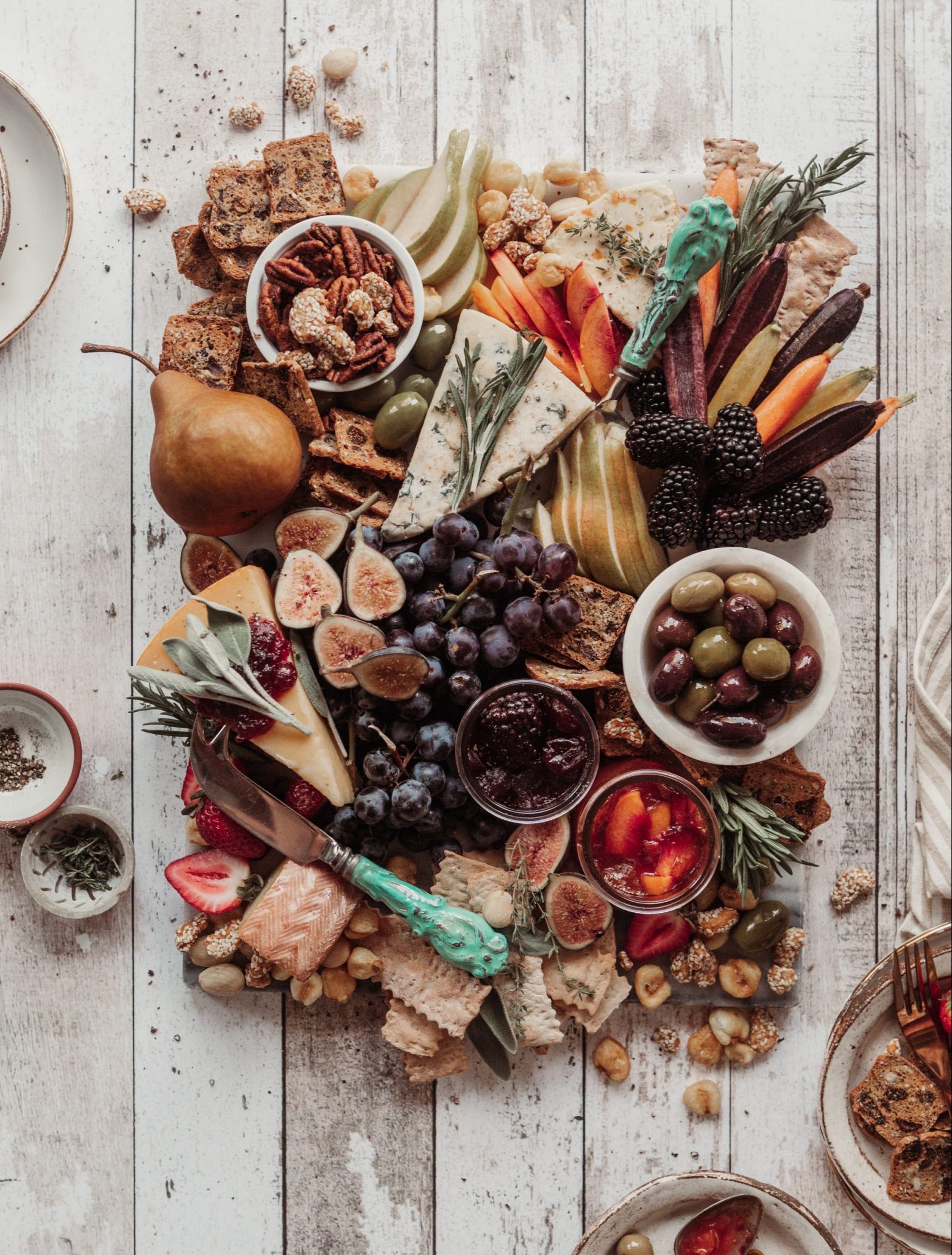 Other Easy Charcuterie Board Ideas to Make This Fall
Halloween Snack Board:

If you're looking for a Halloween board that works well for both kids and adults, this charcuterie board will do the trick.

Soccer Snack Board:

Create a soccer-themed snack board to include your family's favorite foods while watching your favorite team.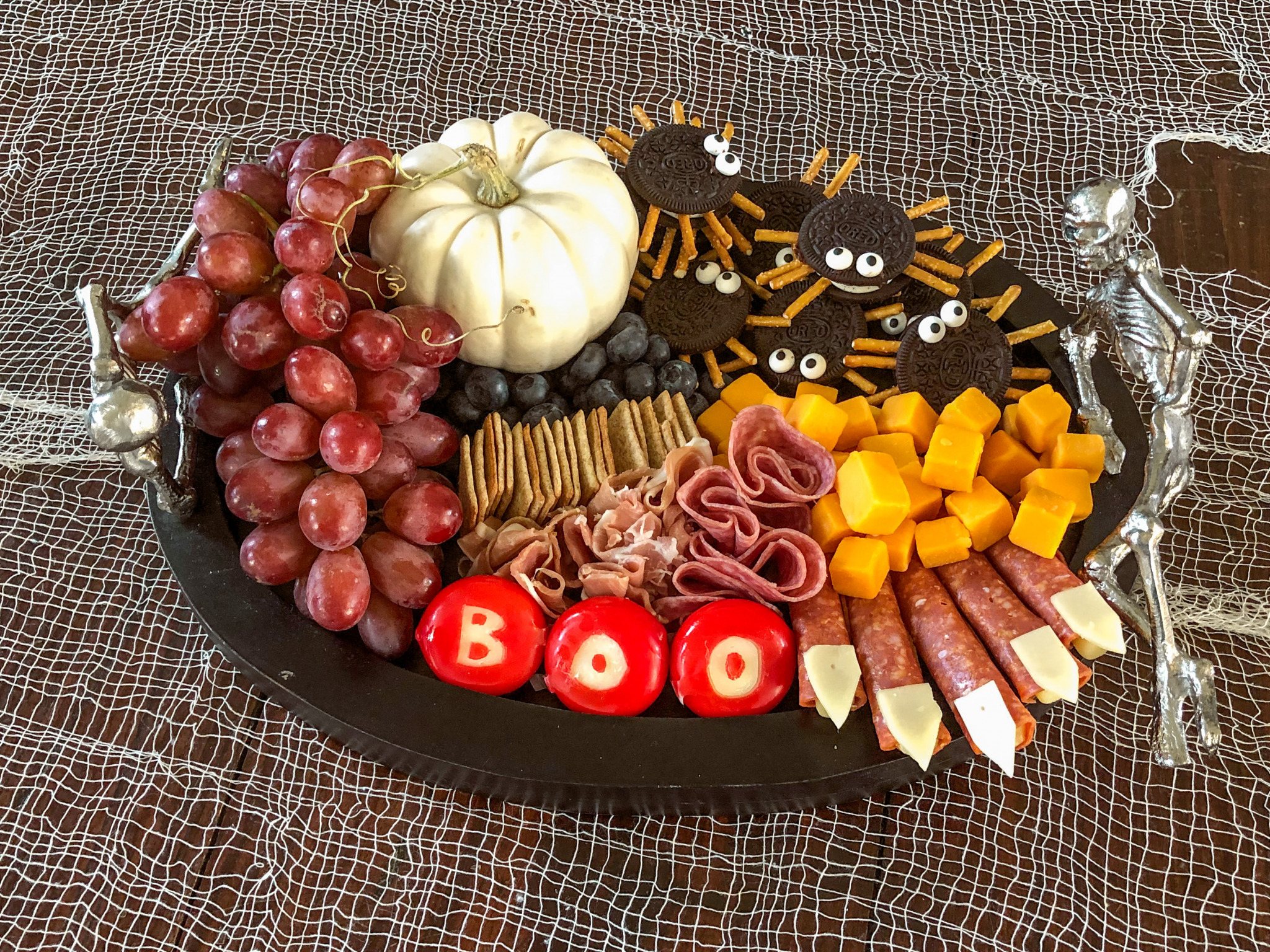 My go-to dish for family holiday get-togethers is always a delicious and easy fall charcuterie board. What I love the most about making this fall-themed appetizer is the freedom to mix and match. Have fun using different foods, colors, and tastes; nothing is set in stone! So whether you follow my choices or go entirely off-script, you can never go wrong with a charcuterie board!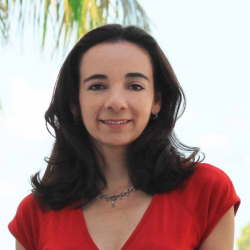 Latest posts by Paula Bendfeldt-Diaz
(see all)