We're ready for some happy haunts and ghostly eats with these easy Halloween charcuterie boards. If you're looking for the best Halloween foods, you will find lots of kid-friendly Halloween snack ideas here as well as haunted treats that are perfect for adult entertaining on Hallow's Eve. From scary-good cheese boards and wickedly delicious Halloween dessert boards to spellbinding snack boards and ghoulish candy boards, you're sure to find the perfect Halloween treats for your Halloween party here!
Spooktacular Halloween Charcuterie Boards:
Ghouls are crawling, leaves are falling (that is if you're not in Florida), and spooktacular food is calling! Spooky season is getting closer, and I'm getting a jump start by sharing wickedly fun grazing boards that are to die for. From rose hued Halloween cheese board and trick-or-treat snack boards to sweet but spooky candy boards and cute mini grazing boards, there's something here for every ghoul.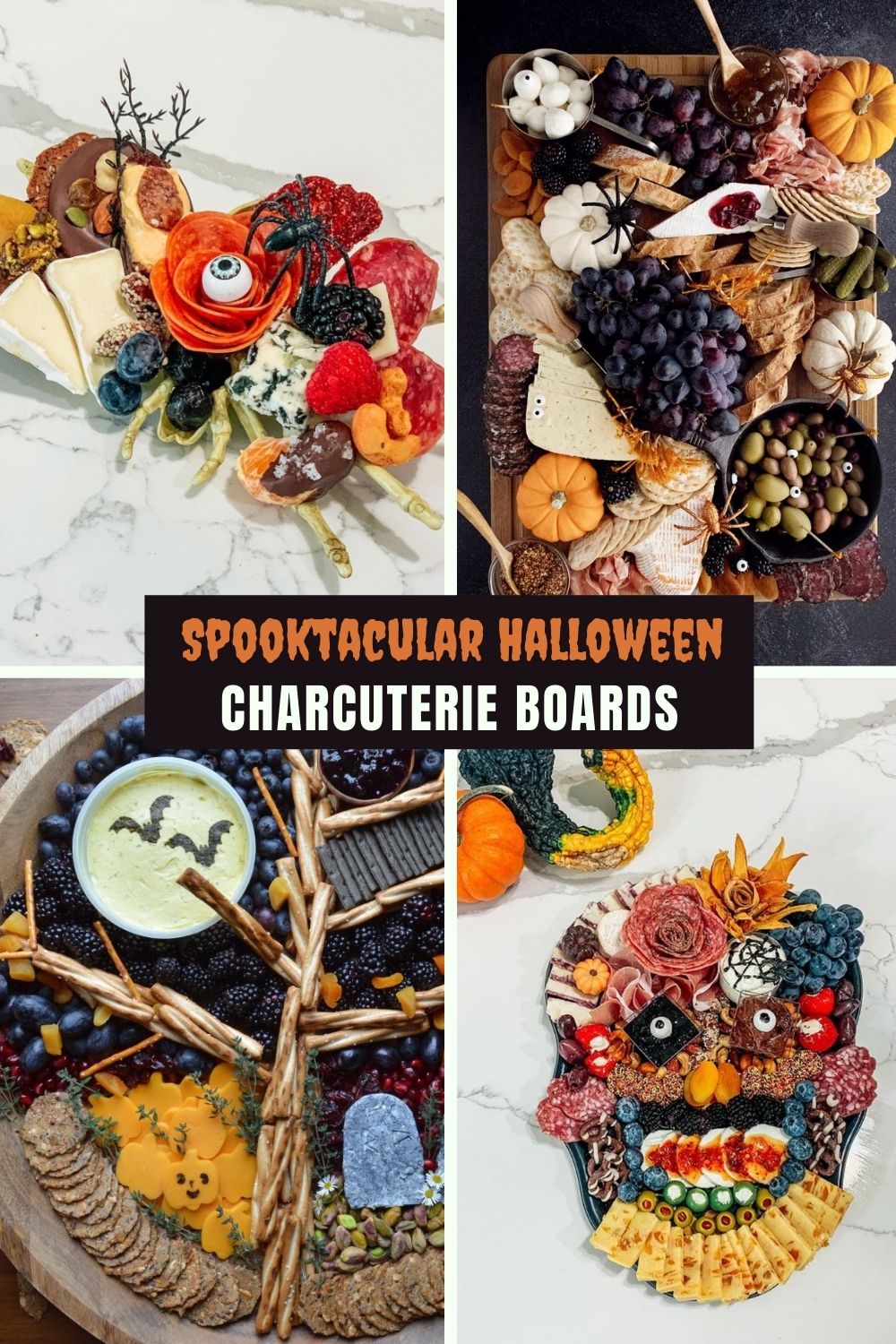 I love how creative and mouth-watering this sugar skull inspired grazing board from @taylormade_bytaylor looks! This goosebumpy delicious Halloween charcuterie board is the perfect treat to bring to a Halloween party. Snack on while the kids trick or treat, or eat while watching your favorite scary movie!
This board is sure to make the spookiest night of the year even more spooktacular. And it is not just a great appetizer but it doubles as Halloween decor! Be sure to check out @taylormade_bytaylor 's amazing Instagram feed at, and don't forget to give her a follow!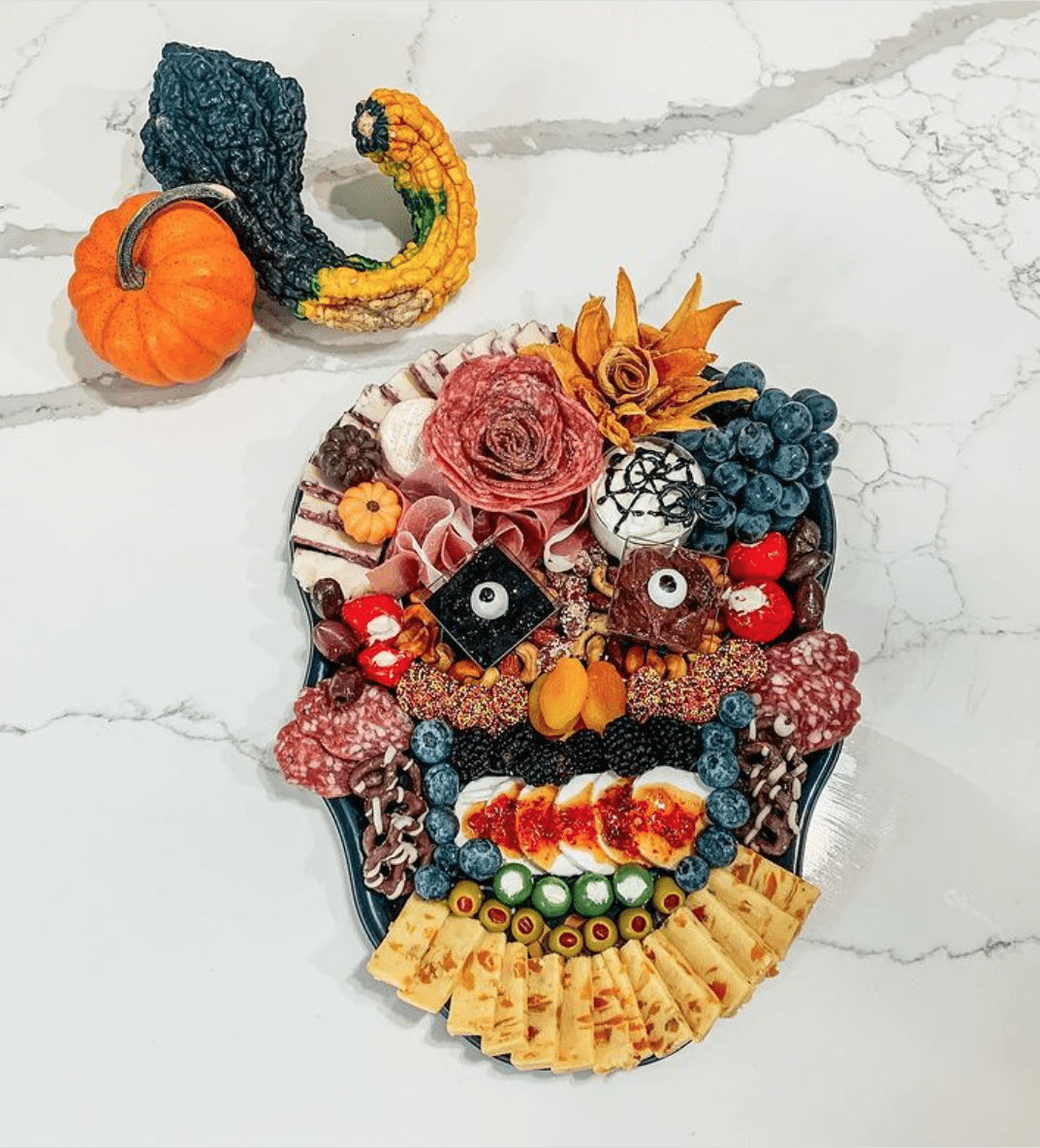 Choosing delicious party snacks for a ghastly appetizer board is fast becoming our favorite family activity of the season. We love making Halloween-themed food, and the most fun to make is a spooky charcuterie board! This mouthwatering ghoulish dish gets it's hasted look from combining dark and red colored fruit and charcuterie. And I just love the addition of the skeleton hands!
If you're hosting a costume party or want to get into a ghoulish Halloween mood, you've got to try this fang-tastic cheese board! It is one of the easiest cheese and fruit plates to put together, and it has all the creepy vibes!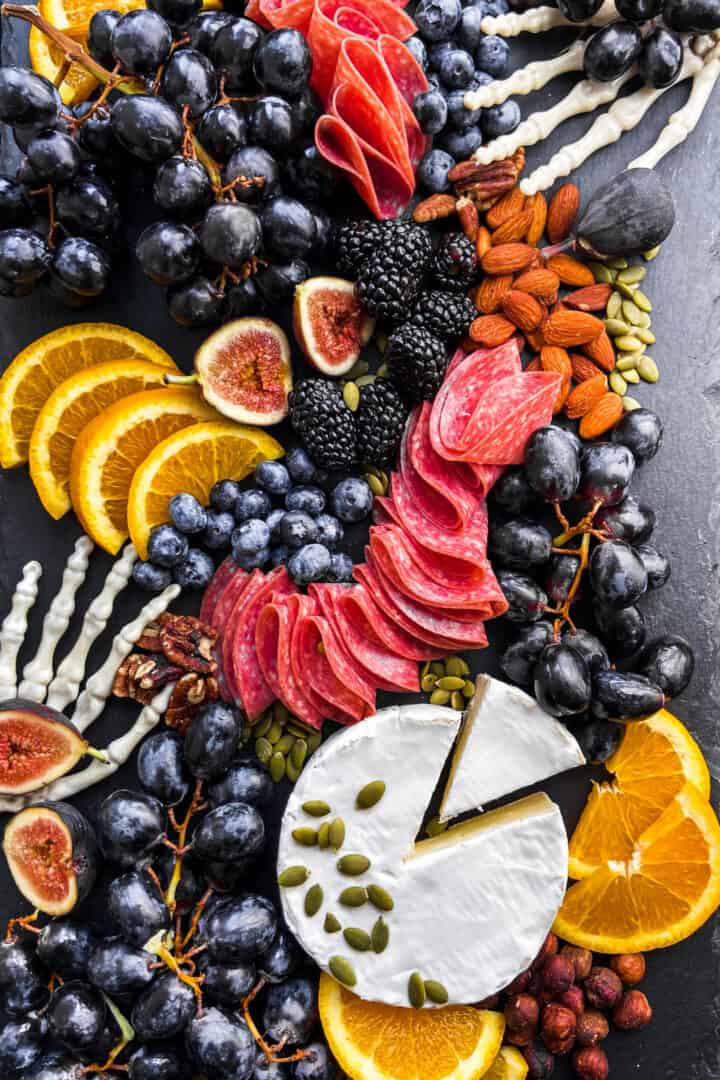 Here is a phantasmagoric idea for a dessert board to sink your fangs into! Sweet charcuterie boards are a simple yet beautiful way to serve a variety of desserts and Halloween treats to candy-lover monsters of all ages.
This hauntingly cute pastel-hued dessert board by @lifeoncrosscutway will be a fantastic addition to any Halloween party. Filled with cookies and candy I love that this board is not spooky at all. The one monstrous problem will be trying to get them away from this screaming good board! So don't forget to give her a follow while checking out more fun and spooky Instagrammable ideas.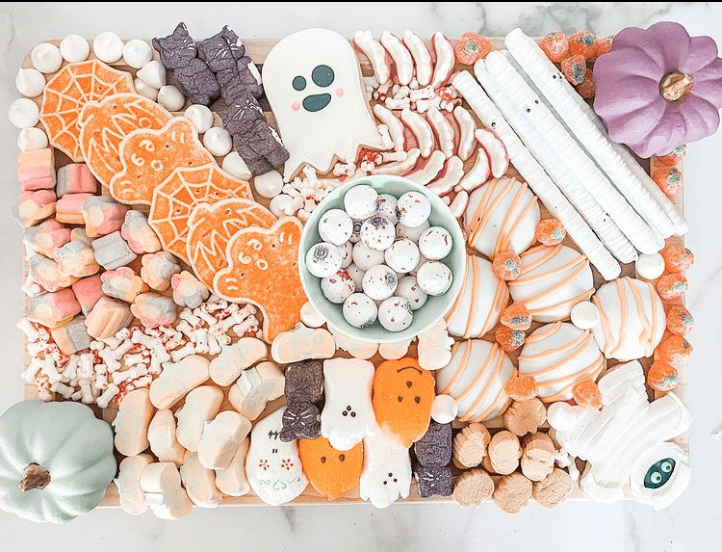 Bewitchingly clever, this cheese board will enchant even the smallest of human monsters! I love how creative this spooky tree-themed board looks. Using pretzels for the haunted tree, cheese tombstones, cheddar jack-o-lanterns, and a soft cheese full moon this board is sure to wow all of your guests.
Straight out of an eerie fairytale, this impressive cheese board by @ghoul.at.heart is delicious and sure to be a smash with kids and adults alike! Check out her Instagram feed, and remember to hit follow!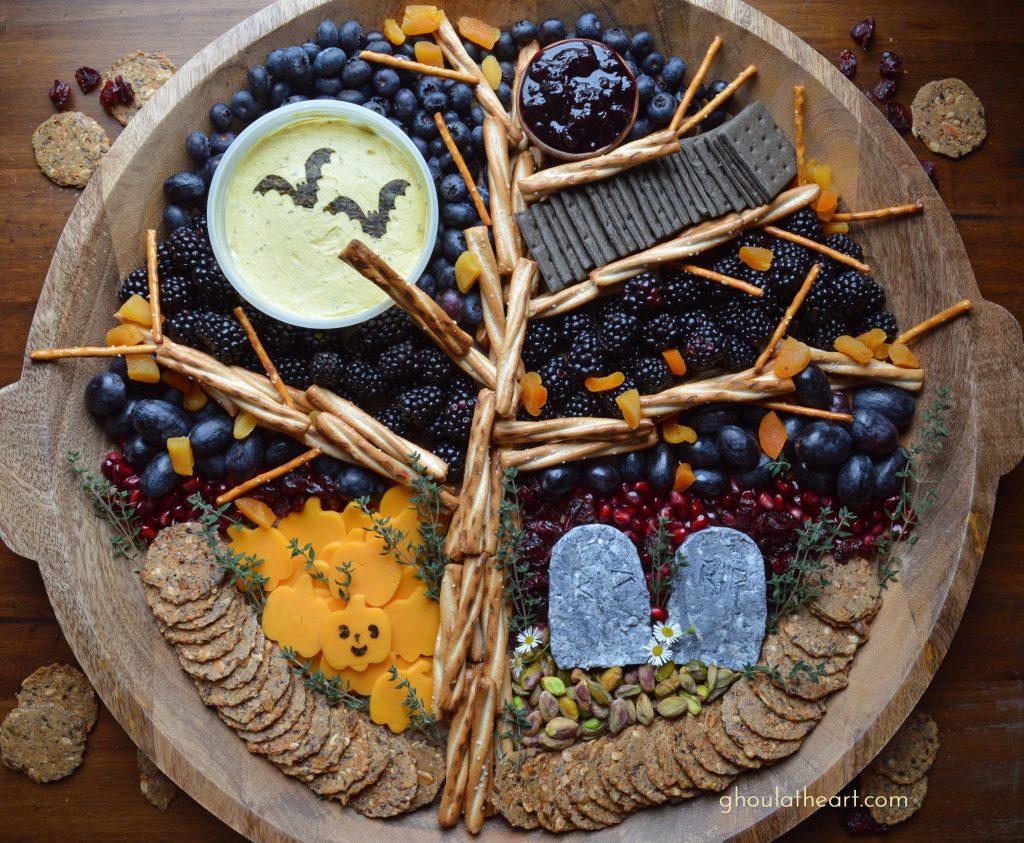 If you're looking for a Halloween snack board that works well for both kids and adults this Halloween charcuterie board is it. With a combination of cheese and meats this Halloween grazing board is easy to make and it makes for the perfect appetizer for a Halloween party.
I really love the spooky but cute Oreo spider and the beautiful black tray with the skeletons. This one would also be the perfect snack for a spooky family movie night.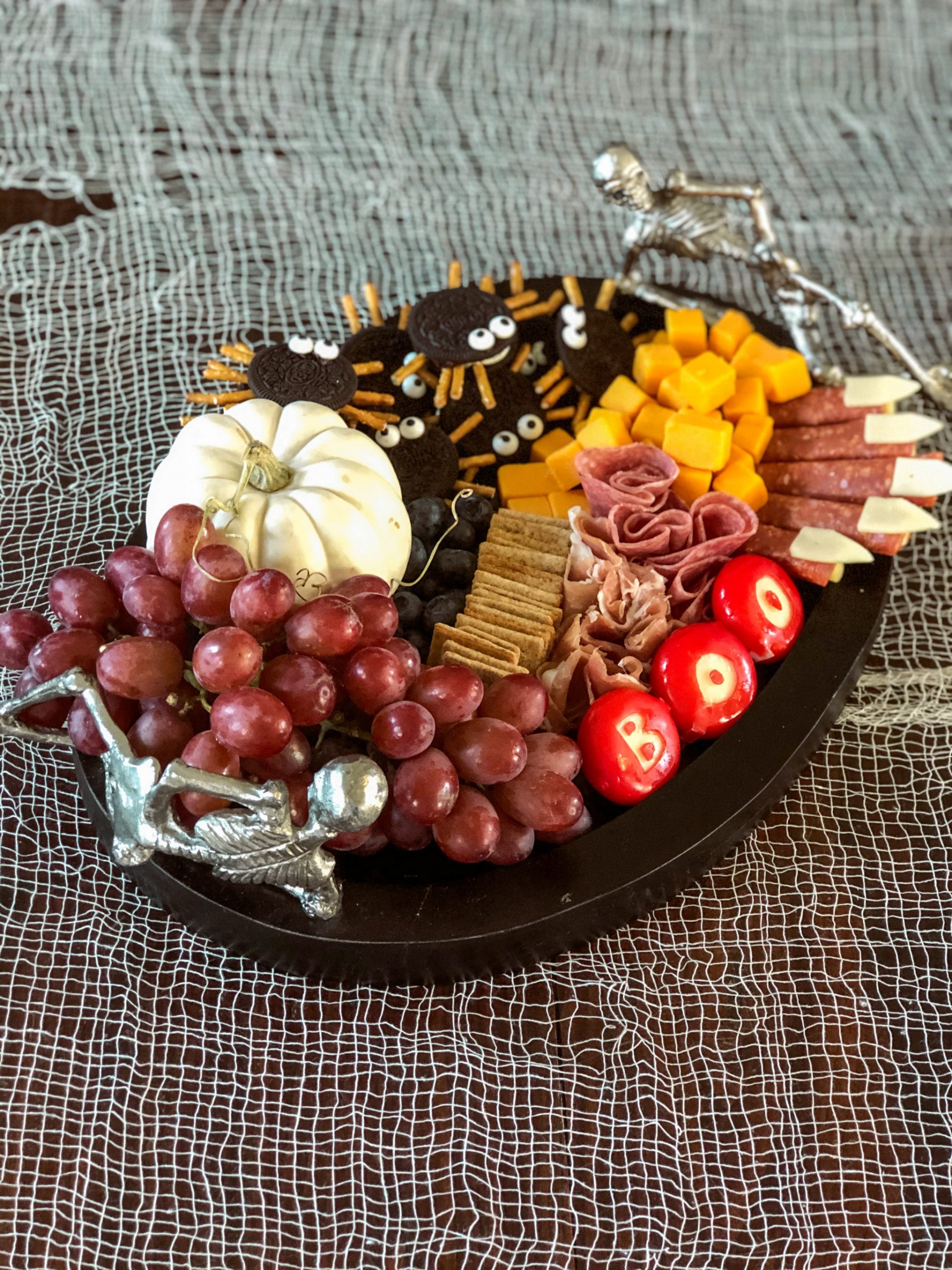 Charcuterie boards don't have to be just for entertaining or as appetizers for a Halloween party. You can also make a spooky grazing board just for two (or just for yourself). This spectacularly mini board by @taylormade_bytaylor is perfect for a scary movie date night or just to snack on your own.
#Tinybooboards are all the rage right now on Instagram so be sure to check out the hashtag to find more wicked tiny grazing boards. And give @taylormade_bytaylor for more fantastic grazing board inspiration.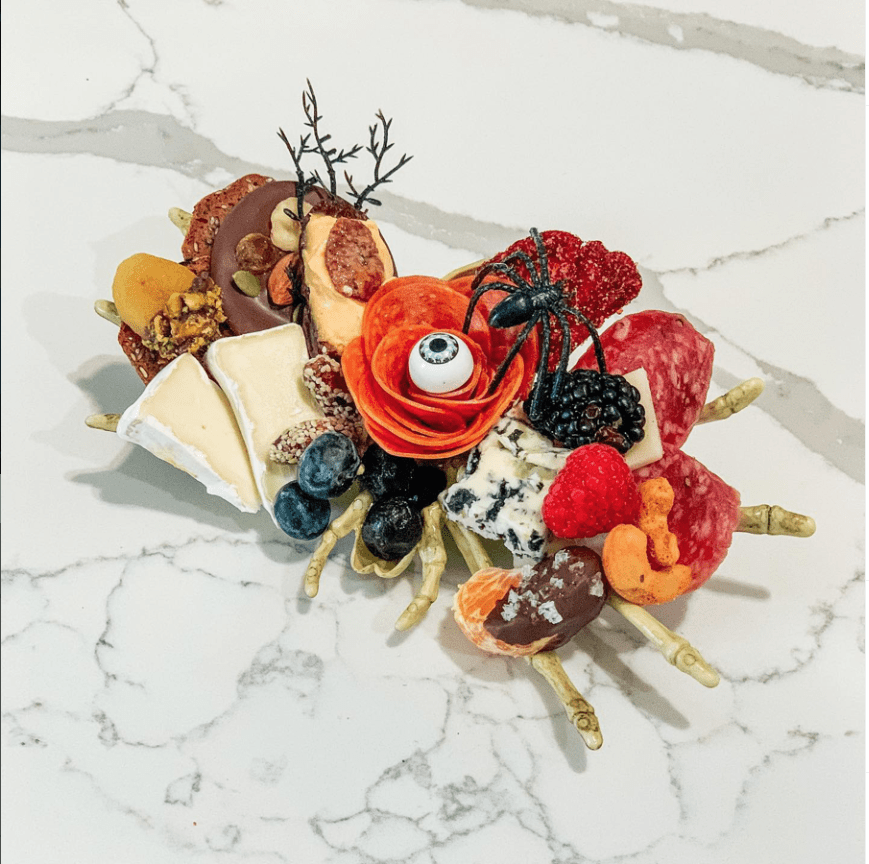 This fun and spooky twist on a classically elegant cheese board is an impressive appetizer with meat, crackers, fruit, spreads, and so much more! However, it's the small touches and little details that transform this classic charcuterie board into the perfect Halloween-themed appetizer.
One fang-tastic way to impress all your ghoulish guests is to make this bootiful Charcuterie board. So, get all your creative juices flowing, and combine all your favorite party snacks into a fun and delicious appetizer board.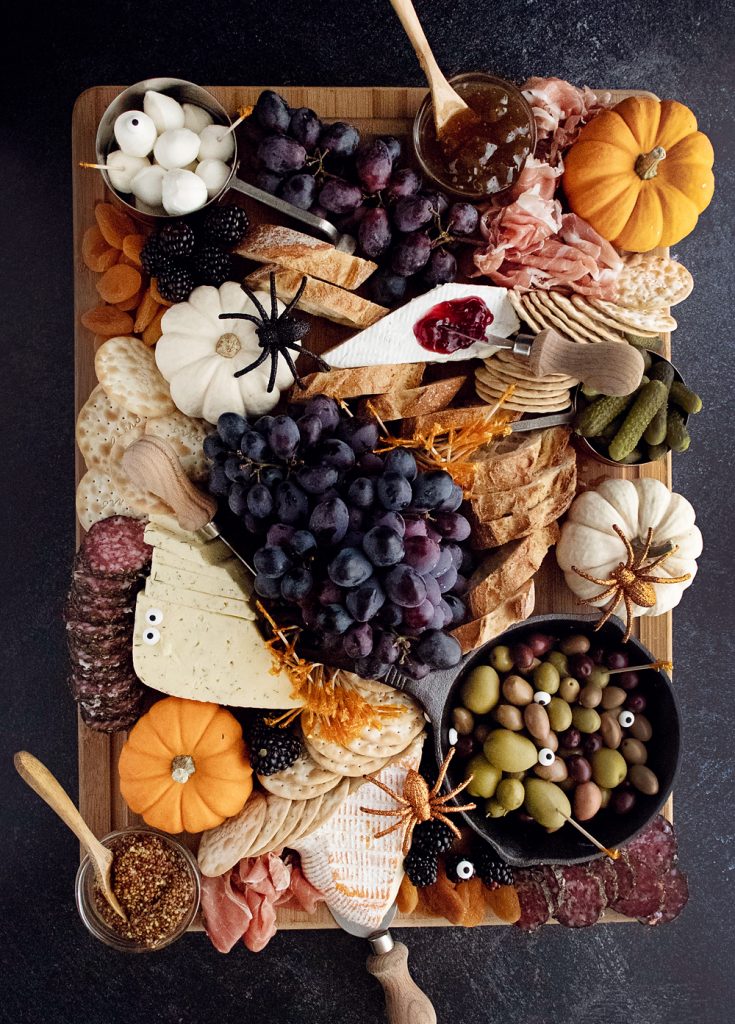 Trick or treat, give me something good to eat! I am loving this spooky board filled with scrumptious treats! This bootiful dessert board includes your kids' all-time favorite foods from delicious cheese and crackers to healthy fruits, veggies, and even pizza bagel bites. Boo Appetite!
This adorable pink-hued Halloween board by @kelseyeasterling is a great way to mix in some kid-approved healthy treats along with their favorite cookies and candy. For more spooktacular pink and pastel-hued inspo check out her Instagram feed and give her a follow.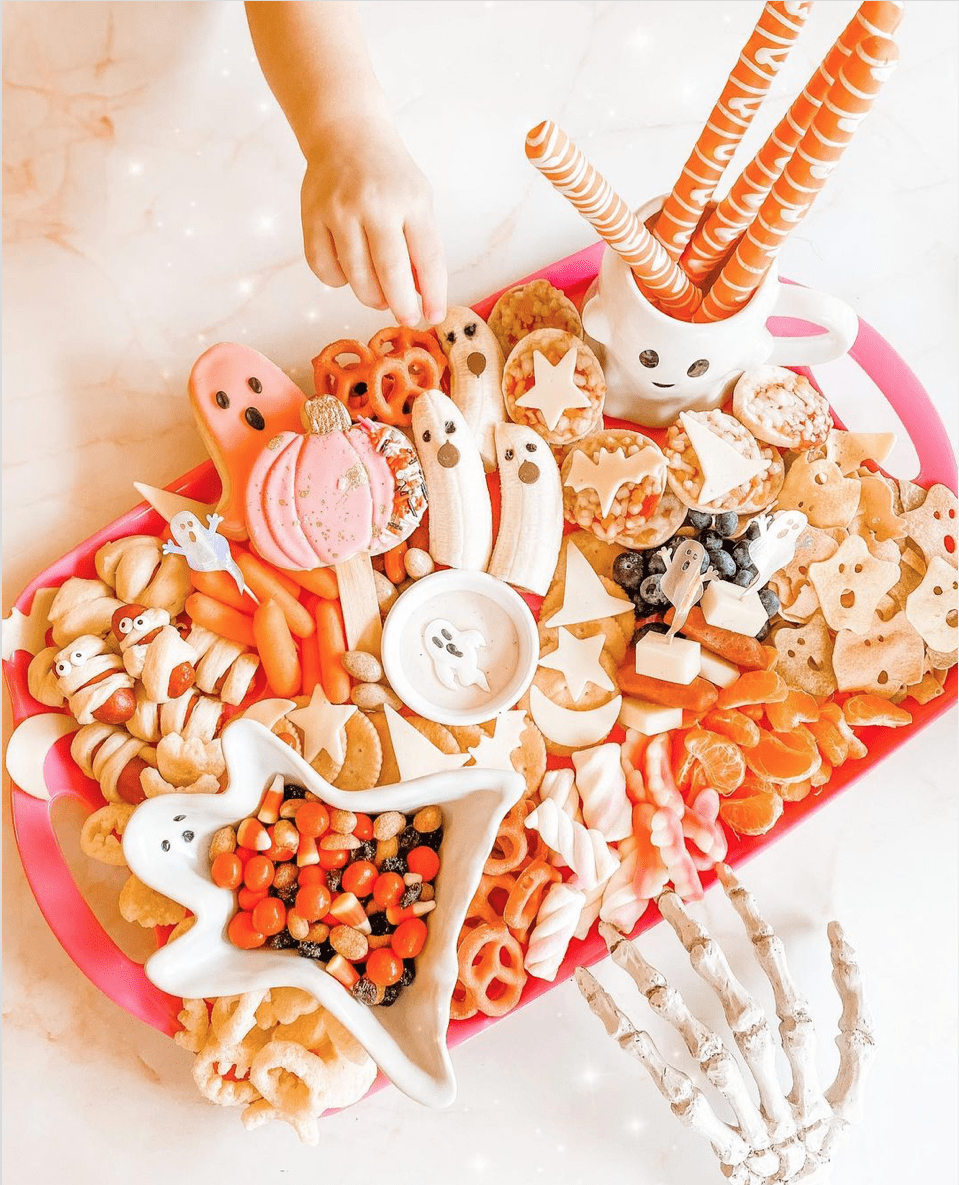 To stir the cauldron a little, why don't you let everybody make their own bootiful cupcake with a decorate your own Halloween cupcake board? I love that this is such a cute idea that gets kids and adults' creative juices flowing and provides a fun activity as well as a delicious dessert!
This is a fantastic way to keep your smaller guests entertained during a Halloween party. And this creative dessert board is super easy because it's mostly just an artful assembly of supplies that lets everybody create their cupcakes the way they want!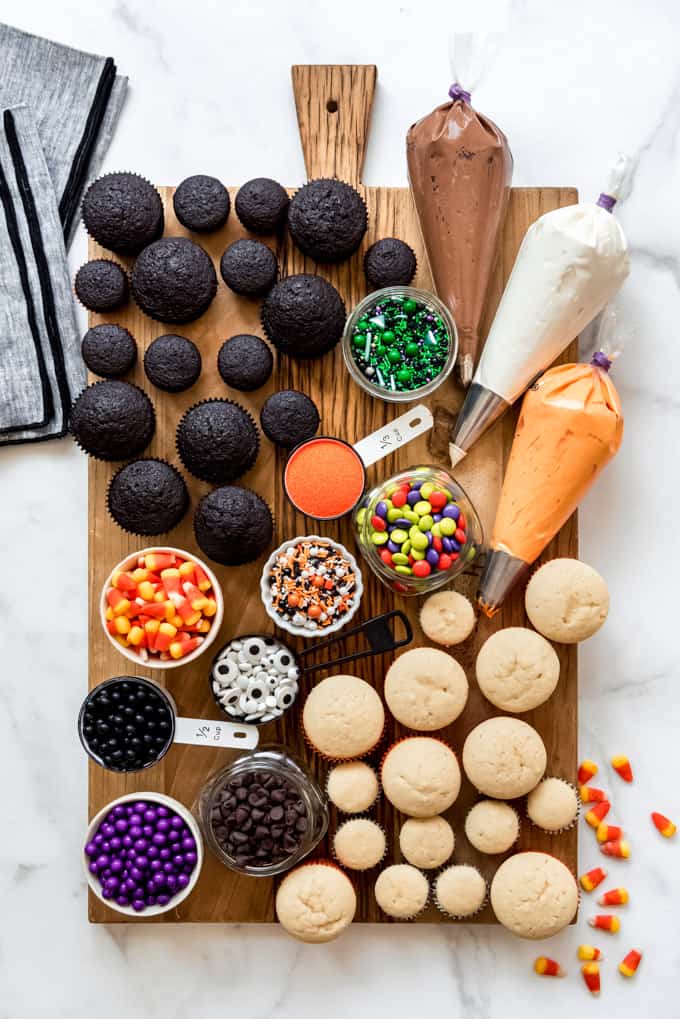 Make the frighteningly festive atmosphere of your Halloween party spookier with this scary delicious coffin fondue tray. The decadent chocolate and pumpkin spice caramel dips make this treat devilishly delicious!
This creepy coffin tray looks straight out of a monster movie (or at least a monster's mom kitchen). I just love how simple and easy it is! Your kids will love dunking everything in the board in their favorite sweet sauces.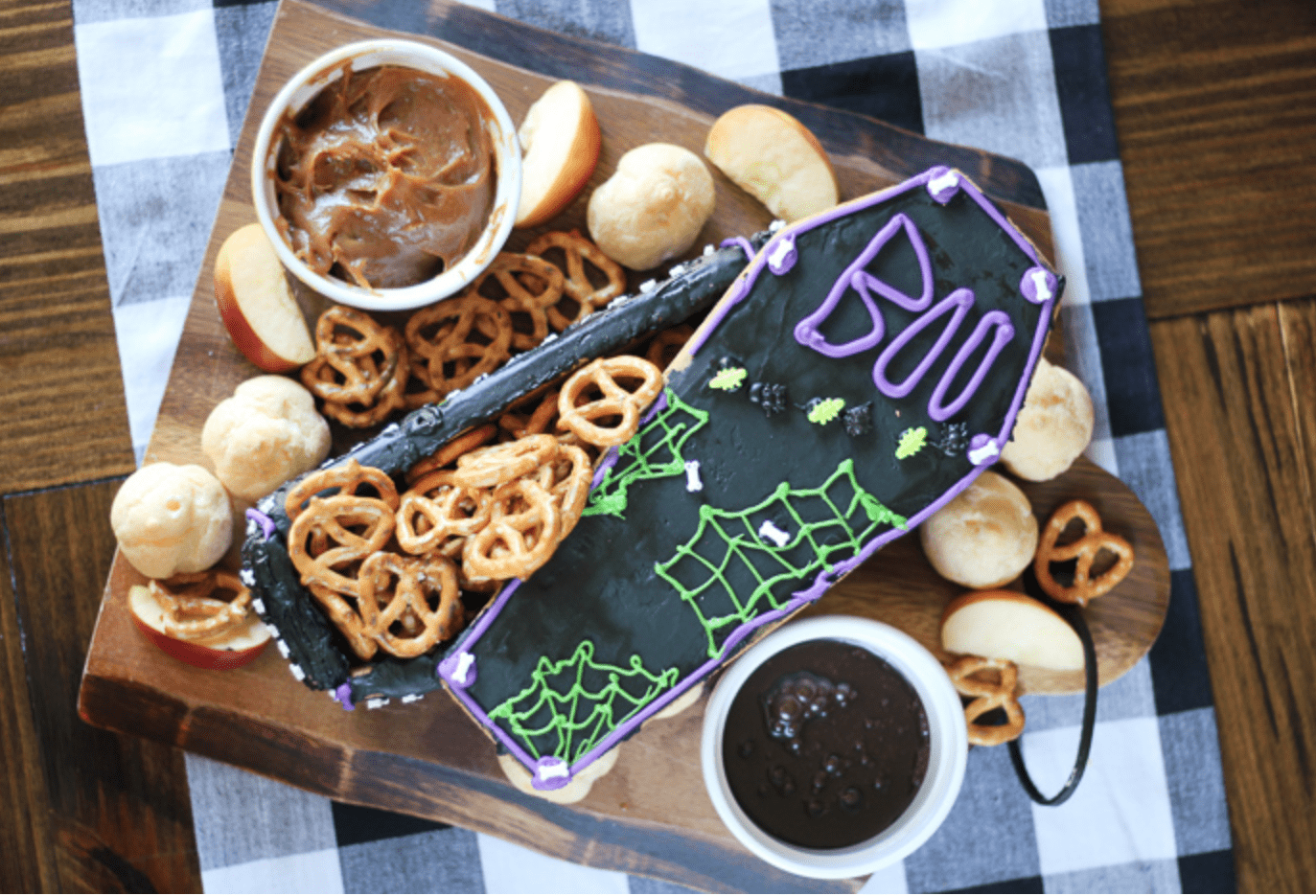 No tricks just treats! This haunted dessert board is perfect for a ghoulish get-together or movie night with family and friends. Play around with this idea and add all your favorite treats in festive shapes and colors.
This spooktacular sweet snack board by @eventfullychelsea is perfect for your little ghouls! Be sure to explore her adorable Instagram feed and give her a follow.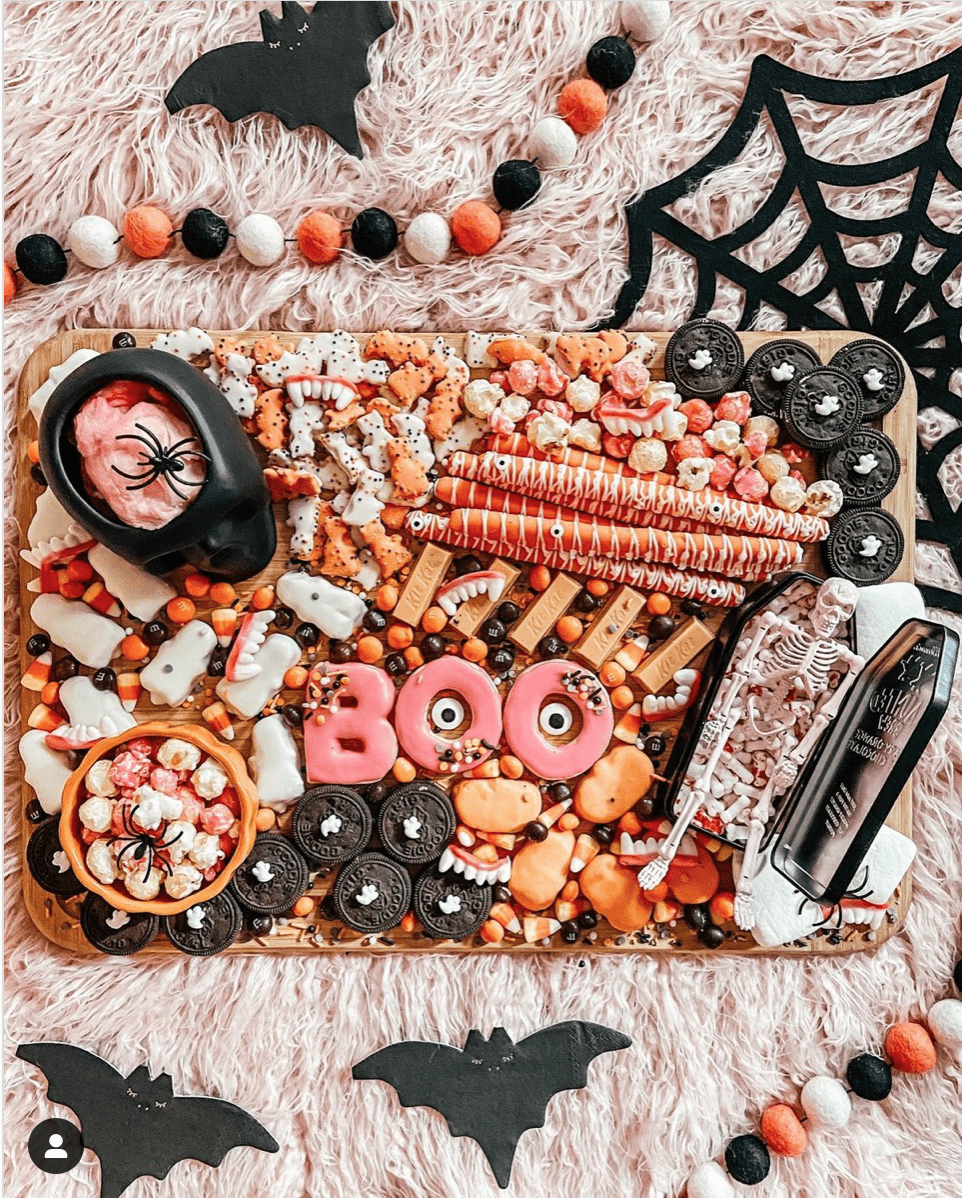 This dessert board makes for the perfect party snack for kids. It's filled with treats that take only minutes to make, from spooky mummies and creepy spider webs to ghoulish ghosts and fun purple people eaters.
Follow easy and quick instructions for loads of screaming good kids and adults will die for! Then, pair up all these ghostly desserts with fresh fruit for a grazing board that will be a hit at any trick or treat party.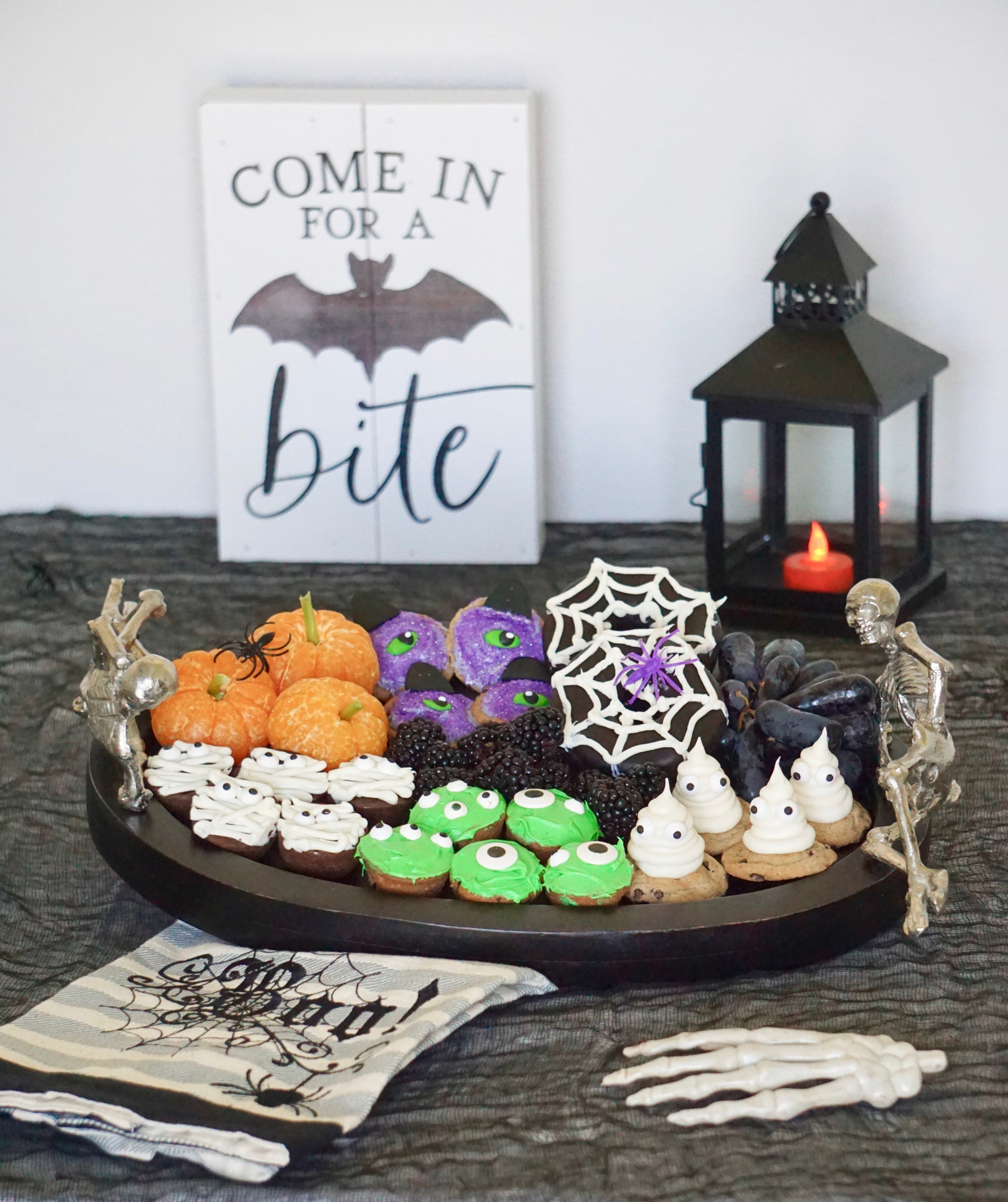 I love that this candy board is not "spooky" at all. It has a stylish vibe that will make for a fabulous addition to any Halloween dessert table. So get ready for lots of oohs and aahs!
This cute candy board would also be great to do with excess candy you buy, candy leftover from passing out, or your kiddos candy. It's fun to mix in some salty items or even homemade treats too! It is a great snack idea for a creepy movie night or a trick-or-treat party!
Other spooktacular Halloween food ideas for kids:
5 Spooktacular Halloween Party Foods:

These super easy savory recipes include creepy crawlies made with chicken fingers, Frankenstein corn dogs, and other easy-to-make deliciously spooky party foods. They are sure to be a hit with kids and adults alike.

Avocado Chipotle Dip:

Want a more grownup snack to entertain the parents while kids go trick or treating? This avocado chipotle spread is and easy one to make! Serve it in a hollowed-out mini-pumpkin with blue corn chips for a more festive vibe.

Cheesy Halloween Snacks:

If you need

something salty that your kids will love to eat and that you can make together theseeasy and scary good snacks made cookie cutters and cheese.
Here, I've rounded up some of my very favorite Halloween charcuterie boards and desserts. These are all perfect for entertaining and they're sure to be the talk of your Halloween party. My decadent picks include everything from bootiful grazing boards to ghoulish Halloween dessert boards. And if you want scary good drinks for the adults to serve alongside these amazing food ideas, try these amazing Halloween drinks. These wickedly easy Halloween food ideas will have both adults and kids trick-or-treating at your table for more!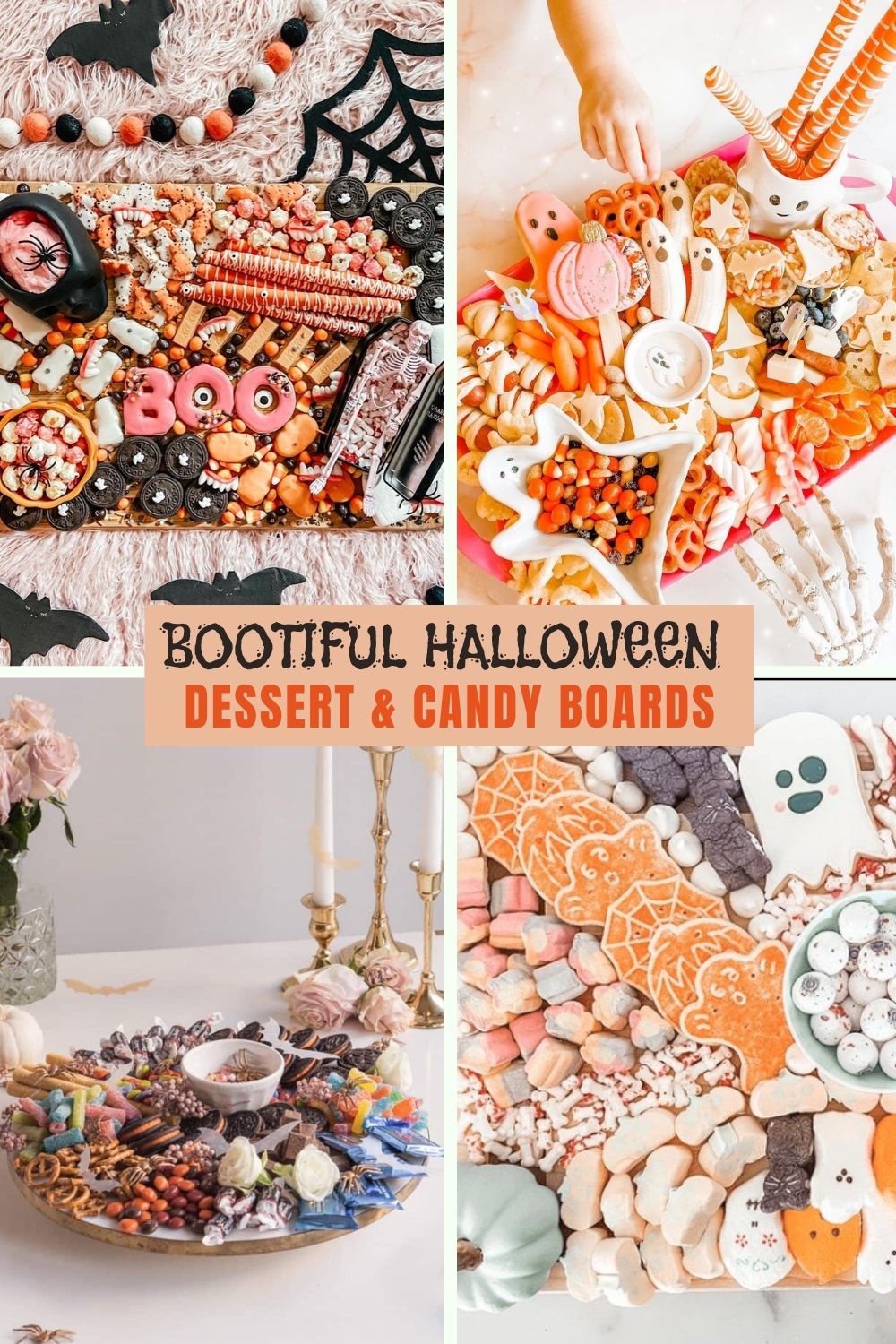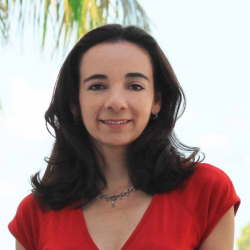 Latest posts by Paula Bendfeldt-Diaz
(see all)