I received an all-expenses-paid trip to San Francisco for the coverage of this press event for Disney•Pixar. However, all opinions are my own.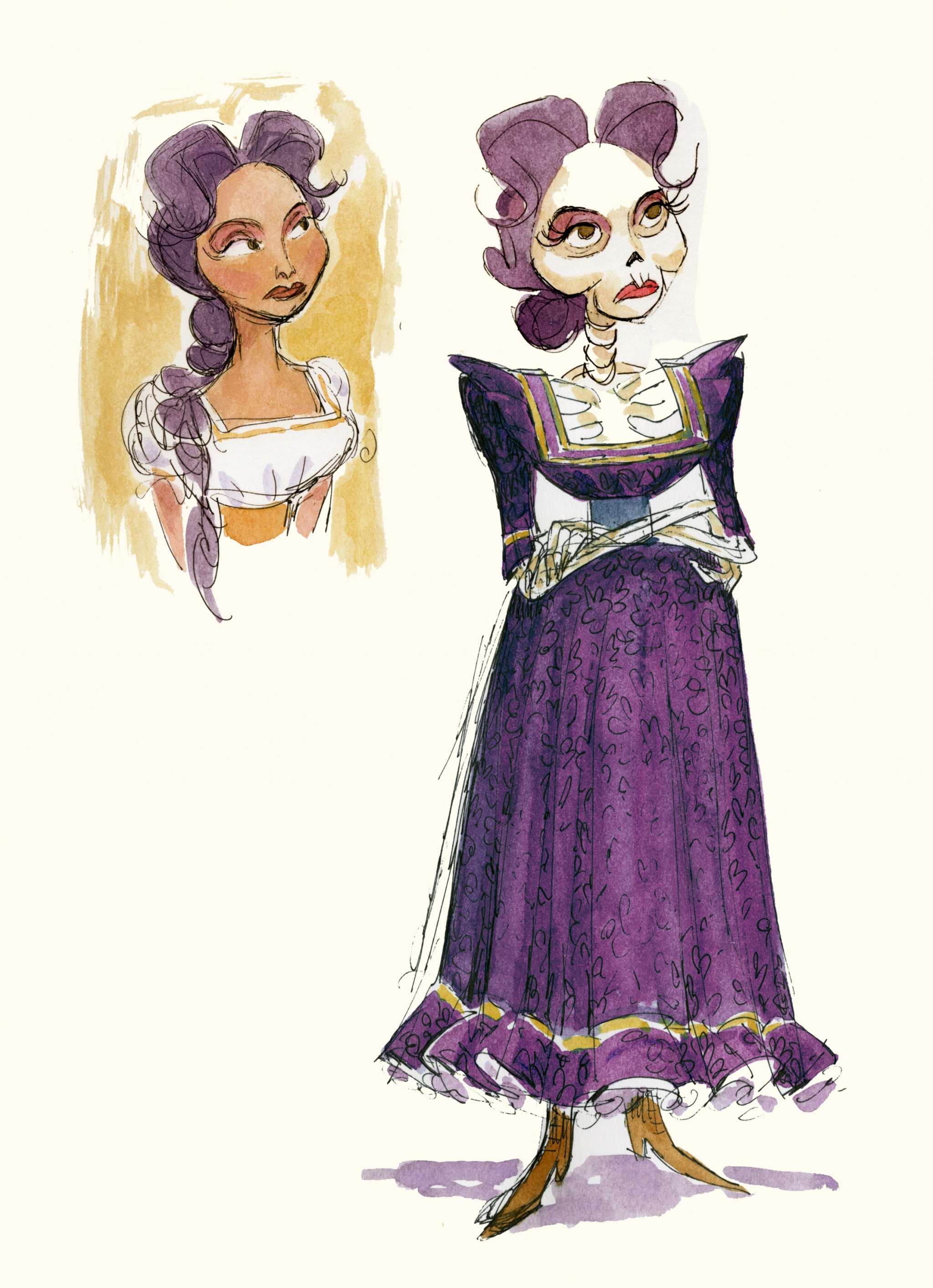 One of the most amazing things about my recent trip to Pixar Studios to learn more about the making of the Disney Pixar Movie COCO was having the opportunity to learn how the film was brought to life.
As I have mentioned before El Dia de los Muertos or Day of the Dead is a tradition that has great significance for me and my family. One of the most important things about el Dia de Muertos is that, in contrast to Halloween, it's a celebration of life and a joyous occasion. Sugar skulls or calaveras and skeletons are a big part of the Day of the Dead traditions and in the movie, COCO Miguel's ancestors, who live in the Land of the Dead, are all skeletons.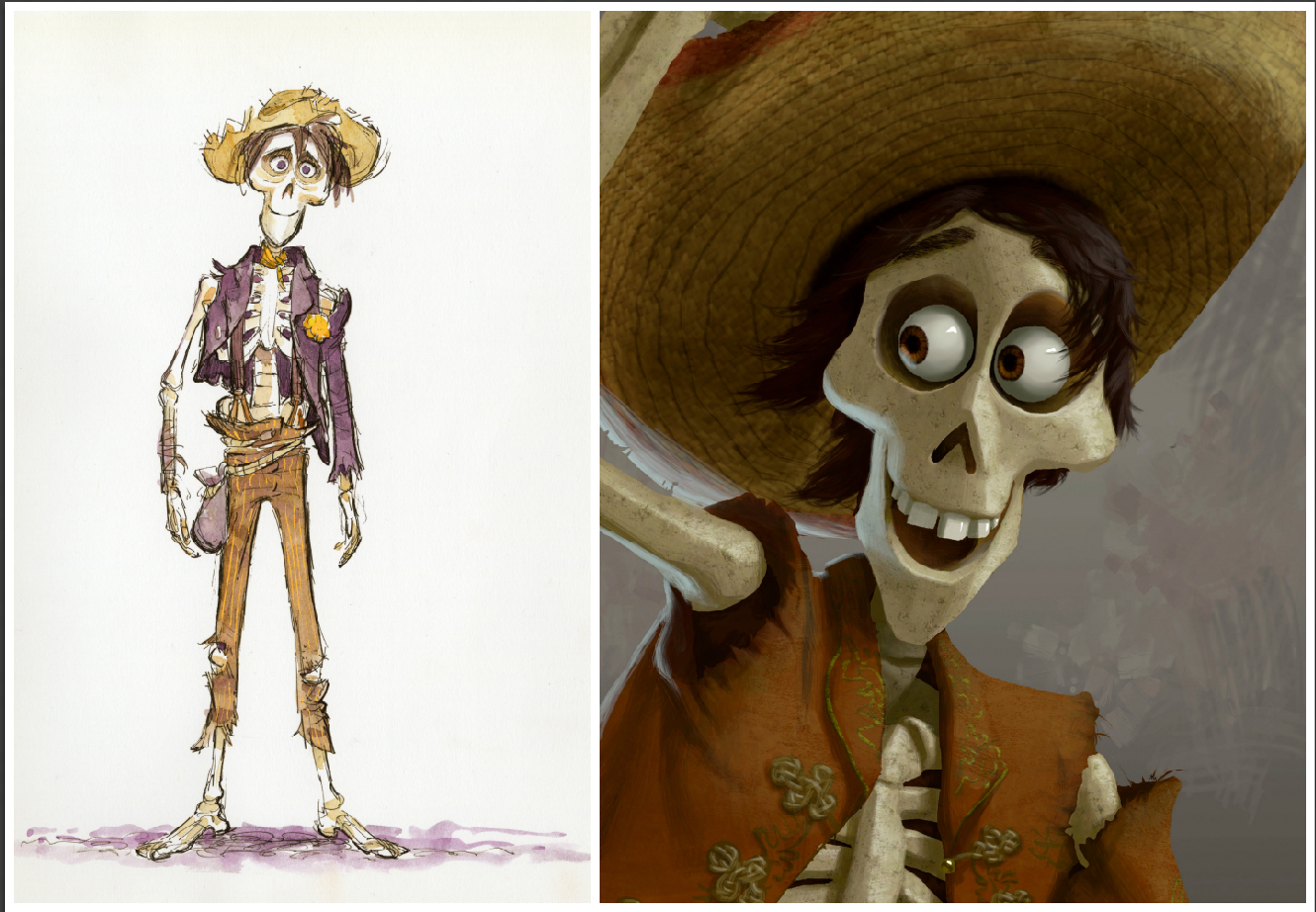 During one of the sessions we attended, we learned all about the process for developing and animating the skeletons and how they were able to make these characters express feelings and be relatable to the audience. If you think about it, making Miguel's deceased ancestors feel like a warm and loving family even though they are skeletons has to be pretty challenging. For the Aztecs skulls are a positive symbol not only for death but also for rebirth, however, this is not the case in Western civilization where they are viewed as something scary, spooky and negative. One of the things that are immediately obvious when you watch the movie trailers is that the skeletons are friendly, caring, fun and relatable characters.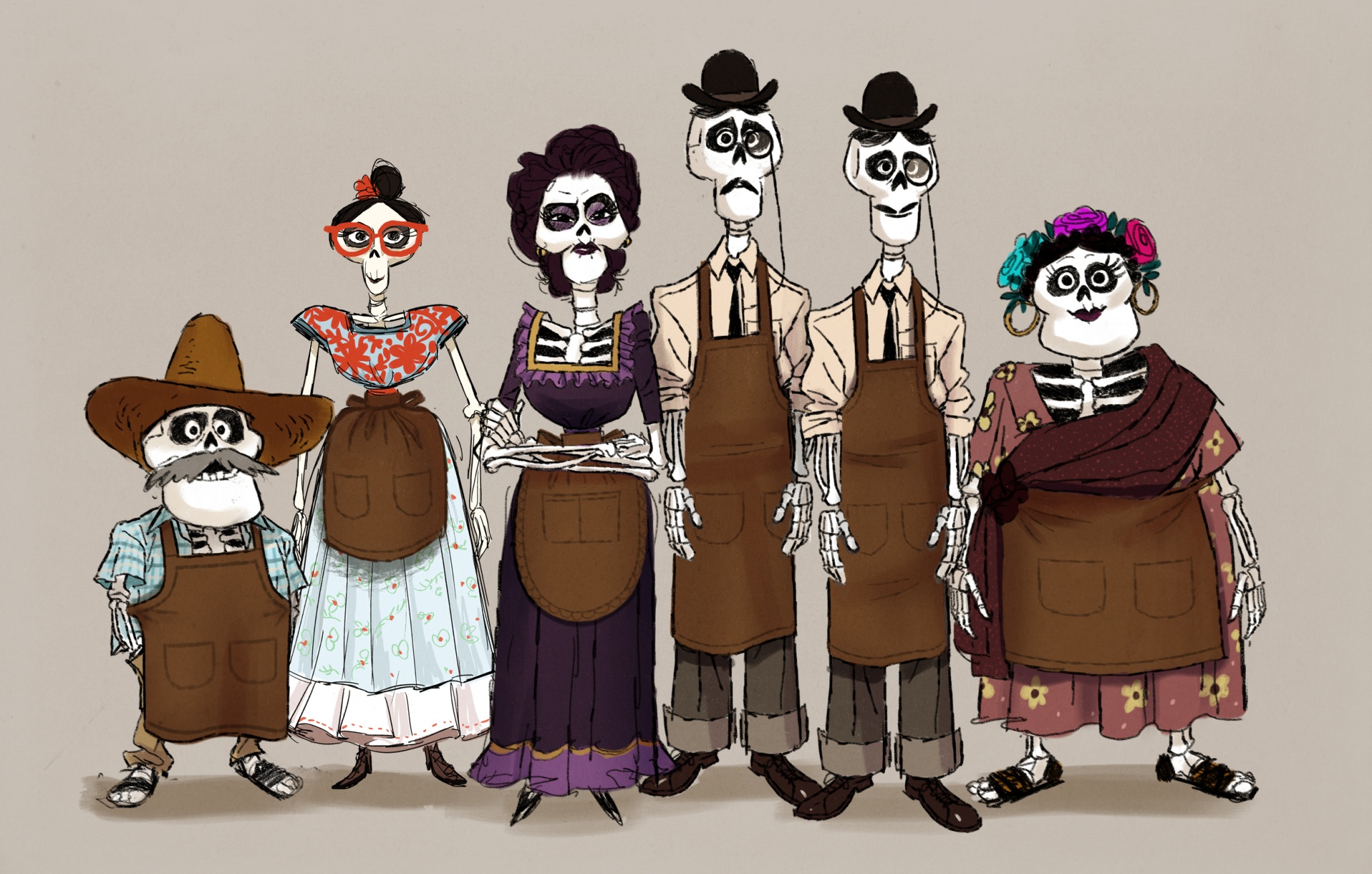 Daniel Arriaga Character Art Director on COCO shared with us that the skeleton where some of the hardest characters that have ever been created at Pixar. From figuring out how they moved even though they had no muscles to finding ways to giving the characters personalities, there were many things to take into consideration. Early on the animation team decided to give them eyes and eyelashes so the skulls would look alive. They also used clothing, hats, and hair to differentiate them and make their personalities really come to life.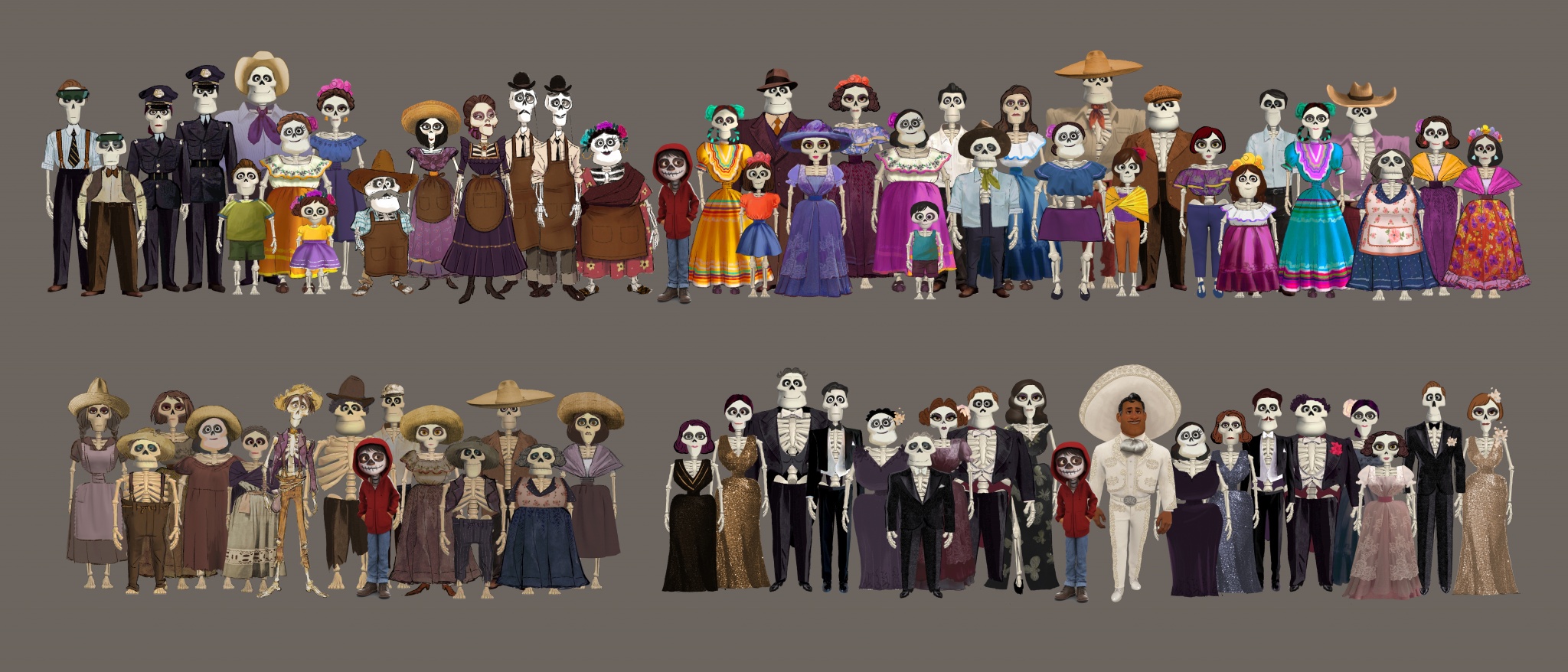 Clear expressions are important so that the audience can understand how the characters are feeling, showing emotions on a skull was very important to connect to the audience and to accomplish these they team gave a wider array of flexibility and movement to the skulls.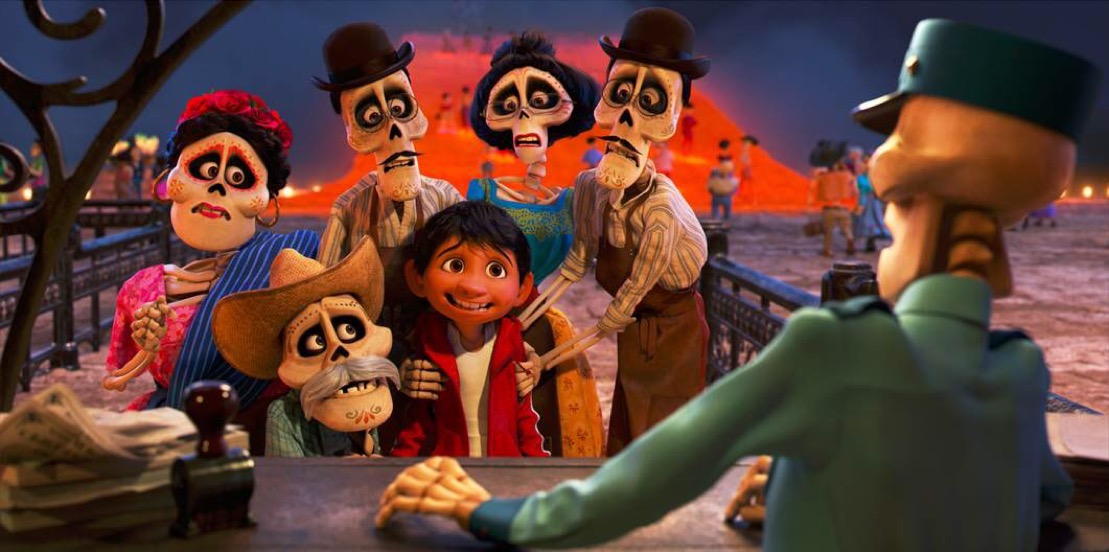 For Aztecs skulls were a positive symbol, not only of death but also of rebirth. As part of the Dia de los Muertos traditions, people wear skull masks or paint their faces to look like skulls. Flowers are often incorporated into the face-painted skull designs with the purpose of making skulls colorful and festive and using them as a symbol that celebrates life and helps people overcome the fear of death.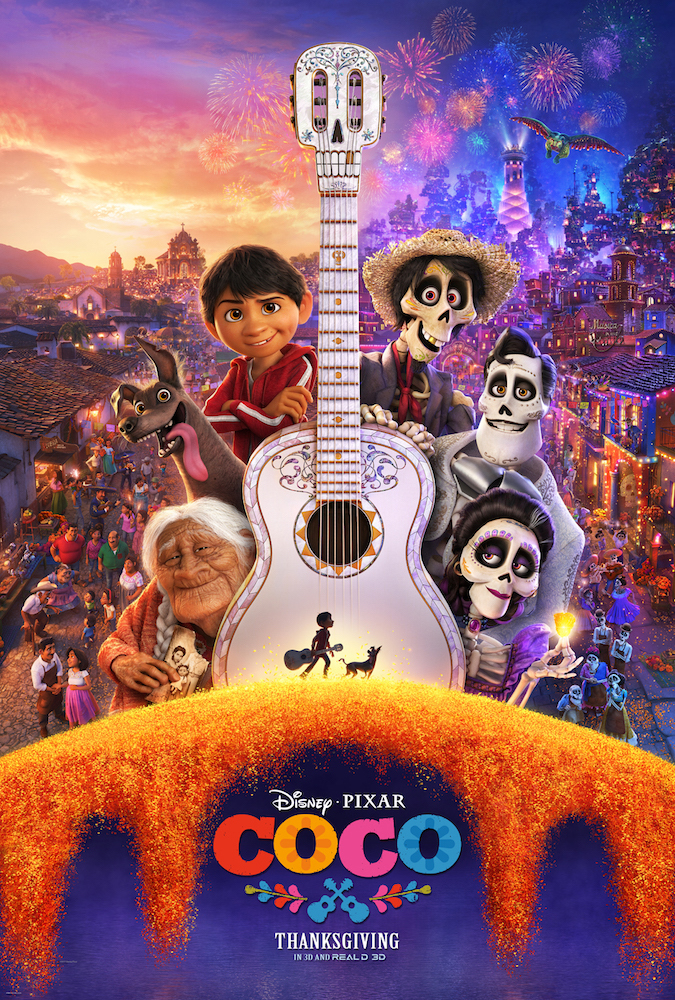 Because face painting is a big part of the Day of the Dead celebrations COCO's animation team wanted to have this not only in the Land of the Living but also in the Land of the Dead. Face paint was used on the skulls applying unique designs and colors for each character. This was done in a subtle way so it would not distract from the facial expressions of the characters and in my opinion, it not just gives them lots of personality but also a sense of authenticity.
Disney•Pixar's COCO In Theaters on November 22nd
Coco hits theaters in the US on November 22nd, a few weeks after El Dia de Los Muertos. Be sure to check out the latest trailer below and you'll see why we can't wait to see this movie!

You can read more about Disney•Pixar's COCO by visiting the Disney Movie website HERE. And be sure to follow the hashtag #PixarCOCOEvent on Twitter as I and a wonderful group of fellow bloggers share all about COCO.
You can also like Pixar COCO on Facebook, get the latest updates through @PixarCOCO on Twitter and follow @PixarCOCO on Instagram.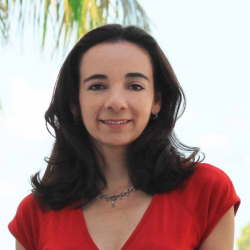 Latest posts by Paula Bendfeldt-Diaz
(see all)