One of the best things to do in Guatemala is to visit the Mayan city of Tikal. This guide to visiting Tikal includes everything you need to know before seeing the most spectacular Mayan ruins in the world. What makes this the best guide to Tikal is that it is full of helpful information. It is based on countless visits to Tikal from the point of view of someone who grew up in Guatemala and has visited since childhood. Unlike the multiple guides to Tikal written by tourists and travelers who have only seen this Mayan site once, this guide gives you all the information you need from an insider's point of view.
The Tikal Mayan ruins are a UNESCO World Heritage site and should be on any Guatemala travel itinerary. Surrounded by dense tropical jungle in the remote region of Peten and dating back to around 300B.C., the ancient city of Tikal boasts some of the most spectacular Mayan ruins in Guatemala and the world. However, getting there may take some planning as this destination is not close to any major cities and is far from other tourist attractions.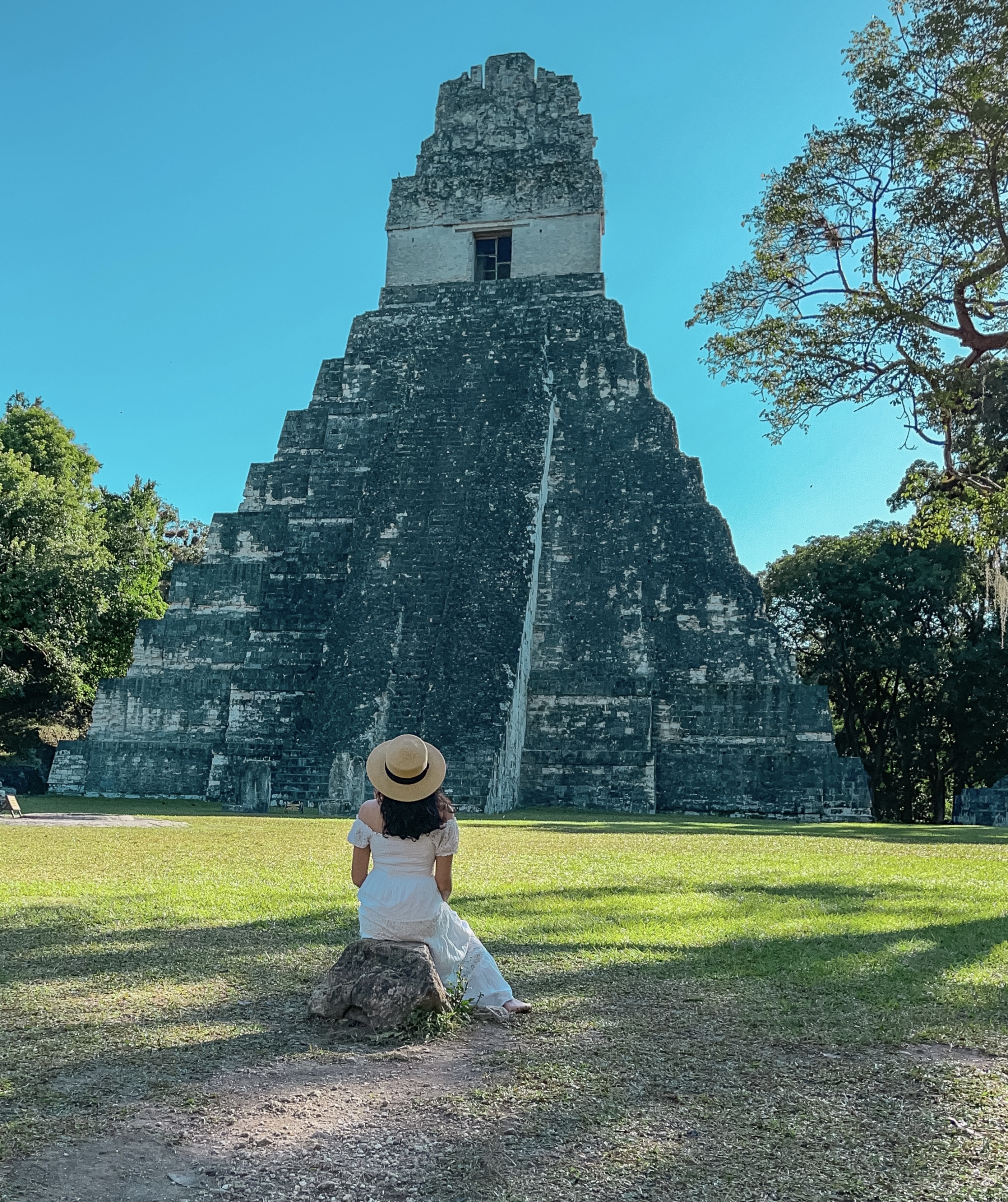 The best guide to visiting Tikal from an insider's point of view
I have been visiting Tikal since I was a kid. First as a local, and now that I live in the USA, as a tourist. I hope this guide to visiting Tikal will answer all your questions regarding Tikal It includes when is the best time to visit Tikal, how much you pay to get into the Tikal National Park, and where to stay when visiting Tikal. I will also share with you the best time of the day to visit this Guatemalan Mayan city, whether you need a guide to Tikal or not. And if you're wondering what to pack and wear when visiting Tikal, I've got recommendations for that too!
The information gathered here comes from my experience visiting Tikal on various occasions. I also interviewed a local Guatemalan guide. He gave me lots of tips and recommendations to make your visit to Tikal a stress-free and memorable experience.
A couple of disclosures about this guide: it will give general information about Tikal and how to plan a visit to this Mayan archaeological site. My recommendations regarding tours, transportation, and accommodations are not geared toward the budget traveler or the backpacker. When I travel to Guatemala, I stay at mid-range or luxury hotels, depending on eating at nice restaurants. However, I love investing in guides and even tours when I believe these will provide me with a better experience.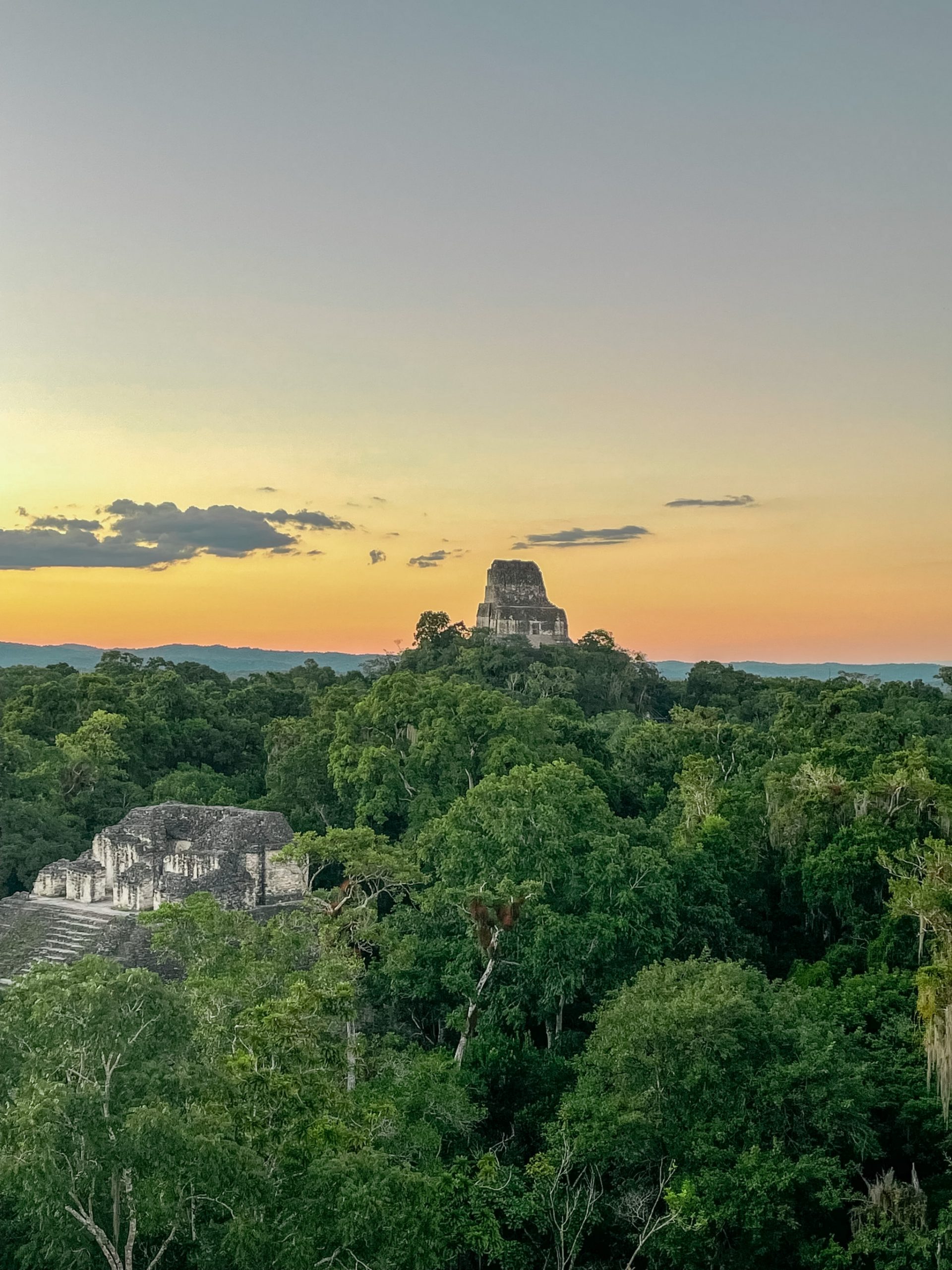 The Tikal National Park is not only the site of the largest Mayan ancient city but also a great place for hiking. With its tropical jungle vegetation, well-marked hiking trails, and abundant wildlife, Tikal is one of the best places to experience Guatemala's natural beauty. Therefore, I have also included information about biodiversity, wildlife, and hiking trails.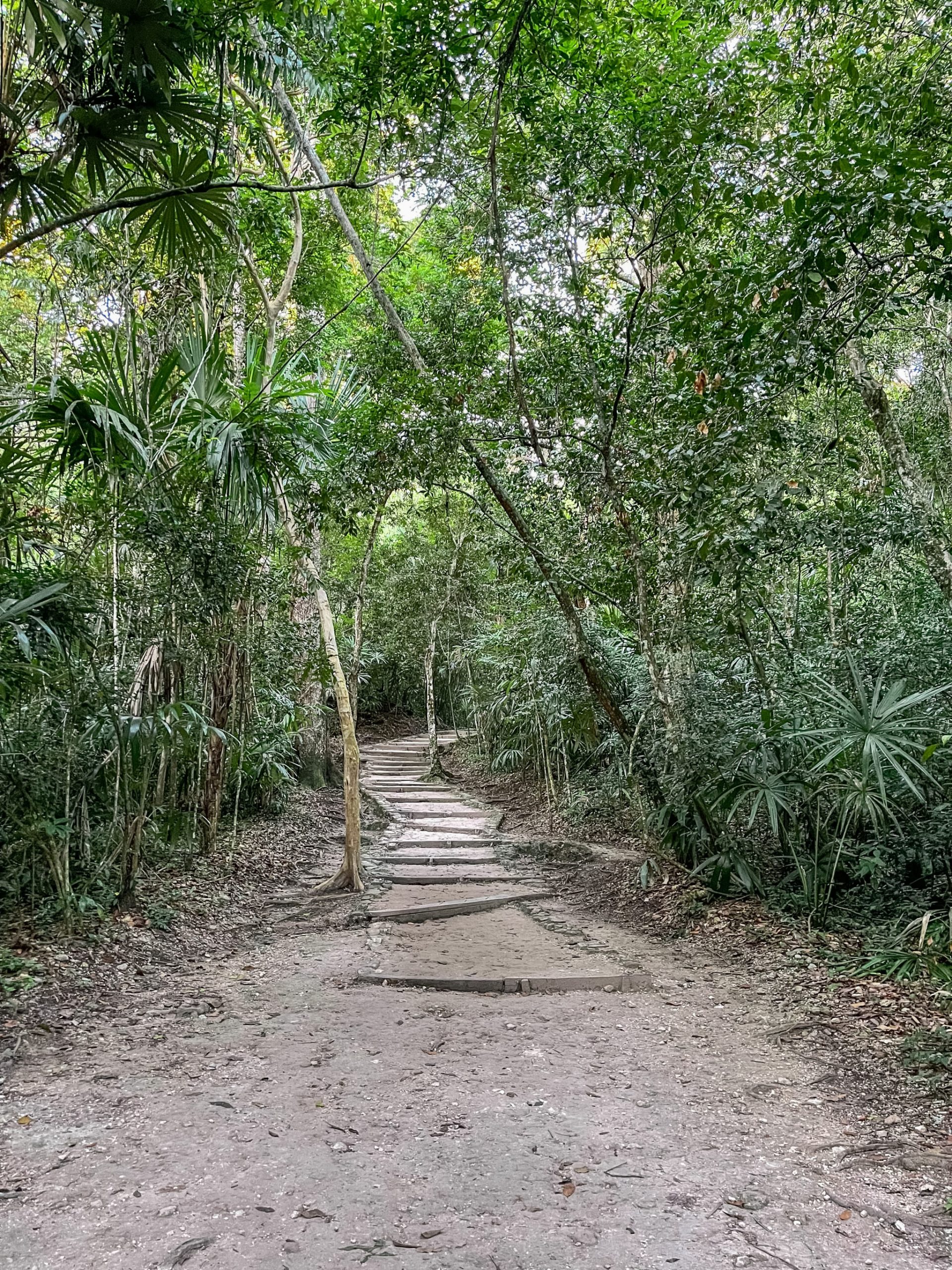 Should I visit Tikal when traveling to Guatemala?
I believe Tikal should be number one on the list of things to do in Guatemala. Not only is Tikal the ancient capital of the Mayans, but it also used to be one of the largest ancient cities in Mesoamerica. This UNESCO world heritage site is one of the best-preserved Mayan sites and one of the largest. Being surrounded by a thick jungle and its location inside a natural preserve makes it a fantastic spot to watch the local wildlife.
Getting there requires some planning, but that should be a breeze now that you have the best guide for visiting Tikal. Your decision on whether to include Tikal on your Guatemala travel itinerary will depend on how much time you have and what your priorities are. You will need at least a week in Guatemala to enjoy the major tourist attractions, including Antigua, Atitlán, and Tikal.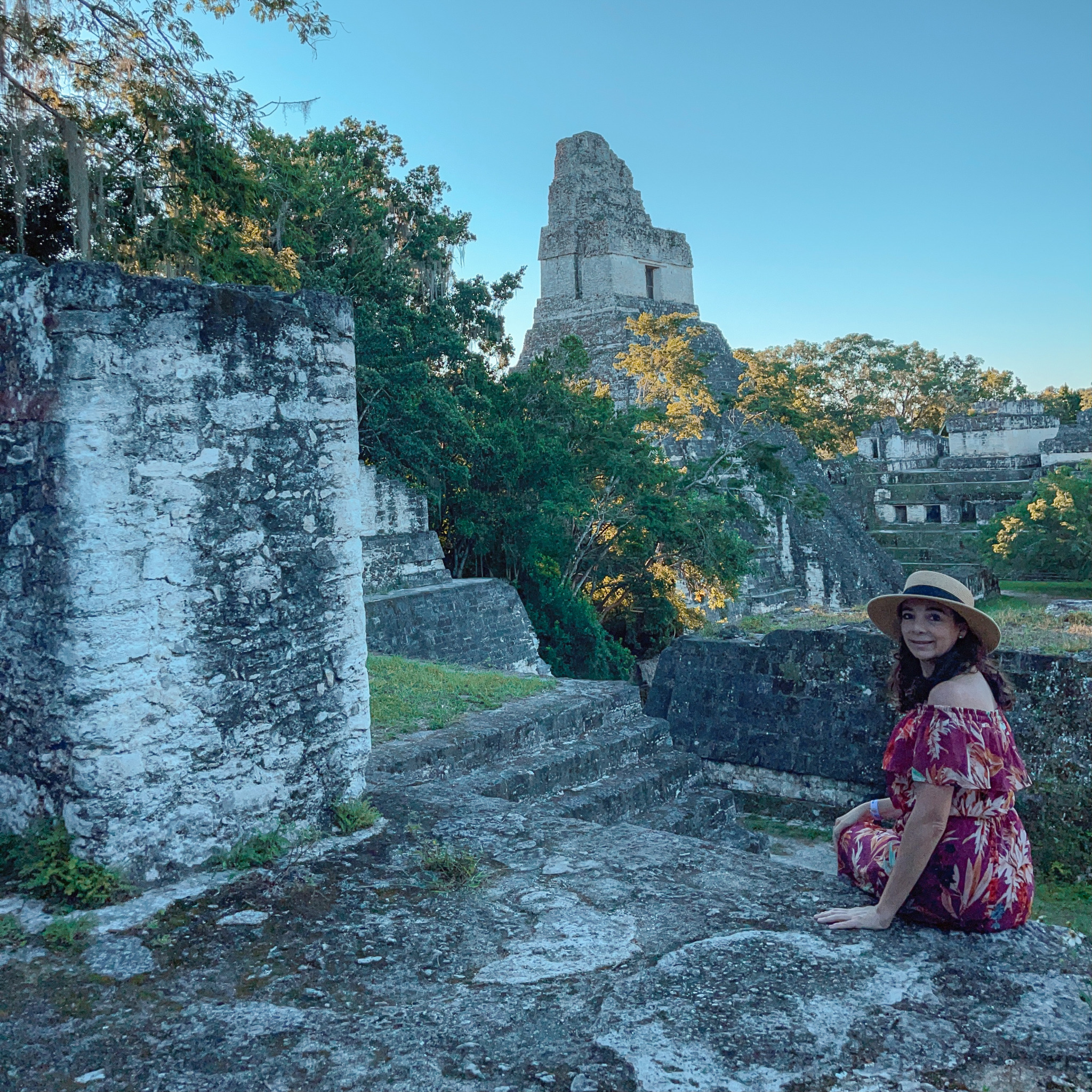 Many people skip visiting Tikal because of time constraints since Tikal is not as easily accessible as Antigua Guatemala or Atitlán. That is not to say that there is anything wrong with the roads to Tikal. You can undoubtedly find tours from Antigua or Guatemala City to Tikal or rent a car to get there. It's just that Tikal is about an 8-hour drive from Guatemala City or about a 10-hour drive from Antigua Guatemala, depending on traffic.
So if you're visiting Guatemala just for a few days, it may be harder to fit a visit to Tikal into your Guatemala itinerary. However, you can also get to Tikal via air from Guatemala City. The flights are not cheap but well worth it in my opinion if you have the budget for it and lack the time.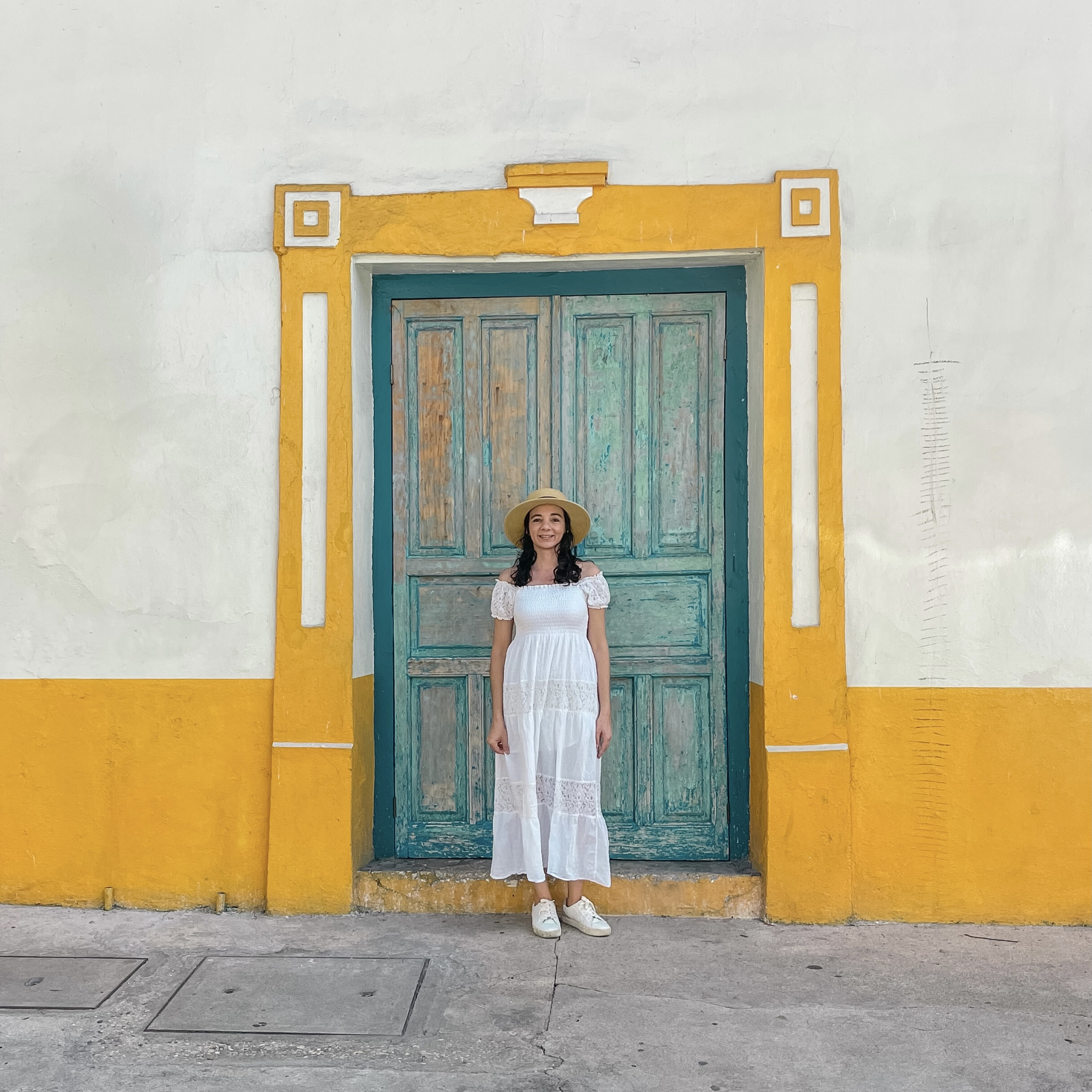 If time is not an issue, then don't be deterred by the distance. Tikal is not only worth visiting, but there are also lots of things to do in the Peten area of Guatemala. From visiting Isla de Flores and other beautiful Mayan ruins like Yaxchá and Uaxactún to more adventurous activities such as visiting the blue hole. Plus, you can go hiking through the jungle to the largest Mayan temple in the world at El Mirador.
How to get to Tikal
There are a few ways to get to Tikal, from driving to flying or taking a tour. I either rented a car or flew there, depending on how much time I had. The drive to Tikal can be exciting and well worth it if you have the time. However, if you are driving, it will take you around 8 hours to get to Tikal from Guatemala City. It will take longer if you are taking a tour bus.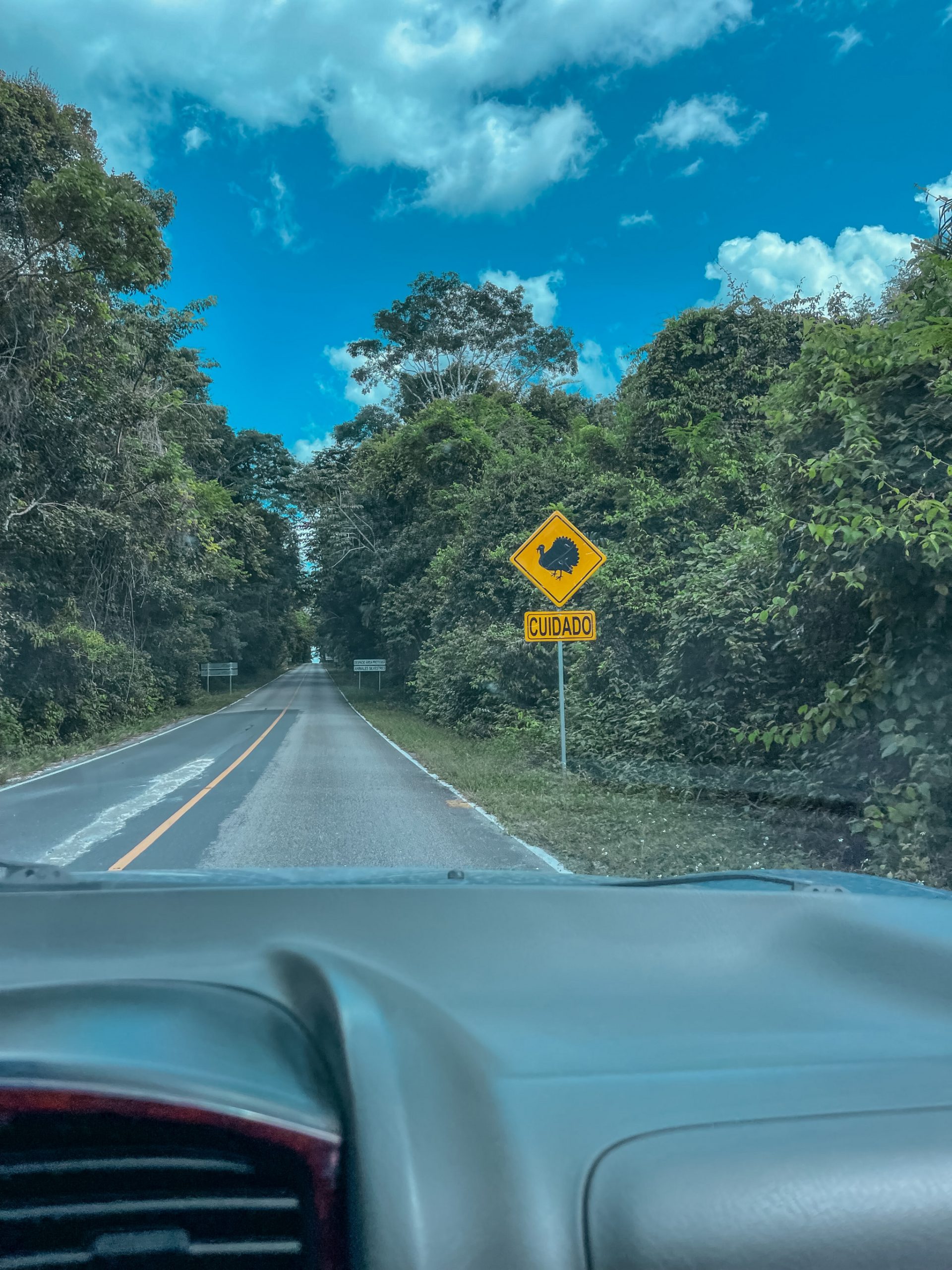 If you are considering driving yourself, renting a four-wheel drive is best. I would recommend renting only for people with a lot of experience driving on Guatemalan roads or in other Latin American and Central American countries (or African countries). Those roads are not always as well maintained or as clearly marked.
It's also important to know Spanish if you're venturing out alone to Peten. It will be hard to find someone who speaks English in small towns and gas stations, so asking for directions or help will be challenging if you do not know the language.
Taking a tour from Guatemala City or Antigua is an excellent option if you want a stress-free trip. Some tours include accommodations and transportation. Others only have the shuttle, giving you more freedom to create your schedule. You can find great tours of Tikal on Tripadvisor or Viator.
If you are short on time, it's best to fly. Flights to Tikal are available from Guatemala City's airport daily. However, these flights can be expensive, usually starting at around $250, depending on the time of the year. The airplane is also tiny, so taking a flight to Tikal can be part of the adventure. I have traveled to Tikal in a rental car and by taking a flight from Guatemala City when I'm short on time. If you fly to Tikal, you can even go there and return on the same day!
Where do you fly into Tikal?
The flights from Guatemala City arrive at the city of Santa Elena Peten, about 1hr from the Tikal National Park and about 15min from Flores Island. It is essential to figure out how you are getting to your hotel or other accommodations from the airport. Although there are Ubers in Guatemala City and Antigua, there are no Ubers in Peten. You will have to rely on a taxi or arrange a pick-up from your hotel.
Another option is renting a car once you get to the area. I would only recommend this if you know the language and have experience driving in Guatemala or other developing countries. The roads are ok, but the GPS signal is not always great so asking for directions is something you would probably have to do.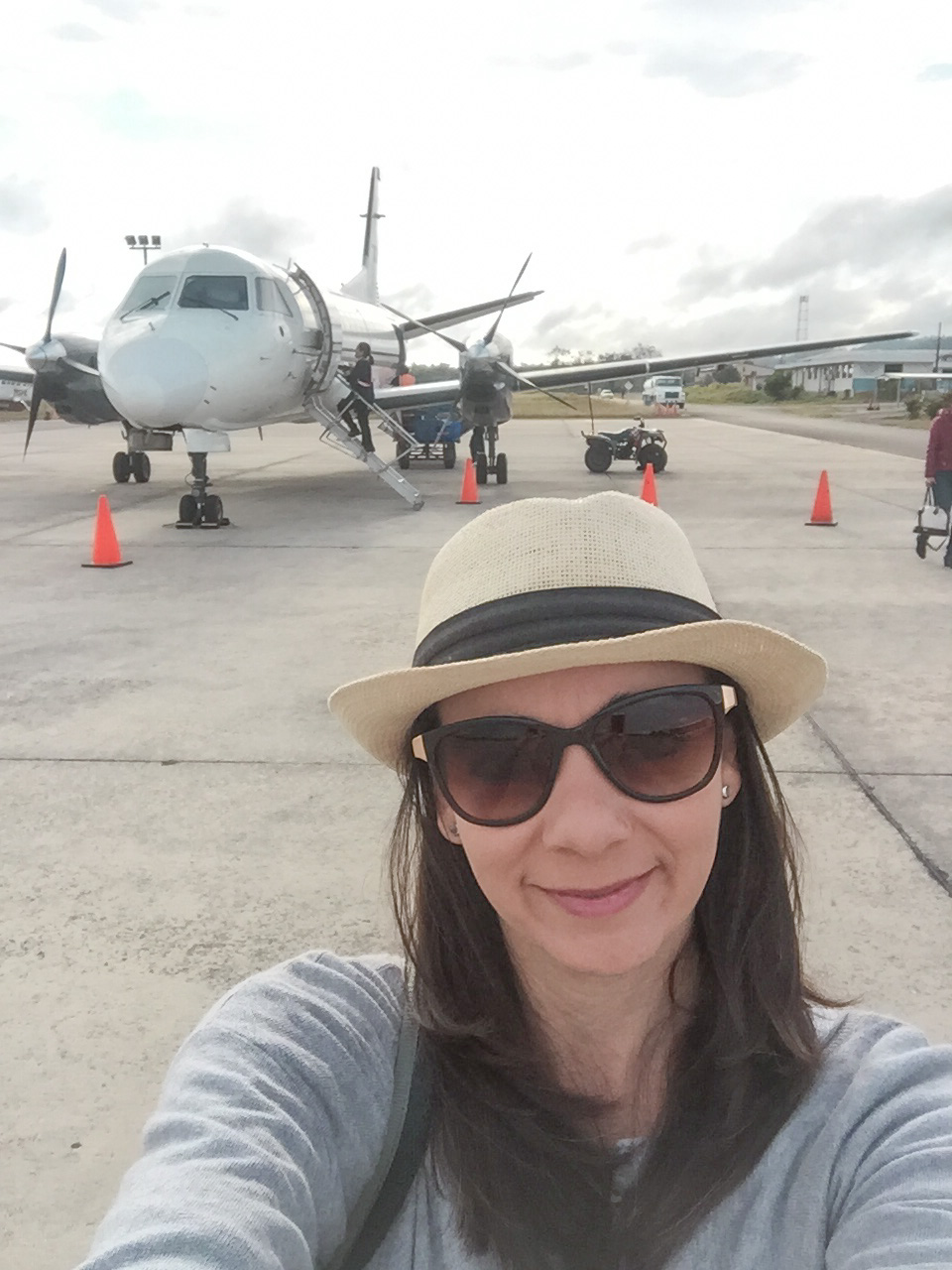 How many days do you need to visit Tikal?
The Tikal Mayan ruins are a vast archeological site. Although you can see the main temples and structures in one day, ideally, you will need two days to enjoy the hiking trails and Mayan temples without rushing. There are also many other things to do in the area, including visiting other Mayan cities. Therefore, I recommend spending two nights in Isla de Flores or the Lake Peten Itza area and one night (two days) in Tikal National Park before moving on to your next destination. This way, you can take advantage of everything this region of Guatemala has to offer.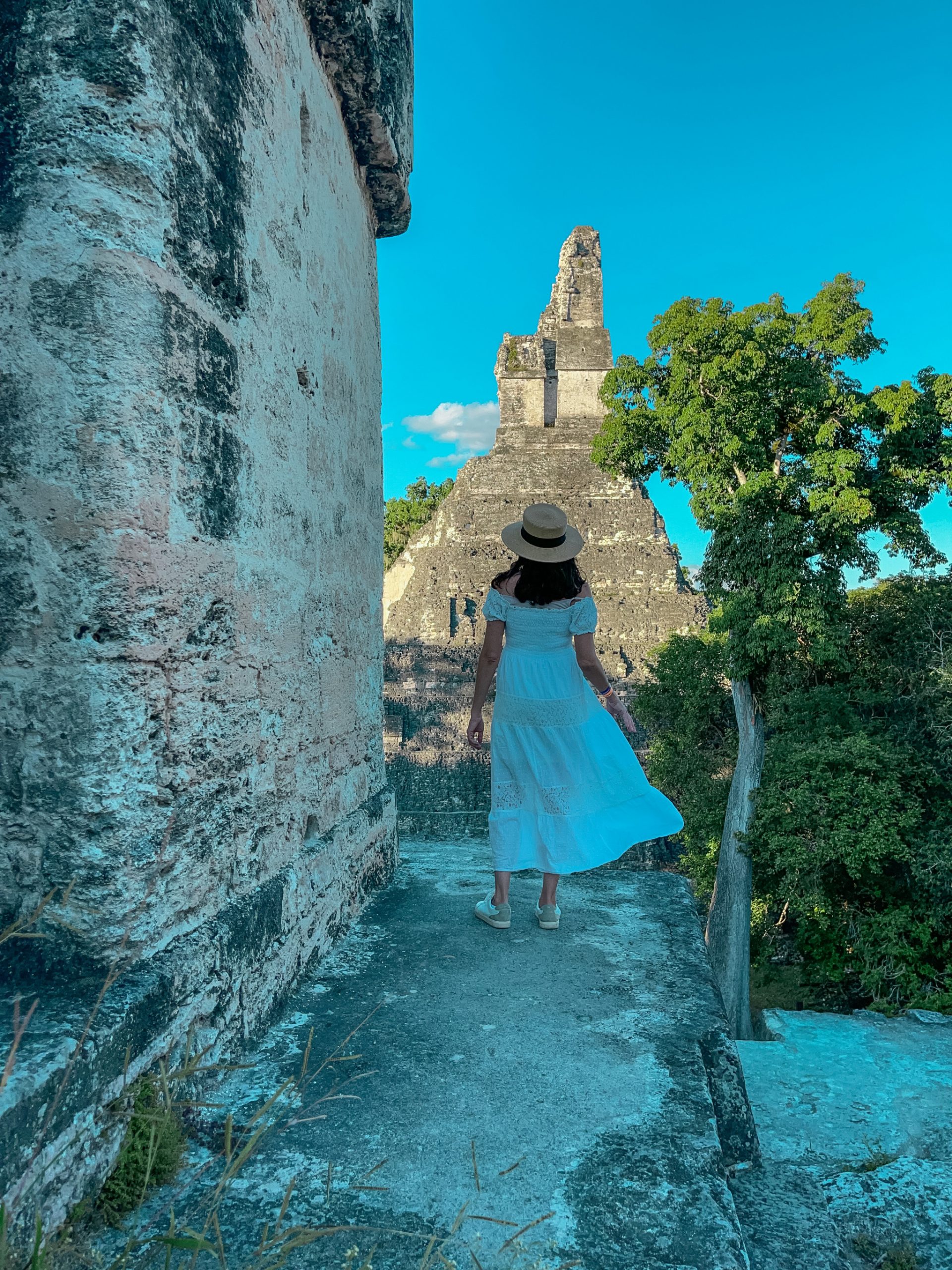 What is the best time of the year to visit Tikal?
The most crucial factor to consider when visiting Tikal is the weather. Guatemala has a rainy season and a dry season. Due to Tikal's relatively remote location and the dense jungle, it's important to visit during the dry season, which starts in November and ends in April. Therefore, the best time of the year for visiting Tikal is from the first week of November to the second week of March, when the weather is dry and cooler.
If you want to avoid crowds and are looking for more affordable prices for accommodations, stay away from the highest season. It includes the weeks around Christmas, New Year, and Easter. Considering all this, the best time to visit Tikal is in November, February, and March. To avoid local tourists, it's also best to see during the week instead of planning your visit for the weekend.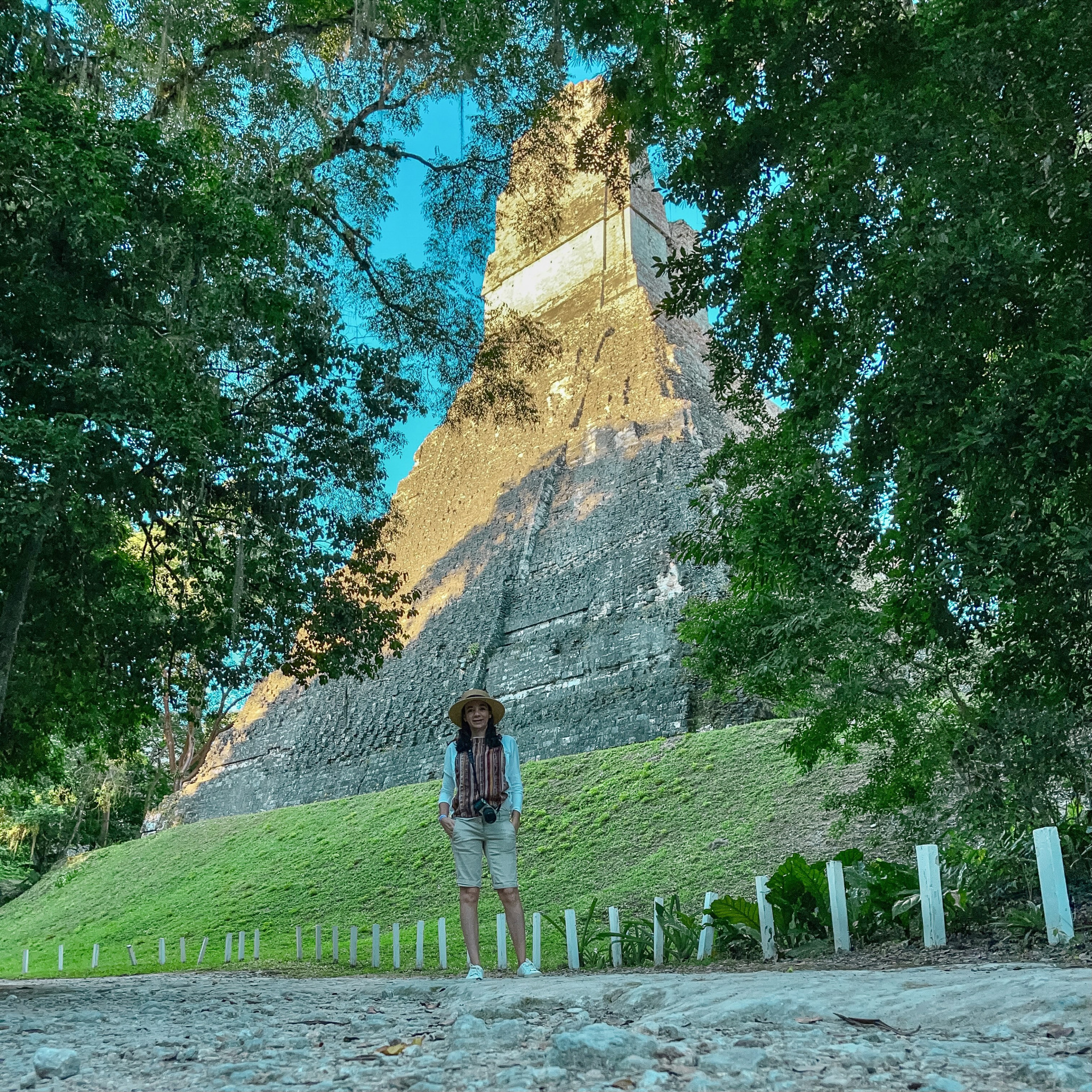 If you're considering visiting in the low season to save money, which is also the rainy season, you may risk heavy rains. It will make it very difficult to see the park, climb the temples, and leave the trails flooded and muddy. It rains almost daily during the rainy season, especially in the afternoons, and usually for several hours.
The other problem with visiting during the rainy season is that other Mayan ruins like Yaxhá, El Naranjo, or Uaxactún are sometimes not reachable during the rainy season as the dirt roads become undrivable. So the best time to visit Tikal is during the least busy dry season months: November, February, and March. March is the shoulder season and probably the time when you may find the best prices on accommodations.
Should you take a tour in Tikal?
I absolutely recommend hiring a professional guide for visiting Tikal. You can book a tour guide right at the entrance of the park; no need to schedule this in advance. I have visited Tikal with a guide and without one, and the difference is abysmal. Besides learning much about this Mayan city, I also got to see so much more. My guide knew the best spots for photos and viewing wildlife.
We traveled with my nephew, who is disabled, and my dad, who is 75. The guide made sure to make the time fun and even stayed with my nephew when he could not climb one of the pyramids. Getting a guide when visiting Tikal is worth it; plus, you are helping the local economy. Most guides are descendants of the Mayan people who have lived in Guatemalan for millennia. They are not only knowledgeable about the city's history and the Mayan culture, but also a living part of it.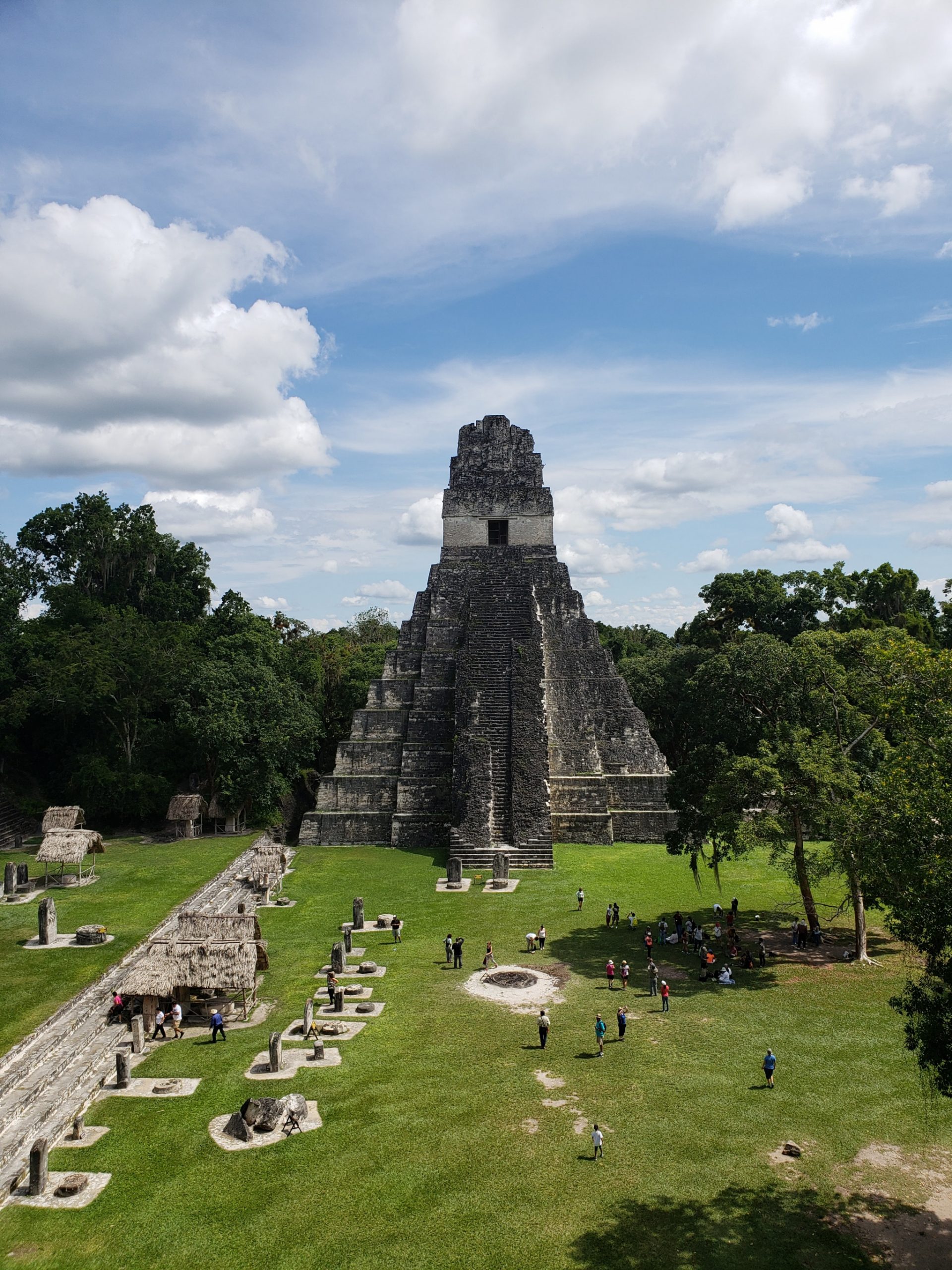 There are also two very popular tours: the Tikal sunrise and sunset tours. These two are very different. I have taken both of them on various occasions, and they give you such a different experience and are well worth it.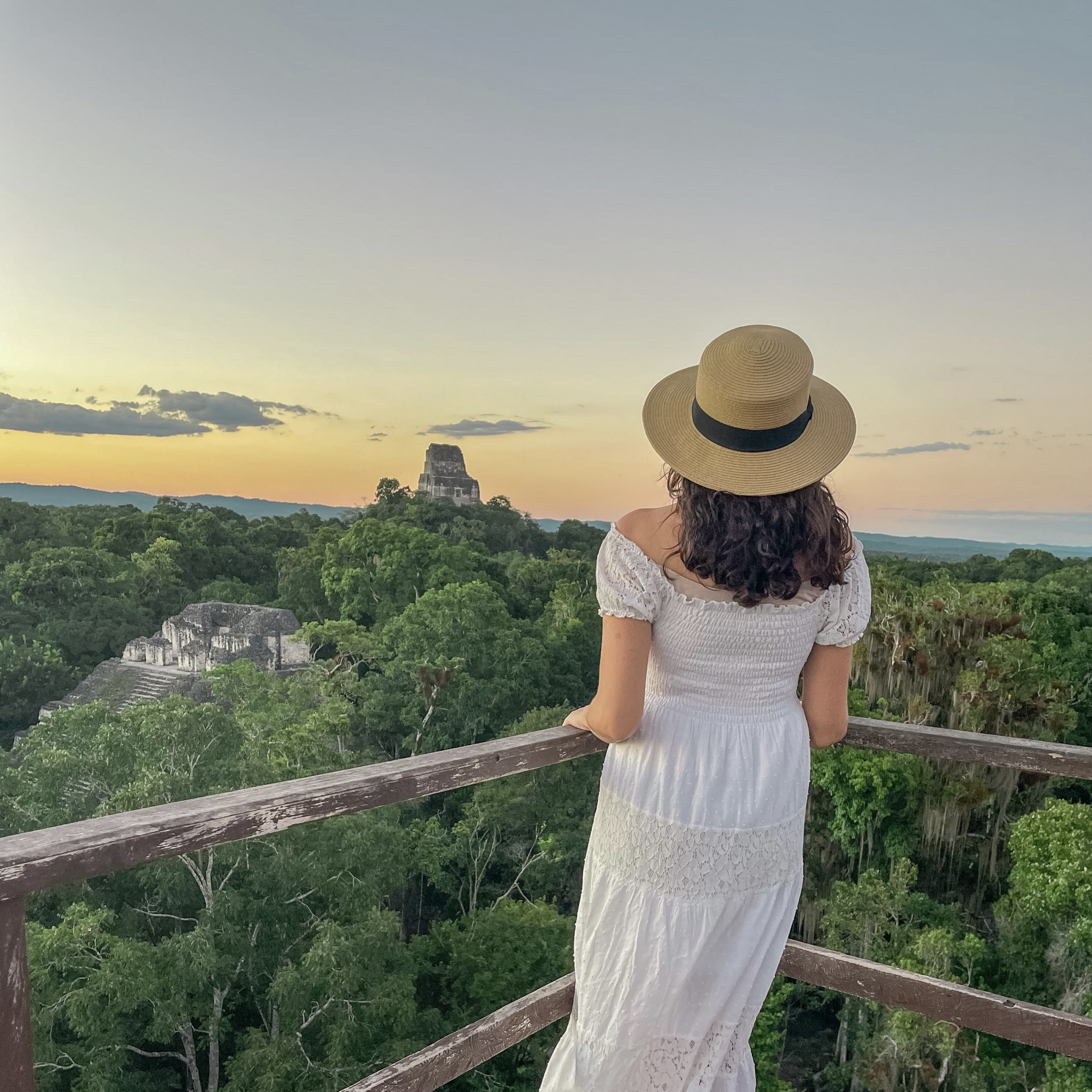 With the sunrise tour, you get an early entrance to the park. It usually leaves around 4:00 am from Flores or a bit later if you stay at the park. However, you must hike and climb a large temple in total darkness to enjoy the sunrise at the top of the temple. The sunset tour gives you a fantastic view of the sun setting over the temples from the top of one of the tallest temples in Tikal.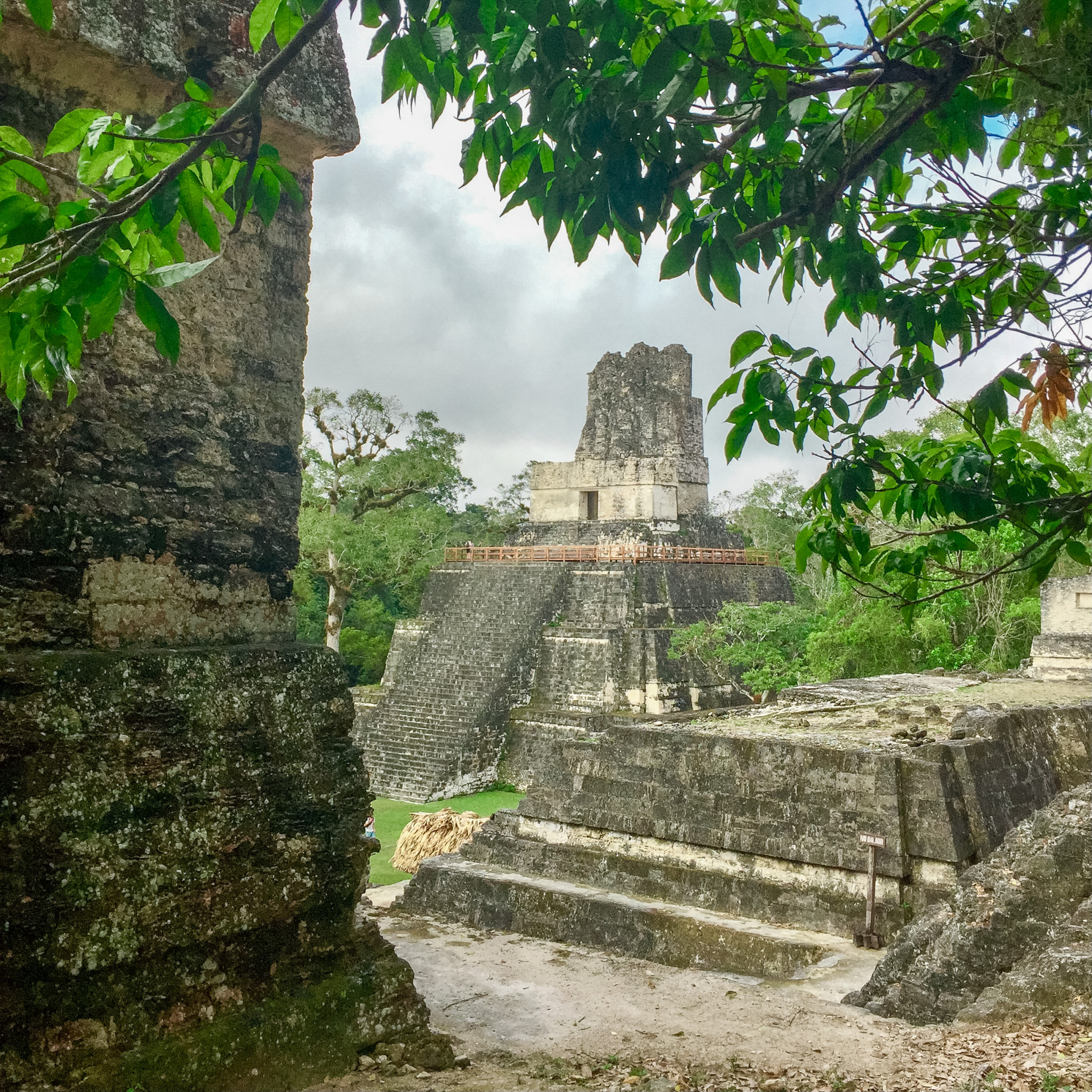 Wildlife you might encounter at Tikal National Park
Although most people focus on the Mayan ruins, Tikal National park is full of local wildlife and is the best place to see wildlife in Guatemala. The Tikal National Park is part of the Mayan Biosphere Reserve. This protected area is home to many animals, from coatis and monkeys to ocelots, foxes, and a myriad of birds, amphibians, snakes, and insects.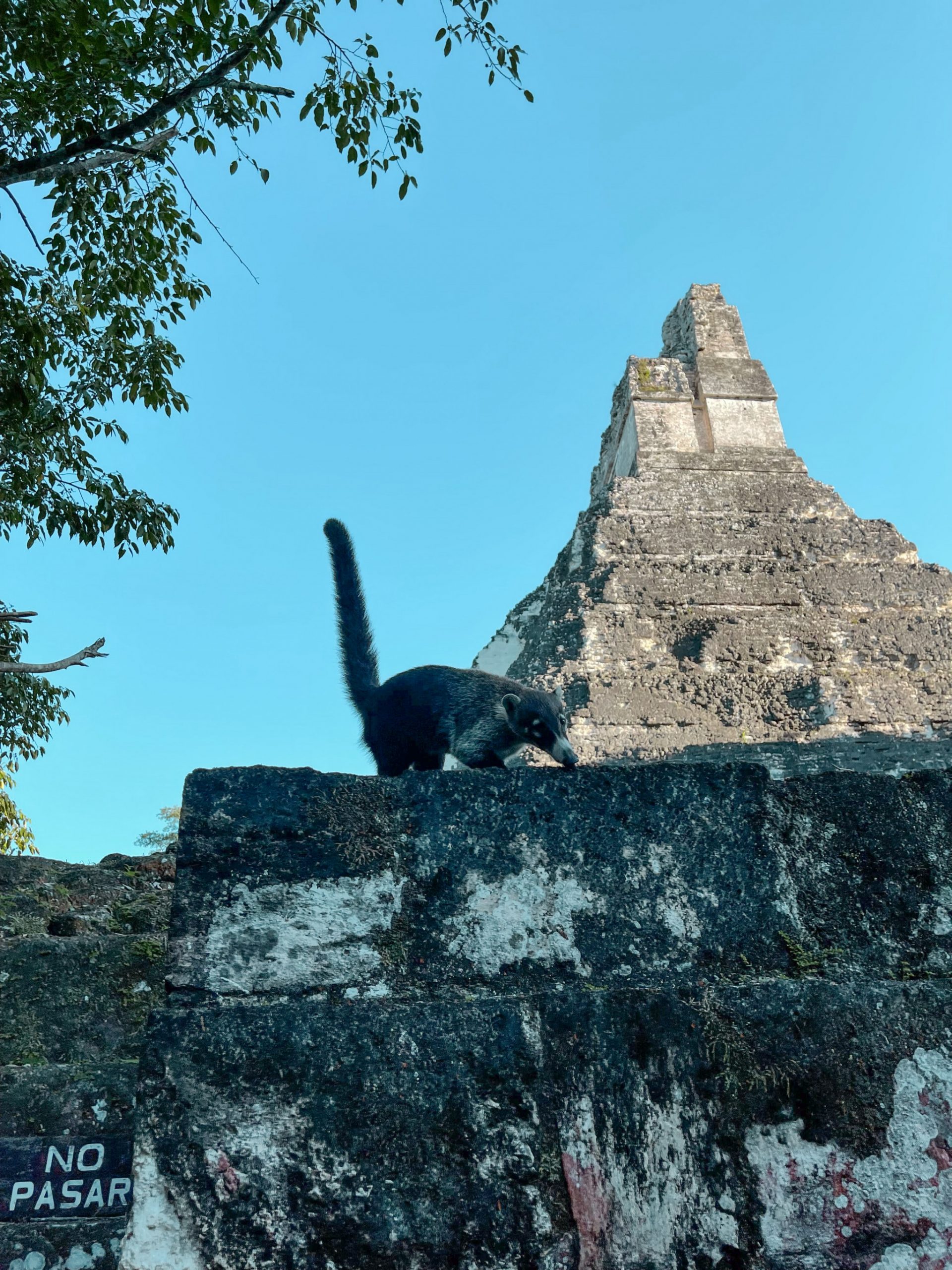 One of the most amazing experiences I've had in Tikal was walking around the temples early in the morning. I got a chance to witness a large band of coatis hanging out in the trees around the main plaza. But the most amazing thing for me was seeing a small group of spider monkeys climbing one of the main temples. It's something you don't see every day.
If you take the sunrise tour of Tikal, you will hear the howler monkeys howling with the break of dawn. Their loud noises, that sound more like a big cat roar than a sound coming out of a monkey, can be heard throughout the jungle and are quite rackety.
However, you may get lucky as you see some less common animals. Keep your eyes and camera ready for tapirs, ocelots, margays, tamanduas, and lots of beautiful birds.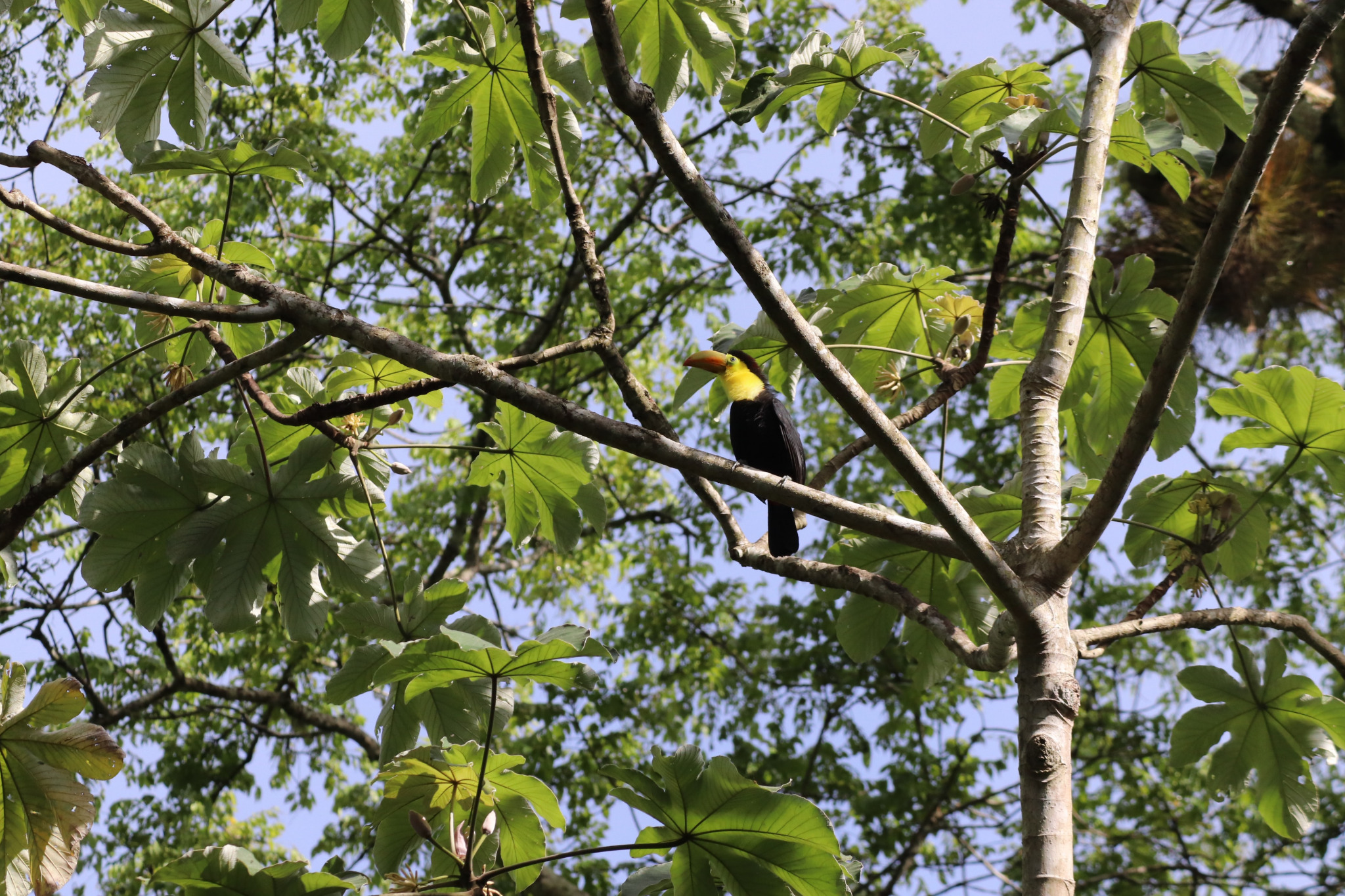 Where to stay when visiting Tikal
This guide to visiting Tikal would not be complete without recommendations on where to stay in Tikal. When planning your trip to Tikal, you can stay at the park or in one of the surrounding hotels. Many of them are on the island of Flores, the shores of Lake Peten Itza, or near the airport.
As I mentioned before, I recommend staying in the Peten area for at least four days and three nights. It will give you enough time to visit Flores island, Tikal, and other Mayan cities and attractions in the area. All of the hotels I am recommending are ones that I have personally stayed at. Therefore, I am sharing my personal experience, not just what others say on Tripadvisor.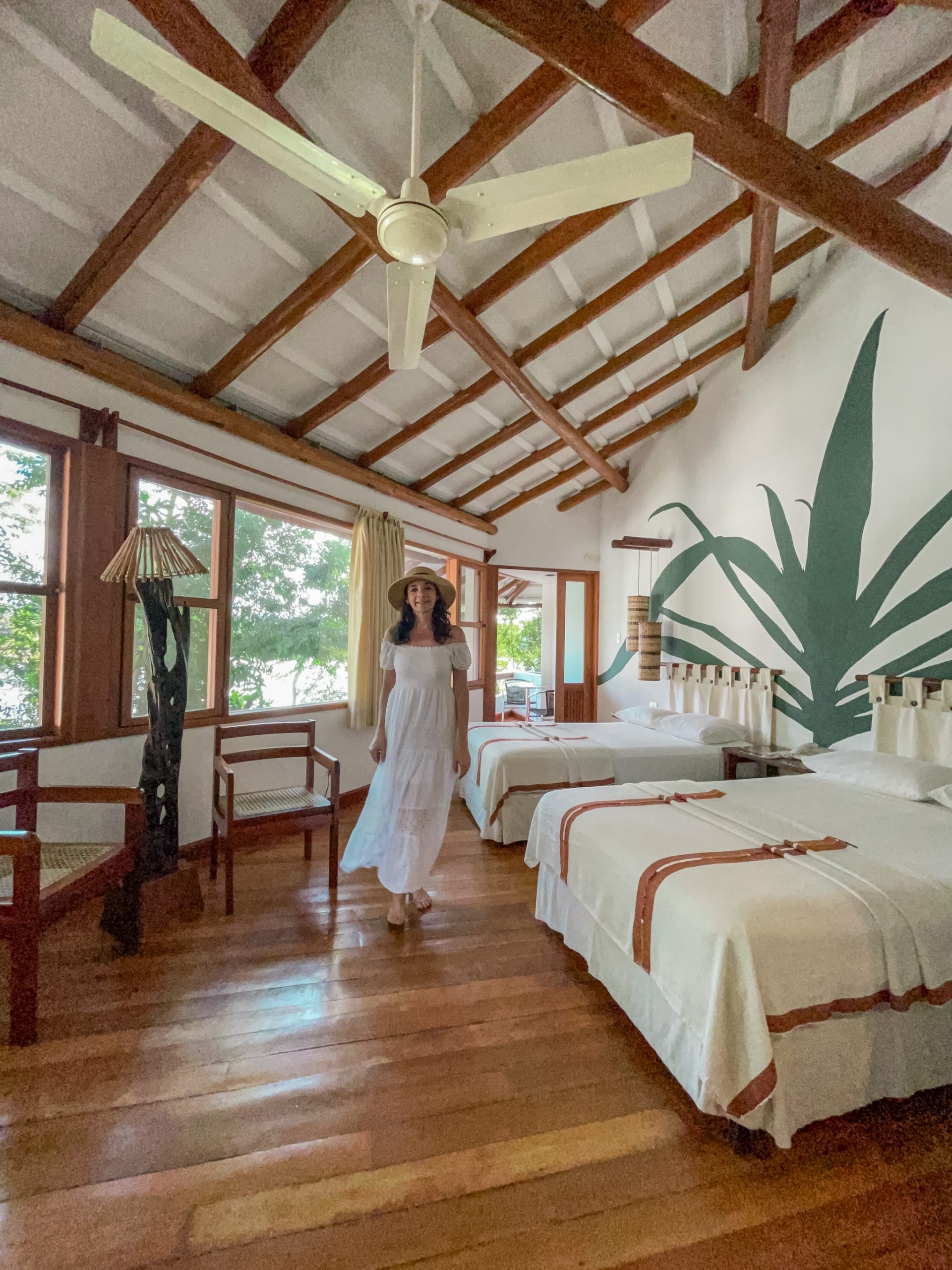 Hotel Casona del Lago near Flores
The best option is to stay for two nights in the Flores area and one night inside the Tikal National Park. One of the best hotels in Flores is Hotel Casona del Lago. With a beautiful view of Lake Peten Itza, Hotel Casona del Lago costs around $80 per night in mid-November (weekdays). Although it is not on the Flores island itself, it's just across the bridge from it.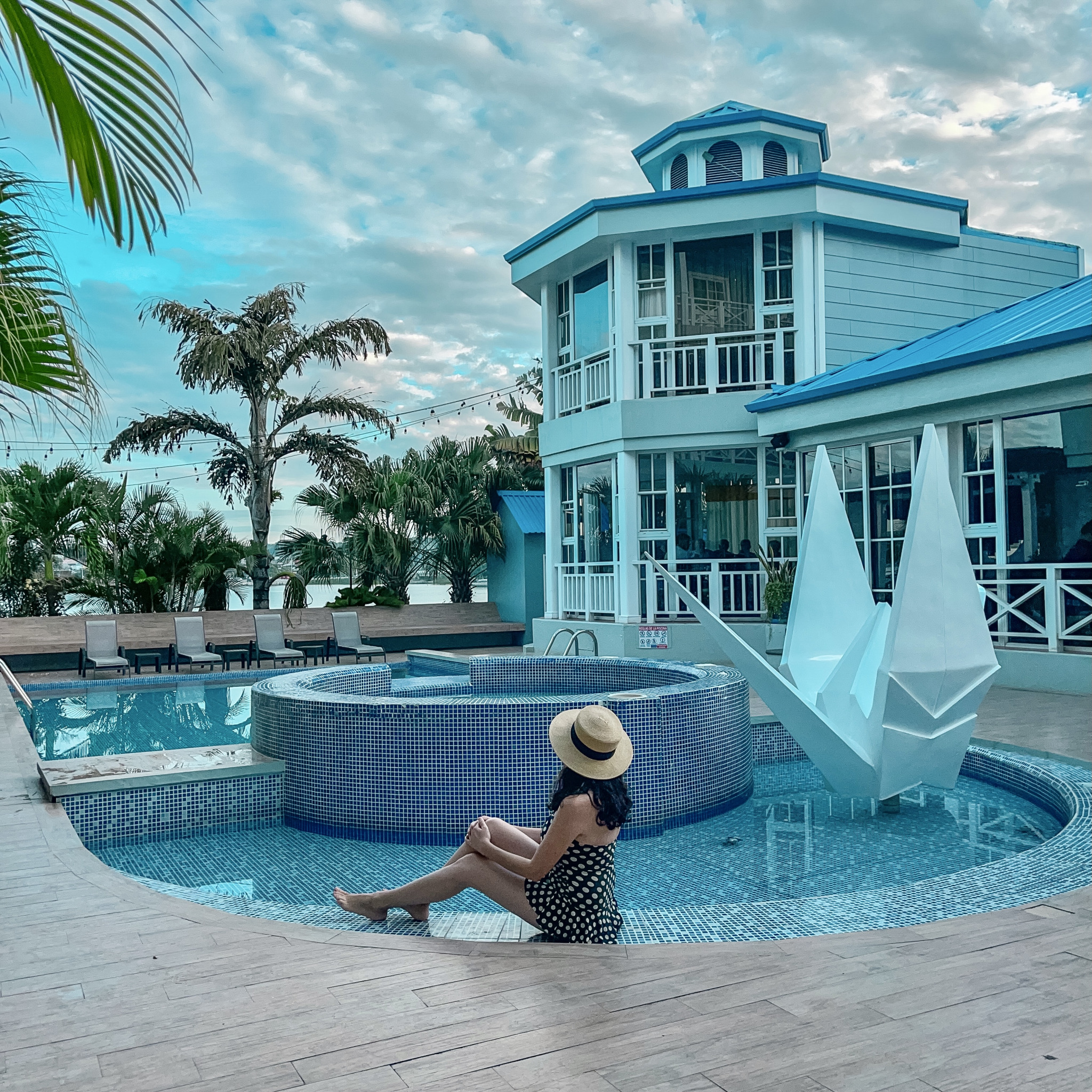 Staying at Hotel Villa Maya in a private natural reserve
If you're looking for a hotel surrounded by nature yet still close to Flores and Tikal, Hotel Villa Maya in Santa Elena is one of my favorite hotels. Located on the shores of a lagoon and surrounded by a natural private reserve, it is an excellent option. It goes for about $100 a night in mid-November (weekdays).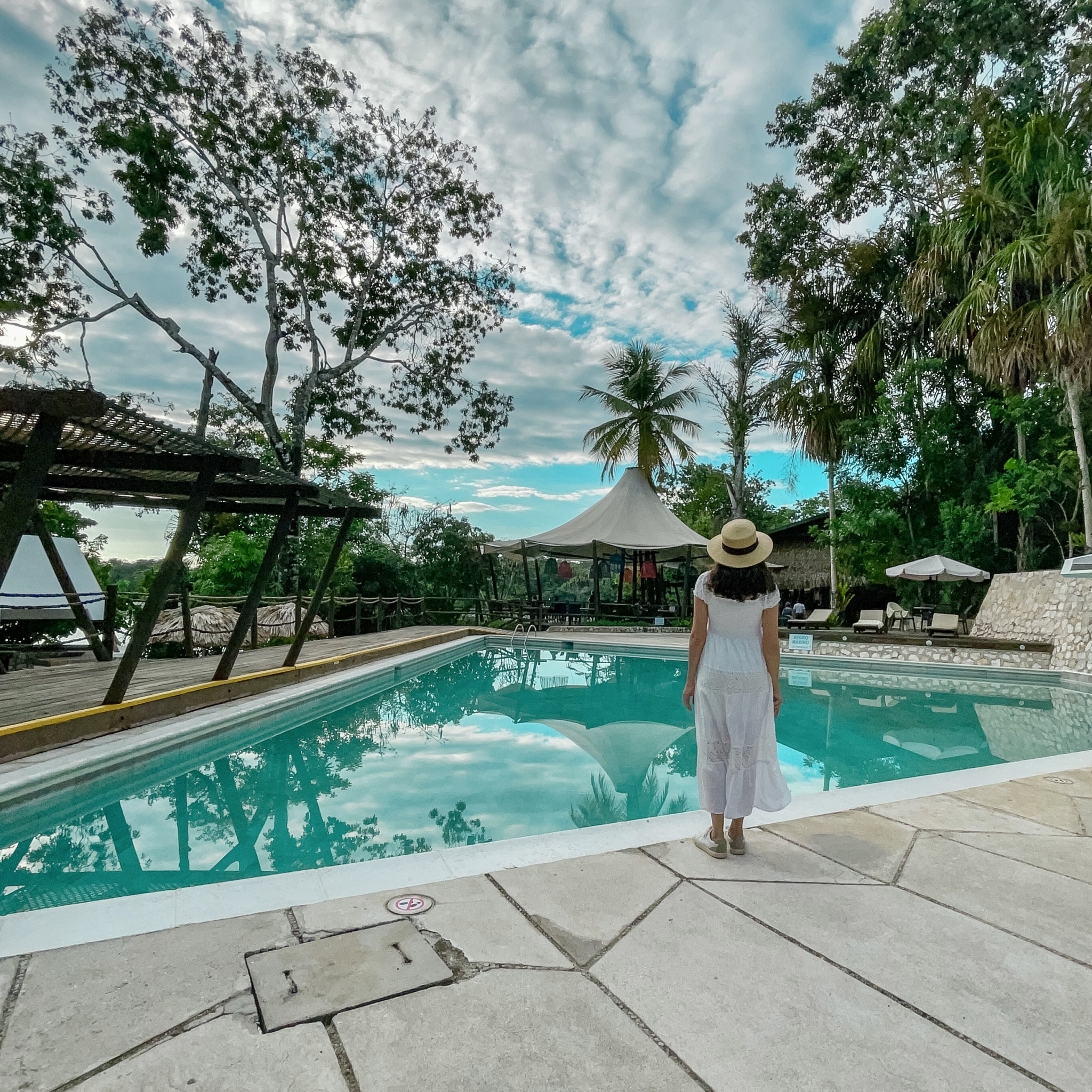 A luxury jungle getaway at Las Laguna Boutique Hotel
The gorgeous Las Lagunas Boutique Hotel is your best bet if you're looking for a luxury jungle getaway. This stunning hotel located in a private reserve has private over-the-water bungalows over a beautiful lagoon. It costs around $300 per night in mid-November (weekdays).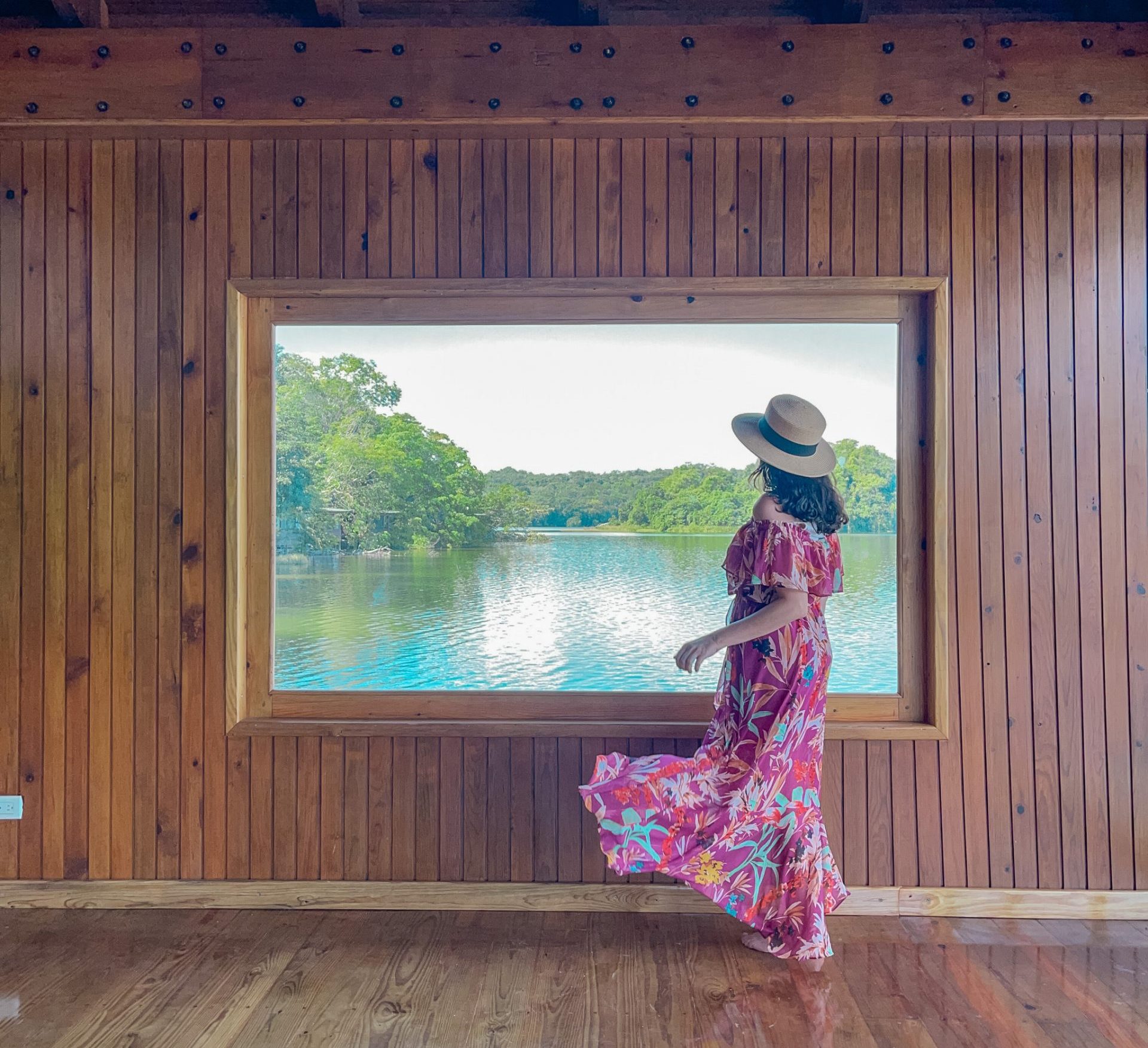 Check out my full review of Las Lagunas Boutique Hotel. It has all the activities you can do at Las Lagunas Boutique Hotel, from hiking to taking a boat tour to their monkey island.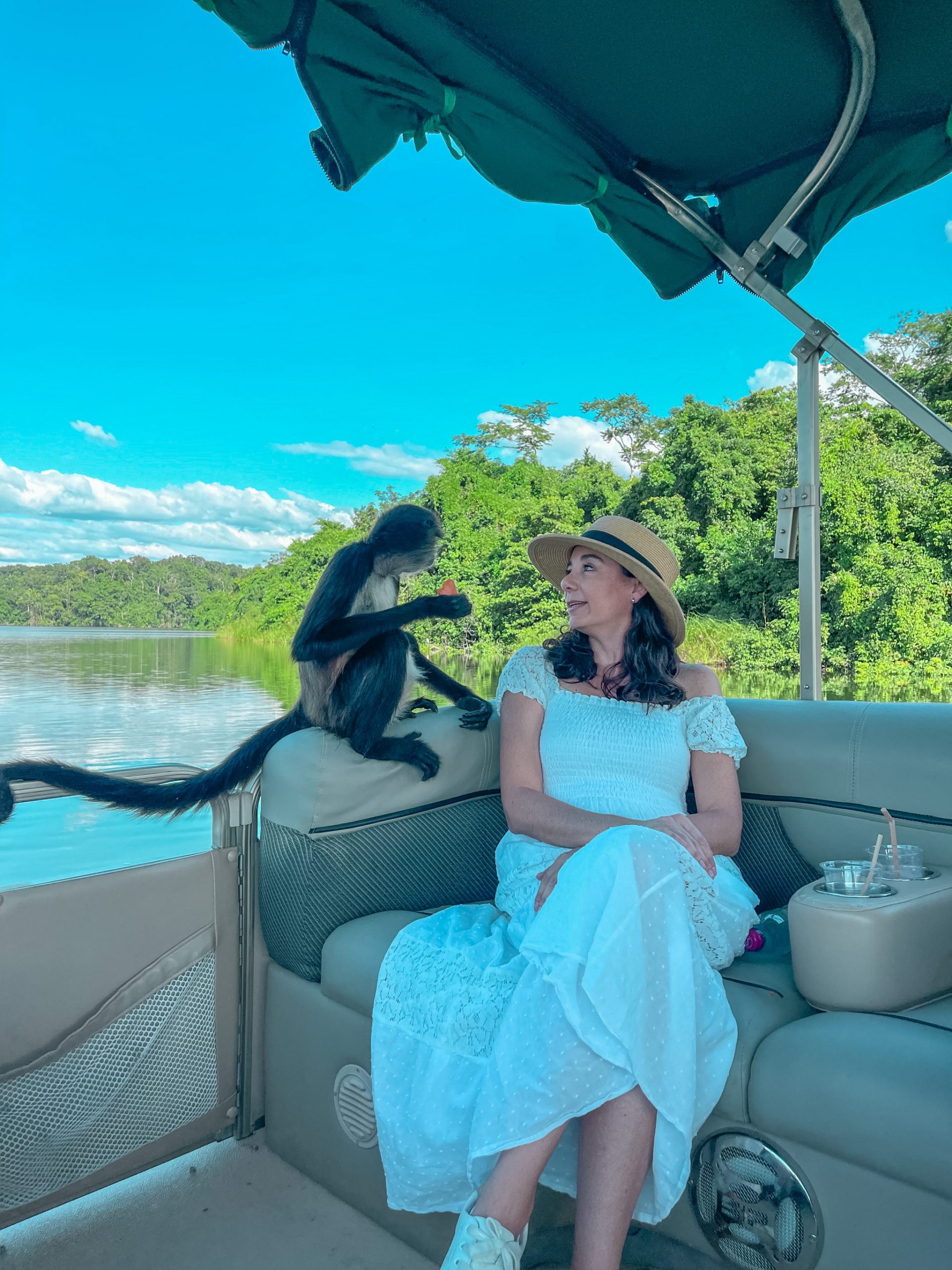 Staying at Jungle Lodge inside Tikal National Park
If you're considering staying at the park, the best hotel in Tikal is hands down, the Jungle Lodge Tikal. At around $200 a night in mid-November (weekdays), it's also the priciest option at the park but well worth it. Please take into account that this hotel is deep in the jungle. There is no wifi; and during the day, electricity is only available in the rooms at certain hours. However, the accommodations are very comfortable.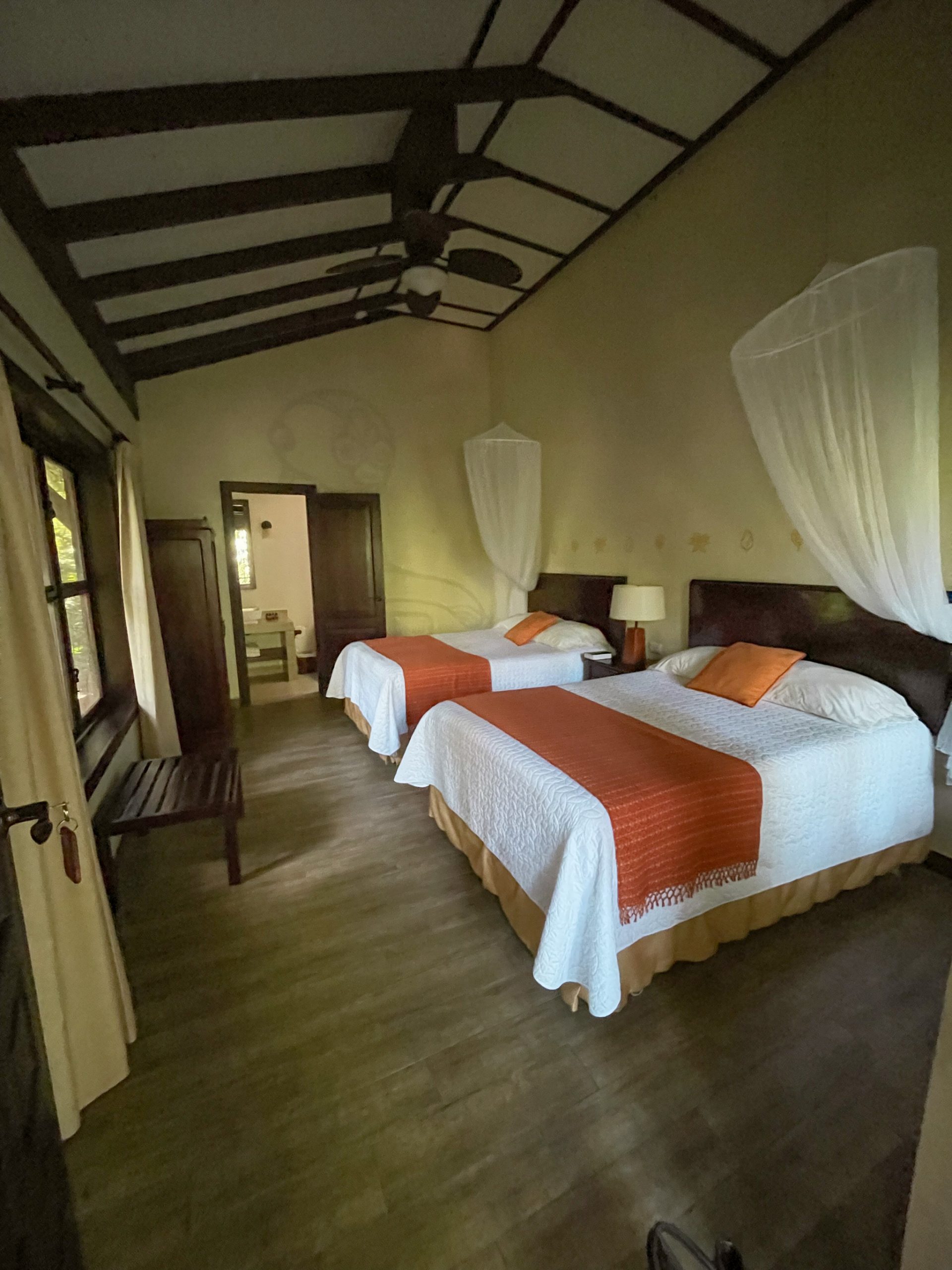 Staying at Tikal National Park will allow you to get in early and have the place all to yourself. It is ideal if you plan to do sunrise or sunset tours. Also, if you like to take photos and don't want people in them, better go early in the morning. The park doesn't get crowded; but I love to be the only one on the trails, enjoying the jungle and ruins all to myself. And the fewer people in the park, the higher probability you have of encountering wildlife!
I hope you found everything you need in this guide to visiting Tikal. I am constantly updating my content, and this content is intended for those travelers planning to visit Tikal in 2022. If you think this guide to visiting Tikal needs any additional information, please let me know. Leave your comments and questions in the comments below.