Get ready for Día de Los Muertos festivities by stocking up on these fantastic Day of the Dead food ideas! This unique celebration is not spooky but a time to honor the deceased, full of joy and color. And like many other holidays, food plays a huge role in the Day of the Dead celebrations. People prepare altars full of ofrendas (offerings), placing marigolds, sugar skulls, and delicious food as a tribute to loved ones that have passed. So I decided to compile some creative Day of the Dead recipes to give this year's Día de Los Muertos celebrations a fun twist!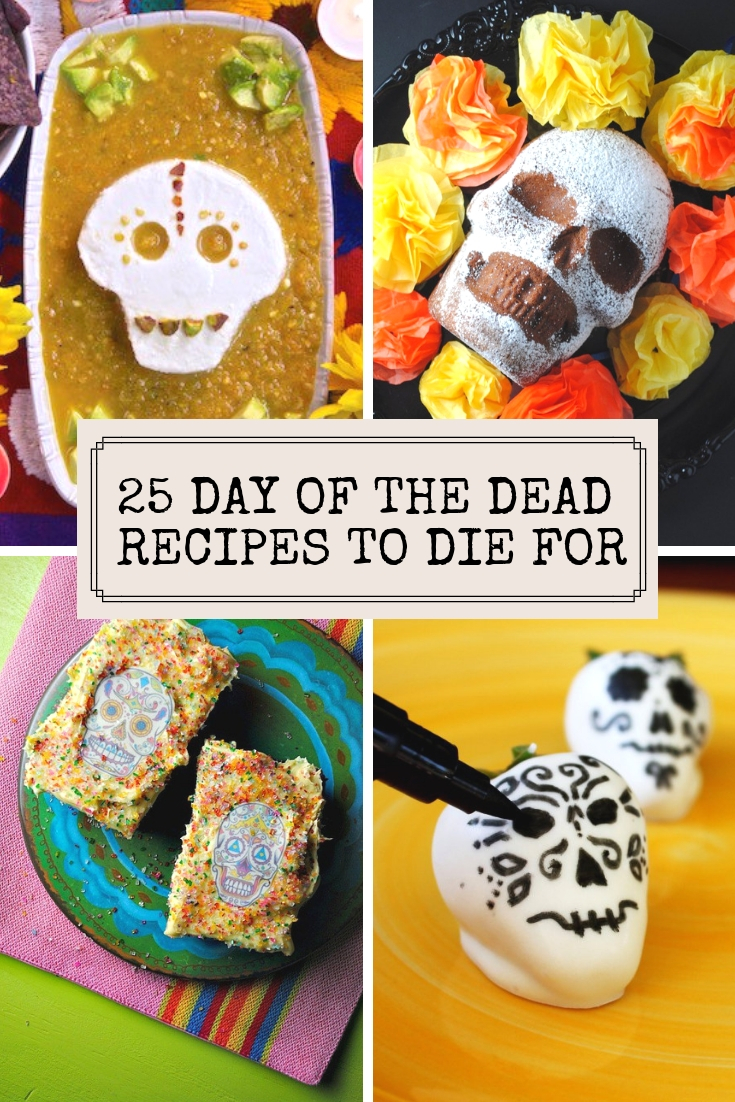 Día de Los Muertos Traditions
During the Day of the Dead celebrations, our family back in Guatemala used to gather together to remember our loved ones that had passed away. These spirit-filled festivities were loaded with incredible traditions and colorful decorations. My grandma used to visit the cemetery, then cook traditional Day of the Dead food for the entire family. Finally, we would sit around the table and listen to stories about those who had died while eating a delicious meal.
Now that We live in Florida, I want to keep those Day of the Dead traditions alive. It is a fantastic opportunity to talk to my kids about life, death, and their Latino Heritage. And, of course, food plays a massive part in this holiday, serving as a connection to the past. So what better way than to cook together fun Day of the Dead recipes while your kids learn something new?
What is The Day of The Dead?
Contrary to popular belief, Día de Los Muertos (Spanish for Day of the Dead) is a joyous time. In many Latin American countries, the Catholic holidays of the Day of the Dead are among the oldest traditions practiced to honor the deceased. They have morphed over the years to become the Latino tradition it is now. People decorate altars full of colorful marigolds and sugar skulls, visit the graveyard, and cook delicious food.
What Day is the Day of The Dead?
Day of The Dead celebrations vary from country to region but are usually during November. For example, in Guatemala, we celebrate Día de Todos Los Santos (All Saints Day) on November 1st and Dia de Los Fieles Difuntos or All Soul's Day on November 2nd. It has unique traditions and incredible food, from decorating gravestones to giant kite festivals!
In Mexico, the Day of the Dead lasts two days, from November 1st to November 2nd. It has become a famous holiday, spreading to many Hispanic families worldwide. And not only does it honor the lives of those who have passed, but it also showcases how beautiful the Latino Culture is.
Fantastic Day of The Dead Food Ideas
The Dia de Los Muertos is quickly approaching. And as I looked for fun Day of the Dead recipes, I came across some fabulous and creative options that I just had to share with you. Plus, these incredible recipes will not only make your mouth water, but they all look so awesome and fun to make. These Día de Los Muertos foods will undoubtedly make any Day of the Dead celebration unforgettable!
The sugar skulls or Calaveras de azúcar are a very important part of the Día de Los Muertos celebrations. Here is a twist on the traditional Day of the Dead food, dipped strawberries in white chocolate and decorated to make white skulls. These are the perfect addition to your Day of the Dead party menu, and kids love them! They are also much healthier than a skull made of solid sugar.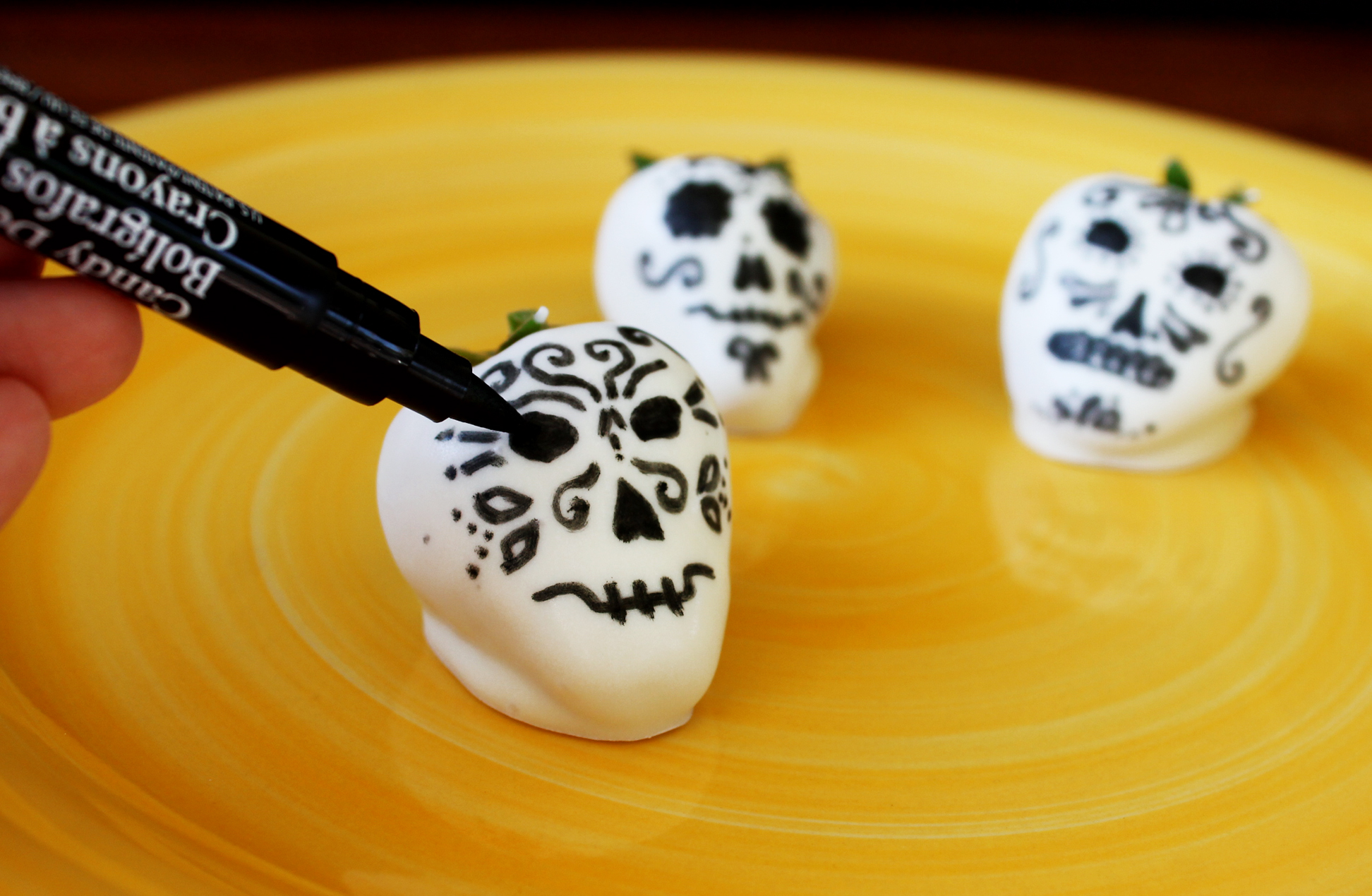 A fun and easy Día de Muertos recipe, gorgeous to look at and delicious to eat. Set up a bowl of salsa, a slab of Calavera-shaped queso fresco, and avocado, and you have the perfect Day of the Dead party snack. Serve with a pile of corn chips, and enjoy!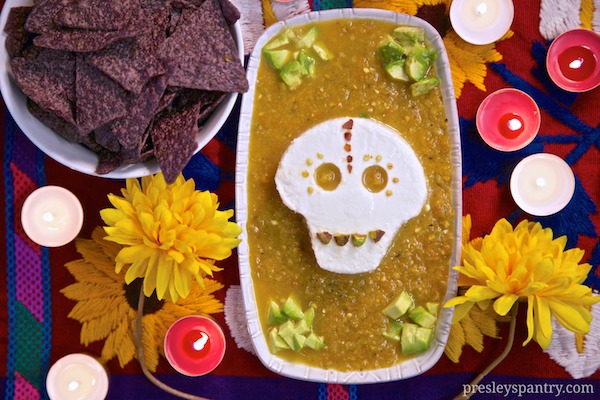 These brownies are rich, decadent, and brimming with chocolate chips. Made with Maseca flour for a touch of earthy flavor and topped with a rich cream cheese frosting. And sprinkles. Sprinkles, Sprinkles, and more Sprinkles in every color add the final touch to this sweet treat.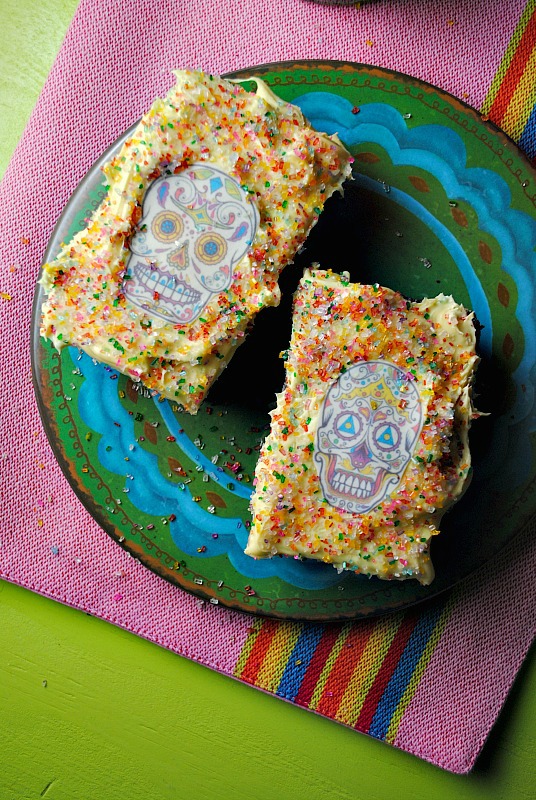 Have some kid-friendly and fun Day of the Dead snacks with these easy skull pizzas. These are delicious and so much fun to do with the kids! You can use any ingredients you like or have at hand. In addition, this is a Día de Los Muertos activity that fosters creativity and opens up a channel to talk to young ones about death.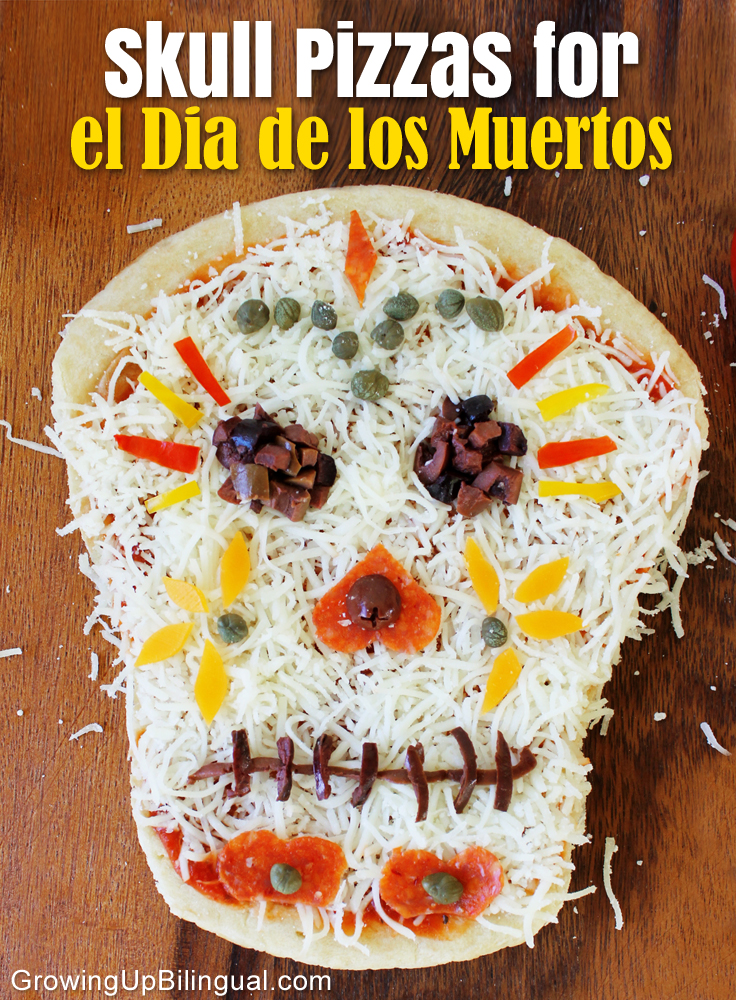 During this festive week, families love to recreate the departed favorite meals to enjoy as they share their life stories. Served with sweet whipped topping or ice cream and beautifully decorated with marigolds, this chocolate cake is the perfect way to end your Day of the Dead celebrations!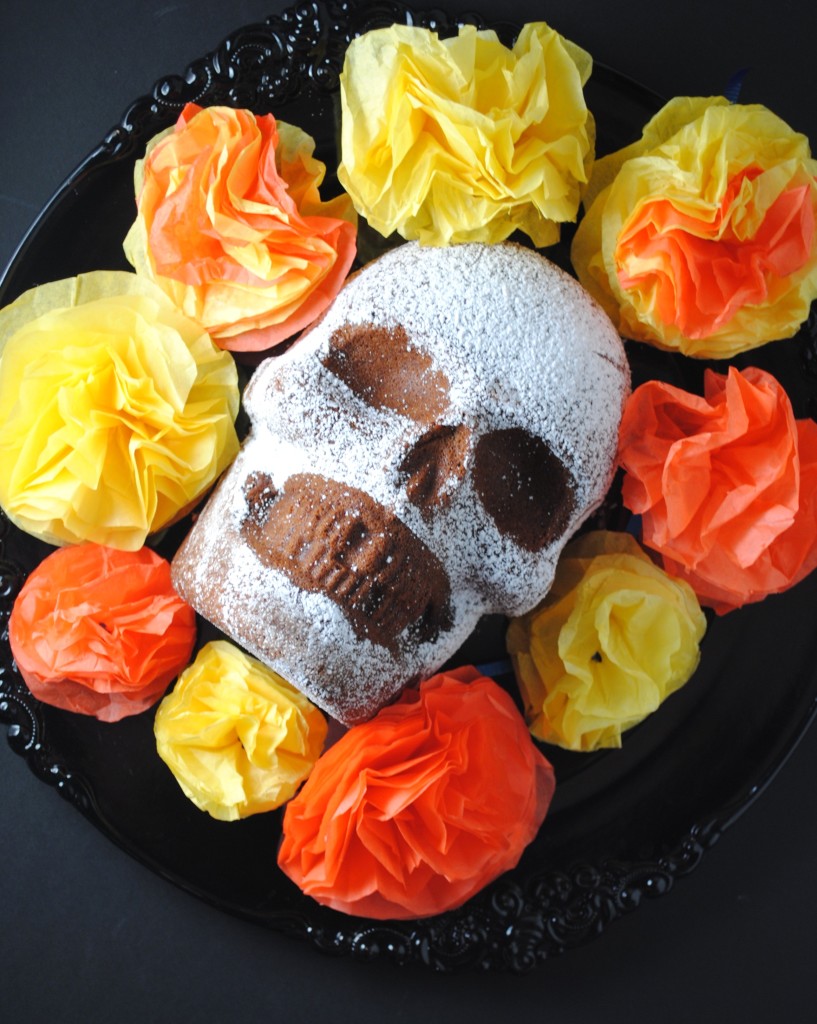 Do you want to do an edible idea to get your creative juices flowing? Then you should definitely try one of these Día de Los Muertos Sandwich Art. This edible Day of the Dead activity is perfect for breakfast, lunch, or snack time! The shape of traditional sandwich bread is close to the one of a skull. So just like decorating cookie skulls, you can decorate a piece of bread to make fun and creative sandwiches or toast.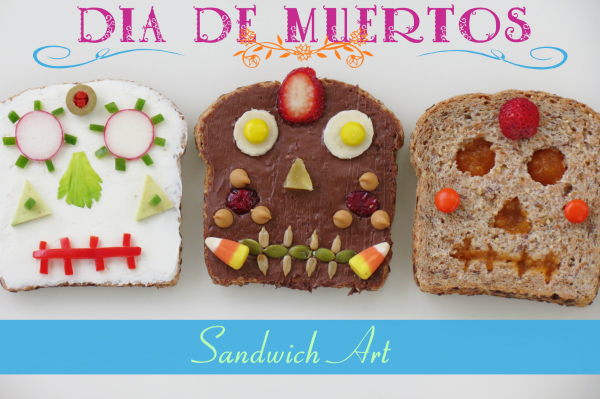 Make a super easy calavera candy to celebrate Dia De Los Muertos! A fast, energy-boosting snack that helps you get through the day. The cute design is a simple way to entertain your kids with a Day of the Dead food craft!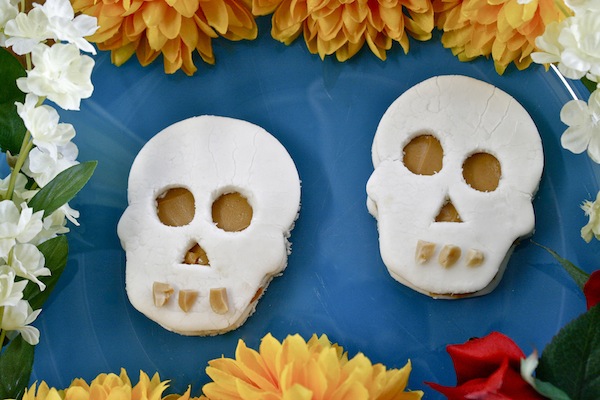 This fruit dessert pizza is the perfect sweet treat for your Dia de Los Muertos festivities. Loaded with fresh fruit and a yogurt-based cream cheese frosting, it's the nutritious treat you want your kids to eat! This fun treat draws inspiration from traditional sugar skull designs of Mexico's Day of the Dead celebration.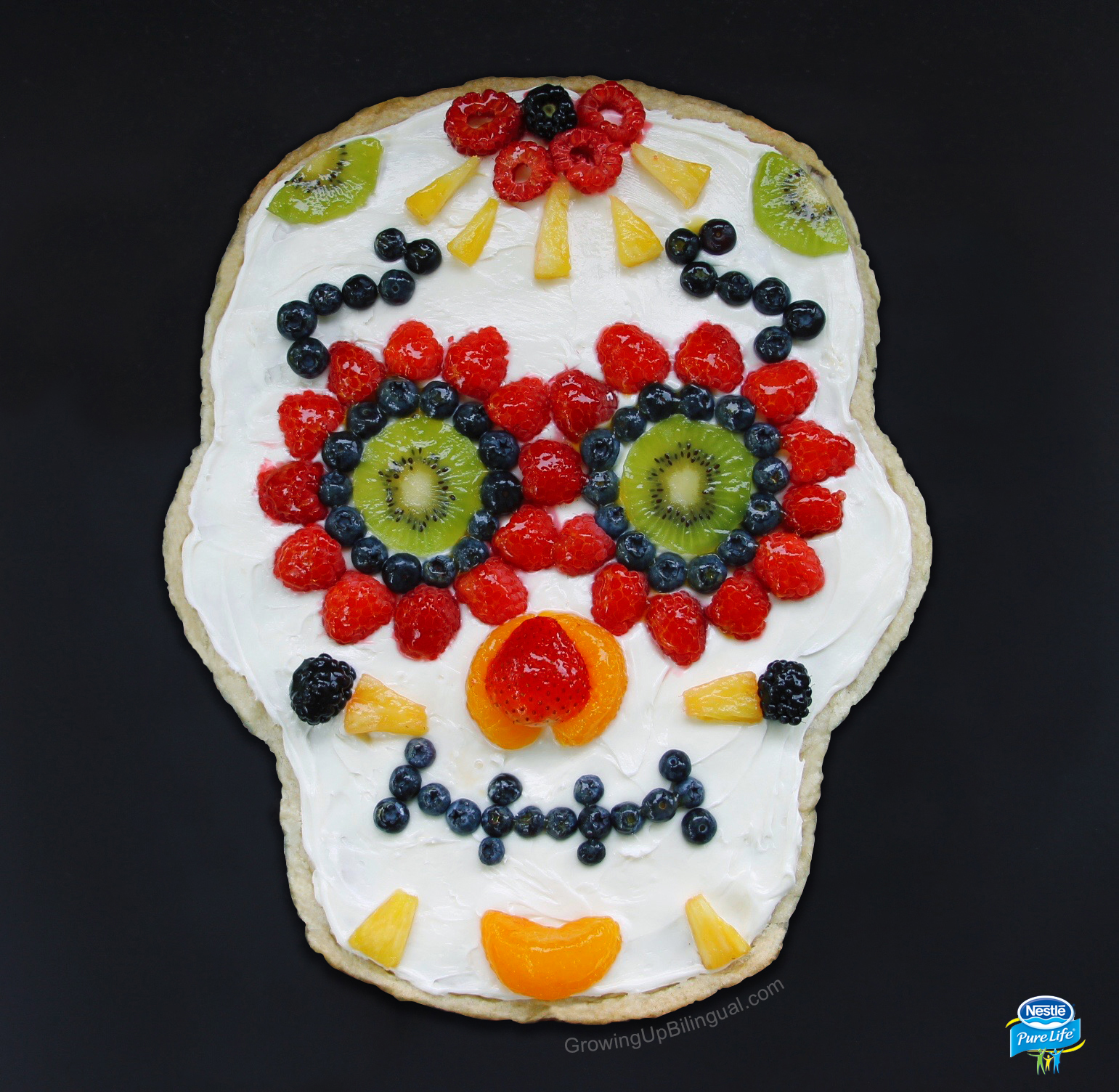 Usually, skulls are associated with a negative connotation. But the Calaveras takes on a completely different and beautiful meaning for Mexicans during Dia De Los Muertos celebrations. They represent death and rebirth, the death of somebody leaving the world as we know it and moving on to the afterlife. So why not honor their life (and their favorite chocolate cake) while also enjoying making a delicious skull dessert?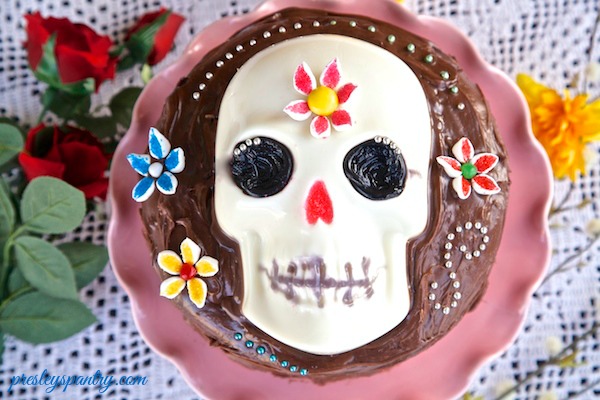 This recipe is a fun spin on Pan de Muerto; the sweet bread is typically served during Day of the Dead celebrations. This dish envelopes panela cheese and something sweet into a flaky puff pastry crust. When finished, it resembles Pan de Muerto but has a tasty, sweet, and savory surprise inside!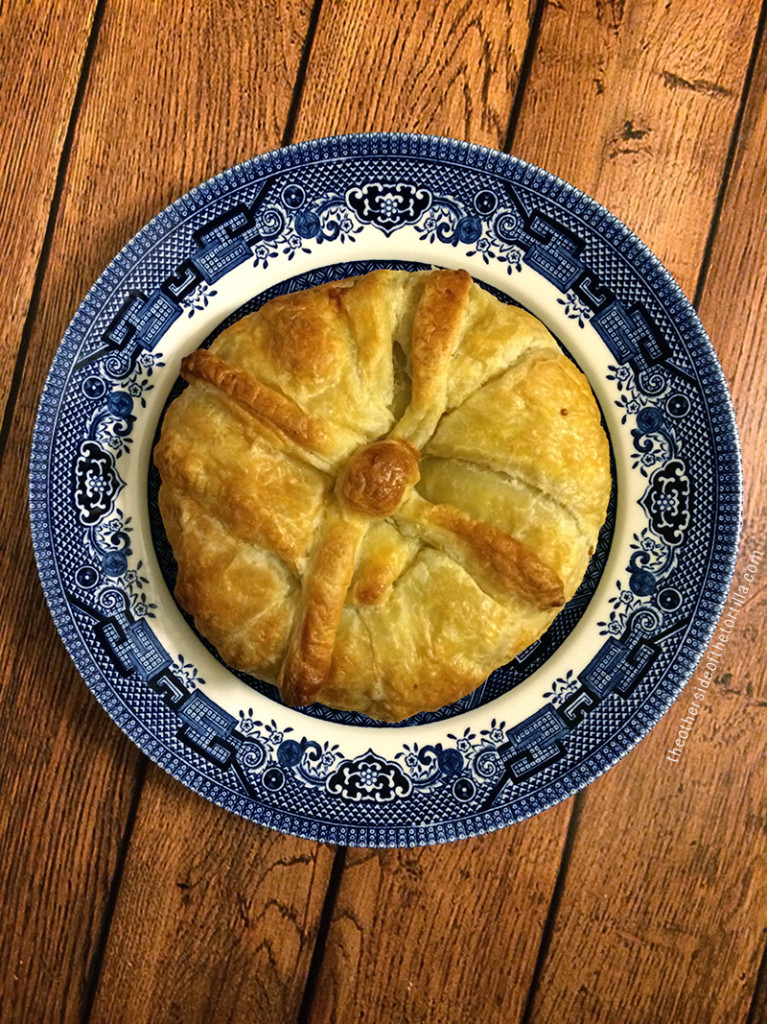 While this is in no way a traditional Day of the Dead bread (the kind, for instance, you would put on your Day of the Dead altar), this delicious focaccia is still a special Day of the Dead food. It includes yummy Mexican cheeses, olive oil, salt, and fresh, colorful vegetables, a mouthwatering addition to your Day of the Dead party menu!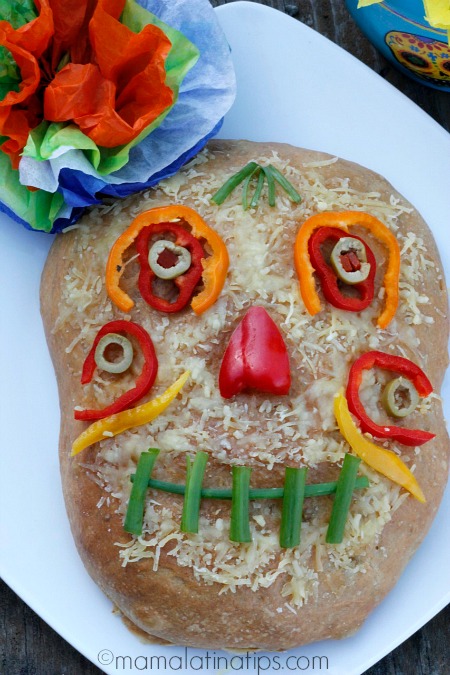 This delicious Day of the Dead dessert is artwork! Everybody loves Rice Krispies. And combined with caramel, it makes the perfect treat! Just beautiful!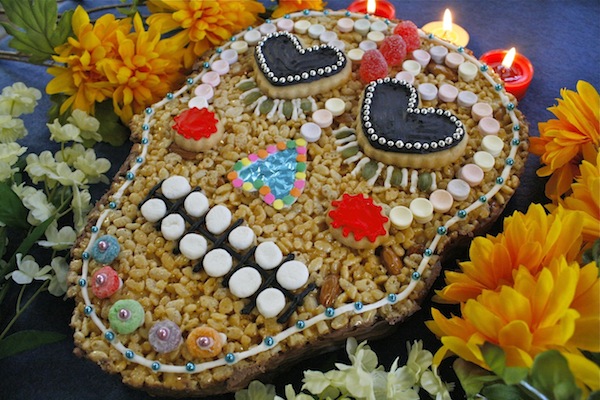 Create a signature drink around the marigold, a traditional flower used in Day of the Dead celebrations. Marigolds are not only edible but delicious, with a bright, citrus-like flavor. It pairs exceptionally well with Limoncello and the light fizz of Vinho Verde. But be forewarned: this smooth cocktail is named the Marigold Muerte (Marigold Death) for a reason. It's strong!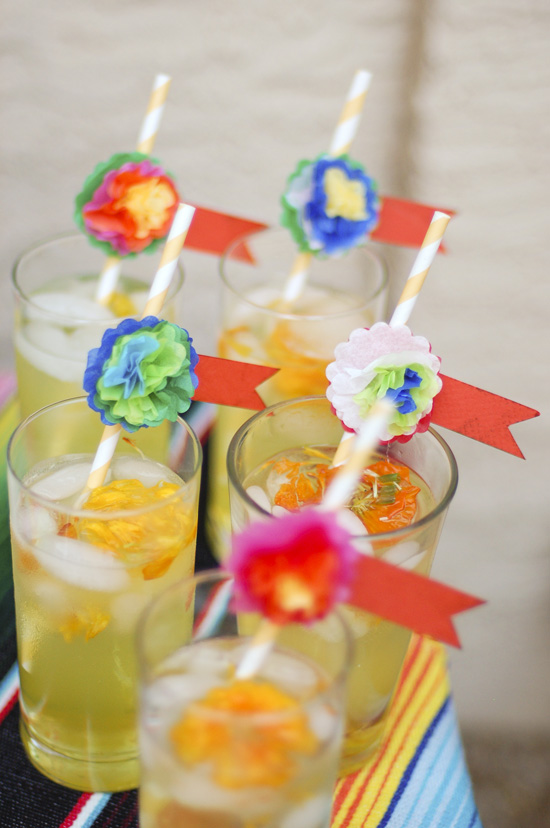 Check out these fun sugar skull caramel apples! The traditional sugar skull is made of sugar, water, and meringue powder. It's hardened, then decorated with Royal icing. This tutorial is a clever and creative spin on that tradition. And these gorgeous Sugar Skull Caramel Apples and the perfect sweet touch to Día de Muertos festivities!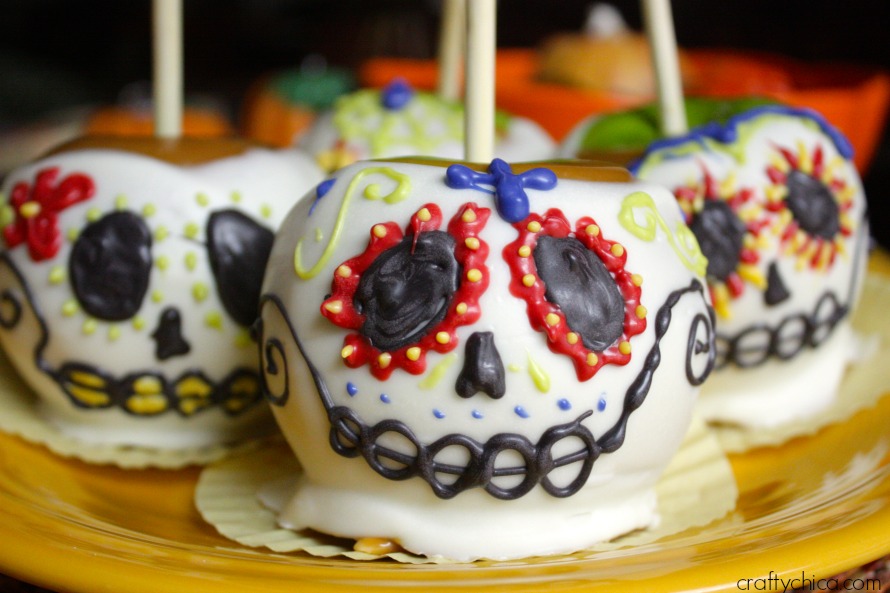 For a Día de Los Muertos edible craft, marshmallows are the perfect canvas to decorate your own sugar skull pops. Decorating marshmallow pops is an easy and tasty way to teach your kids about this special celebration in a way that's fun and full of color.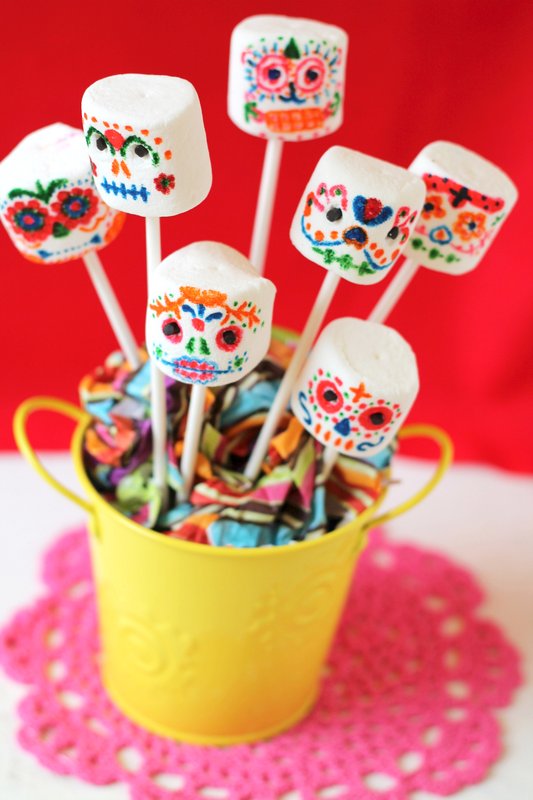 This easy-to-follow cupcake tutorial in honor of El Dia de Los Muertos is beyond cool! A pack of silicone ice cube trays in the shape of skulls and bones makes it great for chocolate molds! Then have fun decorating the skulls with brightly colored shades of buttercream and colored dragees (and glittery disco dust!).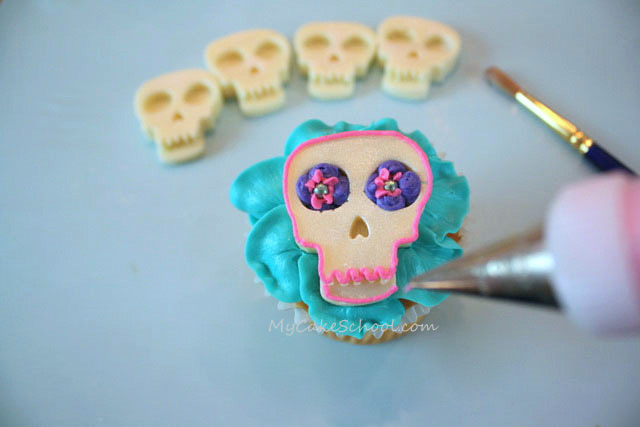 Halloween is right around the corner, so why not make a sugar skull party platter out of candy? Just under one ton of candy was used to make this thing, and it didn't last very long! And if you look at a traditional sugar skull, you'll see it is full of bright colors. So have fun and pick all kinds of different colored candy to make this deliciously wicked dessert table.
Make some fun, festive Dia De Los Muertos Mini Confetti Cakes! These skull cakes are decorated like sugar skulls stuffed with sprinkles inside for a fun surprise! Although they look incredibly detailed and hard to make, they are surprisingly easy to do.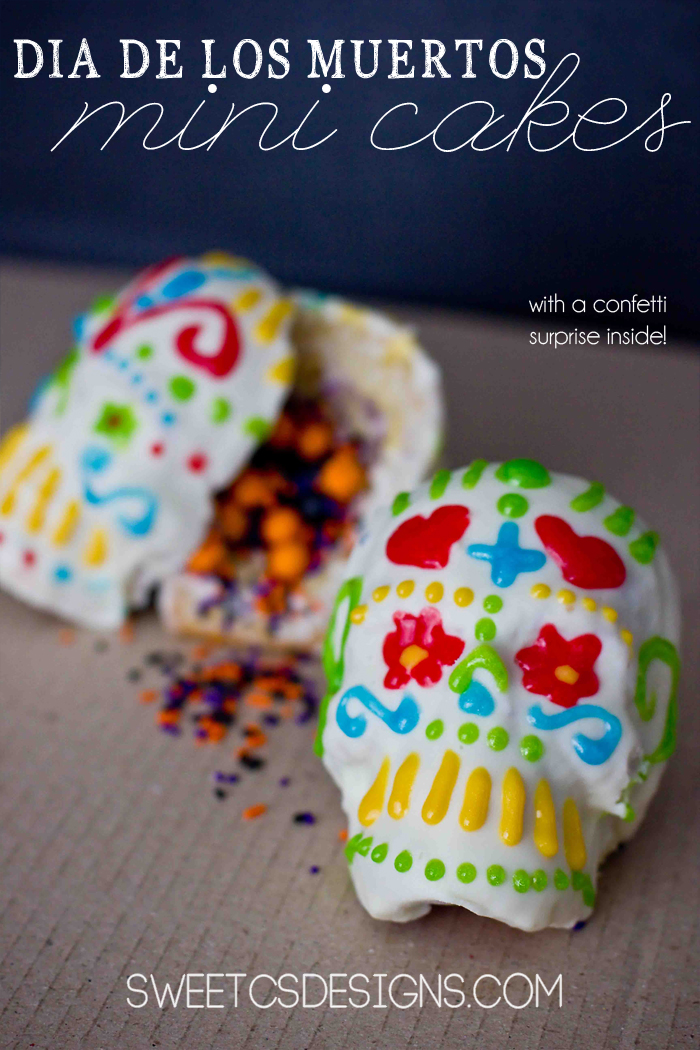 Day of the Dead is a great time to teach your kids about this cultural tradition. And cooking together facilitates time to talk! Make these beautiful sugar cookies and decorate them as black and white Calaveras. Talk about the holiday's traditions, such as building a Day of the Dead altar, making sugar skulls to decorate your altar de Muertos, and traditional recipes for Day of the Dead.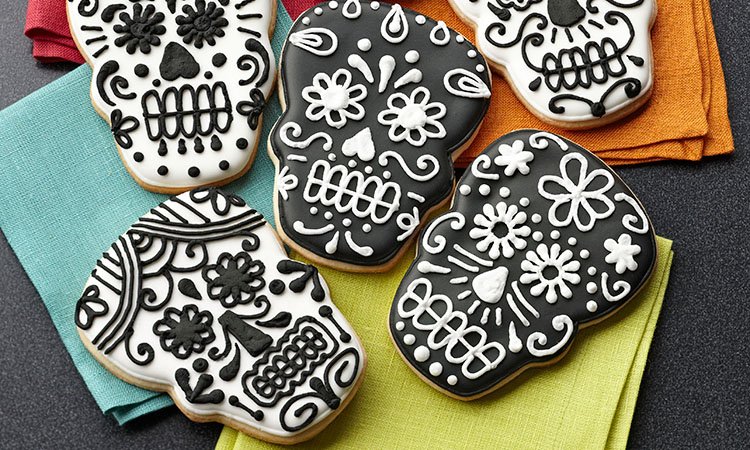 White chocolate pear skulls are tasty and so much fun! So, to tweak the lovable recipe for caramel or candied apples, here are these whimsical pear skulls! The best part of this recipe is that you have total freedom to let your imagination flow in decorating the heads.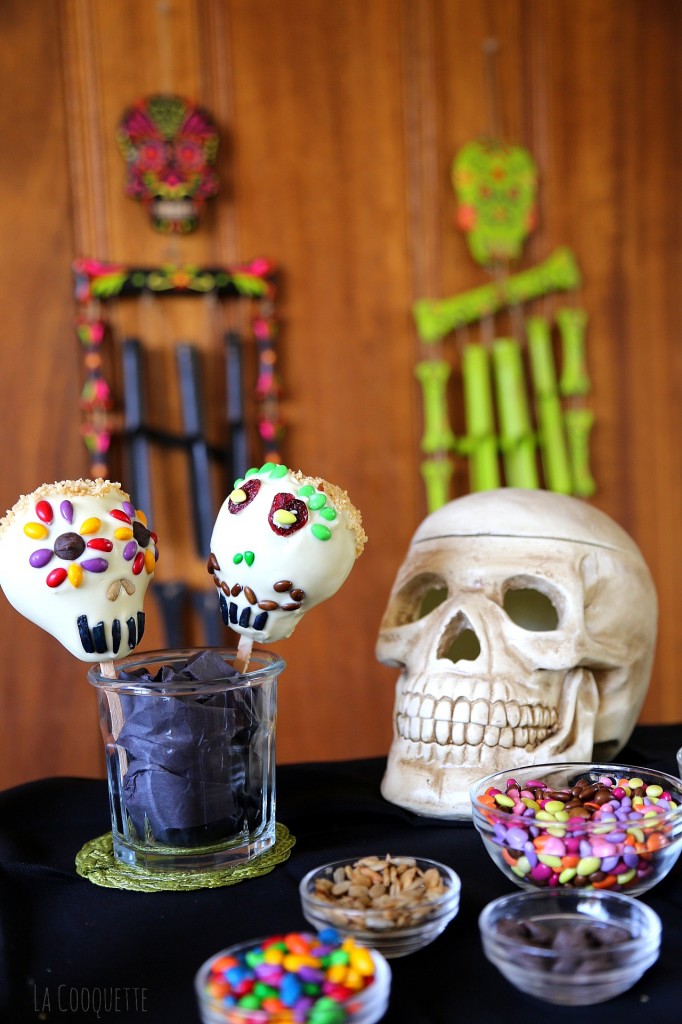 These Calaveras cookies look amazingly yummy! The most familiar symbols of Dia de Los Muertos are the Calacas and Calaveras (skeletons and skulls), often seen representing the holiday. So, celebrate the Day of the Dad through fun cookies with a healthy bonus of gluten-free and dairy-free cooking!
Whenever you host a Dia de Muertos party, have some super easy desserts alongside more elaborately decorated treats. With this Día de Muertos recipe, turn a store-bought brownie mix into the coolest Day of the Dead dessert! It's easy to create these Sugar Skull Brownies using a cookie stamp for your Dia de Los Muertos or Halloween Party.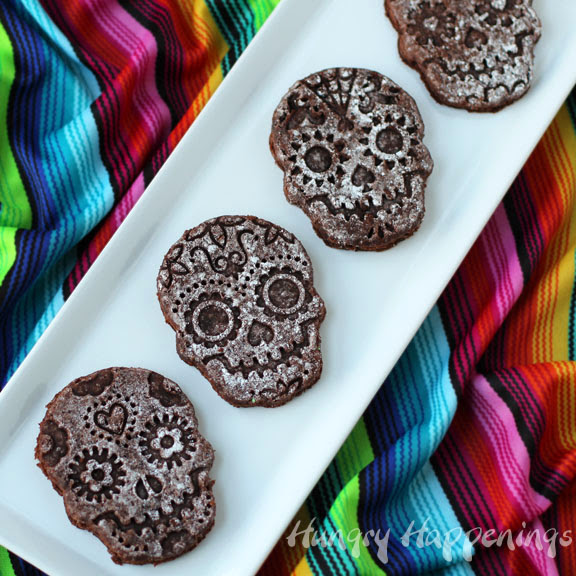 These are seriously the easiest cookies you will ever make, with the shortest supply list ever written. The key to this cookie is patience: it's all about layering and drying. I call them laundry day cookies because you can do a lot of folding during drying time, and they turn out adorable!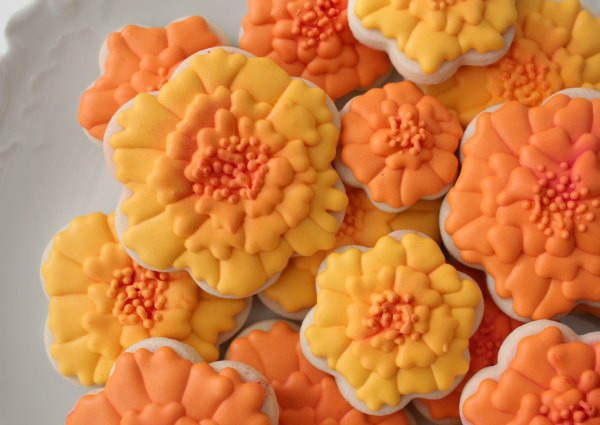 What do you love more about Dia de Los Muertos than all of the beautifully designed sugar skulls? Nothing?! Us, too. But since it can be kind of difficult to find sugar skulls, we came up with our own delicious recipe for easy cake balls. These Sugar Skull Cake Balls are a fun and easy take on the real thing.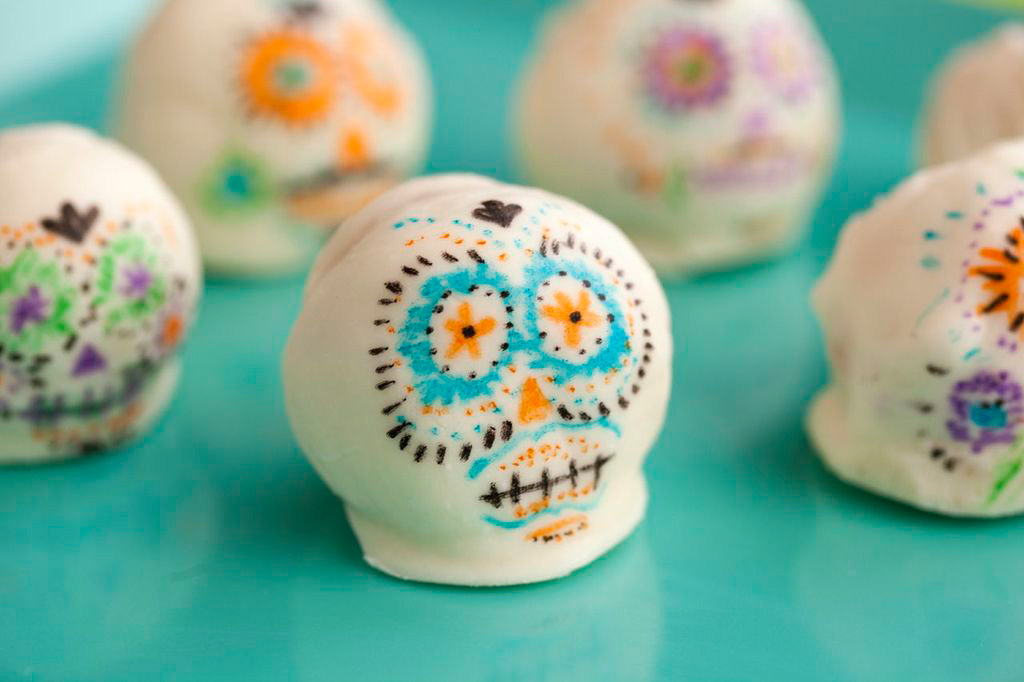 These sugar skull empanadas are to die for – no pun intended! Not only do they melt in your mouth, but they are also very crafty to make. It is a charming twist to the traditional empanada. We all like shortcuts, so use pre-made pie crust for the dough! From there, you can have your kids help make these for a Dia de Los Muertos party or to put at a loved one's ofrenda.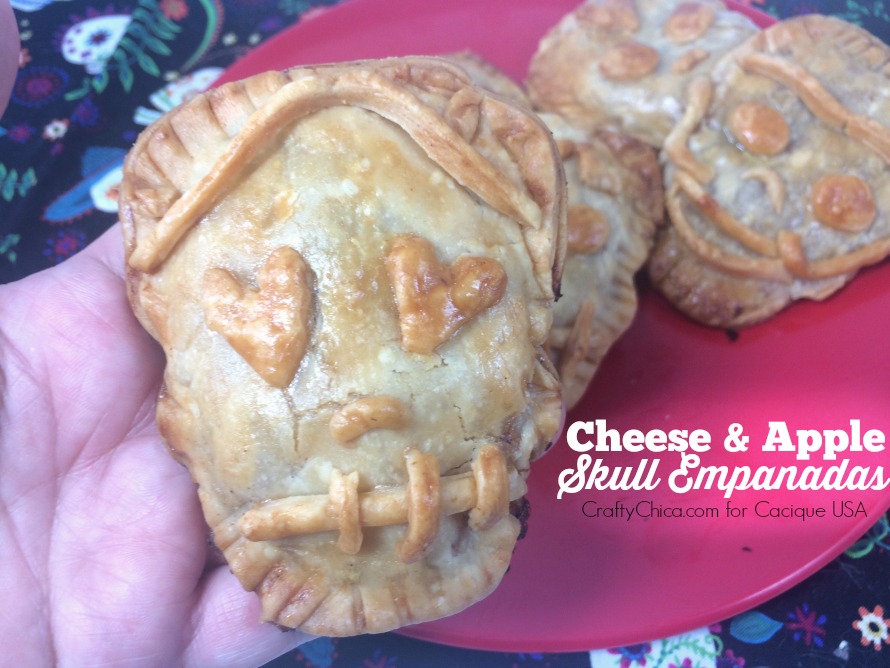 More Day of The Dead Food and Ideas You'll Love
Molletes is a traditional Guatemalan dessert perfect for the Day of the Dead or All Saints Day festivities. They are fried pan dulce or sweet bread stuffed with milky custard soaked in a delicious syrup made with panel (raw sugar) and rum. In this post, you will find a step-by-step recipe for making this easy and delicious dessert that will have your kids licking their fingers!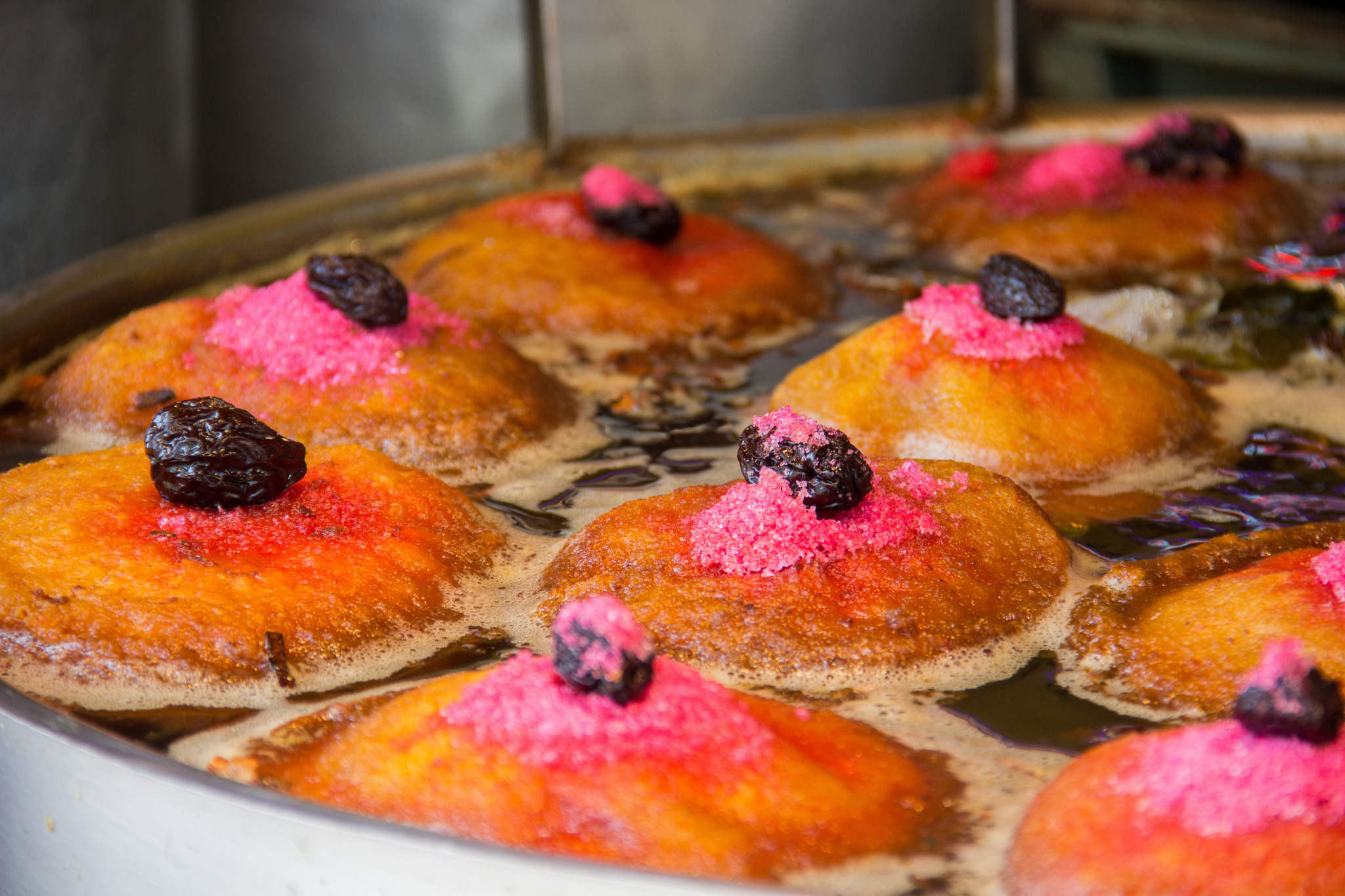 Making fun Day of the Dead food together is the perfect activity for kids during Día de Los Muertos celebrations! From Calavera sandwiches to candy trays and skull pizzas, here is a compilation of my favorite kid-friendly Day of the Dead Recipes.
Whether you're searching for a delicious cocktail full of fall flavors or one steeped in Mexican tradition, you'll find a delightful beverage for your Day of the Day celebrations here. It is the perfect time to make a thoughtful cocktail and toast to loved ones who passed away.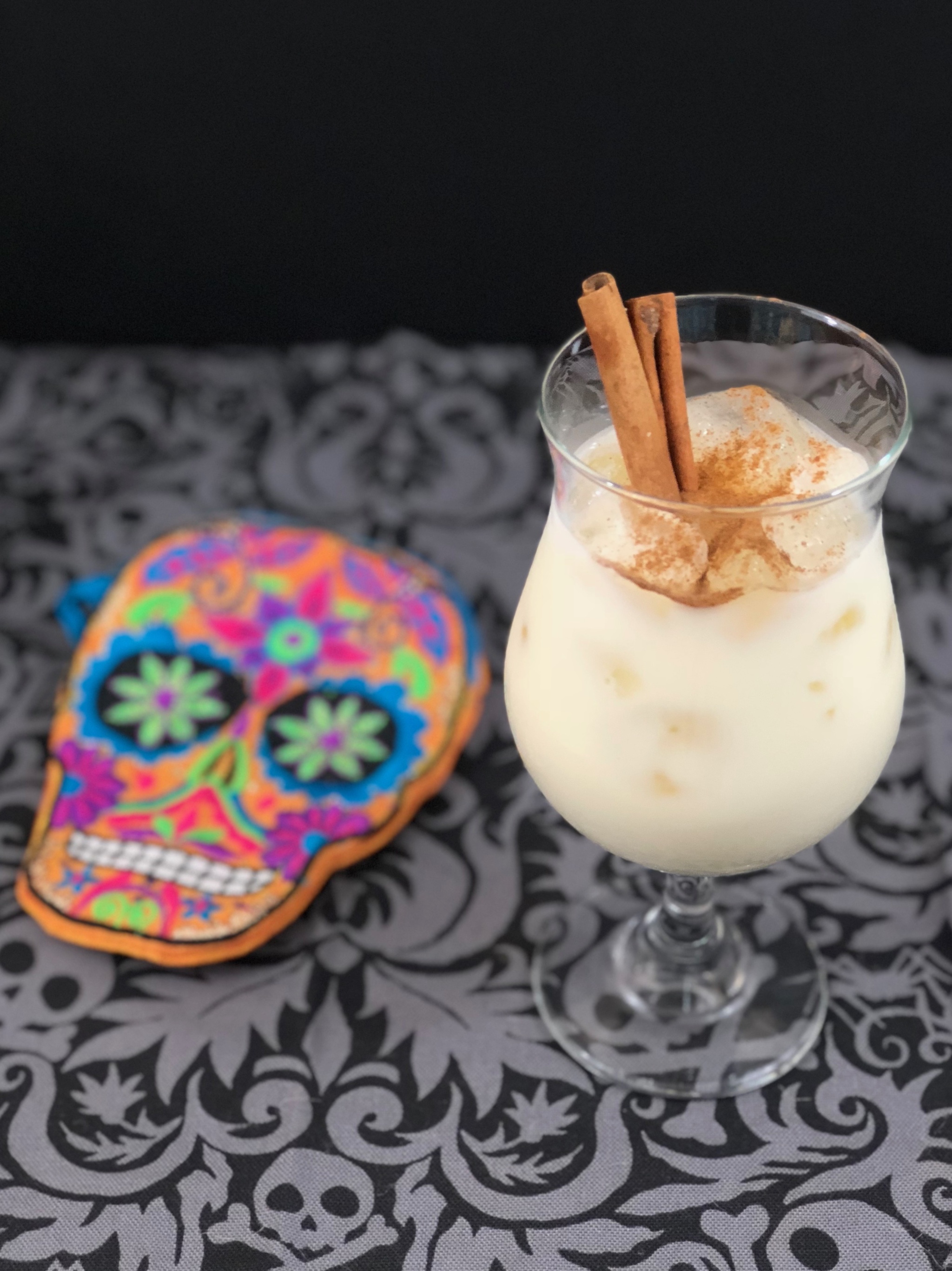 Embrace this spirit-filled holiday with these easy Day of the Dead crafts perfect for the whole family. From colorful piñatas and cute lanterns to traditional sugar skulls, you'll find a fun craft to decorate your home!
Plan a colorful and authentic Day of the Dead party to honor loved ones that have passed. These kid-friendly Day of the Dead party ideas are perfect for this whimsical, spirited celebration. From sugar skull-inspired recipes to Day of the Dead decorations, here are lots of tips and inspirations for your Dia de Muertos party.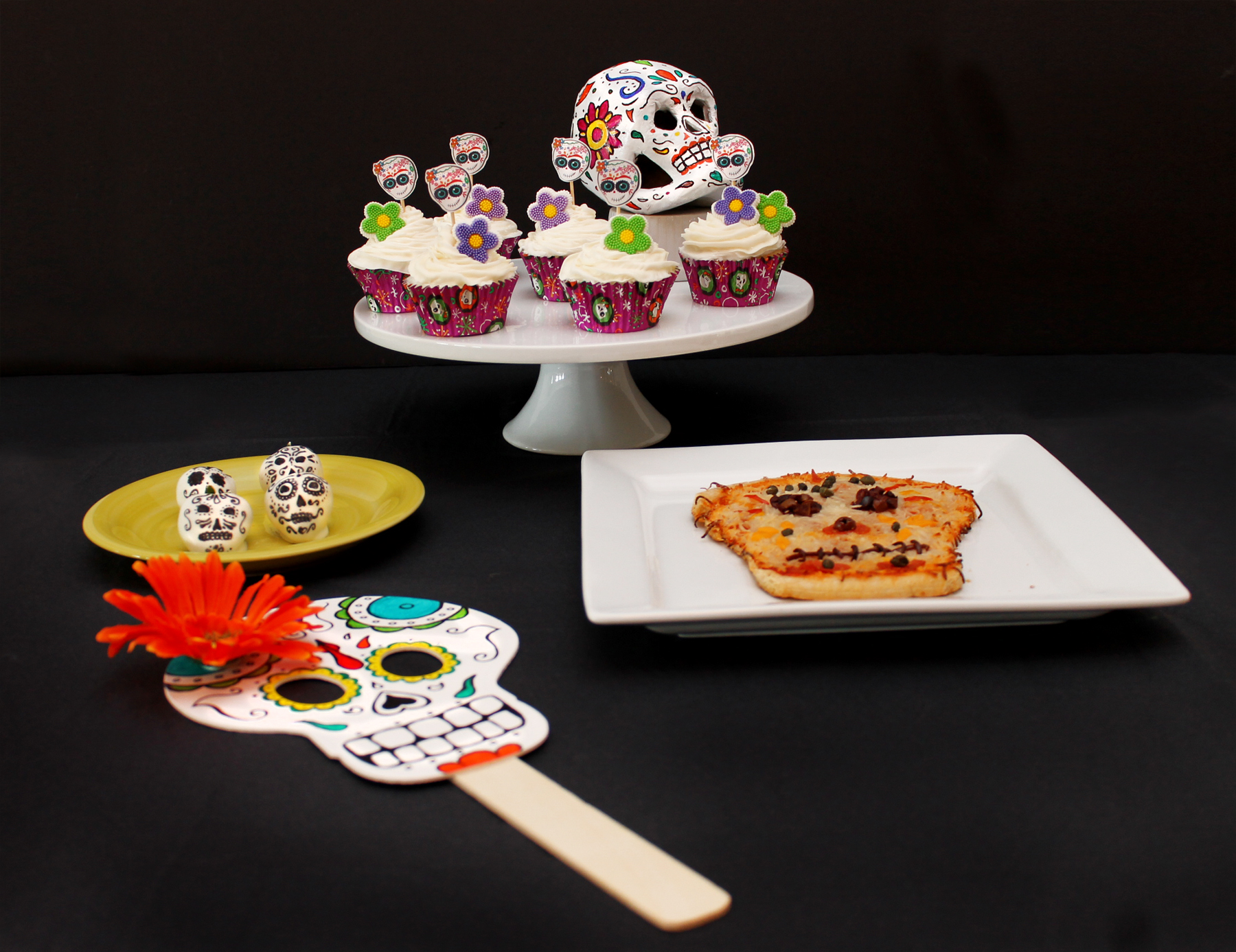 Day of the Dead is so much more than going to the cemetery or eating a delicious bowl of Guatemalan Fiambre. It is a day to honor our loved ones through traditions, festive decorations, and incredible food. It is the perfect time to talk to kids about the passing of a loved one in a more positive light. Besides, you will have so much fun creating new Día de Muertos recipes and starting new traditions!
So, whether you're planning an authentic Day of the Dead party or want to learn more about this sacred holiday, these Day of the Dead foods and recipes are just what you need. It will make your Dia de Muertos celebrations an unforgettable and positive experience.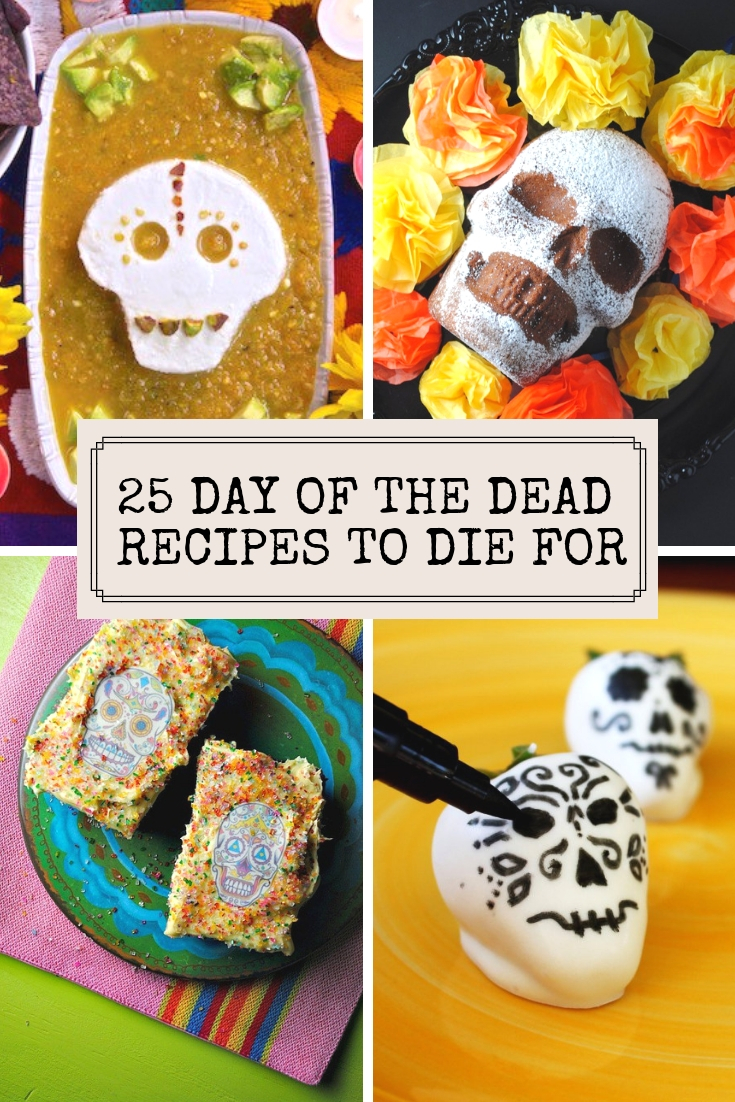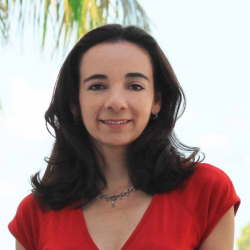 Latest posts by Paula Bendfeldt-Diaz
(see all)