El Día de Los Muertos or Day of the Dead is celebrated in many Latin American countries where the dead are honored and remembered in a positive way. Celebrated in connection with the Catholic holidays of All Saints Day on November 1st and All Soul's Day on November 2, celebrations vary from one country and region to another and can be traced back to the indigenous cultures.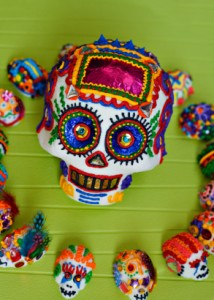 Rituals celebrating the deaths of ancestors have been practiced by pre-Columbian civilizations for as long as 2,500–3,000 year where it was common to keep skulls as trophies and display them during the rituals to symbolize death and rebirth. Mexico is best known for its Día de los Muertos celebrations which include pageantry, processions and public display of altars to the dead. In the Andean regions of Ecuador, Peru and Bolivia families gather together in cemeteries to remember ancestors and loved ones with offerings of food which include: colada morada, a spiced fruit porridge made with Andean blackberry and purple maize and guagua de pan, a bread shaped like a swaddled infant that is sometimes filled with cheese or guava. In Brazil the holiday of Finados (Day of the Dead) is celebrated on November 2, when people go to cemeteries and churches with flowers, candles, and prayer to celebrate those who have passed away in a positive way. In Bolivia the Día de las ñatitas or Day of the Skulls is an ancient Bolivian ritual celebrated on November 9 where skulls of ancestors are decorated with flowers and pampered with cigarettes, coca leaves and other treats to bring good luck to the family.
El Día de Los Muertos in my home county: Guatemala
In my country, Guatemala, the celebration of El Día de Los Muertos or Día de Los Difuntos is more of a family holiday. For me it marks the beginning of a season filled with traditional family holidays starting with El Día de los Muertos and then continuing with La Quema del Diablo, Las Posadas, Noche Buena, Navidad and Año Nuevo . As October comes to an end flower stands bloom on every corner of Guatemala City, kite vendors displays sway in the brisk November winds and marketplaces and cemeteries are filled with multicolored flowers. On November 1st families gather to eat fiambre, a traditional salad-like cold dish that consists of assorted cold cuts, pickled vegetables, meats and is so complex it can easily include 50 or more ingredients. Many people, especially in rural areas visit the cemetery cleaning the graves of their loved ones, honoring their ancestors with flowers and incese and sharing a pic-nick of fiambre, tamales and sometimes booze with them at the cemetery.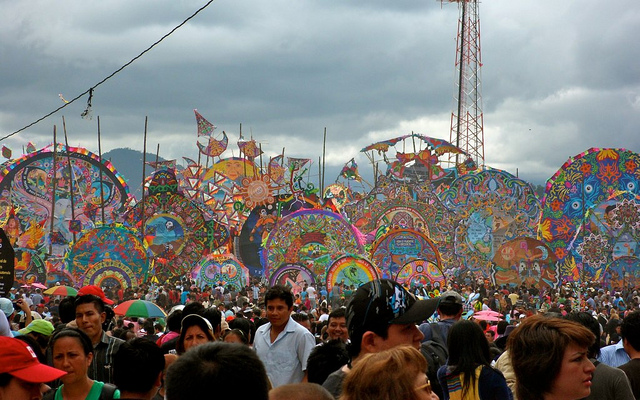 The most spectacular Day of the Dead celebrations in Guatemala occurs in the towns of Santiago Sacatepéquez and Sumpango. Here giant kites or barriletes gigantes, reaching diameters of almost 30ft, made of bamboo rods and colored paper are assembled in the cemetery. On November 1st a big festival takes place and these giant kites with intricate designs attempt to take flight, most of them never making it. Sometimes some of the smaller ones (15-18ft in diameter) take off briefly only to come crashing down, occasionally landing on the crowd below. All through the month of November kites dot the clear blue sky and although most people have forgotten the original significance of this as a means of communicating with the dead and showing them where to come down to visit their family members, flying kites is one of my favorite family traditions.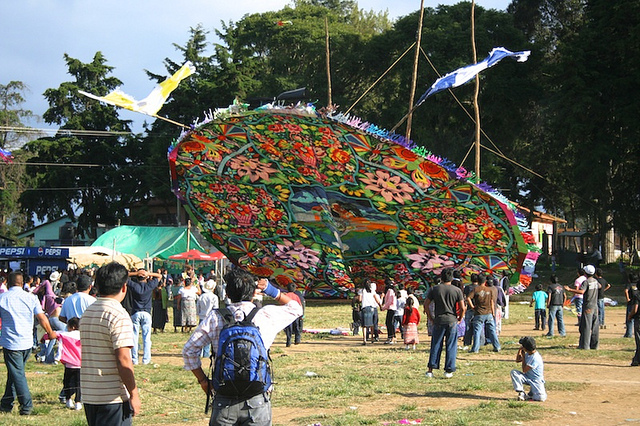 Now that we are living in the United States we enjoy both Halloween and El Día de los Muertos blending traditions and making new ones in a way that makes sense for us.
Check out more Día de los Muertos posts on my Pinterest board below.