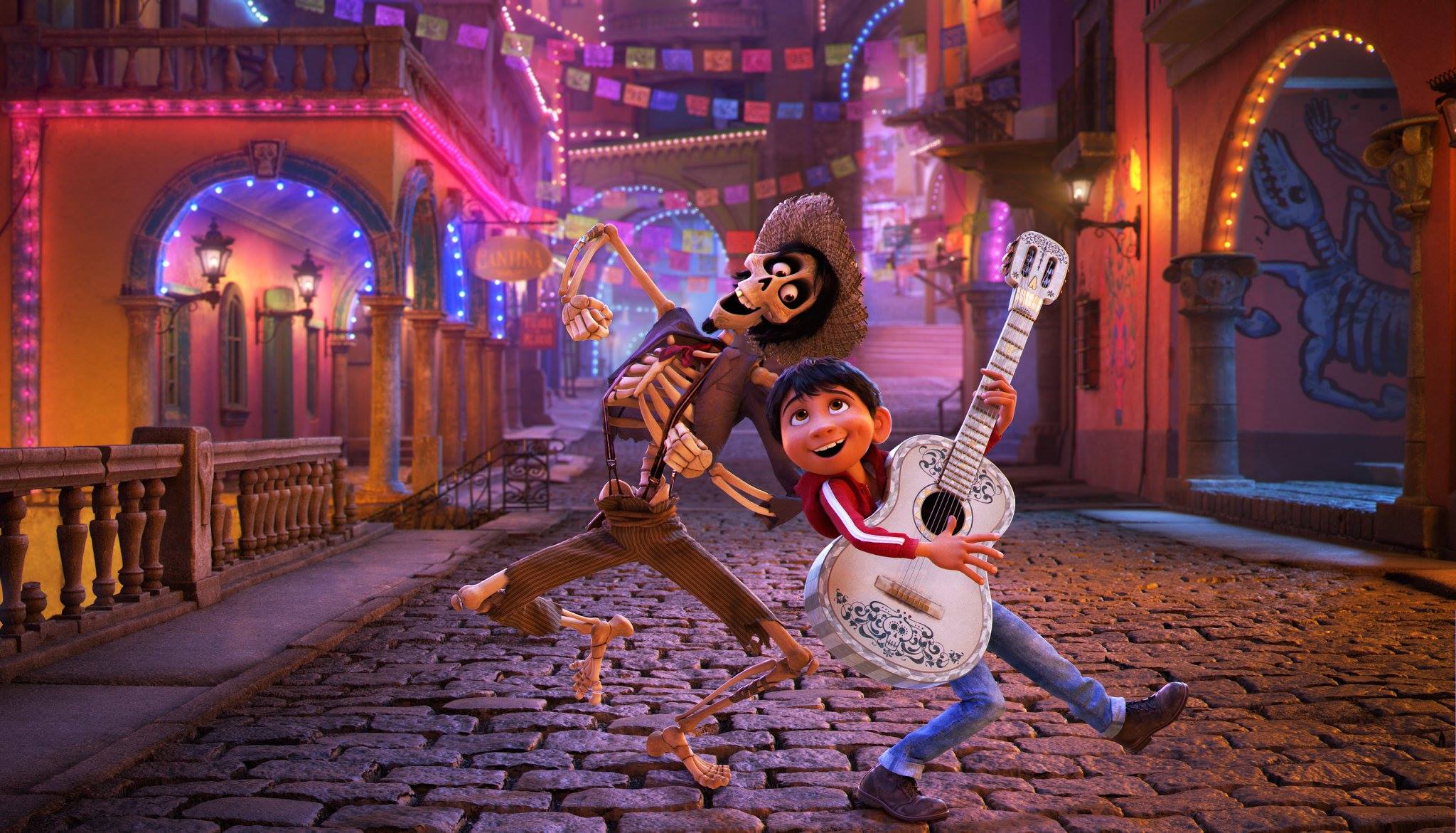 Disney•Pixar's movie COCO opened in theaters in the US on November 22nd and it's already a big Box Office success but more importantly, it has gotten fantastic reviews, with a 96% on Rotten Tomatoes. COCO tells the story of a 12-year-old Mexican boy, Miguel (voiced by Anthony Gonzalez), who sets off to pursue his dream of becoming an accomplished musician taking inspiration from his idol, Ernesto de la Cruz, voiced by Benjamin Bratt.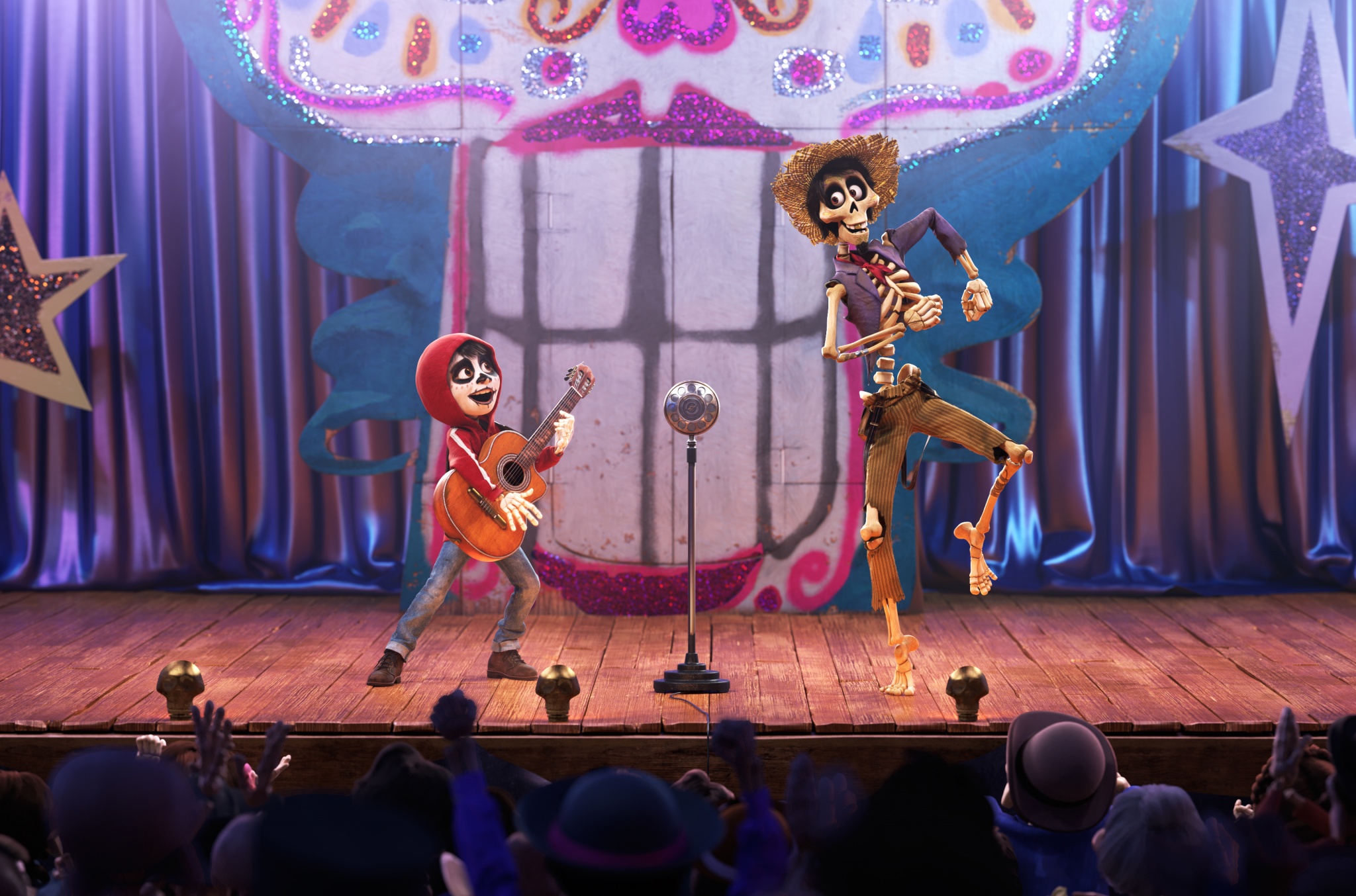 COCO is a story about family and about following your dreams. Music is a very important part of any movie, but in COCO's music is not only used to set the mood it's also a big part of the story itself.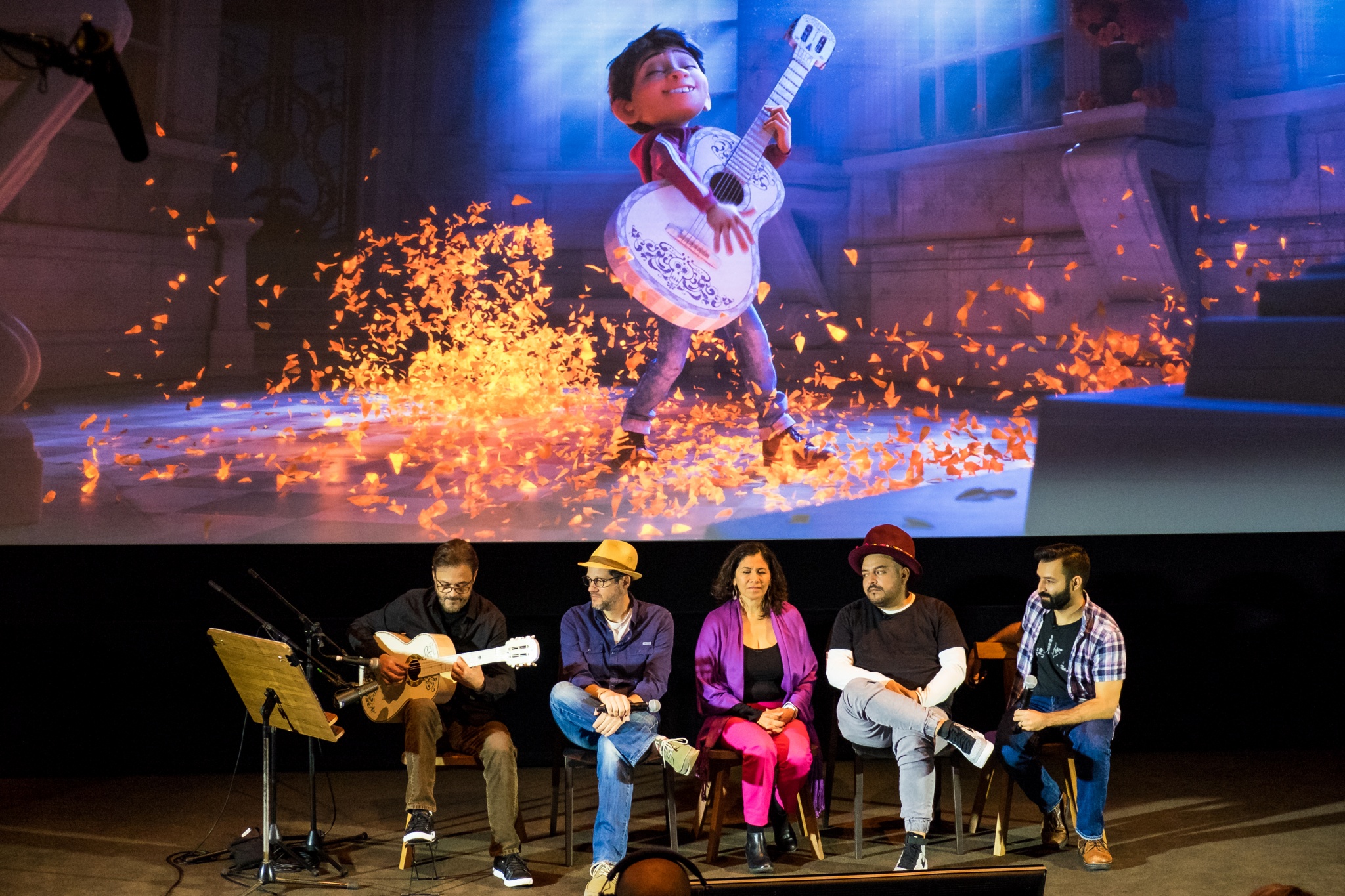 As part of a press trip to the Pixar studios, a few months before COCO opened, I had the opportunity to attend a presentation about the music of COCO and it's significance. It was really eye-opening to see how music was part of every aspect of the movie and how the Disney•Pixar team put so much thought and effort into ensuring that the music in the film was supporting that sense of cultural relevance and authenticity that is present throughout the movie.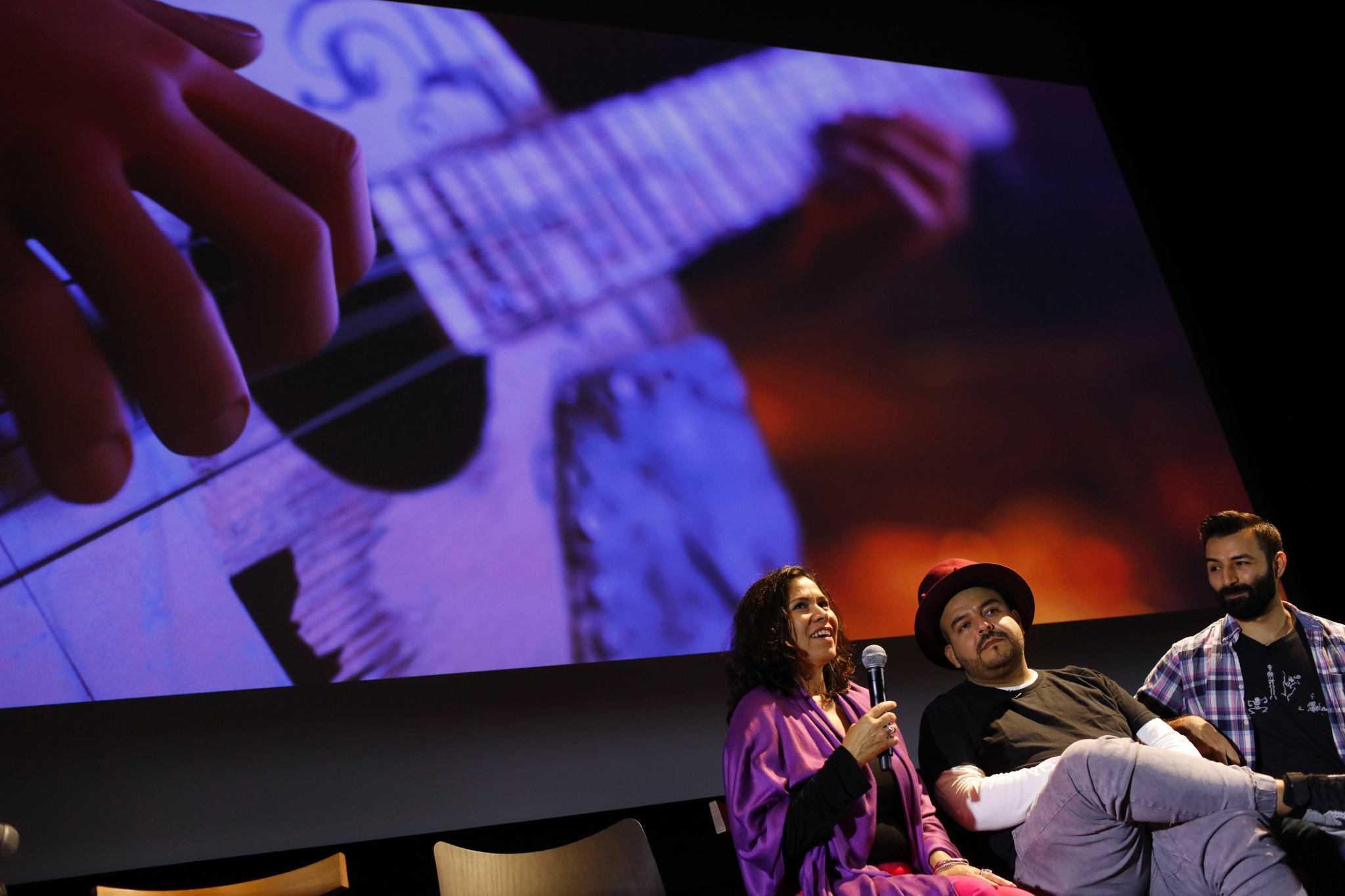 The film brings together some amazing talent; featuring an original score from composer Michael Giacchino, who wrote the Academy Award-winning score for "Up" and original songs written by Kristen Anderson-Lopez and Robert Lopez, who won an Academy Award for writing the song "Let it Go" from the movie Frozen. The movie also features original songs co-written by songwriter and arranger Germaine Franco and co-director and screenwriter Adrian Molina. The team also includes musical consultant Camilo Lara from the music project Mexican Institute of Sound.
How Music Brings the Story of Coco to Life
"We didn't want music to be incidental, it had to be crucial to the storytelling", shared Adrian Molina, writer, and co-director.  Because music is embedded into the storytelling of this film the filmmakers started thinking about how music would be used early on in the process and they decided that music would be used in three ways:
Source music. Miguel lives in this small town in Mexico, Santa Cecilia, and for the filmmakers

, it was important to fill this world that Miguel lives in with beautiful music and the diversity of Mexican sounds so that this can inspire him.

Score music. Score music is used to hold up the emotions of the film, to play the themes of the characters and explore the environments, settings and the motivations of the characters of the film.
Original songs created especially for this film. "So much of the music in this film is performative and we wanted to give the characters in the film an iconic voice and original songs became a fantastic way to do that", said Molina. One of the original songs "Remember Me" gives life to the Mexican music idol Ernesto De La Cruz, voiced by Benjamin Bratt.
Showcasing the Sounds of Mexico
What really makes the music in COCO special is that it brings together and showcases the diversity of Mexican music. "We focused on being as accurate as possible with the sounds and rhythms and the musicians that we involved in that", said Camilo Lara, musical consultant. "We wanted to do something that is homegrown because Mexico has such a rich variety of genres of music so we wanted to include different types of sound of instead of the traditional Mariachi which is what people think about when they think of Mexican music", shared Germaine Franco.
To ensured the richness of Mexican music was portrayed the team took a trip down to Mexico to record over 50 different groups and ensembles finding the best of the best musicians on every genre including musicians like the famous trio Los Panchos, the son jarocho band Mono Blanco and bandas from Sinaloa and Oaxaca. The music in COCO incorporates traditional Mexican instruments like guitar, marimba, jawbone rattle & even zapateo!
Having every type of music from classic to folkloric and traditional music made it possible to incorporate them into the different moments in the film. The team focused on creating a soundscape that would feel like the world and also support the emotions of the story.
As you watch the movie you come into contact with a wide array of cultural and musical aspects that really showcase how diverse the Mexican culture is. I am from Guatemala and I have to admit I got a little emotional as I heard marimba, the national instrument of my country, being played in a Disney•Pixar movie.  Music has a way of transporting you and as I really felt like I was walking through a plaza in a small town in Mexico or maybe even my home country.
Music Beyond Sounds
In the movie COCO music goes beyond sound incorporating musical elements and even special instruments as par of the story. For storytelling purposes, a very special and iconic guitar was created. A real replica of Ernesto de la Cruz's iconic guitar was handcrafted by a Mexican guitar maker, Herman Vasquez Rubio.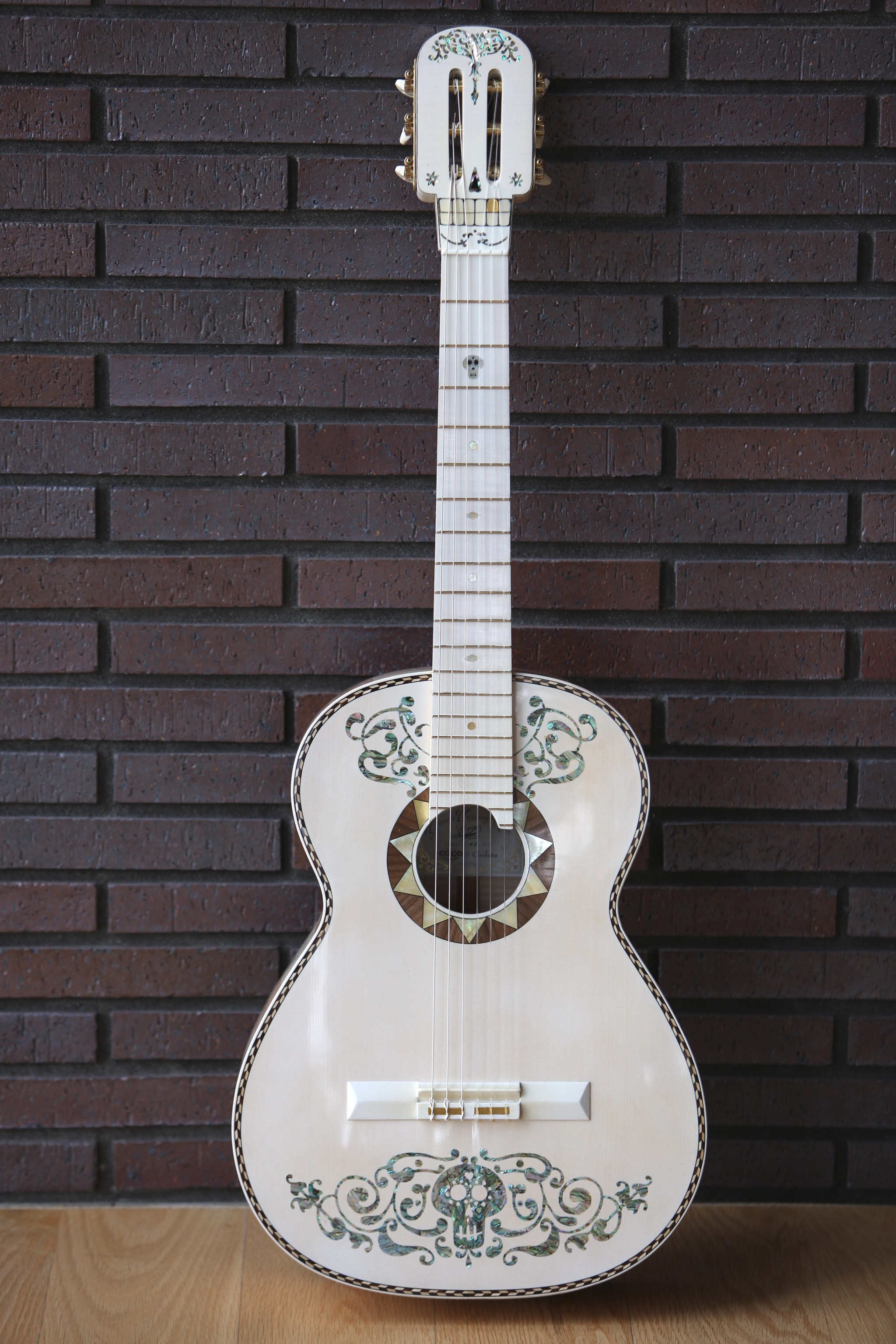 While attending the Pixar Coco event we had the opportunity to hear what composer Michael Giacchino referred to as "Miguel's Theme" played live on the guitar, which was truly magical!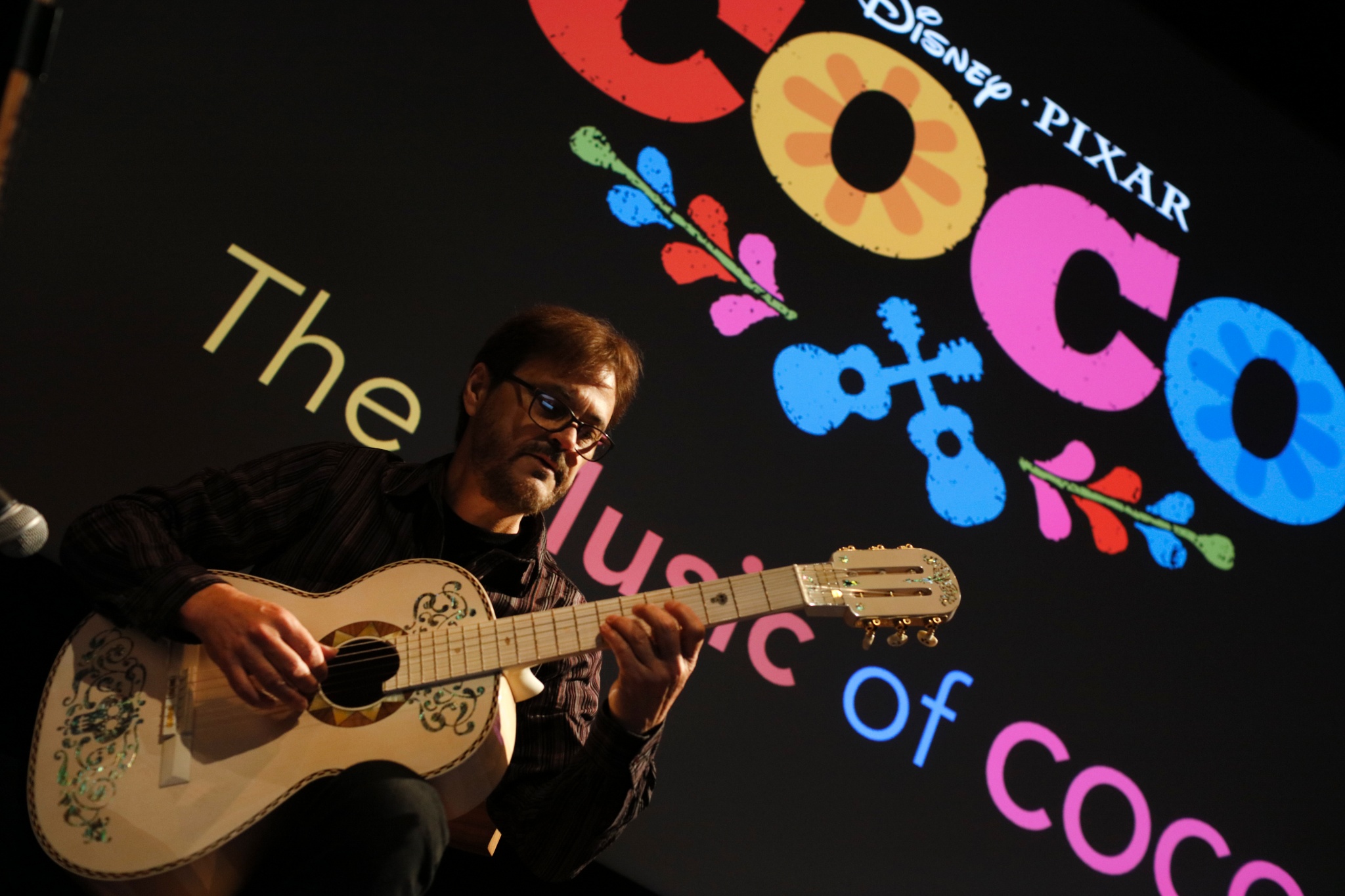 The character of Ernesto de la Cruz is sort of this star of the golden age of film and even his character was inspired by two of the greatest actors in Mexican film history: Jorge Negrete and Pedro Infante. I remember watching Pedro Infante's black and white movies with my abuela when I was a kid and I immediately thought of him when I first saw the character of Ernesto de la Cruz, played by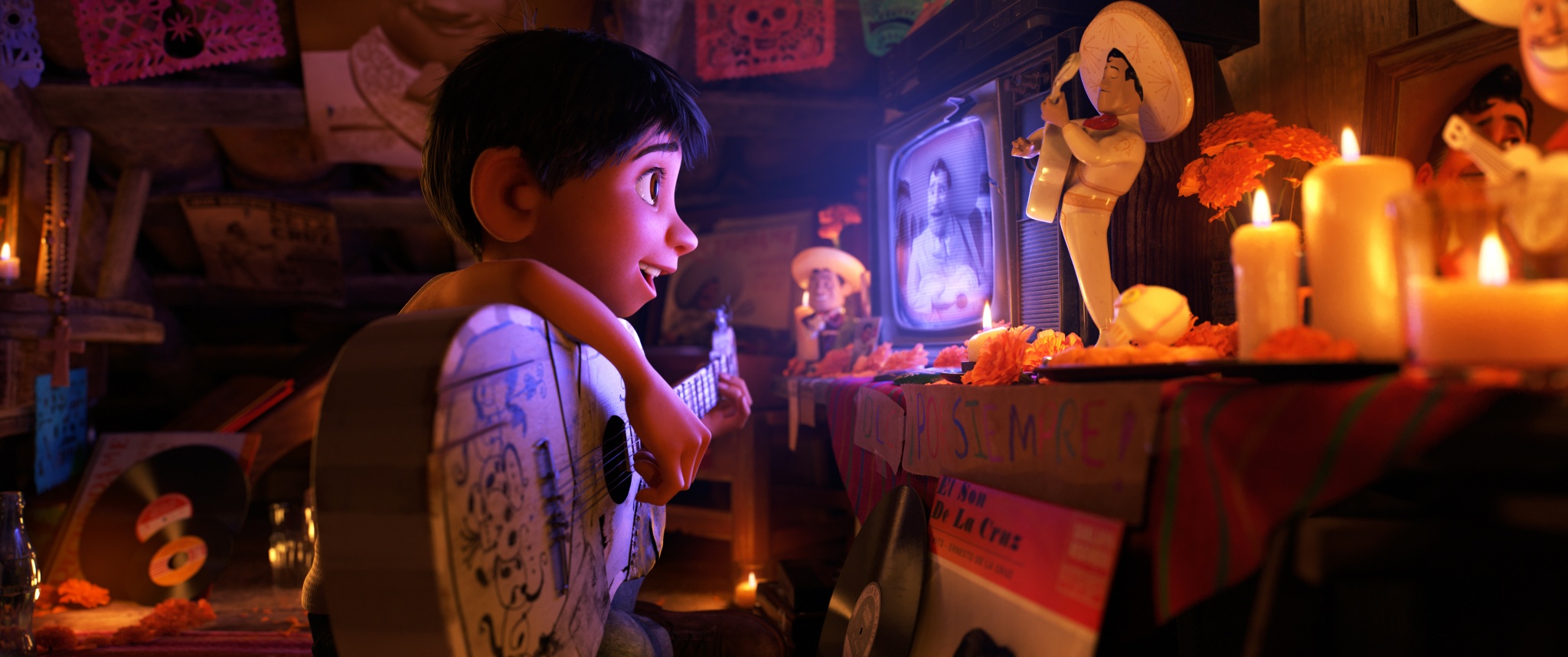 Attending the presentation the Music of Coco and earning so much about how music is used in the film to bring to life the characters and the story was a fantastic experience!
I never thought I would hear traditional marimba music in a Disney•Pixar movie and as the sounds of the marimba resonated in the theater, my heart was filled with joy and pride for my roots and for my heritage.
Music has the power to transport you and to make you feel and for me, hearing so many familiar sounds and rhythms throughout the movie, from son and marimba to bandas, brought back so many fond memories! It also gave me the opportunity to share with my kids a small glimpse into the world I grew up in, surrounded by the sounds, the smells and the colors of a culture that they are not as familiar with.
About Disney •Pixar's COCO
Despite his family's baffling generations-old ban on music, Miguel (voice of Anthony Gonzalez) dreams of becoming an accomplished musician like his idol, Ernesto de la Cruz (voice of Benjamin Bratt). Desperate to prove his talent, Miguel finds himself in the stunning and colorful Land of the Dead following a mysterious chain of events. Along the way, he meets charming trickster Héctor (voice of Gael García Bernal), and together, they set off on an extraordinary journey to unlock the real story behind Miguel's family history.
Coco is a beautiful and endearing story filled with excitement and adventure. At its core, it's a theme that everyone can relate to; a story about family and about making your dreams come true despite challenges. It's a movie about coming of age and following your own path and about understanding who you are and where you come from as part of finding your own place in the world.
Get tickets to watch COCO in theaters on the Fandango website. You can read more about Disney•Pixar's COCO by visiting the Disney Movie website HERE. You can also like Pixar COCO on Facebook, get the latest updates through @PixarCOCO on Twitter and follow @PixarCOCO on Instagram.
For a limited time only, you can also see the brand new Walt Disney Animation Studios' featurette OLAF'S FROZEN ADVENTURE playing in front of COCO only in theatres! Both of these films are the perfect way to start the holiday season!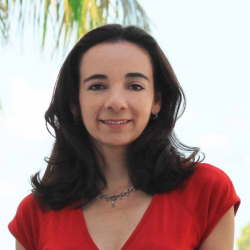 Latest posts by Paula Bendfeldt-Diaz
(see all)