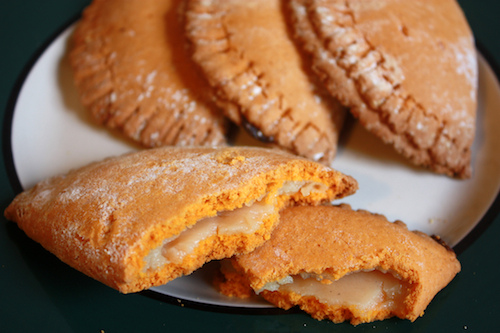 The Empanadas de Manjar de Leche are typical of Guatemala and are usually eaten during Lent and Holy Week.
Ingredients for the Empanadas
1 lb of rice flour or salpor corn flour
1 lb wheat flour
12 onz sugar
1 lb vegetable shortening
½ teaspoon salt
½ teaspoon of baking powder
½ teaspoon of baking soda
6 medium eggs
1/ teaspoon achiote or annatto* (or a few drops of red food coloring)
Spiced Custard Filling
Ingredients
1 lt whole milk
2 cinnamon sticks
12 onz sugar
¼ teaspoon salt
½ cup of cornstarch dissolved in ½ cup of whole milk
Preparation
Mix the dry ingredients and make sure to sift them as this will give the dough it's soft texture.  Add the shortening (reserve a little bit of shortening to dissolve the annatto or achiote) and the eggs and mix with a fork incorporating all the ingredients.  Add the annatto or achiote dissolved knead with your hands until the dough is smooth. Cover the dough with a moist cloth so that is doesn't dry out while you prepare the filling.
In a mediym saucepan boil the milk with the cinnamos, sugar and salt.  Move constantly and when it starts to boil add the cornstarch little by little while vigorously mixing in order to avoid sticking and the formation of lumps.  Cook without while constantly moving for 3 minutes, remove from heat and let it cool.
Preheat the oven to 350F. With the empanada dough form small balls and flatten them into circles measuring between 6-8".  In the center place about ¼ cup of filling, fold in two forming a half circle and press the edges together with a fork to seal.  Sprinkel the empanadas with confectioners sugar and put them in cookie sheets covered with parchment paper and bake for approximately 30 minutes.  Baking time may vary and these Guatemalan empanadas should not brown on top, just a little on the bottom.
For an easier version use store bought empanada dough, brush with beaten egg yolk and sprinkle with sugar.
¡Buen Provecho!
I post recipes that are either typical dishes from my home country of Guatemala, recipes from other Latin American countries or interesting and fun recipes with ingredients that give them some sabor Latino. If you have any suggestions or would like a specific guatemalan recipe let me know in the comments section.