This deliciously fresh recipe for Peruvian Ceviche is an easy summer appetizer full of bold flavors and a guaranteed hit at any summer BBQ or beach party! It is a simple and light summer recipe made with fresh fish and vegetables marinated in lime juice. If you have never tried ceviche, you are in for a treat! And if you have tried Mexican ceviche, you will love this Peruvian dish. The spicy peppers and onions make this seafood Seviche a refreshing, healthy summer recipe bursting with Latino flavors!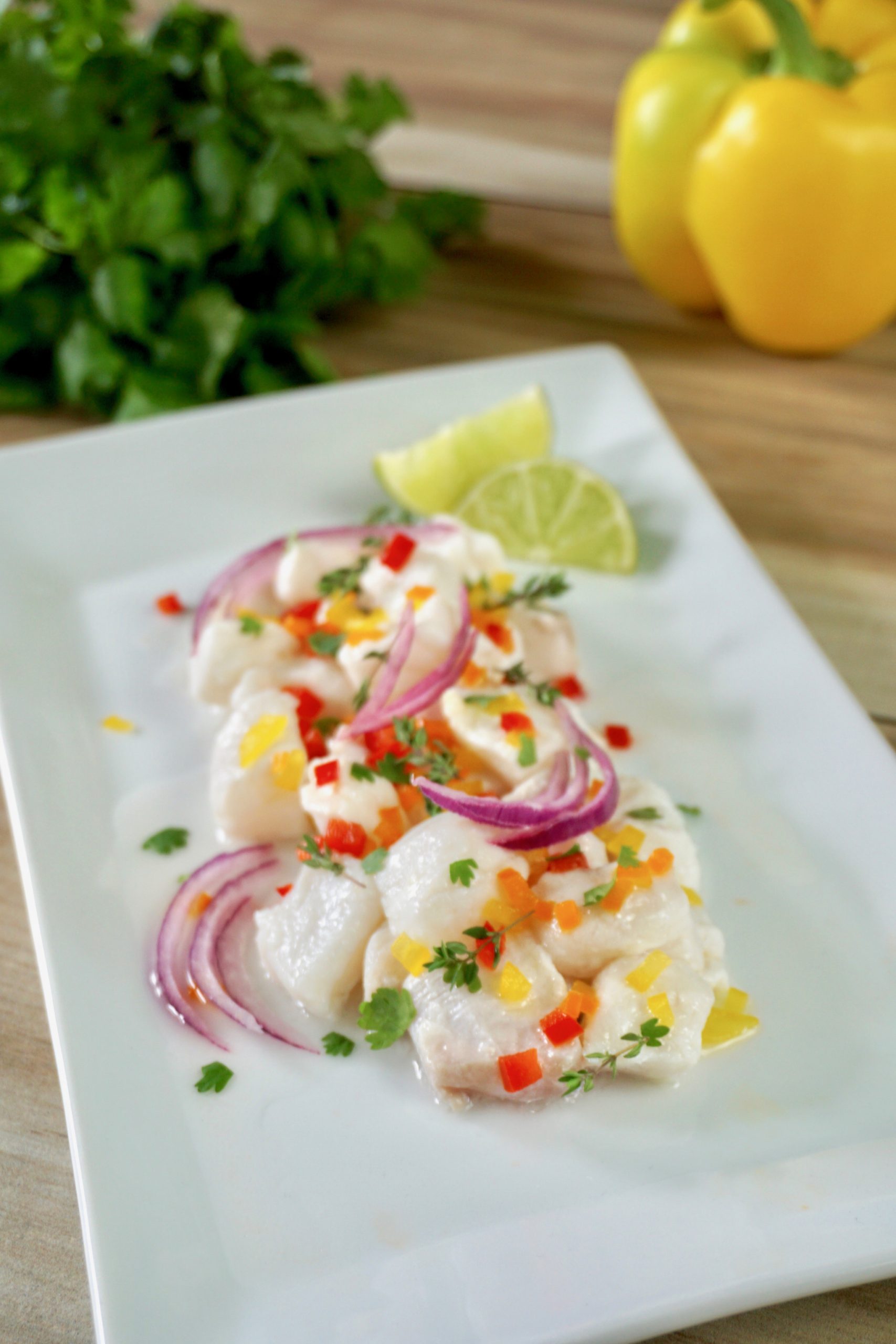 Peruvian Ceviche: The Perfect Summer Appetizer
I'm starting summer right and trying to eat better. So yesterday, I made Ceviche using my recipe based on traditional Peruvian Ceviche, a low-carb, low-fat fish recipe perfect for summer. It is my go-to healthy dinner idea that I know everybody loves; most of all me!
It is not only one of my favorite appetizers for any hot day but also a summer food idea that is so easy to make. With this simple recipe, you can make Peruvian Ceviche in your own kitchen in under 30 minutes! It makes for the best summer dish, light and full of fresh citrus flavors, perfect for a day at the pool or a picnic by the beach!
What is Ceviche or Seviche?
Ceviche (pronounced "seh-vee-cheh") is a seafood dish made from cubed raw fish or shellfish marinated in lime juice, lemon juice, orange juice, or a mixture of all three. The large amounts of citrus juice "cook" the seafood, making it extremely important to use high-quality, fresh fish to prepare Ceviche.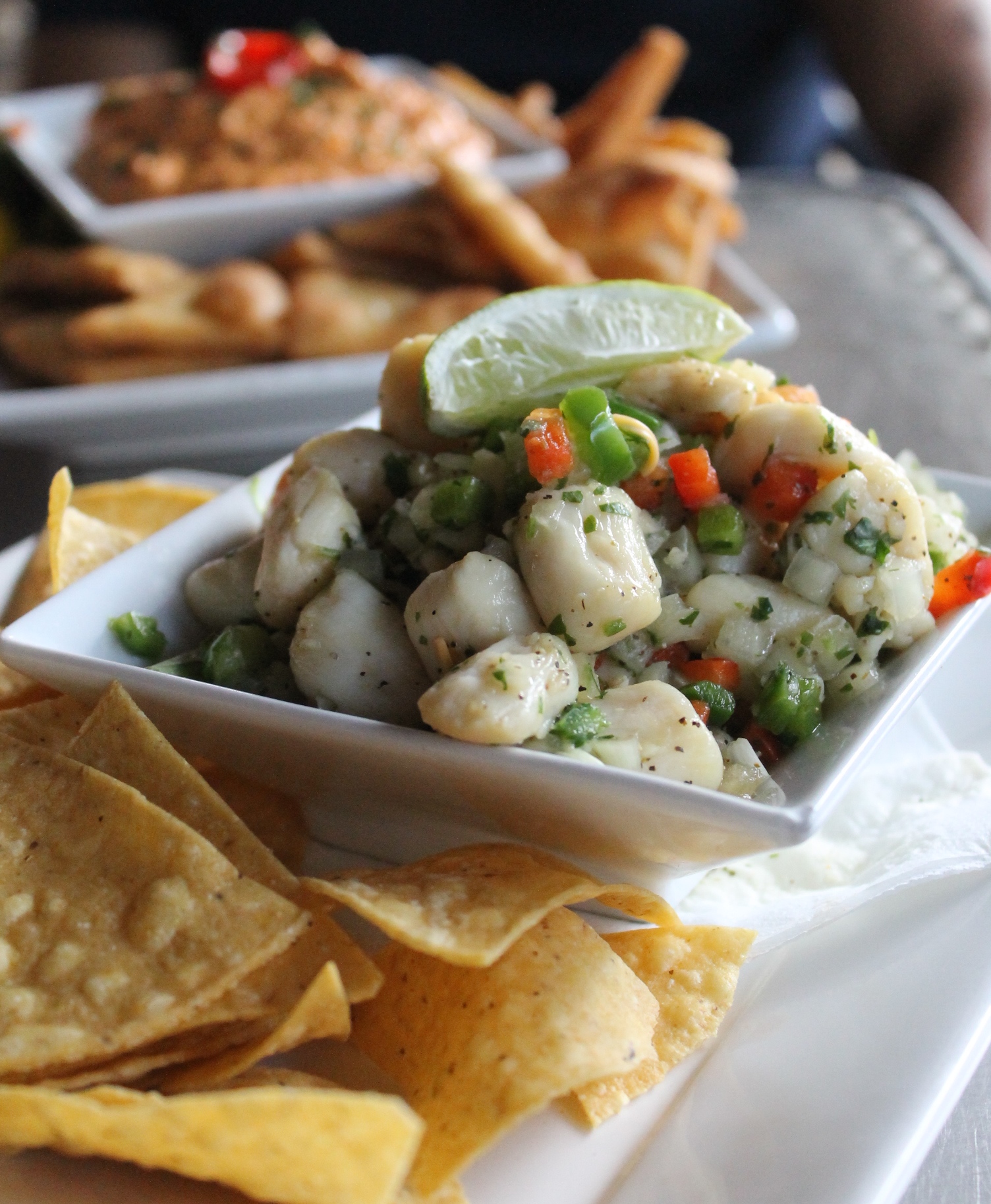 Ceviche or Seviche is very similar to a seafood cocktail. Bold flavors highlight the simplicity of this low-carb, low-fat recipe. Across Latin America, you will find many versions of this ceviche, like Guatemalan fish ceviche, a mix of fish and shrimp cocktails with delicious flavors and textures. It is a healthy summer dinner idea perfect as a BBQ appetizer or a low-calorie meal for a pool party!
Fun fact: If you think the Spanish pronunciation is tricky, wait until I tell you about the three different spellings you can come across for this healthy summer recipe: Ceviche, Cebiche, and even Seviche with an S.
What are the Ingredients for Peruvian Fish Ceviche?
Although not all Ceviches are made with seafood (such as Ceviche de Criadillas and Mushroom Ceviche), the classic Peruvian Ceviche has fish as its main ingredient. Fresh veggies like red onions, Chili peppers, and cilantro finish this delicious summer recipe. And since you need to cook all the ingredients in a citrusy marinade called Leche de Tigre, freshly squeezed lime juice is a must!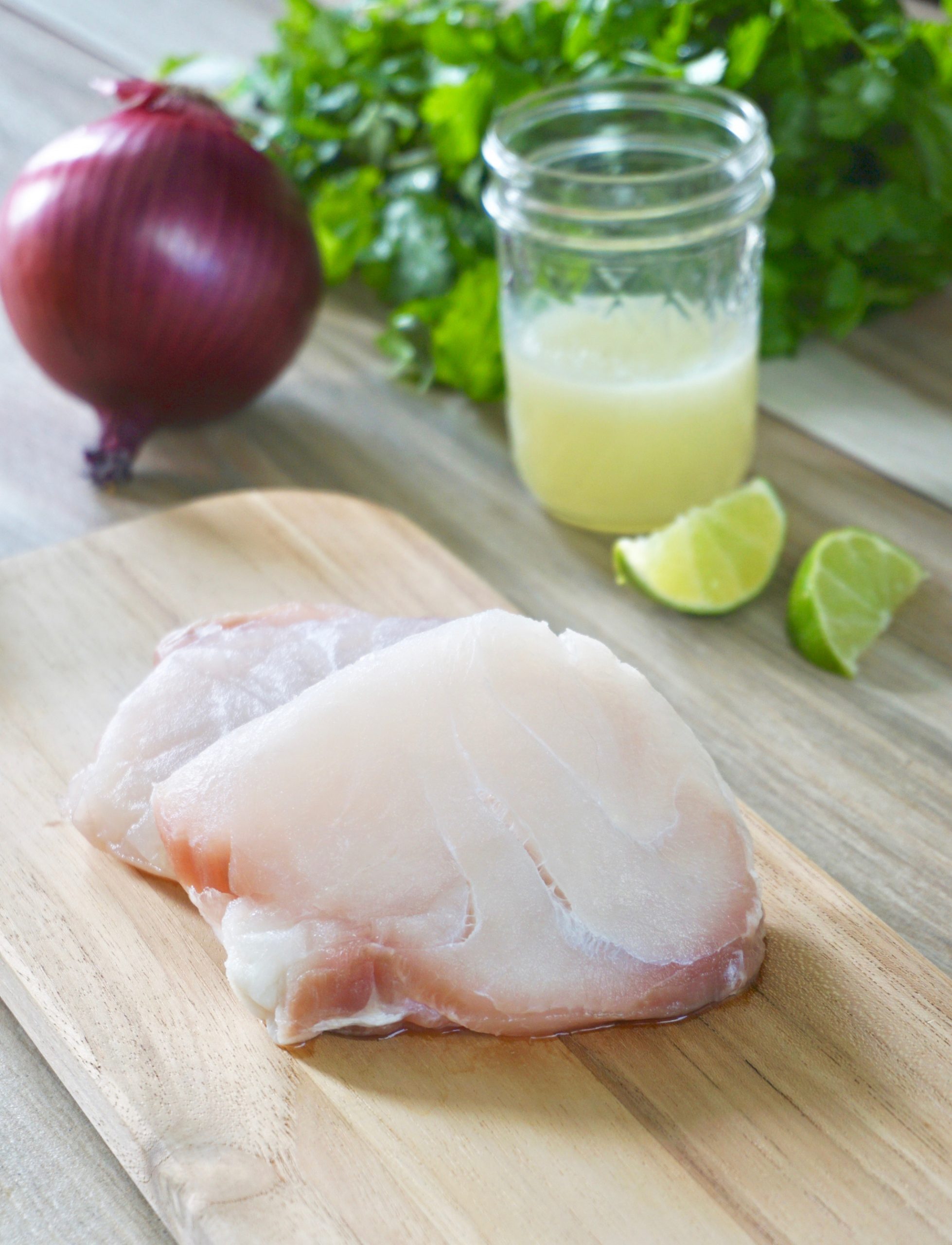 You typically serve it cold, sometimes over a bed of lettuce leaves or fresh herbs seasoned with salt and pepper. Ingredients change depending on the region or country, as Seviche is popular in many Latin American countries, from Mexico and Guatemala to Peru.
What is Leche de Tigre?
Literally translated as "tiger's milk," Leche de Tigre is the mixture of lime juice, salt, and seasonings that cures the seafood in a ceviche. The mix of citrus, chiles, and onions gently "cooks" the raw fish, leaving a milky, flavorful broth behind. That is why you should always eat seviche with a spoon to have a little of everything in each mouthful!
What is the Best Fish for Ceviche?
A firm, lean, white fish such as bass, grouper, halibut, mahi-mahi, or flounder is the best choice for making Ceviche. I used cod for this recipe for Peruvian Ceviche but ask your seafood vendor for suggestions if you are unsure which one to pick. Remember that since you don't actually cook this summer appetizer over heat, you must start with the freshest fish, preferably one still swimming in open waters last night!
You can also mix it with other flaky fish (in small amounts). Still, I prefer using only a firm or semi-firm fish because the acidic marinade will soften its consistency. This way, when you finish "cooking" this healthy summer food, you don't end up with a mushy texture.
What is the Difference Between Mexican Ceviche and Peruvian Ceviche?
Almost every country in Latin America has some spin-off or local version of this refreshing summer dish. Still, they all share the common "cooking" style of marinating fresh fish in lime juice or some citrus mixture and accompanied by freshly sliced/diced veggies.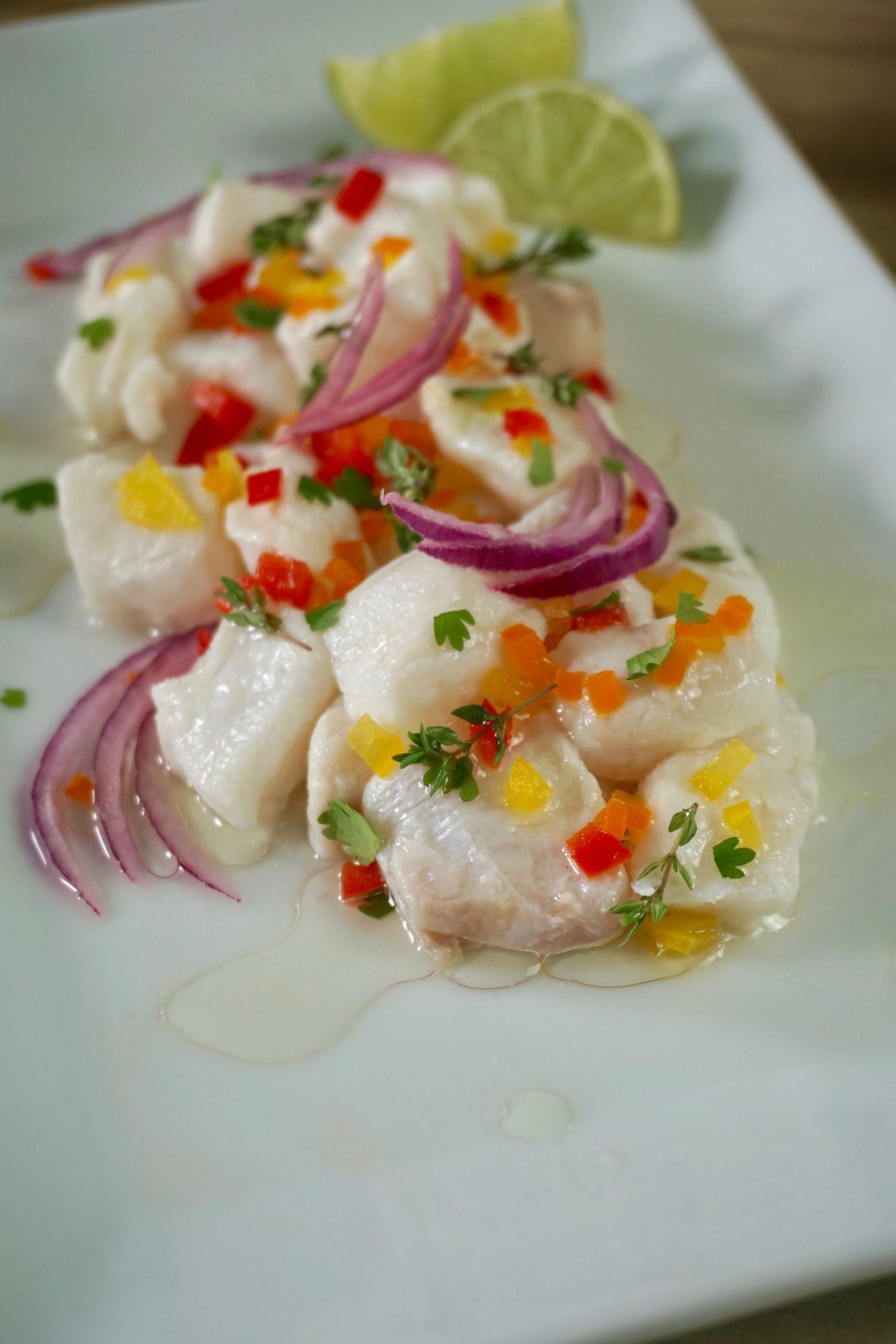 Most historians believe that Ceviche started in Peru, brought over by colonial Moorish women during the Spanish conquest. Today, you will find loads of variations across the continent. The most popular ones are the Peruvian and Mexican Ceviches. And even though the differences may be subtle, they are two different and distinct dishes, especially if you ask Mexicans or Peruvians.
A Mexican Ceviche is typically served with chunks of fresh fish and shrimp, with a base of chopped tomatoes, cilantro, and white onions. It usually has hot peppers or hot sauce, almost like a "seafood cocktail." Usually, this Mexican dish has a little more of a cold soup-like consistency from all the juices and tomato sauce.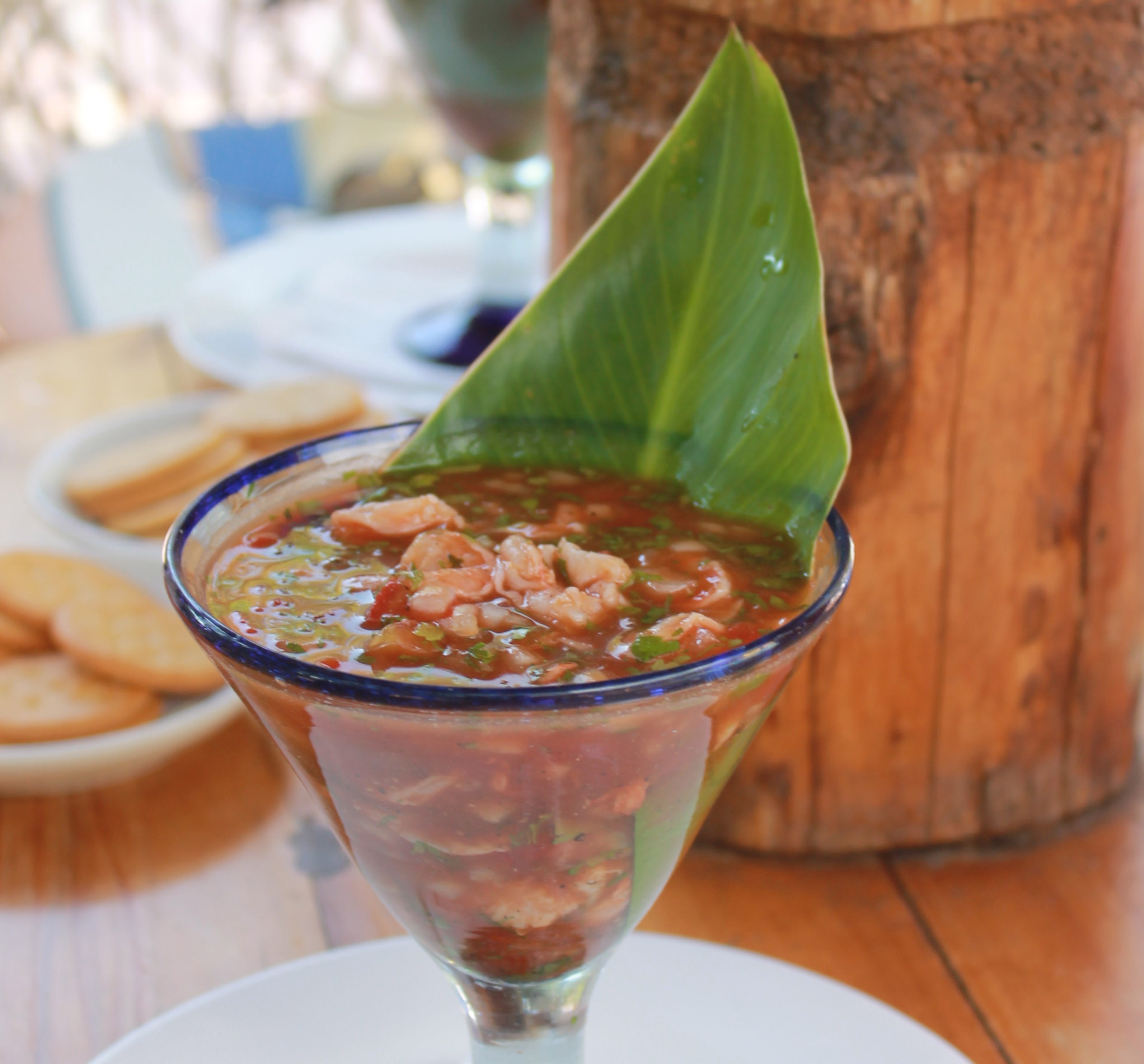 On the other hand, Peruvian cuisine reflects a strong Japanese influence, also present in their version of ceviche. Fine cuts of fish, a base of sliced red onions, and powerful habanero peppers give this raw seafood its distinctive taste and heat. And although it might seem like mild differences, they make for very different flavors. For me, both Mexican and Peruvian recipes for ceviche with fish are equally delicious and the perfect light summer meal for an afternoon at the beach!
How to Make Peruvian Fish Ceviche
Slice the fish into ½ inch cubes.

In a large bowl, add the fish, lime juice, onion, bell pepper, and chili pepper. Mix for 5 minutes so that the lime juices will slightly cook the fish.

Add the olive oil and mix well.

Season with salt and pepper to taste.

Serve immediately and top with fresh coriander or other fresh herbs like cilantro for garnish.
Tips for Making the Best Peruvian Ceviche
Add a little spice! Peruvian ceviche usually includes chili or piquillo peppers. You can also use habanero peppers if you like the heat but don't add too much as you do not want to overpower this dish.
Marinade the onions!

Like many people, I'm not too fond of the strong taste of raw onions. They can sometimes overpower other flavors, especially in a delicate dish like this one. So the key is to marinate the onions in the lime juice and the fish. The onions taste a lot milder, so they don't overpower the dish.
Mix it up!

What I love the most about this recipe is that you can easily give it a delicious twist with other seasonal ingredients. Although the main marinate-in-lime concept is the same, adding fresh ingredients like mango and pineapple will be a new experience for your taste buds!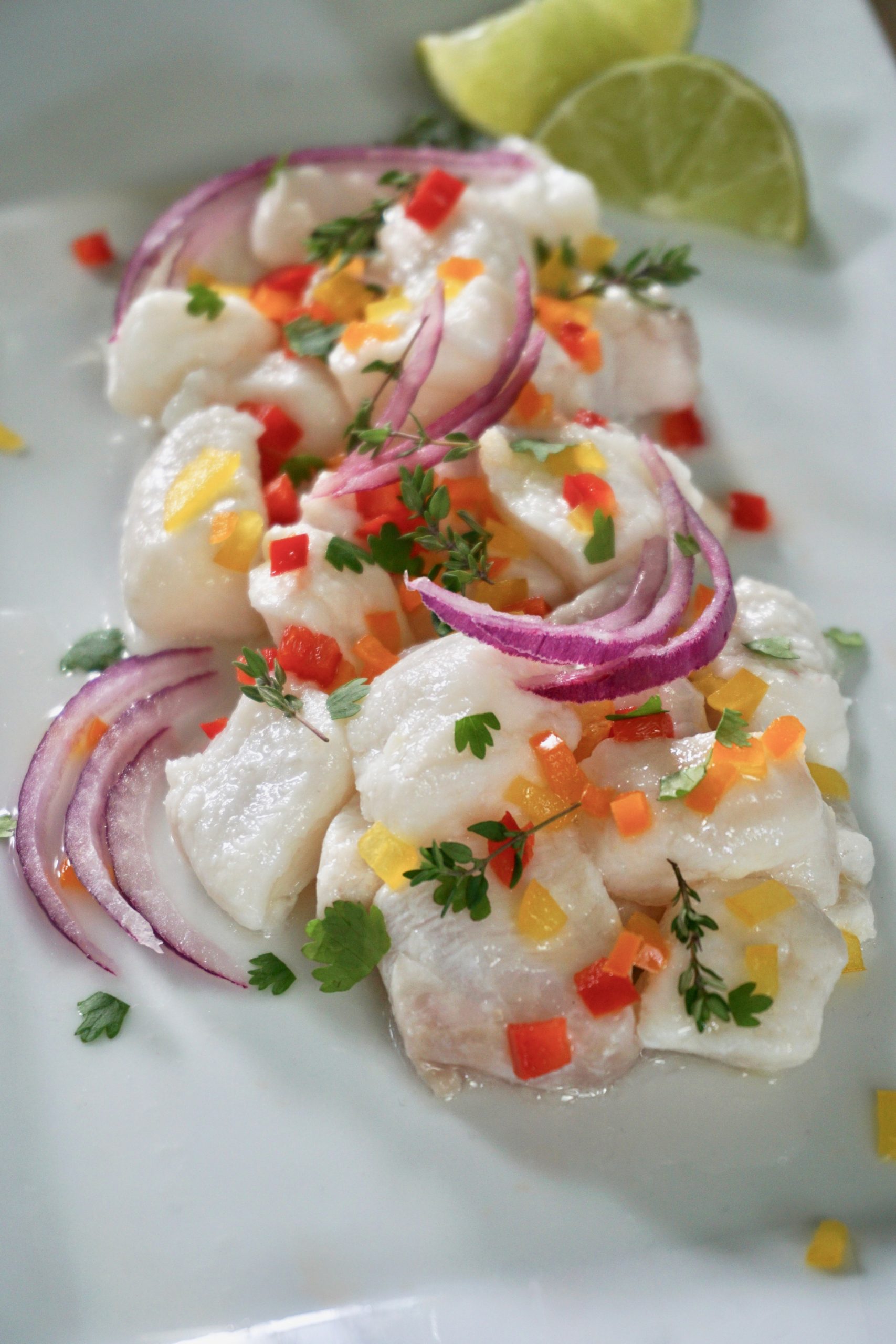 Check out these other delicious ceviche recipe ideas:
Salmon And Mango Ceviche With Chipotle Pickled Vidalia Onions: A perfect summer dish so easy, you can make it in minutes. The chipotle pickled Vidalia onions give this salmon ceviche a delicious twist.
Tuna And Avocado Ceviche:

This dish is so versatile that you can get creative and add other ingredients, like tuna and avocado. They work together so well, with the creamy taste of the avocado and the meaty, mild fish flavor of tuna!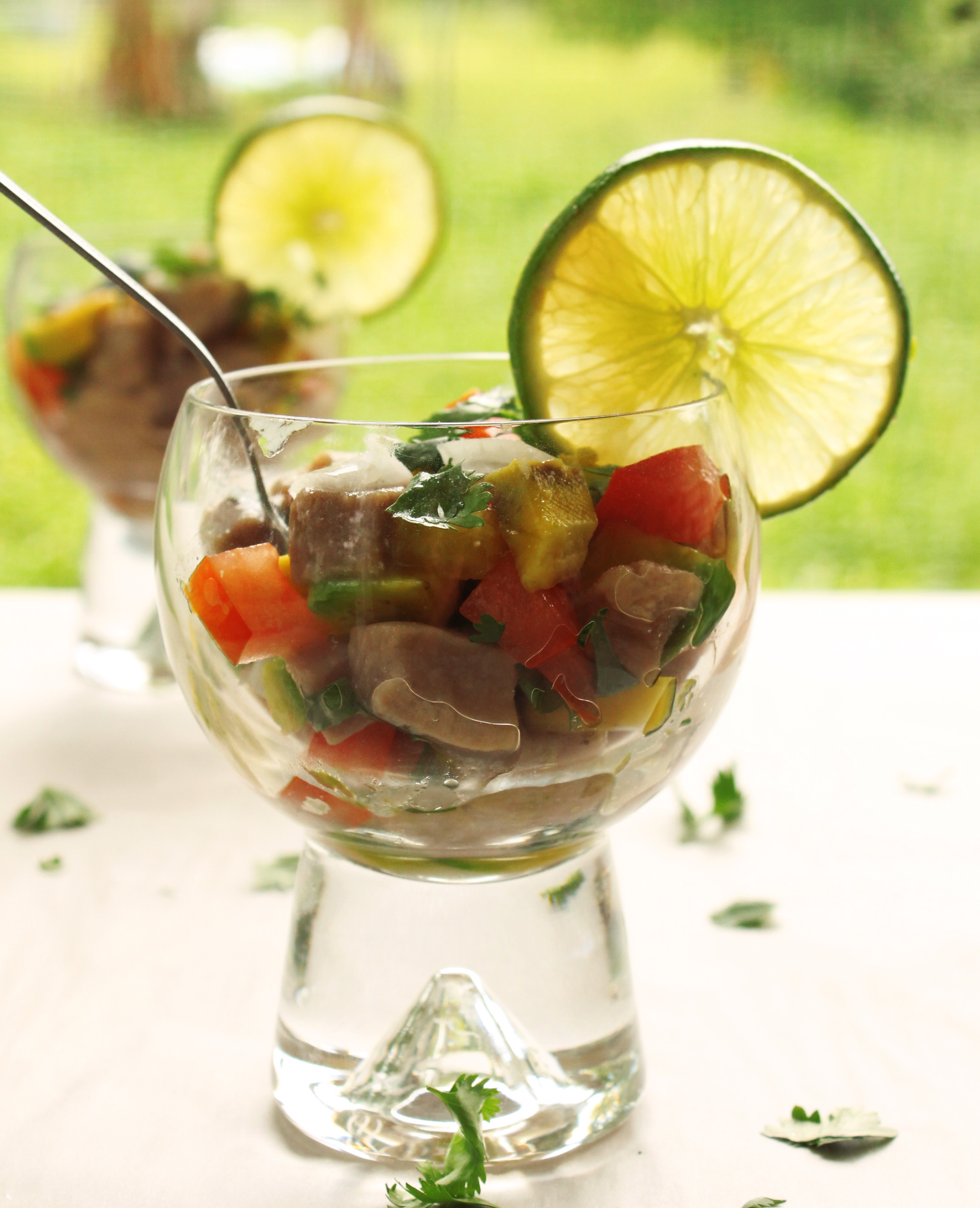 Shrimp And Mango Ceviche Stuffed Avocados:

Light and refreshing, this dish is a real crowd pleaser and ideal to eat on a warm day. Adding sweet mango and putting the ceviche inside the avocado gives this seviche recipe a beautiful presentation!
How to Store Ceviche?
By now, I guess you can guess that this refreshing summer food idea is best served straight away. I wouldn't recommend making this summer recipe ahead of time since the fish has been soaking in the marinade. The Seviche will continue to "cook" and change texture as the citrus juice breaks down the meat.
If you have leftover Peruvian Ceviche, pour out as much of the acidic mixture as possible. Then, store it in an airtight container and keep it in the fridge for two days. Then, before serving it, add a little lime juice to bring out all the summer flavor again. You can even come up with other easy summer appetizers like delicious Ceviche tacos. They are so good that I promise you won't have any leftovers!
What To Serve with Peruvian Fish Ceviche?
This refreshing Peruvian Ceviche makes for a fantastic healthy dinner idea as an appetizer or main dish for the summer heat. I love to serve it with something salty and crunchy, like plantain chips, tostadas, or flatbread. Traditionally Peruvian ceviche or seviche is served alongside diced and steamed sweet potato and boiled choclo or corn, cancha corn, or Andean style corn nuts.
And in my opinion, Ceviche and beer are the best summer combo to have on a hot day! Since this is a Peruvian ceviche recipe, you can enjoy it alongside a Peruvian beer.
Other Summer Recipes You Will Love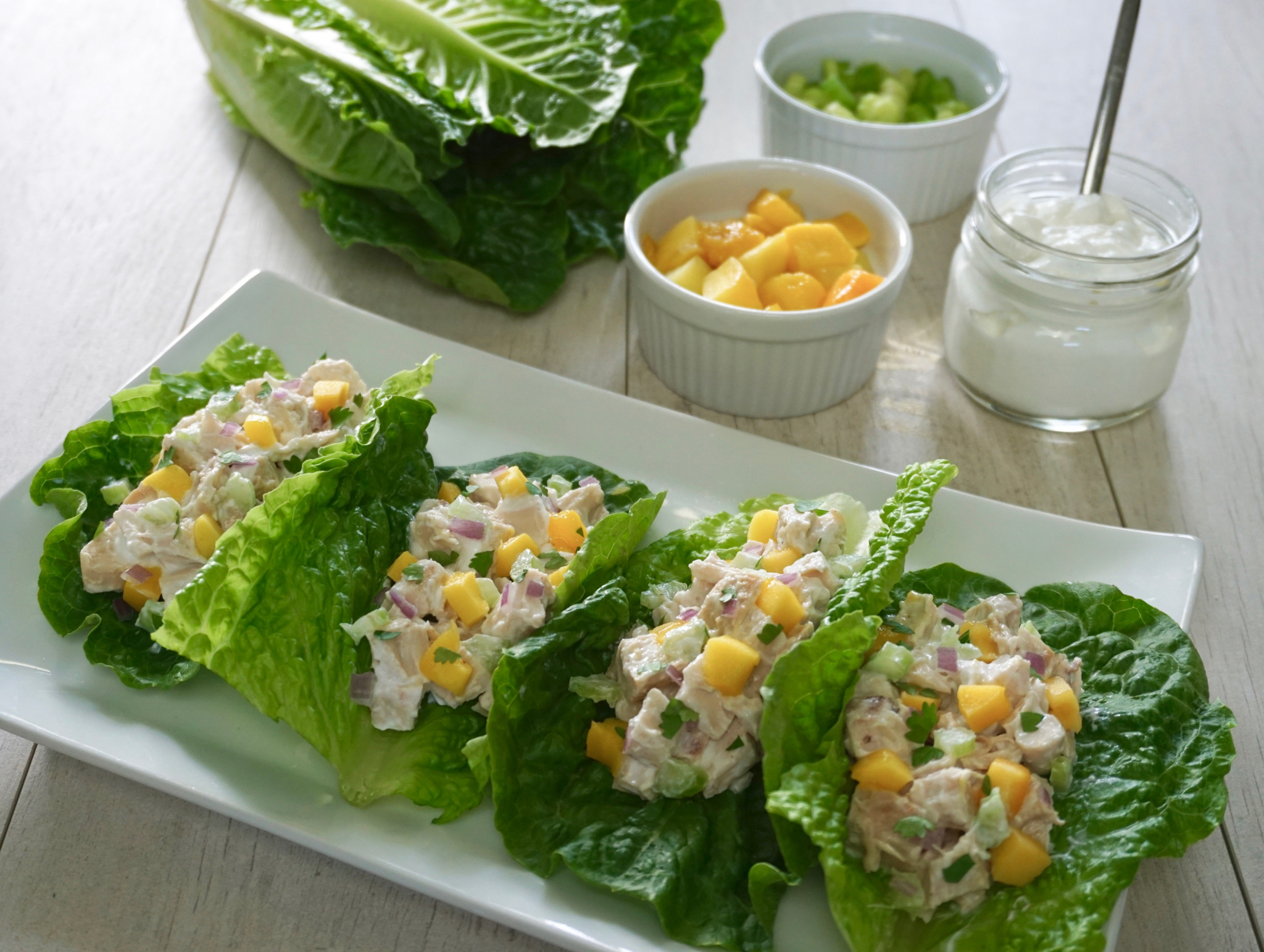 5-Minute Avocado and Mango Rice Salad:

This summery recipe is delicious and easy to make! It's very versatile as you can also add cooked chicken or tofu if you are vegetarian and make it into a complete meal.

3 Easy Gluten-Free Summer Appetizers:

These summer appetizer ideas are perfect for serving at cookouts and poolside parties! These delicious snack cracker ideas are easy to put together and gluten-free! And all of these cracker toppings are filled with summer flavors.

Simple And Delicious Recipes for A Backyard Summer Party:

These easy and delicious recipes are perfect for a summer backyard party. Made with fresh ingredients, they're refreshingly good menu ideas for any summer party.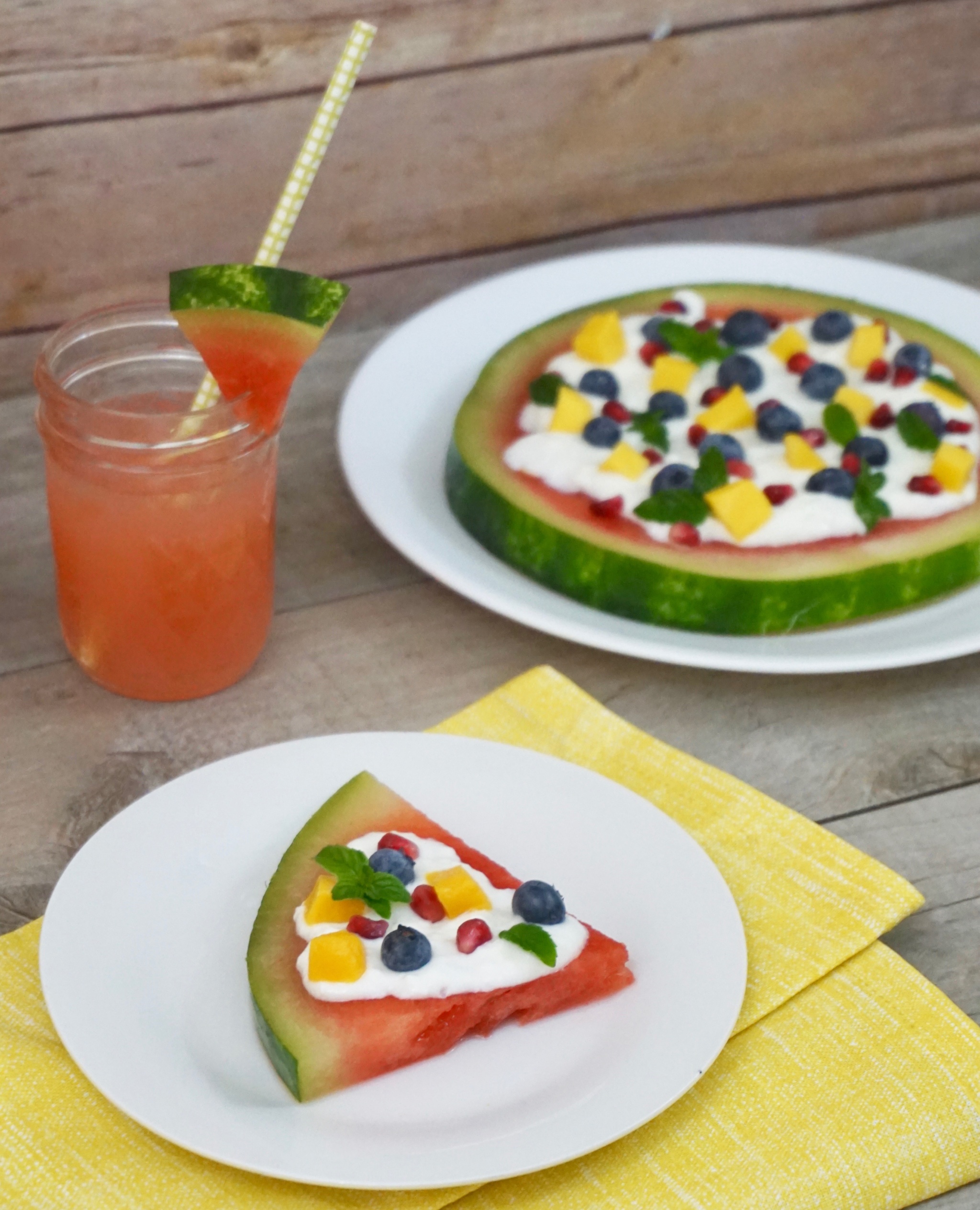 I grew up eating ceviche in Guatemala, something we would enjoy on the weekends. I've always been a big fan of seviche, whether it's a fish ceviche, a shrimp ceviche, or a mixed seafood ceviche. And because many Latin American countries have their version of this fresh fish recipe, I love exploring new ceviche recipes. I have to say the Peruvian Ceviche is one of my favorites. The ingredients' freshness makes this healthy summer recipe one of my go-to's every summer. It's a great addition to any summer menu!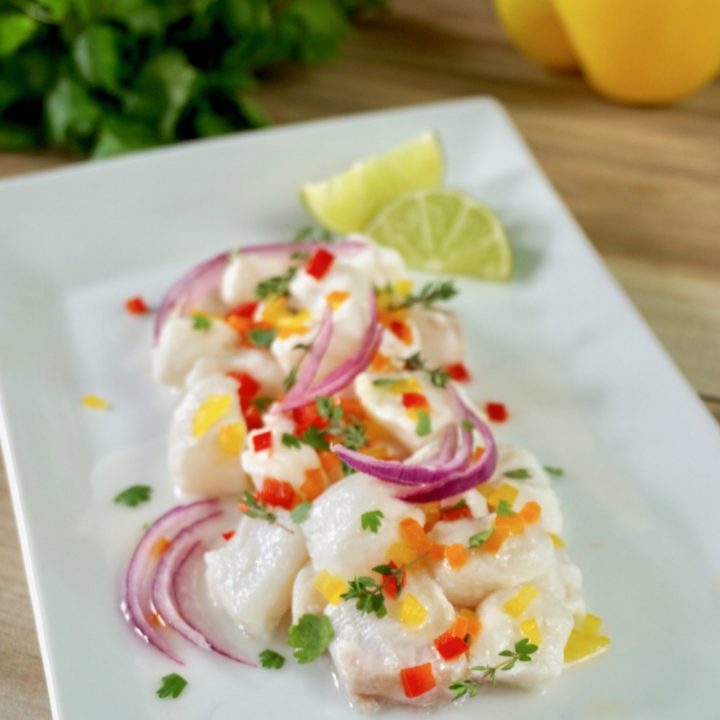 Peruvian Ceviche or Seviche
An easy summer appetizer full of fresh flavors
Ingredients
Two large fillets of fresh cod (about 1 lb.)
Juice from 3 limes
½ red onion thinly sliced
¼ cup of sweet bell pepper, thinly diced
1 red chili, thinly diced
½ tablespoon olive oil
Salt and pepper to taste
Finely chopped Fresh cilantro
Fresh coriander or other fresh herbs
Instructions
Slice the fish into ½ inch cubes.
In a large bowl, add the fish, lime juice, onion, bell pepper, and chili pepper. Mix for 5 minutes so that the lime juices will slightly cook the fish.
Add the olive oil and mix well.
Season with salt and pepper to taste.
Serve immediately and top with fresh coriander and cilantro or other herbs for garnish.

Notes
Peruvian ceviche usually includes chili or piquillo peppers. You can also use habanero peppers if you like the heat but don't add too much as you do not want to overpower this dish.
Nutrition Information:
Yield:

4
Serving Size:

1
Amount Per Serving:
Calories:

396
Total Fat:

3.9g
Saturated Fat:

0.3g
Cholesterol:

180mg
Sodium:

390mg
Carbohydrates:

5.6g
Fiber:

0.8g
Sugar:

2g
Protein:

80.6g
2,000 calories a day is used for general nutrition advice.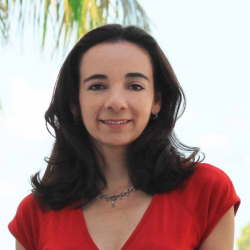 Latest posts by Paula Bendfeldt-Diaz
(see all)