Guatemala City is full of fun things to do with kids. However, they are not always easy to find. I travel with my kids to Guatemala a couple of times a year. In addition, we spend a lot of time in Guatemala City with family, so I thought I would share with you the best things to do in Guatemala City with kids.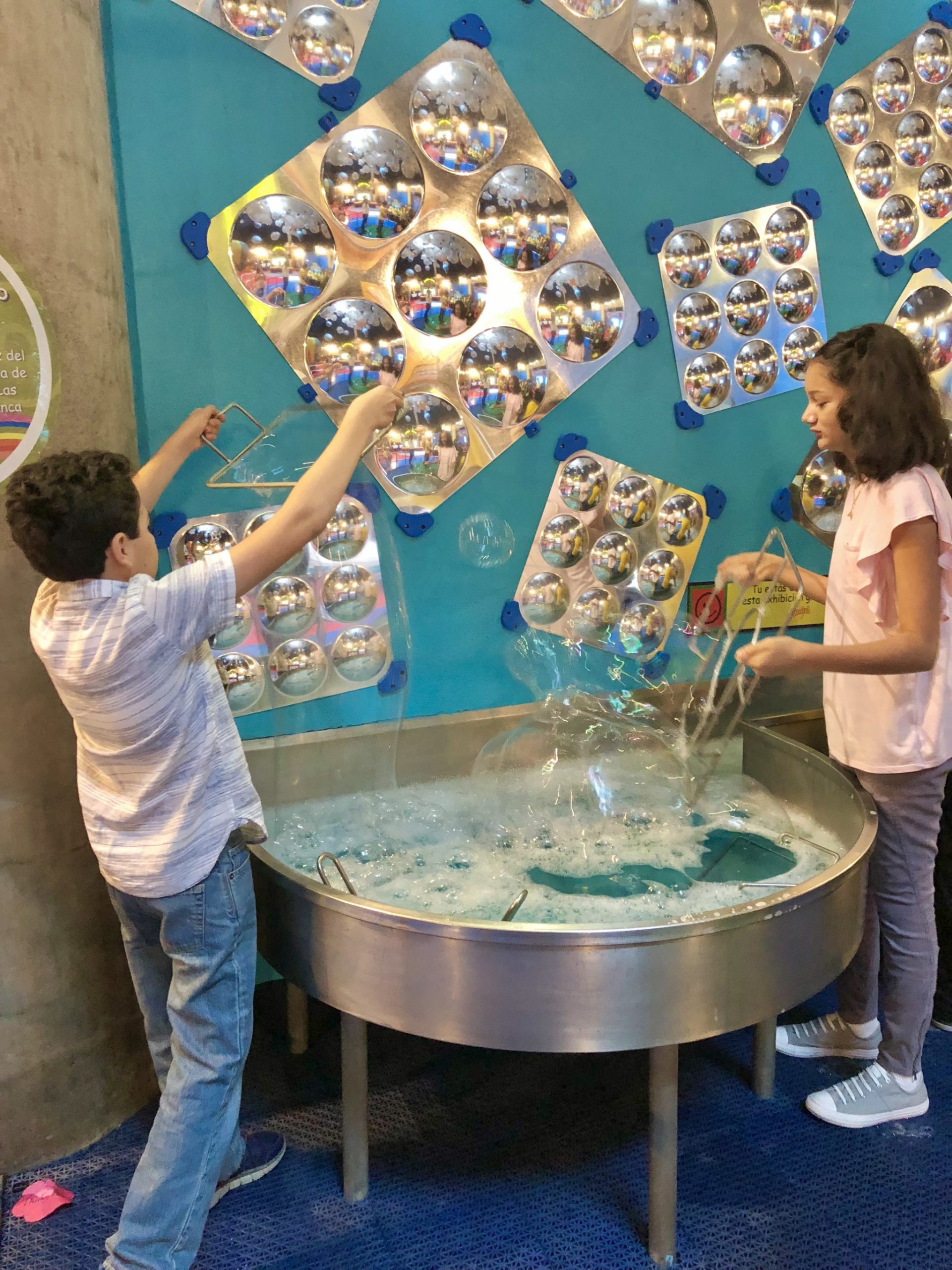 What To Do in Guatemala City With Kids?
I was born and raised in Guatemala, and there was not much to do for kids in the city. We used to go to Lake Atitlan or the Pacific coast for the weekend. But the options were pretty limited regarding staying in the city. Since then, things have changed a lot; there are now many options for incredible things to do in Guatemala City with Kids. And the best part is most are not just fun but also educational activities, which is a huge plus for any parent!
La Aurora Zoo
With more than 110 local and exotic animal species, the Zoo La Aurora is one of the best Zoos in Central America. It had come a long way from what it used to be 30 years ago when I was a kid. The exhibits are well taken care of and well-marked paths. And the most recent addition to the zoo includes a penguin exhibit where you can watch the little guys swimming underwater!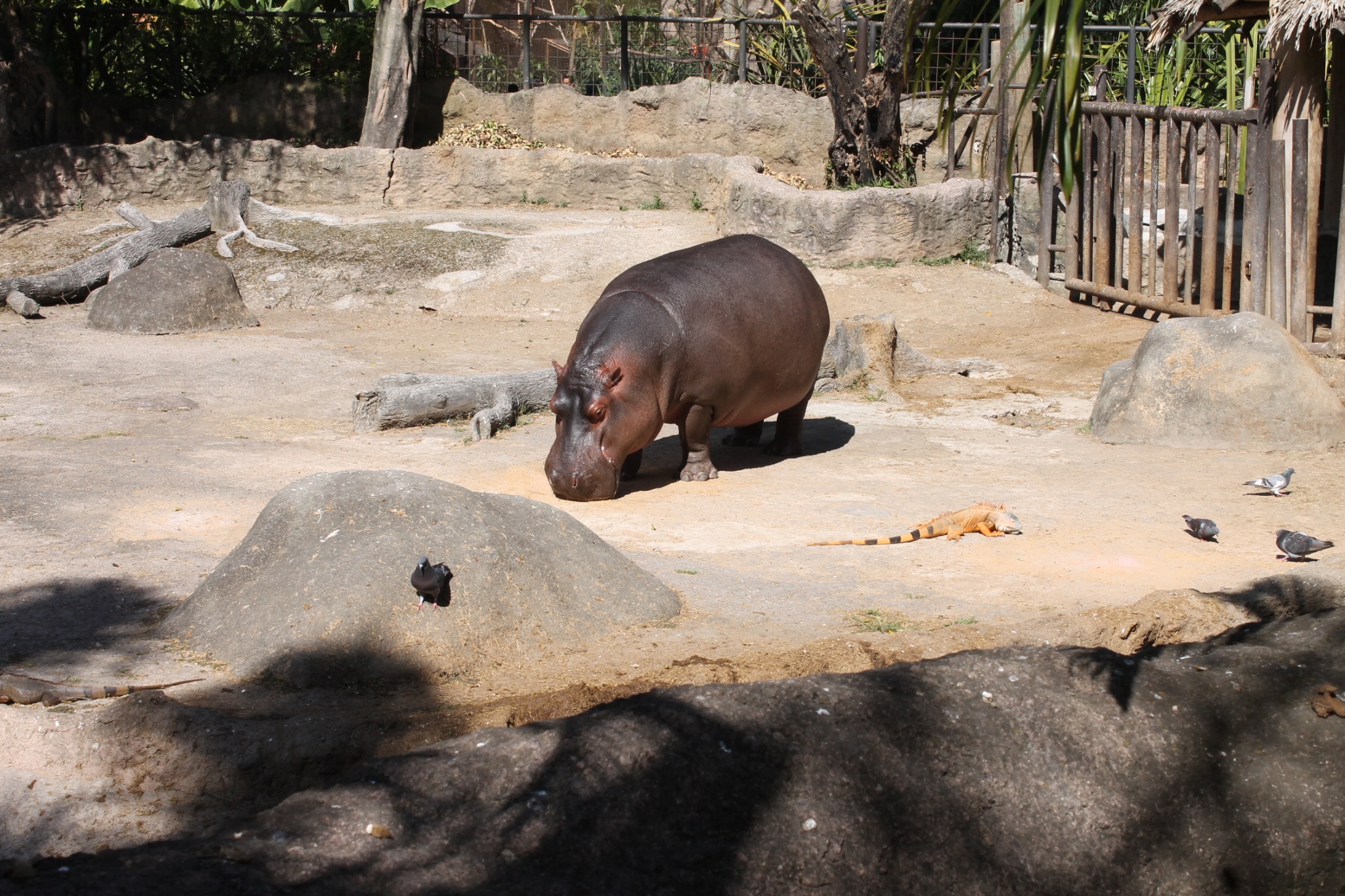 When we visited, there were three adorable tiger cubs in the tiger exhibit. The kids had so much fun watching them play and chase each other. Unfortunately, there are few opportunities to interact with the animals. Nevertheless, there is a large playground in front of the food court, which is very convenient as kids can play while you eat.
VIP Tours at Zoo La Aurora
If you want to enjoy a unique experience interacting with animals, the VIP tours at Zoo La Aurora are one of the best things to do in Guatemala City. These guided tours will take you to different enclosures, usually off-limits to the public. The zoo offers various packages ranging from $15 to $20, depending on the activity. For example, you can feed lemurs, interact with colorful macaws, or see the herbarium full of slithering reptiles.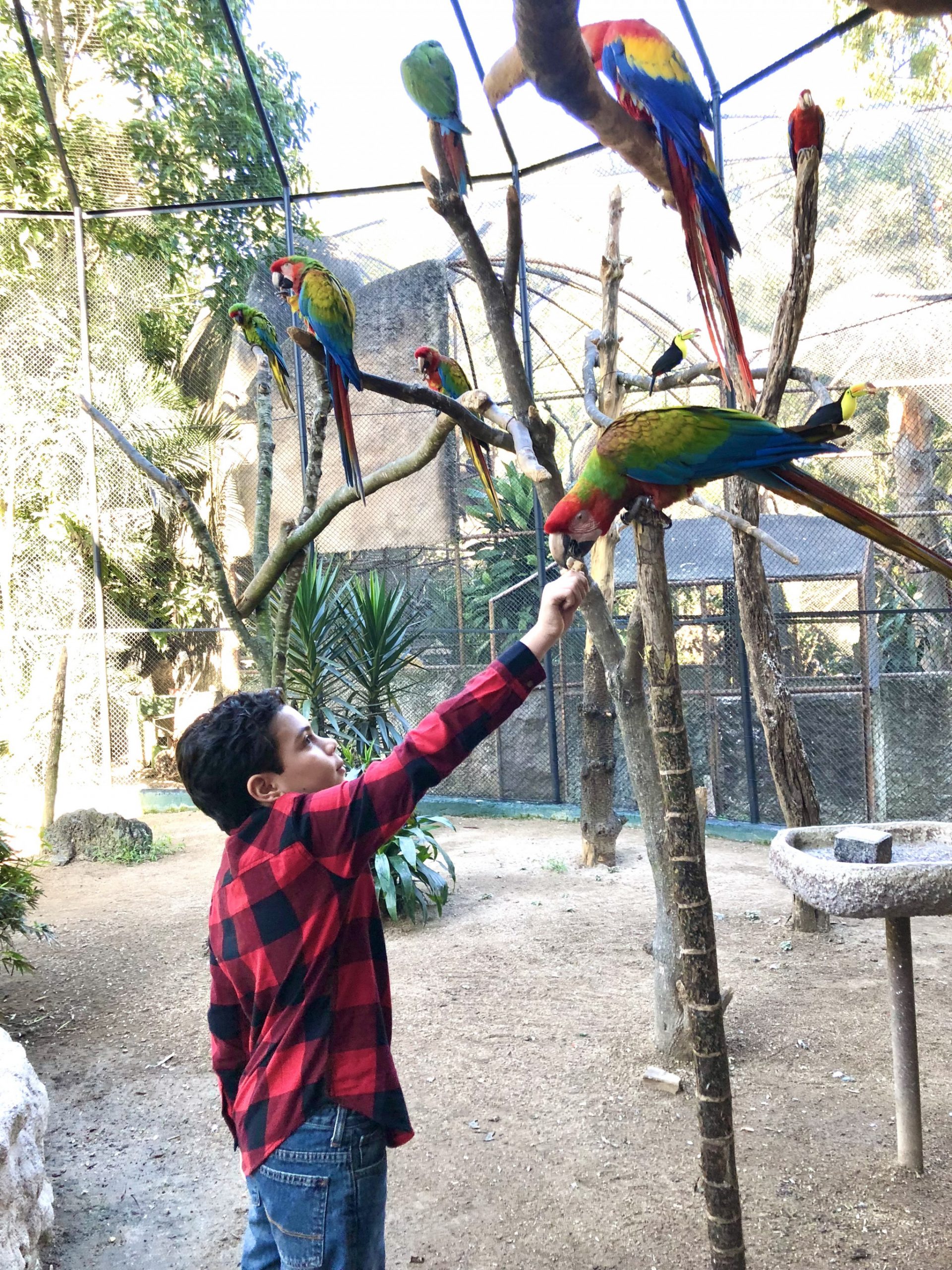 In addition, visit the giraffe's enclosure or see up close where lions, camels, and leopards sleep. Please note that some VIP tours are only suitable for kids over seven. So for the younger audience, the VIP Granjita (petting farm) is the perfect option. On this tour, younger kids can pet miniature goats and rabbits and feed pigs while learning about farm animals.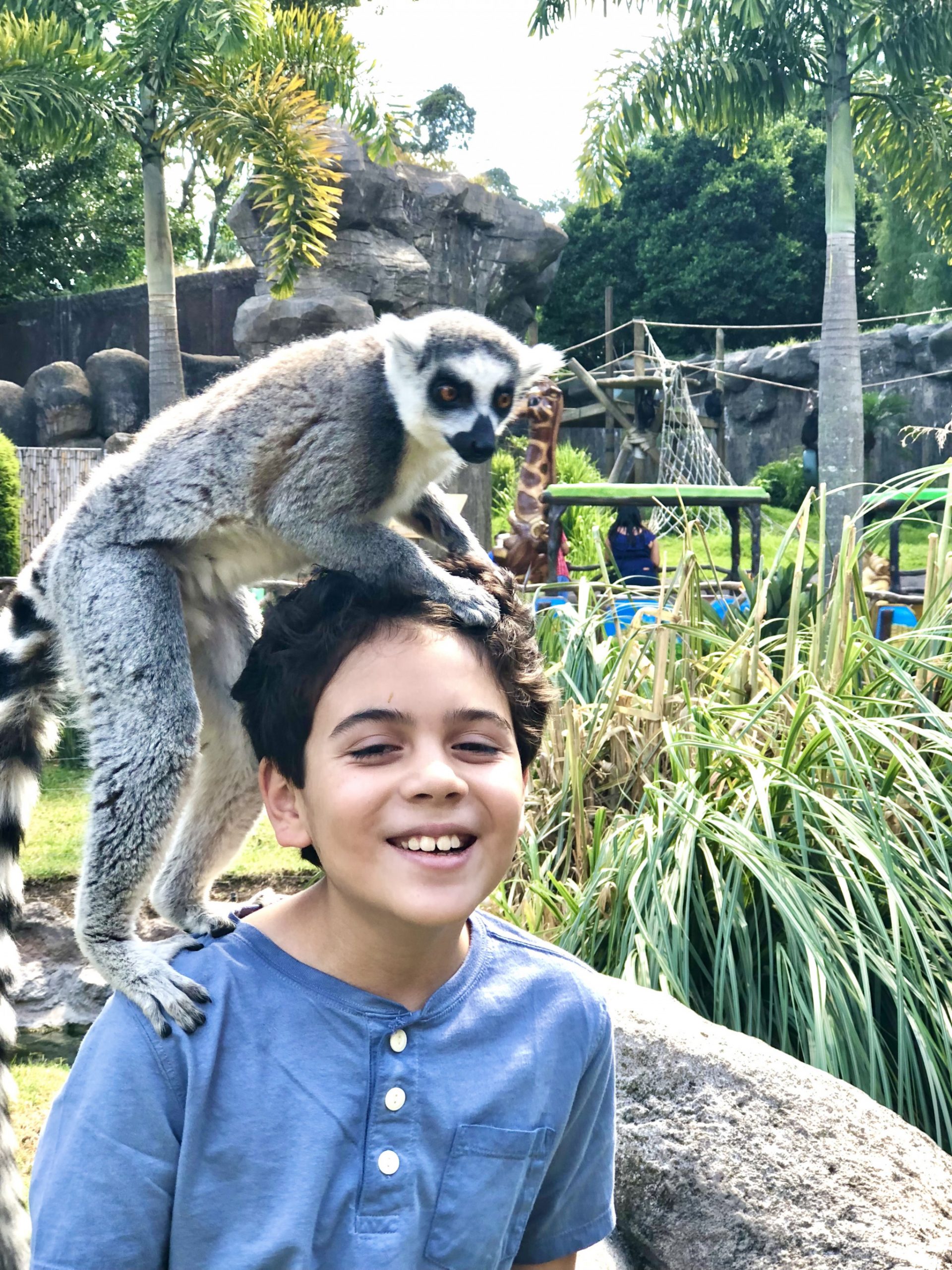 Where is La Aurora Zoo?
5ta calle Interior Finca La Aurora, Zona 13
Opening Hours
Tue-Sun 9 a.m. – 4 p.m. / Mon Closed
How much does it cost to go to La Aurora Zoo?
Adults: Q40 (approximately $6)
Children: Q20 (less than $3)
Guatemala City's Children's Museum
With over 50 permanent exhibits, the Museo del Niño is one of the best things to do in Guatemala City with kids. From giant bubbles and simulated earthquakes to a fully-stocked grocery store, Guatemala City's Children's Museum is a great place to spend the day. All the activities are fun, educational, and highly interactive. Children can learn by doing, touching, and experiencing!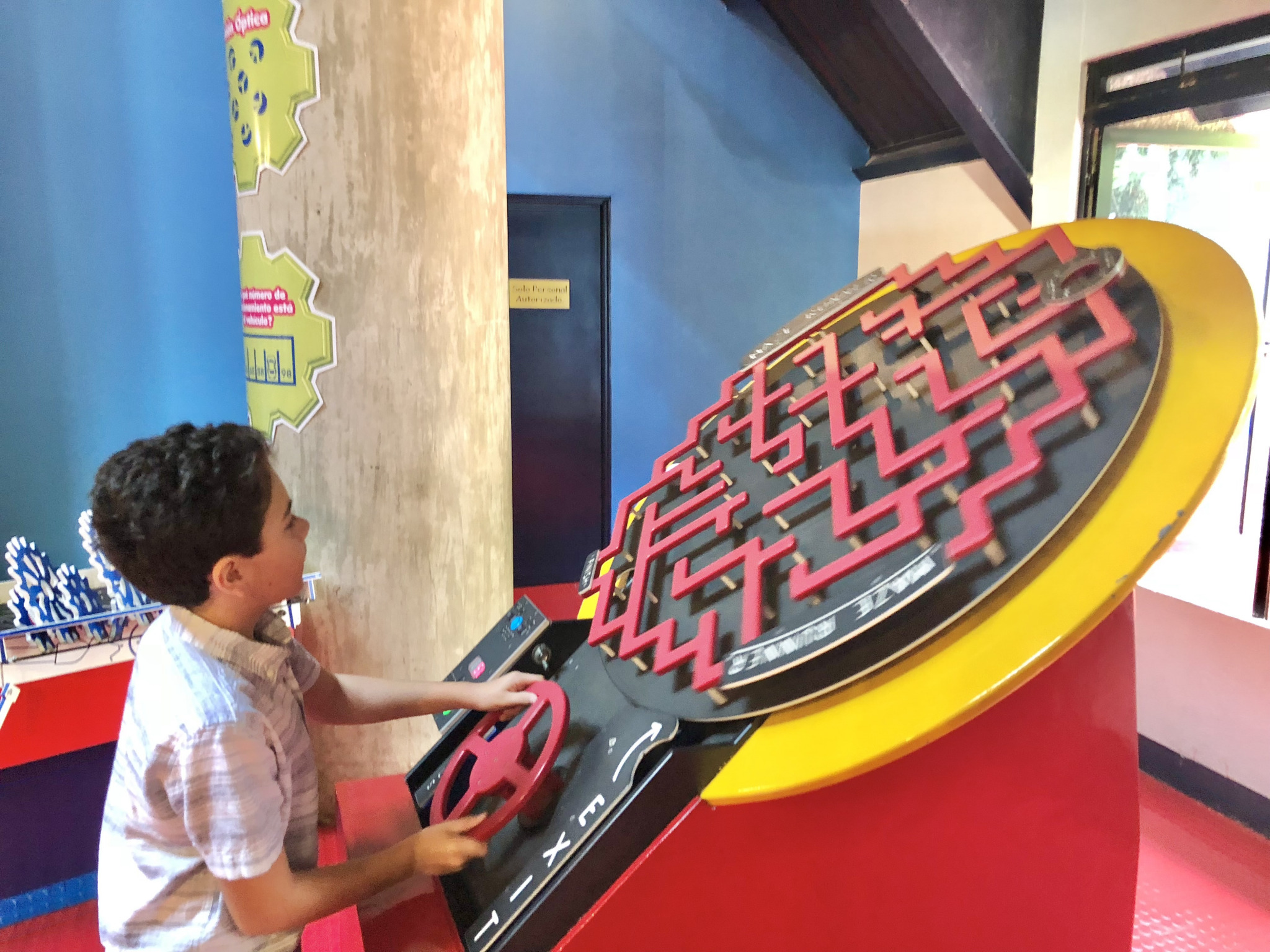 Kids can also learn about Guatemala in the "mi país" (my country) section. I love that they have an exhibit that talks about peace and teaches values related to acceptance and diversity. Just check their schedule on the website as they close during lunch!
Where is Children's Museum in Guatemala City?
5A Calle 10-00, Zona 13
Opening Hours
Tue-Fri 9 a.m. – 12 p.m., reopens at 1:30 p.m. – 4 p.m.
Sat-Sun 9:30 a.m. – 12:30 p.m., reopens at 2:00 p.m. – 5 p.m.
Closed on Mondays
Entrance Fee
Adults and kids: Q40 (approximately $6) per person
Pasaporte Familiar (family passport), Valid only on Saturdays and Sundays:
3 Persons: Q110.00 (about $15)
4 Persons: Q130.00 (about $17)
5 Persons: Q150.00 (about $20)
Irtra Mundo Petapa Theme Park
Irtra Petapa is the only theme park in Guatemala City, and it's a fantastic place to spend the day with kids. There is an incredible dinosaur playground, a colorful carousel, roller coasters small and big, and other amusement park-type rides. Also, don't forget to check out the small zoo with local species of small mammals and reptiles.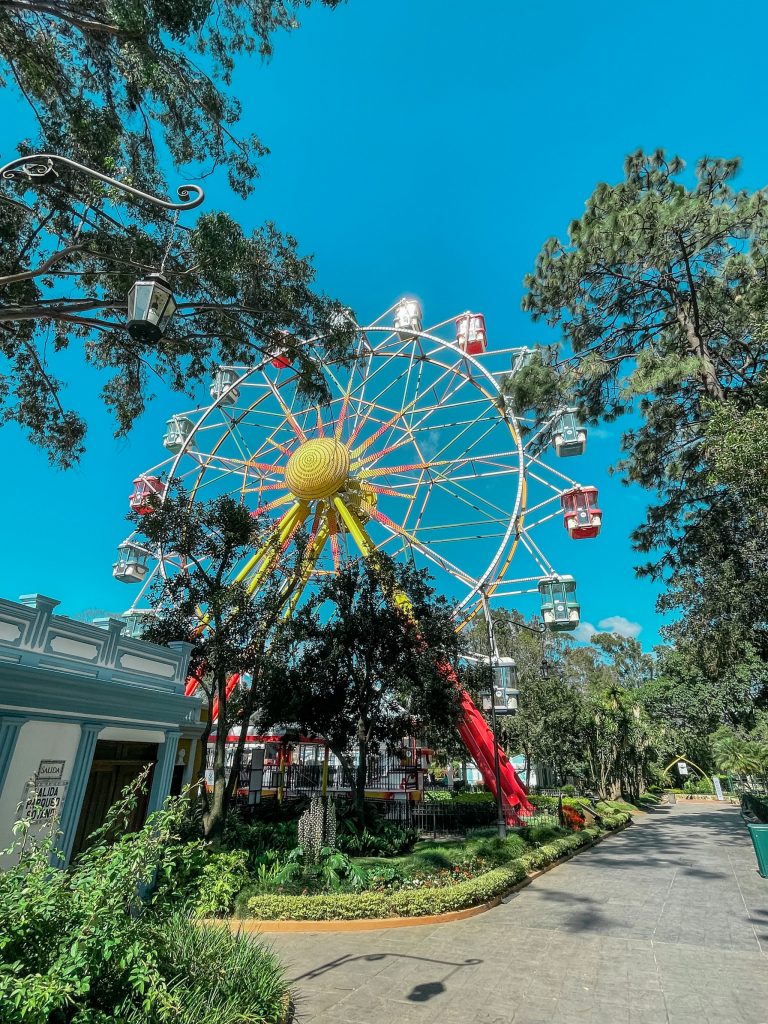 Mundo Petapa – Irtra is only open from Thursday to Sunday. During weekends, there are usually a lot of people. But on weekdays, you do not have to wait long for the rides. The park is well maintained and clean, and it's very affordable. It is one of the most fun and best things to do in Guatemala City.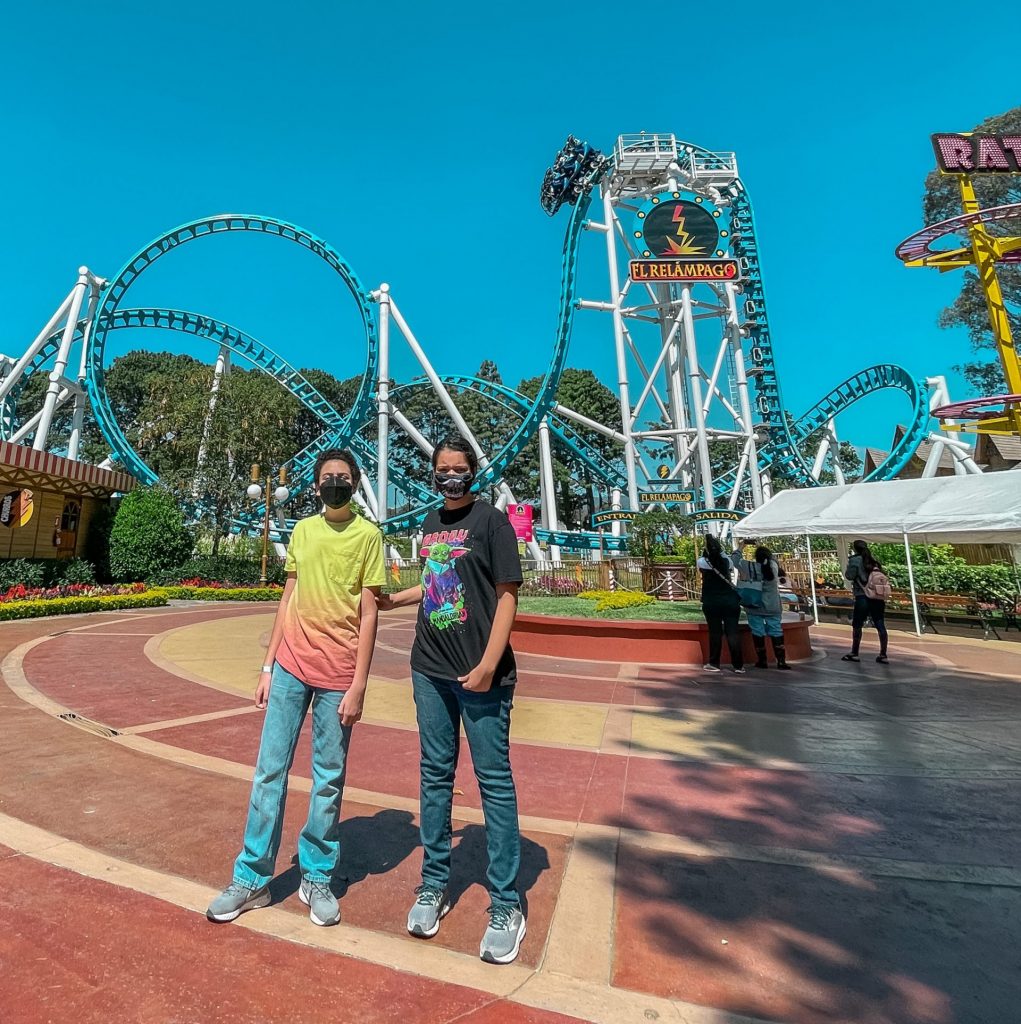 After entering the park, you must decide if you want to buy a bracelet or a passport with a set amount of rides. The bracelets are individual and include unlimited rides, while the passport has 6 or 12 rides. But you can share the family passport with as many people as you like.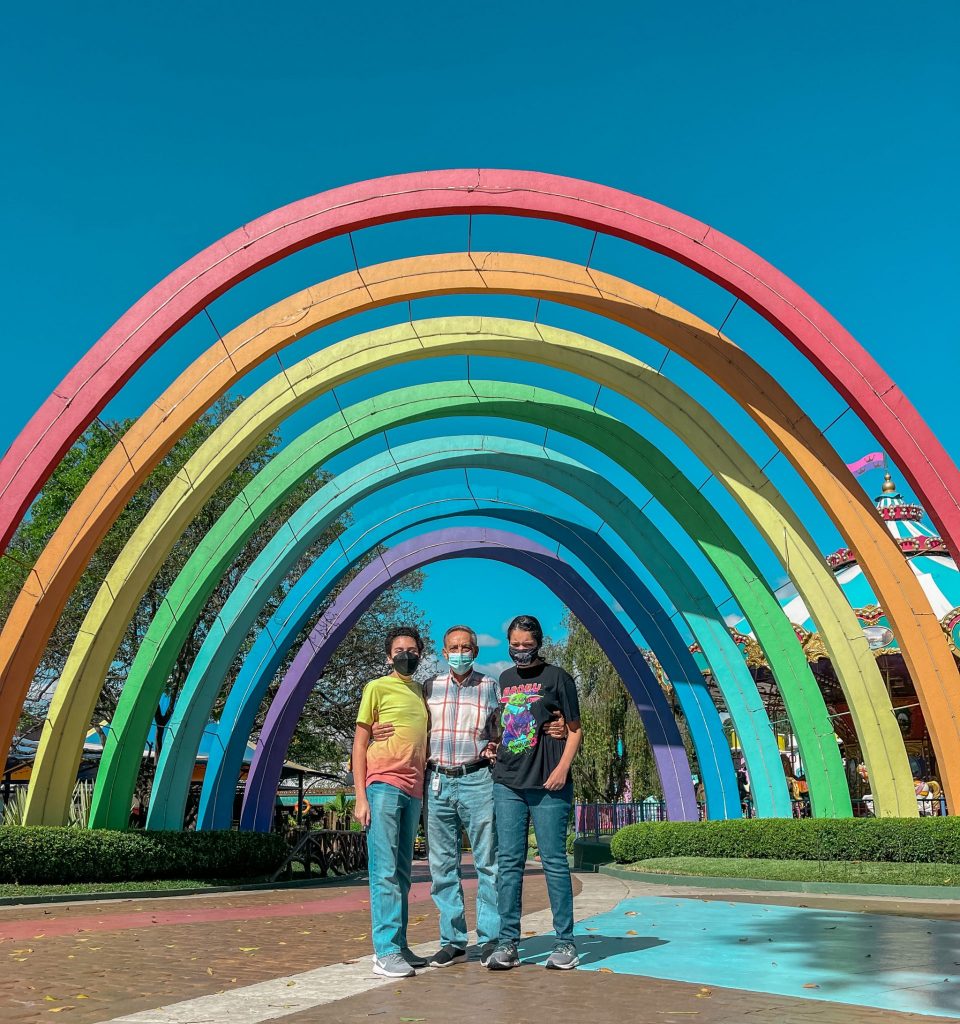 We usually buy a bracelet for the kids and share a passport between my husband and me, as we only get on fewer rides with the kids. However, since our kids are older, they can get on a lot of rides on their own.
Where is IRTRA Mundo Petapa?
Av. Petapa 42-36, Zona 12
When is Mundo Petapa IRTRA open?
Thu-Sat 9 a.m. – 5 p.m. / Sun 9 a.m. – 6 p.m.
Closed Mon-Wed
Entrance Fee and Tickets
Affiliates:
With a membership card, entrance is free for up to five immediate family members. It includes parents, spouses, and children.
Non-Affiliates:
Adults and kids over 1.40m (55″) – Q100 (about $13)
Kids between 1m and 1.40m (39″-55″) – Q50 (about $7)
Kids under 1m (30″) – Free
Senior citizens (60 years and older) – Q50 (about $7)
Tickets
Amusement Rides:
Personal bracelet with unlimited rides – Q50 ($7)
Passport with shareable rides – Q50 ($7)
Arcade Games:
Individual tokens for Q5 (¢0.65)
Relief Map of Guatemala
The relief map is an interesting Guatemalan site full of history. It gives you a great perspective of Guatemala and its landscape. My kids had a lot of fun finding the highest peaks and looking for the towns and cities we visited on our trips (and those we plan to see). Cities, towns, and places of interest are well marked, as well as rivers, lakes, mountains, and volcanoes.
The Mapa en Relieve park is charming and overflowing with flowers. We visited on a weekday morning and were the only ones there. There was a lot of security and 2 or 3 friendly guides. They were eager to answer questions and explain the map's history and the country's geography.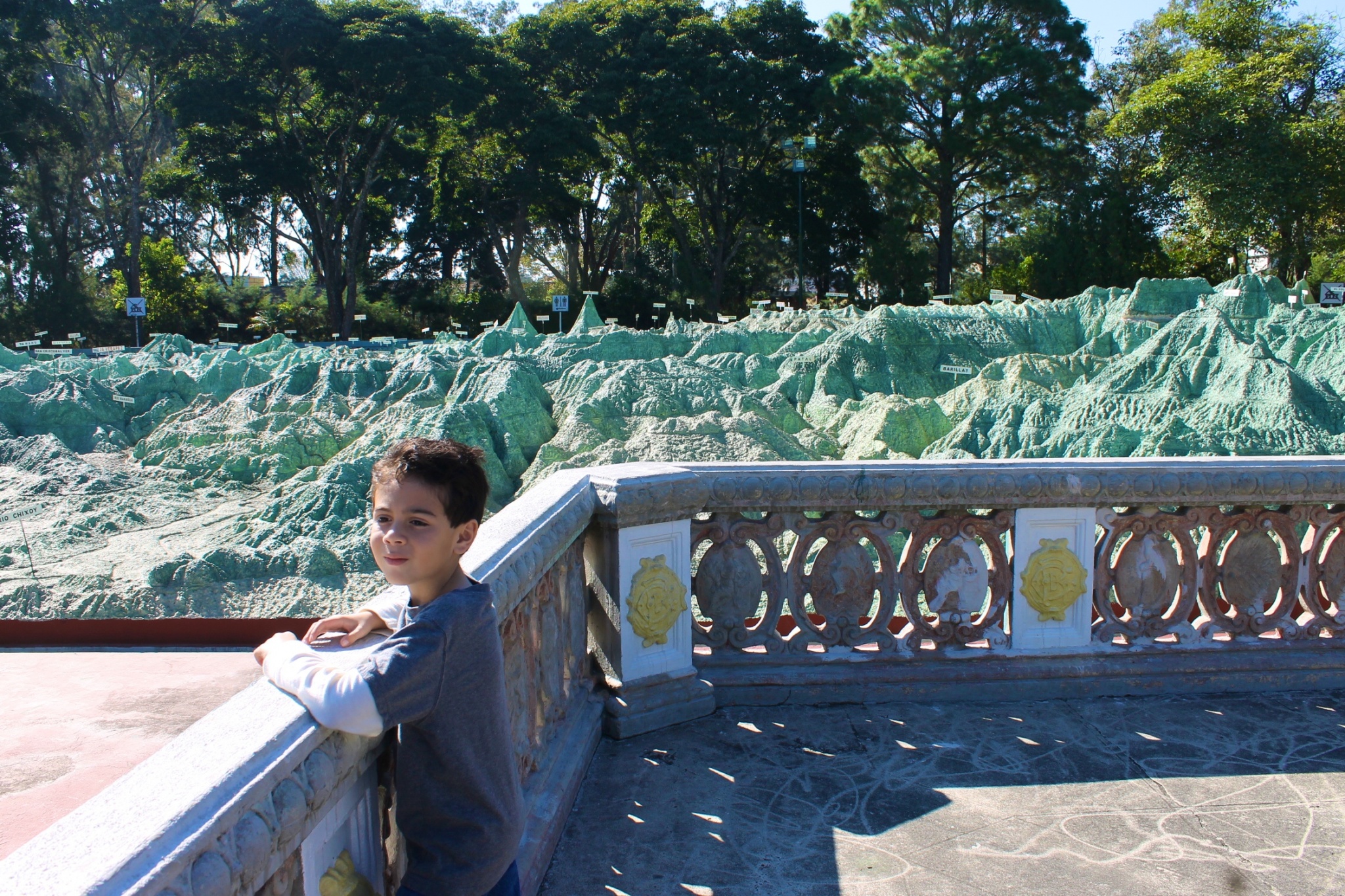 We spent about an hour at the relief map and then crossed the street to the Carrousel and Esquilandia parks. They are two small amusement parks right across the street. The kids had fun on the video games and rides and sliding down the giant toboggan.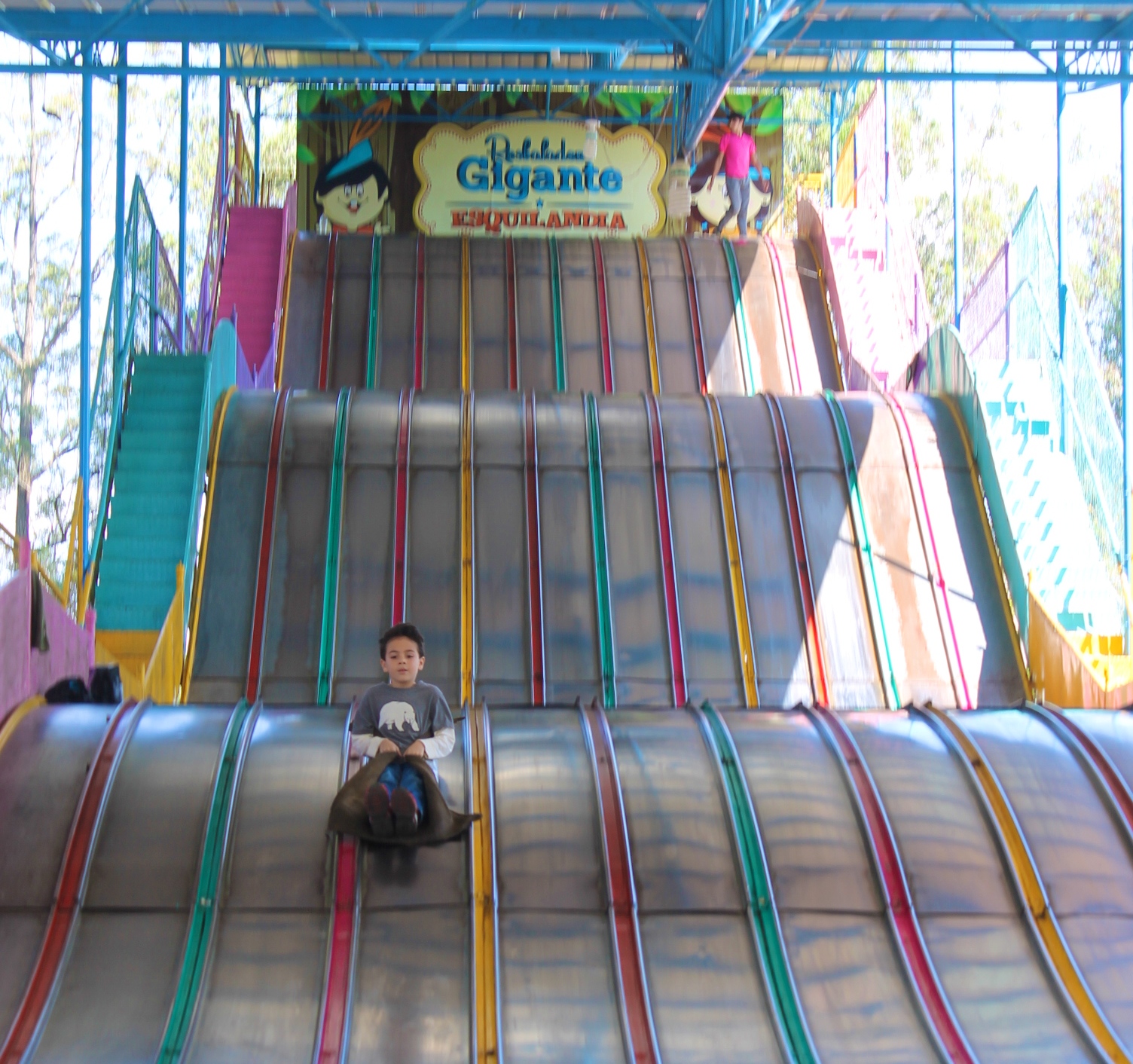 Where is the Relief Map of Guatemala?
Av. Simeón Cañas, Zona 2
Opening Hours
Tue-Sun 8 a.m. – 4 p.m. / Mon Closed
Entrance Fee
Admission is Q25 for tourists (about $3.50)
Paseo Cayalá in Guatemala City
If you are in the mood for some shopping, you must visit Paseo Cayalá, one of the newest shopping malls in Guatemala. This open shopping mall is like a small city, beautifully designed and featuring upscale shops. In addition, it packs lots of dining options and fun things to do with kids.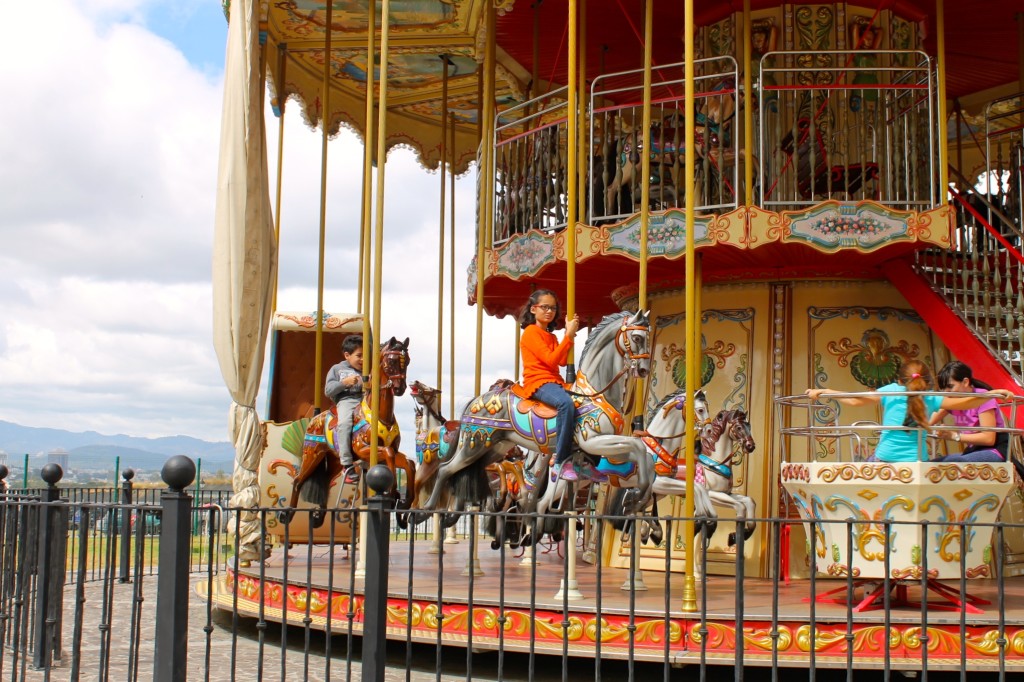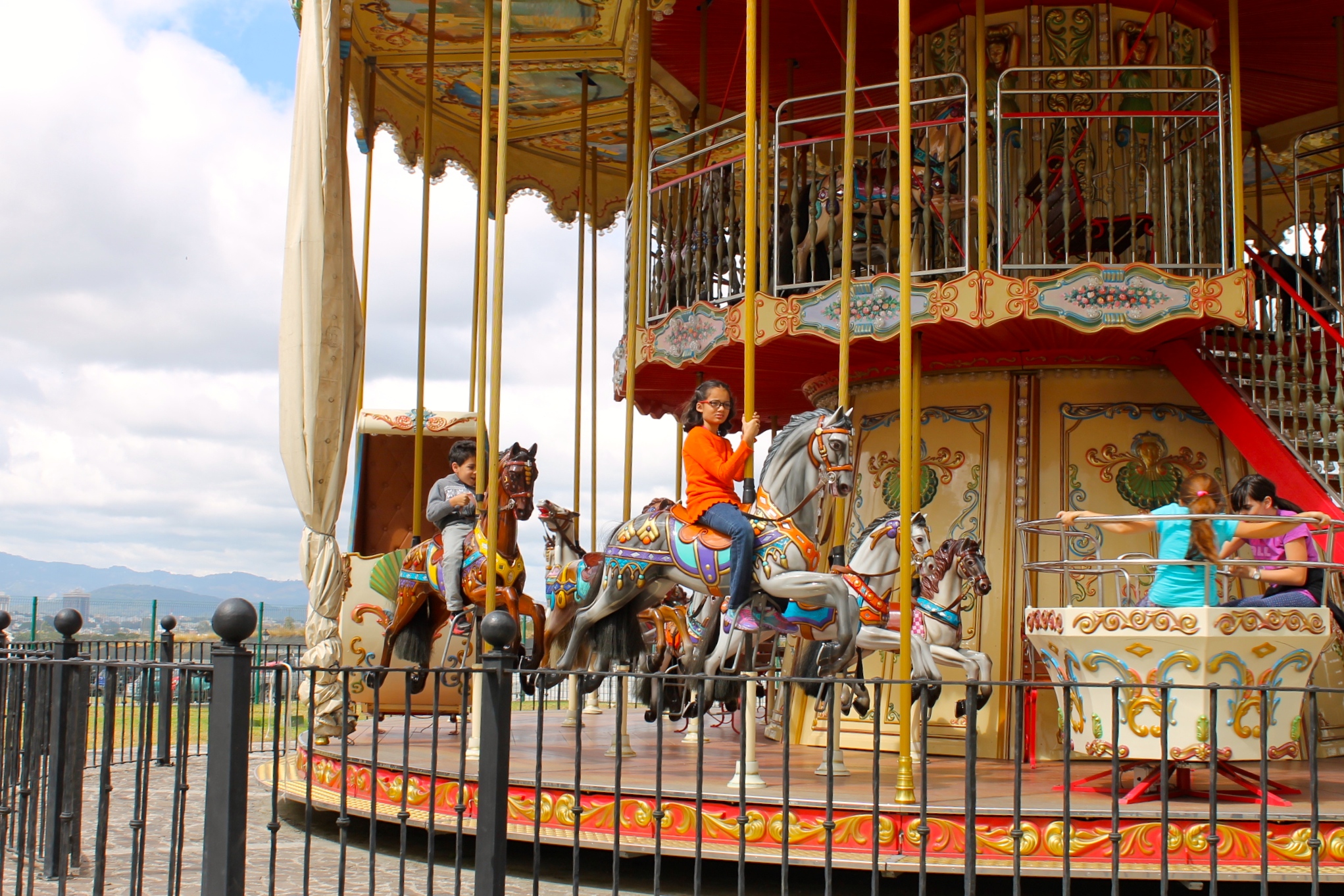 We visited with my children, 7 and 9, and they had lots of fun. You can do canopy, ride the train, rent scooters, have fun at Laser Heroes, ride the beautiful carrousel or watch a movie at the movie theater.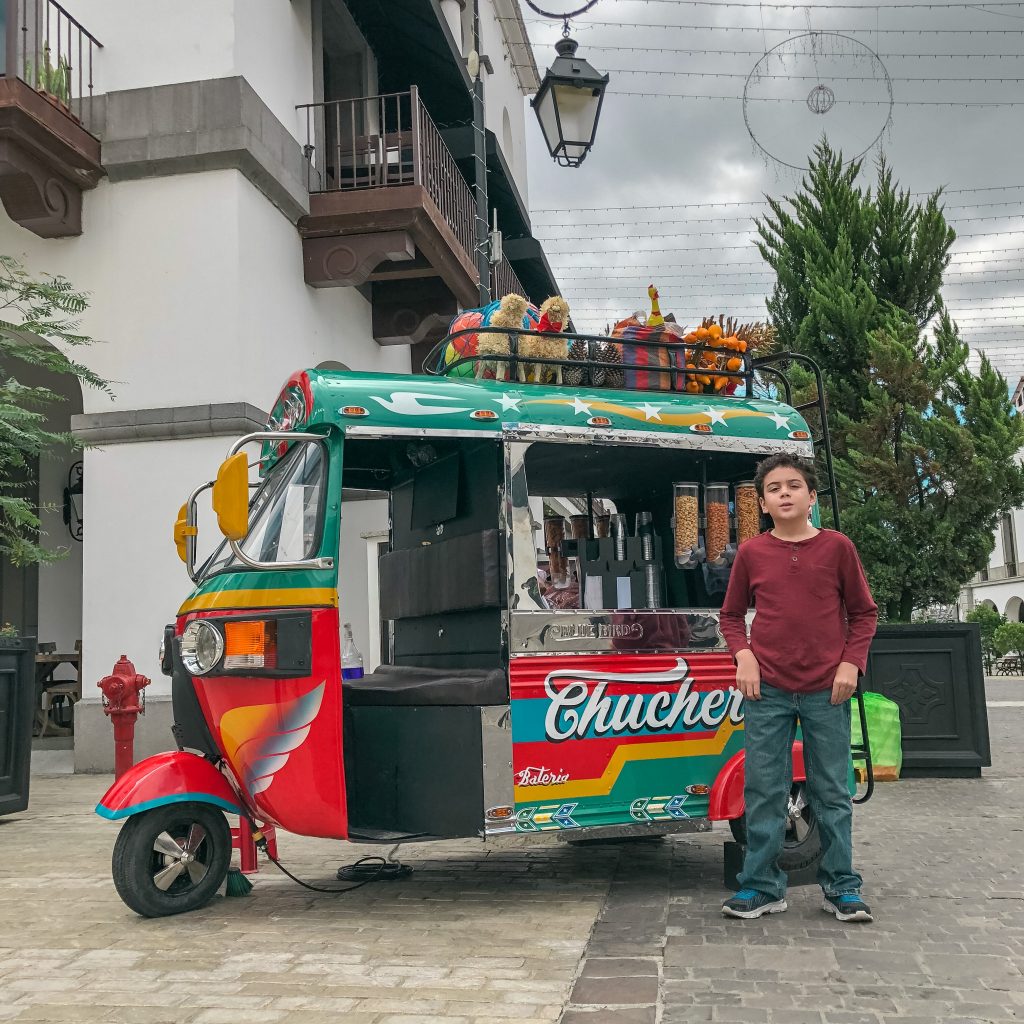 There is also a playground and a delightful garden with animal-shaped bushes, which my kids loved running around. In addition, Paseo Cayalá is pet friendly and even has a dog park.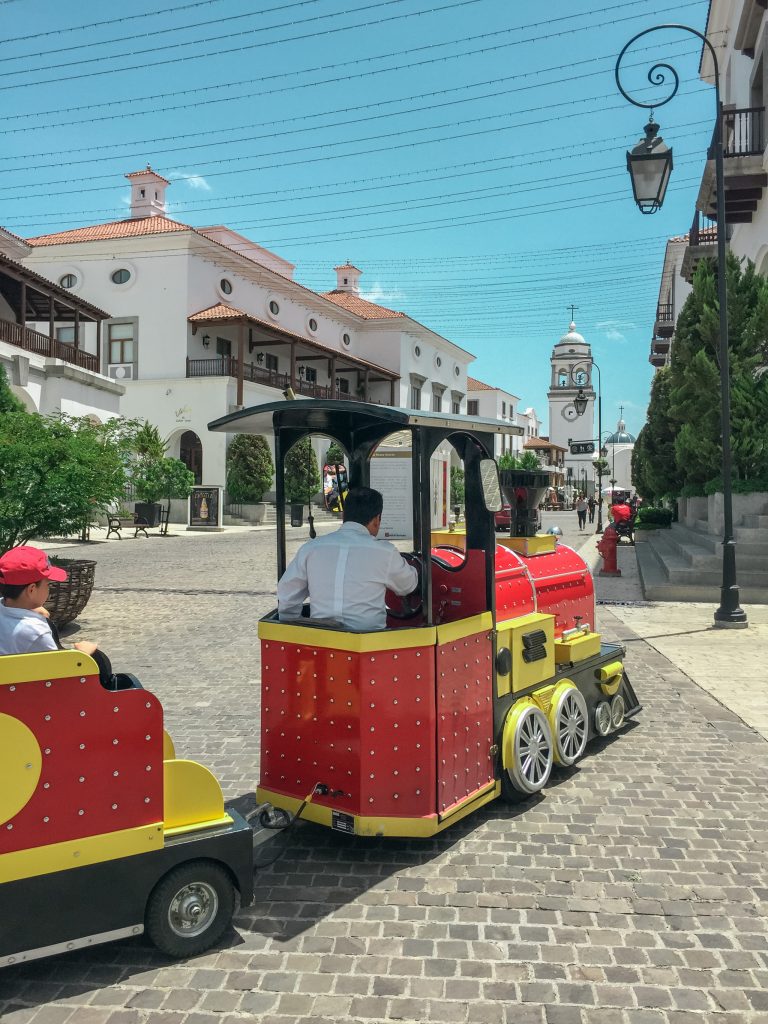 I also recommend checking out the Cayibel food market. Every family member can pick their favorite food, from tacos and burgers to traditional Guatemalan food, and eat together. There is even a chicken bus restaurant inside the food court, which my kids loved!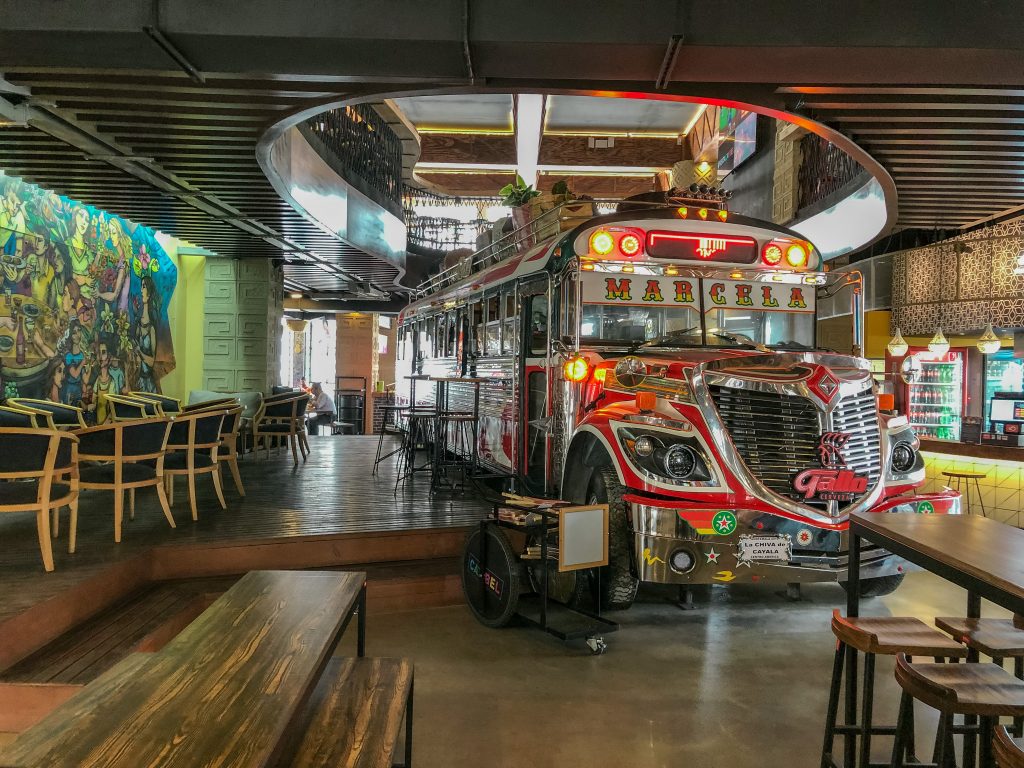 Where is Paseo Cayala?
Blvr. Rafael Landivar, Zona 15
When is Paseo Cayala Open?
Sun-Sat 10:00 a.m. – 8:00 p.m.
Entrance Fee
Free. Parking goes for around Q10-Q20 (approximately $2-$3)
Green Rush
If you're looking for a place to experience nature and enjoy beautiful volcano views, Green Rush is the place to go. Green Rush is just minutes from downtown Guatemala City.
It features beautiful, kid-friendly hiking trails. And also gives kids the opportunity to pet animals, including horses, and even practice their skills with a bow and arrow.
You can also have breakfast there while enjoying breathtaking views of the volcanoes. The menu includes traditional Guatemalan breakfast like huevos rancheros and kid favorites like pancakes.
Where is Green Rush Located?
Km 24 Carretera a El Salvador, Cruce a Villa Canales
Opening Hours
Mon-Thu 9:00 a.m. – 7:00 p.m. / Fri 9:00 a.m. – 5:30 p.m.
Sat 8:00 a.m. – 7:00 p.m.
Sun 6:30 a.m. – 7:00 p.m.
Prices include picnic areas, an animal sanctuary, and hiking trails.
Adults: Q50 (about $7)
Kids: Q30 ($4)
Laser Heroes
With several locations around the city, Laser Heroes is a magnet for tweens and teenagers in Guatemala City. So gather a team and fight in a laser maze with music blasting through the speakers! Each round of laser tag goes for about $3 and lasts around 15 minutes.
Jump as high as possible in the trampoline park or climb an obstacle wall. You can also practice target shooting with a bow and arrows and end the day with a match of Futillo (foosball)!
Where is Laser Hero in Guatemala City?
Paseo Cayala, Blvr. Rafael Landivar, Zona 15
Centro Comercial Pradera Concepcion, Km 15.5 Carretera al Salvador
Opening Hours
Sun-Thu 10:00 a.m. – 8:00 p.m. / Fri-Sat 10:00 a.m. – 9:00 p.m.
How Much Does Laser Hero Cost?
A round of laser tag is Q25 (about $3.50), and the second round is Q20 (about $2.50)
Akúa, Dinamia Cayalá
AKUA is Guatemala's newest Flowboarding action club. It features a FlowRider and a unique inner-city beach club environment. The FlowRider simulates a fast-moving wave so you can enjoy outdoor surfing or learn Flowboarding. The best thing is that it is for all ages, from the little ones to pros. So anyone can practice in a great wave simulator!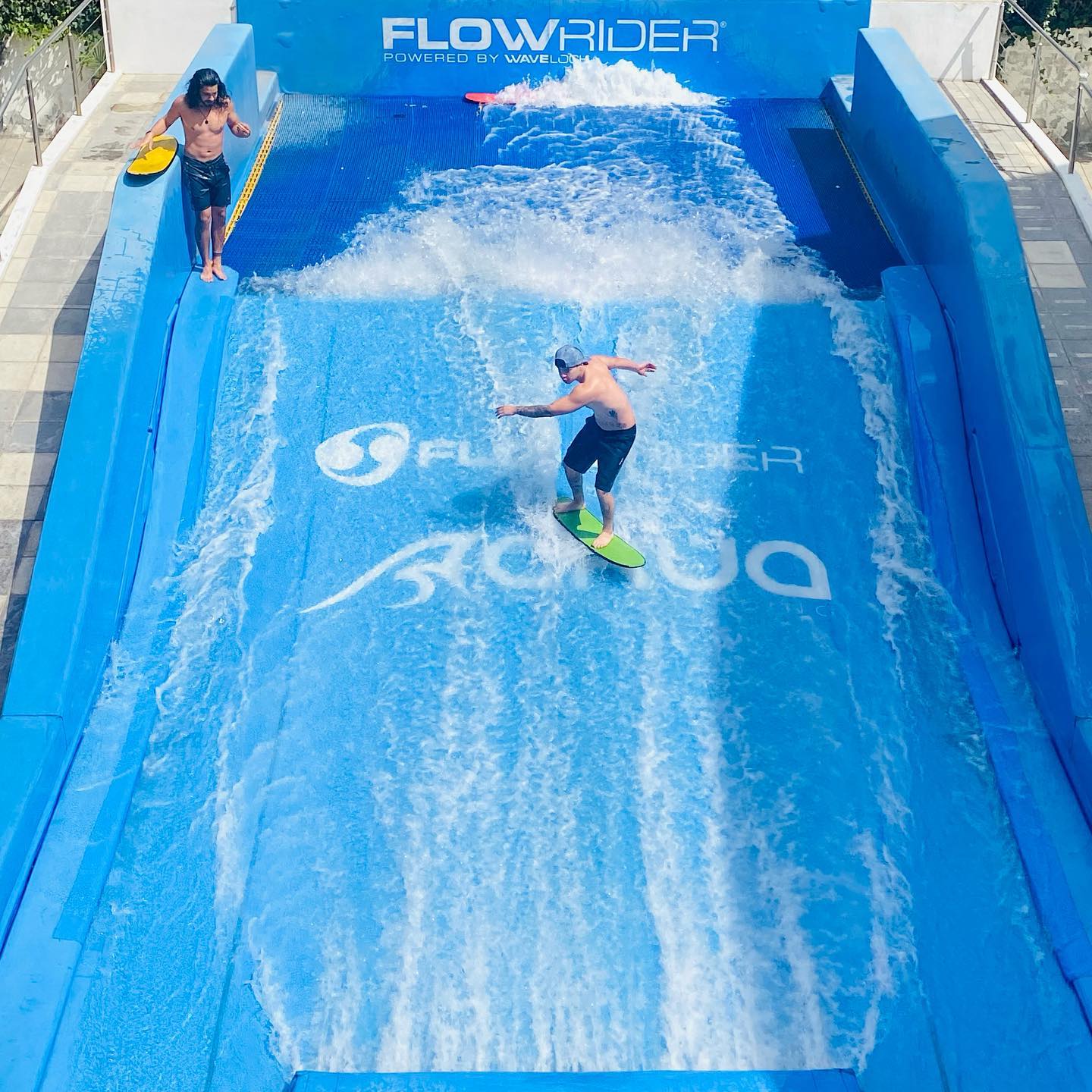 The club offers a jacuzzi, a restaurant, a bar area, and courses to learn about Flowboarding. It's about $12-15 an hour per person, with personalized classes from instructors. So enjoy a completely different aquatic outing or sit by the bar and watch your kids have a blast splashing around.
Where is Akúa Located?
Centro Comercial DINAMIA Cayalá, Blvr. Austriaco, Zona 15
Opening Hours
Mon-Thu 9:00 a.m. – 8:00 p.m. / Fri 10:00 a.m. – 7:00 p.m.
Sat 9:00 a.m. – 7:00 p.m. / Sun 9:00 a.m. – 5:00 p.m.
Free entrance
Flowboarding is about Q100 (approximately $14) an hour per person
Parking goes for around Q10-Q20 (about $2-$3)
Loops Family Entertainment Center
On the outskirts of Guatemala City, Loops is a fun place for all ages. But let me tell you that, in my opinion, it's a little more focused on teens than toddlers. There is a game of mini golf, arcade games, a boat ride for little kids, and a Gotcha arena for older ones. The best parts are the go-kart track, rollerskating rink, and bowling alley.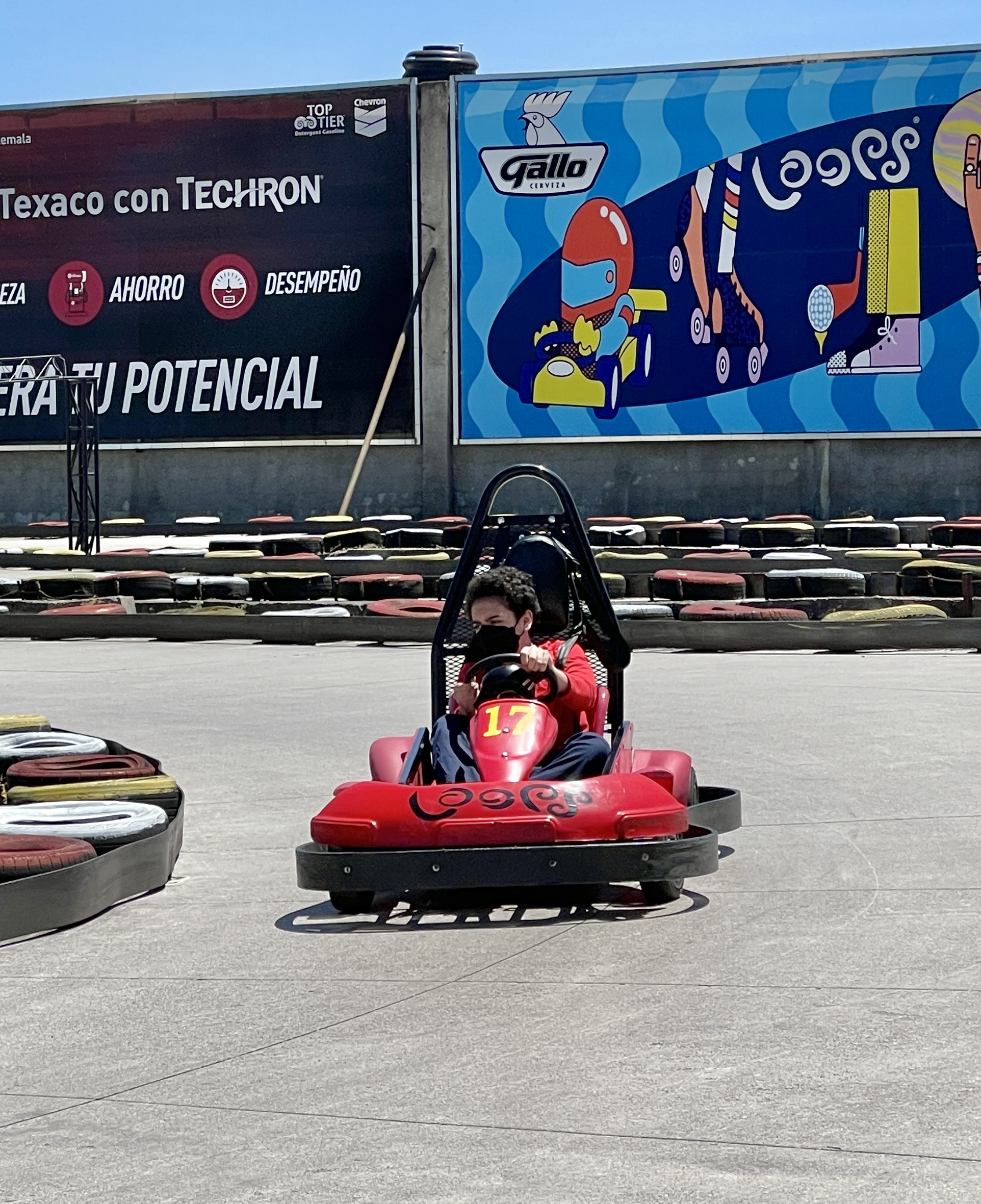 Go-kart racing at Loops
Young kids can ride as passengers, with an adult doing all the driving. The karts have single or double seatings, depending on who is racing. And the older kids can drive alone and choose the one they want. Then, team up and run to the finish line!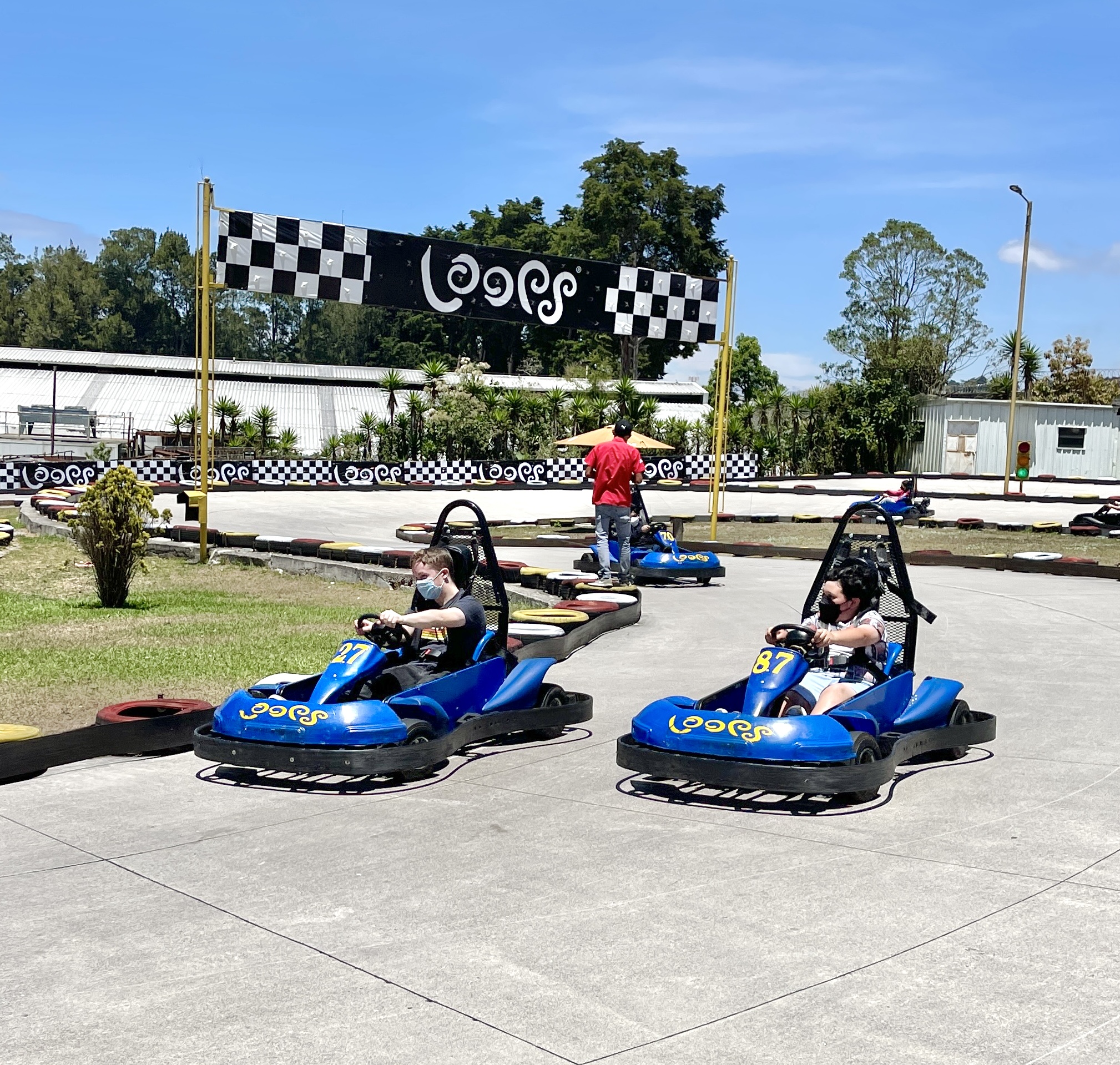 You can order food from the restaurant, a simple menu but perfect for kids. And I recommend you check out the ticket bracelets instead of buying single tickets. It could get a little expensive to purchase them individually. The bracelet starts at around $20, and you can get combos for tokens, go-kart races, or mini golf; there are many options to pick and have a great time!
Where is Loops Family Entertainment Center?
KM. 17.5 Carretera a San José Pinula
Opening Hours
Wed-Thu 12 p.m. – 8 p.m. / Fri 12 p.m. – 9 p.m.
Sat 10 a.m. – 9 p.m. / Sun 10 a.m. – 8 p.m.
Mon & Tue – Closed
Entrance Fee
Free entrance
Prices for rides and games range from Q35 to Q210 (about $5-$30). Check the website for bracelets and tokens
Parque Ecológico Kanajuyú
Kanajuyú's Parque Ecológico is a forest park that offers lush trails and barbecue tables to enjoy nature in different ways. The park is pet-friendly, so visitors can take their furry friends (on a leash) and enjoy bird and squirrel watching.
The park is part of the "Cinturon Ecológico Metropolitano" that encourages the care of green areas within the city. The entry fee is used to improve the park and is inexpensive. Remember to bring a water bottle and wear comfy shoes!
Where is The Park Located?
4 Avenida y 17 Calle, Zona 16
Opening Hours
Tue-Sun 8 a.m. – 5 p.m.
Mon – Closed
Entrance Fee
Q.10 (a little over $1)
Panda Aventura Mini Golf
This fun mini golf is an innovative concept without traveling far from the city. Panda minigolf is inside Yessyber Garden, with a beautiful setting for other events. The outdoor area is well maintained, with lush gardens and a small stream flowing through the 18 holes.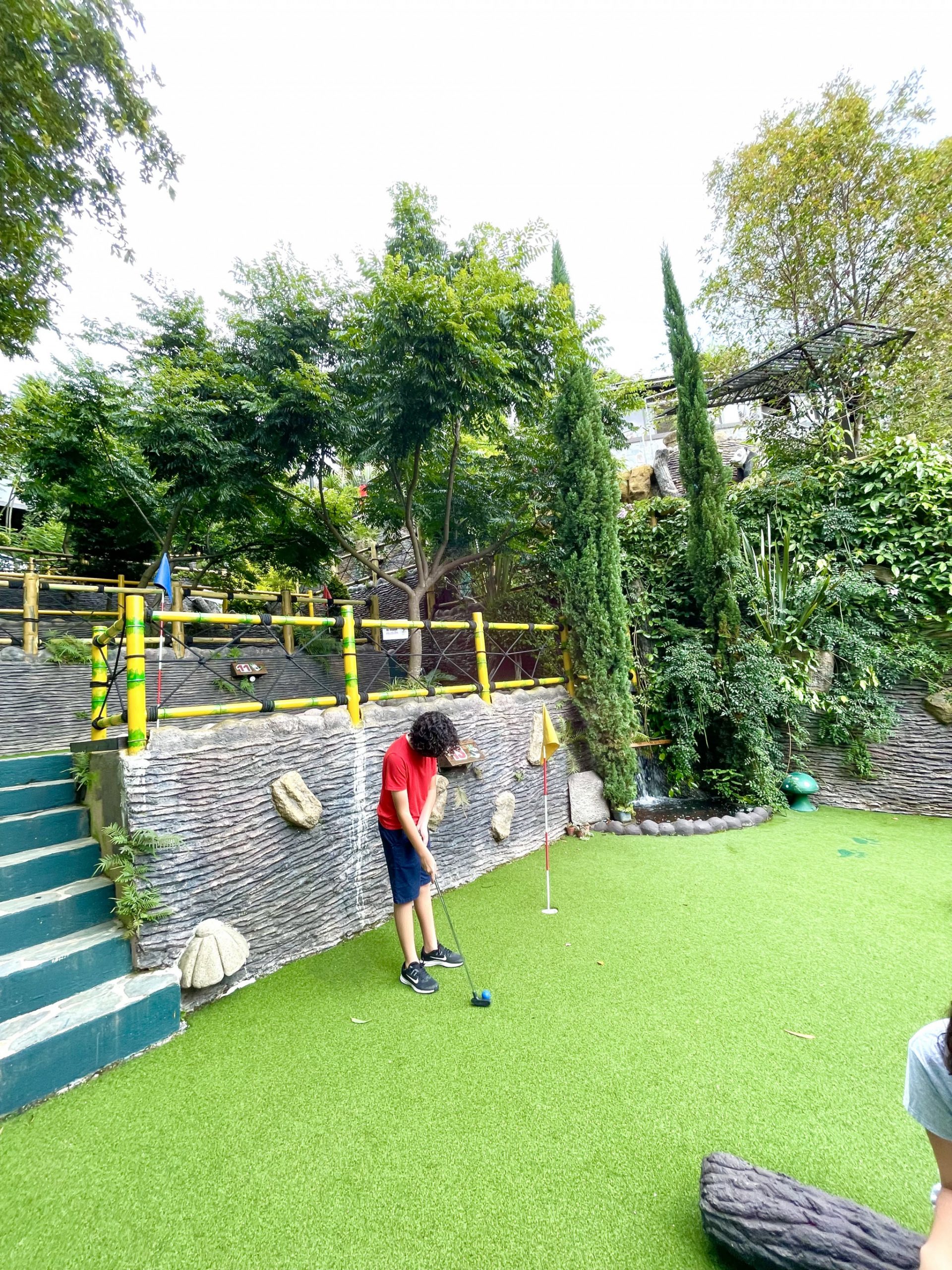 Where is Panda Aventura Mini Golf?
5ta. Calle 5-90 sector A-3, Zona 8 de Mixco, San Cristóbal.
Mon-Thu 10 a.m. – 5 p.m. / Fri-Sun 10 a.m. – 6 p.m.
Entrance Fee
Free entrance
Mini Golf Prices:
Kids 4 -11 years old – Q50 (about $7)
12 years and over – Q75 ($10)
Astro Bowling Fun Center
And no list is complete without a bowling alley! Astro bowling is an excellent activity for bonding as a family. As long as the young ones can take a few steps and roll a ball, it's a game everyone can play!
The lighting of the place is impressive with a galaxy-themed decor. While bowling, you can grab a bite to eat or go to the arcade and play a few rounds of basketball. Ask about the bowling packages that start around $25 for an hour of bowling (some even include food and drinks); you're sure to love it!
Where is Astro Bowling Fun Center Located?
Blvd. Austriaco, Zona 16
Opening Hours
Mon-Thu 12 p.m. – 10 p.m. / Fri-Sat 11 a.m. – 10 p.m. / Sun 11 a.m. – 9 p.m.
Entrance Fee
Free entrance
1 hour of bowling – Q200 (approximately $27)
Arcade tokens – Q6 each (less than $1)
There are many fun things to do in Guatemala City with kids. You just need to know where to go! So, hopefully, this guide on what to do in Guatemala City with kids will help you cruise around this beautiful town as a family. If you are staying longer, there are a few places you must go. So read on to see some of the best things to do in Guatemala.
More Amazing Things to Do In Guatemala:
If you're planning a trip to Guatemala, you've come to the right place! From the best destinations to kid-friendly activities, I'll share my love for my home country. Here are amazing things to do in Guatemala to make your trip a memorable one:
Whether you're looking for adventure, relaxing on an exotic beach, or planning a family vacation, there's something to do for everyone in Guatemala. It offers everything from lush rainforests and active volcanos to colonial architecture and ancient Mayan cities. So if you wonder what to do in Guatemala, here is the best guide to making the most out of your visit to this beautiful country.
Here is a guide to visiting Tikal that includes everything you need to know before seeing the most spectacular Mayan ruins in the world. It is a great starting point for enjoying the many adventures the Petén region offers.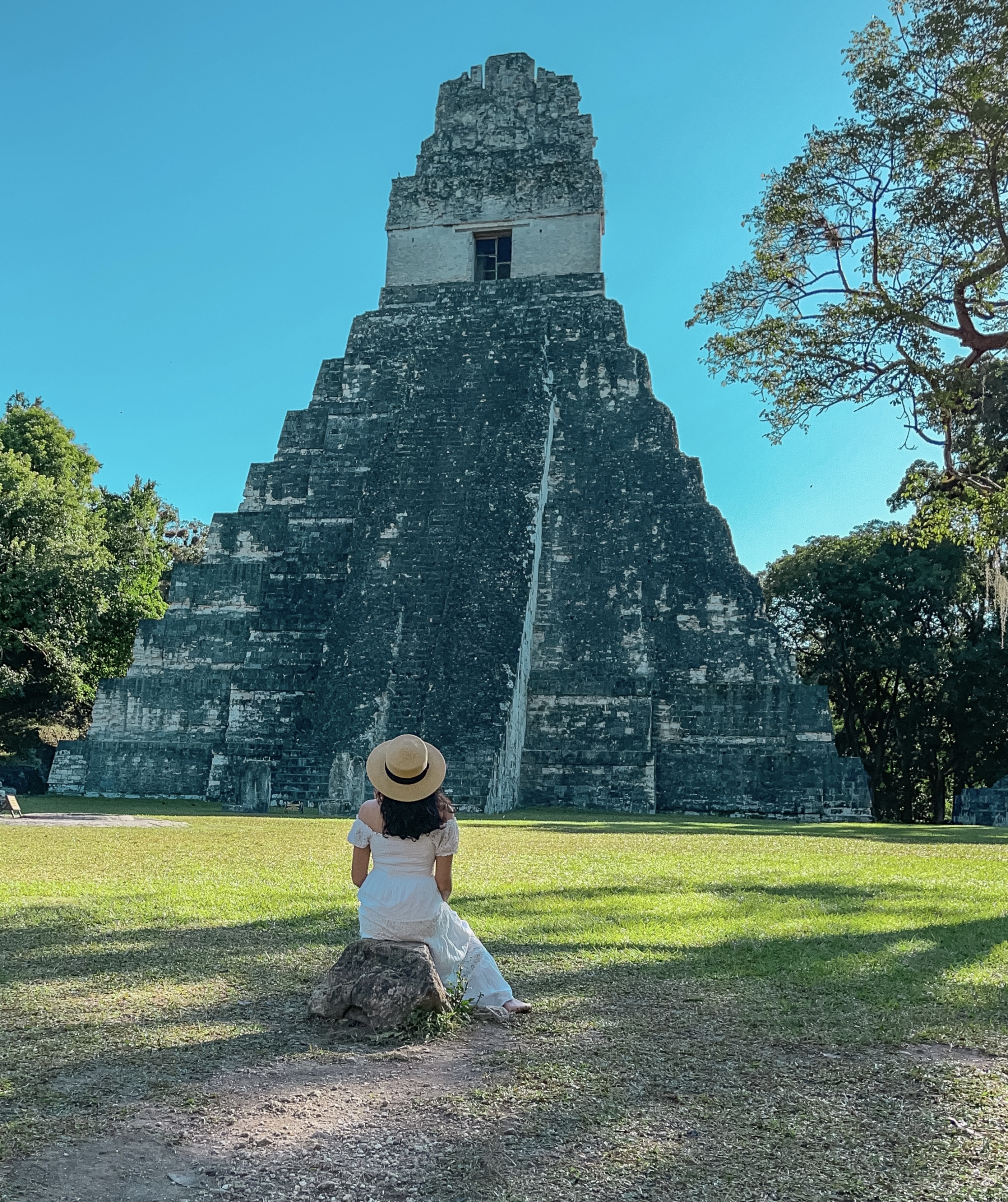 If you haven't walked along beautiful black sand beaches, you are missing out on a magical experience! Some of the best beaches in Guatemala are on its Pacific coasts, places of deep chill and stunning wilderness. Guatemala's beaches are full of palm trees to relax with an icy beverage on hand.
Looking for the best things to do in Lake Atitlán with kids? Here are lots of fun options! It includes all our favorite things to do around the lake, from Panajachel to smaller towns like San Antonio Palopó.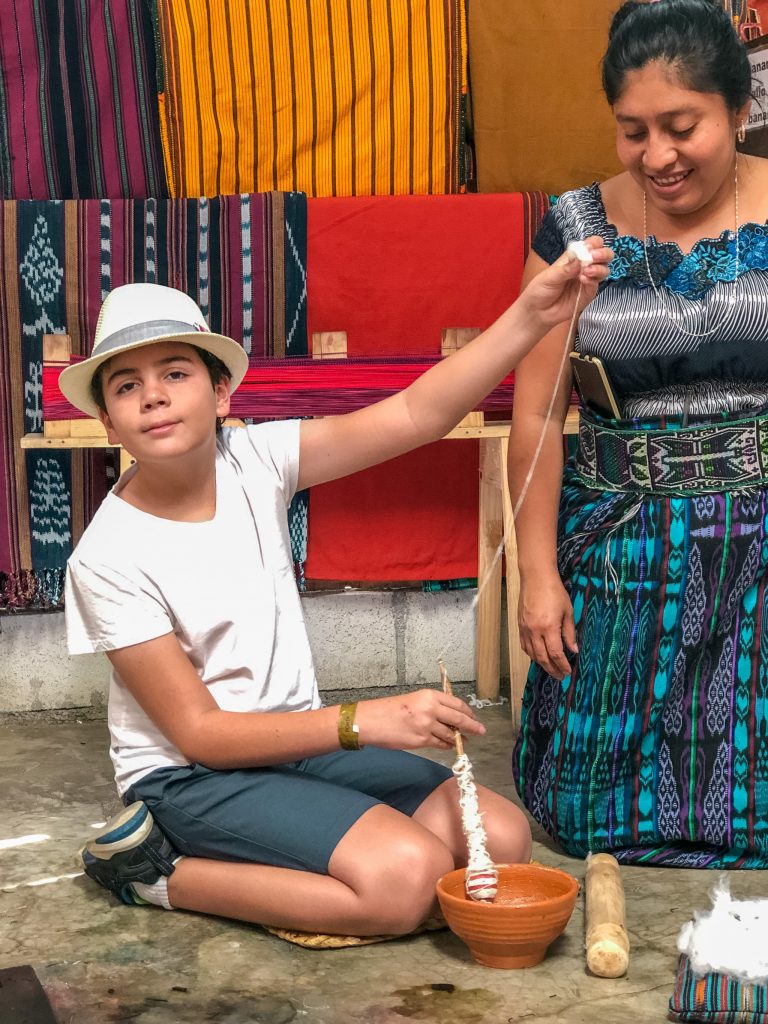 Located in Escuintla, Auto Safari Chapin is a great day trip for families and animal lovers. Whether visiting or living there, it is one of the best things to do in Guatemala with kids.
Antigua Guatemala is a colonial city rich in history and culture. But finding kid-friendly activities can be somewhat of a challenge. So I wanted to share with you all the best things to do in Antigua with kids. All of these activities are family-friendly but are also great for adults.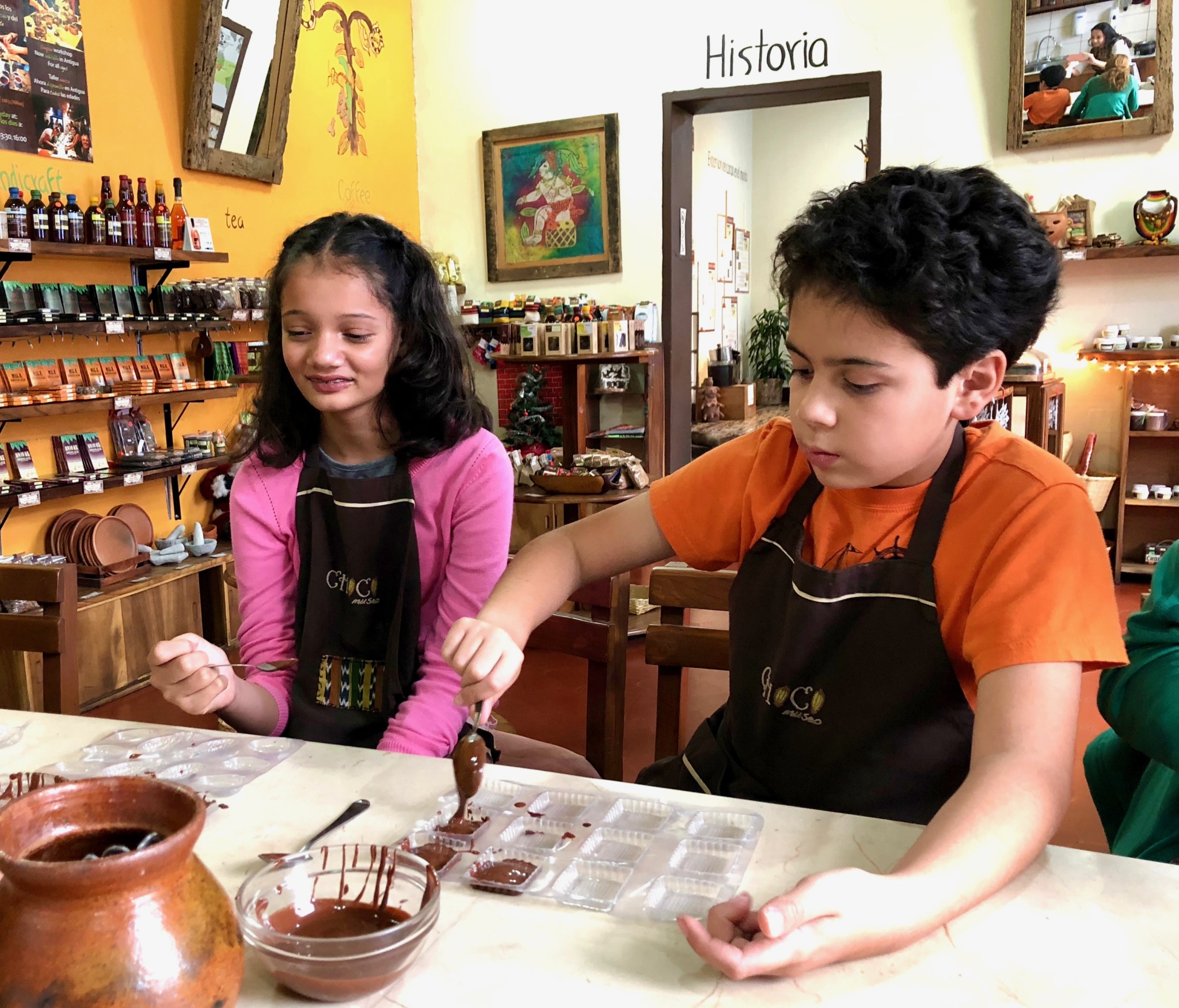 Disclosure: Please check each tourist attraction's website for the latest pricing and schedule information, as they may vary.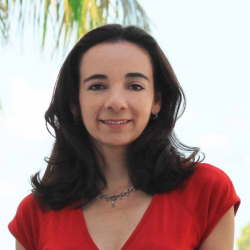 Latest posts by Paula Bendfeldt-Diaz
(see all)