If you're looking for Dia de los Muertos traditional recipes to serve during the Day of the Dead you've come to the right place. These traditional Day of the dead recipes include everything from pan de muerto and decorated sugar skulls to traditional Mexican dishes.
The Day of the Dead or Dia de los Muertos is a Mexian holiday in which loved ones that have passed away are remembered, honored and celebrated. A very important part of this holiday which is celebrated in many Latin American countries is the significance and importance of food.
El Dia de los Muertos is celebrated on November 1st and 2nd and on that day altars are built for family members who have died. On those altars, families place the photos of loved ones along with an array of different things from candles and sugar skulls as well as pan de muerto and that person's favorite foods which are placed as ofrendas on the altars.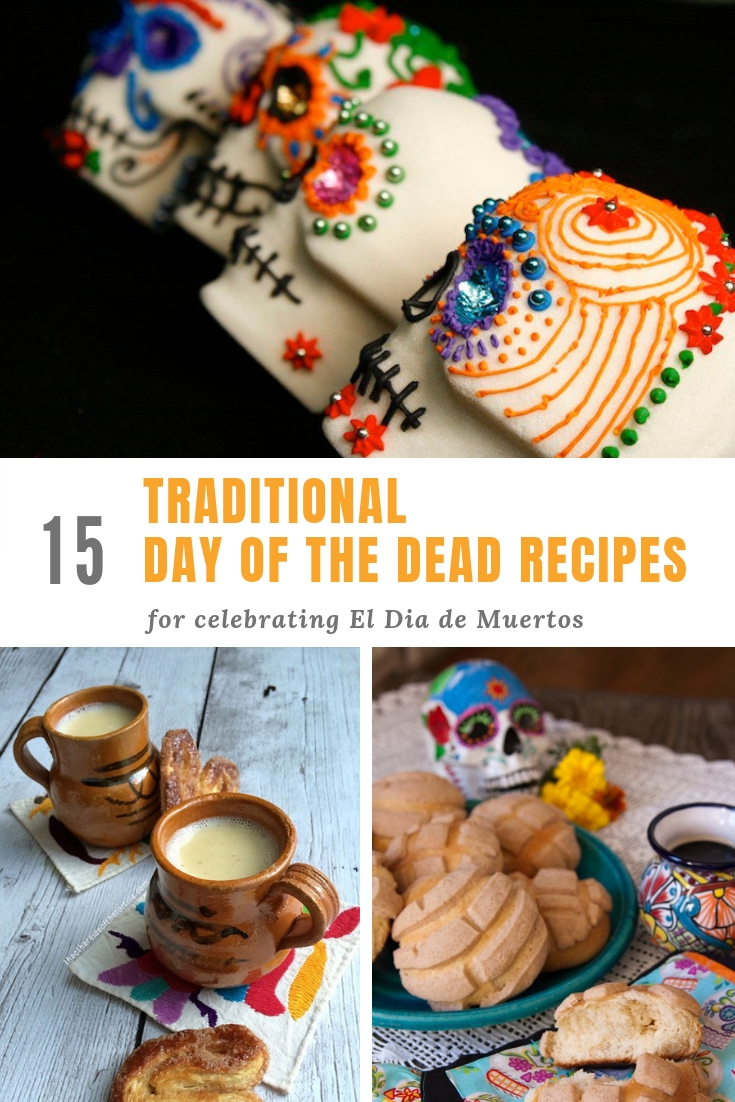 The foods eaten for Día de los Muertos celebrations vary across Latin America even from one the part of that country to another and many times are based on family traditions and preferences, so the foods eaten for Day of the Dead are as varied as the altar decorations. Here are some traditional Day of the Dead recipes not only from Mexico but from other Latina American countries as well but basically any traditional recipe from that country can be included in the Day of the Dead menu.
In Mexico traditional Día de los Muertos foods include pan de muerto and sugar skulls which are also used as ofrendas for the altars and tamales, champurrado (thick hot chocolate), moles, etc. In my home country Guatemala we make fiambre which is a complex cold cut and pickled vegetable salad and each family makes it in a different way and has a special fiambre recipe.
Pan de muerto or pan de muertos is a pan dulce, or sweet bread traditionally baked in Mexico for the Dia de Muertos holiday. Families usually make one loaf to eat during on November 2nd and another loaf to place in the altar as an ofrenda.
Pan de muerto is usually decorated with skulls or crossbones. This potato version of pan de muertos from Presley's Pantry is delicious and easy to make. Be sure to check out her video too!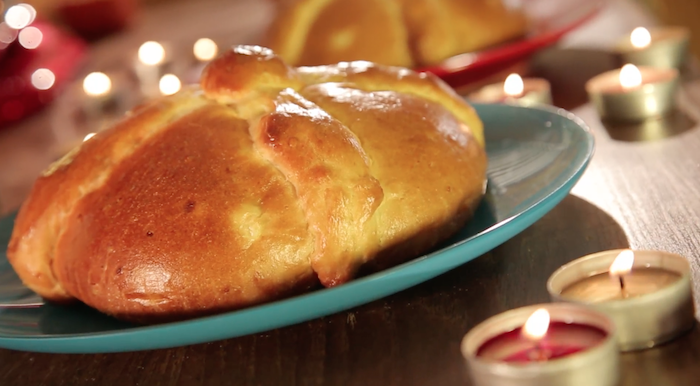 Cempazuchitl or Mexican marigold is a flower traditionally used as part of the celebrations of November 1st and 2nd for All Souls Day and Day of the Dead. Marigolds are believed to guide the spirits to the Day of the Dead altar with their bright colores and strong smell.
Cempazuchitl flowers are edible and can also be used for cooking. These marigold tortillas are ideal to make for Dia de Muertos celebrations and re not only delicious but beautiful as well.

Dia de los Muertos is celebrated not only in Mexico but in many other Latin American Countries. In Guatemala, celebrations include flying giant kites to communicate with loved ones that have passed away.
One of the traditional foods prepared in Guatemala for the Day of the Dead and All Saints Day celebrations includes molletes. This sweet bread stuffed with custard is deep-fried and served drowned in a sweet syrup.

What's a Day of the Dead celebration without a toast to loved ones who have passed away? Sweet Live Bake honors and remembers her abuelito with this Day of the Dead inspired marigold infused tequila recipe.

One of the most important traditions in Guatemala during the Day of the Dead and All Saints Day celebrations is making this traditional dish. Families come together a couple of days before the Day of the Dead celebrations to make this giant salad filled with a wide variety of cheeses, cold cuts, and pickled vegetables.
Fiambre is believed to have developed as family members brought cold cuts and pickled vegetables to share when they got together to visit the cemetery to honor family members that had passed away and all the ingredients were combined.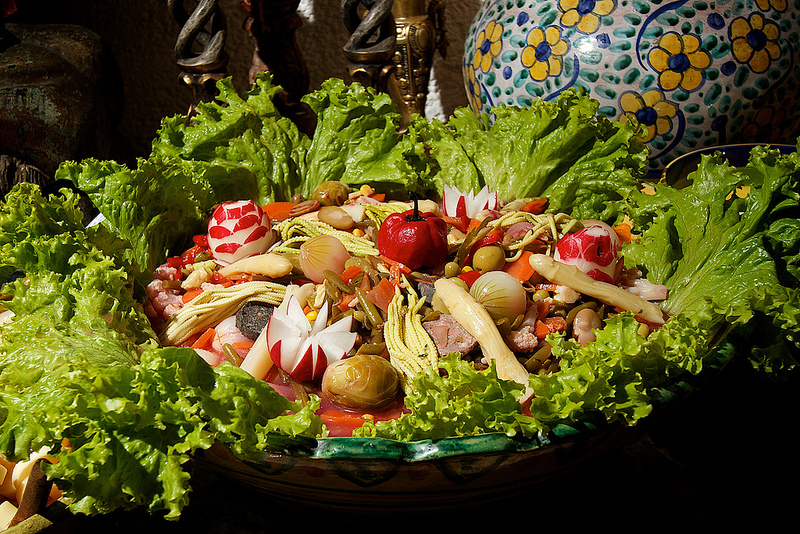 photo credit: [nelo] via photopin cc
Atoles are corn-based hot drinks originally dating back to the Aztec civilization. This vanilla atole is made with masa harina (corn flour), milk and vanilla. This is a popular drink during Dia de Muertos celebrations as well as during the holidays.
Served with hojaldras, a sweet cookie, this vanilla atole is one of my favorite traditional Mexican warm beverages. If you make sure to dunk the hojaldras in the hot atole. So good!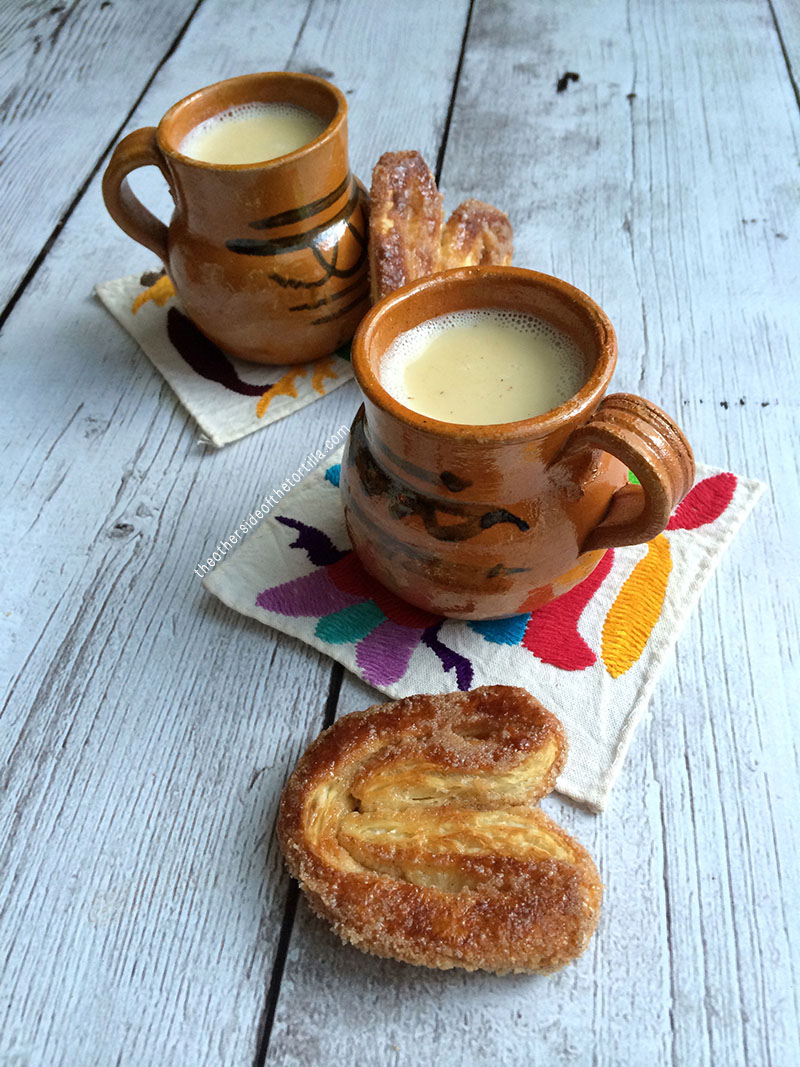 Dia de los Muertos celebrations in Mexico involve cooking the favorite foods of loved ones that have passed away. Tamales are often part of the Day of the Dead menu.
This tamal recipe made with rajas (roasted poblano peppers) and queso fresco makes a great addition to any Day of the Dead celebration. However, any tamal recipe will do. Mexico in My Kitchen has countles other tamal recipes so be sure to check them out.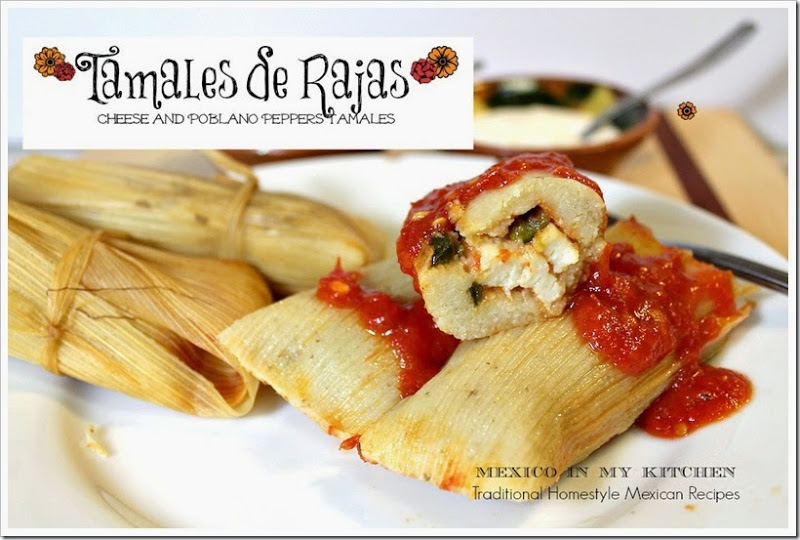 Mexican hot chocolate is dark and thick, made to be sipped slowly it's the ideal warm drink for a cold November night. This spicy version of the traditional Mexican chocolate caliente is inspired in the original hot cacao drink made by the Mayans and Aztecs.
Mayan people believed that the combination of cacao and chile had special properties and because of this was a ceremonial drink. This modern recipe is much sweeter than the original pre Colombian version which was quite bitter.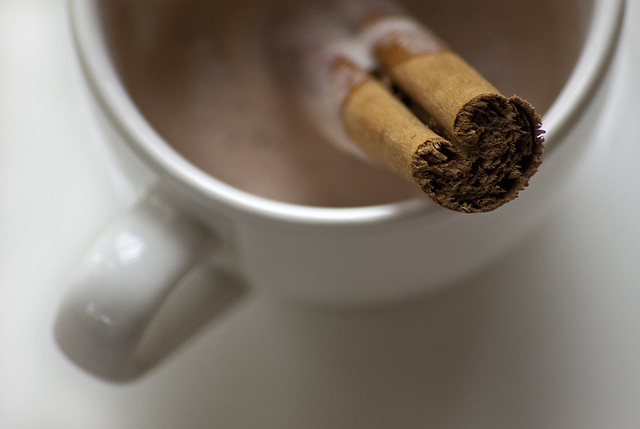 Calabaza Tacha is a traditional Mexican dessert often served for the Day of the Dead celebrations. Pumpkin in cooked and served in a sweet caramel sauce.
Sugar skulls or calaveras are a very important part of the Dia de los Muertos celebrations. These gorgeous sugar skulls by Presle's Pantry can be given as a gift to friends or relatives or placed on the Day of the Dead altar as an ofrenda.
Sugar skulls represent the soul of a departed loved one. It is customary to write the name of the decesed loved one on the sugar skull.
Conchas or pan dulce as I used to call this sweet bread when I was growing up is one of my favorite Mexican foods. This bread covered in sugar is a traditional food that is often shared with family during Dia de Muertos alonside some cafecito or champurrado.
This recipe for conchas from Muy Bueno Cookbook looks so easy to make and the conchas came out so beautiful that I'm thinking of trying to make these myself. Will you join me?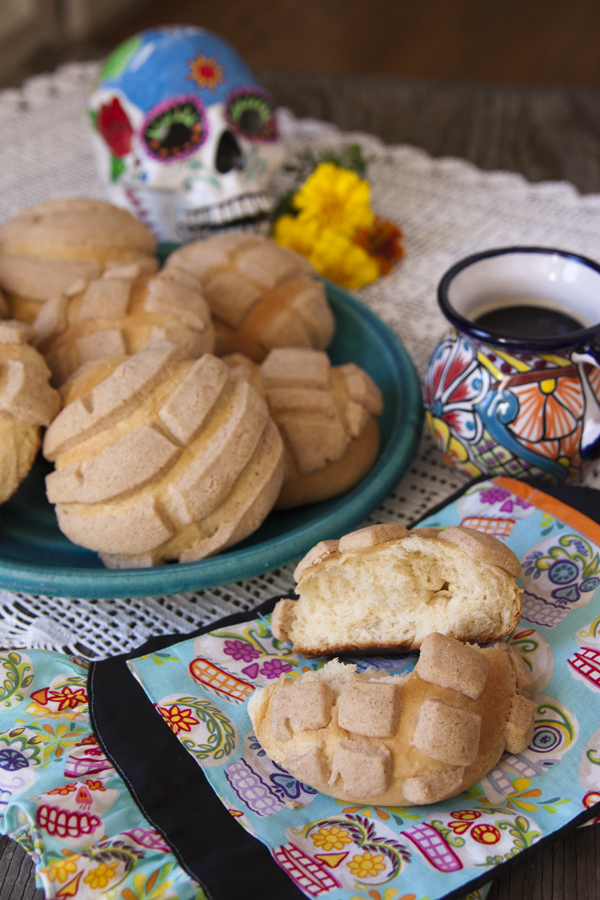 I just love all of Nibbles and Feasts recipes. Tamales are, without a doubt, one of the most delicious and versatile Mexican foods. You can make a tamal with pretty much everything ant this recipe for nopal (cactus) and jalapeño tamales is such an amazing combination of flavors!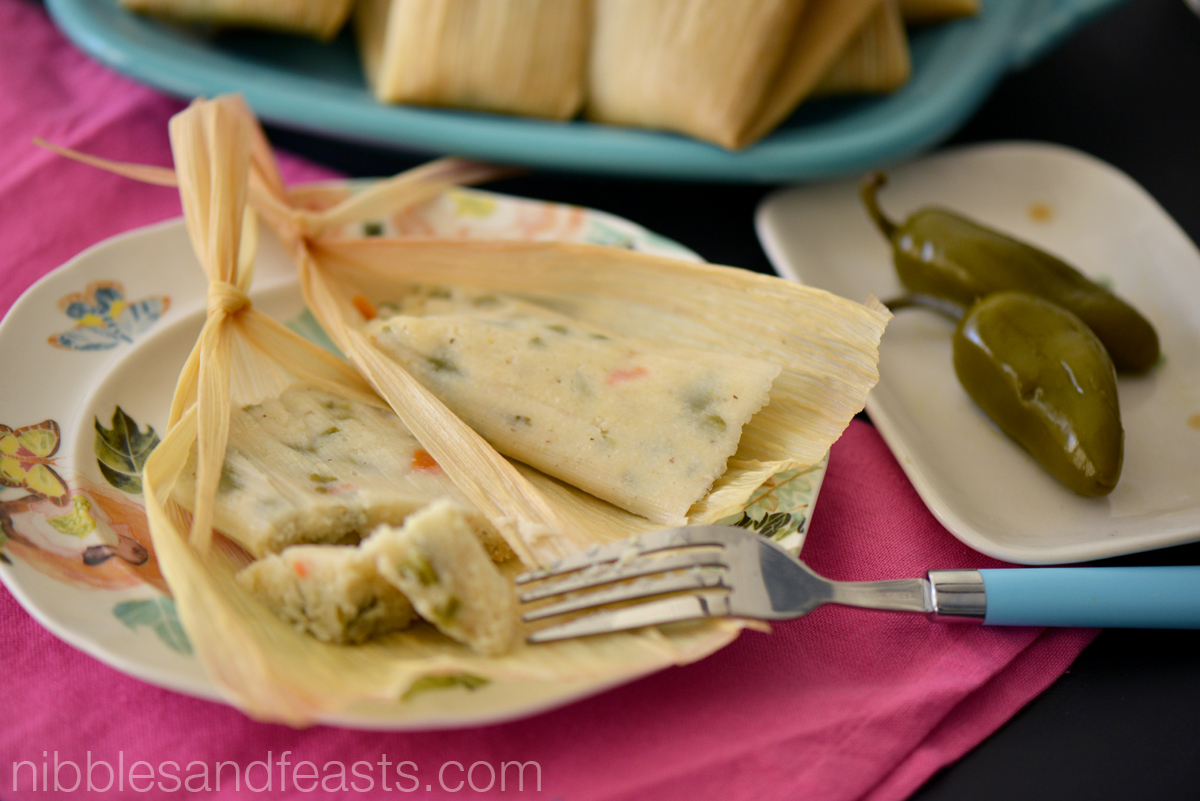 Café de olla is a recipe for making coffee in a pot, just like my abuelita and Adrian's abuelita used to do. Café de olla is the perfect warm drink to sip during Dia de Muertos.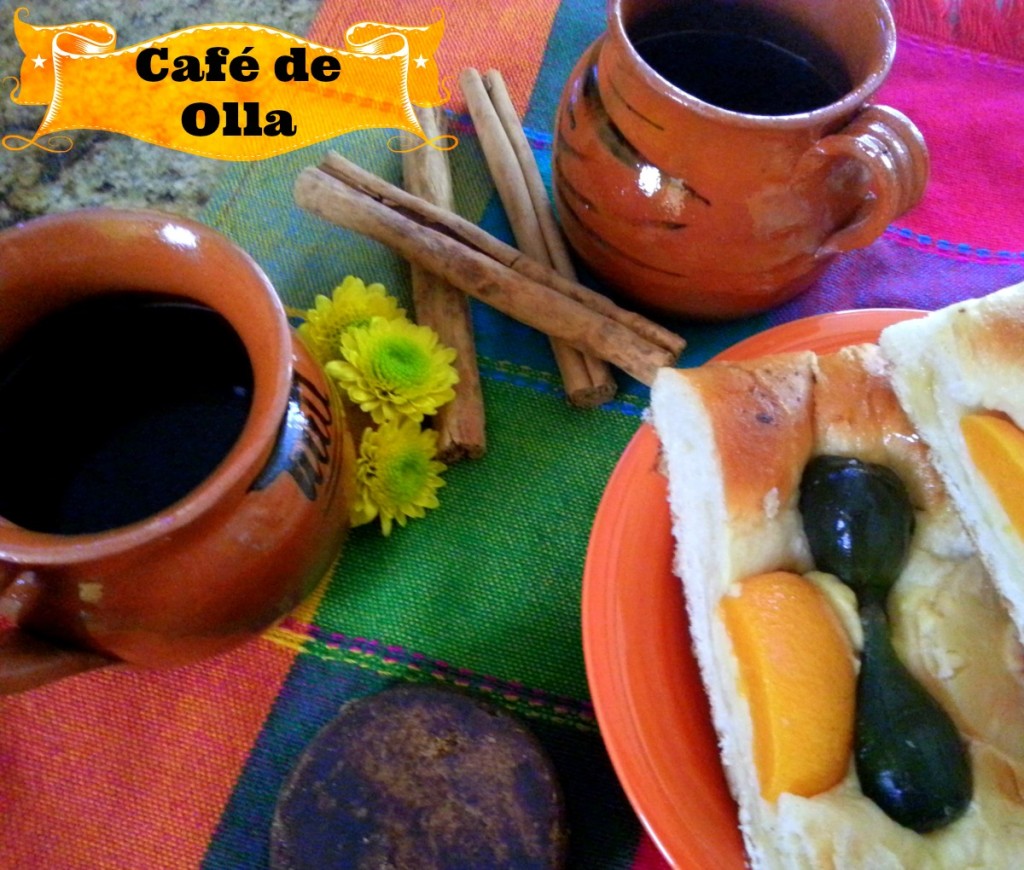 Similar to enchiladas enfrijoladas start with tortillas filled with chicken or other meat. However, instead of a red or green sauce, they are dipped in a thick black or red bean sauce. Enfrijoladas are another authentic Mexican dish that is often made during Day of the Dead celebrations.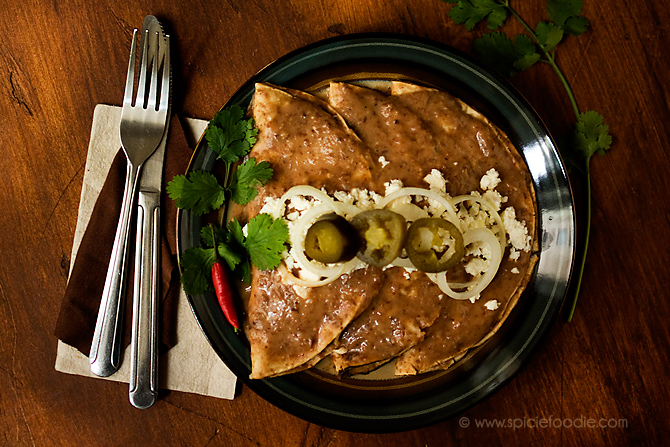 If you've never seen Pati's Mexican Table cooking show on PBS you are totally missing out. Pati shares her love of cooking and the flavors of her native Mexico in her recipes. Mole is one of those recipes that many families reserve for special occasions and this mole recipe is ideal for celebrating loved ones during the Day of the Dead.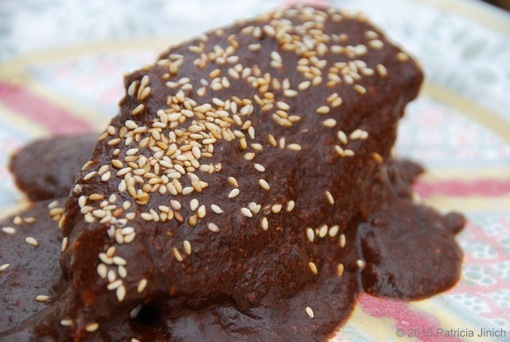 Check out some more great Day of the Dead recipes below.