A candy platter is a great way to share your favorite Easter candy and sweet treats with family and friends this holiday. A well-arranged candy charcuterie board is a fantastic way to serve sweets beautifully without extra effort. So whether you're hosting Easter brunch or have older kids who are not into Easter egg hunts like mine but are still into Easter candy, an Easter-themed candy board is a great option!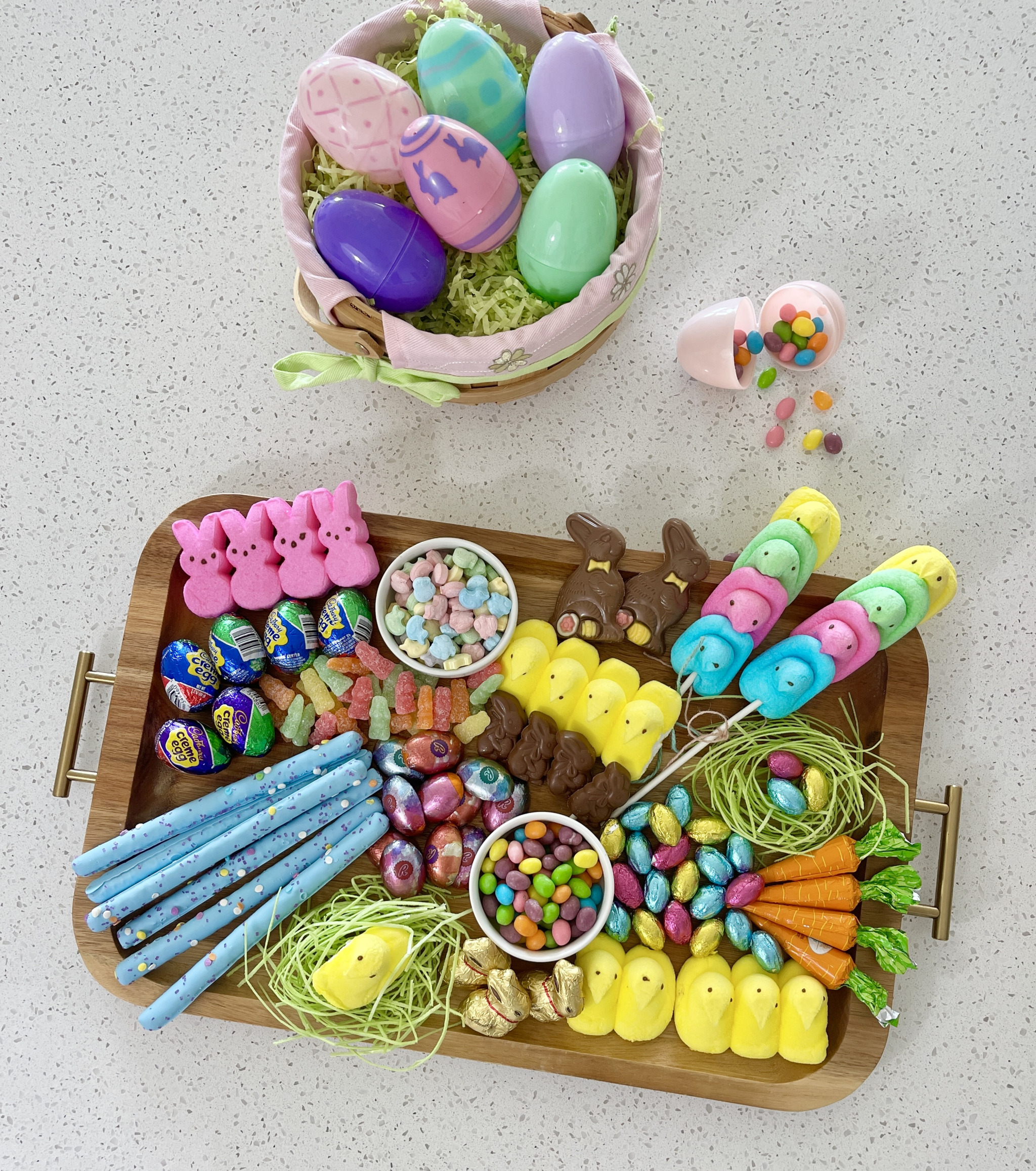 Beautiful Easter Candy Board
I'm not gonna lie; I have been known to steal Easter candy from the kids. Easter eggs are usually full of candy, and I often include treats in the kid's Easter baskets. But I always forget to leave some for the adults in the house.
And let's face it: you never outgrow Cadbury eggs and marshmallow Peeps. And don't get me started on Easter jelly beans and Reese's peanut butter-filled eggs. So making a candy platter is the perfect way to share your favorite Easter candy with everyone!
And to make things even more festive you can serve this Easter dessert charcuterie board accompanied by my spectacular bunny ear Easter freak shakes. They are sure to get kids and adults into the festive Easter spirit!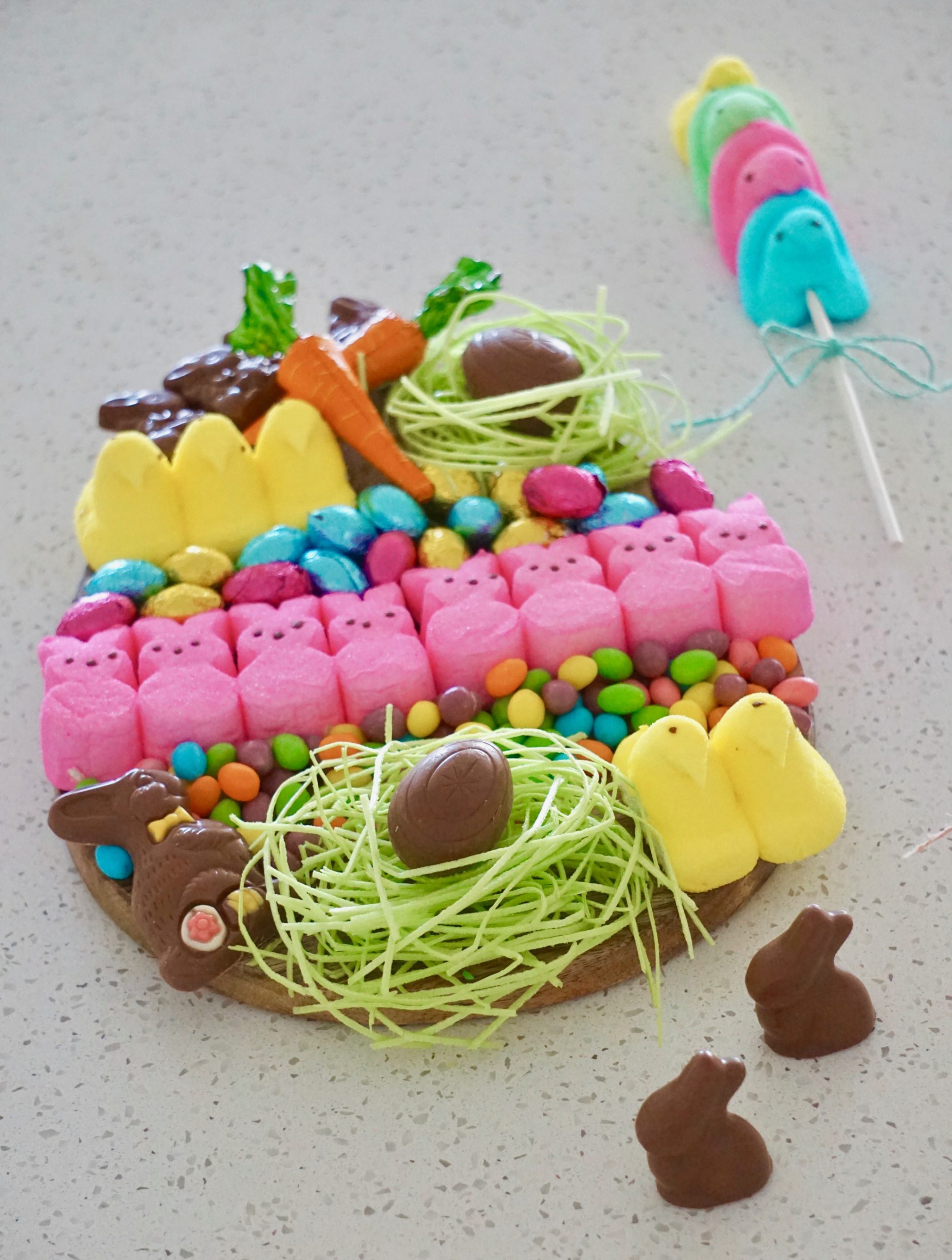 How to Create an Easter Candy Tray
We usually celebrate Easter by hosting an Easter brunch for friends and family. It is a great way to get everyone together and enjoy watching the kids hunt for Easter eggs. After all the cooking and work I put into preparing Easter brunch, I like to keep the desserts simple.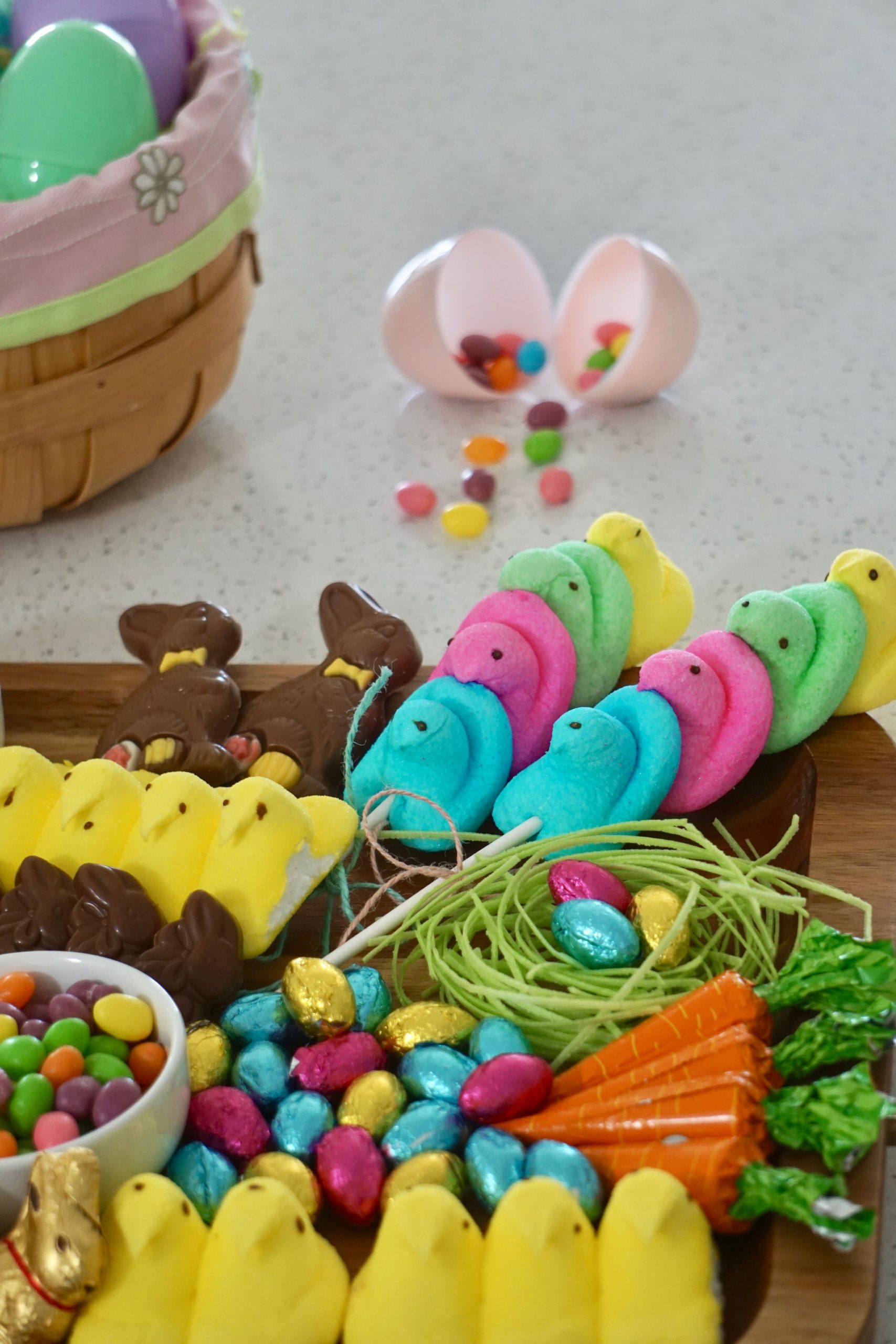 Last year, I decided to create an Easter-themed dessert board so that adults and kids alike can enjoy all their favorite Easter candy. And so I don't have to feel guilty about stealing candy from the kids.
Start By Choosing Your Candy Platter
Although you can use any tray or cutting board, you have on hand; it's probably better to use a platter with raised edges that can hold the candy. Since the theme is Easter, it can also be super fun to use an Easter-themed tray or board like an Easter egg-shaped platter or bunny-shaped board.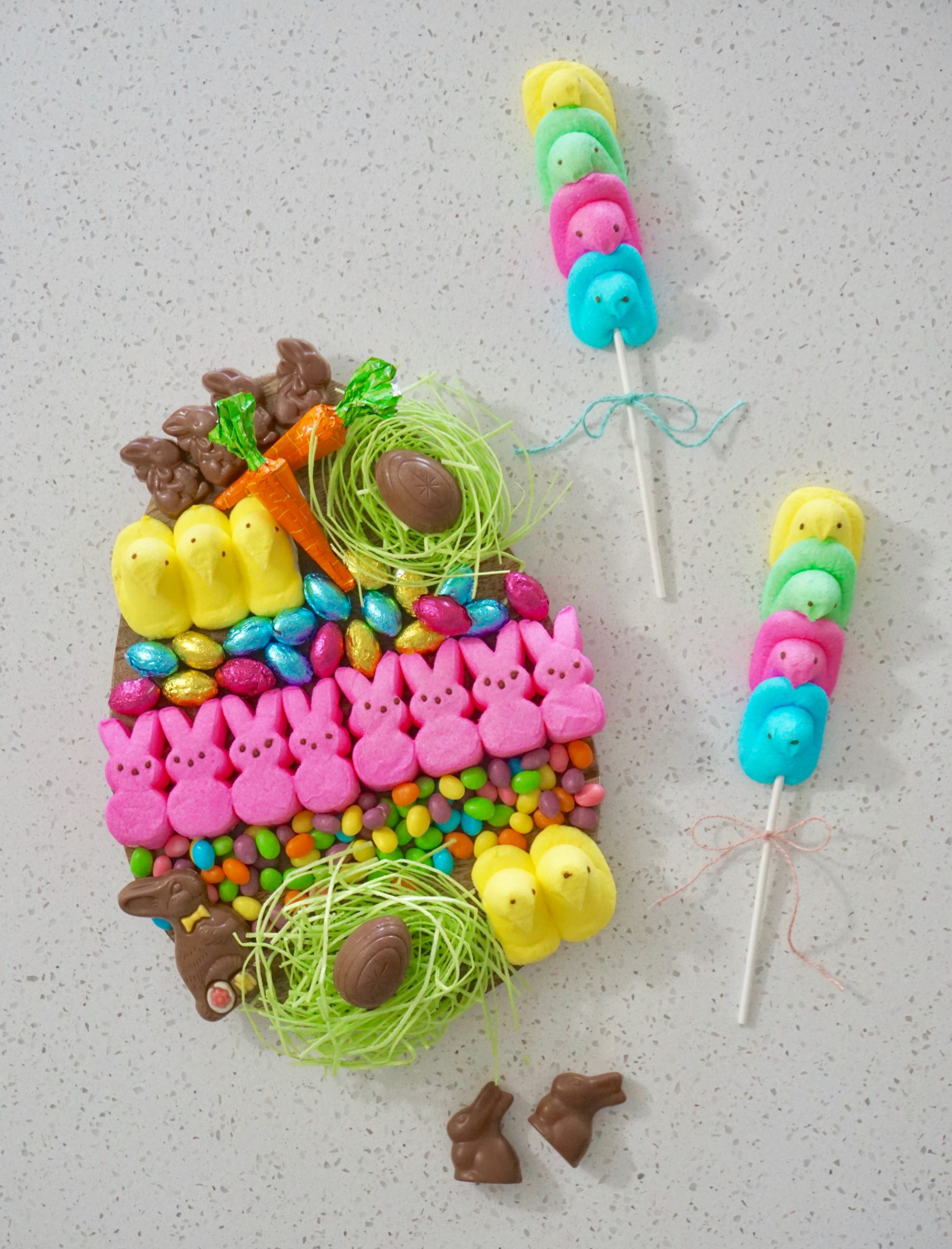 Decide On A Color Scheme, Or Not
You can go with a color theme like pastels or a specific Spring or Easter-themed color like light rose or blue. You can also throw together different colors for a brightly colored candy tray.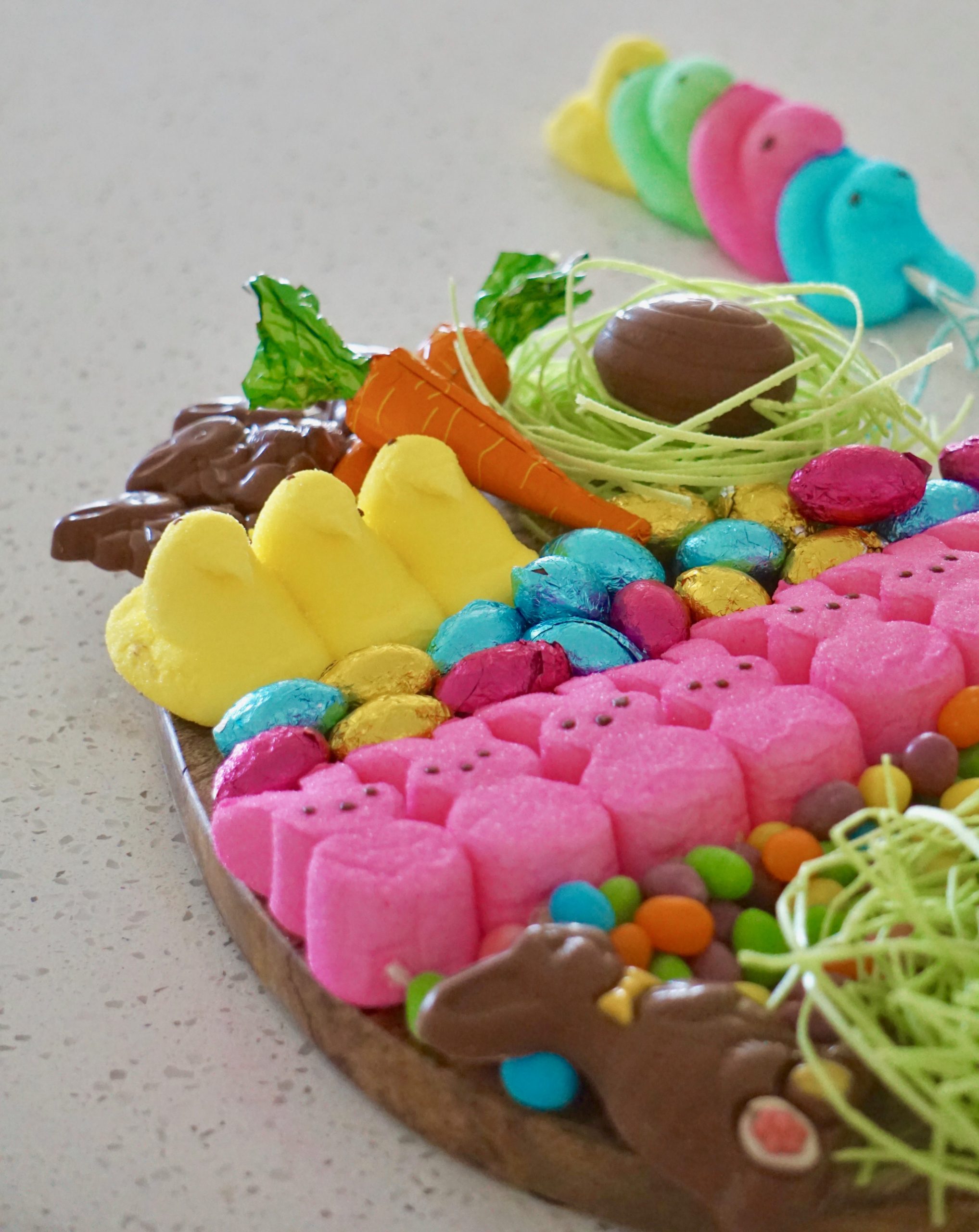 Choose Candy With A Variety Of Colors, Textures, And Flavors
What makes a candy charcuterie board so much fun is having everyone's favorite Easter treats together in one place so they can grab their own. And the best part is that creating a candy platter is so quick and easy. It makes for the perfect no-fuss Easter dessert.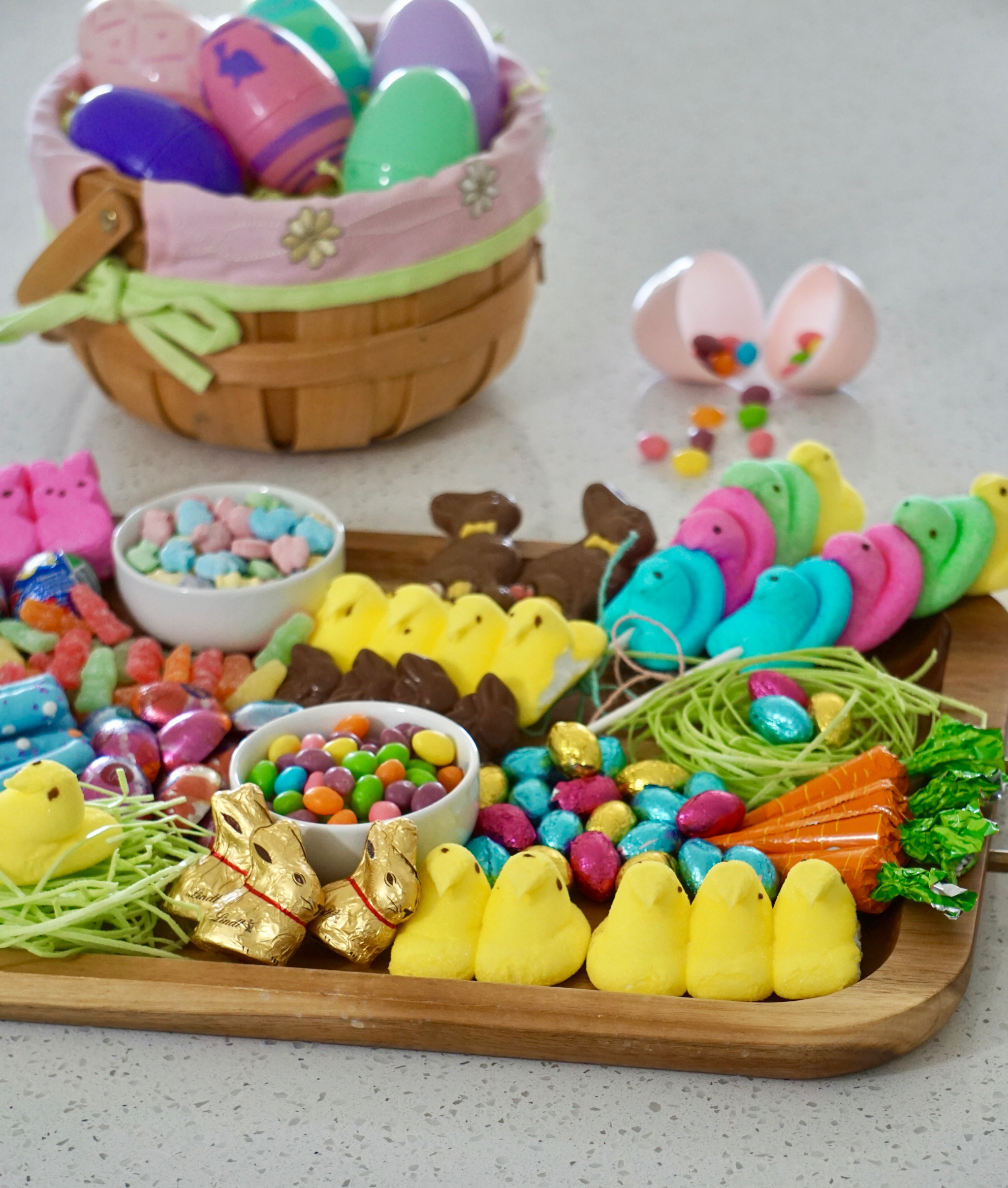 To make your candy tray more fun and exciting, adding a variety of candy and chocolates in different flavors, colors, and textures is a great idea. You can also combine them with Easter-themed cookies and other Easter desserts to create a beautiful and delicious Easter dessert tray.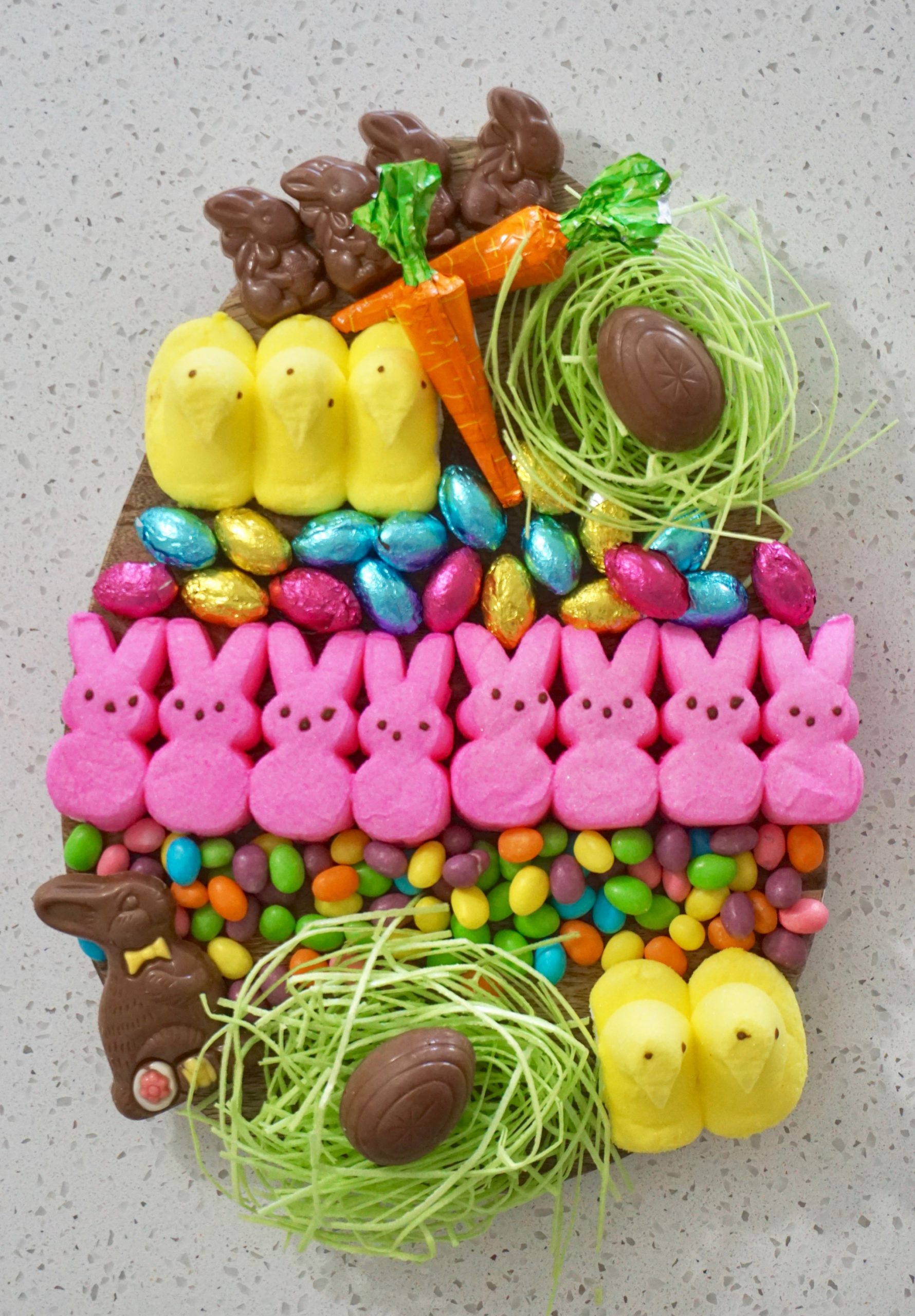 What Candy to Include in an Easter Candy Platter?
Everyone has a different favorite candy at home, whether chocolates, marshmallows, or sour gummies, so I try to include those first. Then I combine a variety of other sweets, always looking for fun Easter versions of our favorites.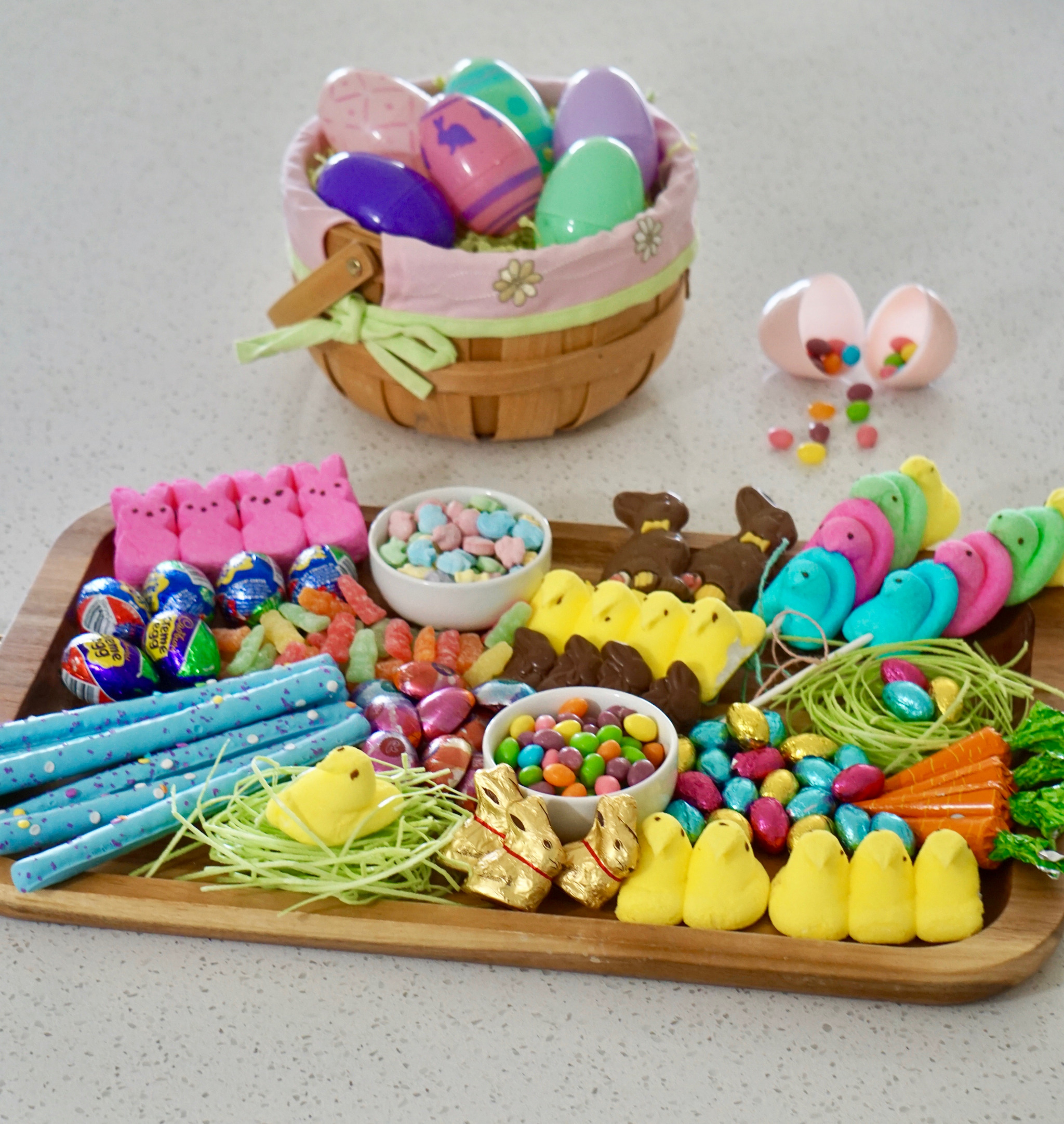 I also added some of the most popular Easter candy for these dessert trays, like Peeps, Cadbury eggs, and even some edible grass to make nests. The fun part is picking your favorite Easter treats!
How to Set Up Your Easter Candy Platter
Gather your materials:

Start by gathering your tray or platter and a few small bowls. Then take out all your Easter candy.

Set up your platter:

Next, place the small bowls around the tray. Three or four should be enough, depending on the size of your candy platter.

Add the candy:

Now, fill the bowls with smaller candies like jelly beans or small chocolate eggs. Then start layering the rest of the candy around the plates.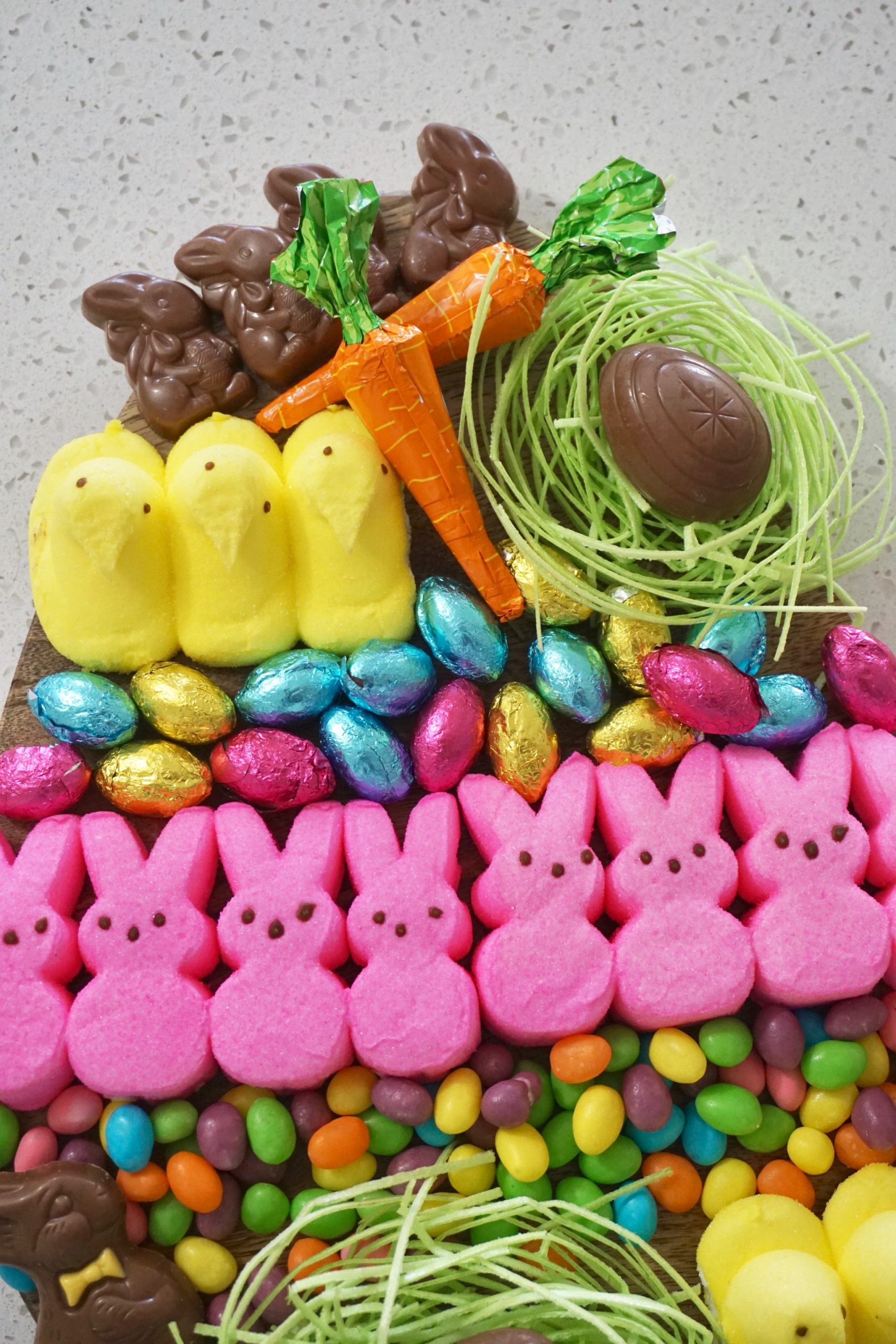 I like to group various types of candy in different areas, but you can get creative and layer the candy any way you like on the platter. I also wanted to add some fun elements, so I created a couple of nests using edible grass. Then, I placed a chocolate egg and a marshmallow Peep chick on the nest to give the tray a fun and whimsical touch.
Easter Candy Platter- What's On This Board
Cadbury Creme Eggs

Marshmallow yellow chick Peeps

Lindt chocolate carrots

Marshmallow pink bunny Peeps

Lindt chocolate bunnies

Marshmallow chick Peeps on a stick (multicolored)

Edible grass

Chocolate bunnies (from Family Dollar)

Sweetarts chicks, ducks, and bunnies

Sweetarts jelly beans

Reese's tie-dye eggs

Ghirardelli sea salt chocolate bunnies

Sour Patch Kids bunnies

Confetti pretzel rods (from Target)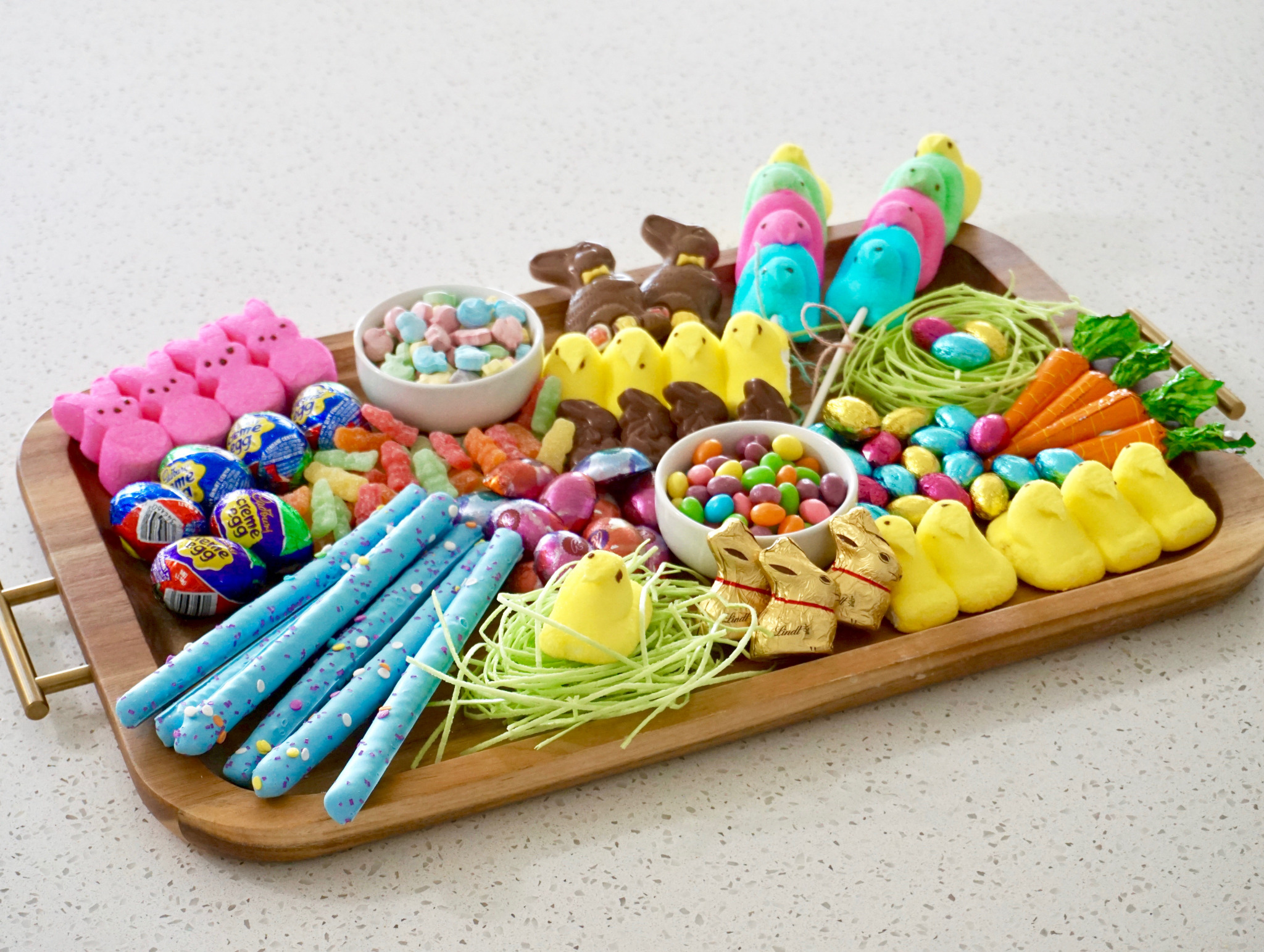 Egg-Shaped Candy Platter – What's On This Board
Cadbury Creme Eggs

Cadbury mini eggs

Marshmallow yellow chick Peeps

Lindt chocolate carrots

Marshmallow pink bunny Peeps

Edible grass

Chocolate bunny (from Family Dollar)

Sweet Tart jelly beans

Ghirardelli sea salt chocolate bunnies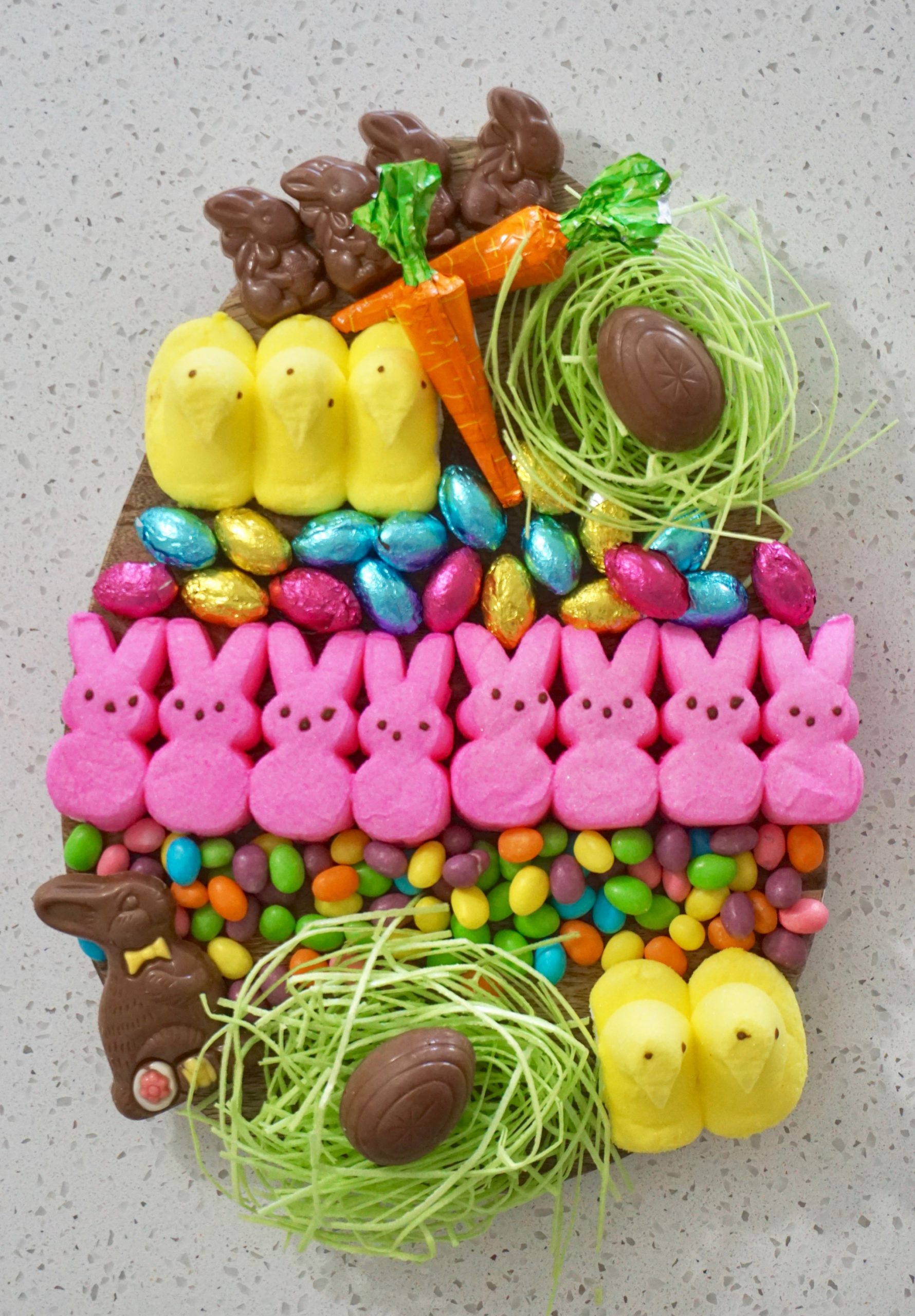 When it comes to Easter candy, I'm a firm believer that you can never have too much! So I've picked my favorite candies for this Easter candy tray. I also added some colorful treats to celebrate the holiday with family and friends properly.
What I love the most about this festive candy platter is that it is easy to make. It takes about 15 minutes to place all the goodies and present a beautiful dessert board to impress your older guests while pleasing the little one's sweet tooth!
More Creative Easter Ideas You Will Love
Whether you enjoy eating candy or grabbing a cute Easter-themed treat, there's something on this list for you! These adorable Easter desserts are the perfect way to celebrate the holiday this year.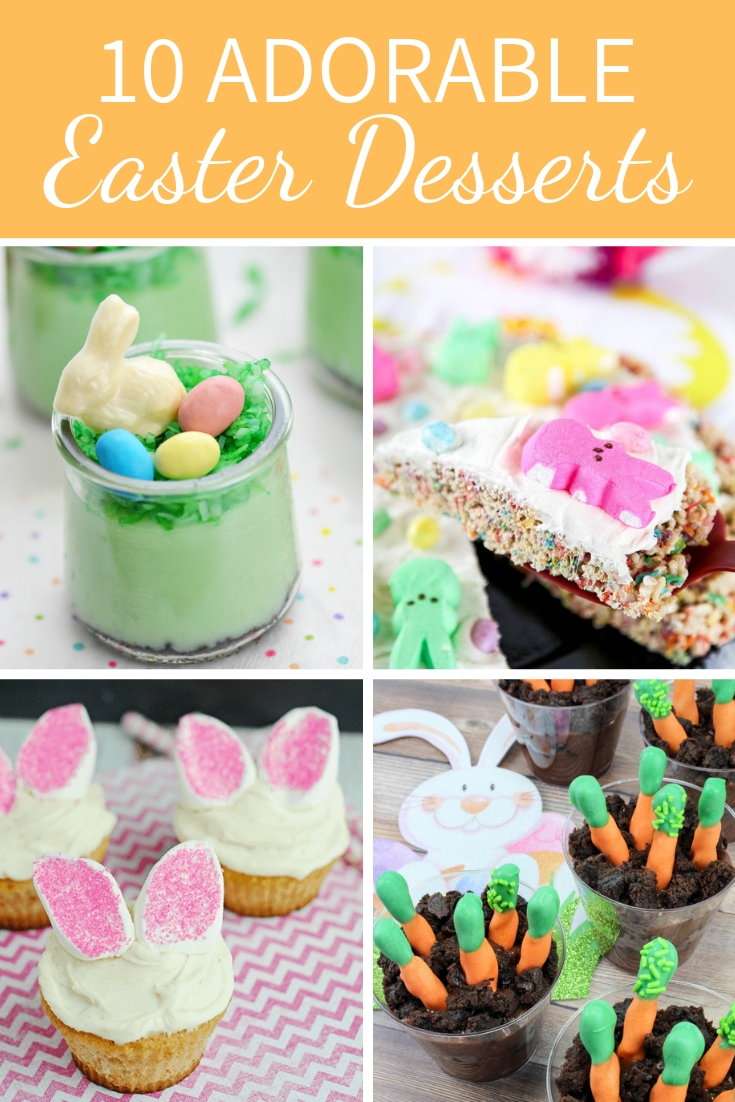 From adorable sheep to cute bunnies full of sweetness, here are the best Easter cupcakes to choose your new favorite Easter-themed treats!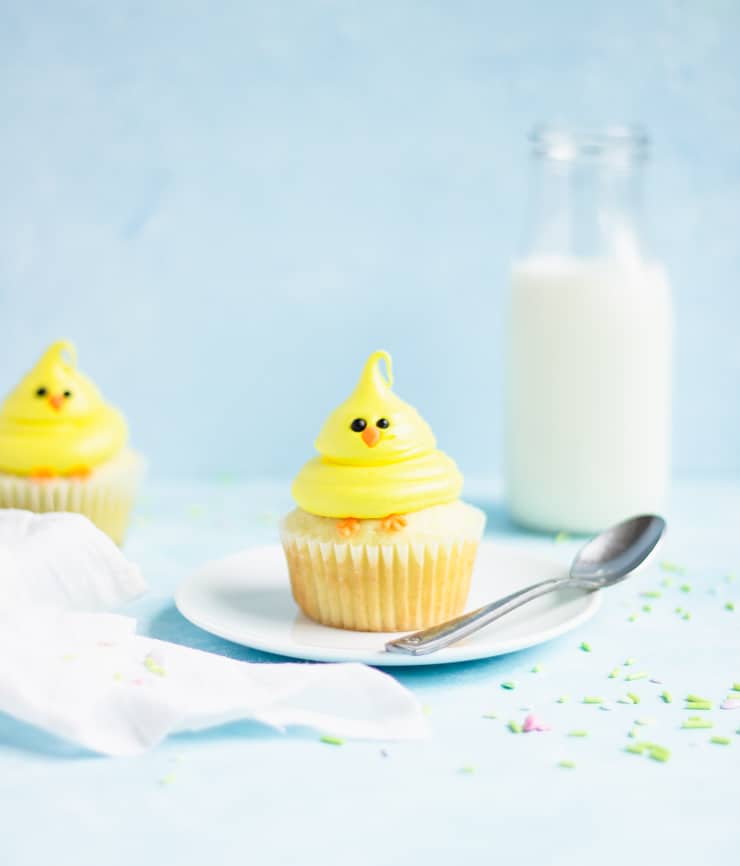 Make your Easter morning memorable with these cute recipes, perfect for kids. From bunny pancakes and carrot cake waffles to flower-shaped tarts and breakfast muffins, these fun Easter breakfast ideas will bring a festive mood to any breakfast table.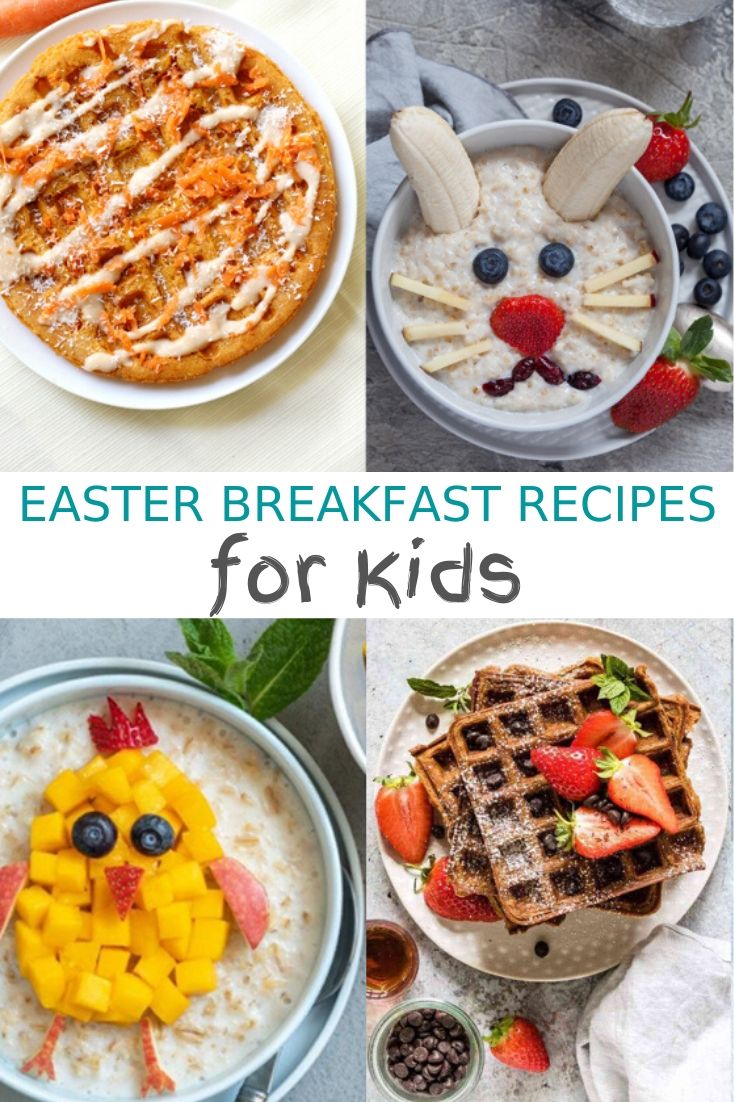 If you're looking for easy Easter cake recipes and ideas, you're sure to find your new favorite Easter dessert here. When it comes to Easter cakes, you can go the classic route with a carrot cake or do something fun like a bunny, lamb, or sunflower cake.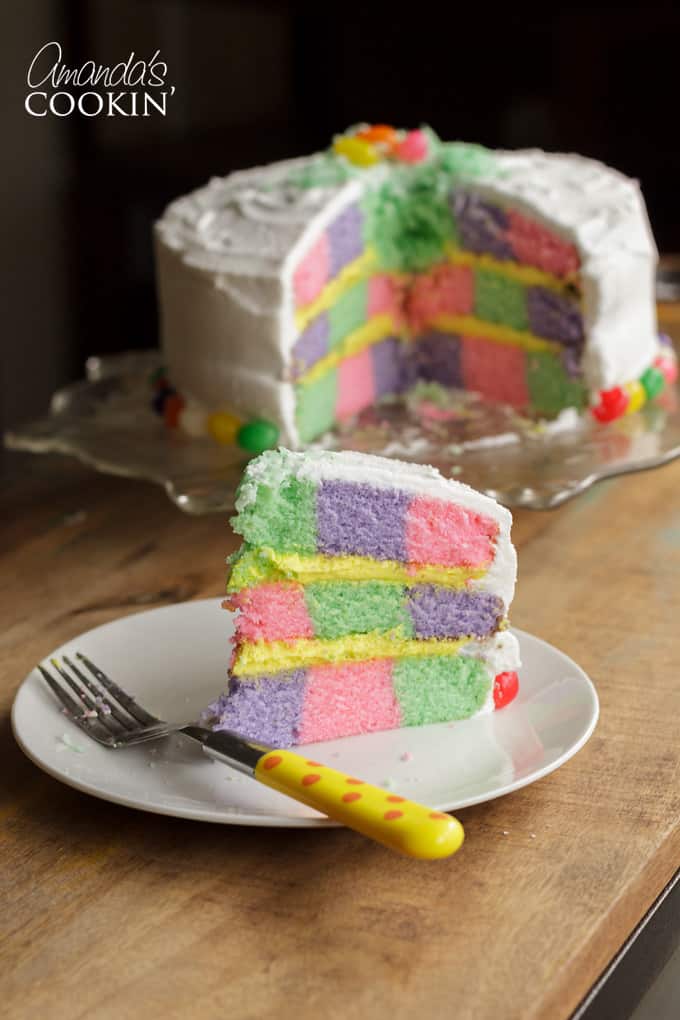 These cute and easy Easter cupcakes are the perfect sweet addition to any Easter-themed party. These incredibly moist, easy carrot cake cupcakes with creamy yogurt and cream cheese frosting are fantastic options. And a great alternative to the chocolate overload that usually comes with an Easter celebration.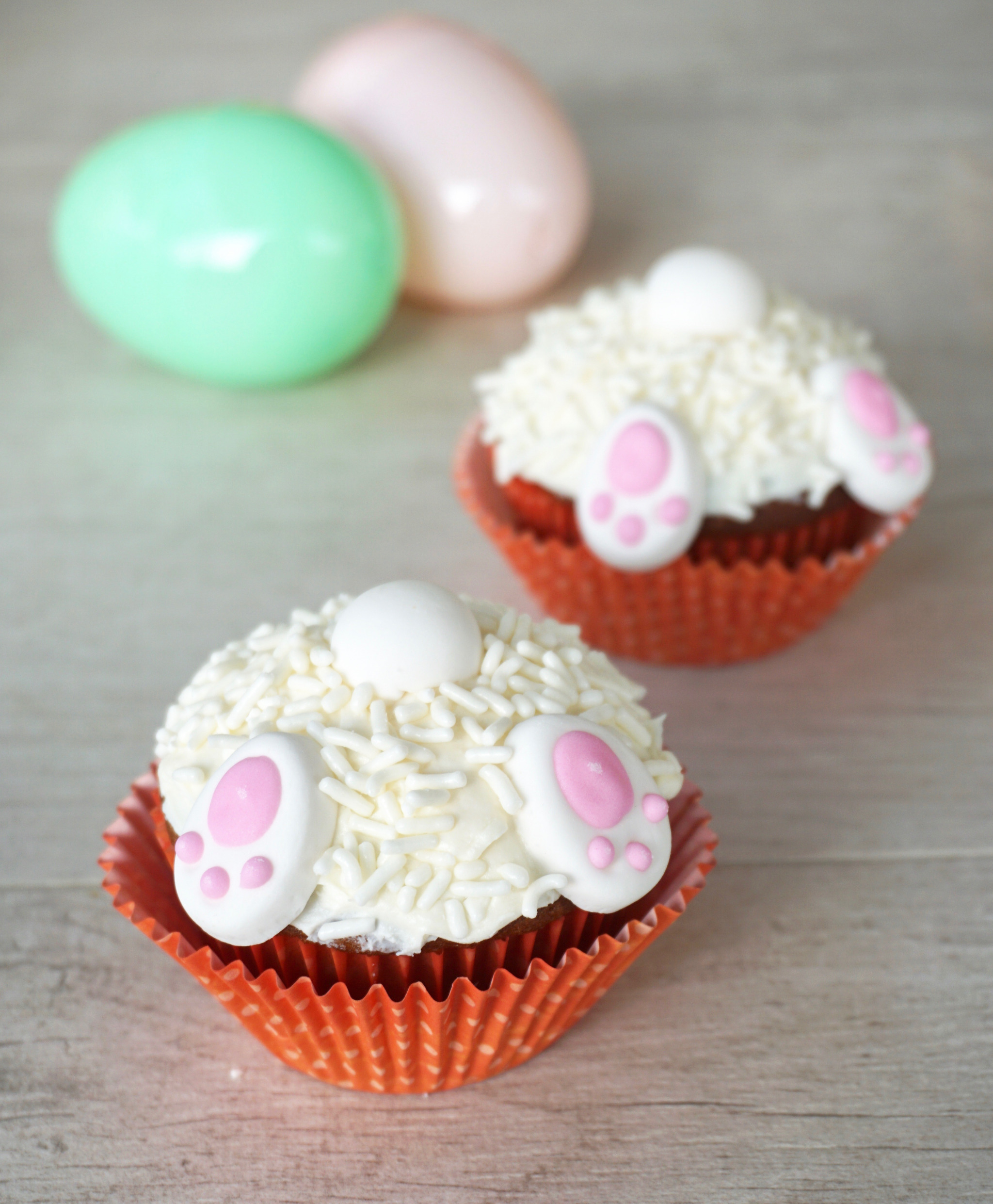 Compensated affiliate links are used in this post. In addition, as an Amazon Associate and member of other affiliate programs, I earn from qualifying purchases.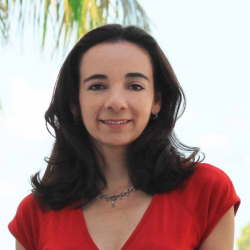 Latest posts by Paula Bendfeldt-Diaz
(see all)