Get ready to put a twist on a classic summer dessert with these easy peach empanadas! They're like little handheld peach pies, combining all the deliciousness of peach desserts into a bite-sized treat. If you're a fan of sweet empanadas or peach pie, these are definitely a must-try. To make these I used frozen pie crust so they are a quick and easy dessert to put together, but you can also use your favorite pie crust recipe.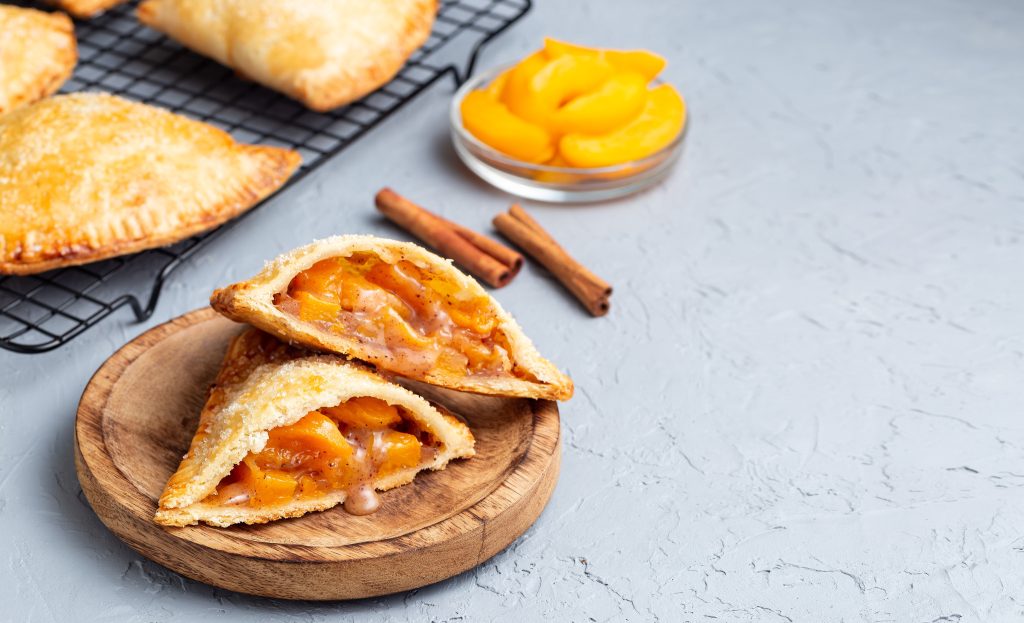 These peach hand pies make the perfect ending to a lovely summer day. Empanadas are great because you can take them anywhere, their ideal to include in lunch boxes and the perfect picnic food! Imagine sitting outside, the sun's setting, and you're taking a bite of these warm, sweet, and absolutely delightful peach empanadas. It's what summer dessert dreams are made of!
What are empanadas?
Growing up in Guatemala City, empanadas were a staple in my home. They were our go-to for a quick snack, dessert, or even a full meal! Imagine a hand-held deliciously flaky pastry, crimped at the edges, and filled with the most delicious flavors you can imagine – that's an empanada. From savory meats to sweet treats, there's an empanada to match every mood and satisfy every craving.
Some of my favorite empanadas growing up were the Guatemalan pineapple empanadas and empanadas de manjar but I also love savory baked lamb empanadas Chilenas. I love empanadas so much that I have been experimenting making different types of empanadas including breakfast empanadas with egg and pepperoni and chicken fajita empanadas.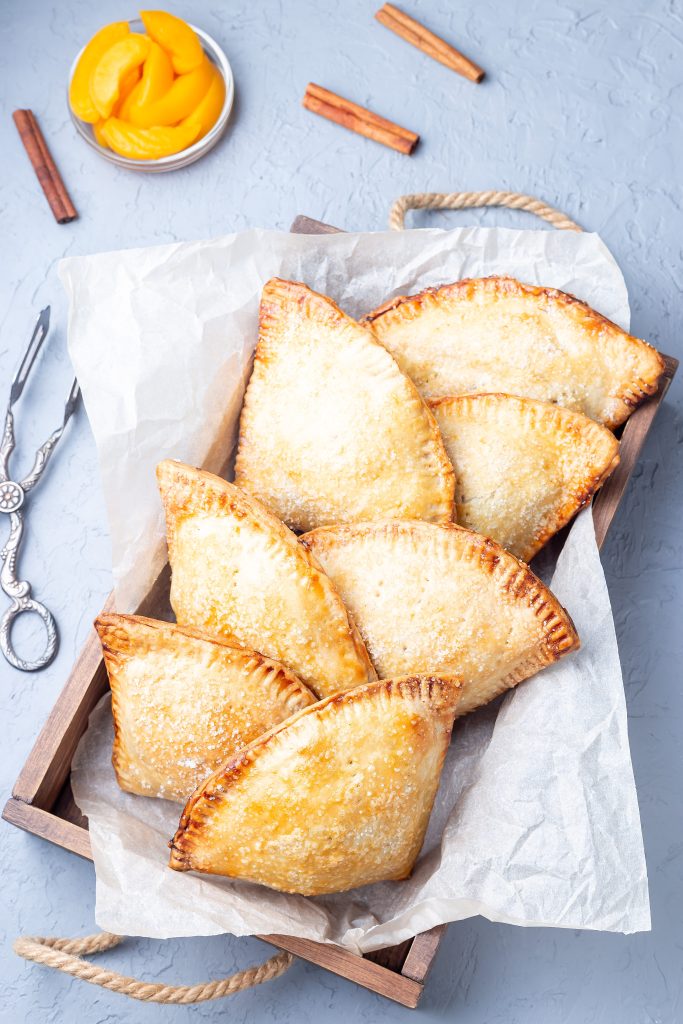 What are the ingredients for peach pie empanadas?
Store-bought pie dough:

This is the base for our empanadas. It's convenient, quick, and provides a flaky, buttery shell for our filling. Making it into a quarter-circle shape creates a perfect hand-held dessert.

Fresh peaches:

The star of the show! Fresh peaches bring a sweet, juicy, and slightly tangy flavor that makes these empanadas a true summer delight. The natural sweetness and acidity of the peaches are key in balancing the flavors.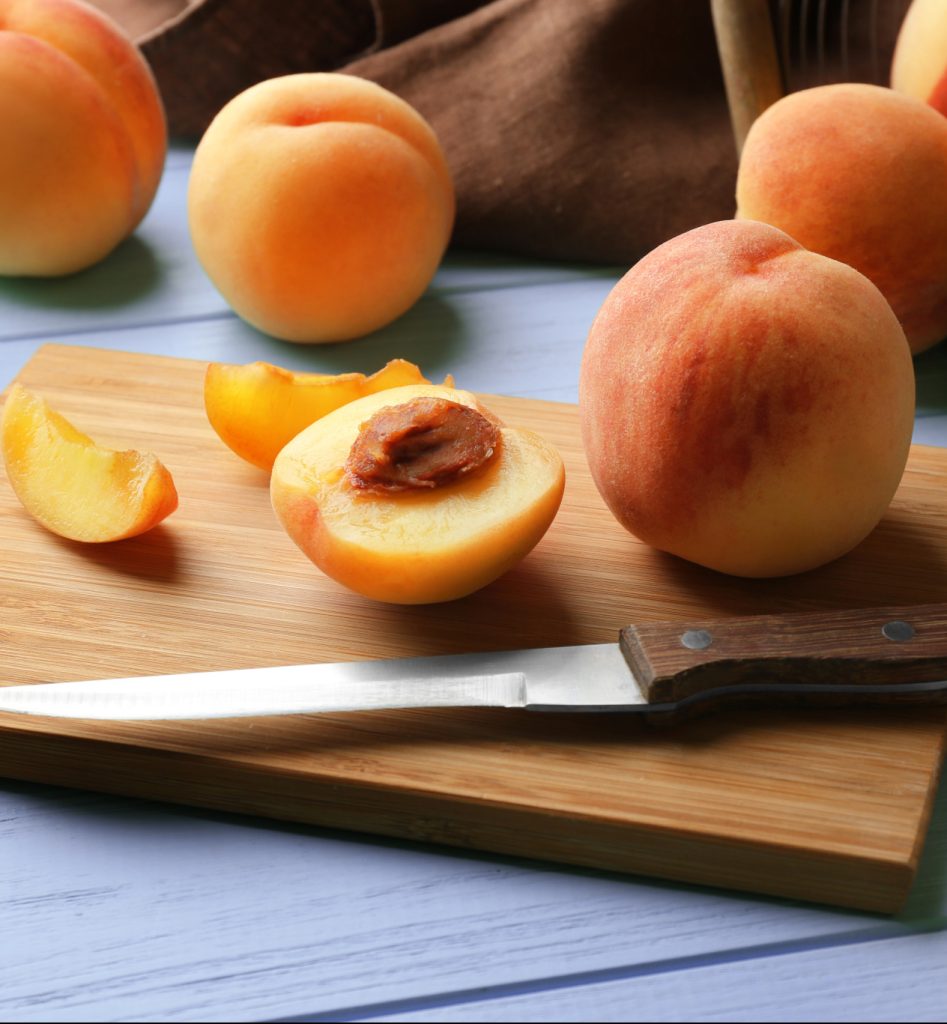 Granulated sugar:

This sweetens the peach filling just enough to bring out the peaches' natural flavors without overwhelming them.

Cornstarch:

This is used to thicken the peach filling. It helps to bind the peach juices, preventing a soggy crust and ensuring the empanadas are easy to eat.

Cinnamon and nutmeg:

These spices add a hint of warmth and depth to the filling, complementing the peaches perfectly and giving these empanadas a comforting, homey flavor.

Egg wash: An egg wash gives the empanadas a beautiful, golden-brown finish, making them look as good as they taste.
What are the best peaches for peach empanadas?
When it comes to peach empanadas, the peach you choose can make a real difference.
If you've got a choice, the best peaches for baking are typically freestone peaches, not clingstone. Why's that? Well, freestone peaches have pits that, you guessed it, freely separate from the flesh. This makes them super easy to pit (no one wants to wrestle with a stubborn pit when there are empanadas to be made!).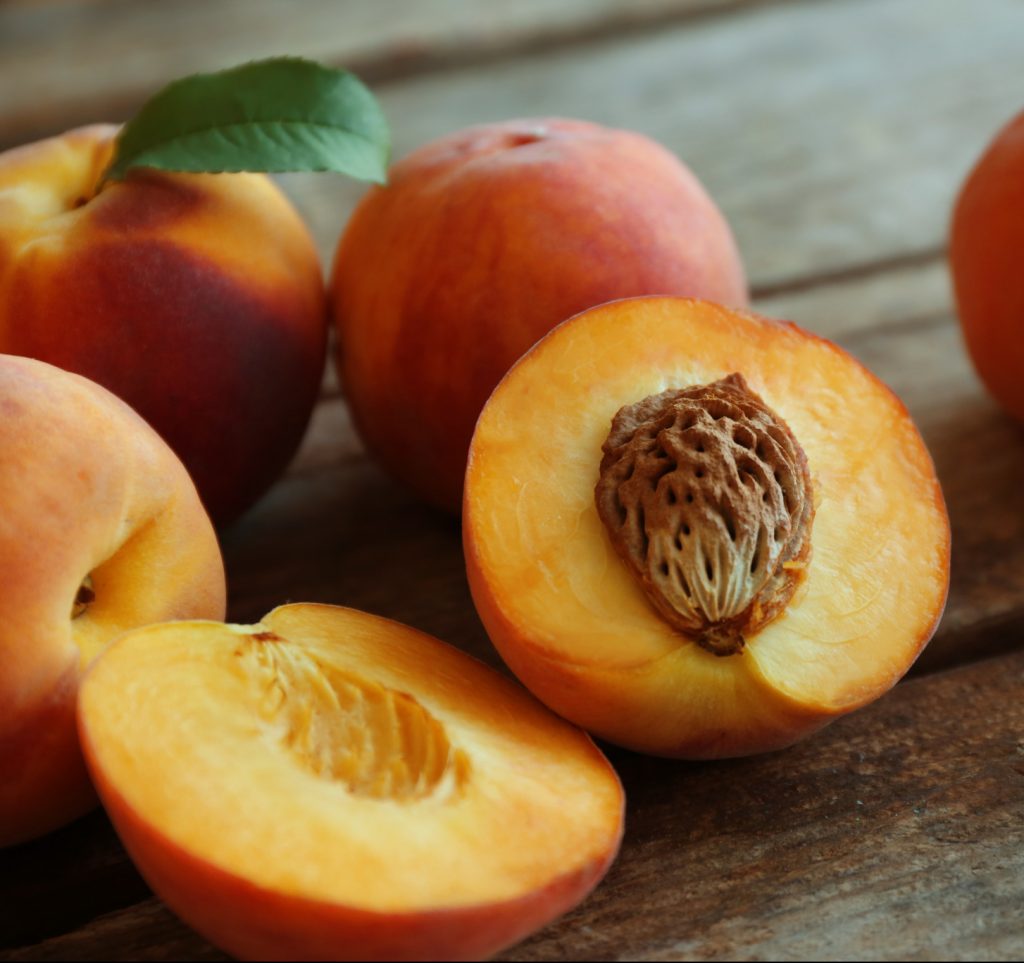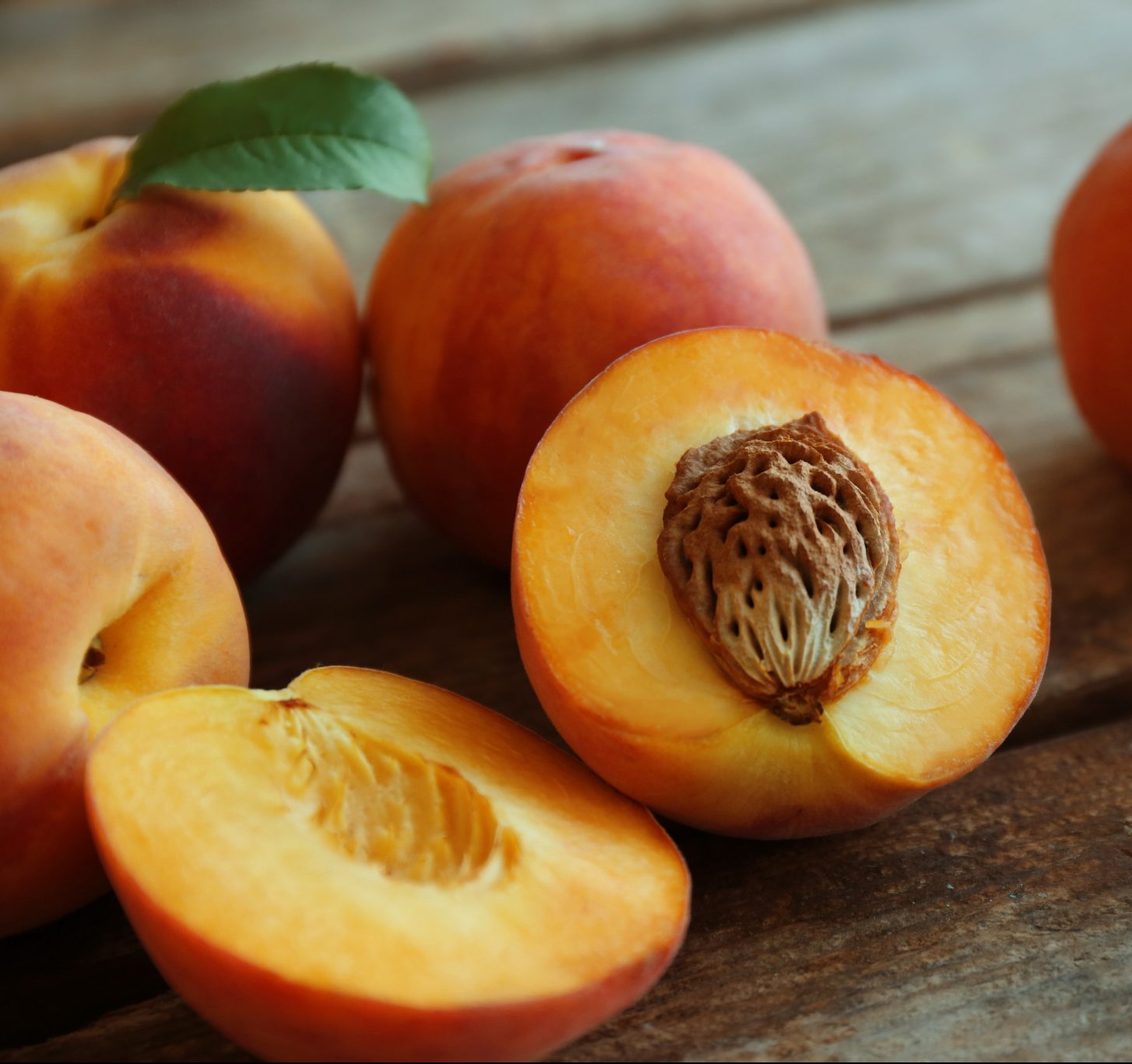 As for the variety, look for yellow peaches rather than white ones. Yellow peaches are a little more tart and their flavor holds up nicely when cooked.
Another tip – go for ripe, but not overripe peaches. You want peaches that give a little when you squeeze them. They should smell sweet and, well, peachy. But if they're too soft, they can get mushy when you cook them, and that's not what we're after for our filling.
In the end though, the best peach is the one you enjoy the most. So if all you can find are clingstone or white peaches, don't sweat it. Your empanadas will still be delicious, promise.
Can I use frozen peaches?
You can use frozen peaches to make your peach empanadas! But let's be clear, if you can get your hands on fresh peaches, those are the preferred choice. Fresh peaches bring that delicious, unbeatable just-picked-from-the-tree flavor.
However, when fresh peaches aren't available or in season, frozen peaches come to the rescue! They're picked and frozen at their peak, so they've got lots of that sweet, peachy flavor we're after. And the bonus? They're already peeled, which can save you a bit of time.
Before you start, remember to thaw them first. Once they're thawed, drain off any excess liquid and blot them with a paper towel. This helps to soak up any extra moisture that could make your filling too soggy. And don't forget to check the size of the pieces. You might need to give them an extra chop to get them just the right size for your empanadas.
So, even though fresh peaches are our first pick, frozen peaches can definitely step up to the plate when needed. Whichever you choose, your peach empanadas will be a sweet success.
Do I need to peel the peaches to make peach pie empanadas?
You might wonder if you need to peel peaches for your empanadas. This is more of a personal preference. I definitely prefer to peel my peaches as the peach skin can get tough and chewy when baked. I love it when my peach empanadas are tender and delicious. So, although it might take a few extra minutes, peeling your peaches can help make your empanadas the best they can be. I will share some tips and secrets for easily peeling your peaches, so no need to worry!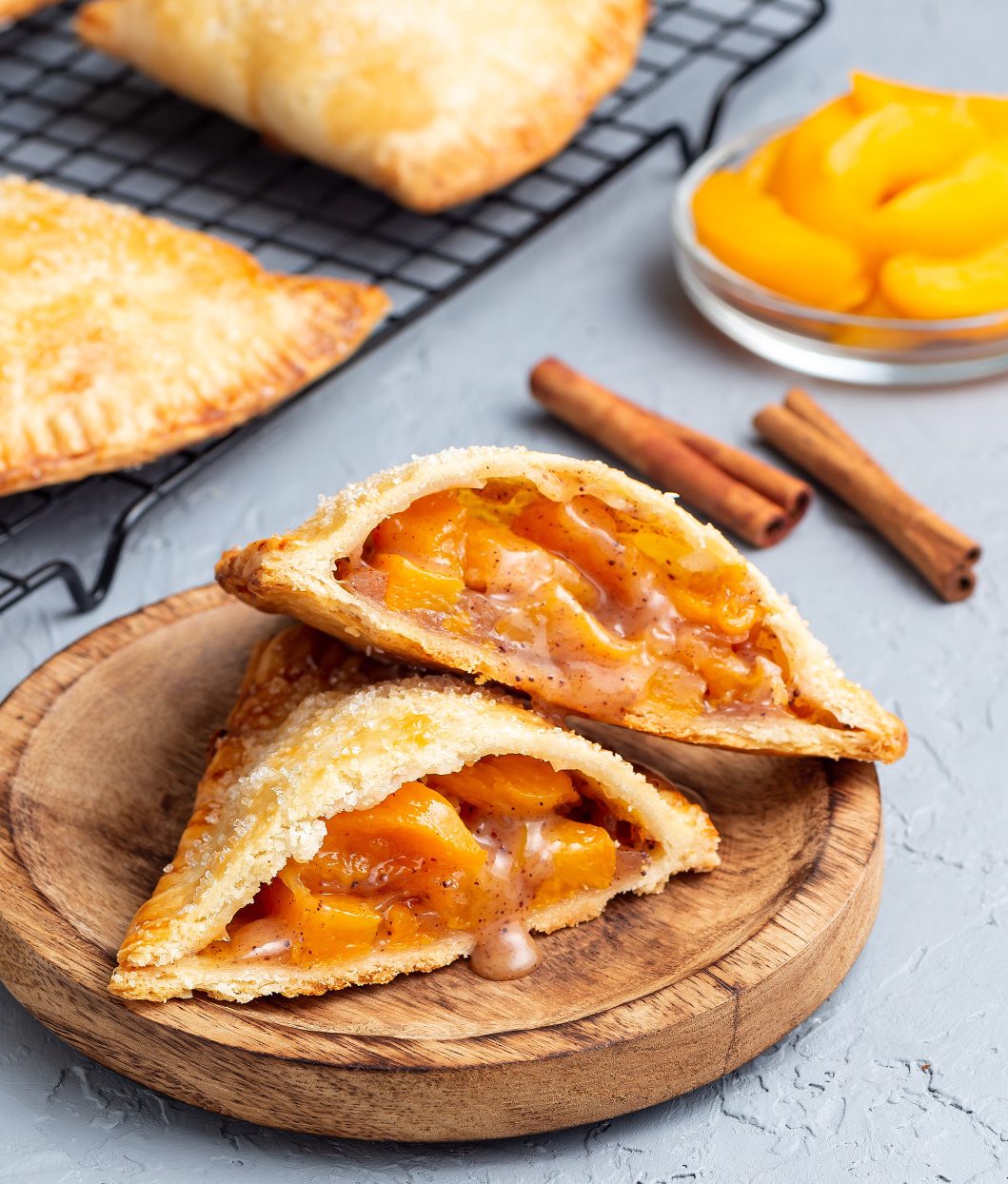 Best way to peel and cut peaches
Peeling and cutting peaches for a pie filling can be quite the task, especially if you're new to it. Here are some helpful tips to make the process a little easier:
How to easily peel peaches
Blanch the Peaches:

To make peeling easier, blanch your peaches first. Simply put a cross at the bottom of each peach, submerge them in boiling water for about 30-60 seconds, and then immediately place them in ice water. The skin will slide right off!

Get a Good Peeler:

Even after blanching, you might find some stubborn skin. Having a

good-quality peeler

can help you remove any remaining peach skin with ease.
How to cut peaches
Cut Around the Pit:

Start by cutting your peach in half from stem to bottom, then twist to separate the halves. One side will still have the pit. Use your knife to cut around it, then pop it out.

Cut the Peaches into slices:

Once you've removed the pit, place the flat side of the peach half down on the cutting board for stability, then cut it into slices. This will give your pie a nice, hearty texture.

Use Lemon Juice:

To keep your peach slices from browning, toss them in a little bit of lemon juice as you cut them.
Success tips for making the best peach empanadas
By keeping these tips in mind, you'll be on your way to creating the best peach empanadas. Happy baking!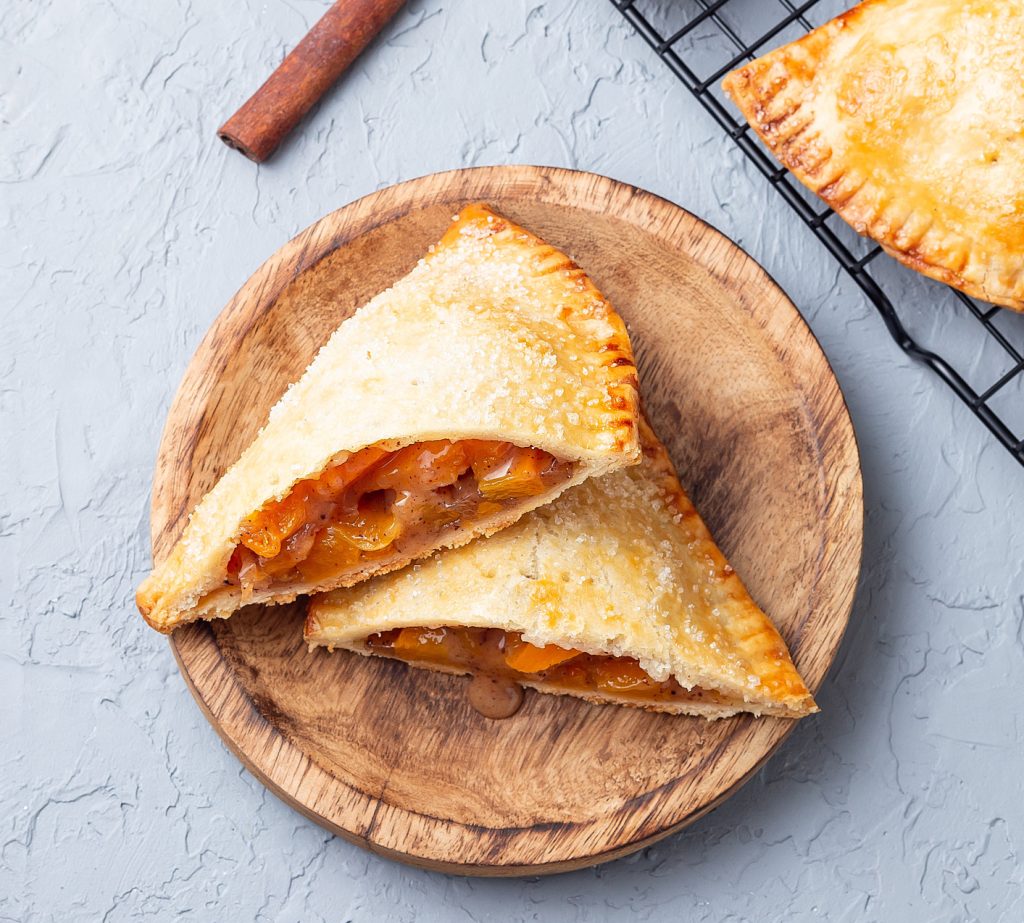 Choosing the Right Peaches:

Fresh, ripe, but firm peaches are the best for your empanadas. They'll be sweet and juicy, just perfect for your filling. Try using freestone peaches as their pits are easy to remove.

Add Cornstarch:

Add a little bit of cornstarch to your peach filling. It will help thicken it and prevent your empanada dough from getting soggy. You'll want to use about a tablespoon or two, depending on how juicy your peaches are.

Egg Wash is Key:

Brushing your empanadas with an egg wash before baking will give them a beautiful, golden-brown color and help create a lovely, shiny crust.

Preparing the Peaches:

Don't forget to peel and cut the peaches into similar-sized chunks. This will help them cook evenly and create a consistent texture in your filling.Don't Overstuff: Avoid the temptation to overfill the empanadas. Too much filling can cause the empanadas to break or leak while baking. Around a tablespoon of filling per empanada is just right.

Seal Tightly:

Crimp the edges of your empanadas well to make sure none of that yummy peach filling spills out during baking.

Dough Temperatures Matter:

If your dough gets too soft or sticky, don't hesitate to pop it back in the fridge. Working with cold dough is easier and it helps the empanadas hold their shape while baking.

Cool Down Time: Let your empanadas cool completely before diving in. This cooling time allows the filling to fully set up, so you won't lose any of that deliciousness when you take your first bite.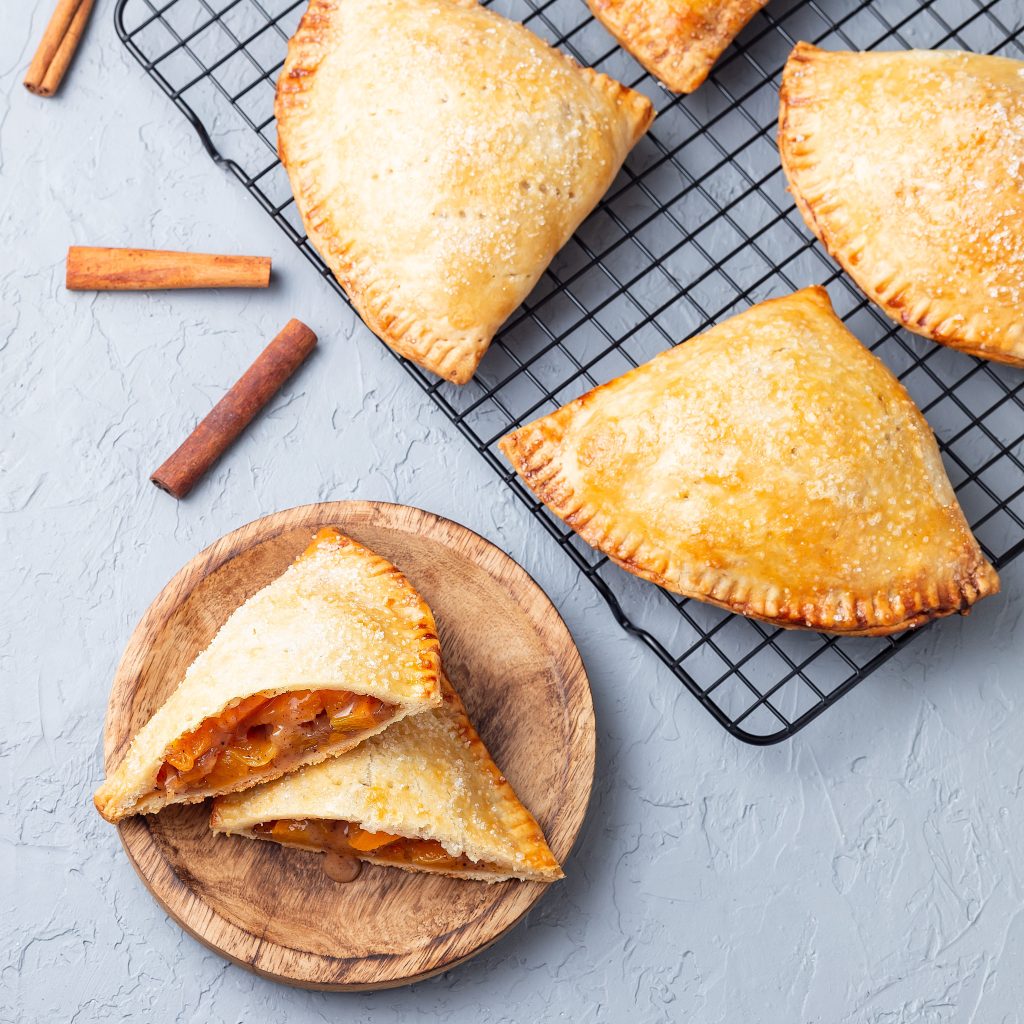 Make ahead
Making parts of your peach empanadas ahead of time can save you a lot of effort on the day you plan to serve them. Plus, it makes it easy to always have a delicious peach treat on hand!
Empanada Dough:

You can prepare the empanada dough a day or two in advance. Simply wrap it tightly in plastic wrap and keep it in the fridge until you're ready to use it. This way, it's nice and chilled, which makes it easier to handle and stuff with your peach filling.

Peach Filling:

You can also make your peach filling ahead of time. Store it in an airtight container in the fridge for up to two days before you plan to use it. This gives the flavors time to meld together and will make your filling even tastier!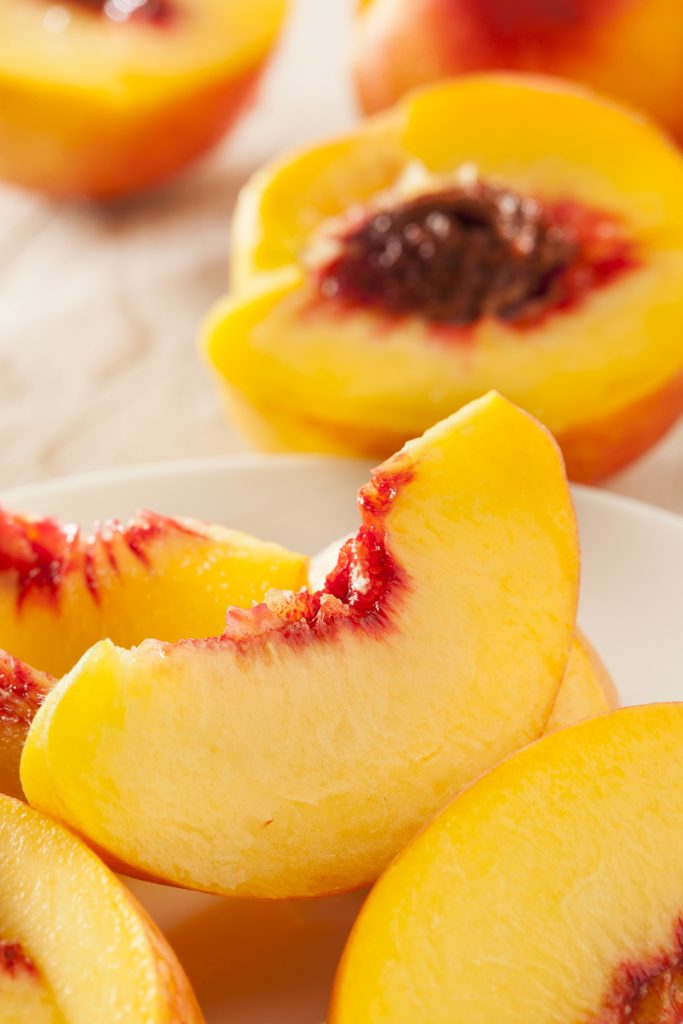 Assembled Empanadas:

You can assemble your empanadas ahead of time too. Once they're filled and sealed, place them on a baking sheet, and pop them into the freezer until they're solid. Then, transfer them to a zip-top bag or an airtight container and store them in the freezer for up to three months. When you're ready to enjoy, you can bake them straight from frozen. Just remember to add a few extra minutes to the baking time.

Partial Baking: If you're planning to serve the empanadas at a party or gathering, you can partially bake them the day before. Bake them just until they're set, but not browned, then cool and store them in the fridge. On the day of your event, simply bake them the rest of the way. This way, you'll have warm, freshly baked empanadas with less stress on the day of your event.
Can you freeze empanadas?
Oh, absolutely, freezing empanadas is a game-changer! If you find yourself with a surplus of peach empanadas, or if you simply want to prep ahead for those just-need-a-sweet-treat moments, you're in luck. Empanadas, in general, freeze very well, and the same goes for peach empanadas. Here's how to go about it.
Cool Them First:

After cooking your empanadas, allow them to cool completely before freezing. This helps prevent any excess moisture from being trapped and forming ice crystals inside the bag.

Single Layer Freezing:

Place your cooled peach empanadas in a single layer on a baking sheet lined with parchment paper. Pop the whole tray in the freezer for a couple of hours. This step, called flash freezing, helps the empanadas to freeze individually, so they won't stick together when you store them in a bag.

Bag 'Em Up:

After they're frozen solid, carefully place your empanadas into a freezer-safe bag or container. Be sure to squeeze out any excess air from the bag to prevent freezer burn.

Label and Store:

Don't forget to label your bag with the date. You'll thank yourself later when you're rummaging around in the freezer for something delicious. They should last about three months if stored properly.
How to reheat frozen empanadas
When you're ready to enjoy your peach empanadas, just take out however many you need and reheat them in the oven.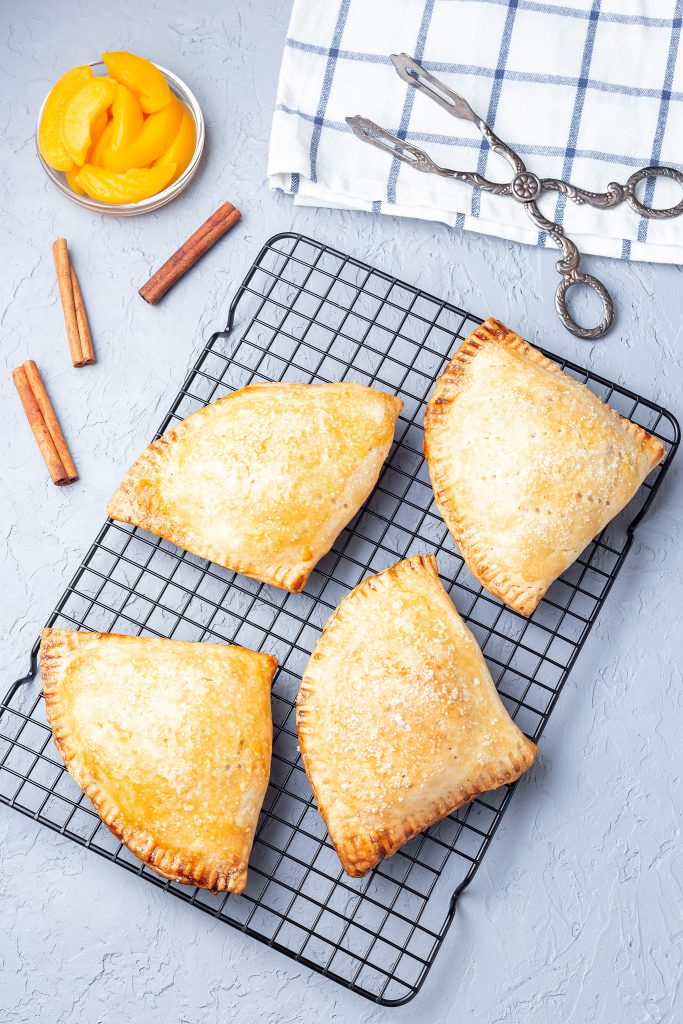 With your oven preheated to 350°F, place your peach empanadas on a baking sheet, making sure they're not too close. Don't worry about thawing or greasing – just get them in the oven and let them warm up for about 20-25 minutes. Resist the temptation to crank up the heat. We want them heated evenly with a lightly golden outside. Remember, let them cool a bit before you dig in. The filling will be hot. Voila! Your empanadas are ready to be enjoyed.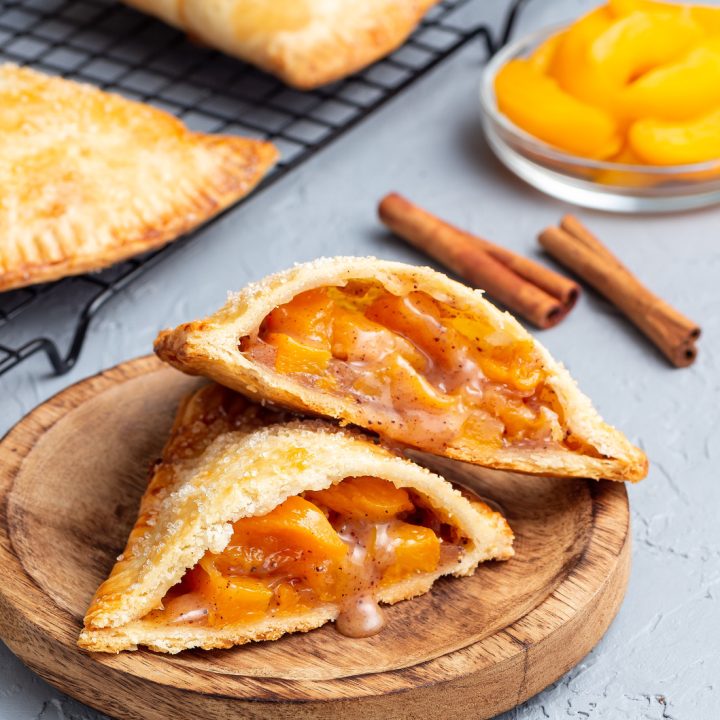 Easy Peach Empanadas
Ingredients
1 box of store-bought pie dough (enough for 2 pies)
3-4 fresh peaches, peeled and sliced
1/2 cup granulated sugar
2 tablespoons cornstarch
1/2 teaspoon cinnamon
1/4 teaspoon nutmeg
1 egg (for egg wash)
Additional sugar for sprinkling
Instructions
Preheat your oven to 375°F (190°C) and line a baking sheet with parchment paper.
Unroll your pie dough and cut out large semi-circles using a sharp knife or a semi-circular template. You should be able to get about 4-6 semi-circles from each pie dough.
In a bowl, combine the sliced peaches, granulated sugar, cornstarch, cinnamon, and nutmeg. Toss until the peaches are well-coated.
Place a generous amount of the peach mixture on one side of each semi-circle, leaving a small border around the edge for sealing.
Fold the dough over the filling to create a quarter-circle shaped empanada. Use a fork to crimp the edges to seal the empanadas.
In a small bowl, whisk the egg and brush a little onto each empanada. Sprinkle some sugar on top.
Bake the empanadas in the preheated oven for about 20-25 minutes, or until they are golden brown.
Allow the empanadas to cool on the baking sheet for 5 minutes, then transfer to a wire rack to cool completely.
What to do if you have a bunch of peaches?
I was lucky enough to snag a big bag of delicious peaches from the local farmers market a few weeks ago. The excitement had me buzzing, and as soon as I arrived home, I got to work, whipping up a storm of peach recipes. So, here's a list of some fabulous peach recipes you can try.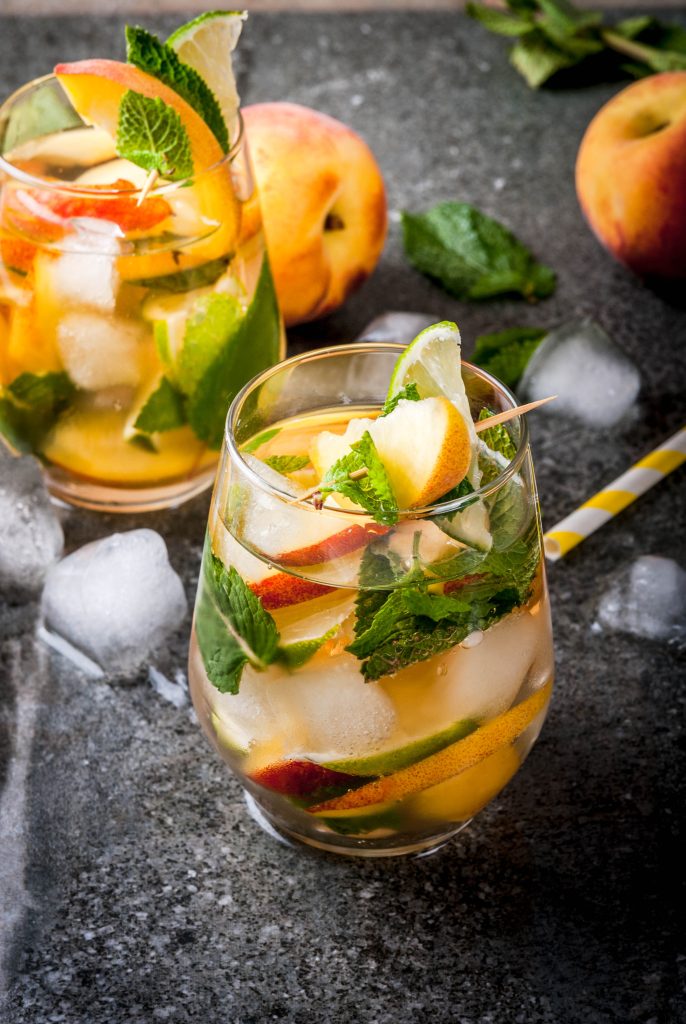 Enjoy creative peach desserts:

Go beyond the peach pie and the peach cobbler. From peach galettes and peach crumbles to pavlovas and hand pies check out my list of the

best peach desserts

.

Bake a peach pie:

Peach pie is the ultimate comfort summer dessert. You can make a classic peach pie, but there are lots of other options. I have compiled and curated a fantastic list of the

best peach pie recipes

including delicious peach pie empanadas and peach pie combinations like peach and raspberry pie and peach and mango pie. Yes please!

Make a Peach Cheesecake:

Yes, you read that right. Move over peach pie, you have to try my amazing

no-bake peach cheesecake recipe

. It's not only sublime but so easy to make!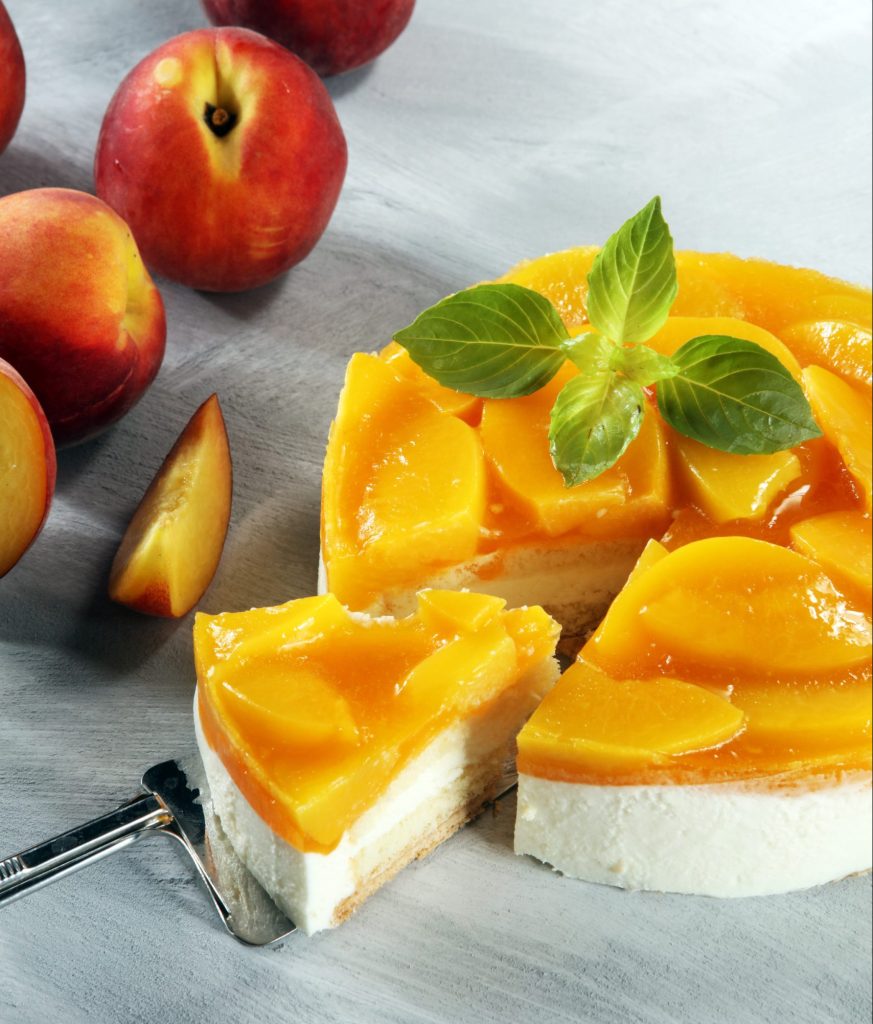 Create a refreshing peach drink:

If you're looking for a refreshing summer drink that is kid friendly and alcohol free look no further than my list of

delicious peach drinks (non-alcoholic)

. From peach iced tea recipes (much better than Starbucks) to peach lemonades, you'll find your new favorite summer drink here!

Bake an easy peach cobbler: Peach cobbler is the ultimate comfort summer dessert. You can make a classic peach cobbler, but you don't have to. I have compiled and curated a fantastic list of the best peach cobbler recipes including delicious peach cobbler combinations like blueberry peach cobbler and mango peach cobbler. Yes please!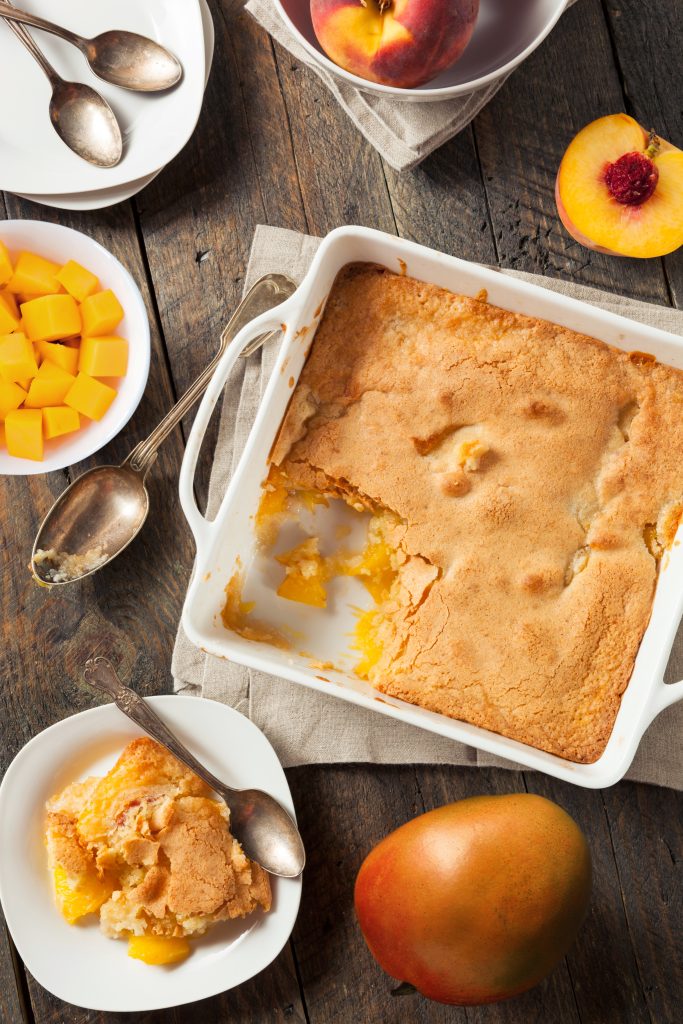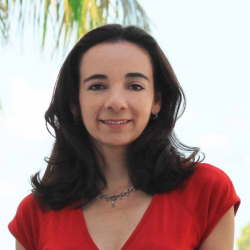 Latest posts by Paula Bendfeldt-Diaz
(see all)